July 24, 2020 at 11:52 am EDT | by James Driscoll
Trump: Keep Pence and lose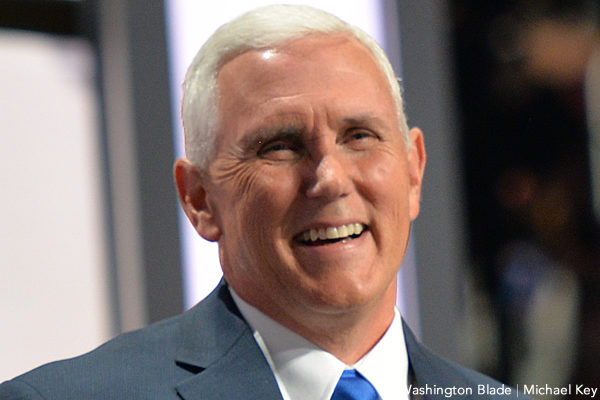 Donald Trump's 2016 choice of Mike Pence seemed a smart move. Pence roundly beat Tim Kaine in the vice presidential debates, helped solidify Trump's base against a veritable mutiny by deep state opponents, and, unlike other Trump picks, Pence has been publicly loyal.
The Mueller probe fizzled and the economy roared under Trump, while his court appointments and stands on immigration, China, and Iran boosted him with grassroots Republicans. Everything looked rosy for Trump and Pence, then came the double whammy resets from the coronavirus and George Floyd.
Faced with high unemployment, rising fear and falling polls, Trump can no longer afford promising more of the same. Keeping Pence adds nothing to the ticket, while it writes off all thinking LGBTs and our friends. Even Trump's few open supporters among gays, like Peter Thiel, appear to be getting cold feet.
If Joe Biden picks a woman who is well qualified, she will energize his current advantages among women and LGBTs. Because of Biden's age, his running mate will hold the spotlight as never before. Biden's female veep can bring youth, energy, and symbolize change.
Mike Pence projects the tired image of what the GOP once was but can no longer be if it hopes to win national elections. America is changing fast, just not in Pence's direction. Pence has built his career on anti-gay stands, the single area where this smiling bigot displays real leadership. Concurrently, support for gay marriage has risen from 56% in 2016 to 70% today, 80% of Americans now favor gay rights. Yet Republican gays get no wins with Trump's GOP, all the while Pence labors to reverse LGBT rights gained under Obama.
Trump turns a blind eye to Pence's filling key administration posts with cronies bent on marginalizing LGBTs, but we don't miss a single slight or forget Pence's record of homophobic demagoguery. Although 6% of voters now self-identify as LGBT, Pence's wife Karen, herself a divorcee, teaches in a school that blatantly discriminates against LGBT people, justifying their bigotry by citing Leviticus 20:13's call for gay men to be put to death!
Yet the Democrats hold their tongues for now. Why awaken Trump in time for him to replace Pence with a credible leader who could boost rather than handicap the GOP ticket? Imagine what a Liz Warren or Kamala could serve up to Pence in the vice presidential debates—delectable to watch.
The recent Supreme Court Gorsuch decision is a lose-lose proposition for a Trump-Pence ticket while it opens big opportunities for LGBT Americans. Before that decision, Pence's bigotry was low on the radar. Gorsuch can spotlight it. LGBT rights have already become a litmus test issue for many millennial and women voters. For LGBT people, Gorsuch should be a wake up-call to symbolically end our long, shameful confinement in the back of America's bus by terminating the political career of Mike Pence.
Given Joe Biden's age, the Democrats' weakness on China and Iran, their kamikaze left wing, and the inevitable dampening effect on the financial markets of their economic agenda, a Biden win could spell debacle for America. Many LGBTs, fearing this, will be tempted to stick with Trump—but not if he keeps for a running mate a career bigot.
Resistance Democrats openly running the Justice Department will bode disaster for Donald Trump and his family. "Obamagate," Pelosi's impeachment attempts, and the fate of Michael Flynn should warn Trump about how far they will go.
Republicans have accomplished people who have not built their careers on denigrating gays, for example Sen. Tim Scott or Nikki Haley. They would strengthen the GOP ticket where lackluster Pence adds nothing. If Donald Trump can finesse replacing Pence, he may be able to win again. If, in yet another act of hubris, Trump again embraces that grinning bigot, many women and millennials will be alienated, along with nearly all LGBTs. Together we may well put Joe Biden in the White House, and Trump will deserve his grim fate.
James Driscoll is a long time gay Republican activist whose latest book is 'How AIDS Activists Challenged America and Saved FDA from Itself.'