September 9, 2020 at 9:00 am EDT | by Yariel Valdés González
Cuban doctor contracts coronavirus in ICE custody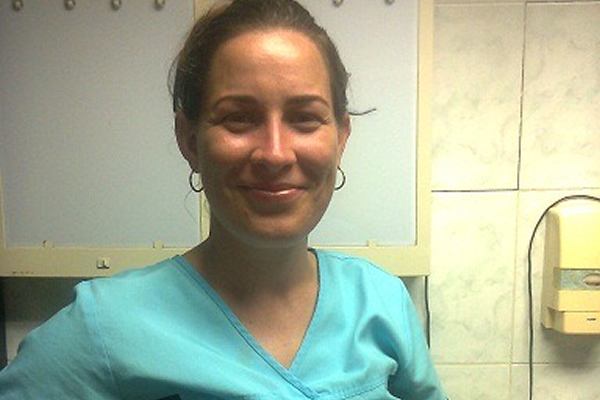 Editor's note: The Washington Blade published a Spanish version of this story on Sept. 8.
Merlis Rodríguez Hernández trembled with fever while alone in a cell. There was no one there to help her, put a damp cloth on her forehead or hold her hand to convey confidence. There was not an inch of her body that was not in pain, and an incessant cough barely allowed her to breathe. She used what little energy she had left to cry. 
Rodríguez at this point had been in isolation for several days at the Eloy Detention Center, a U.S. Immigration and Customs Enforcement detention center in Eloy, Ariz., after she tested positive for the coronavirus on June 11. She arrived at the detention center on Sept. 26, 2019.
Rodríguez fled Cuba with her husband, Lázaro Almanza Paneca, who is also a health care professional, after the regime targeted them for speaking out against the forced labor practices of the country's mandatory "medical missions" abroad. The State Department has described them as "the functional equivalent of modern slavery."
Almanza received a deportation stay and is now living in freedom, while Rodríguez on Jan. 2 lost her asylum case. Rodríguez is currently awaiting the outcome of the appeal in her case, a process that has been delayed for more than six months.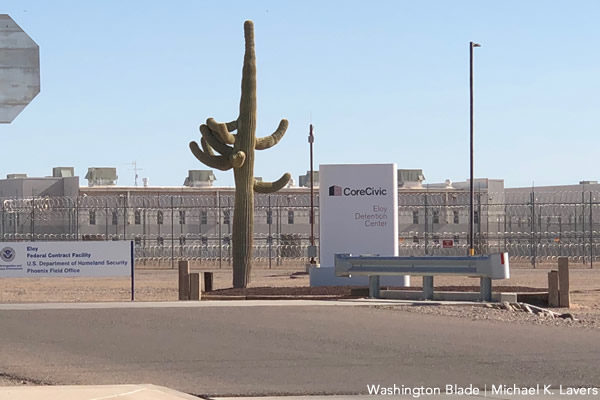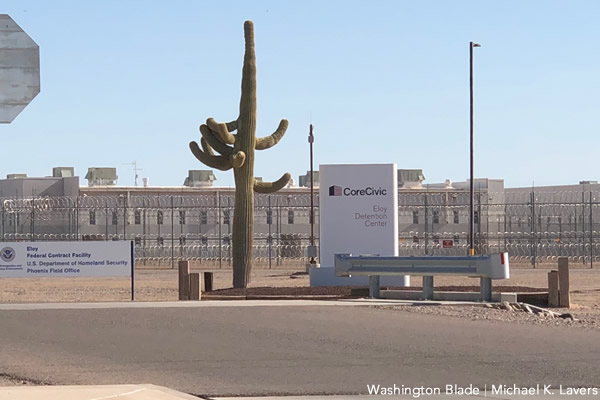 'Don't cry if you're going to talk to me'
Rodríguez, 29, recalled during a telephone interview with the Blade from the Eloy Detention Center that her plight began at the end of May when ICE removed a fellow detainee who showed coronavirus systems from her cell.
"I think she got the virus from an officer, because by then we were locked in the cell," she said. "We didn't go to the library or the dining room. We were constantly here."
Rodríguez said they were only allowed out on Monday, Wednesday and Friday for 20 minutes to bathe, talk on the phone or to allow the tiny cell for two people to be cleaned. She told the Blade they were in the cell for 14 days.
"We didn't have a microwave or ice," she said. "I spent those days without being able to cook anything. The three meals of the day were always the same: Two pieces of bread, two slices of ham, a cookie and an instant juice".
Rodríguez said on the 14th day of her quarantine she began to lose her sense of taste, suffered from severe headaches and palpitations. Officials transferred her to another building once they confirmed she had coronavirus. Rodríguez said she spent nine days alone in a cell.
"Then they brought another person with the virus and put them with me," she said.
Her symptoms persisted: Elevated temperatures; coughing fits and general malaise. Rodríguez was a shadow of the active and positive person she said she used to be. Officials moved her to another building because she had not improved, and she spent 14 more days there.
"At the beginning of the virus they did not treat me," said Rodríguez, who graduated as a specialist in Cuba. " I was able to see a doctor after a lot of insistence … I only saw the nurse and explained to her that I needed medicine for coughing and discomfort."
Rodríguez told the Blade she was only able to see a health professional on two occasions when she was sick. She said Eloy staff never cared about her or showed an iota of sensitivity.
"When you told them you were afraid, they replied, 'Don't worry, you weren't going to die.' When I couldn't take it anymore and began to cry because I hadn't been able to go outside (of my cell) for 21 days, their answers were, 'Don't cry if you're going to talk to me.' The fact that they would give you an answer like that made me think that we were dogs, not human beings, to them."
Rodríguez said the way the medical personnel treated her fellow detainees with the coronavirus was very unprofessional. Rodríguez also told the Blade she believes they carried out many bad practices.
"I don't know much about the virus, but I know how patients should be treated and procedures should be (carried out)," she said.
Rodríguez, for example, said the physical examination the medical personnel performed was inadequate because they placed the stethoscope over two and three layers of clothing.
"The nurse who checked me did not notice my symptoms," she said. "They took my temperature and pulse through the cell door."
"Another major medical negligence that they have committed is that they did not give us another coronavirus test," Rodríguez pointed out. "They diagnosed us, but we are not sure that it has left us yet. We run the risk that any of us remain positive."
Rodríguez affirmed her pulse is still high and the general malaise persists. She told the Blade she only sleeps a few hours a night, she has no strength and walking a few feet leaves her out of breath.
"I suffer from many headaches and weaknesses," said Rodríguez. "I forget everything. The doctor tells me that he doesn't know if there will be a relapse."
"My health was stable before the virus," she added, "But more diseases began to emerge later. I think I must have very low defenses. I was just diagnosed with hypothyroidism."
Rodríguez says she remains afraid of a new wave of infections because of the detention center's minimal sanitary measures. Rodríguez said ICE has transferred detainees — both those who just arrived in the U.S. and deportees — into Eloy.
"Three girls were deported from here to Ecuador and one of them had the virus," she said.
Immigrant advocacy groups continue to demand that ICE release people with HIV and other detainees who are vulnerable to the coronavirus.
ICE on its website states all new detainees undergo a coronavirus screening once they arrive at their facilities.
"ICE houses all new arrivals separately (cohorted) from the general population for 14 days after their arrival, and monitors them for symptoms," it says.
Rodríguez, despite everything, seems to have overcome the toughest stage of the virus, although she continues to suffer from some ailments. One of her main fears is reinfection, which researchers say is a very rare possibility, even though a case has already been documented in the U.S.
A man in Nevada who previously had the coronavirus has been reinfected. The first case in the world was detected in Hong Kong.