Transformer unveils this year's 'Queer Threads' exhibits
Features work by Schlacter, Jackson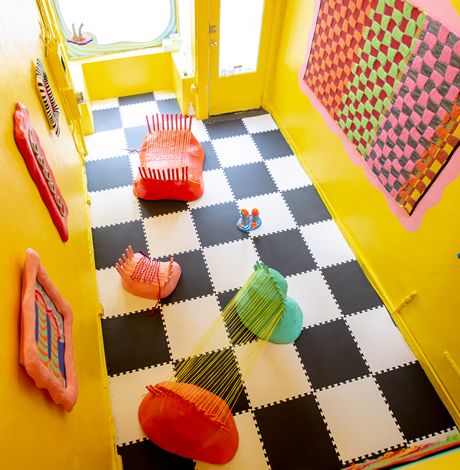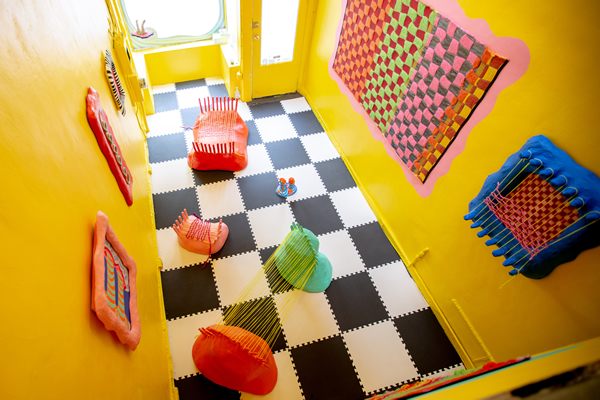 Transformer, a non-profit visual arts organization, has launched this year's exhibit of "Queer Threads" an ongoing initiative that seeks to explore LGBTQ identities through fiber and textile art forms. This year's iteration was curated by John Chaich and features work by Zoe Schlacter and André Terrel Jackson.
Schlacter's installation, titled "Darn" is crafted from yarn, paper mâché sculptures, and hand-made, wall-mounted loom structures. Schlacter is an interdisciplinary artist and designer from Brooklyn, New York. Through weaving, quilting, sculpture, and installation art, they seek to explore gendered expressions of personal style and the creative potential of trans sexuality. Schlacter's installation can be found at Transformer's storefront at 1404 P Street NW until November 14.
André Terrel Jackson's piece, titled "Crowns", celebrates Black, female-identified cultural icons as a source of inspiration for the LGBTQ community. They created a series of headpieces out of everyday hardware, rope, and other textiles. Jackson's work is on display at The Corner at Whitman-Walker at 1377 R St., N.W. until Oct. 24.
A slow return to normal for area museums
National Gallery remains closed, but others have reopened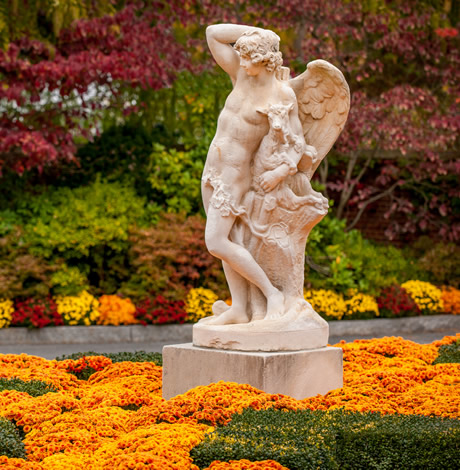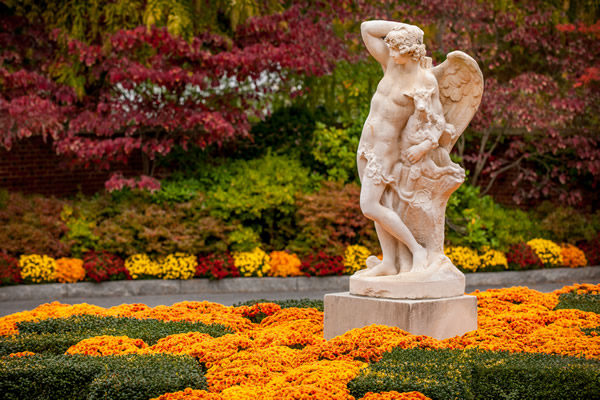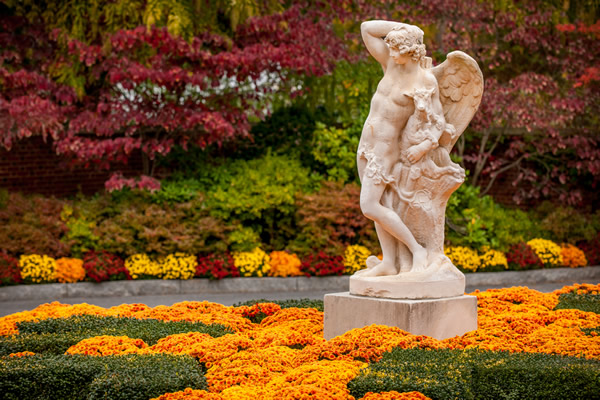 The Smithsonian Museums remain closed and the National Gallery of Art recently announced it would not open in time to commemorate its 80th anniversary. But the good news is that with COVID restrictions slowly lifting, some area museums are looking at reopening events while others have already opened their doors .
Below is a smattering of area museums that have reopened. Be sure to check with each museum directly before making plans.
• The National Zoo and the National Air and Space Museum's Steven F. Udvar-Hazy Center in Chantilly reopened on July 24.
• The Smithsonian American Art Museum, the National Portrait Gallery, the National Museum of African American History and Culture, the Renwick Gallery, The National Museum of American History and the National Museum of the American Indian reopened back in September.
• The National Gallery of Art's sculpture garden reopened last month.
• Hillwood Estate, Museum and Gardens reopened last week.
• The National Museum of Women in the Arts has also reopened.
• The International Spy Museum reopened in January.
National Portrait Gallery art competition now open
Expert panel seeks entries that broaden the definition of portraiture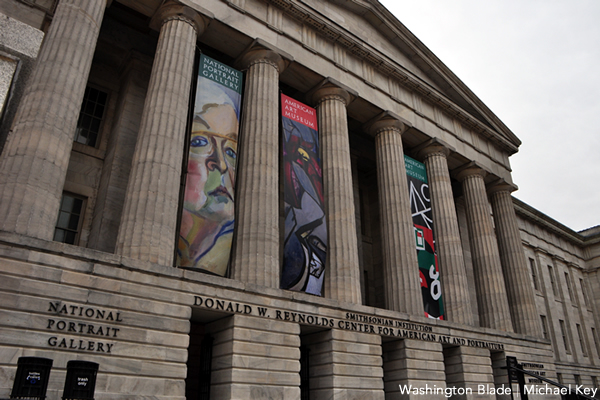 The Outwin Boochever Portrait Competition hosted by the Smithsonian National Portrait Gallery is open for submissions until Friday, Jan. 29.
This competition seeks entries that broaden the definition of portraiture with images and media that reflect the country's diversity as represented through the identities of the artists and subjects as well as their varying backgrounds depicted.
Artists 18 and up who are living and working in the U.S. and its territories are invited to submit one portrait to be reviewed by a panel of experts. First prize is $25,000 and a commission to portray a remarkable living American for the gallery's collection.
The finalists' and prizewinner's works will be included in The Outwin 2022: American Portraiture Today exhibition to be displayed at the National Portrait Gallery April 30, 2022 – Feb. 26, 2023, before continuing on to other cities.
For more information, and to submit works electronically, visit portraitcompetition.si.edu.
National Gallery of Art's new dean talks diversity, COVID
Nelson left Los Angeles for D.C. just as lockdowns began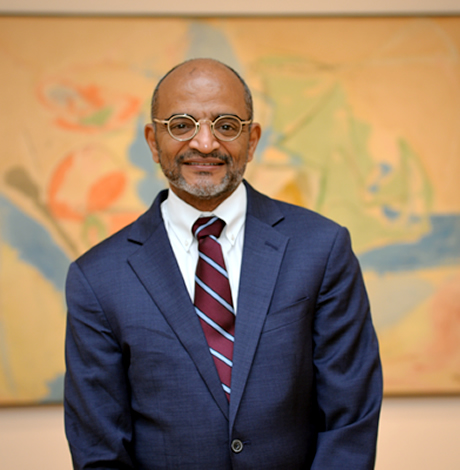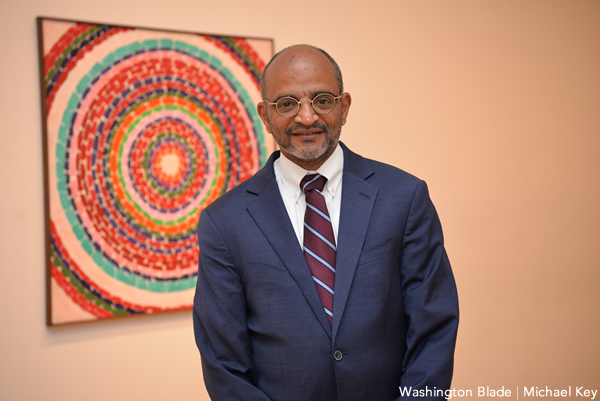 While most of us were just trying to get by during recent COVID quarantines, Steven Nelson accepted a new high-profile job and moved cross country amid the pandemic.
After more than 20 years in academia, multiple publications, awards and speakerships, Nelson was appointed as the new dean of the National Gallery of Art's research institute that promotes the studies of the production, use, and cultural meaning of art.
In this position at the Center for Advanced Study in the Visual Arts, Nelson will focus on fundraising, leadership and scholarship work to advance the center's mission and impact. The research center, which was founded in 1979, has been the epicenter of scholarly work on a variety of topics and art mediums.
In July, Nelson retired from UCLA where he was a professor for 20 years and taught subjects ranging from African art, Black power in art and African architecture. He was also the director of the UCLA African Studies Center and an adviser to UCLA leadership on diversity and inclusion strategic planning.
Nelson first joined the National Gallery as the Andrew W. Mellon professor at the Center for Advanced Study in the Visual Arts. In that professorship, he wrote two manuscripts for upcoming books titled "Structural Adjustment: Mapping, Geography, and the Visual Cultures of Blackness" and "On the Underground Railroad."
In addition, he is co-editing a project titled "The Black Modernisms Seminars," which is a research volume that is part of the center's initiative on African-American art. The project will be published in 2021.
New role during pandemic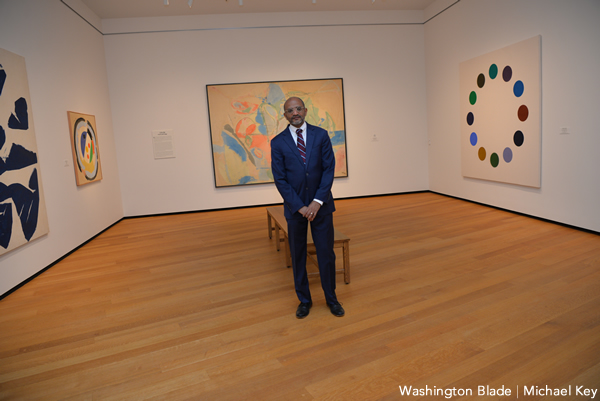 Despite not yet having a solidified housing plan and working remotely, Nelson said his transition to a new leadership role has been smooth.
"Moving in a pandemic has been really interesting and complicated to assess, however, it's been weirdly more seamless than I thought it would be," he said.
Nelson said the move also acted as a distraction from "all the really terrible things that were happening in the world."
The announcement of Nelson's new role came on March 6, early in the spread of the coronavirus. Nelson had been working in Washington for his previous role but had to return to Los Angeles to pack for permanent relocation.
When not in meetings or writing policy proposals, Nelson said he enjoys learning more about Washington with his husband and says he likes the setup and walkability of the city. When the concerns of the pandemic lessen, he said he hopes to explore local museums in his free time.
Like any new position, getting acclimated to new colleagues and processes is to be expected, he said. Also, Nelson has been in the building since 2018 as the Andrew W. Mellon professor, which made the transition even more seamless, he said.
Nelson also said he is enjoying working with others more directly as a dean. He described his past academic work as isolating, saying research and writing can be more of a lonely process.
"Being part of a larger leadership team has been really energetic," he said. "I'm a social animal and I really enjoy being part of a team that charts a course forward for an institution."
When editing applications for Ph.D. programs in the late '90s, Nelson said he seldom included his gay identity in his admission materials, while his Black identity was noted in all of them.
"A friend of mine said, 'Why wouldn't you be out on all of these applications? If you're not going to be out, why would you go to xyz institutions?' I took that to heart and decided to be open," he said.
Since then, Nelson said that he has always been open about his sexual orientation and that it has impacted the ways he researches, approaches the world and works. He is also planning on promoting inclusion and diversity at all levels at the gallery.
"As a person who is black, gay and left-handed, this is important to me. My biggest hope is that the museum not only diversifies but also is a leader in opening up pathways," he said. "We're working on ways to do that."
Identity has impacted the work Nelson has done in the past, and he said he hopes to "move the needle" for others. He also said his experiences as being the only African American in the room at many times in his life has impacted him greatly, and he said he is looking forward to promoting inclusion and diversity at the gallery to make that reality less common in the future.
Nelson is currently forming a new strategic plan for the Center for Advanced Study in the Visual Arts, and finding ways for the center to be at the forefront of the entire gallery.
He is also looking at diversity and inclusion actions to take to make several aspects of the museum more inclusive, including making attendants and staff feel more accepted.
In accordance with the rest of the gallery, he said he hopes to "create an institution that fosters excellence in scholarship, that is accessible and that is part of a larger creation of pathways into the profession for younger people.
With ever-changing health and safety guidelines, Nelson said the future of museums is going to look different. He said he sees more digital programming coming up and less focus on physical spaces. New museums and galleries are less likely to emerge, he said.
Following this vision, the National Gallery of Art has already provided programs online, such as lectures, screenings and blogs. The gallery also partially reopened in mid-July to the public, allowing people to observe the ground floor exhibit with timed entries, face coverings and social distancing.
For the Center for Advanced Study in the Visual Arts, Nelson said digital events have been at the forefront of programming for years — the circumstances of the pandemic have not made a significant difference. He plans to continue these events for years to come.
Nelson said his favorite aspect of teaching at UCLA was the students. The art history and African-American studies programs at UCLA are also very diverse, with students coming from a myriad of backgrounds and experiences, he said.
While Nelson said he is excited for the next steps ahead, he will miss teaching students.
While completing his Ph.D. at Harvard University, Nelson focused his dissertation on African art. He was originally interested in studying modern art, but learning about African art changed his research path.
In 1993, Nelson traveled to Cameroon for a year to research his dissertation on an Africanist art historian, which inspired him to delve into African art research and to continue visiting the continent. Now, he has visited Senegal and other countries.
He also wrote the book "From Cameroon to Paris: Mousgoum Architecture In and Out of Africa," which analyzes the residential architecture of the populations in far-north Cameroon.