Casa Ruby brings its mission to El Salvador
Ruby Corado fled country's civil war more than 30 years ago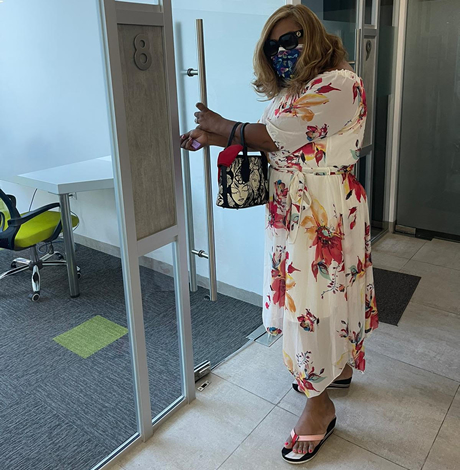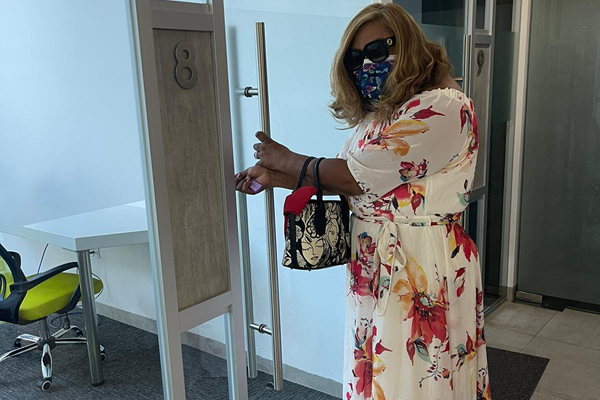 SAN SALVADOR, El Salvador — A Salvadoran woman who fled the civil war arrived in D.C. full of dreams and challenges, and after years of effort she and a group of friends founded Casa Ruby in order to provide services and social programs to vulnerable LGBTQ people. This is part of the story of Ruby Corado, a transgender woman and human rights activist who has undertaken the challenge of bringing Casa Ruby to the country in which she was born.
Corado, in her words, is "a Salvadoran who migrated, but a part of her stayed here." She, upon hearing the stories of many LGBTQ people who migrated and others she has met who still live in El Salvador, said she felt the desire to fight for bringing those dreams and challenges to her homeland.
"Our work at Casa Ruby is to avoid suffering and (to offer) support through alliances, that is why we aim to share the programs for migrants that work in Washington because we have seen that they work," Corado told the Washington Blade on March 18 during an interview from Casa Ruby's new office in San Salvador, the Salvadoran capital. "We will do a little more work here in El Salvador so that the LGBTQ community has greater access to these opportunities."
The commitment to solidarity that she has shown over the years is Corado's best letter of introduction, which has led her to support global LGBTQ rights group that include the Latin American and Caribbean Network of Trans People (REDLACTRANS). Corado, through this work, has also realized the LGBTQ community needs a platform with programs that meet existing needs.
"I want to ensure that this new administration in the United States has a direct link from Washington to the global LGBT movement and as a trans woman, migrant, living with HIV and living in vulnerability, I want to be that voice with those international organizations that are disconnected from this reality," says Corado, referring to international organizations based in El Salvador.
Casa Ruby's main goals in El Salvador are to work for the LGBTQ community and support LGBTQ activists. Corado said Casa Ruby will not impose upon anyone its way of working, and their projects will aim to address present needs.
"My great project in El Salvador is a home to support displaced people," Corado told the Blade as she smiled. "It will be a space for 15 people to start with."
Casa Ruby in El Salvador will not only benefit vulnerable LGBTQ people, but LGBTQ people from other countries who need help.
The "Opportunity Project" will provide 25 vulnerable LGBTQ people with access to a scholarship for two years, a stipend and access to resources that will give them the tools they can use to build a better future.
"Something very important that I want to mention is that my father gave me the house to start Casa Ruby in El Salvador," said Corado, adding she is grateful for the opportunity to be able to open the house to the community that needs help.
Corado said she hopes those who participate in the project will not be forced to flee El Salvador as she had to do in the past.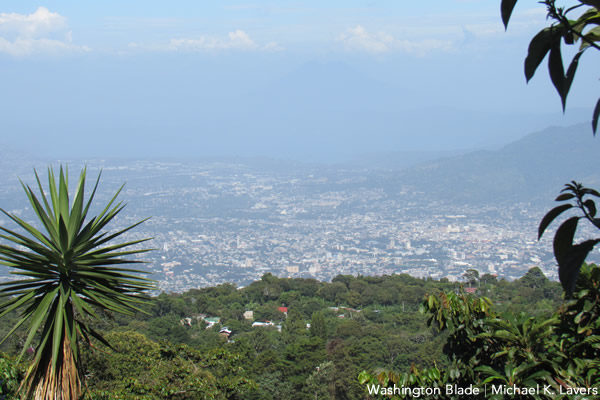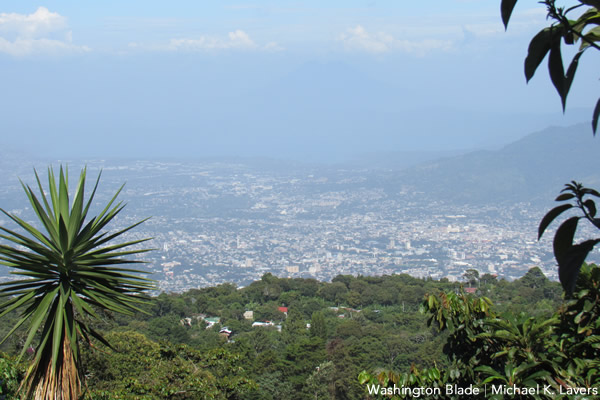 Corado, as director and founder of Casa Ruby, has empowered an entire LGBTQ movement in D.C.
Her team will be in charge of Casa Ruby's operations in the nation's capital. Corado will oversee both projects as she travels between the U.S. and El Salvador, and she will have a team in place in San Salvador that will include a communications coordinator who prefers to remain anonymous. Saul Palacios will work as director of operations and Ámbar Alfaro will be Casa Ruby's director of programs and community outreach coordinator.
"Something we have in common with Ruby is that we share that way of dreaming and wanting to work from the community side," Alfaro told the Blade. "It is something that has not happened in El Salvador because of different circumstances."
"The fact that Casa Ruby is now in El Salvador with that model of working with the people and for the people is super important to me and makes me very happy to be able to continue here the legacy that Ruby has built and now has brought to her country," added Alfaro, who also stressed Corado knows the reality through which the community in the country is currently living. "We have to work for our population in an orderly manner and with resources, with desire and conviction. This, above anything else, is what will always motivate us."
"You have to have a heart and love your LGBTQ community to work at Casa Ruby," Alfaro told the Blade. "And I saw that in her."
Casa Ruby officially opened its San Salvador office on March 15, and has already begun to have meetings with both civil society and government representatives.
"We have already met with the National Youth Institute (INJUVE) to coordinate possible joint projects," Corado said, enthusiastically. "They welcomed me to the country and for that I'm very happy."
"We can build together as Salvadorans," she added. "I do not expect everyone to receive me with open arms, but I guarantee that their voices will be present on the platforms that I have,"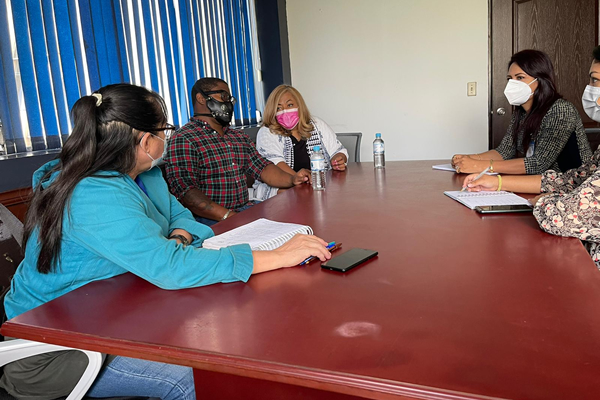 Corado, with tears in her eyes, told the Blade that being part of this project in El Salvador brings her full circle.
"It has been 31 years since I fled my country, and I am now here to give my love and support to my entire community that needs it," she said.
Casa Ruby's team in San Salvador plans to begin working within the next 90 days on the launch of a community project that will deliver scholarships to 10 Salvadoran LGBTQ organizations and another initiative that will provide highly vulnerable people with a way to support themselves. Casa Ruby also plans to begin a campaign to stop violence against LGBTQ children and open a shelter for LGBTQ people who need support.
This shelter is Casa Ruby's flagship project. Another initiative to support vulnerable LGBTQ older adults is also in the works.
The Blade has published a version of this article in Spanish.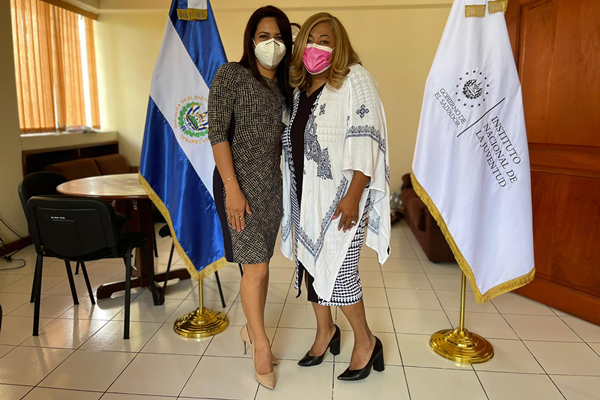 Va. senator introduces anti-transgender student athlete bill
Democrats have vowed to thwart anti-LGBTQ measures in state Senate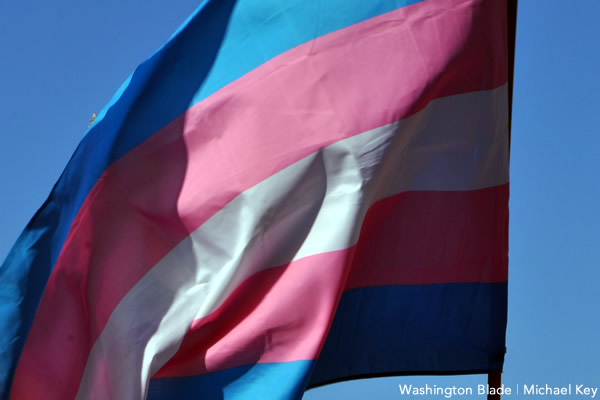 A Virginia lawmaker has introduced a bill that would ban transgender students from joining school sports teams that are consistent with their gender identity.
Senate Bill 766, which state Sen. Jennifer Kiggans (R-Virginia Beach) introduced on Friday, would require "each elementary or secondary school or a private school that competes in sponsored athletic events against such public schools to designate athletic teams, whether a school athletic team or an intramural team sponsored by such school, based on biological sex as follows: (i) 'males,' 'men,' or 'boys'; (ii) 'females,' 'women,' or 'girls'; or (iii) 'coed' or 'mixed.'"
"Under the bill, male students are not permitted to participate on any school athletic team or squad designated for 'females,' 'women,' or 'girls'; however, this provision does not apply to physical education classes at schools," adds the bill. "The bill provides civil penalties for students and schools that suffer harm as a result of a violation of the bill. Such civil actions are required to be initiated within two years after the harm occurred."
Kiggans introduced her bill less than a week after Republican Gov. Glenn Youngkin took office.
Youngkin during his campaign said he does not support allowing trans children to play on sports teams that are consistent with their gender identity. Elizabeth Schultz, an anti-LGBTQ former member of the Fairfax County School Board, has been named the Virginia Department of Education's Assistant Superintendent of Public Instruction.
The General Assembly's 2022 legislative session began on Jan. 12 with Republicans in control of the state House of Delegates. Democrats still control the state Senate, and they have pledged to thwart any anti-LGBTQ bills.
"Let's be clear: This is part of an ongoing, nationwide effort to exclude trans people from enjoying the benefits of sports like their cisgender peers," tweeted the American Civil Liberties Union of Virginia on Friday after Kiggans introduced SB 766. "We won't tolerate this."
🚨ATTN: SB 766 to ban trans kids in Virginia from participating in sports has just dropped.

Let's be clear: This is part of an ongoing, nationwide effort to exclude trans people from enjoying the benefits of sports like their cisgender peers. We won't tolerate this. pic.twitter.com/oSDMvyewge

— ACLU of Virginia (@ACLUVA) January 21, 2022
Comings & Goings
Hazen inducted into Cooperative Hall of Fame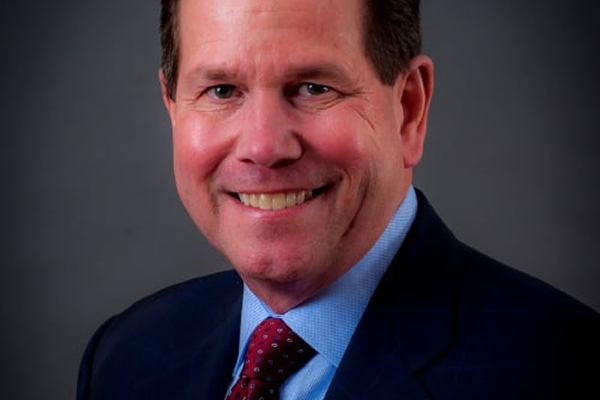 The Comings & Goings column is about sharing the professional successes of our community. We want to recognize those landing new jobs, new clients for their business, joining boards of organizations and other achievements. Please share your successes with us at: [email protected]
The Comings & Goings column also invites LGBTQ+ college students to share their successes with us. If you have been elected to a student government position, gotten an exciting internship, or are graduating and beginning your career with a great job, let us know so we can share your success.
Congratulations to Paul Hazen on his being inducted into the 2022 Cooperative Hall of Fame. On receiving the honor, he said, "I am very lucky to be given the opportunity to combine my work in international development with my volunteer cooperative development work in Washington DC."
Hazen is executive director, U.S. Overseas Cooperative Development Council (OCDC) and has devoted his career to elevating the cooperative voice domestically and internationally. U.S. co-ops include Ace Hardware, Land O'Lakes, Inc., Sunkist, REI and the Associated Press. Hazen helped establish federal legislation promoting rural co-op development.
Prior to joining OCDC, he was CEO of Washington, D.C.-based National Cooperative Business Association CLUSA International. During his 25-year tenure with the organization, he held key positions, including chief operating officer, vice president of public policy, vice president of member services and director of consumer cooperatives.
He worked for Rep. Al Baldus (Wisc.). He was executive director of Rural Housing Inc. in Madison, Wisc., where he developed co-ops and affordable housing projects in rural communities.
As a volunteer, Hazen formed the Community Purchasing Alliance (CPA) with 12 congregations in D.C.  In 2020, CPA secured more than $18.7 million in contracts resulting in an investment of $13 million in D.C.-based small businesses owned by people of color.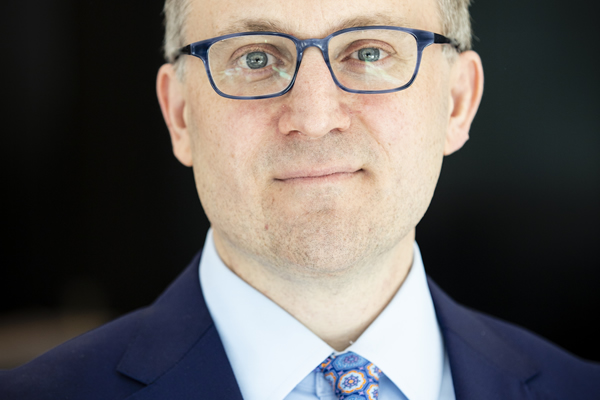 Congratulations also to Ben Finzel, who was inducted into the National Capital Public Relations Hall of Fame. Upon receiving the honor, he said "To be recognized by your peers is wonderful; to be honored by them is amazing. I still can't quite believe I have done enough to be worthy of this recognition, but I know enough to be thankful and appreciative of this high honor. Thank you PRSA National Capital Chapter for including me in such inspiring company; I will be forever grateful."
Finzel is president of RENEWPR, a D.C.-based public affairs, communications consulting firm. In 2004, he helped launch FH Out Front, the first global LGBTQ communications practice at an international firm, Fleishman Hillard, and served as its first global chair. He started DC Family Communicators, a professional networking group for LGBTQ communications professionals. Finzel served on the Victory Campaign Board of the LGBTQ Victory Fund from 2007 to 2017.
His firm is currently celebrating its seventh year in business. To recognize that accomplishment, Finzel is launching an endowed scholarship at his alma mater, Texas Tech University. His business is certified as an LGBT Business Enterprise by the National LGBT Chamber of Commerce.
Judge rules trans teacher's lawsuit against P.G. County can go to trial
Gay man files separate case charging discrimination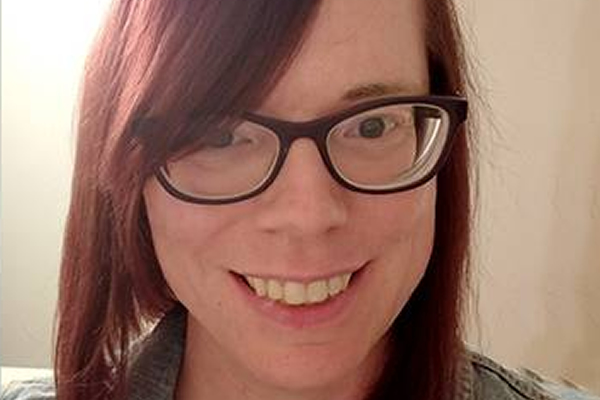 A federal judge in Maryland issued a ruling on Tuesday, Jan. 18, clearing the way for a lawsuit filed by transgender former English teacher Jennifer Eller in 2018 charging the Prince George's County, Md., Public Schools with discrimination and harassment based on her gender identity to proceed to a trial.
In the ruling, Judge Theodore D. Chuang of the U.S. District Court for the District of Maryland denied key parts of several motions filed by attorneys representing the P.G. County Public Schools that in effect called for the dismissal of the lawsuit. The motions, among other things, claimed the lawsuit failed to provide sufficient evidence that Eller was subjected to discrimination and harassment, which forced her to resign due to a hostile work environment.
Chuang also ruled against a separate motion introduced by Eller's attorneys calling for him to issue a summary judgement decision affirming all the lawsuit's allegations that would have ended the litigation in Eller's favor without the need to go to trial.
Eller's lawsuit charges that school officials acted illegally by failing to intervene when she was subjected to a hostile work environment for five years that included abuse and harassment by students, parents, fellow teachers, and supervisors and retaliation by school administrators.
The lawsuit alleges that the school system and its administrators in its actions against Eller violated Title VII of the U.S. Civil Rights Act of 1964, Title IX of the federal Education Amendments Act of 1972, the Equal Protection Clause of the U.S. Constitution, the Maryland Fair Employment Practices Act, and the nondiscrimination provision of the Prince George's County Code.
"We think the judge did as best he could," said Omar Gonzales-Pagan, an attorney with the LGBTQ litigation group Lambda Legal, which, along with the D.C. law firm Arnold & Porter, are representing Eller in her lawsuit.
"The takeaway is that the case is now in a posture to proceed to trial," Gonzales-Pagan told the Washington Blade. "The court found that the alleged facts and the information as discovered throughout the case in the discovery process is sufficient to allow a jury to find whether Jennifer Eller was subjected to a hostile work environment and constructive discharge and retaliation unlawfully by the defendants," he said.
By the term constructive discharge, Gonzales-Pagan was referring to the lawsuit's charge that Eller was forced to resign from her teaching job in 2017 after being diagnosed with post-traumatic stress disorder due to the alleged abuse she faced on the job.
P.G. County Public Schools officials have declined to comment on the lawsuit on grounds that the school system has a longstanding policy of not discussing pending litigation. However, in its response to the lawsuit in court filings, school system officials have denied Eller's allegations of discrimination, harassment, and retaliation.
"For years, I was aggressively misgendered, attacked and harassed in the hallways and even in my own classroom by students, peers and supervisors," Eller said in a statement released by her attorneys.
"My pleas for help and for sensitivity training on LGBTQ issues for students and staff, were ignored," Eller said in her statement. "The relentless harassment stripped me of the joy of teaching and forced me to resign," she said. "It is time for Prince George's County Public Schools to be held accountable."
The lawsuit says the harassment and discriminatory action against her began in 2011 when she began presenting as female during the school year. It says school officials initially responded to her complaints about the harassment by demanding that she stop dressing as a woman and return to wearing men's clothes, which she refused to do.
In a separate action, gay former Spanish teacher Jared Hester filed on his own without an attorney a lawsuit in the Maryland federal court charging the P.G. County Public Schools with failing to take action to prevent him from being subjected to discrimination and harassment similar to some of the allegations made in Eller's lawsuit.
Hester told the Blade that he was subjected to harassment by students who repeatedly called him "faggot," but school officials, including the principal of the middle school where he taught, refused to take action to stop the harassment.
He provided the Blade with copies of earlier complaints he filed against school system officials with the U.S. Equal Employment Opportunity Commission (EEOC), the Maryland Commission on Civil Rights, and the P.G County Public Schools' internal Office of Equity Assurance. Each of the three agencies issued rulings against Hester's complaints, with two of them saying sufficient evidence could not be found to support his allegations.
The EEOC, in a Nov. 3, 2021 "dismissal" notice, told Hester the EEOC "will not proceed further with its investigation, and makes no determination about whether further investigation would establish violations of the statute." The notice added, "This does not mean the claims have no merit" or that the respondent, meaning the P.G. County Public Schools, "is in compliance with the statutes."
The notice did not give a reason for why it chose to end its investigation into Hester's complaint, but it said his filing with the EEOC cleared the way for him to file a lawsuit to further his case against the school system.
Hester told the Blade he reached out to Lambda Legal to represent him in his lawsuit, but the LGBTQ litigation group declined to take on his case without giving a reason. Gonzalez-Pagan, the Lambda attorney working on the Eller case, said he was unfamiliar with Hester's request for representation. Another Lambda official couldn't immediately be reached to determine the reason for its decision not to represent Hester.