USAID denies report that suggests it funds conversion therapy
OpenDemocracy report focuses on Kenya, Tanzania and Uganda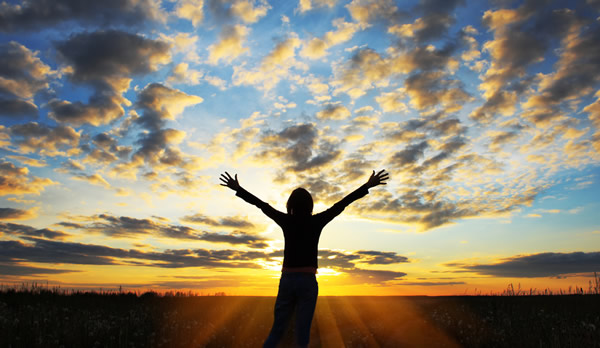 A six-month investigation conducted by openDemocracy has revealed multiple aid-funded health facilities in three African countries have been administering conversion therapy to patients.
"Health facilities in Kenya, Tanzania and Uganda have provided, or provided referrals for, controversial anti-gay 'conversion therapy' to 'quit' same-sex attraction," said openDemocracy in a statement.
Additionally, the statement mentions that undercover reporters who spoke to some staff at these facilities were offered help to quit same-sex attraction and were told that "being gay is 'evil;' and homosexuality is 'for whites', caused by peer pressure and a mental health problem." They were advised to "give a gay teenager a sleeping pill to prevent him from masturbating."
In an article that highlights their findings, openDemocracy reports that a receptionist at Mulago National Referral Hospital, Uganda's largest public hospital and HIV clinic for marginalized and most-at-risk populations, said that an undercover reporter's 17-year-old gay brother could "quit" his same-sex attraction.
"Whoever wants to quit homosexuality, we connect them," said the receptionist to outside counselors, who have included Pastor Solomon Male, a well-known gay rights opponent in the area.
The receptionist also referred the undercover reporter to a former patient who she claimed was no longer gay and gave the reporter the patient's phone number.
Mulago, like a number of health facilities in Africa, receives foreign aid and funding from organizations like the U.S. Agency for International Development, the Global Fund, PEPFAR and the U.K.-based NGO MSI Reproductive Choices.
OpenDemocracy reports the Uganda Catholic Medical Bureau network received more than $1 million from USAID between 2019 and April 2021. It remains uncertain whether the specific hospitals identified in investigations received any of this money.
The donors in response to the investigation's findings have committed to launching a separate investigation into the health facilities and taking action against so-called conversion therapy practices they are administrating.
"We strongly condemn this harmful, unethical practice, which goes against everything we stand for as an organization," an MSI Reproductive Choices spokesperson told openDemocracy. "We are grateful for all safeguarding concerns raised and thank openDemocracy for their investigation."
MSI Reproductive Choices also receives millions in aid from the British government and other international donors to specifically provide health services to marginalized communities, including gay men and transgender people.
Survivors of anti-LGBT treatments' in Kenya, Tanzania and Uganda have come forward to describe their experiences with conversion therapy.
"I was not allowed to make or receive any phone calls. They also gave me a lot of drugs that made me drowsy and exhausted all the time," said Samuel (not his real name) to openDemocracy of his experience with conversion therapy. "I felt abandoned and was afraid I was going to die."
Samuel's parents sent him to a conversion therapy institute for a year and a half. OpenDemocracy said he was given electric shocks and shown pictures of "ruptured anuses and wounded penises" by people who told him that if he didn't stop being gay, he would "meet the same fate."
A transgender woman in Tanzania recounted that her mother took her to a hospital in Dar es Salaam, the country's commercial capital, where a doctor attempted to convince her that being trans is improbable.
OpenDemocracy also cites two men in Kenya who said they received hormones to appear more 'masculine' and to limit a trans person's ability to present in their preferred gender.
As investigations into the allegations ensue, aid donors have begun to take action regarding health facilities that prescribe conversion therapy.
Kaajal Ramjathan-Keogh, the Africa director at the International Commission of Jurists, a human rights organization, told openDemocracy that aid donors should ensure their money does not fund any conversion therapy activities — and to withdraw money if it does..
"Redirect funding," said Yvee Oduor of the Gay and Lesbian Coalition of Kenya. "We already have clinics and health centres run by LGBTQI+ people all over the country. Why not fund these community initiatives?"
A USAID spokesperson in a statement to the Washington Blade said the agency "does not fund or promote anti-LGBTQ+ conversion therapy."
"The United States government, through staff at the U.S. Embassy in Uganda, has engaged leadership of the Uganda Catholic Medical Bureau and the Infectious Disease Institute (IDI) Uganda concerning the allegations cited," said the spokesperson. "IDI subgrants to the Most At Risk Populations Initiative (MARPI) clinic in Kampala, with U.S. funding."
The USAID spokesperson told the Blade that officials from the U.S. Embassy in Uganda "emphasized the need to ensure support for key populations, including the LGBTQ+ community." The spokesperson added "the implementing partners agreed to take steps to ensure" that "appropriate gender and sexual diversity training is provided to all implementing partner staff and health care workers and ensure refresher trainings" are carried out, that "hiring practices include principles of nondiscrimination in personnel contracts" and "a patient's bill of rights is posted in facilities, and service delivery issues raised through PEPFAR's Community-led Monitoring program are addressed."
Boris Johnson's LGBTQ rights advisor visits D.C.
Nick Herbert praises efforts to evacuate LGBTQ Afghans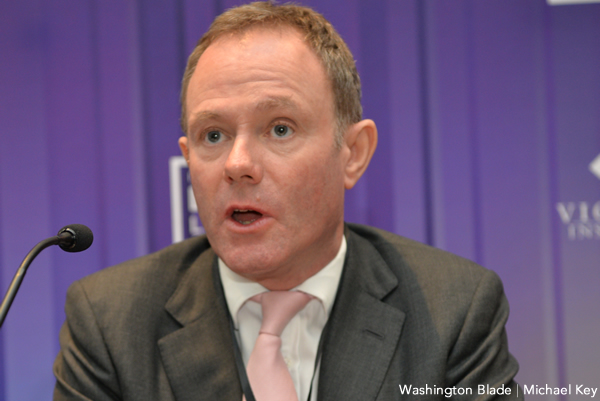 British Prime Minister Boris Johnson's advisor on LGBTQ issues last week applauded his government's efforts to help facilitate the successful evacuation of LGBTQ Afghans from the country.
"I'm very proud of the tremendous work that's been done by the U.K. government," Nick Herbert, a member of the British House of Lords, told the Washington Blade on Dec. 1 during an interview in D.C. "The U.K. has shown global leadership here."
A group of 29 LGBTQ Afghans who Stonewall, Rainbow Railroad and Micro Rainbow evacuated from Afghanistan with the help of the British government arrived in the U.K. on Oct. 29. Herbert on Nov. 6 announced a second group of LGBTQ Afghans had reached the country.
"It took … a strong effort with different parts of government working together and the determination that this was really important and that people's safety was at risk and also that we have a moral obligation to the communities affected," said Herbert.
The Taliban entered Kabul, the Afghan capital, on Aug. 15 and regained control of the country.
A Taliban judge has said the group would once again execute people if it were to return to power in Afghanistan. Rainbow Railroad and Taylor Hirschberg, a researcher at the Columbia Mailman School of Public Health who is also a Hearst Foundation scholar, and others have been working to help evacuate LGBTQ Afghans from the country.
Advocacy groups continue to urge the Biden administration to do more to help LGBTQ Afghans who remain in Afghanistan.
Herbert noted the British government has committed to grant asylum to 10,000 Afghans under the country's "Operation Warm Welcome" that seeks "to ensure the Afghans who stood side by side with us in conflict, their families and those at highest risk who have been evacuated, are supported as they now rebuild their lives in the U.K." Herbert stressed this program will "prioritize" LGBTQ people and other at-risk groups in Afghanistan.
"This shows the power of working together and governments working in partnership with NGOs to achieve something," he told the Blade. "I fully recognize there were lots of citizens who remained in Afghanistan, and so nevertheless, I think it was very heartening to see that those Afghan citizens who are most at risk were brought to the center."
Herbert said he expects more LGBTQ Afghans will be "brought to safety," but he declined to provide a specific number.
Johnson raised LGBTQ rights crackdown with Hungarian prime minister
Herbert spoke with the Blade before he participated in the Victory Institute's International LGBTQ Leaders Conference that took place in-person at the JW Marriott in D.C. from Dec. 2-4.
Johnson in May appointed Herbert as his LGBTQ rights advisor.
Herbert is the first person who officially advises a British prime minister on LGBTQ issues. The former House of Commons member also co-founded the Global Equality Caucus, a group of LGBTQ elected officials around the world who work to fight discrimination based on sexual orientation and gender identity.
Herbert throughout the interview noted his government continues to champion LGBTQ rights.
The British government on World AIDS Day pledged more than £23 million ($30.5 million) in additional funding to efforts that seek to "achieve zero new HIV infections, AIDS and HIV related deaths in England" by 2030. The British government also announced it would move to allow people with HIV/AIDS to serve in the country's armed forces.
"It's a legacy discriminatory policy that has no basis in sound science any longer," said Herbert, referring to the policy against people with HIV/AIDS in the British military. "It's entirely safe for people to serve, and we think they should be free to do so."
A public comment period on a bill that would ban so-called conversion therapy in England and Wales is underway. Herbert also expressed concern over the increasing backlash over efforts to expand rights to transgender people in the U.K.
"I'm troubled by the debate," he said. "I recognize that … this is a that a complicated issue where you have an assertion of conflicting rights. But I don't think it's acceptable to see some of the sort of angry exchanges of language that has been seen over the course of the last few months."
"It's very damaging," added Herbert.
Herbert noted to the Blade that Johnson rose Hungary's anti-LGBTQ crackdown with Hungarian Prime Minister Viktor Orbán when the two men met in May in London. Herbert also highlighted the British government in June will host a global LGBTQ rights conference that will coincide with London Pride's 50th anniversary.
"The prime minister, by the way, has always been very ready to raise these issues, both when foreign secretary and now as prime minister, which is why I think he wants to hold this conference on the agenda," said Herbert.
"We have to stand together with other countries to express our concern about what is happening," he added. "We also must take a strong stance against culture wars, and I think governments joining in culture wars results in harm to citizens."
U.K. has 'historic responsibility' for anti-LGBTQ laws in former colonies
Consensual same-sex sexual relations remain criminalized in dozens of countries around the world, and many of them are former British colonies.
Then-Prime Minister Theresa May in 2018 said she "deeply" regrets colonial-era criminalization laws the U.K. introduced. Herbert spoke with the Blade two days after the Botswana Court of Appeals upheld a 2019 ruling that decriminalized consensual same-sex sexual relations in the country.
"We want to work with our partners in encouraging countries to try to change those laws," Herbert told the Blade.
He stressed the British government has "to guard against any idea that we're being so neocolonial," while adding the U.K. has a "historic responsibility for these laws and their legacy."
"The position we approach (with) this is one of respect where we, along with other countries, are encouraging decriminalization," said Herbert. "We want to work with countries that will work with us to support them in that journey. We have to recognize that all countries have been on a journey."
Herbert noted to the Blade that homosexuality was criminalized in the U.K. when he was born.
"We need to remember that other countries are different points of the journey, but it doesn't all happen at once. And they have to make their own decisions on this and we have to encourage them to support them to do," he said. "I don't think that this is a case of Britain lecturing, certainly not a case of dictating. It's a question of encouraging."
Herbert also questioned the use of sanctions against countries that enact anti-LGBTQ laws.
The British government late last year sanctioned three Chechen officials who are responsible for the anti-LGBTQ crackdown in the semi-autonomous Russian republic that continues. Herbert described these sanctions as "justified," but said the British government has "to be careful of blunt instruments that may backfire."
"There can be different ways to make our feelings known and to encourage countries to do the right thing," he said.
The gay man who shook Brazilian sports and society
Gilberto Nogueira shares his dream of inclusion
An unexpected trailblazer shook Brazilian society in 2021 and caused significant advancements of LGBTQ rights in historically conservative groups.
Gilberto Nogueira, a reality show superstar, brought to prime-time television what most would think of as contradictions: A sexually liberal person with strong religious convictions; a high-level academic who speaks the language of the people; and, most strikingly, an effeminate and proudly gay man who is also a soccer fan.
Nogueira, or "Gil do Vigor," which roughly means "Striving Gil" in Portuguese, became a TV phenomenon by almost winning "Big Brother Brazil", one of the most popular shows in Brazilian television. His unapologetic character struck an enormous fan base that includes some of the most famous Brazilian soccer players and sports journalists. In a matter of weeks, Nogueira managed to build an unexpected alliance of LGBTQ people and sports fans to support him. This would produce lasting change, although it would not come without controversy.
"Dialogue is a great and necessary bridge to long-term changes, which leads us to reflection, reassessment of attitudes, conscious self-assessment, practical actions and much more," Nogueira told the Washington Blade from California, where he is now pursuing his PhD in economics at the University of California-Davis.
The roots of the fight for diversity in Brazilian soccer can be traced to the 1970s, when a group called "Torcida Coligay" decided to defy homophobes and the then-ruling military dictatorship by bringing together queer fans of the soccer club Grêmio. More recently, tangible outcomes have been achieved.
Since Brazil's Supreme Court criminalized LGBTQ-phobic violence in 2019, fines and legal sanctions have been applied by sports authorities onto clubs whose supporters chanted homophobic slurs. Drawing from the heritage of Torcida Coligay, the collective "Canarinhos LGBT" has been pressuring restlessly for the enforcement of these measures.
However, as an important part of the Brazilian cultural identity, sports have also entered the cultural war that has dominated Brazil's public life. Nogueira himself has been in the middle of a battle between two visions of what soccer should be. A fan of the club Sport Recife, Gil was invited by the club for a visit to the team's stadium. The day after, an audio leak revealed homophobic slurs by one of the club's advisors, sparking outrage among Nogueira's supporters and media figures and reaching national headlines. Before the episode, it would be unimaginable to have soccer players showing support for LGBTQ Rights.
Since then, the club's executive direction, younger and more diverse, and its governing council, older and male-dominated, started a civil war around the expulsion of the advisors. Possibly avoiding further backlash, Nogueira has not been outspoken about this topic in Brazilian media. Asked to comment on this article, he broke his silence.
"Conservatism, patriarchy and homophobia are issues that, in the sports universe, are potentialized because it is an environment where these key themes were rarely brought into the agenda, which is completely inconsistent, as sports are synonymous with inclusion. But the question is: Inclusion for whom?" Nogueira said.
"I see that we are lagging behind and there is little willingness to advance in these debates, and even less will to introduce practices that can foster the debate on gender identities, gender expression, sexual orientation, among others. I also realize that we lack dialogue, and we know that talking about the plurality of life is respecting it, inserting it, sustaining it in such an oppressive environment." he concluded.
The battle for inclusion in Brazilian sports occurs in the midst of a highly hostile political debate.
About a month ago, Mauricio Souza, a famous volleyball player, was fired from his club after anti-LGBTQ comments on social media. Immediately, he became a symbol of Brazil's far right, multiplying his followers and gaining support from President Jair Bolsonaro. Souza is now expected to run for the Congress in Bolsonaro's party.
In this context, Nogueira 's contribution for diversity in sports becomes even more remarkable. His persona — evangelical, gay, academic, raised in poverty — defies the typical divide of the deeply polarized Brazilian society. Asked what he would say to other LGBTQ persons living in highly conservative environments such as the church and the soccer stadium, Nogueira states the answer is within.
"There are always answers within ourselves," he said. "While everyone has the right to speak when, how and if they want to about their orientation or gender identity, genuinely belonging to ourselves is something we will question ourselves throughout our lives".
Another remarkable characteristic of Nogueira is his firm belief in his dreams. Even having won national recognition, 15 million followers on Instagram and millions of dollars in advertisement, he chose to continue his life-long plan to pursue a PhD at UC Davis. This does not drive him away from his fight for inclusion.
"I intend to conduct relevant research that has a social impact directly related to minorities — in this case, the LGBTQIA+ community and racial issues — so that we can discuss and show that it is important to have diversity in all sectors of the country, and that this will not only bring more equality, but it will also bring development," he said.
From California, Nogueira has his own segment in a popular TV show, explaining complex economic concepts to common people. This highlights his vision for the future of Brazil.
"I intend to use my theoretical knowledge as an economist … to show that we need to consolidate ourselves as a country that is diverse, respectful, not homophobic, not racist, because otherwise, we pay the price as human beings, but also as a country, as a whole," he said. Nogueira's activism and brilliance has shown that Brazilian sports culture is on an inclusive path, but there is still a long way to go. There are very few high-profile athletes who are openly LGBTQ, and in men's soccer, Brazil's most popular sport, there are none.
However, Nogueira's impact, as Michael Sam and Megan Rapinoe in the U.S., is proof that society is changing and this includes formerly homophobic milieus, as the sports arenas.
Egerton Neto is the international coordinator at Aliança Nacional LGBTI+, a Brazilian LGBTQ rights group, and a master candidate at the London School of Economics. Caio Leite is a political scientist.
Victory Fund honors gay Guatemalan congressman at D.C. conference
Aldo Dávila a vocal critic of country's government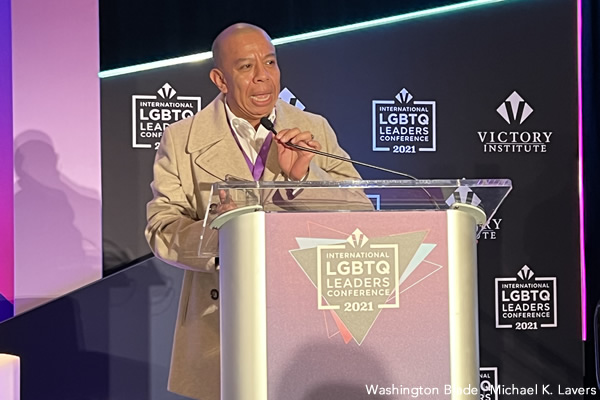 The Victory Fund on Friday honored an openly gay Guatemalan congressman who has faced death threats because of his efforts to fight corruption in his country.
Dávila — a member of the Winaq movement, a leftist party founded by Rigoberta Menchú, an indigenous human rights activist and Nobel Peace Prize winner — in 2019 became the first openly gay man elected to Guatemala's congress. Dávila, who also lives with HIV, had previously been the executive director of Asociación Gente Positiva, a Guatemala City-based HIV/AIDS service organization.
Supporters of President Alejandro Giammattei have lodged several formal complaints against Dávila after he publicly criticized the government over corruption, its response to the pandemic and other issues.
Three men on April 19 approached Dávila's vehicle near Guatemala's National Library and tried to rob him. One of Dávila's bodyguards shot one of the men, but the two other assailants fled the scene before police officers and passersby arrived.
Dávila told the Washington Blade in September during an interview at a Guatemala City hotel that he and his partner installed cameras in their apartment after someone killed their dog.
Two female police officers who arrived at the hotel with Dávila sat in the lobby while he spoke with the Blade. The government a few weeks later reduced his security detail.
"Guatemala is living through the worst democratic crisis in the last 40 years," said Dávila after he accepted the Victory Fund's Global Trailblazer Award at its 2021 International LGBTQ Leaders Conference that is taking place in-person at the JW Marriott in downtown D.C. "Guatemala right now is being paralyzed by corruption and impunity and my voice is uncomfortable because of this."
Dávila became emotional at the end of his remarks.
"I will keep fighting for our rights," he said.