Brett Parson waives right to attend arraignment after not guilty plea
Former D.C. police lieutenant charged with unlawful sex with minor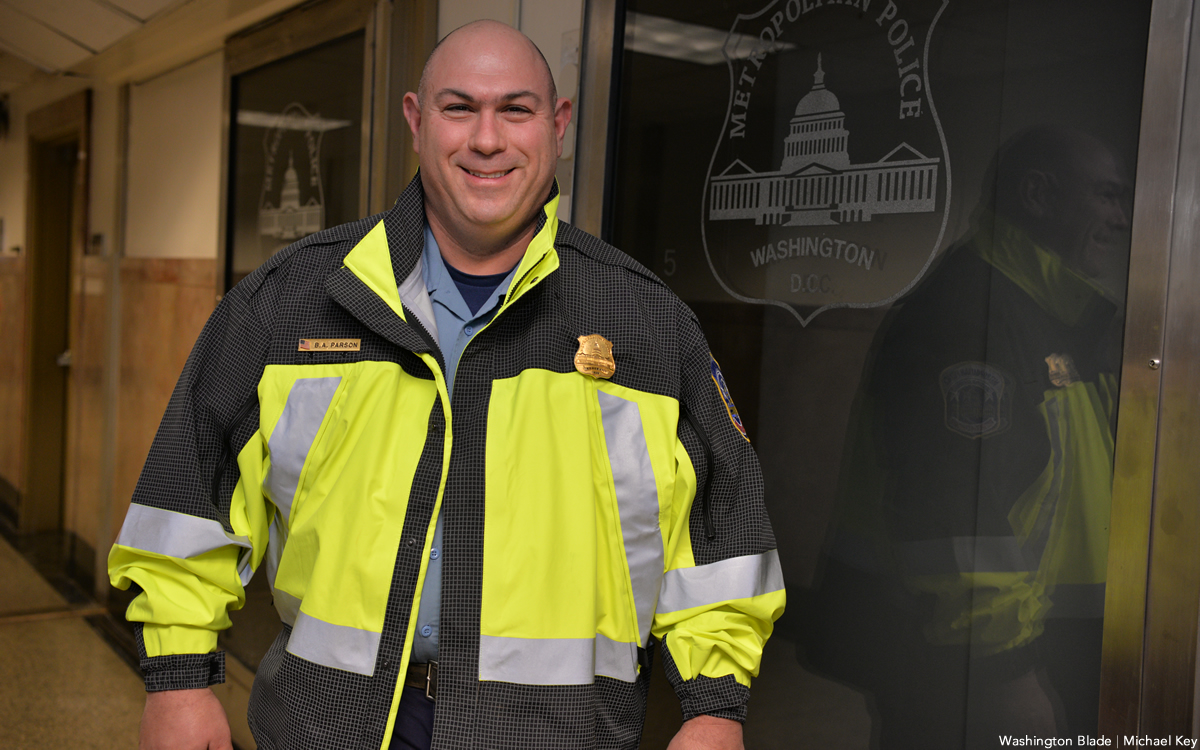 Former D.C. police lieutenant Brett Parson, who was arrested in Coconut Creek, Fla., in February for allegedly having sex with a 16-year-old boy, waived his right to attend his April 19 court arraignment after pleading not guilty and requesting a trial by jury in a written motion filed by his lawyer on March 1.
Online records from the Broward County Circuit Court, where Parson's case is pending, show that the arraignment was held as scheduled. The records show a judge who is not identified in the online records scheduled a follow-up "Calendar Call" hearing for May 20 to allow prosecutors and the defense to deliberate over how to proceed with the case.
Prosecutors with the Broward County State Attorney's Office charged Parson with two counts of unlawful sexual activity with a minor following his arrest for allegedly engaging in oral sex with a 16-year-old he met on the Growlr gay dating app, which requires people using the site to be 18 or older. Sources familiar with the app say the age restriction is not enforced.
An arrest affidavit says the 16-year-old told police he and Parson met on the dating app, exchanged "explicit" photos of each other, and arranged to meet at a location in Coconut Creek near where the 16-year-old lived. It says the two, who were in separate cars, drove to a second location in a secluded parking lot around 1 a.m., where the 16-year-old entered Parson's car and they engaged in mutual oral sex.
After becoming concerned that they might be seen by people in that location, the affidavit says the 16-year-old persuaded Parson that they each drive their cars to another location. While following each other, police in the area saw the 16-year-old drive into a restricted location owned by Comcast, according to the affidavit. It says police stopped the youth and questioned him while officers in a separate car stopped Parson but allowed him to drive away after he told them he was from out of the area and wasn't sure where he was.
Without giving a reason, the affidavit says the 16-year-old provided police with full details of his interaction with Parson that police would otherwise not have known at the time they stopped him for driving into a restricted space.
The affidavit makes it clear that the 16-year-old, who is not identified, consented to the sexual encounter. But authorities point out that Florida's age of consent is 18 and a minor at the age of 16 or 17 cannot legally consent to sexual acts with someone older than 24 under Florida law.
It says that after questioning the 16-year-old, Coconut Creek police contacted his parents, who requested that charges be brought against Parson. The affidavit says police identified Parson through the 16-year-old's phone, which he used to exchange text messages and photos with Parson.
Court records show that a judge on Feb. 18, six days after his arrest, set bond for Parson's release at $25,000 for each of the two charges of unlawful sexual activity with a minor, for a total of $50,000. The Blade couldn't determine at that time if Parson was able to pay the required 10 percent of the bond at $5,000. A check with the Broward County Jail in Fort Lauderdale where most arrestees are held showed Parson was not being held there as of Feb. 18.
However, the current updated court records show that bond for Parson was posted on Feb. 21, raising the question of whether he was held someplace in custody until that time.
A spokesperson for the Broward County State Attorney's Office, which prosecutes criminal cases, confirmed that neither Parson nor his attorney attended the April 19 arraignment, but declined to comment further, saying the office never discusses pending cases.
Court records identify Parson's attorney as Michael E. Dutko, whose law office website says he worked as a Fort Lauderdale police officer and prosecutor prior to starting his criminal law practice. Dutko did not respond to phone and email messages from the Washington Blade seeking comment on the Parson case.
Court records also show that upon his release, a judge ordered Parson to remain in Florida at the residence of his parents in Boca Raton, who he had been visiting at the time of his arrest, while his case remained pending.
Parson served as supervisor for the D.C. police LGBT Liaison Unit and later as head of the division overseeing all the department's community liaison units before he retired from the force in 2020 after a 26-year police career. At the time of his retirement, he announced he was starting a consulting business to advise law enforcement agencies in the U.S. and abroad on police-related issues.
D.C. Police Chief Robert Contee, while saying he could not comment on the circumstances surrounding Parson's arrest, told the Blade at a press conference in February on unrelated issues that he had worked closely with Parson in past years, saying Parson "served the citizens of the District of Columbia well."
Equality Loudoun hosts its first Pride celebration
'Our plans for next year are going to be bigger, bolder'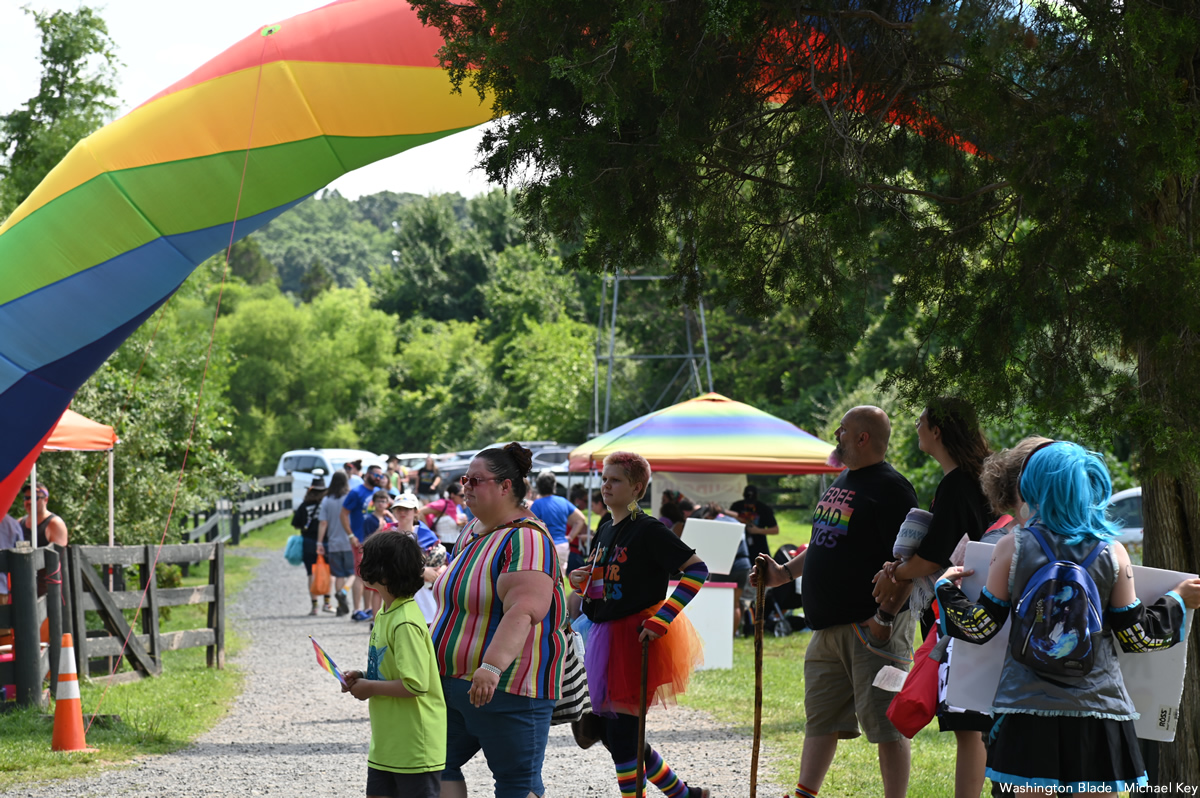 A year after a controversial brawl between parents and administration officials regarding the implementation of trans-friendly policies in public schools in Loudoun County, Va., a local LGBTQ organization hosted its inaugural Pride festival in solidarity with the area's LGBTQ community.
"Pride means a chance to show this county that the loud voices who have been standing against LGBTQ equality do not represent the voices of [everyone] in the [county]," said Cris Candiace Tuck, president of Equality Loudoun. "[A lot of us] here believe in equality."
Equality Loudoun hosted its Pride celebration on June 26 at Claude Moore Park in Sterling, Va.
When planning for Pride month festivities, the organization designed the events to reflect the diverse interests and identities of Loudoun County's queer population. There was a wide collection of vendors selling Pride merchandise, advocacy non-profit organizations and musical acts featured on the main stage.
There was also a "Loudoun Pride Drag Stage" event where the "hottest of Loudoun Royalty" showcased their musical talents.
"We want everyone to … recharge emotional batteries that have been drained," said Tuck.
Planning Equality Loudoun's Pride festival did not come without its fair share of surprises. Initially, the organization had planned for a smaller event. However, when more individuals began showing interest, the organization was forced to switch to a bigger venue to allow more vendors to attend.
"We had many vendors call in and we had to turn a [number] away," said Tuck.
The organization planned its festivities in 90 days, two weeks during which it raised $45,000 — three times as much as it had originally expected.
Equality Loudoun has its sights set on getting LGBTQ community members and allies connected to the resources the organization offers through education and health advocacy.
"Pride [will always be] a celebration of our heritage," said Tuck. "It's a moment to recognize what we have gained and lost."
Tuck said that ideas for next year are already underway.
"Our plans for next year are going to be bigger, bolder and brighter," he said.
Click HERE to see more photos from the event.
Comings & Goings
Cummings joins White House Office of National Cyber Director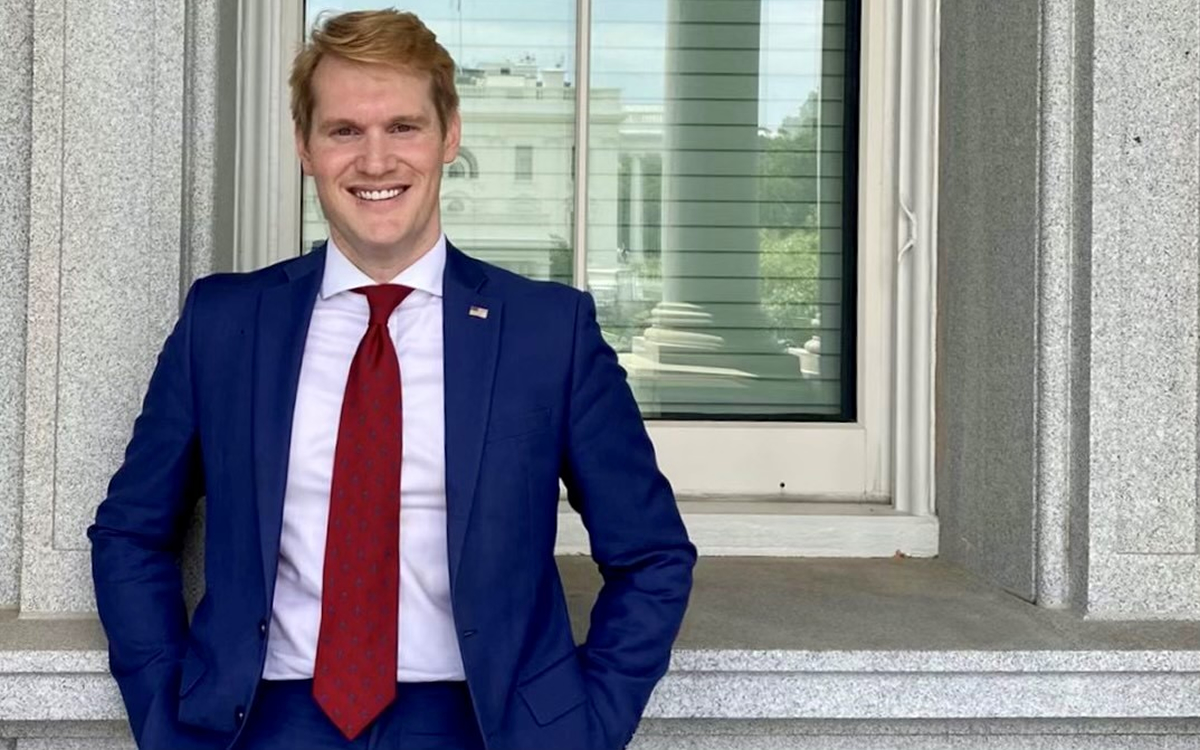 The Comings & Goings column is about sharing the professional successes of our community. We want to recognize those landing new jobs, new clients for their business, joining boards of organizations and other achievements. Please share your successes with us at: [email protected]. 
Congratulations to John Cummings on joining the Office of the National Cyber Director at the White House as Director of Supply Chain and Technology Security. Upon getting the position, he said, "I am beyond thrilled to join the growing team at the National Cyber Director's Office and bring my experience to our mission of mitigating the cyber threats facing our nation and ensuring every American can enjoy the full benefits of the digital ecosystem. It is truly a privilege to work with this incredibly brilliant and collegial group of cyber experts." 
Prior to joining the White House, Cummings served as Associate General Counsel at the Office of the Director of National Intelligence (ODNI). Before that role, he served as interim Chief Counsel for ODNI's National Counterintelligence and Security Center and as Associate General Counsel for the Office of the Inspector General of the Intelligence Community.
He has provided legal advice and counsel on matters of government-wide and interagency policy and national security in the areas of executive authority, cyber, constitutional law, civil rights and civil liberties, legislative affairs, and international cooperation. He has worked on recruiting LGBTQ, women, and minority applicants for government roles in national security and is experienced in public relations, stakeholder relationships, and international partnerships.
Cummings began his career clerking for the Honorable Ivan L.R. Lemelle, U.S. District Court for the Eastern District of Louisiana, and also clerked for the House Committee on Homeland Security and the American Bar Association's Standing Committee on Law and National Security.
He attended Villanova University where he received a bachelor's degree in English. He earned his J.D. from Loyola Law, New Orleans, and his LL.M. in National Security Law from Georgetown Law.
Abortion rights in post-Roe Maryland, Delaware
Practice generally legal, with some restrictions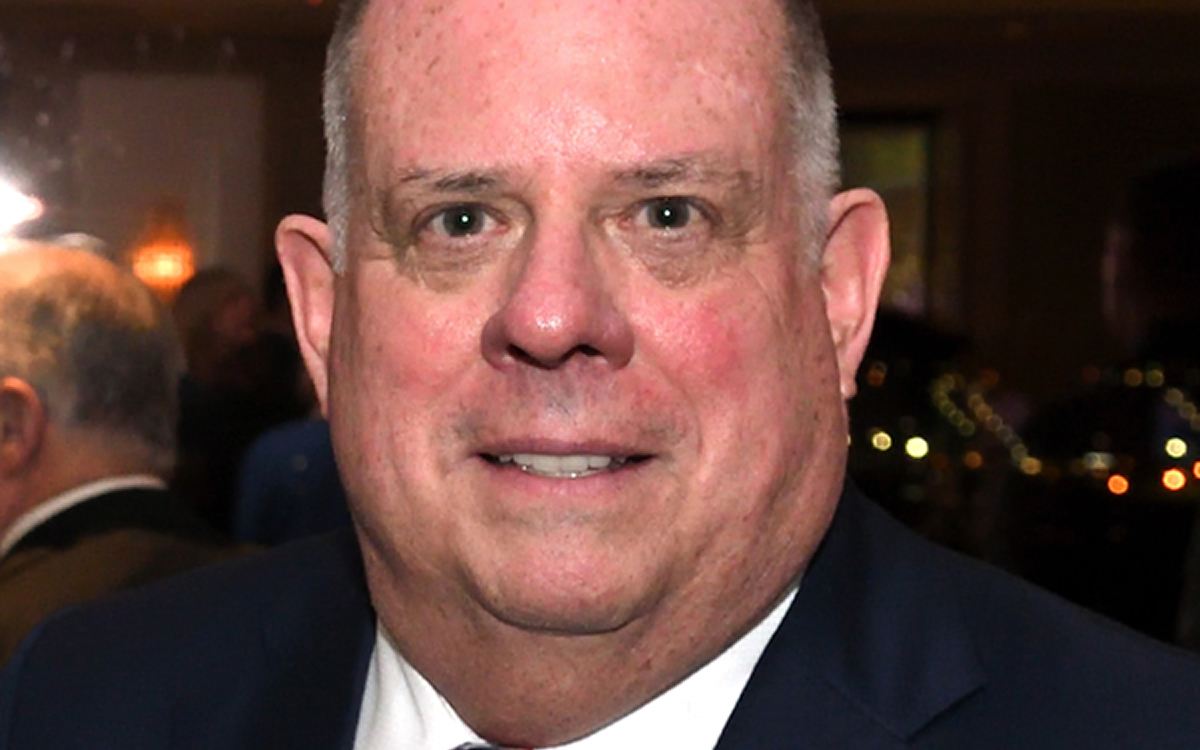 The U.S. Supreme Court on Friday overturned Roe v. Wade, which in 1973 found that the decision to receive an abortion was generally protected by the Constitution of the United States. With the broadest federal protection of abortion access now rescinded, the legality of abortion will by and large be determined on the state level.
In Delaware, abortion is legal through the Medical Practice Act — but with some restrictions.
After fetal viability, or the point where a fetus can survive outside the uterus, abortion in the First State becomes illegal unless necessary for the patient's "life or health," or if the fetus has a condition "for which there is not a reasonable likelihood" that it will survive outside the uterus, according to Subchapter IX of the act.
Additionally, under the state's Parental Notice of Abortion Act, physicians cannot perform a surgical abortion on minors under the age of 16 unless the patient's parent or guardian has received at least 24 hours notice from a medical professional. Notice is not required for nonsurgical abortions.
On the federal level, the funding of abortion is illegal through the 1977 Hyde Amendement "except in cases of life endangerment, rape or incest," according to the Guttmacher Institute, a sexual and reproductive rights advocacy organization. States are only federally required to fund abortions that meet these conditions through federal-state Medicaid programs.
While some states also fund abortions deemed medically necessary regardless of whether they endanger a patient's life, Delaware state law does not extend beyond federal guidelines: The state only funds abortions in cases of life endangerment, rape or incest.
Abortion legislation in Delaware mirrors neighboring Maryland, whose laws include similar restrictions on abortion after fetal viability and abortion for minors under the age of 16. But abortion laws in these states are generally more restrictive than other mid-Atlantic counterparts, such as New Jersey and New York.
Maryland Gov. Larry Hogan (R) weighed in on the state's abortion law on Friday.
"In 1992, Maryland voters approved a constitutional referendum legalizing and protecting access to abortion as a matter of state law – that measure remains in effect today following the Supreme Court decision in Dobbs v. Jackson. I swore an oath to uphold the Constitution and the laws of Maryland, and that is what I have always done and will continue to do as governor."
The impact of Roe v. Wade's fall in Delaware remains uncertain. While the abortion rate in Delaware steadily declined between 2014 and 2017, recent findings show that instances of abortion are increasing once again in the state, reflecting a rise on the national level.