LGBTQ voters to choose among friends in D.C. elections
Out gay candidates considered viable in Ward 1, 5 Council races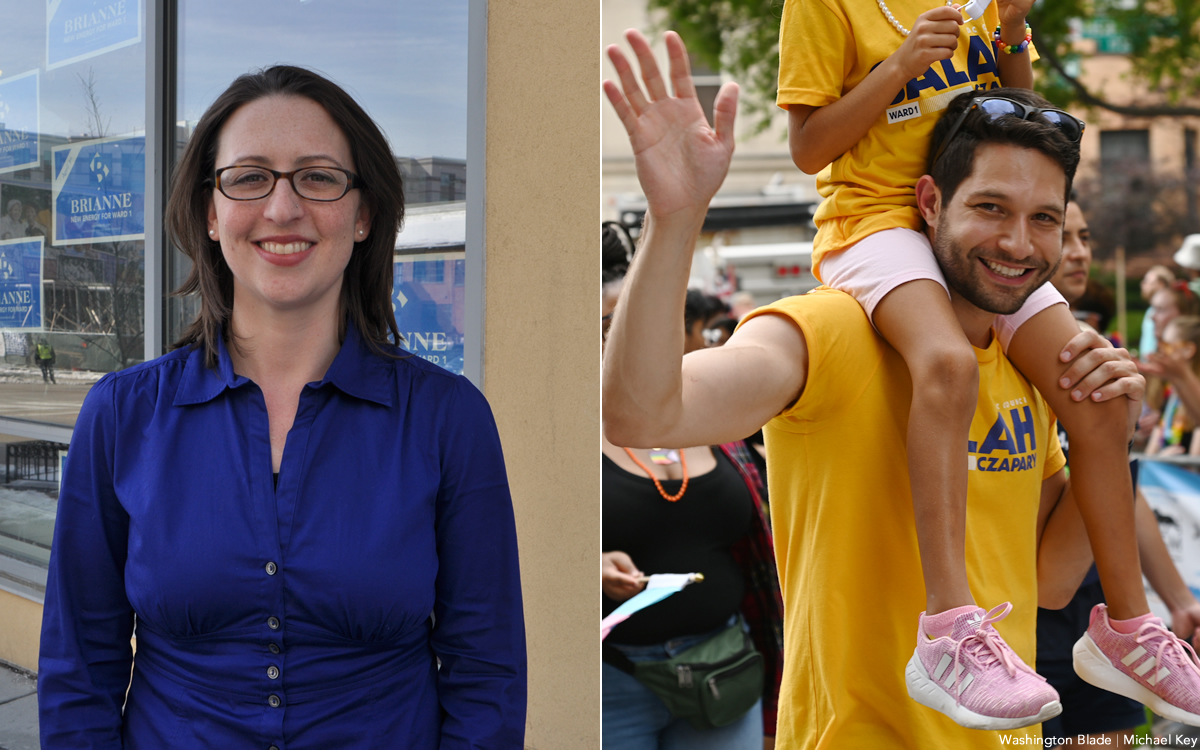 In what LGBTQ activists consider a highly positive development, all serious candidates running for mayor, D.C. Council, Attorney General, and the city's congressional delegate seat and "shadow" U.S. House seat in the city's June 21 Democratic primary have either expressed strong support for LGBTQ issues or have long records of support on those issues.
Activists following the election say they expect LGBTQ voters — like all D.C. voters — to decide who to vote for based on a number of other issues, including public safety, affordable housing, and whether the city's public schools should remain under mayoral control or return to the previous system of an independent school board, among other issues.
"We are fortunate to live in a city where all candidates support the LGBTQ community, so it is other issues our community is focused on," said gay Democratic activist Peter Rosenstein, who is supporting Mayor Muriel Bowser's re-election bid for a third term in office.
Other LGBTQ activists, including former Gay and Lesbian Activists Alliance President Rick Rosendall, are backing D.C. Council member Robert White (D-At-Large) for mayor. Like Bowser, Robert White has a long record of support on LGBTQ issues.
Ward 8 Council member Trayon White (D-Ward 8) and community activist and former Advisory Neighborhood Commissioner James Butler are also running for mayor in the Democratic primary. Trayon White has supported LGBTQ issues on the Council and Butler has expressed support for those issues.
The other races on the primary ballot on June 21 include D.C. Council Chair; At-Large D.C. Council member, Council members for Wards 1, 3, 5, and 6; D.C. Attorney General; D.C. Congressional Delegate; and U.S. Representative, also known as the city's "shadow" House member with no voting powers in Congress.
In an action that surprised some in the LGBTQ community, the Capital Stonewall Democrats, the city's largest LGBTQ political group, has endorsed Robert White over Bowser in the mayor's race and Democratic challenger Erin Palmer over incumbent longtime LGBTQ rights supporter Phil Mendelson for the D.C. Council Chair position.
Capital Stonewall Democrats has also endorsed incumbent Ward 1 Council member Brianne Nadeau over her out gay challenger, former D.C. police officer Salah Czapary, who has been endorsed by the Washington Post and by former D.C. Mayor Anthony Williams.
The LGBTQ Democratic group has endorsed the second out gay D.C. Council candidate running this year, D.C. Board of Education President Zachary Parker, who is among seven candidates competing for the open Ward 5 D.C. Council seat. Incumbent Ward 5 Council member Kenyan McDuffie is not running for re-election.
Parker has been endorsed by D.C. Attorney General Karl Racine, the Washington Teacher's Union, and the Sierra Club among other local political groups. Both Czapary and Parker were endorsed by the LGBTQ Victory Fund, the national group that raises money to help elect LGBTQ candidates for public office.
The other candidates competing with Parker for the Ward 5 Council seat include former At-Large and Ward 5 Council member Vincent Orange and community activists Faith Gibson Hubbard, Gary Johnson, Art Lloyd, Gordon Fletcher, and Kathy Henderson.
In other races, Capital Stonewall Democrats voted to endorse D.C. Council member Charles Allen (D-Ward 6), who is running unopposed in the primary; D.C. Congressional Del. Eleanor Holmes Norton, who is favored to win re-election against two lesser-known challengers; and D.C. shadow U.S. Rep. Oye Owolewa, who's also favored to win over a lesser-known opponent.
The LGBTQ group did not make an endorsement in the Ward 3 and At-Large D.C. Council races and in the D.C. Attorney General's race because no candidate received a required 60 percent of the vote from group's members under its longstanding rules for endorsements.
Eight candidates are running for the Ward 3 Council seat for which incumbent Council member Mary Cheh is not seeking re-election. A ninth candidate, Tricia Duncan, dropped out of the race earlier this week and endorsed candidate Matthew Frumin. Some political observers say Frumin and former city budget director Eric Goulet are the two frontrunners in the race. The other candidates include Henry Cohen, Ben Bergman, Beau Finley, Monte Monash, Deirdre Brown, and Phil Thomas. All have expressed strong support for LGBTQ equality.
Also expressing support for the LGBTQ community are the three candidates running for Attorney General — Brian Schwalb, Ryan Jones, and Bruce Spiva. Each is a practicing attorney at separate D.C. law firms.
In the At-Large Council race, three candidates are challenging incumbent and longtime LGBTQ rights supporter Anita Bonds – Lisa Gore, Nate Fleming, and Dexter Williams, each of whom also expressed support for the LGBTQ community.
In the D.C. Congressional Delegate race challenger Rev. Wendy Hamilton served as minister for the LGBTQ supportive Metropolitan Community Church in suburban Maryland and describes herself as a strong LGBTQ ally. The second challenger to incumbent Eleanor Holmes Norton is community activist Kelly Mikel Williams, who also expressed support for the LGBTQ community.
Jatarious Frazier, the Capital Stonewall Democrats president, said Norton's years of acting as a champion for LGBTQ rights on Capitol Hill made her an easy choice for the group's endorsement for re-election.
Political observers have said the current "dividing line" between the city's Democratic candidates who run against each other in the primaries historically has been whether they position themselves as moderates or left-leaning progressives. Democratic voters, including LGBTQ voters, also fall into those two ideological camps, according to observers.
But some political observers say the Ward 1 and Ward 5 D.C. Council races, where openly gay candidates are running, have raised the question of whether LGBTQ voters should vote "gay" rather than follow their ideological leanings, to bring back LGBTQ representation on the Council for the first time in eight years.
The late gay D.C. Council member Jim Graham (D-Ward 1) left the Council in January 2015 after losing his 2014 re-election bid to incumbent Ward 1 Council member Nadeau. Gay former D.C. Council member David Catania (I-At-Large) left office in 2015 after an unsuccessful run for mayor in 2014.
Supporters of Czapary and Parker have said a member of the LGBTQ community on the D.C. Council would offer important representation for the LGBTQ community that a straight ally cannot necessarily provide on issues such as homeless LGBTQ youth and persistent hate violence to which the LGBTQ community, especially transgender women, are faced with.
In addition to being endorsed by AG Racine, the Teacher's Union, and the Sierra Club, Parker received the endorsement of Ward 4 D.C. Council member Janeese Lewis George, who's considered one of the Council's left-leaning progressives, as well as the endorsement of the left-leaning groups Democratic Socialists of America and the Working Families Party.
Parker told the Washington Post he doesn't view his race for the Ward 5 Council seat as being one of moderate versus liberal left.
"You will see a range of people that span ideology [supporting me]," the Post quoted him as saying. "And that is what we need more of in our political system," he told the Post.
Czapary, who states on his campaign website that he supports progressive values, says he holds positions on key issues as a moderate Democrat, including issues related to public safety. He has supported Bowser's call for the Council to increase the police budget to restore funds the Council cut from the police budget two years ago. He points out that Nadeau was among the Council members that voted to cut the police budget.
Nadeau has said she has taken strong action in support of public safety policies, including violence interruption programs that Czapary also supports.
Czapary's supporters, including the LGBTQ Victory Fund, which endorsed him, say he too would transcend ideology to work for solutions to the problems facing Ward 1 and the city. As the son of a Palestinian refugee and a Hungarian immigrant, he would become the first Arab American to serve on the D.C. Council, his supporters point out.
"D.C. boasts the highest percentage of LGBTQ+ individuals per capita of any large U.S. city," Czapary told the Blade. "Our city's policies must respond to the needs of these communities and support the most vulnerable within them," he said.
Less than a week before the June 21 primary, it couldn't be determined whether "progressive" LGBTQ voters in Ward 1 would back Czapary or whether "moderate" LGBTQ voters in Ward 5 would back Parker.
With many political observers saying both Parker and Czapary have a shot at winning, supporters of their opponents have stepped up their opposition campaigns against the two, with Czapary being singled out as a "closet" Republican, an allegation he strongly denies.
Nadeau has pointed out that he did not become a registered Democrat until he filed for his candidacy for the Ward 1 Council seat earlier this year. Czapary says he has been a Democratic leaning independent based on his and his parents' adherence to the Bahai faith, which shuns political parties.
He told the Blade his parents were far more accepting of him when he came out as gay than when he came out to them as a Democrat. But he said they understood his political beliefs were fully aligned with the Democratic Party.
Nadeau has also cited a Washington City Paper report in May that Czapary earlier this year named as his honorary campaign chairperson the son of a Trump supporter who was associated with a right-wing group that supported Trump's claim that the 2020 presidential election was rigged, and that Trump was the true winner.
Czapary told the Blade he immediately dismissed Will Pack as his campaign chair after learning that Pack played a brief role with the ultra-conservative Claremont Institute. He said he met Pack when Pack was a volunteer firefighter and volunteer police officer at the time Czapary worked as a special assistant to D.C. Police Chief Robert Contee.
"My team is very much rooted in the Democratic Party," said Czapary. "My campaign manager is Steve Schwab who Speaker Pelosi has called an 'incredible leader,' who has run a dozen Democratic campaigns," Czapary told the Blade. "My field director worked for Bernie Sanders and my committee leader worked on both the Obama and Clinton campaigns."
Observers of the Ward 1 race say Czapary has a shot at winning but his campaign is facing the dilemma that a third candidate running for the Ward 1 seat, ANC Commissioner Sabel Harris, could take away just enough votes from Czapary to enable Nadeau to win with less than 50 percent of the vote, which is what happened when she won her re-election race in 2018.
Nadeau has said LGBTQ issues have been among her highest priorities since taking office in 2015. She told members of Capital Stonewall Democrats at an event for the group's endorsed candidates last week that she would continue her role as a committed LGBTQ ally.  
The D.C. Board of Elections' candidates list shows there are just six Republican candidates running in the city's Republican primary, each of whom is running unopposed. There are no candidates running under the city's two other political parties – the Statehood Green and Libertarian Party.
Following are the Republican Party candidates:
• DC Congressional Delegate – Nelson Rimensnyder
• DC Mayor – Stacia Hall
• DC Council Chair – Nate Derenge
• DC Council At-Large – Giuseppe Niosi
• DC Council Ward 3 – David Krucoff
• DC Council Ward 5 – Clarence Lee, Jr.
 
Rimensnyder, who has run for the congressional delegate seat in the past, has expressed support for LGBTQ rights. A spokesperson for Hall noted that Hall appeared as guest speaker at a recent meeting of D.C.'s LGBTQ Log Cabin Republicans group but did not provide information about Hall's positions on specific LGBTQ issues.
Niosi and Krucoff and a small contingent of their supporters marched in the D.C. Capital Pride Parade on June 11. Lee couldn't immediately be reached to determine his position on LGBTQ issues. Derenge, who ran as a GOP candidate for the Ward 8 D.C. Council seat in 2020, received a GLAA rating of -2 at that time.
Adam Savit, the D.C. Log Cabin Republicans president, said the group decided not to endorse any of the unopposed Republican candidates at this time. He said Log Cabin plans to hold a GOP candidate forum in the fall ahead of the November general election.
Longtime D.C. gay Democratic activist Earl Fowlkes, who serves as chair of the Democratic National Committee's LGBTQ Caucus, predicts there will be a low voter turnout and far fewer votes cast in the June 21 primary because this year is an "off year," non-presidential election.
"With all the other things going on – the high gasoline prices and people trying to survive with the inflation, I don't know if there is a lot of interest in this election," he said. "And the people I talk to are not really focusing on the election very much because there are other issues they're dealing with."
If the voter turnout is low, Fowlkes said, it nearly always gives an advantage to the incumbents, prompting him to predict Mayor Bower, Council Chair Mendelson, and At-Large Council member Bonds will win their respective races.
Mark Lee, coordinator of the D.C. Nightlife Council, a nonprofit trade association representing the city's restaurants, bars, and nightclubs, including gay bars, said the operators of those establishments have not officially endorsed any candidates running in the June 21 primary. But Lee said many of them are individually backing candidates they feel understand the needs and concerns of their mostly small, neighborhood-based businesses.
"That's why there is broad small business support across the District for the re-election of Mayor Muriel Bowser, D.C. Council Chair Phil Mendelson, and At-Large Council member Anita Bonds," Lee said. He said many nightlife business operators are also supporting Eric Goulet for the Ward 3 Council seat, Faith Gibson Hubbard for Ward 5 Council, and Salah Czapary for the Ward 1 Council seat.
GLAA ratings trigger controversy  
The Gay and Lesbian Activists Alliance (GLAA), one of the city's oldest LGBTQ organizations, last month issued candidate ratings that some critics say favor candidates with left-leaning progressive views unrelated to LGBTQ issues.
GLAA released a statement disputing those claims, saying the issues on which it based its ratings, such as decriminalization of sex work, reallocating funds from the police budget for violence prevention programs, and increased funding for programs for the homeless, will favorably impact LGBTQ people who are experiencing problems that some candidates have not adequately addressed. LGBTQ activists disagree over the impact the GLAA ratings will have on LGBTQ voters.
In the mayoral race, GLAA gave Robert White a rating of +9 out of the highest possible rating of +10. The group gave Bowser a rating of +6 and mayoral candidate Butler a +3 rating. Mayoral contender Trayon White received a "0" rating for failing to return a GLAA candidate questionnaire that the group requires of all candidates it rates. Under its rules, candidates that do not return a completed questionnaire receive an automatic "0" rating.
The group issues its ratings on a scale of +10, the highest rating, to -10, the lowest possible rating. GLAA did not issue ratings for the Congressional Delegate or shadow House seats or for any of the Republican candidates.
Following are GLAA's candidate ratings:
D.C. Mayor
Robert White — +9
Muriel Bowser — +6
James Butler — +3
Trayon White – 0
 
D.C. Council Chair
Erin Palmer — +8
Phil Mendelson — +6
 
D.C. Council At-Large
Lisa Gore – +8.5
Anita Bonds — +6
Nate Fleming – +5.5
Dexter Williams – +4.5
 
D.C. Council Ward 1
Brianne Nadeau – +9.5
Sabel Harris – +6
Salah Czapary – +4
 
D.C. Council Ward 3
Beau Finley – +7
Deirdre Brown – +6.5
Phil Thomas – +5
Ben Bergmann – +4.5
Tricia Duncan – +4
Matt Frumin – +4
Henry Cohen – 0
Eric Goulet – 0
Monte Monash – 0
 
DC Council – Ward 5
Faith Gibson Hubbard – +7.5
Zachary Parker – +6.5
Gordon Fletcher – 0
Gary To-To Johnson – 0
Kathy Henderson – 0
Art Lloyd – 0
Vincent Orange [No rating given on ethics grounds]
 
D.C. Council Ward 6
Charles Allen — +8.5
 
Attorney General
Bruce Spiva — +6.5
Brian Schwalb — +6
Ryan Jones — +2.5
 
A breakdown of GLAA's rating scores for each of the candidates and the candidates' responses to the GLAA questionnaire can be accessed at glaa.org.
AIDS Healthcare Foundation celebrates opening of new D.C. healthcare center
Ribbon-cutting marks launch of state-of-the-art facility on Capitol Hill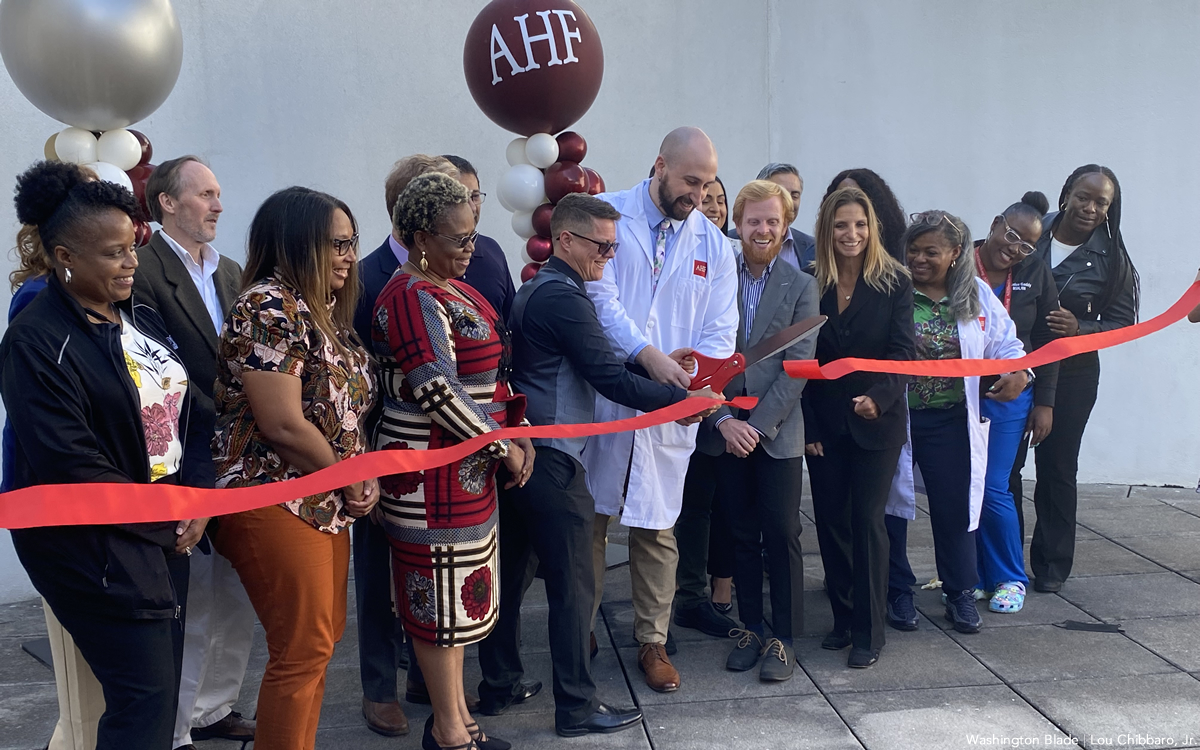 The AIDS Healthcare Foundation, the world's largest HIV/AIDS healthcare organization with its headquarters in Los Angeles, held a ribbon-cutting ceremony on Sept. 27 to mark the official opening of its Capitol Hill Healthcare Center.
The new center, which AHF describes as a state-of-the-art facility for the holistic care and treatment of people with HIV as well as a site for HIV prevention and primary care services, is located at 650 Pennsylvania Ave., S.E. a half block away from the Eastern Market Metro station.
A statement released by AHF says the Capitol Hill Healthcare Center will continue AHF's ongoing delivery of "cutting-edge medical care and services to patients regardless of insurance status or ability to pay." The statement adds, "The site also features a full-service AHF Pharmacy and will host Wellness Center services on Saturdays to offer STI testing and treatment."
The statement was referring to the testing and treatment for sexually transmitted infections. The D.C. Department of Health has said the highest number of STIs in the city have been reported for men who have sex with men.
Mike McVicker, AHF's Regional Director for its D.C., Maryland, and Virginia facilities, said the Capitol Hill center began taking patients in October of 2021 as AHF transferred its operations from its facility on Benning Road, N.E. about two miles from the Capitol Hill site. McVicker said the Benning Road site has now been closed.
AHF's second D.C. medical center is located downtown at 2141 K St., N.W. AHF operates three other extended D.C.-area health care centers in Falls Church, Va., Temple Hills, Md. and Baltimore.
"Our Capitol Hill Healthcare Center has no waiting room, so patients immediately are escorted to treatment rooms and serviced from a centrally located provider workstation," McVicker said. "The goal is to maximize efficiency using this patient-centered model to improve health outcomes and increase retention in care."
McVicker told the Blade the AHF Capitol Hill center is currently serving 585 patients and has a staff of 10, including Dr. Conor Grey, who serves as medical director. He said a separate team of five staffers operates the Saturday walk-in center that provides STI services as well as services related to the HIV prevention medication known as PrEP.
"I'm very excited to be a part of this team," Dr. Grey said at the ribbon-cutting ceremony, which was held in a courtyard outside the Capitol Hill office building where the AHF center is located. About 50 people, including D.C. government officials, attended the event.
"This is a beautiful thing to celebrate," Grey said. "So, I'm very happy to enjoy the day with all of you, and looking forward to a bright, productive future working together and fighting a common enemy that has unfortunately been with us."
Others who spoke at the event included Tom Myers, AHF's Chief of Public Affairs and General Counsel; Toni Flemming, Supervisory Public Health Analyst and Field Operations Manager for the D.C. Department of Health's HIV/AIDS, Hepatitis, STD, and Tuberculosis Administration (HAHSTA), and Dr. Christie Olejeme, Public Health Analyst for HAHSTA's Care and Treatment Division.
Also speaking at the event was Japer Bowles, director of D.C. Mayor Muriel Bowser's Office of LGBTQ Affairs.
Bowles called the AHF Capitol Hill center "another pivotal resource" for the LGBTQ community as well as for the city.
"We know, as has been previously stated, a low-barrier HIV prevention support is pivotal to the mayor's mission of eliminating HIV infections in the District of Columbia and the region," Bowles told the gathering.
"So, I'm very excited to see more services specifically provided to those in the Southeast and Northeast quadrants of our District," he said, referring to the AHF Capitol Hill center. "This is a great moment for our community, but also for D.C. as a whole."
In its statement released this week announcing the official opening of the Capitol Hill Center AHF notes that currently, 11,904 D.C. residents, or 1.8 percent of the population, are living with HIV. It points out that HIV disproportionately impacts Black residents, who make up about 44 percent of the population but comprise nearly three-quarters of the city's HIV cases.
AHF official Myers said the Capitol Hill center will join its other D.C.-area facilities in addressing the issue of racial disparities related to HIV.
"Our treatment model helps eliminate barriers for those already in care, those who may not know their HIV status, and those living with HIV who may not currently be in care," he said.
AHF says in its statement that it currently operates more than 900 healthcare centers around the world in 45 countries including 17 U.S. states. It has more than 1.7 million people in care, according to the statement. Founded in 1987, the organization has also taken on the role of public advocacy for federal and local government programs in the U.S. to address the HIV/AIDS epidemic, including efforts to lower the costs of HIV drugs.
During its work in the late 1980s and early 1990s AHF emerged as a strong advocate for addressing the special needs of gay and bisexual men who were hit hardest by HIV/AIDS at the start of the epidemic.
Georgetown University hosts panel on transgender, nonbinary issues
Lawmakers from Mont., Okla. among panelists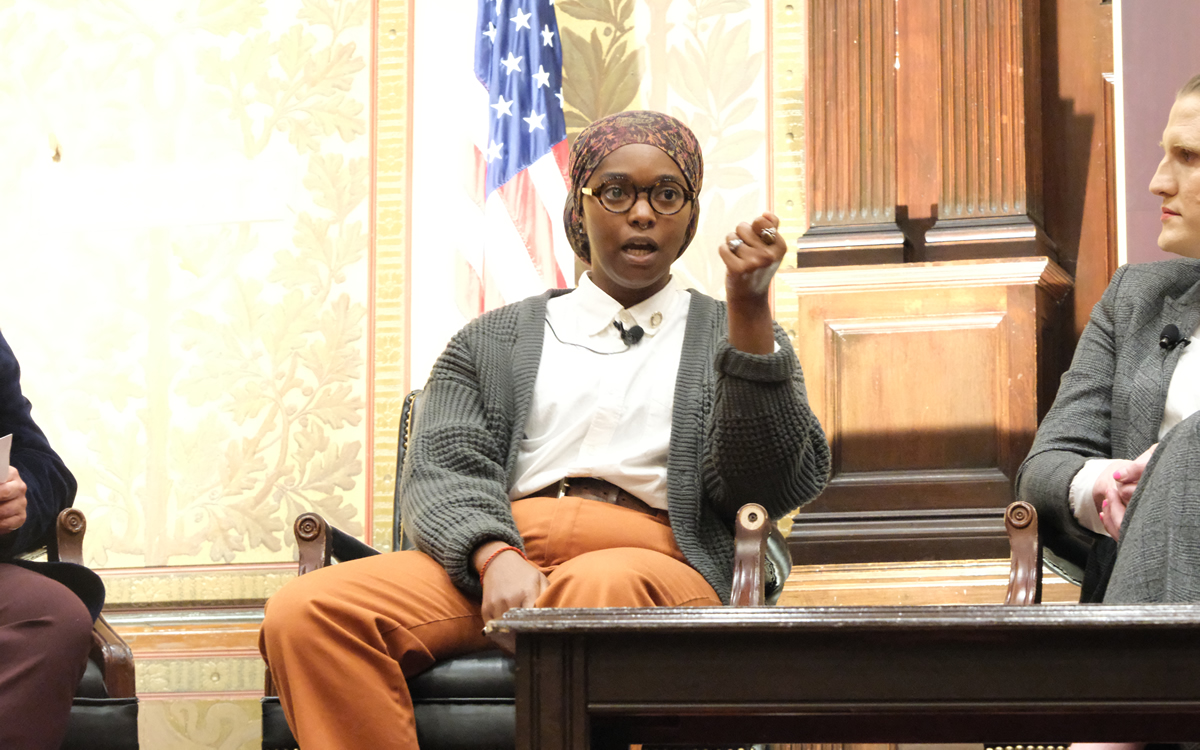 A panel on transgender and nonbinary issues took place at Georgetown University on Tuesday.
The panel included Montana state Rep. Zooey Zephyr and her fiancée, journalist Erin Reed, who are both trans, and nonbinary Oklahoma state Rep. Mauree Turner. Charlotte Clymer was also on the panel that Amanda Phillips, a nonbinary Georgetown professor, moderated.
The panel began with a discussion about anti-trans laws that have been enacted across the country.
Reed said the Alliance Defending Freedom and the American Principles Project developed a strategy in response to North Carolina's now repealed law that banned trans people from using public restrooms consistent with their gender identity.
They focused on states that are more "business-friendly and therefore harder to boycott, and started with sports. Reed said bans on gender-segregated sports put an "asterisk on [trans] identity" that made further attacks possible.
Clymer spoke on attitudes towards trans policies.
She referenced a survey that asked Americans if they supported nondiscrimination protections for LGBTQ individuals. Around 75 percent of respondents, including almost half of Republicans, said yes. Clymer said the next question that asked if such protections exist concerns her.
Roughly half of respondents said yes.
While there are two U.S. Supreme Court rulings — Obergefell and Bostock — that extended marriage rights to same-sex couples and employment protections to LGBTQ people respectively, Clymer noted there are no federal protections based on sexual orientation and gender identity.
Turner and Zephyr spoke about being censured for defending trans rights.
Oklahoma lawmakers in March censured Turner after they refused to turn into the authorities a trans person who had allegedly assaulted a state trooper.
Turner said in Oklahoma, where there is no public debate, and politicians are openly anti-trans, residents are fighting against an "apathetic" and "heinous" legislature. On the topic of activism, they said being a "truth teller," and saying "absolutely not" is "what got [them] censured."
Zephyr's censure was in April after she criticized a bill to restrict gender-affirming health care in Montana. The protests that followed stemmed from trans issues, but Zepher said they were about much more.
"The protests […] were about recognizing that when you silence a legislator, you take away representation from their constituents," she said. "That fight became a larger fight about democracy."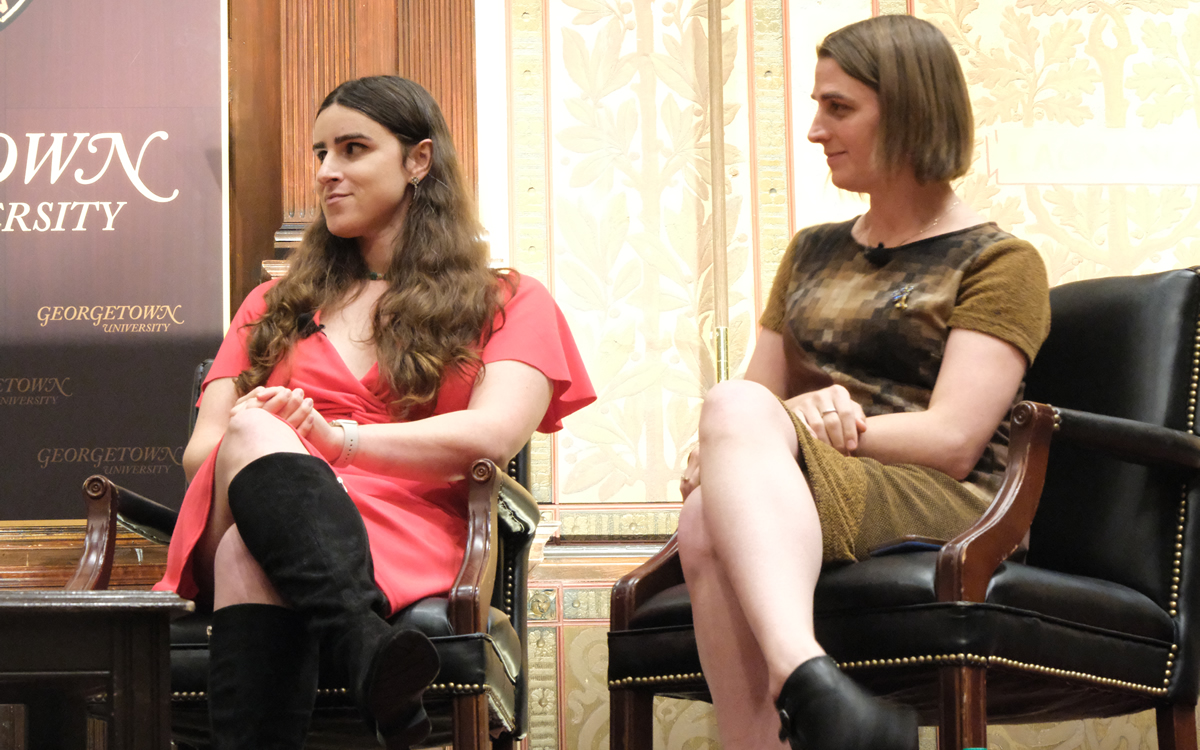 The panelists talked about mental health and addressing it.
Turner said that being the representation they needed keeps them going.
"I didn't think I was going to make it through middle school," they said. "Representation matters for so many people […] if you can aid in being that representation, being that force that helps somebody else keep going, that is one of the most powerful experiences."
The panel agreed that finding community is important to mental health.
"Sometimes our best activism is finding our community," Reed said.
The panel also spoke about queer joy and strength.
"Queer joy is the thing they can't take away," Zephyr said.
Reed talked about photos of activists who were organizing before the Stonewall riots in 1969; they were smiling and enjoying their community.
"The queer story is a story of not just surviving in the margins but thriving in the margins," Reed said.
Turner added "trans lives aren't just lives worth fighting for, they are lives worth living."
A self-described "journalist" who didn't identify himself or his outlet asked the panel, "What is a woman?" Clymer turned the question back to him, and he said it "comes down to genetics."
Clymer began to explain that chromosomes don't always define sex. The audience member began to argue and ignored an event organizer who was asking him to leave. Security promptly escorted him out.
Reed continued Clymer's point that even biological sex is difficult to define.
"Last year, 15 different state legislators tried to define sex, did you know that none of them managed to do so in a way that was scientifically correct?"
The panelists also offered advice to allies.
Clymer said treading about trans issues and being informed about them is a great start.
"You've got to step up," she said.
Turner said allyship goes beyond relationships, and into the realm of being uncomfortable.
"Allyship is synonymous with action and moving forward," they said.
29 local LGBTQ supportive groups awarded gov't grants
Bowser says recipients 'tirelessly advance D.C. values'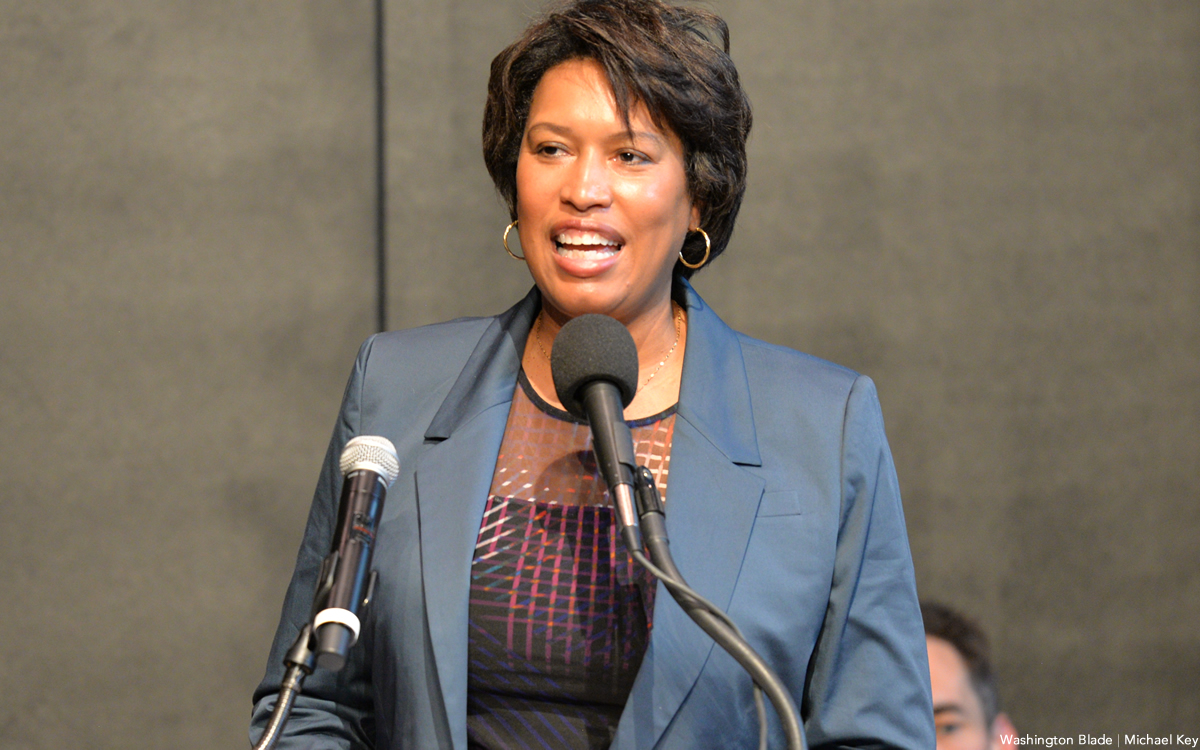 Mayor Muriel Bowser has awarded community grants to 29 D.C. organizations that provide direct services to the LGBTQ community, according to a Sept. 22 announcement by the mayor's office. Nine of the 29 groups identify as LGBTQ specific organizations.
Information released in the announcement says the 29 LGBTQ supportive organizations receiving the grants for Fiscal Year 2024 are among a total of 137 D.C.-based community organizations that will receive a total of more than $2.2 million in funding through these grants.
"With these awards, recipient organizations will continue to offer programs that provide direct resources to communities across Washington, D.C., in areas including health and human services, education, public safety, civic engagement, the arts, and more," a statement released by the mayor's office says.
The statement announcing the grants says the 29 organizations receiving the grants to provide LGBTQ-related services were selected by the Mayor's Office of LGBTQ Affairs.
Japer Bowles, the longtime LGBTQ rights advocate who serves as director of the Mayor's LGBTQ Affairs Office, said the grants awarded to the nine LGBTQ specific groups and the remaining 20 LGBTQ supportive groups are earmarked for LGBTQ specific programs or projects dedicated to LGBTQ people.
A spokesperson for the D.C. Department of Human Services, which oversees the community grants program, said the office was in the process of preparing a list of the dollar amount for each of the 137 grant recipients, which the office hopes to release soon.
Abby Fenton, an official with Whitman-Walker Health, which is one of the 29 grant recipients, said its grant was $20,000 for continued work on addressing the Monkeypox outbreak impacting LGBTQ people.
The nine LGBTQ specific groups named as grant recipients include:
• Capital Pride Alliance
• Equality Chamber Foundation
• Equality Chamber of Commerce
• Supporting and Mentoring Youth Advocates and Leaders (SMYAL)
• The DC Center for the LGBT Community
• Us Helping Us-People Into Living, Inc.
• Whitman-Walker Health
• Baltimore Safe Haven doing business as DC Safe Haven
• Washington Blade Foundation
The 20 LGBTQ supportive groups named as grant recipients include:
• Asylum Works
• Black Leaves Project dance company
• Casa for Children of DC
• Foster and Adoptive Parent Advocacy [FAPAC]
• Greater Hispanic Chamber of Commerce
• Harm Reduction at Westminster DC
• Hepatitis B Initiative of Washington, DC
• Joseph's House
• Latin American Youth Center
• MOSAIC Theater Company
• Project Briggs
• Sasha Bruce Youthwork
• Seabury Resources for Aging
• The Dance Institute of Washington
• The Giveland Foundation
• The Nicholson Project
• Totally Family Coalition
• Unity Health Care
• Washington Improvisational Theater
• Young Playwrights Theater, Inc.