Creating a pet-friendly environment at home
Fences, pet doors, ramps, and other ways to protect your dog and cat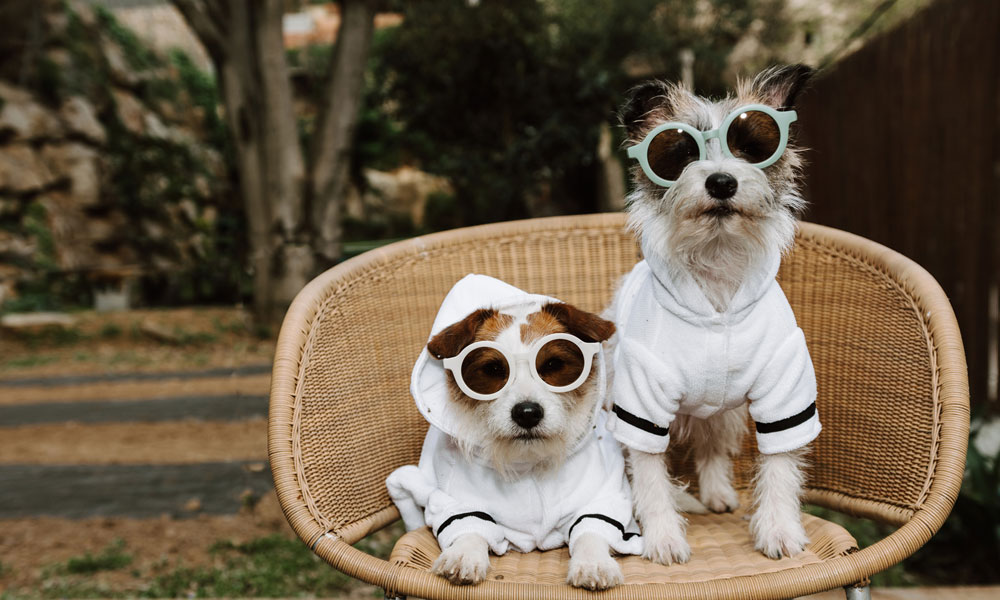 Anyone who has owned Miniature Schnauzers knows that their favorite thing to do is bark. They are convinced that each passing person, dog, squirrel, or leaf is a threat to their owner.
At my house, you will always find Sasha sitting atop the back of the couch, surveying her domain through the window, and alerting me to any perceived danger. As if on command, the others will join in the song of their people. Outside, they will meet at the fence for an encore. 
Last week, I was trying to keep the noise manageable while my neighbor, Louise, was weeding her garden. I suggested that she give them a treat or two to keep them occupied. I even provided said treats. As she was tossing them over, however, one landed on her side, amid a patch of ivy that lines the fence. 
Soon after, I spotted Cory, with three-quarters of his 20-pound body squeezing its way through the fence going after the treat. Thankfully, I was able to capture his little butt and pull him back before he made it to the other side. He was so determined to collect his prize that he had pushed the pickets to the side, and I had to use a claw hammer and a Bungee cord to pull them back into place securely.
What might have been a disaster had he gotten out of my yard made me think about how we can make our pets safer and more comfortable in and around our homes. 
We have seen an increase in theft of pets recently, so be sure to keep an eye on your dog and don't tie him up while you're "just going into the shop for a minute." He may not be there when you come out.
It should be obvious that you never leave a pet in a car in hot weather, but, nonetheless, it bears repeating. A temperature that seems just unpleasant to a person can be lethal for a dog or cat.
If you are lucky enough to have a home with a fenced yard, you may want to consider installing a pet door to access your house. While this can reduce instances of accidents on your carpet or wood floors, use caution in letting your furry friend come and go at will, especially at night or if you live near one of our parks where foxes and other predators roam. 
Since many of us have back yards that double as parking spaces, we sometimes forget how harmful the hot cement, asphalt, or even slate patios can be to paws. For relief, try a baby pool or some dog booties to keep them cool. 
For the extremely pampered pooch deserving of a high-end house of her own, a Cape Cod kennel is available from Wayfair for just under $12,000, with curbside delivery and assembly required. You can also choose the similarly priced Victorian model with working windows and flower boxes.
Read the ingredients in fertilizer, weed killers, and mulch carefully, to be sure they do not contain substances that would be toxic to your pets. If you have a landscaper who comes routinely, always check that fences and gates are secured before letting your pets out to roam the yard after a visit. My Cammie appreciated the ability to stroll the neighborhood last month, but I was frantic.
If you have multiple pets, prevent the accumulation of feces that might attract vermin by hiring a pet waste removal company such as Doody Calls or POOP 911 to clean and deodorize your yard or patio.
If you live in a condominium, cooperative, or apartment with a balcony, make sure you have a sturdy railing that is high enough to prevent pets from falling. You never know when your cat may be tempted to chase after a bird or your dog, a squirrel.
Indoor safety is also important. Wood floors can present a challenge for older dogs with arthritis and hip problems, so using an assortment of throw rugs may help. Elevated bowls are available to keep an elderly dog's neck from straining to reach food or water.
Getting on and off a sofa or bed can be problematic and lead to broken limbs and back injuries, so check with companies like Chewy and PetSmart that offer sherpa covered steps to access a couch and carpeted ramps for senior dogs to reach today's thicker mattresses. 
By providing for the welfare and comfort of your pets in your home and yard, I'm betting that the ensuing kisses and cuddles will lead to an increase in your own wellbeing too.
Valerie M. Blake is a licensed Associate Broker in D.C., Maryland, and Virginia with RLAH Real Estate / @properties. Call or text her at 202-246-8602, email her via DCHomeQuest.com, or follow her on Facebook at TheRealst8ofAffairs. 
5 tips for novice house flippers
Hire an architect, budget for overruns, and more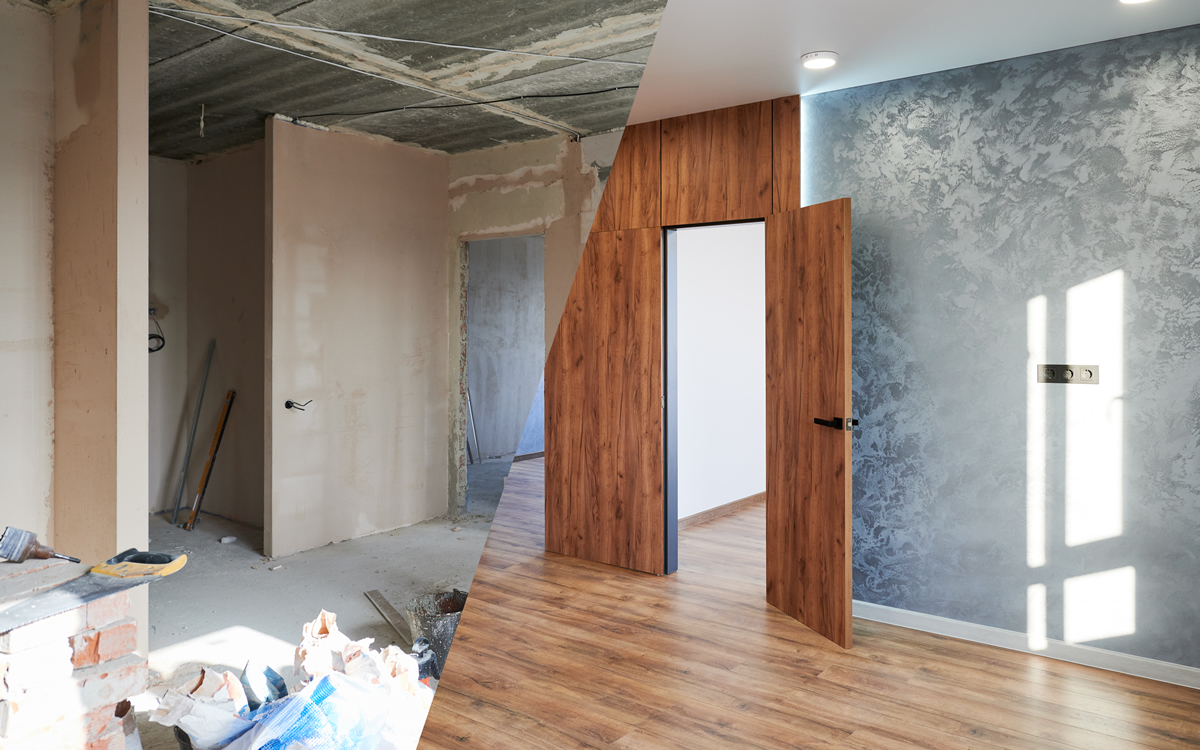 If you still use Facebook, you know that there is a group for everything, from different breeds of dogs and cats to silly games that lead to data mining of your information for business or nefarious purposes, to groups that offer advice on certain medical issues, to everything real estate.
One of the Facebook groups in which I participate allows users to share do-it-yourself home improvement tips. It's a bit like HGTV or the DIY network, with a dose of reality thrown in.
Simple topics might include improving curb appeal, selecting paint colors, installing flooring, replacing an electrical fixture, or changing a toilet.
Sometimes contractors weigh in on more complicated work and even give an idea of how long a project might take and how much it might cost in a particular area of the country.
It constantly surprises me how little people know about how their home works. I fault the seller's market over the past years, where inspections are either short or non-existent, for much of that.
It used to be that an inspector would spend several hours with a buyer, going through the condition and operation of a home's systems and fixtures, providing a written report, and even including a binder that outlined how to fix simple items or when to conduct general maintenance.
The advent of the "walk and talk" inspection, conducted prior to making an offer, shortened that process. A buyer would have to take his own notes while the inspector was talking and pointing things out. Often, the buyer would go home with information in cryptic shorthand that made no sense a few weeks down the road.
Some people still fancy themselves as house flippers, intent on making a massive profit by making a few choice renovations and reselling a home. My Facebook group often brings out those who have the desire but lack the skills or funding.
One person recently posted photographs of a house he was interested in renovating for profit. His first question was whether he could remove all the mold himself or whether he should hire a professional mold remediation company.
I looked at the photos and immediately thought of Tyvec suits, respirators, and those movies where CDC warns of a toxic environment that must be contained and the toxins eradicated — not my idea of a DIY project.
Another unrealistic aspect of this renovation was his cost estimate — $100,000 to cover mold remediation, a new roof, central air conditioning and heating and, of course, new electrical, plumbing, drywall, fixtures, cabinets, and appliances. Even with a price of $175,000 for the house and a potential value of $400,000 after renovations, the professional flippers told him he was living in La-La-Land.
Amateur flippers in the DMV have seen their options dry up in the past five years, as even distressed properties left in disrepair can sell for half a million dollars or more. Even the professionals are knocking on doors, sending postcards in desired neighborhoods, and calling or texting owners and real estate agents, looking for properties to fix and flip.
Still, if you are inclined to try rehabbing, even for your own home, here are my top five things to consider before diving in.
• Get to know what permits you will need and the process and timeline for obtaining them, or else you may face the dreaded orange Stop Work Order slapped on the home's window.
• Find an architect and/or engineer to help with planning the layout. Remember, not every wall can come down to make an open concept floorplan without shoring it up in another approved manner.
• Learn about "hard money." Unlike traditional home loans that are based on income, assets, and credit, these high-interest, short-term loans rely on the difference between what you pay for the house ("as is" value) and what the "as renovated" value is estimated to be upon resale.
• Consult with a real estate agent about popular features and finishes to help you sell the house quickly and get the highest price. Purchase those items locally to avoid supply chain delays.
• Budget for unexpected cost overruns of 10-15%. Even with an interest-only loan with no payments due until resale, you will still owe taxes and insurance and make periodic payments for materials and labor. Don't forget to add commissions and closing fees on the purchase and sale.
Your first project may not result in the profit you anticipated, but it will give you a sense of whether it's worth trying again or leaving renovations to the professionals.
Valerie M. Blake is a licensed Associate Broker in D.C., Maryland, and Virginia with RLAH Real Estate / @properties. Call or text her at 202-246-8602, email her via DCHomeQuest.com, or follow her on Facebook at TheRealst8ofAffairs. 
Mortgage rates continue to drop while rent skyrockets
Start living for yourself and not your landlord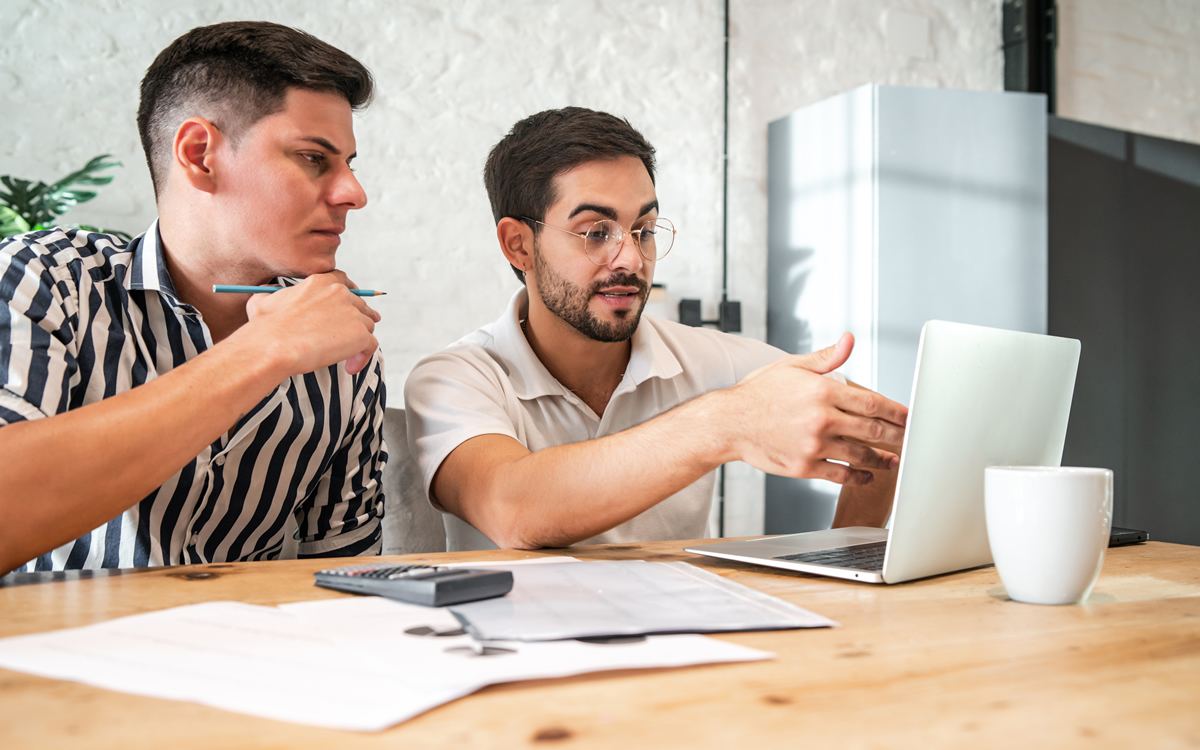 There are several sayings that I keep in my "Realtor tool kit," aside from those catty, snarky comments, I hold two true and use them on a daily basis: "Date the rate – marry the home" and "You're paying a 100% interest rate when you rent."
It's pretty simple. As we have seen rates fluctuate as much as some of our waistlines — mine included. Let's look at the housing market in terms that we all know and understand: DATING!
It's important to realize that we are NOT marrying the interest rate we purchase our home with, instead we are merely dating — for however long or short it may be. Here in D.C. it's often short; can I get an amen? But in all seriousness, we see rates come and go up and down. We were spoiled with the unsustainably low rates for the past several years below 4% and now that rates are, frankly, where they should be, we are claiming the victim role. Today is still a great time to buy. The rates we are seeing today are still historically low when you think about it. We are lucky to live in an area such as the D.C. metro where demand is always strong and a change in party means more than a recession in regards to the housing market. Rates have continued to drop in the past few weeks.
Aside from the current rate that you are paying, it's important to realize that you are marrying the house and just simply dating the rate. You can refinance your interest rate whenever you want. Trade that baby in for a new model with a lower rate. You are, however, married to the home that you decide to purchase. If you are currently in the market and see a home that you absolutely love — or in my case is like 80% okay because we all know that you are the arm candy here and hold up the relationship — or I mean the house has a dishwasher and central AC, then buy it. You can always refinance later to a lower rate.
Looking at the second saying in my bedazzled sparkling Realtor tool kit we have the saying "You're paying a 100% interest rate when you rent," which is for sure factual. You are paying someone else's mortgage and as such that interest rate is 100%. Don't get me wrong, when I first moved to D.C. from quaint Bethany Beach, Del., I rented as I was unsure of what neighborhood I wanted to call home. But once I got my bearings I stopped paying 100% interest and helping pad the landlord's pockets and started living for myself, my future, and married the house. I would encourage everyone that is reading this and who is currently in a rental to speak to a mortgage broker – see what you can afford and if it makes sense for you to buy — I bet it will. In most cases, it is less expensive to buy than it is to rent in cities, including in D.C. Not only is it less expensive, but there are several grant and down payment assistance programs available to district residents to help with making homeownership a reality for you.
Start living for yourself, not your landlord, and always remember to date the rate and marry the home.
Justin Noble is a Realtor with Sotheby's International Realty licensed in D.C., Maryland, and Delaware for your DMV and Delaware Beach needs. Specializing in first-time homebuyers, development and new construction as well as estate sales, Justin is a well-versed agent, highly regarded, and provides white glove service at every price point. Reach him at 202-503-4243, [email protected] or BurnsandNoble.com.
Making the most of the housing market
Tips for buyers and sellers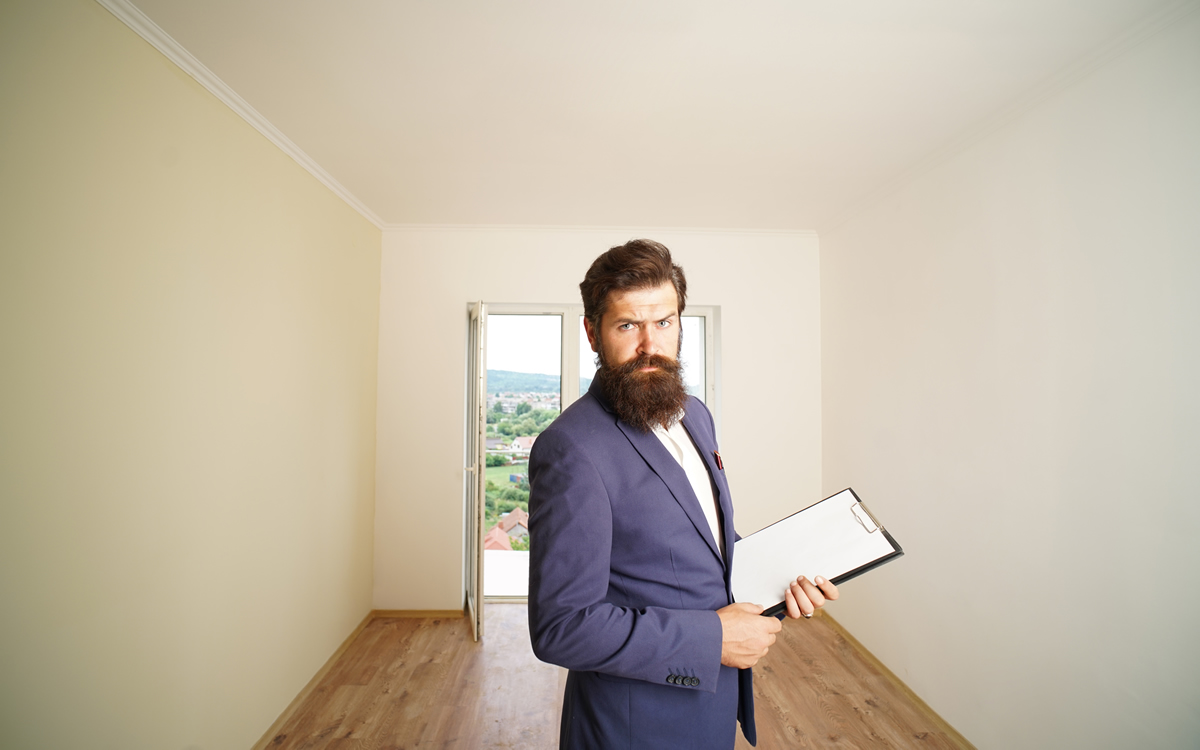 After being on fire for the last couple of years, the housing market across the United States is finally starting to cool down. Various reports over the course of recent weeks have shown that record price growth and sales activity are finally starting to taper off. The long-range outlook throughout the end of 2022 and into 2023 is that the housing market will continue to cool down, at least slightly, from its current state.
It's not entirely unexpected – after all, exponential growth can't continue forever. Even so, any shift in current conditions can be slightly unsettling, and whether you're a buyer or a seller, it can bring peace of mind to feel prepared and know how best to react when the market changes to maximize the chances of reaching your real estate goals.
So the question is: How do you prepare and maximize your potential? Let's take a look at a few tips together.
TIPS FOR BUYERS
Be budget conscious: As a buyer, it is always a wise decision to decide on your budget and stick with it. Particularly with interest rates on the rise and home prices still generally higher than ever before, although trending downward slightly, it is easy to get carried away and decide to exceed the budget you planned on. Particularly over the last couple of years, scarcity in the market has led buyers to feel a sense of urgency about buying a home immediately, exceeding their budget, or paying over asking price. As the market begins to cool down, buyers should realize that they have some breathing room and that the right home will come along and is worth waiting for.
Finalize your finances: Be certain you have your financing secured and preapproved prior to making an offer. While not mandatory, this step can certainly give buyers an advantage in any market. Really think through your wants and desires in a house and what you can afford, and then seek a preapproval. Getting preapproved allows you to show a seller that you will be able to follow through with the deal if they accept your offer, and that offers peace of mind and assurance that many sellers find appealing.
Find an agent you trust: The importance of this step cannot be overstated. An agent who knows and loves the community that you're interested in will be familiar with the market there. They will be able to advise you as to the trends in the area and whether the offer you are making is competitive, but not over and above what you should be spending on a particular home, particularly as the market calms down. They will also be able to help guide you toward a variety of homes that are within your budget, and truly fit your needs and desires.
ADVICE FOR SELLERS
Price your home competitively: As a seller, it is important to realize that as the market begins to cool down slightly, you will want to keep your home priced competitively. It can be tempting to ask for as much as possible and hope that you'll receive it, but you may risk leaving your home on the market too long because it is priced too high, which can make some buyers wary. Consulting with an agent who knows your community well and can help you price your home competitively. Doing so can make a significant difference between a quick and successful selling experience and a stressful one.
Don't forget curb appeal: Not all homes need major renovations, nor can all sellers afford them, and that's okay. A little bit of hard work and sweat goes a long way. Clean up, declutter, and try to present your house in the best possible light. Presentation is important and can be a deciding factor in getting that offer that you truly want.
Choose the right agent: In any real estate transaction, finding the right agent can make all the difference. Especially as markets begin to shift, cool off, and change, you will need an agent on your side who can help you price your home competitively, market it effectively, and generally work with you to achieve your real estate goals.
Ultimately the good news is that whether a buyer or a seller, and whether a hot market or one that is cooling down slightly, achieving your real estate dreams is possible and well within your reach.
(At GayRealEstate.com, it's our mission and our passion to connect LGBTQ buyers and sellers across the country with talented, and experienced LGBTQ-friendly realtors who know and love their communities. We know that having the right agent can make all the difference in the real estate process – and we believe you deserve the very best. If we can help you with any of your real estate needs, we're ready to connect with you today and get started.) 
Jeff Hammerberg is founding CEO of Hammerberg & Associates, Inc. Reach him at 303-378-5526 or [email protected].