Shooting at LGBTQ bar in Slovakia capital leaves two dead
Country's president, prime minister condemned murders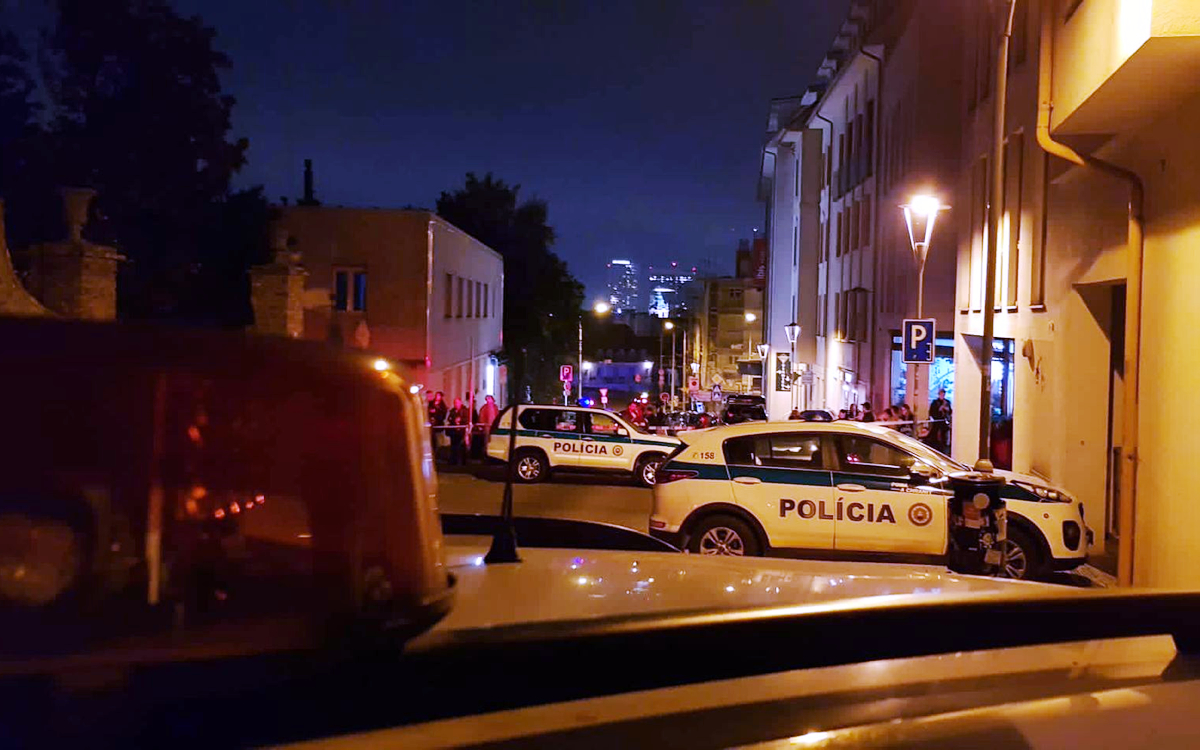 Three people are dead, including the gunman, in a shooting in front of a popular LGBTQ bar in the old town neighborhood of the Slovakian capital of Bratislava on Wednesday evening.
A spokesperson for the Polícia Slovenskej republiky, the country's national police force, told media outlets that the shooter was found deceased Thursday morning after an hours long search.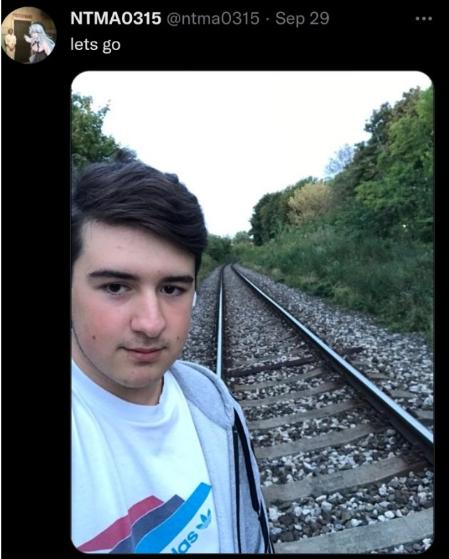 The Polícia Slovenskej republiky said the incident at the Tepláreň bar on Zámocká Street in central Bratislava left two young men dead and one woman injured, and investigators are naming the perpetrator, Local media identified him as 19-year-old Juraj Krajcik, the son of a prominent member of the far-right Vlast party, a radicalised 19-year-old student from Bratislava.
According to Polícia Slovenskej republiky, the gunman was outside of the bar for nearly an hour before opening fire at around 7 p.m. local time. Investigators said multiple rounds were fired but did not disclose the number nor the weapon used. Police say he was found dead from a self-inflicted gunshot.
Polícia Slovenskej republiky also said that the female victim is in critical but stable condition at local hospital. She and one of two young men killed were both employed at the bar.
Allegations and speculation arose on social media as a Twitter account tied to the shooter was discovered and shared, filled with anti-Semitic and anti-LGBTQ posts including a so called "manifesto" which the gunman had posted prior to the rampage. That account also had a picture of the gunman outside the Tepláreň in mid-August.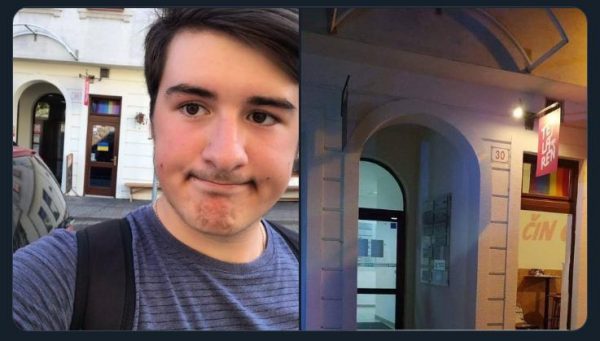 On Facebook Dúhový Pride Bratislava said, "We're shocked by the information about the shooting and casualties at Tepláreň, where we meet regularly." The organization changed its Facebook page photo to black. Iniciatíva Inakosť, another Slovakian LGBTQ organization followed suit.
Slovakian Prime Minister Eduard Heger condemned the double murder on Thursday in a press conference telling media outlets that "extremism is unacceptable."
President Zuzana Čaputová called on politicians to stop spreading hate. "My thoughts are with the family and friends of the victims of yesterday's horrific attack in Bratislava and everyone in the LGBTIQ+ community affected by it," Čaputová said in her Twitter post.
"Words can become weapons. Hate kills. As politicians, we must weigh every word we say before it's too late," she added.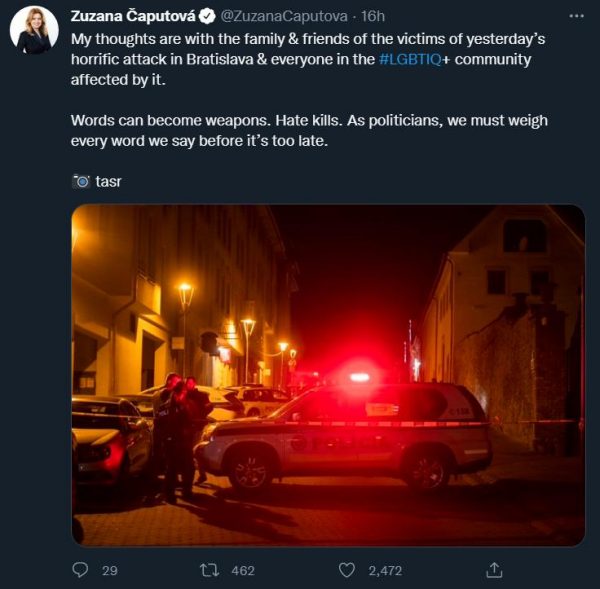 Čaputová came to the scene of the shooting on Thursday afternoon, laying flowers in front of Tepláreň and embraced the owner of the bar.
Polícia Slovenskej republiky in a statement issued late Thursday said:
"First of all, we would like to thank conscientious citizens who provided us with valuable information on the shooting case in Bratislava at 158. We need to remind everyone again and again: Don't hesitate to call 158. Just putting something on social media may not help. Thank you!
Police act from the first moment. The physical presence of our uniformed colleagues was undoubtedly noticed in the streets throughout the night.
Not only uniformed policemen worked and are working and not all of them are active in the field. Due to the ongoing investigation, but also the tactics, we can't comment more closely, so we can't even defend ourselves when any 'guaranteed' news regarding our activities appear at these moments. Hence our silence at this stage, please understand.
Procedures to be followed by a police investigator are firmly established in the Criminal Order. Of course, his top priorities include finding the perpetrator's motive. In order to publish his motive as a police department, it is necessary to take necessary actions.
We will inform you about everything, we are thinking about active communication, but we all have to be patient and give the investigator time and space.
And whether it is a hateful motive or not, we want to assure the public that the police department maintains zero tolerance for any form of violence, bullying or hatred. We have our values, which we will always stand by, which we have announced long ago.
Thank you for your help and understanding of the legal procedures we follow."
In a tweet Friday morning, LGBTQ+ rights group ILGA-Europe condemned the attack:
This kind of violence and destruction of life is what the instrumentalising of LGBTI people as scapegoats for society by those who wish to remain in power leads to. The legitimisation of hatred by any leader for any group of people cannot, and will not, be tolerated.

— ILGA-Europe (@ILGAEurope) October 14, 2022
Finland to allow transgender people to change gender without sterilization
Country's MPs approved series of amendments on Wednesday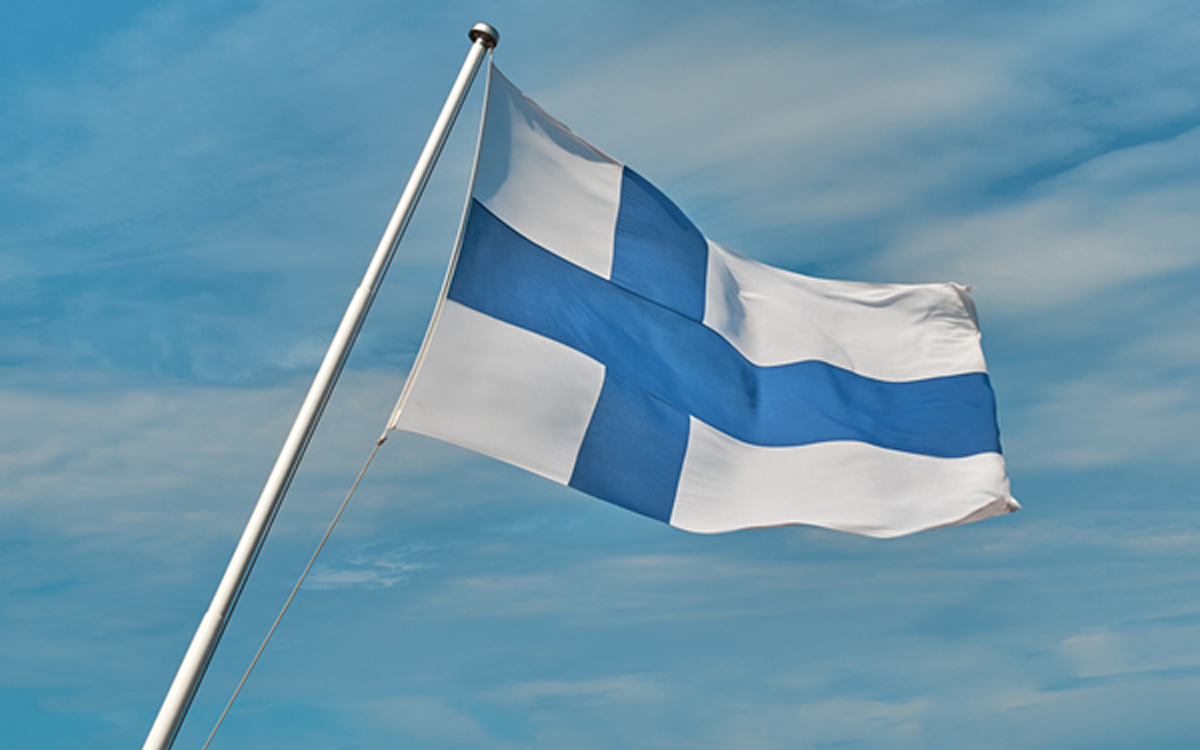 Lawmakers in Finland on Wednesday voted to allow transgender people to legally change their gender without proof they had been sterilized or were unable to have children.
The Associated Press reported the amendments that Finnish MPs approved by a 113-69 vote margin will also allow trans people who are at least 18 to legally change their name without medical intervention. Prime Minister Sanna Marin said the amendments' passage was a priority for her government ahead of the country's general election that will take place in April.
Seta, a Finnish LGBTQ and intersex rights group, described the vote as a "victory for human rights."
"Translaki strengthens human rights in Finland," tweeted Seta. "The rights of children and young people must be secured next!"
Voitto ihmisoikeuksille! #Translaki vahvistaa ihmisoikeuksia Suomessa. Seuraavaksi on turvattava lasten ja nuorten oikeudet!

Kiitos valtavasti kaikille lain puolesta äänestäneille ja vaikuttamista tehneille järjestöille ja yhteistyökumppaneille! pic.twitter.com/2LkmnSJyoE

— Seta (@seta_ry) February 1, 2023
ILGA-Europe also praised the vote.
"We are thrilled to hear that the Finnish Parliament just adopted Translaki — a new law making legal gender recognition based on self-determination for adults," said ILGA-Europe. "While there is more work to do, this is a significant step! Congratulations to all who have worked for so long on this!"
We are thrilled to hear that the Finnish Parliament just adopted #Translaki – a new law making legal gender recognition based on self-determination for adults. While there is more work to do, this is a significant step! Congratulations to all who have worked for so long on this!

— ILGA-Europe (@ILGAEurope) February 1, 2023
European Court of Human Rights rules against Lithuania propaganda law
Children's book author in 2019 challenged anti-LGBTQ statute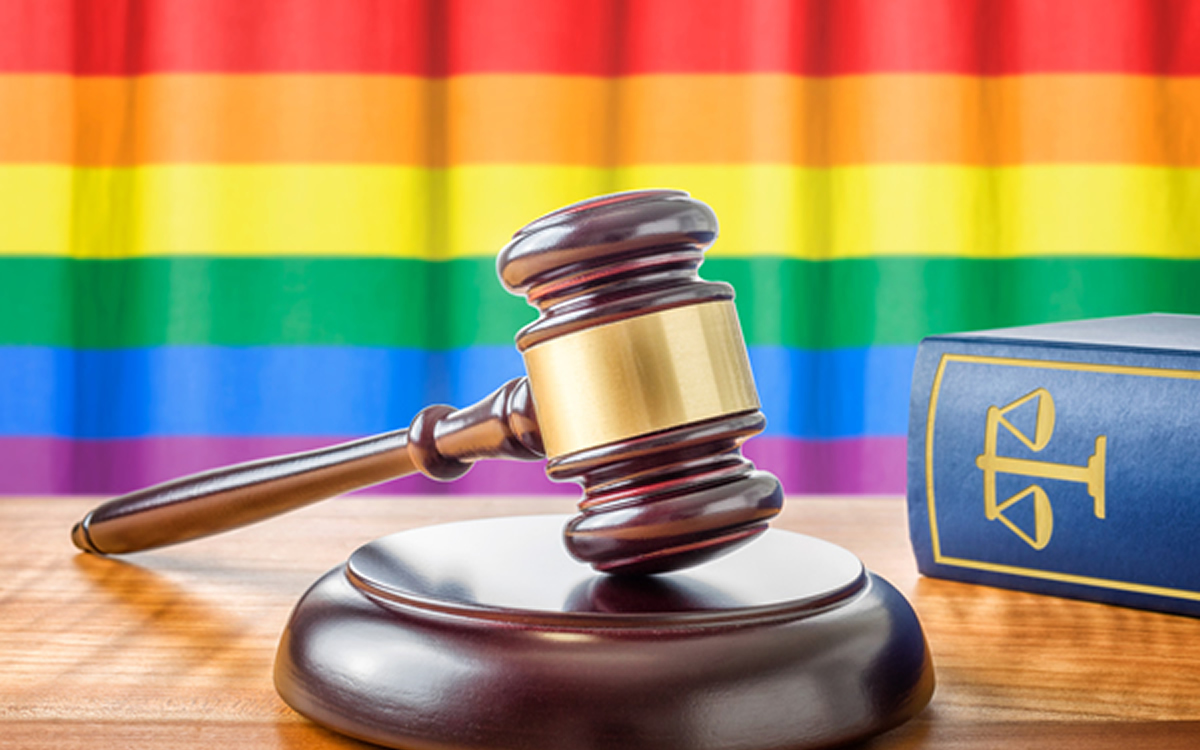 The European Court of Human Rights on Monday ruled Lithuania's anti-LGBTQ propaganda law violates the European Convention on Human Rights.
Author Neringa Dangvydė Macatė in 2019 filed a lawsuit against the law after Lithuanian authorities censured her children's book that featured two same-sex couples.
The law specifically bans the distribution of information to minors that "expresses contempt for family values, encourages the concept of entry into a marriage and creation of a family other than stipulated in the Constitution of the republic of Lithuania and the Civil Code of the republic of Lithuania." The court in April 2022 heard Macatė's case.
Openly gay U.S. Ambassador to Lithuania Bob Gilchrist is among those who have publicly criticized the law. Tomas Vytautas Raskevičius, an openly gay Lithuanian MP who is running for mayor of Vlinius, the country's capital, told the Washington Blade the ruling will bolster efforts to repeal the propaganda law.
Dutch constitution to ban anti-gay discrimination
Advocacy group describes vote as 'historic victory'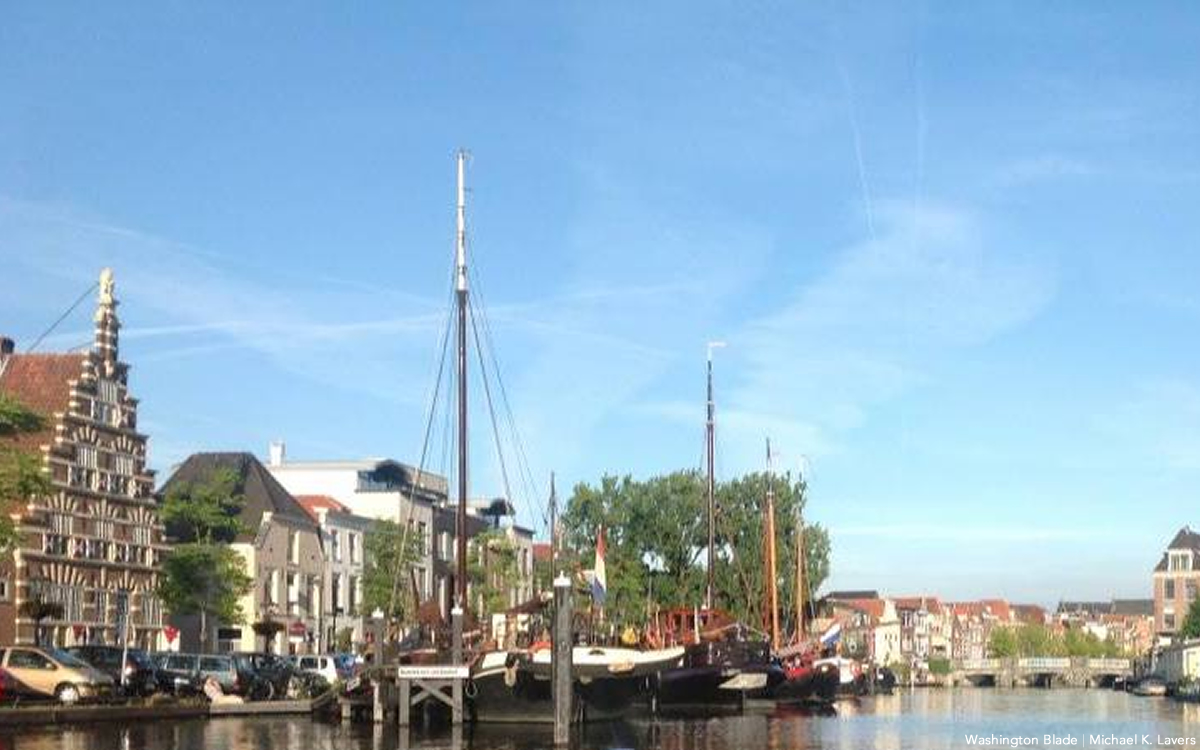 The Upper House of the States General of the Netherlands, the supreme bicameral legislature of the kingdom, on Wednesday voted to amend Article 1 of the Dutch Constitution, expanding it to prohibit discrimination against someone because of a disability or sexual orientation.
In a 56­–15 vote in the Dutch Senate, the proposal for amendment passed and is now headed to King Willem-Alexander for his royal assent and the Dutch government. Once approved it will be published in the Staatscourant, the official government publication that formally announces new laws in the kingdom.
LGBTQ advocacy groups and activists celebrated the vote.
Enshrining the rights of LGBTI people in the constitution is a "historic victory for the rainbow community," said advocacy group COC Nederland. The Dutch LGBTQ rights group was founded in 1946 and is considered the oldest existing LGBTQ organization in the world.
Dutch media outlet NL Times noted that Article 1 states that everyone in the Netherlands "shall be treated equally in equal circumstances." The following sentence goes on to explicitly mention several examples, including "religion, belief, political opinion, race or sex." That list will now be expanded.
The procedure for such an adjustment takes years because it has to be voted on several times. With the Senate's vote, that process has now been completed.
The change was the result of an initiative from coalition party D66 and left-wing opposition parties PvdA and GroenLinks that has developed over the course of 12 years. "You can rightly call this day historic!" said D66 MP Alexander Hammelburg, who helped defend the law in the Senate.
"A disability, or who you fall in love with, should never be a reason to be excluded," said PvdA MP Habtamu de Hoop.
NL Times also reported that since 2004, COC Nederlands has advocated anchoring the rights of gay men, bisexual, transgender and intersex people in the Constitution. This has already happened in countries such as Sweden, Portugal, Malta, Mexico and South Africa.
An association representing people with physical and mental disabilities, or chronic illnesses, also called it a "historic" day.
"Adding the disability basis to Article 1 is historic news," said Ieder(in) Director Illya Soffer.
"The government is given an additional task to permanently improve and strengthen the position of people with a disability. Not only in legislation, but also in practice," Soffer continued.