Concern over possible D.C. juvenile crime wave targeting LGBTQ victims
Anger, frustration at attorney general's 'Listening Session' in Dupont Circle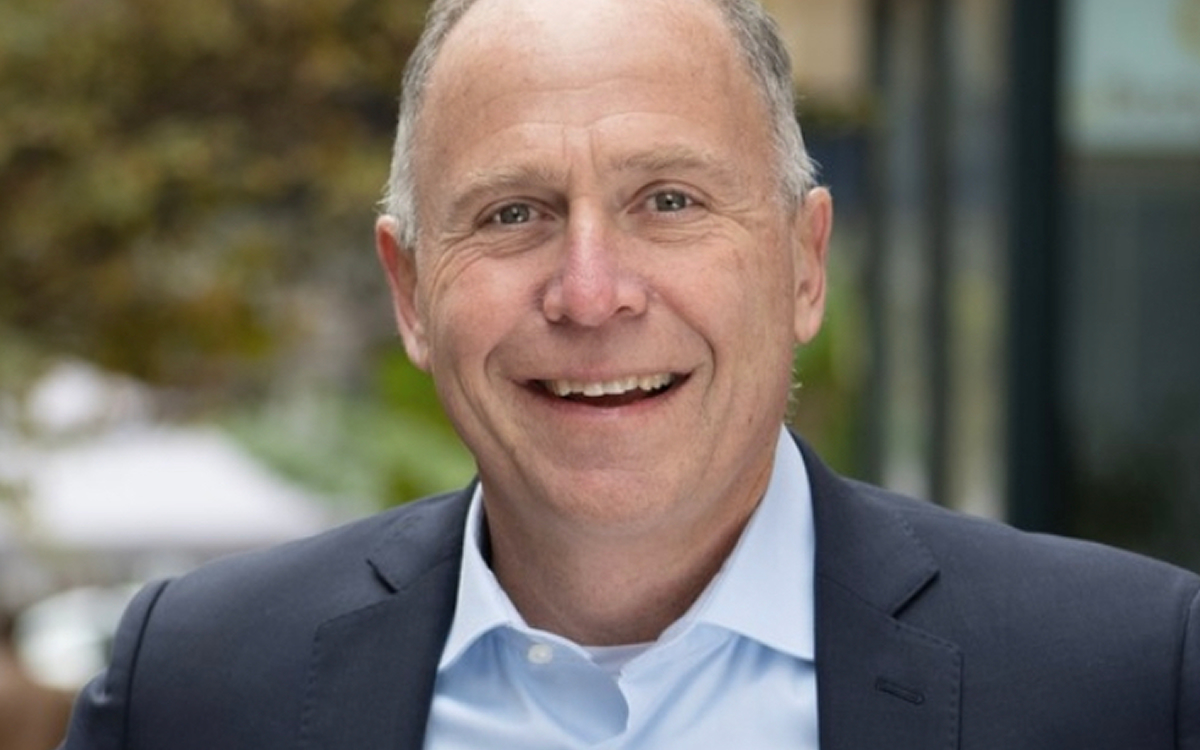 The rapidly growing number of violent crimes in the nation's capital committed by juveniles armed with guns and knives that D.C. Mayor Muriel Bowser has called a juvenile crime emergency is surfacing in neighborhoods where LGBTQ people are likely being targeted, according to activists following local crime reports.
Concern over reports of cases where LGBTQ people may have been targeted for armed robberies and carjackings in the Dupont Circle area by juvenile assailants coming to the area from other parts of the city surfaced at a Feb. 28 Ward 2 Listening Session hosted by D.C. Attorney General Brian Schwalb.
The event, held at St. Thomas' Parish Church in the Dupont Circle neighborhood, included strongly worded presentations from Dupont Circle Advisory Neighborhood Commissioner Vincent Slatt and former Dupont Circle ANC Commissioner Mike Silverstein, both of whom are longtime LGBTQ rights advocates.
The two told Schwalb, whose office oversees prosecuting juveniles charged with committing crimes in the District, that the city's juvenile justice system appears to be failing to take adequate measures to address the juvenile crime problem.
Among the main concerns raised by Silverstein and Slatt as well as others is that the city's criminal law pertaining to juvenile offenders has a strict confidentiality provision that prevents D.C. police and prosecutors with the D.C. Office of the Attorney General from publicly disclosing the outcome and disposition of cases in which a juvenile is arrested for a crime of violence or any other crime.
Activists raising this concern have said they do not want authorities to disclose the identity of juveniles charged with crimes. But what they would like to know, Silverstein and Slatt said, is whether officials like Attorney General Schwalb and members of the D.C. Council will take steps to change the law to allow the disclosure of the outcome of juvenile cases.
"Last year there were 1,400 juvenile arrests and 56 percent of those who were arrested had guns," said Silverstein, whose remarks were recorded on a video taken by Peter Semler, editor and owner of the Capitol Intelligence Group news organization.
"These are children with guns," Silverstein continued. "Seventy-five percent of those arrested for carjacking last year were kids, were children," he told Schwalb. "And people are questioning, you know, where is the prosecution?"
Schwalb responded by saying he would consider asking the D.C. Council to pass legislation allowing the public disclosure of the disposition of juvenile criminal cases, but he did not commit to doing so, according to Silverstein and others who attended the AG's Listening Session.
A spokesperson for Schwalb did not respond to a request from the Washington Blade for a comment from the attorney general elaborating on any plans he may have to propose a change in the law as requested by activists speaking at the Feb. 28 Listening Session.
In his remarks at the Listening Session, Slatt, who serves as co-chair of the city's ANC Rainbow Caucus, said he and other Dupont Circle residents were especially troubled that they have not been able to determine the status of the prosecution or whether a prosecution took place for three juvenile males arrested for committing four separate armed robberies in the Dupont Circle area within about 30 minutes on Sunday evening, Jan. 29.
Slatt said he and others alarmed over the incidents have not been able to determine whether any of the victims are members of the LGBTQ community or whether any of the incidents might be hate crimes.
D.C. police released a statement announcing that detectives had arrested three juvenile males for allegedly committing the armed robberies in different nearby locations between 9:45 and 10:14 p.m. on Jan. 29. The police statement says two of the juveniles were 16 years old and the other was 15.
The police statement lists the offenses allegedly committed by the youths as Attempted Armed Robbery, Armed Robbery (Gun), Assault with a Dangerous Weapon (Gun), and Armed Robbery (Gun). It says the 15-year-old was additionally charged with Carrying a Pistol Without a License, and Possession of a Large Capacity Ammunition Feeding Device.
"The ongoing question about youth crime and youth getting re-released is a major thing in the city right now," Slatt told the Blade. "And as you know, they won't release information about these cases," he said. "And also, they're not letting us know is this a hate crime?"
Slatt added, "And so we don't know when they are gay related. And there is no way for us in the gay community to do community impact statements because we're not allowed to follow these cases because of the anonymity protections on the youth criminals."
He was referring to the longstanding process in the local D.C. court system for adult criminal cases where victims of a crime and members of the community, including members of the LGBTQ community, can submit to a judge a victim impact statement or community impact statement.
The impact statements usually are submitted at the time a judge is about to hand down a sentence after the person charged with a particular crime has been convicted in a trial or pleads guilty as part of a plea bargain deal offered by prosecutors.
"My thing specifically is, is this a gay issue or not," said Slatt. "Are they hiding that data or not? How can we even say these are hate crimes or not if we can't even follow the cases, if we can't say what it's about?"
In a development that may come as a surprise to activists calling for the release of information about juvenile cases without releasing the identity of a juvenile, the controversial 450-page D.C. criminal code reform bill that Congress overturned earlier this month does not address in any way the city's juvenile criminal code.
The Revised Criminal Code Act, which the Council passed unanimously last September and voted 12 to 1 to override Mayor Bowser's veto of the bill, became the target of criticism from both Democratic and Republican members of Congress and from President Joe Biden because of several controversial provisions.
Among them are language calling for eliminating most mandatory minimum prison sentences, reducing the maximum sentence for crimes such as burglaries, carjackings, and robberies, and allowing jury trials for all misdemeanor cases in which a prison sentence is possible.
Bowser, who said she supported about 95 percent of the bill's voluminous proposed overall of the city's antiquated criminal code, has called on the Council to remove the provisions that triggered the reaction by Congress and a Democratic president to oppose the legislation in its original form.
Jinwoo Charles Park, executive director of the D.C. Criminal Code Reform Commission, which played a lead role in helping the D.C. Council draft the criminal code reform bill, said the Council limited the commission's scope of work to the city's adult criminal code when it created the commission in 2016.
According to Park, now that the commission finished most of its work on the criminal code bill for adults – with some changes needed to address the objections by Congress and Biden – the commission can look into possible changes in the criminal code's provisions dealing with juveniles. He said he would support looking into such a revision for the juvenile code.
"I do think going forward there is a whole other part of the law that probably should be revised," he said in referring to the juvenile provisions of the D.C. criminal code. "I'm not taking a position on that at this point. But I think it is an important project that does need to be tackled in coming years," he said.
Bowser, meanwhile, stated at a Feb. 6 press conference in response to a question from the Washington Blade that she would support a revision in the juvenile code to allow the public disclosure of the outcome of juvenile cases with the identity of a juvenile charged in such a case remaining confidential.
"I would, and I say that with a lot of caveats because it is a complicated issue," Bowser said. "But I agree with the sentiment," she said, adding that the current blanket confidentiality in juvenile cases might also have a negative impact on other D.C. government agencies that provide services for juveniles.
Among those who have also said they would consider changing the city's juvenile law to allow the outcome of juvenile cases to be disclosed to victims and possibly to the community is D.C. Council member Brooke Pinto (D-Ward 2). Pinto currently serves as chair of the Council's Committee on the Judiciary and Public Safety, where any legislation calling for changing the juvenile criminal law will be sent for consideration and approval.
"It is something that the committee is looking at very closely and something that we're going to try to make some actionable improvements on in the coming months," Pinto told the Blade. But she said her focus would be "from the perspective of victims' rights and what survivors need to have some resolution to their case."
When asked if she would commit to having the disposition of juvenile cases disclosed to the public as well as to victims of juvenile related crimes, Pinto added, "I would say I'm committed to looking at it." An important concern, she said, is to carefully balance the issue of youth privacy and making sure there is a just resolution to a case for all parties.
"The most important dynamic to me that I'm thinking about are the survivors and victims as well as government partners having access to this information," she said. "But I am open minded to looking at this other piece to make sure that our communities can be kept safe and have the resolution that they need and deserve."
The other Council members who serve on the Judiciary and Public Safety Committee who would join Pinto in deciding on whether to change the city's juvenile criminal statute include Charles Allen (D-Ward 6), Anita Bonds (D-At-Large), Vincent Gray (D-Ward 7), and Christina Henderson (I-At-Large).
Among those expressing concern over the city's juvenile justice system is Washington Post columnist Colbert King. In a Feb. 24 column, King reported that in response to his request, the Office of the D.C. Attorney General sent him data showing that out of 462 juvenile arrests made by D.C. police between Oct. 1, 2022, and Feb. 15, 2023, the AG's office prosecuted only 295, or 64 percent, of the cases. Ninety-four of the cases, or 19 percent, were dropped for insufficient evidence, King said the AG's office informed him.
According to King, 73 of the juvenile arrests during that period, or 16 percent, were dismissed and diverted to "alternative or no-incarceration programs or deferred sentencing agreements."
Silverstein, the former Dupont Circle Advisory Neighborhood Commissioner and LGBTQ rights advocate, raised the issue of how many juvenile cases were being prosecuted or dropped in his remarks to D.C. Attorney General Schwalb at Schwalb's Feb. 28 listening session.
"There is this growing belief, sir, and I'm not one of those who wants to lock everybody up or anything like that," Silverstein said, "that people don't believe it's anything but catch and release, that people are getting away with this kind of stuff and there is no prosecution."
Silverstein concluded his remarks telling Schwalb about an anti-gay hate crime that took place several years ago involving juvenile attackers.
"A gang of between 10 and 15 kids set upon two young gay men on U Street and beat the hell out of them, called them all kinds of homophobic names, and broke the bones around one of their eyes," he said. "We never found out what happened to the kids – the three who were arrested. The rumor was they had to write a paper."
Added Silverstein, "There's no trust, sir, in the consequences. It breaks my heart because it plays to those who want to lock everybody up. I'm sorry if I had to spill my guts, but it scares the hell out of me."
The audio part of the video recording of Silverstein's remarks became mostly inaudible when Schwalb responded to Silverstein.
"He said he would consider the possibility of supporting some change in the confidentiality laws regarding the disposition phases, that he would consider supporting it," Silverstein told the Blade in an interview. "And it was just word salad. It's totally nonspecific and it is not a promise at all," said Silverstein.
The Washington Blade will report Schwalb's positions in greater detail on these issues if his office responds to the Blade's request for comment by the attorney general.
Bowser: No credible threats to D.C. Pride events
Mayor spoke with the Blade after flag-raising ceremony at the Wilson Building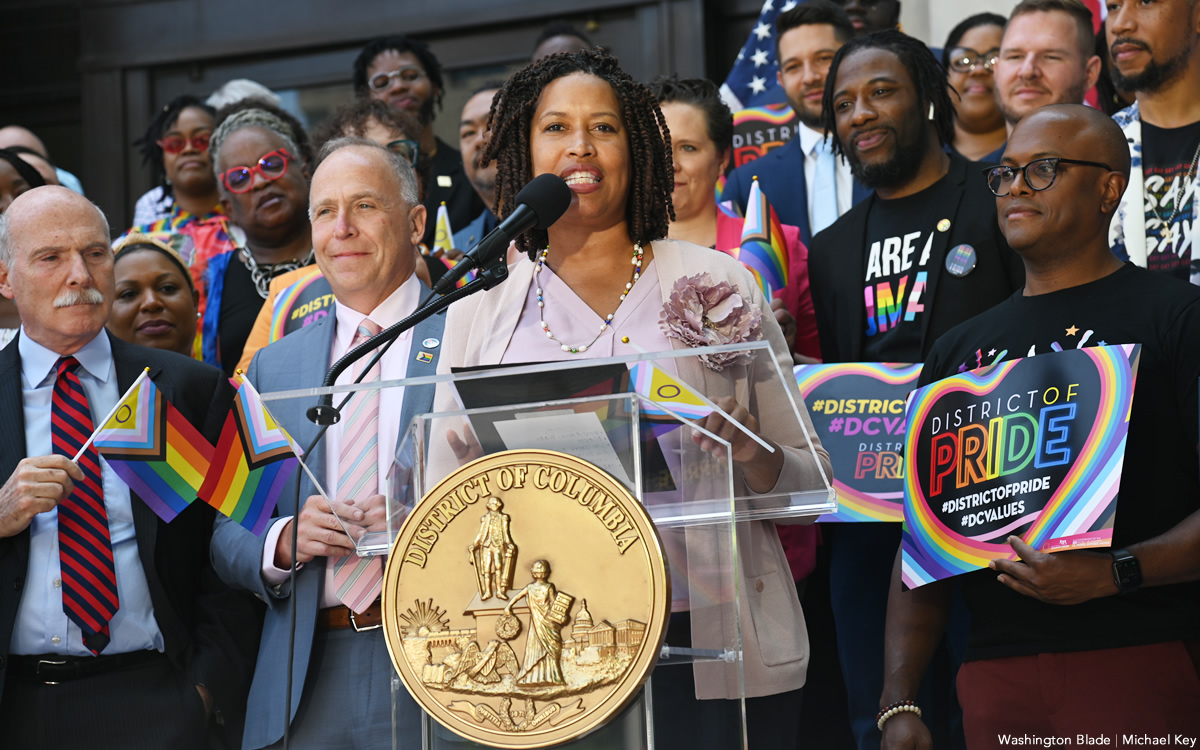 D.C. Mayor Muriel Bowser on Thursday said authorities have not received any credible threats to upcoming Pride events.
"We don't have any to report," she told the Washington Blade.
"MPD is constantly working with all of our agencies to make sure we have safe special events and we're going to keep going with our planning, like we do every year," added Bowser. "There's always a scan for any threats to the District."
Bowser spoke with the Blade after she joined D.C. Council Chair Phil Mendelson, Council members Anita Bonds, Charles Allen, Kenyon McDuffie and Zachary Parker, D.C. Attorney General Brian Schwalb, D.C. Mayor's LGBTQ Affairs Office Director Japer Bowles and other officials and activists in raising the Progress Pride flag in front of the Wilson Building.
The Blade last month reported D.C. police are investigating a bomb threat a Twitter user made against the annual District Pride concert that will take place at the Lincoln Theater on June 29. Bowles in a May 19 statement said his office reported the tweet, but further stressed that "no credible threat at this time has been made."
Point Foundation offers growing range of scholarships, support
'Resources to succeed and thrive rather than just make it through'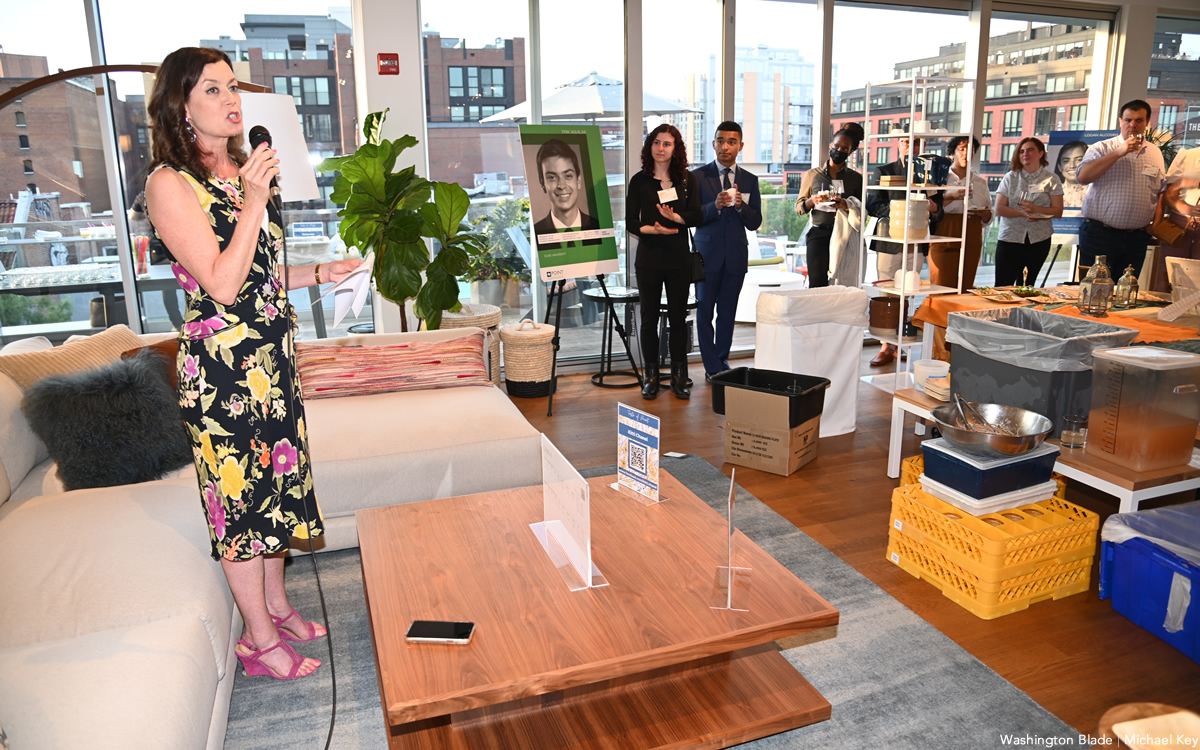 Many in D.C. know the Point Foundation for its longstanding scholarship program and its popular Taste of Point fundraiser each spring. But the nonprofit is offering a growing range of services to its young scholars, including mental health resources and social media support.
This year's Taste of Point brought mixologists, restaurateurs, and donors together on May 3 at Room and Board for the annual celebration. With a number of local businesses and organizations donating to the silent auction, the event both raised money for Point Foundation's scholarships while recognizing scholarship recipients and program alumni.
Among the lineup of featured speakers was one of the foundation's flagship scholarship recipients, Rio Dennis, a dual master's and law candidate at Georgetown University.
"I applied for the Point Foundation Flagship Scholarship because I believed in its mission of helping LGBTQ+ students achieve their academic goals while also providing training and resources so we can become better leaders within the LGBTQ community during school and long term," Dennis said in her speech.
The Taste of Point celebration began in 2013, born from another event called the Cornerstone Reception. Originally planned as a normal fundraiser with hor d'oeuvres, the foundation transformed it into the current Taste of Point celebration that facilitates partnerships with new, local restaurants.
Some restaurants, like Compass Rose and Hank's Oyster Bar, partnered with Point Foundation for their first celebration. They have been catering at the fundraiser ever since.
"It really gives you the sense of the amount of love and the amount of community that we have around the Point Foundation and mission," said Celina Gerbic, a member on the foundation's board of directors. "They really see, with hearing from the scholars, what the effects can be if we're raising money for those scholarships and mentoring opportunities."
The event also allows the foundation to showcase new offerings, such as the Community College Scholarship that was rolled out just before the pandemic in collaboration with Wells Fargo. The community college program gives scholars a financial scholarship each year of their community college experience as well as coaching and admissions counseling for students planning to transfer to a university.
Meanwhile, the foundation is also expanding its new BIPOC scholarship, which announced its next round of recipients on May 22. The scholarship is currently supporting between 500 and 555 scholars across the country.
Omari Foote, one of the current BIPOC scholarship recipients, appreciates how the scholarship recognizes her as a Black queer student. She is even encouraging other queer students and friends to apply to receive similar assistance.
However, Point is even more than that, Dennis notes.
Before the school year started, the Point Foundation sent Dennis and all of the new flagship scholars to Los Angeles for a leadership development conference. Scholars discussed how to become active leaders on campus, how to ask for certain resources, what is offered by their campuses, and what tutoring programs are available.
This year, Point also did a joint partnership with an online therapy program to offer discounted prices for all scholars.
"I have anxiety and depression and I struggled a lot in undergrad with trying to balance that with my having to support myself financially," Dennis said. "So I was definitely grateful that Georgetown did have a program that is specifically for people of color to get free therapy and Point definitely helped with… asking those questions because it is one of those programs that isn't as well publicized."
Point even provided Dennis with a mentor who was also a Point Scholar in law school. Meeting monthly on Zoom and texting all throughout the month, Dennis's mentor provides academic support that helps her use the right resources and make decisions about her career.
Foote finds the scholarship unique in other ways as well. As a recipient of a handful of other scholarships outside of Point, Foote's interactions with her scholarship programs mostly stop after they send instructions for writing donor thank you notes. But Point keeps reaching out to maintain a relationship with scholars long after that.
"They've reached out to me to spotlight me on Instagram," Foote said. "They reached out to me even for this dinner, paying for my transportation to and from the dinner … It's like they're not just there to give you the money. They're there to really help you navigate the college world and to be that caring supportive system that a lot of us just don't have anymore now that we are living by ourselves."
Last November, the foundation also held an Out in Higher Ed Week, wherein they teach scholars how to be LGBTQ+ advocates on campus. These resources help students navigate the ins and outs of discussing LGBTQ+ issues in university settings.
After graduation, Dennis has even thought about returning to the Point Foundation as a mentor to help future Black queer students, especially first generation law students, balance their mental health and financial situations.
"Point has connected me with fellow scholars who have become my friends. Point has provided me with resources and support to succeed and thrive rather than just make it through," Dennis said. "I definitely plan on continuing to be involved with Point."
D.C.'s Pride celebrations include parade, festival, fireworks, and more
More than 100 events for all ages planned for June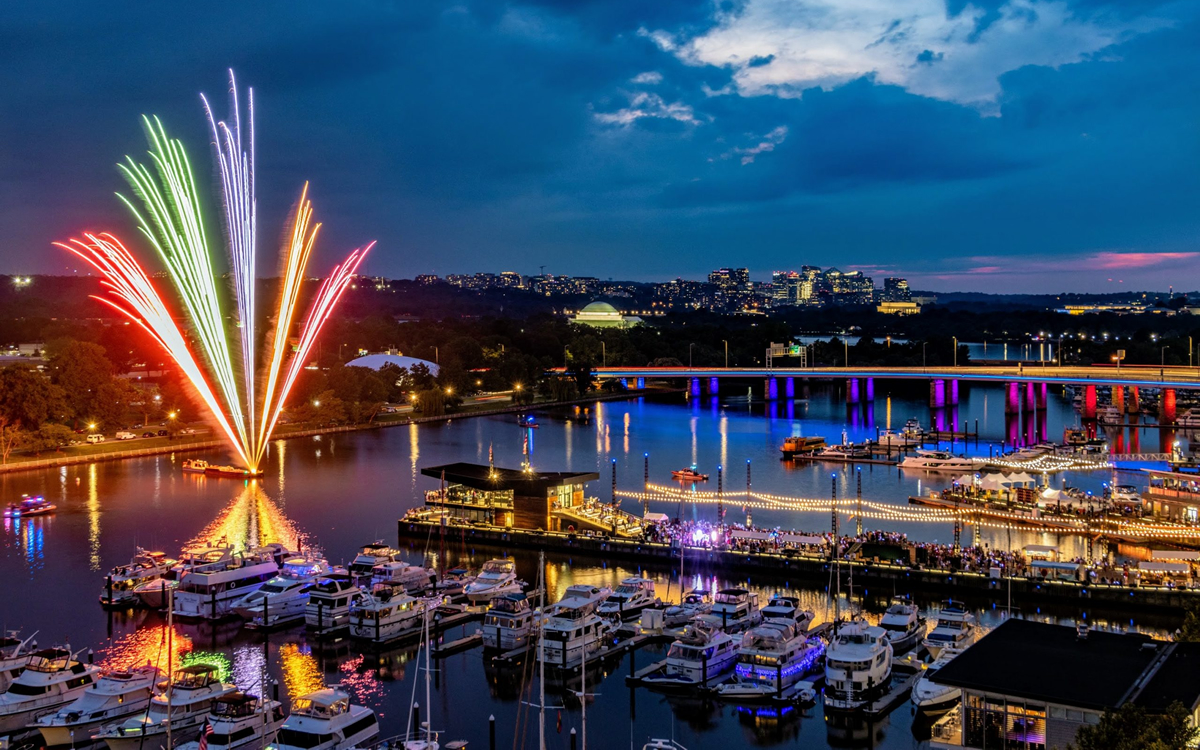 More than 100 different events for all ages and interests will take place in D.C. for Pride month.
The Capital Pride Alliance will officially kick off Pride month on Thursday with a show from "RuPaul's Drag Race" winner Sasha Velour, the 17th Official D.C. Latinx Pride Party and more at Bunker (2001 14th St., N.W.)
Capital Pride on Friday will hold Capital Pride Honors at Penn Social (801 E St., N.W.). Capital Pride every Pride month honors individuals and organizations that have made a lasting impact on D.C.'s LGBTQ community. Among the honorees this year is the National LGBTQ Task Force, which is celebrating its 50th anniversary.
The Washington Nationals will host the 17th annual Pride Night Out on June 6. With the purchase of a Pride ticket, attendees will receive a Pride T-shirt and $5 from their ticket will go to support Team DC, which helps to support the LGBTQ community in sports.
D.C.'s largest Pride event, the Capital Pride Parade, will take place on June 10. The parade will follow a 1.5-mile route, which will step off on 14th Street at T Street, N.W., and finish on P Street at 21st Street N.W. A map of the expected parade route can be found on the Capital Pride website.
During the parade, the Capital Block Party will take place at the intersection of Q and 17th Streets. The party will feature local vendors, food trucks and a 21+ beverage garden. The party will also have a designated viewing area for families with children to watch the parade, along with other children's activities.
The Wharf will be home to the fourth annual Pride on the Pier during the parade, hosted by the Washington Blade, LURe DC and the Wharf. The event, held from 2-9 p.m., will feature a fireworks show at 9 p.m., a DJ, drag performances, and more. VIP tickets are available in two shifts, offering catered food, open bar, and more. The fireworks display is sponsored by the Leonard-Litz LGBTQ Foundation. For more information and to buy VIP tickets, visit prideonthepierdc.com. General admission to the festivities on the pier is free.
The parade will be followed by the Capital Pride Festival on June 11. Taking place on Pennsylvania Avenue, N.W., the festival will feature more than 300 booths with local vendors, businesses and organizations. From 12-8 p.m., the Capital Pride Concert will host acts such as Broadway actress Idina Menzel and "RuPaul's Drag Race" winner Monét X Change.
From June 5-Aug. 11, ARTECHOUSE will be exhibiting its newest exhibit "PIXELBLOOM: Timeless Butterflies." Visitors can use the promo code "PRIDE20" to get 20 percent off their ticket during Pride month.
Throughout the summer, Capital Pride will also host a variety of online events. In partnership with the Smithsonian's National Museum of the American Indian, Capital Pride will host Youth in Action: Wearing Our PRIDE, which will feature young indigenous activists working toward social justice. Capital Pride will also host Zoom affinity support groups and social hours.
Further details and a full calendar of events can be found on the Capital Pride website.