Tennessee queens brace for 'drag ban' law
All-ages drag brunch raises $3,500 for school gun violence prevention efforts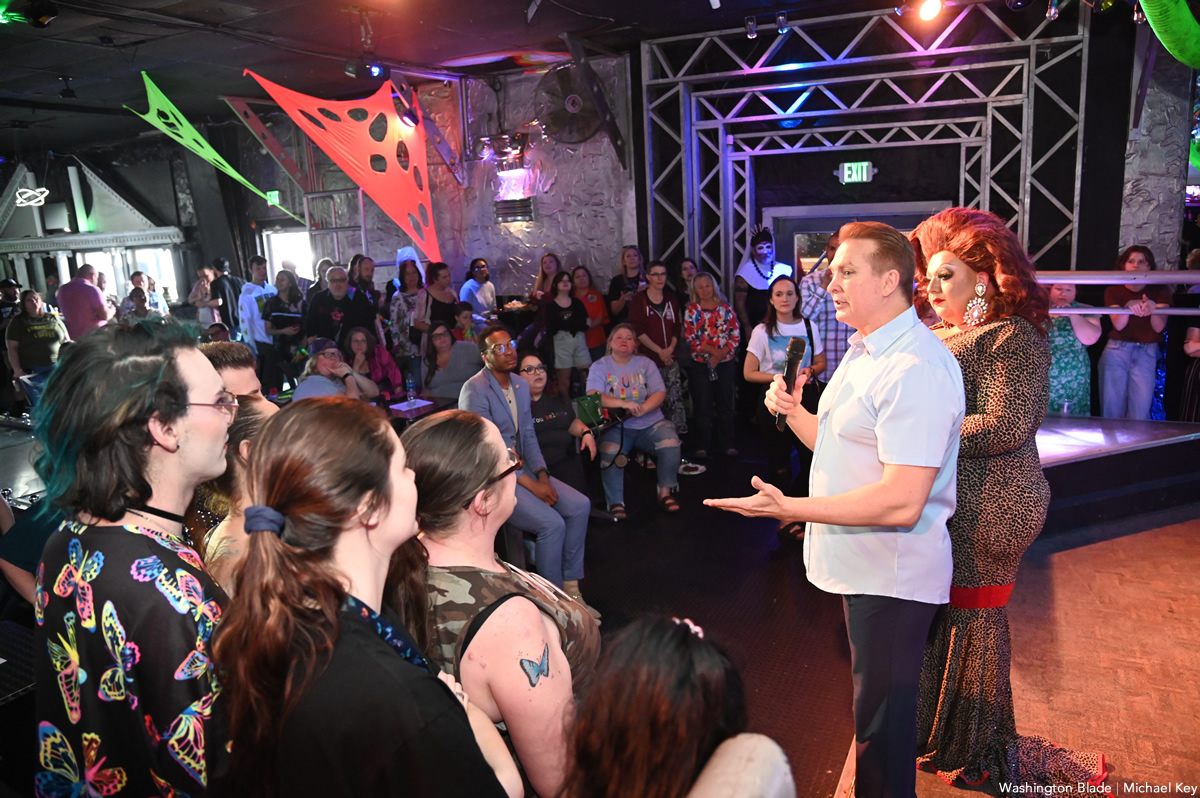 JOHNSON CITY, Tenn. — Tennessee has passed a number of anti-LGBTQ bills this year, including a measure that criminalizes gender-affirming care for transgender youth and a law that could be used to stop all drag shows on public property or in the presence of anyone under the age of 18.
In response to the anti-drag law, the owner and staff at the Tennessee gay bar New Beginnings held an all-ages drag brunch fundraiser on Sunday, raising $3,500 to combat gun violence in schools.
Republican Tennessee Gov. Bill Lee signed Senate Bill 2, the so-called "drag ban," into law on March 2, setting fines and even jail time for "male or female impersonators who provide entertainment that appeals to a prurient interest" in the presence of minors or on public property. The vague language of the new law, set to take effect on April 1 has advocates, business owners and entertainers concerned about how the law might be enforced.
"We don't view the language of the bill as banning all public drag," Tennessee Equality Project Executive Director Chris Sanders told the Washington Blade. "But with that said, it is restrictive and it will embolden those who want to police and harass drag performances outside 18+ clubs. The implementation will be in the hands of law enforcement and district attorneys across the state and that is really where the potential for arbitrary enforcement comes in. In some of the larger cities, I do not believe that law enforcement or the district attorneys will view a drag brunch as a violation. I don't speak for them, though. But in other parts of the state, the matter could be more complicated. Regardless of how one reads the text of the law, it will embolden groups who go around filming drag performances and take segments out of context."
New Beginnings is a 'safe space'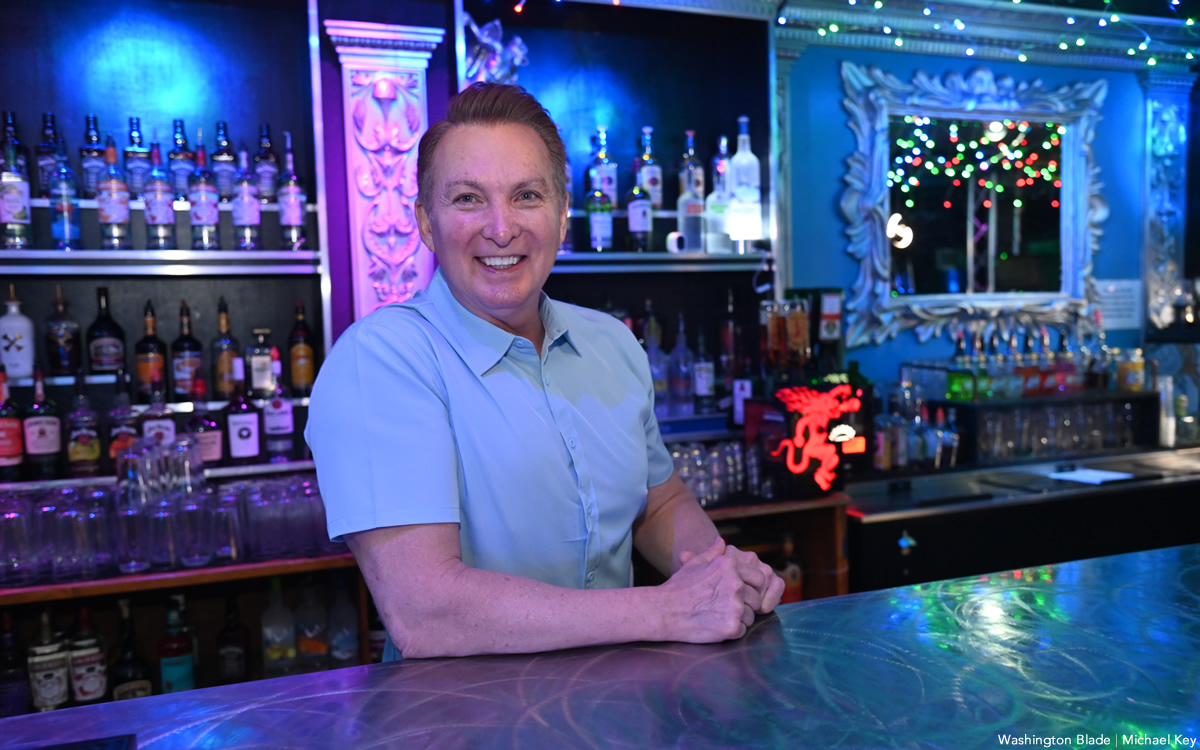 One place where drag thrives in the state is New Beginnings, a sprawling nightclub located in Johnson City. New Beginnings, founded in 1987, is the only full-time LGBTQ venue currently in operation in the Tri-Cities area that includes Johnson City and Kingsport, Tenn., as well as Bristol, Va.
"We try to give the young people who come here something nicer than the circumstances they live in," Mark, a New Beginnings bartender, told the Blade. "Many of these kids have never been on a plane, have never left the Tri-Cities area. We provide them with a safe space to be who they are and to experience the world: To see something of New Orleans or places outside."
New Beginnings faces regular protesters and had an inauspicious beginning, according to Michael Trivette, who owns New Beginnings with his husband and extended family. He recounted to the Blade, "When we first opened up here in 1987, I was in the back parking lot painting stripes because they had to be marked for permits and a police officer came through and said, 'I understand that you are putting a gay bar in here . . . you can just tell whoever that there's not going to be no gay bar in my district.' He said, 'I'll close it down.' and this was before we even opened."
Things have changed over the years as both New Beginnings and the LGBTQ community as a whole have gained wider acceptance, according to Trivette.
Trivette tells the Blade that New Beginnings often holds a drag brunch around the time of TriPride, an annual event that rotates between Bristol, Kingsport and Johnson City. The TriPride drag brunch is now in jeopardy given concerns around the enforcement of the new law.
"When TriPride had pitched [having Pride in Johnson City in 2023] to the city commissioners and the mayor, they spoke so eloquently of an event to bring all of the people of the Tri-Cities together in a unified moment where they could celebrate the diversity of different people. The mayor wrote this glowing letter," Trivette recounted. "It's just so wonderful to think of, this is where we were and now this is where we are."
"But now, this is where we're going back to," Trivette added.
Trivette said there was even talk of moving TriPride from Johnson City to nearby Bristol, Va., across the state line, just to be safe. However, TriPride told the Blade they resolve to continue with plans for a September parade and festival in Tennessee.
"As it stands currently, TriPride intends to continue with the parade and festival in Johnson City," TriPride Board President Melody Taylor said. "We will continue to have open communication with the city as well as monitoring how the new law is being interpreted and if or when anyone is charged. TriPride has always prided itself on being an all-ages friendly event and our festival entertainment has never been obscene and this year will be no different."
Tenn. anti-drag law goes into effect on April 1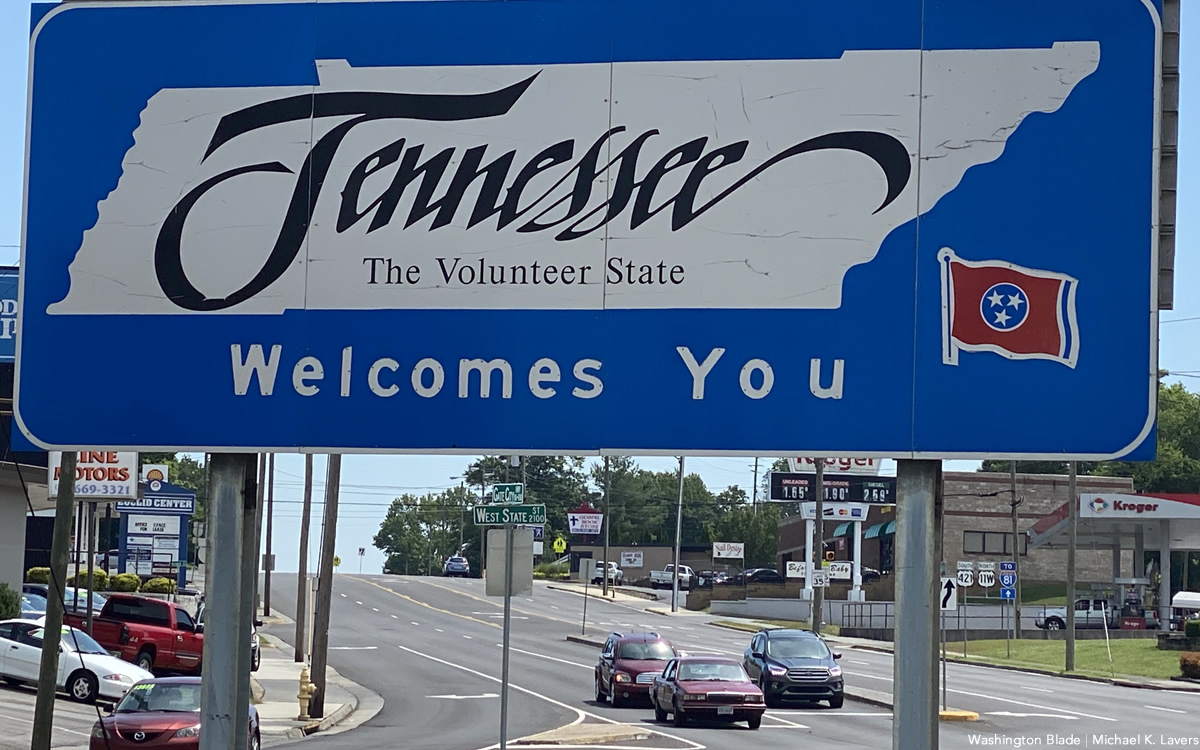 "Of course we think it's ridiculous," Trivette said when asked what he thought of the new drag law. "I just truthfully have to wonder who saw what that made them feel compelled to go back to their offices and write this law about drag queens."
Trivette continued, "You take a bunch of middle-aged, middle-class people and you talk about the good old days and how much better it used to be and you point your finger at a group of people and you blame them for your problems. And when you have an enemy, you have a focus."
Kyelee Moffatt, mother, social worker and self-described "jack of all trades" at New Beginnings was blunt about her feelings concerning the anti-drag law: "I think it's bullshit."
Moffett elaborated, "I think it's a lot of white, old men in Nashville making laws about things they know nothing about because they are being told things from people who are ignorant. They aren't educated as to what drag is: it is a form of art. It is a wonderful form of entertainment. These people making these laws are afraid of them, the drag performers, because they are different."
"I have fear for this law being interpreted in different ways to affect our trans community, especially," she continued. "Especially with the recent ban on gender-affirming care for our trans youth in the state, I think that this is another way for politics and law enforcement to persecute our trans community. I'm afraid that law enforcement is going to target the trans community as well."
"For me, it is reflective of laws in the 50s," Moffett cautioned. "It's just a huge red flag that our civil rights are being violated. I think we're going backwards instead of forwards because, again, because people are afraid of what they don't know."
Odessa Mann, a drag artist who headlines alongside a large troupe of performers in the only regular drag show in the Tri-Cities, met with the Blade before hosting Saturday night's drag show at New Beginnings. Mann, a spirited performer who is equally animated when talking about the importance of drag, explained, "Drag has been such a part of everybody's culture: Not just queer culture. It's been a part of theater and entertainment culture for as long as entertainment has been a thing. And so, it just feels that it is very convenient that now they want to bring up an issue with it all of the sudden."
"Queer celebration and queer joy has always been a riot and has been a political movement in and of itself," Mann said. "You can marginalize us and push us to the outsides of the community if you would like to but we're still going to celebrate and we're still going to find joy in ourselves. And now they have a problem with that again. So it's even more important to stay louder in our celebration, louder in our joy and make sure that those people know that we're not going anywhere. You can make as many bills as you want to, but we're going to still be right here."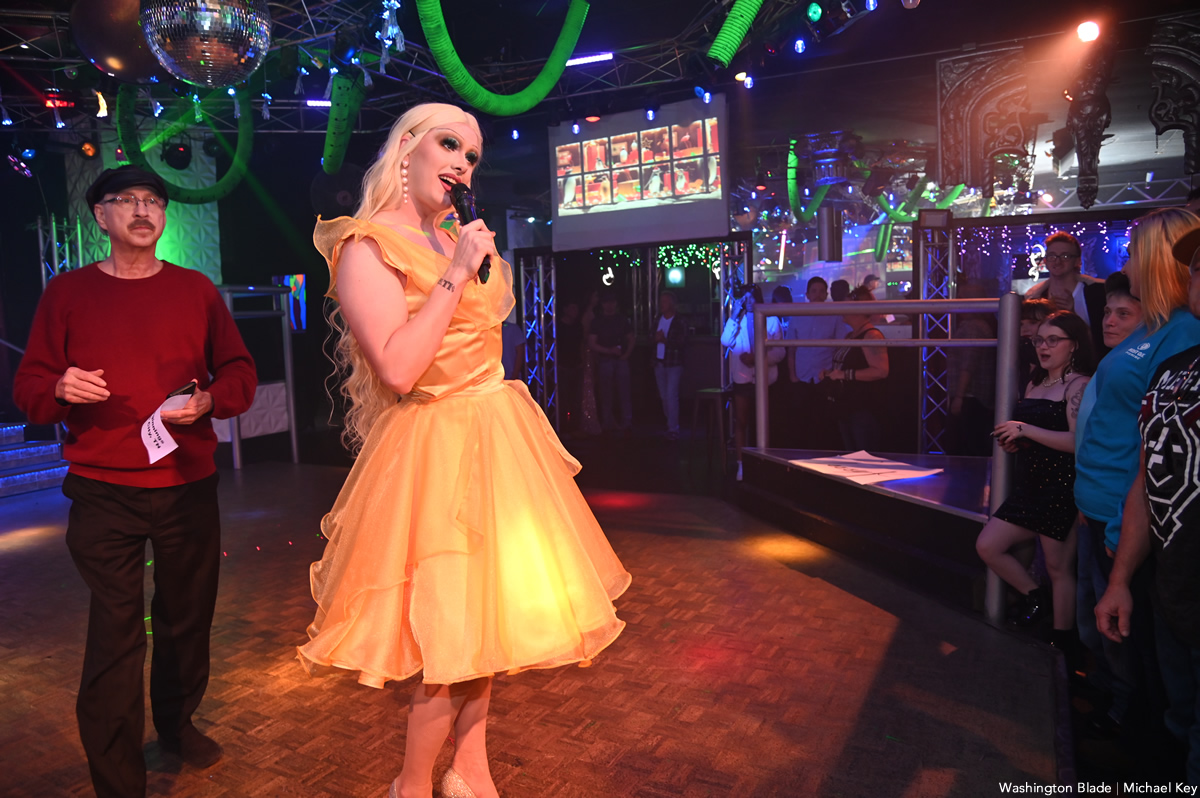 "With the current rhetoric being lobbed at the LGBTQ+ community not only in Tennessee but across the country we at TriPride feel our mission of providing a safe environment for our community to rejoice in being their authentic selves is more important than ever," TriPride Board President Taylor elaborated in an email. "These hateful messages are intended to incite fear and push the LGBTQ community back in the closet, so to speak. TriPride refuses to simply disappear and will continue showing the love, kindness, and pride that our community has. Our community has been fighting for our right to exist for generations and we will continue that fight as long as necessary."
"Every week of the legislative session, we have published campaigns against the discriminatory bills and we continue to do that," Sanders of Tennessee Equality Project told the Blade. "We have helped numerous people meet with their legislators and helped people prepare testimony against the bills. We have to continue doing that because we still face an anti-trans student pronoun bill, a new anti-trans amendment to a bill about camps, and much more. In my 20 years of working on anti-LGBTQ legislation in Tennessee, this is the worst year yet. But the community has stepped up and keeps coming back to fight the bills."
The all-ages drag brunch at New Beginnings completely filled the cavernous club with supporters on Sunday. Children danced alongside drag queens at the G-rated show. Singers serenaded the patrons with live music and a "wilderness fairy" read a story to the youth. It was a bittersweet gathering, as it was perhaps the last of its kind to be had for a while.
Mann thanked the audience.
"I really appreciate you seeing us for what we are. We're entertainers, we're here to bring joy, we're here to bring light. That's all it is," Mann said. "And I'd like to bring a little light to the stage right now. All the spotlight has been on us and I'd like to put the spotlight on these little baby drag queens we got. I've seen some younguns' and they've been dancing with us, honey. I know they want the spotlight."
Mann then led a group of parents and children in a dance to the popular kids' song, "Baby Shark."
Covering for @WashBlade New Beginnings in Johnson City, Tennessee defying the state at an all-ages drag brunch. Here is baby shark: pic.twitter.com/Z9iyY7zTO8

— Michael Patrick Key (@MichaelKeyWB) March 26, 2023
"We want to talk to you for a minute about what's going on in our country, specifically our state," Sister Lolo of the Little City Sisters told the crowd.
Sister Lolo, a member of newly formed local chapter of the Sisters of Perpetual Indulgence drag order, continued, "This is the last time under the new law that we as drag entertainers are allowed to interact with some of you. And they say that this law is designed to protect you, but we know that's not the truth."
"Now, we're going to follow the law, because as good citizens we have to," said Sister Lolo. "But we know the truth and you know the truth. We're going to work together to change these laws. We're going to stand for the truth. We are not going to be afraid. Because when we are afraid, they win. And when we stand up for ourselves, we stand up for the truth, we will prevail."
At the conclusion of the brunch, Trivette announced that more than $3,000 was raised to combat gun violence in schools. He beamed, "there was a bar in New York that was being hassled by the police department there: They didn't want to have a gay bar in their district. So they started harassing them. And at some point, a drag queen . . . and leave it to a drag queen . . . picked up a brick and threw it at the police officers. That was the beginning, that was Stonewall in New York and that's what started gay Pride. And now today ladies and gentlemen . . . and children, we just threw a rock."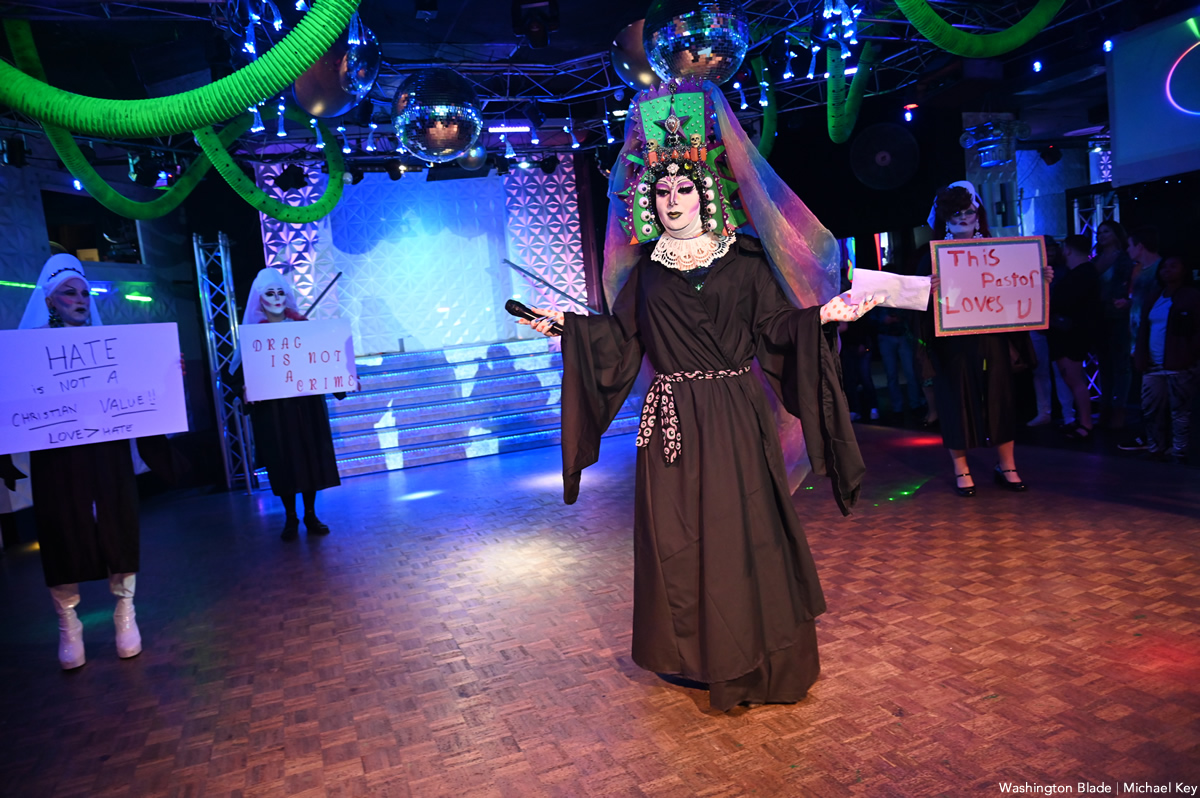 CLICK HERE to see more photos from the all-ages drag brunch at New Beginnings.
Justice Department sues Tenn. over law banning healthcare for transgender youth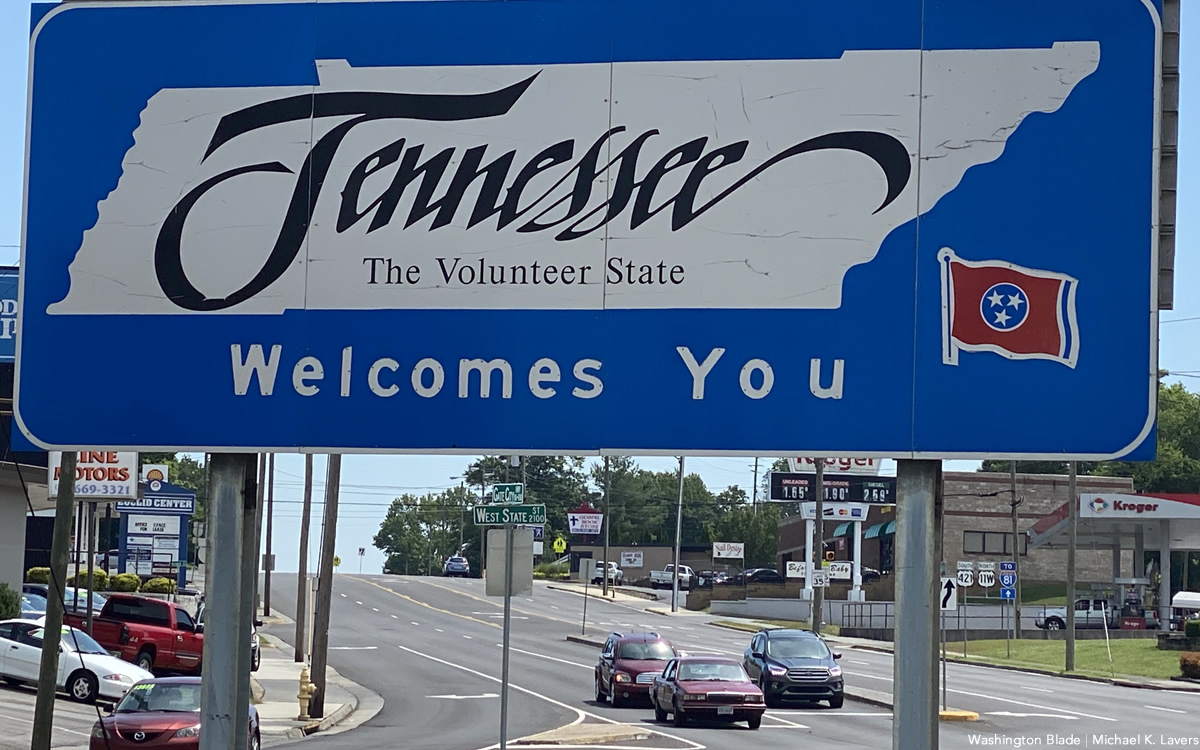 The Justice Department on Wednesday filed a complaint challenging Tennessee's Senate Bill 1, a recently enacted law that denies necessary medical care to youth based solely on who they are.
The complaint alleges that SB 1's ban on providing certain medically necessary care to transgender minors violates the 14th Amendment's Equal Protection Clause. The department is also asking the court to issue an immediate order to prevent the law from going into effect on July 1.
SB 1 makes it unlawful to provide or offer to provide certain types of medical care for transgender minors with diagnosed gender dysphoria. SB 1's blanket ban prohibits potential treatment options that have been recommended by major medical associations for consideration in limited circumstances in accordance with established and comprehensive guidelines and standards of care.
By denying only trans youth access to these forms of medically necessary care while allowing non-trans minors access to the same or similar procedures, SB 1 discriminates against trans youth.
The department's complaint alleges that SB 1 violates the Equal Protection Clause by discriminating on the basis of both sex and trans status. Doctors, parents and anyone else who provides or offers to provide the prohibited care faces the possibility of civil suits for 30 years and other sanctions.
"No person should be denied access to necessary medical care just because of their transgender status," said Assistant Attorney General Kristen Clarke of the Justice Department's Civil Rights Division. "The right to consider your health and medically-approved treatment options with your family and doctors is a right that everyone should have, including transgender children, who are especially vulnerable to serious risks of depression, anxiety and suicide. The Civil Rights Division of the Justice Department will continue to aggressively challenge all forms of discrimination and unlawful barriers faced by the LGBTQI+ community."
"SB1 violates the constitutional rights of some of Tennessee's most vulnerable citizens," said U.S. Attorney Henry Leventis for the Middle District of Tennessee. "Left unchallenged, it would prohibit transgender children from receiving health care that their medical providers and their parents have determined to be medically necessary. In doing so, the law seeks to substitute the judgment of trained medical professionals and parents with that of elected officials and codifies discrimination against children who already face far too many obstacles."
Wednesday's filings are the latest action by the Justice Department to combat LGBTQ discrimination, including unlawful restrictions on medical care for trans youth.
On March 31, 2022, Clarke issued a letter to all state attorneys general reminding them of federal constitutional and statutory provisions that protect trans youth against discrimination.
On April 29, 2022, the Justice Department intervened in a lawsuit challenging a law in Alabama (Senate Bill 184) that imposes a felony ban on medically necessary care for transgender minors. As a result of that litigation, the most significant provisions of Alabama's SB 184 have been preliminarily halted from going into effect, and the United States continues to challenge its constitutionality.
****************************************************************************************
Federal judge blocks Tenn. law restricting drag shows
Statute was to have taken effect Saturday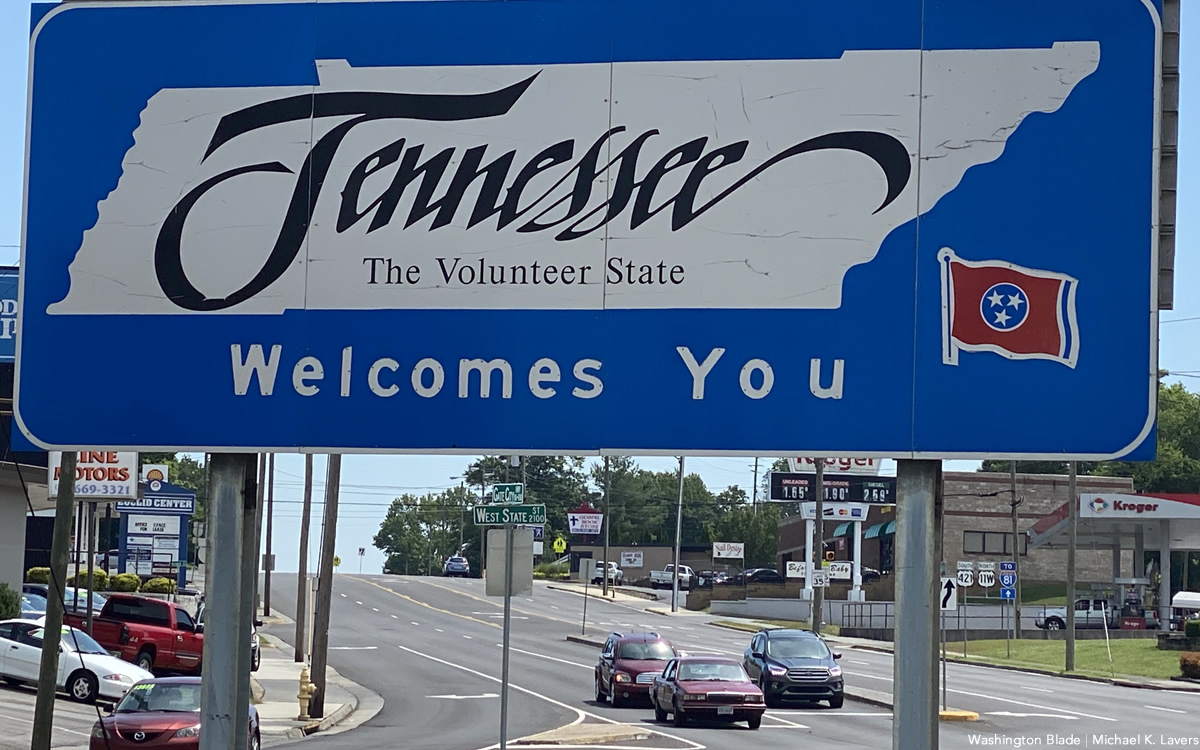 U. S. District Court Judge Thomas L. Parker of the U. S. District Court for the Western District of Tennessee ordered a temporary injunction halting a just enacted Tennessee law that criminalizes some drag performances, hours before it was set to take effect Saturday.
A Memphis-based LGBTQ theatre company, Friends of George's, had sued the state of Tennessee, claiming the law unconstitutional under the First Amendment. In his 15 page order issued late Friday evening Parker wrote:
"If Tennessee wishes to exercise its police power in restricting speech it considers obscene, it must do so within the constraints and framework of the United States Constitution. […] The court finds that, as it stands, the record here suggests that when the legislature passed this statute, it missed the mark."
The theatre troupe, which had a scheduled April 14 performance, had argued in their motion for a restraining order: "This law threatens to force a theatre troupe into a nightclub, because Tennessee legislators believe they have the right to make their own opinions about drag into law. Plaintiff's other option is to proceed as planned, knowing that the Friends of George's drag performers could face criminal — even felony — charges."
In their filing, the plaintiff's also argued that as an example should in a performance a drag performer alongside a Tennessee Titan (a National Football League team in Nashville) cheerleader, with minor children present, that under the language of the anti-drag law, only the drag performer would be breaking the law.
"Thus, the prohibited speech is defined by the identity of the drag performer — and the message he conveys," attorneys for Friends of George's wrote, adding that by that definition, violates the First Amendment.
Parker, who agreed issued a temporary injunction which will expire in 14 days unless he decides to extend it for an additional period under the Federal Rule of Civil Procedure. The court will hold a status conference next week with all parties to schedule future hearings.
The office of Tennessee Attorney General Jonathan Skrmetti and Tennessee Gov. Bill Lee's office did not immediately respond to requests for comment Friday night.
The theatre company tweeted late Friday: "Friends Of George's was successful in the obtaining a temporary restraining order, which means that the "drag ban" will NOT go into affect at midnight tonight. This is a terrific first step in an ongoing battle."
Friends Of George's was successful in the obtaining a Temporary Restraining Order, which means that the "drag ban" will NOT go into affect at midnight tonight. This is a terrific first step in an ongoing battle. https://t.co/1Nf2TgOygF pic.twitter.com/WKvIO9jaqy

— Friends of George's (@GeorgesShowtime) April 1, 2023
Mark Campbell, president of the board of directors of Friends of George's, issued a statement that said in part: "We won because this is a bad law."
6 killed in shooting at Christian school in Nashville
The shooter was identified as Audrey Hale, 28, of Nashville, according to police who identifies as transgender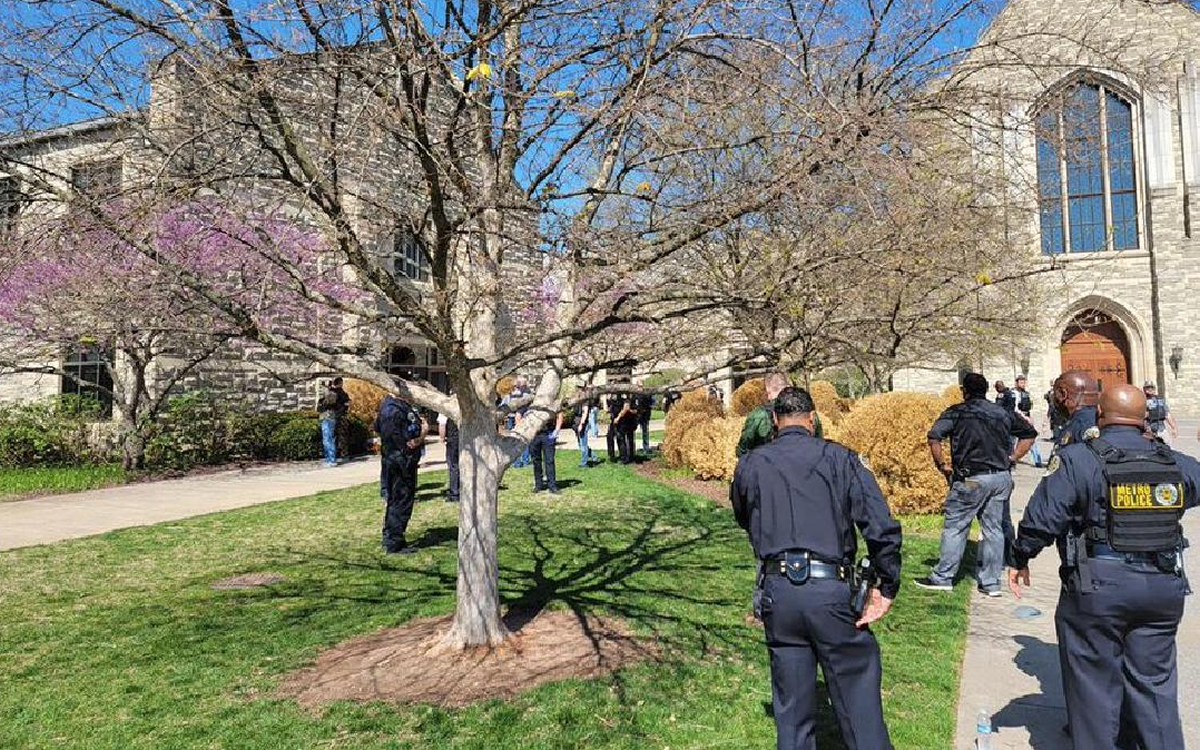 In a press conference Nashville Police Chief John Drake told reporters that earlier Monday morning a 28-year-old local female armed with two "assault-type rifles and a handgun" was killed by responding officers.
"At one point she was a student at that school," Drake told reporters hours after the shooting at the Covenant School. "But unsure what year […] but that's what I've been told so far."
The shooter was identified as Audrey Hale, 28, of Nashville, according to the chief, who identifies as transgender.
According to Drake, three children and three adults were killed in the shooting at The Covenant School on Burton Hills Boulevard, a private Christian school.
Children's Hospital Vanderbilt University Medical Center spokesperson John Howser told reporters "We can now confirm three children and two adults from the school shooting were transported to our Adult Emergency Department (the two adults) and (the three children) to the Pediatric Emergency Department at Monroe Carell Jr. Children's Hospital," Howser said adding "All five patients have been pronounced dead."
Police identified the three slain students as Evelyn Dieckhaus, Hallie Scruggs, and William Kinney, all age nine.
The three faculty members killed were Cynthia Peak and Mike Hill, both 61, and school head Katherine Koonce, 60.
At his only scheduled public event at the White House, President Joe Biden called the shooting "sick" and renewed his call for Congress to ban assault weapons.
Drake noted that the shooter was killed on the school's second floor by his officers acknowledging that the victims were students and staff members of the school.
The school has students from preschool through sixth grade and on a normal day has about 200 students and 40 staff members on campus.
In a statement, Tennessee Gov. Bill Lee tweeted: "I am closely monitoring the tragic situation at Covenant. As we continue to respond, please join us in praying for the school, congregation and Nashville community."
I am closely monitoring the tragic situation at Covenant, & the @TNDeptofSafety & @TNHighwayPatrol are assisting local law enforcement & first responders at the scene.

As we continue to respond, please join us in praying for the school, congregation & Nashville community.

— Gov. Bill Lee (@GovBillLee) March 27, 2023
NBC News reported that just days ago, a 17-year-old suspect wounded two administrators at a Denver high school before he was found dead.
In February, three students were gunned down at Michigan State University. And in January, two students were fatally shot at a charter school in Des Moines, Iowa.
The Washington Post and other media outlets reporting that U.S. Rep. Andrew Ogles (R-Tenn.), who represents the Nashville district where the Covenant School is located, said Monday in a statement that he was "utterly heartbroken" by the mass shooting.
Gun reform activists including Fred Guttenberg, whose daughter Jamie was killed in the mass shooting at Marjory Stoneman Douglas High School in Parkland, Fla., on Feb. 14, 2018, have called out Ogles for his hypocrisy posting tweets of Ogles posing with his children all carrying assault rifles in a 2021 family Christmas card photo:
The tragedy of the latest mass shooting is listening to Tennessee politicians who refuse to call it a shooting but who engaged in behavior that caused this to be more likely when they glorify guns. Tennessee Rep @AndyOgles, is this you with your family? pic.twitter.com/LJGnUKqJdA

— Fred Guttenberg (@fred_guttenberg) March 27, 2023