Tucker Carlson out at Fox, CNN fires Don Lemon
Firings shook cable news on Monday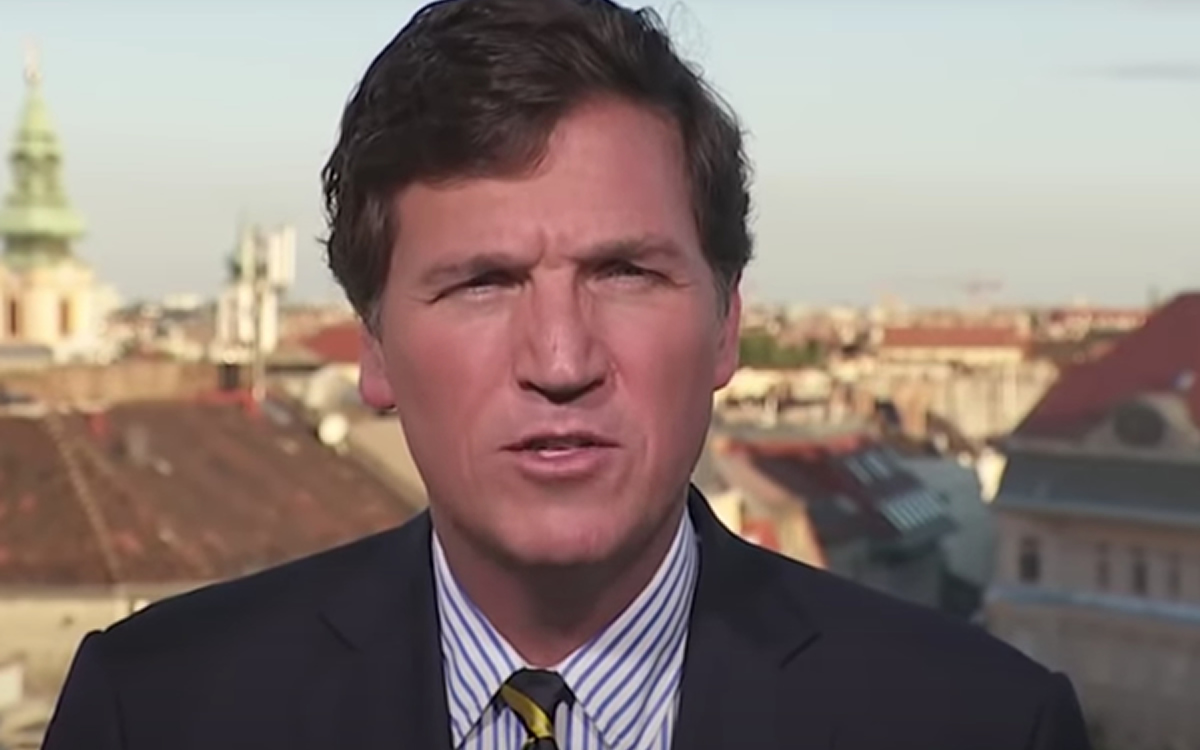 The political and media worlds were jolted Monday by news that Fox News host and pundit Tucker Carlson and the network had abruptly parted ways followed by news from Atlanta within an hour that CNN had terminated morning anchor Don Lemon.
Both men had stirred controversy within the ranks of their respective networks in recent months with on-air comments and behind the camera drama as described by insiders at both Fox and CNN to the Washington Blade.
Word of Carlson's departure came in a statement from the network early Monday:
"Fox News Media and Tucker Carlson have agreed to part ways. We thank him for his service to the network as a host and prior to that as a contributor.
Carlson's last program was Friday. "Fox News Tonight" will air live at 8 p.m. ET starting this evening as an interim show helmed by rotating Fox News personalities until a new host is named
Co-anchor of "CNN This Morning," Lemon's termination was announced on Twitter by Lemon himself:
" I was informed this morning by my agent that I have been terminated by CNN. I am stunned. After 17 years at CNN I would have thought that someone in management would have had the decency to tell me directly. At no time was I ever given any indication that I would not be able to continue to do the work I have loved at the network. It is clear that there are some larger issues at play. With that said, I want to thank my colleagues and the many teams I have worked with for an incredible run. They are the most talented journalists in the business, and I wish them all the best."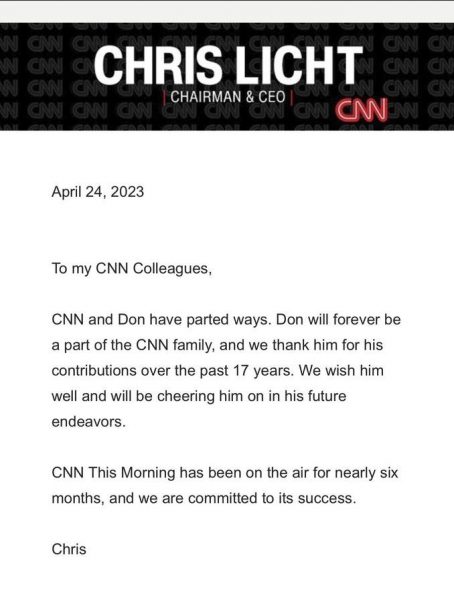 CNN CEO Chris Licht said that the network and Lemon have "parted ways," according to a memo posted on CNN's official communications Twitter account.
"Don will forever be a part of the CNN family, and we thank him for his contributions over the past 17 years," the statement said. "We wish him well and will be cheering him on in his future endeavors."
Carlson joined Fox News as a contributor in 2009 and served as a co-host of "Fox and Friends Weekend" from 2012-2016.  His show "Tucker Carlson Tonight" aired in 2016 and a year later moved into the primetime 8 p.m. slot in April 2017.
Carlson has had a lengthy history of inflammatory commentary during his tenure at Fox. He has targeted minority groups as noted by D.C.-based progressive media watchdog group Media Matters for America. The groups' researchers Madeline Peltz and Nikki McCann Ramírez noted:
Since the early days of his tenure as a Fox prime-time host, Tucker Carlson's unabashed championing of white grievances earned him the accolades of neo-Nazis, who praised him as a "one man gas chamber" and complimented the way he "lampshad[ed] Jews on national television." While Carlson claims to have nothing in common with neo-Nazis and white supremacists, he constantly echoes their talking points on his show and was very reluctant to condemn white supremacists following their deadly 2017 demonstration in Charlottesville, Va. In fact, Carlson's racist roots can be traced back more than a decade.
For the American LGBTQ community, particularly transgender people, Carlson has led a relentless campaign mocking and denigrating trans people. In a late December 2022 episode of "Tucker Carlson Tonight", he hosted Libs of TikTok owner Chaya Raichik, who labeled LGBTQ people as: "They're bad people. They're evil people. And they want to groom kids. They're recruiting."
Raichik's Twitter account has spewed anti-LGBTQ hate speech with special emphasis on singling out American trans youth, attacking healthcare professionals who provide gender affirming care including children's hospitals in Boston, Nashville and D.C. which has led her over 1 million followers to pummel those medical facilities with hate filled online abuse and escalating to criminal acts including bomb threats and death threats against doctors.
During that interview Carlson nodded sympathetically as he embraced Raichik's extremism.
During the Aug. 22, 2022, edition of "Tucker Carlson Tonight", Carlson, while interviewing former Russia Today and current Rebel News reporter Jeremy Loffredo about his story regarding Amish farmer named Amos Miller, who has legal problems with the U.S. Food and Drug Administration over food safety concerns, at one point blurted out: "Maybe if he promises to put more chemicals in the milk to turn kids trans, they'll lay off."
Carlson has long targeted President Joe Biden, his family, and members of the president's administration. During the May 10, 2022, edition of "Tucker Carlson Tonight", he mocked White House Press Secretary Karine Jean-Pierre, who is an openly Black lesbian:
"Karine Jean-Pierre is our first out LGBTQ+ White House Press Secretary and that's all you need to know. It's a good thing, shut up and celebrate. That's why she got the job. She's in the right group and so the Biden administration, which thinks exclusively in terms of groups and never in terms of individuals because individuals are messy and inconvenient, the group is all that matters. […] Not only is she a member of the out LGBTQ+ community, she's also, critically, the product of a private school and an Ivy League college and yet still oppressed somehow. She is furious at America despite her ample privilege and enraged by its racist systems of oppression. And she's happy to tell you about it."
On the political front, Carlson's embrace of the far-right extremist elements had led to disagreements and heated internal debate a Fox News source told the Blade on Monday. Adding to the controversy and in turn exacerbated by the massive $787.5 million settlement with Dominion Voting Systems in the lawsuit filed against Fox in March 2021 over defamatory comments, including a Jan. 26, 2021, episode of Carlson's show featuring MyPillow founder Mike Lindell, was Carlson's role.
CBS News notes that Carlson has been a fixture of cable news for decades, hosting shows on CNN, MSNBC and PBS before he joined Fox News. He also co-founded the conservative website the Daily Caller, which launched in 2010. Carlson stepped down from day-to-day oversight of the website after landing his show on Fox News and sold his stake in the outlet in 2020.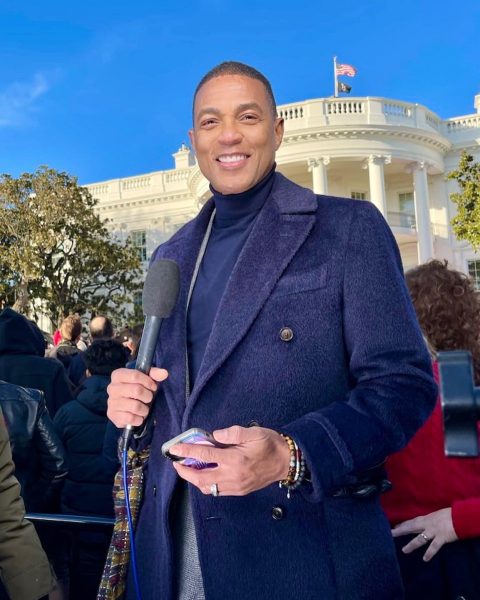 Monday's termination of Lemon by cable news giant CNN comes after NBC News reported that media industry news and entertainment outlet Variety published a story earlier this month on allegations that he mistreated his female colleagues over the course of his career there. And earlier this year, he faced backlash over widely criticized comments he made on-air.
Lemon has been with CNN since 2006, joining the network after anchoring at NBC Chicago and working as a correspondent for NBC News, the "TODAY" show and "NBC Nightly News."
Lemon had come out as an openly gay African American news anchor 12 years ago in 2011 telling the Blade in a May 2011 interview:
"I have to tell you I can't even put it in those terms. I mean, it goes way over a scale of one to 10, honestly. And it goes way over incredible. I mean I just feel like a new person."
Lemon also faced hate and anti-gay extremism, at one point during the Trump era filed a police report with the New York Police Department for "aggravated harassment" after receiving death threats on Twitter.
The anchor, who is partnered to fiancé, Tim Malone, a real estate agent, had heated arguments with network staff after his negative treatment of "CNN This Morning" co-star Kaitlan Collins was discussed within the company.
NBC News noted Lemon also came under fire in February during a segment on "CNN This Morning" in which he remarked that Republican presidential candidate Nikki Haley, 51, was no longer in her "prime." The comment was made while discussing a suggestion by Haley that candidates over the age of 75 should be subjected to mental competency exams.
"Nikki Haley isn't in her prime, sorry," Lemon said. "When a woman is considered to be in her prime — in her 20s, 30s and maybe her 40s."
When pushed by co-anchor Poppy Harlow, Lemon told her not to "shoot the messenger."
At the time of the Variety article, a spokesperson for Lemon said in a statement to NBC News following the report that it was "amazing and disappointing that Variety would be so reckless."
"The story, which is riddled with patently false anecdotes and no concrete evidence, is entirely based on unsourced, unsubstantiated, 15-year-old anonymous gossip," the statement said.
DC Front Runners Pride 5K to take place as scheduled
Air quality improved overnight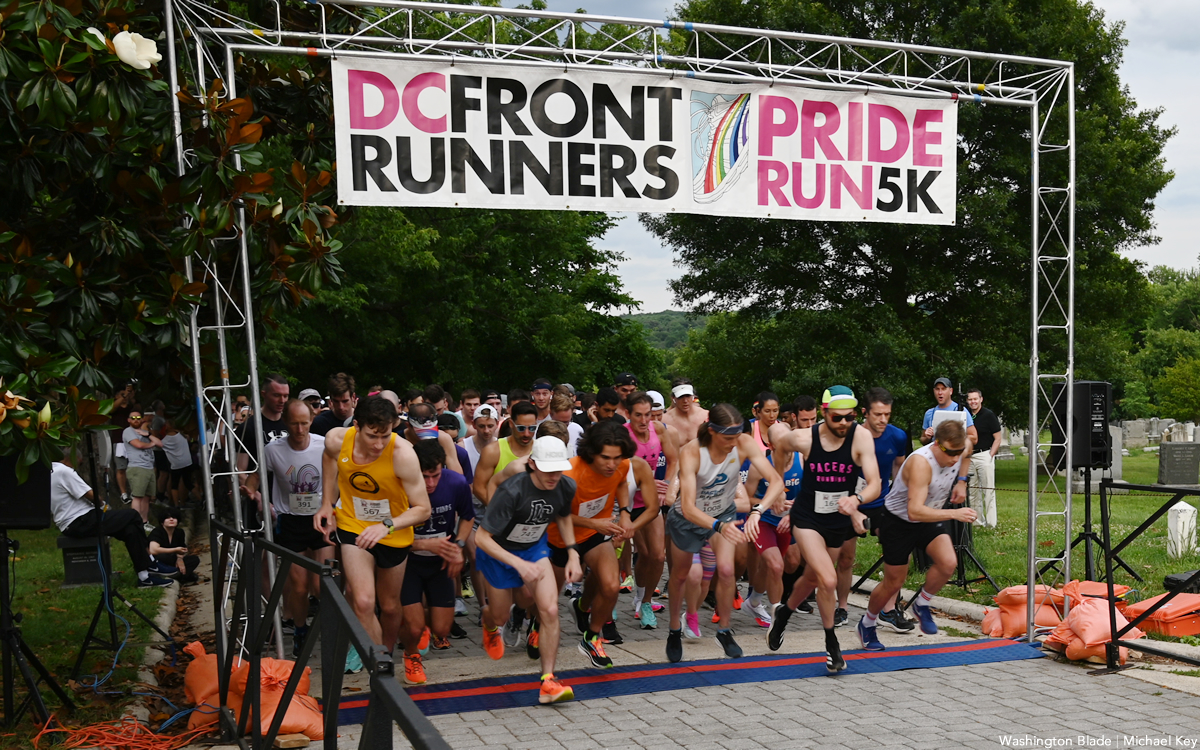 The D.C. Front Runners' annual Pride Run 5K will take place as scheduled at Congressional Cemetery on Friday.
The Blade Foundation, SMYAL, the Wanda Alston Foundation, Team DC, Teens Run DC, Pride 365 and Ainsley's Angels of America are among the race's beneficiaries. Wegmans, Shake Shack, Knead Hospitality and Design, Choice Hotels and Capital One Café are among the sponsors.
South Africa retail giant supports Pride month despite customer backlash
Woolworths South Africa to continue selling LGBTQ-specific merchandize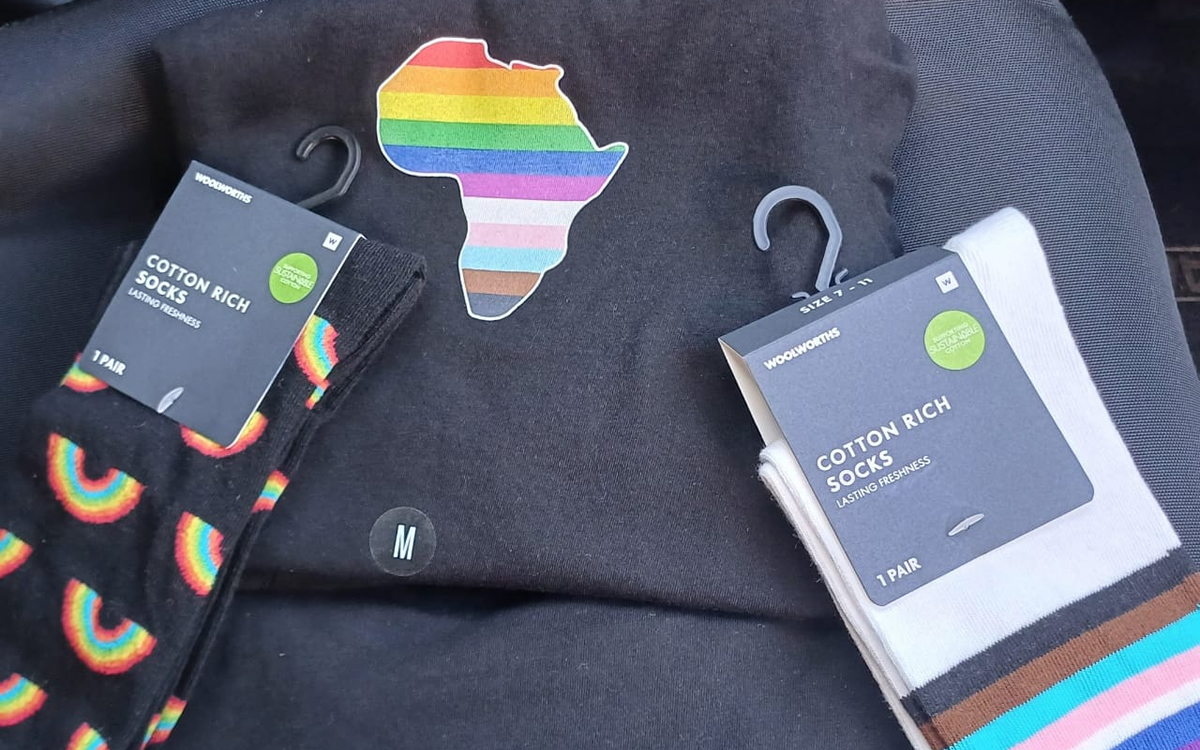 A South Africa retail giant has vowed to continue celebrating Pride month and LGBTQ and intersex people despite backlash from some customers.
Woolworths South Africa said will continue offering its Pride regalia to its staff and selling merchandize that recognizes the LGBTQ and intersex community. Woolworths South Africa also said it has established a Woolworths Pride (W.Pride) team, citing its values are firmly in favor of kindness and inclusivity.
"We have established an internal W.Pride task team to give voice to and address issues faced by the LGBTQIA+ community. We have adapted our working wardrobe policy to recognize everyone's unique preferences to style, cultural or religious needs and gender identity or expression. We have created a range of Pride merchandise and are donating funds to LGBTQIA+ support organizations," said Woolworths South Africa. "However, we know that there is always more to be done; and we will keep looking for ways to enable, uplift and celebrate the LGTBQIA+ community. Our community guidelines don't allow for hate speech or discrimination. Our values are firmly in favor of kindness and inclusivity."
OUT, an LGBTQ and intersex rights organization that is based in South Africa, commended Woolworths South Africa and criticized the backlash it received from some of its customers.
"Woolworths' public affirmation of LGBTQIA+ allyship aligns with South Africa's vision of a society that guarantees equality, safety and dignity for all. It's also clear that Woolworths recognizes the importance of celebrating diversity in the LGBTQIA+ community, rather than merely tolerating it," said OUT Human Rights Coordinator Sibonelo Ncanana. "However, the level of hateful discourse we have seen on social media in response to Woolworths' Pride campaign is disheartening and shameful. We urge the company and other LGBTQIA+ allies within the corporate sector to stand firm against fear and hate. They should remain steadfast in the knowledge that they are on the right side of history and our constitutional values."
Activists hope to use Pride to raise awareness of anti-LGBTQ violence, discrimination
Although South Africa is the only African country on the continent that constitutionally recognizes LGBTQ and intersex people, sporadic attacks and hate speech remain common. One of the reasons is South African society remains oriented around cultural and religious beliefs that denounce LGBTQ and intersex people.
Violence against LGBTQ and intersex South Africans that includes rape, murder and mutilation also remains a problem.
Tankisho Tawanyana, a 34-year-old lesbian woman from Kimberly, last October was raped and killed by three men who later doused her with paraffin and set her on fire. Two women in April 2021 killed Khulekani Gomazi, a transgender woman from Mpophomeni.
Some LGBTQ and intersex rights organizations have therefore taken it upon themselves to try and ensure South African students are taught to accept people from different gender identities in order to curb attacks based on gender identity.
The Uthingo Network and 23 other civil society organizations have already raised a series of concerns about the ongoing queerphobic bullying and discrimination against queer students in South African schools and called on Basic Education Minister Angie Motshekga, to hold teachers accountable and create queer-affirming school environments.
"It does not matter who you are or whom you love, everyone has a constitutional right to be themselves. Uthingo Network promotes equal rights for LGBTQI+ South Africans," said Uthingo Network.
Despite these problems, a number of LGBTQ and intersex rights organizations will host Pride events throughout South Africa in the coming months with the hope of raising awareness and end the discrimination and attacks against the community.
Trump indicted in classified document mishandling case
Former president to appear in federal court in Miami on Tuesday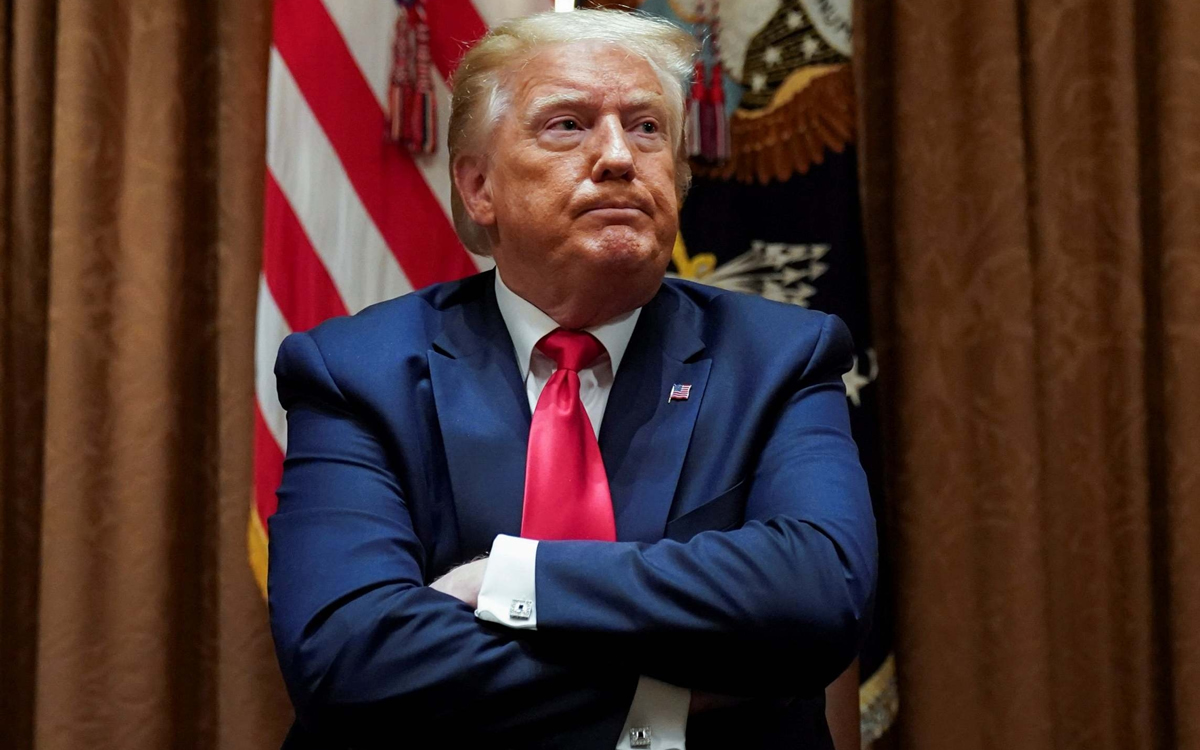 A federal grand jury has indicted former President Donald Trump on seven criminal counts in connection with his mishandling of more than 100 classified documents.
In a series of posts to his Truth Social account Thursday, Trump said that he has been indicted related to his mishandling of the classified documents taken to his estate at Mar-a-Lago after his term of office ended in January 2021.
The unprecedented decision comes after a more than yearlong investigation by special counsel Jack Smith into whether Trump knowingly retained classified and top secret government records when he left office and then disregarded a subpoena to return all classified documents in his possession and whether he and his staff obstructed Federal Bureau of Investigation efforts to ensure all documents had been returned.
A person familiar with the situation who was not authorized to discuss it publicly said Trump's lawyers were contacted by prosecutors shortly before he announced on his Truth Social platform that he had been indicted, the Associated Press reported.
In the first of a series of posts Trump wrote:
"Page 1: The corrupt Biden administration has informed my attorneys that I have been Indicted, seemingly over the Boxes Hoax, even though Joe Biden has 1850 boxes at the University of Delaware, additional Boxes in Chinatown, D.C., with even more boxes at the University of Pennsylvania, and documents strewn all over his garage floor where he parks his Corvette, and which is 'secured' by only a garage door that is paper thin, and open much of the time."
"Page 2: I have been summoned to appear at the federal courthouse in Miami on Tuesday at 3 p.m. I never thought it possible that such a thing could happen to a former president of the United States, who received far more votes than any sitting president in the history of our country, and is currently leading, by far, all candidates, both Democrat and Republican, in Polls of the 2024 presidential election. I AM AN INNOCENT MAN!"
"Page 3: This is indeed a DARK DAY for the United States of America. We are a country in serious and rapid decline, but together we will Make America Great Again!"
The Justice Department didn't respond to a request for a comment.
The AP also noted it remains unclear what the immediate and long-term political consequences will be for Trump. His first indictment spurred millions of dollars in contributions from angry supporters and didn't damage Trump in the polls.
No matter what, the indictment — and the legal fight that follows — will throw Trump back into the spotlight, sucking attention away from the other candidates who are trying to build momentum in the 2024 presidential race, the AP pointed out.