December 15, 2011 at 4:17 pm EST | by Joe Phillips
Hip haulers
Kia Sorento SX
$21,500
Mpg: 20 city/27 highway
0-to-60 mph: 9.9 seconds
Cargo space: 72.5 cubic feet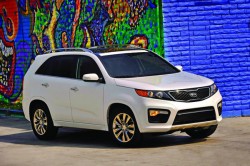 Kias have always been priced less than the competition. A big plus — except that comfort, quality and styling also scored low. But not anymore.
The redesigned Sorento has a lovable pug nose, tapered side panels and Mercedes-like rear. Handling is taut and sure (a big improvement from the previous model) and braking is spot-on. Another plus: the third-row seat is large enough for adults, not just children (as with most midsize crossovers).
The Sorento comes with choice of front-wheel or all-wheel drive, as well as manual or automatic transmission. And there are various trim levels — though the flashy SX is best, with its macho exterior cladding, sport-tuned suspension, rearview camera and 10-speaker stereo. For a few dollars more, there are some Lexus-esque options: panoramic sunroof, heated mirrors and mood lighting.
Honda CR-V
$23,000
Mpg: 23 city/31 highway
0-to-60 mph: 8.5 seconds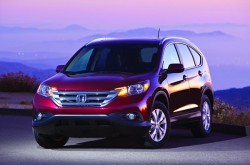 Not to be outdone by the upgraded Sorento, Honda reworked its popular CR-V.
This is a complete redo, though the CR-V still has only a small four-cylinder engine and (yawn) a tepid five-speed transmission (the Sorento has a much smoother six-speed).
Still, the CR-V has a spiffy new look, improved mileage and better cornering than before. There's also more safety gear, including stability control, brake assist and airbags galore. And a softer suspension makes potholes, if not pleasing, then at least tolerable.
The cabin is now bigger and snazzier, too, with lots of standard high-tech gizmos: Bluetooth, Pandora Internet radio, SMS text-messaging and hands-free phone capability. To up your enviro cred, a ring around the speedometer glows green when you're driving efficiently in eco mode.
Audi Q5
$35,500
Mpg: 20 city/27 highway
0-to-60 mph: 7.2 seconds
Cargo space: 57 cubic feet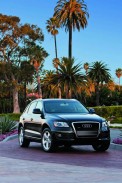 Last weekend, lots of naked Santas pranced through San Francisco in the annual Santacon pub crawl. Bold, yes. And it makes a statement. So does the new Audi Q5, perhaps the best-looking and most enjoyable compact luxury crossover around.
It's also one of the most fuel-efficient, with a new four-cylinder engine and eight-speed automatic transmission. Sure, there's less horsepower than in the V6 model, but there's also more torque, so you hardly notice the difference. Inside, the seating position is high for good visibility, and there's plenty of legroom and headroom, even in the back. Audi's typical A-1 build quality is everywhere, as are oodles of luxury features: tri-zone climate control, rear-door sunshades, power tailgate and a blind-spot warning system.
Best option: the rear thorax airbags, which are rarely offered on any vehicle. And there's a digital-music storage system.
Range Rover Sport
$60,000
Mpg: 13 city/18 highway
0-to-60 mph: 5.9 seconds
Cargo space: 71 cubic feet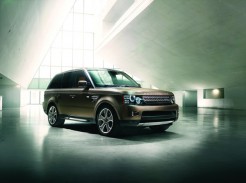 Refined. Rich. Really pricey. Range Rovers are not for the weak of wallet, and the athletic Sport model is no exception. Sure, it's $20,000 less than the top-of-the line standard Range Rover, though that vehicle has primo off-road capability.
But unless you're traveling to the North Pole, the Sport is just fine. Two trim levels — HSE and Supercharged — both come with V8 engines, though the Supercharged boasts an impressive 510 hp and tons of torque for maximum oomph. Despite it's height and weight, the Sport is surprisingly nimble, with virtually no body roll. The plush cabin is so quiet you may want to roll down the window occasionally for some real-world noise.
This is not an eco-friendly ride, but it is safe: there's hill-descent control, rollover protection and a multi-camera system to help with parking. A radar system even readies the brakes if a collision seems imminent (and will brake automatically in extreme cases). The trendy, sloping rear window cuts down on cargo space, but most holiday gifts should easily fit inside.