friday, jan. 8

Supporters of Virginia Del. Adam Ebbin (D) are having a sendoff party for him tonight at the home of Ingrid Morroy and Jerry Botland in Arlington, Va. (1501 South Pollard St.) from 6 to 8 p.m. Supporters are gathering to wish him well as he heads to Richmond for the new state legislative session. For more information, visit actblue.com/page/ebbinsendoff or contact [email protected] or 585-749-6404. Donations are being accepted.
saturday, jan. 9
Zoom Urban Lesbian Excursions is having a ladies breakdancing 101 class today from noon to 2 p.m. at the Columbia Heights Youth Center located at 1480 Girard St., N.W. It's designed for beginners and is part of Zoom's "Get Fit" series. Cost is $15. Visit zoomexcursions.com for more information.
Metropolitan Community Church of Washington, the District's largest mostly gay church, is having a "welcome home" service today and is encouraging former members, attendees and newcomers to meet its new pastor, Rev. Dwayne Johnson. Traditional worship is held at the 9 a.m. service. The 11 a.m. service features more contemporary and gospel music. The church is located at 474 Ridge St., N.W. Visit mccdc.com for more information.
sunday, jan. 10
Dignity Washington, a local gay Catholic group, celebrates Mass for the LGBT community every Sunday at 6 p.m. at St. Margaret's, located at 1820 Connecticut Ave., N.W. Call 202-546-2245 for more information or visit dignitywashington.org.
monday, jan. 11
Metropolitan Community Church of Washington has an HIV-positive support group for people of faith every Monday at the church. For more information, contact Matt Senger at 202-546-2159 or e-mail him at [email protected] MCC-DC is located at 474 Ridge St., N.W. Visit mccdc.com for more information about the church.
Nellie's Sports Bar, 900 U St., N.W., holds "Pokerface," a Texas hold 'em poker night every Monday at 8 p.m. It's free to play and prizes are awarded. Visit nelliessportsbar.com for more information.
tuesday, jan. 12
D.C.'s HIV Working Group assembles safer sex kits with its "packing parties" every Tuesday at EFN Lounge. Those who volunteer their time get drink discounts. The events are held from 7 to 10:30 p.m. at Motley Bar, located above EFN, which is at 1318 9th St., N.W. Visit fighthivindc.com for more information.
Poz, a bar night for HIV-positive men and men open to dating HIV-positive men regardless of their own HIV status, is held every Tuesday night from 7 p.m. to midnight at Motley Bar, located above EFN Lounge at 1318 19th St., N.W. The event is organized by HIV-positive party promoter Jacob Pring. Visit the group's Facebook page at facebook.com/pozdc for more information.
wednesday, jan. 13
Split, a gay bowling cocktail event, is tonight from 8 to midnight at Lucky Strike Lanes & Lounge, located at 701 7th St., N.W., on the second floor (Gallery Place/Chinatown Metro stop). Split, a party created by Jason Royce, Brian Lempin and Georgio Takounakis, is not a gay bowling league and isn't for diehard bowlers. Its creators designed it to be a fun and trendy bar alternative where patrons will mingle over martinis and bowl if the mood strikes. Split is usually held every other Wednesday. It's for ages 21 and older. There's a $3 cover and Lucky Strike has a dress code that those attending should read before attending. Drink and food specials are available. For more information, visit splitwednesdays.com.
The National Gay and Lesbian Task Force has weekly volunteer nights every Wednesday from 6 to 7:30 p.m. at its offices located at 1325 Massachusetts Ave., N.W., Suite 600. Volunteers fold and stuff letters for the gay rights organization. Pizza is provided. For more information, contact Ezra Towne at [email protected].
The Big Gay Book Group has its monthly book discussion meeting tonight at 7 p.m. at 1155 F St., N.W., Suite 200. This month's book is "The Conversion" by Joseph Olshan, which tells of a gay American translator who moves to Paris and is attacked one night in a hotel room where he and his companion, an older poet, are staying. For more information, visit biggaybookgroup.com.
Ladies First night is tonight and every Wednesday at Fab Lounge, located at 1805 Connecticut Ave., N.W. For more information, visit myspace.com/ladiesfirst.
The D.C. Center has career development for LGBT job seekers today from 3 to 4:30 p.m. Trained counselors will offer support for job searching, interviewing skills, resume writing, etc. The program has been adapted to meet the needs of the local gay community and the D.C. job market. The Center recently moved to its new location at 1804/1810 14th St., N.W., previous home of the Lesbian Services Program and Austin Center of Whitman-Walker Clinic. Visit thedccenter.org for more information.
Rainbow Response has its monthly meeting tonight at National City Christian Church, located at 5 Thomas Circle, N.W. at 7 p.m. The group is a meeting of individuals and agencies collaborating to discuss intimate partner violence in the local LGBT community. The meeting is typically held on the second Wednesday of each month. Visit rainbowresponse.org for more information.
thursday, jan. 14
Burgundy Crescent Volunteers, a local LGBT volunteer group, is volunteering for Food & Friends, a local group that delivers meals to residents in D.C. and beyond suffering from AIDS and other life-threatening illnesses. Volunteers are needed to help with food preparation tasks such as chopping vegetables and packing groceries. The group will meet at Food & Friends' new facility near the Fort Totten Metro Station. Group size is limited to 10 per shift. Those interested in volunteering should e-mail [email protected]. Visit burgundycrescent.org for more information about this and other gay volunteering opportunities.
friday, jan. 15
National City Christian Church has organ recitals every Friday at 12:15 p.m. The series, dubbed "Magical, Mystical, Musical Machine," is led by Charles Miller, the church's minister of music, who's gay. Several organists in the series have also been gay. NCC is located at 5 Thomas Circle, N.W. For more information, visit nationalcity.org or call 202-797-0103.
Mid-Atlantic Leather Weekend, one of the largest gay leather gatherings in the world, is this weekend in Washington at the Washington Plaza Hotel. The event is sold out but some spillover hotels have rooms available and some events are open to the public. Visit leatherweekend.com for more information.
A new Friday night drag show at Ziegfeld's has started with a new hostess. The Ladies of Illusion hosted by Kristina Kelly has performances every Friday at 11 p.m. and 1 a.m.
Bet Mishpachah, a gay synagogue located at the D.C. JCC at 16th and Q streets, N.W., holds Ereve Shabbat services every Friday at 8:30 p.m. followed by an Oneg Shabbat social. Morning services are held on the second and fourth Saturdays of each month at 10 a.m. followed by Kiddush luncheon. Visit betmish.org for more information.
saturday, jan. 16
Town has two events tonight. DJ Brett Henrichsen spins upstairs (Town's regular DJ Wess is downstairs). And monthly party "WTF?" is also tonight with a special Mexican installment called "Que es el fucko?" Doors open at 10 p.m. with a $5 for those 18 and older. Town is located at 2009 Eighth St., N.W. Visit towndc.com for more information.
Blowoff, a monthly party featuring gay DJs/remixers Bob Mould and Rich Morel, is tonight at the 9:30 Club, located at 815 V St., N.W. starting at 11:30 p.m. Visit blowoff.us for more information.
PHOTOS: High Heel Race
Spectators cheered along drag queen contestants for the 24th annual event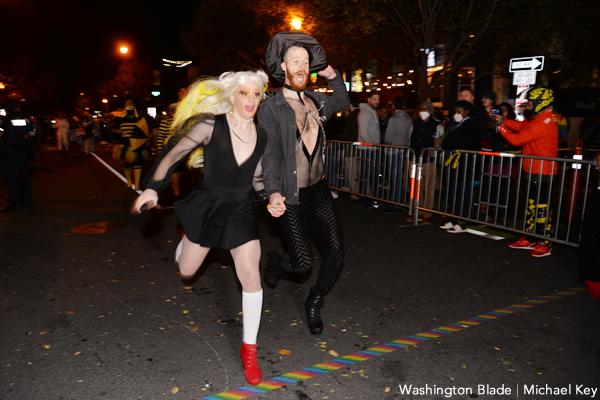 The 34th annual High Heel Race was held along 17th Street on Oct. 26. The winners this year were @dragqueenathena and "Dan." D.C. Mayor Muriel Bowser, D.C. Police Chief Robert Contee and members of the D.C. Council joined drag queen contestants and hundreds of spectators for the event.
(Washington Blade photos by Michael Key)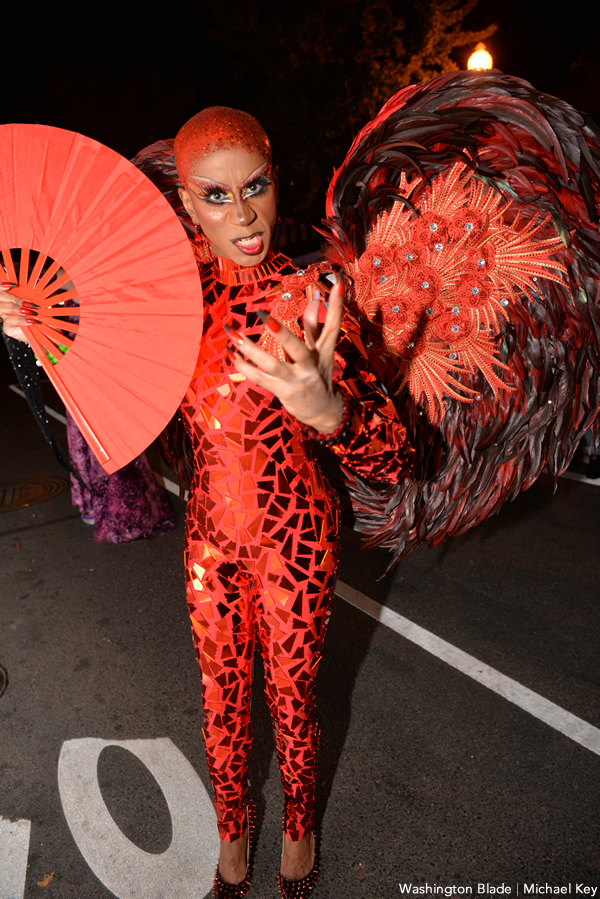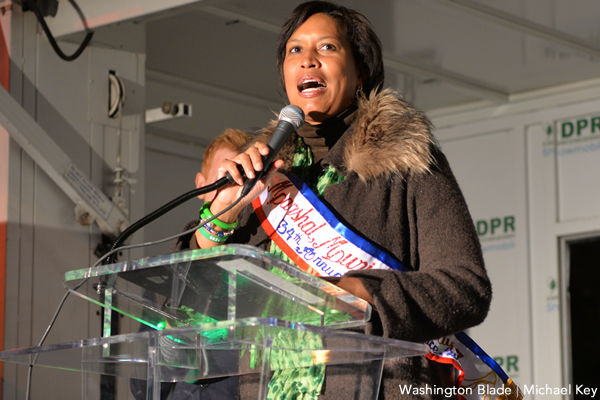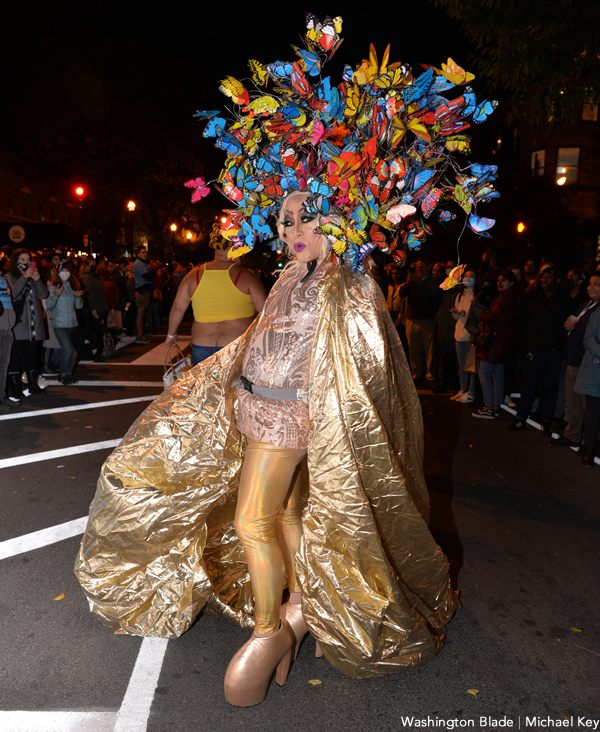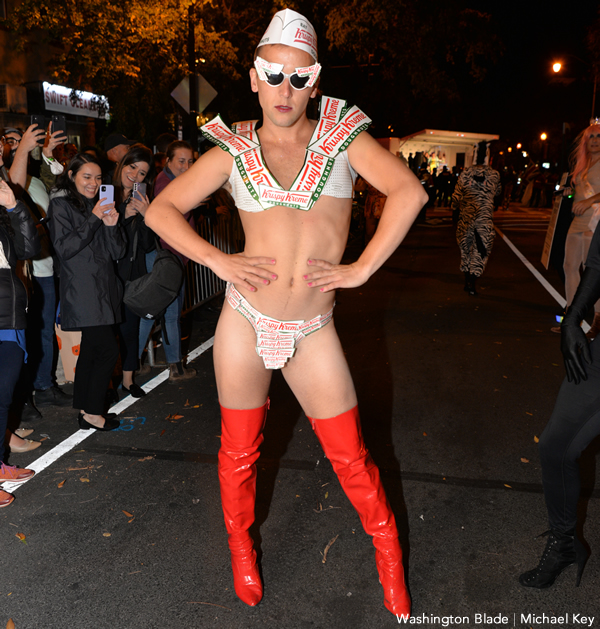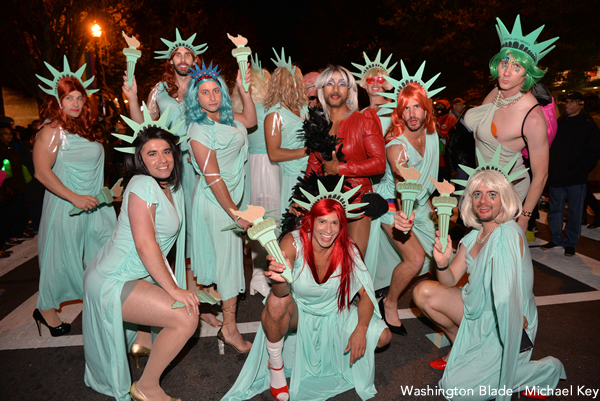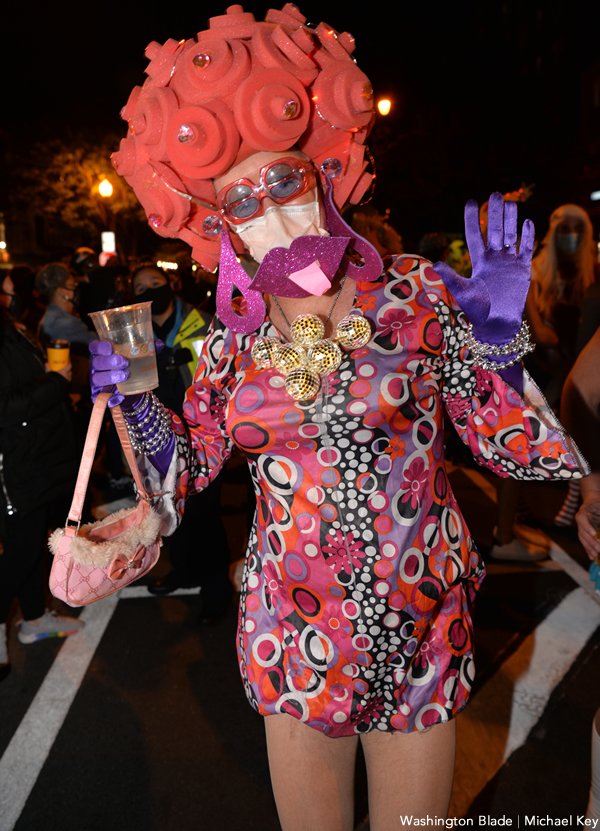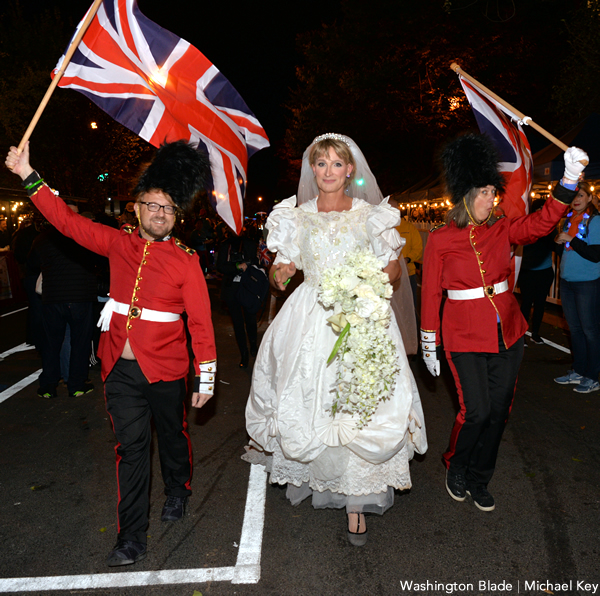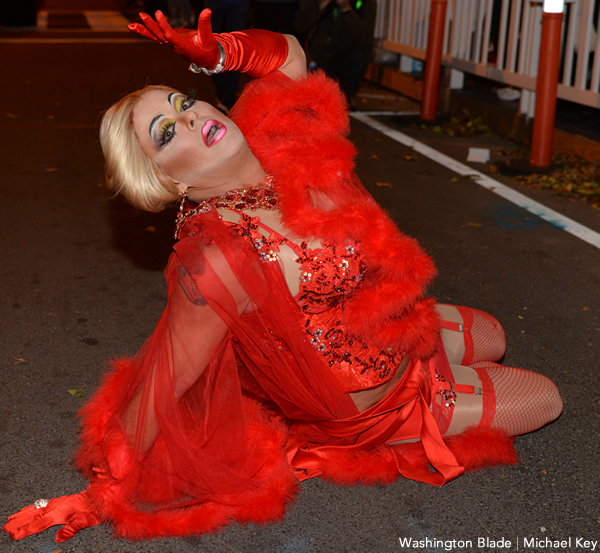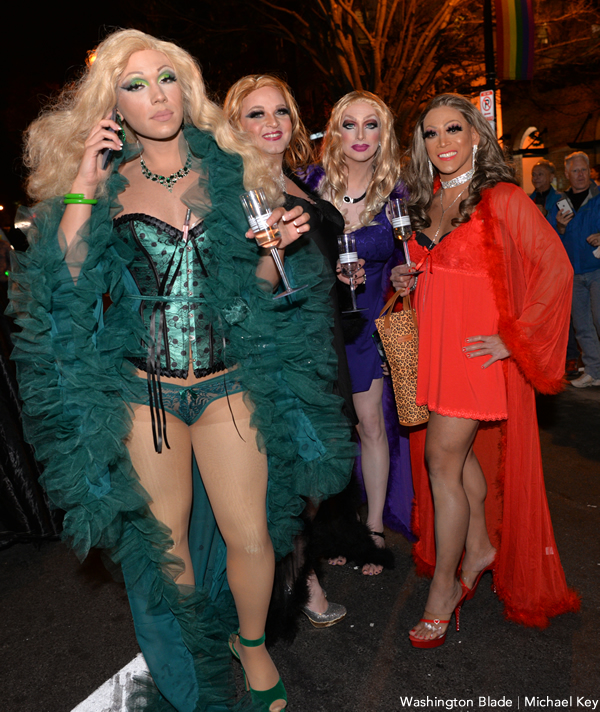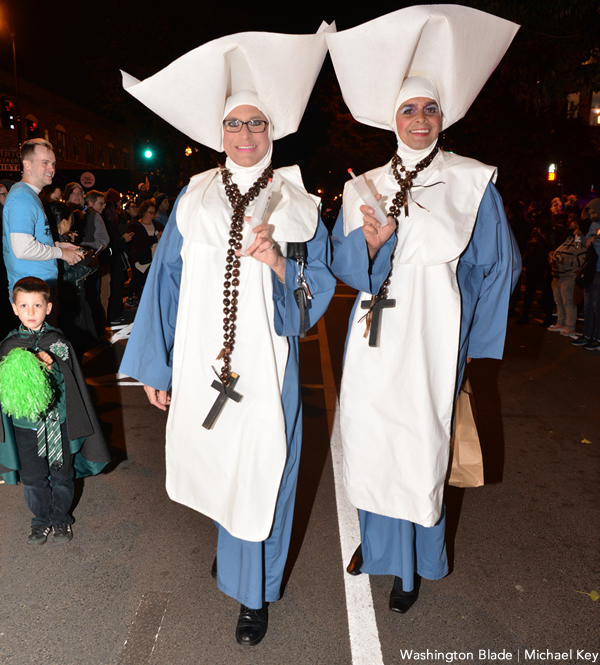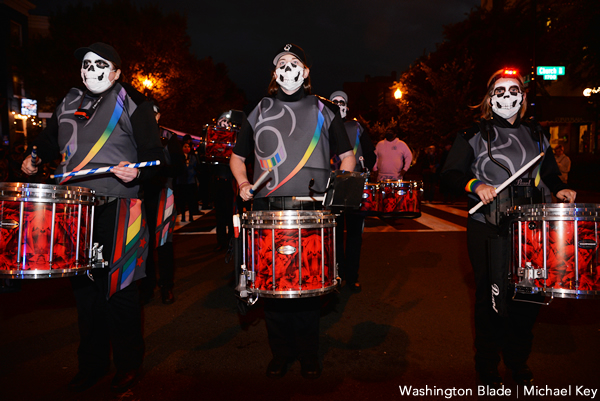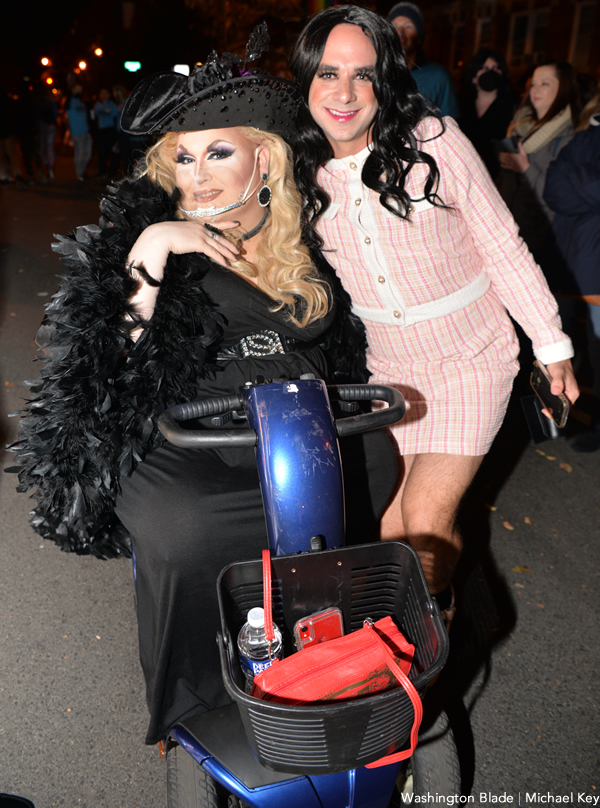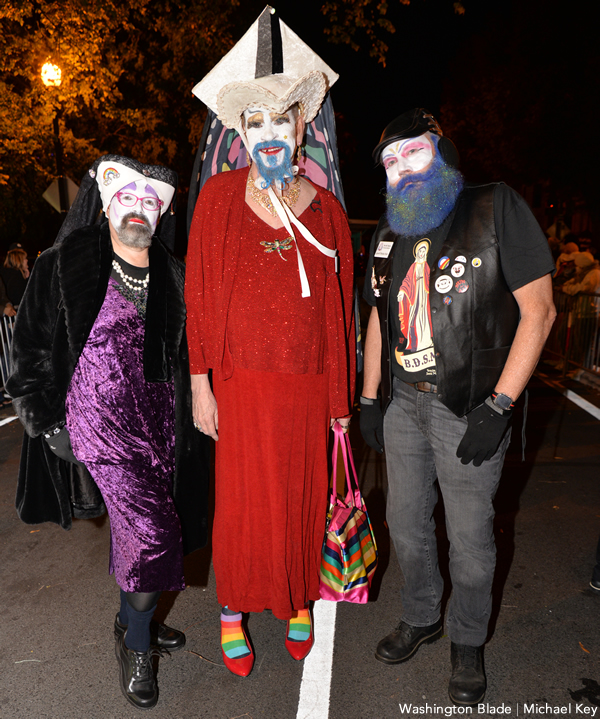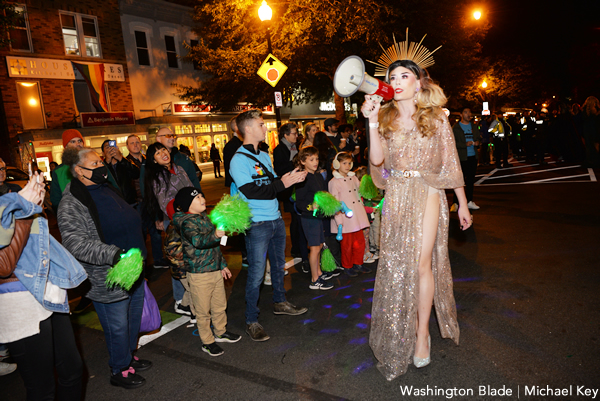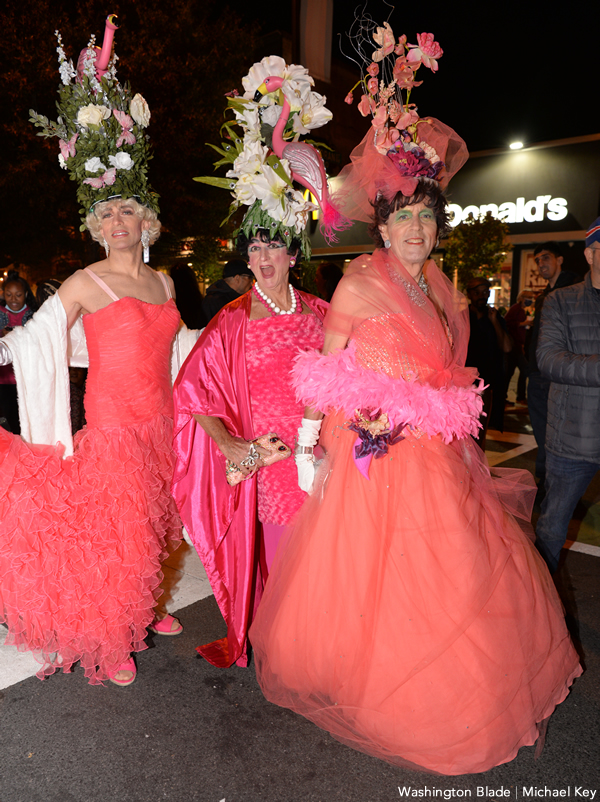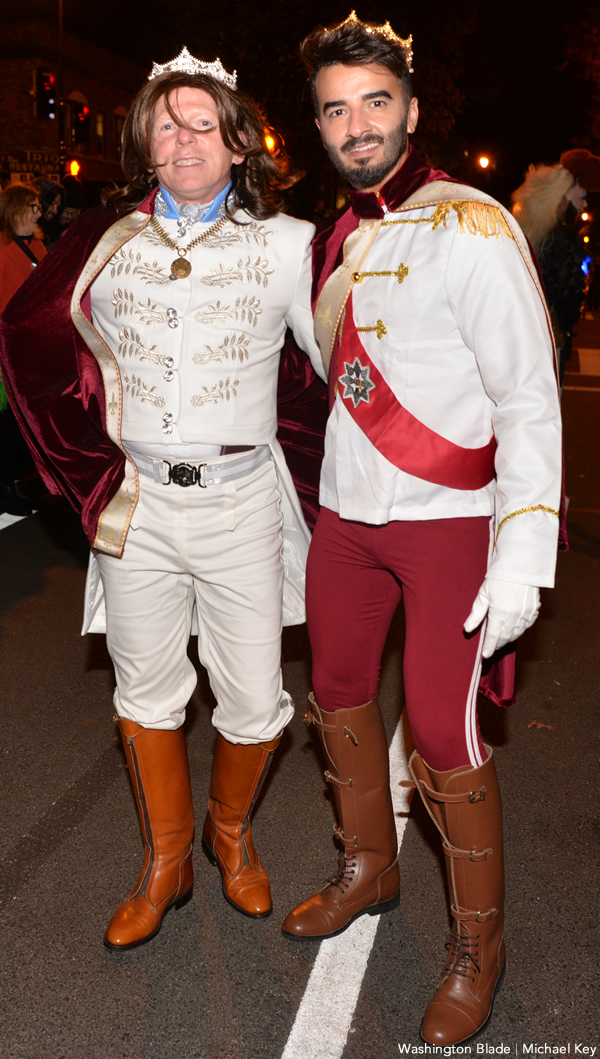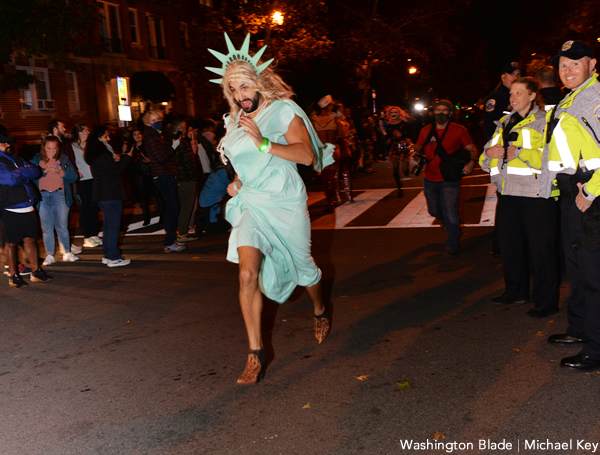 New music documentary is 'Velvet' perfection
A piece of pure cinema that exemplifies its genre while transcending it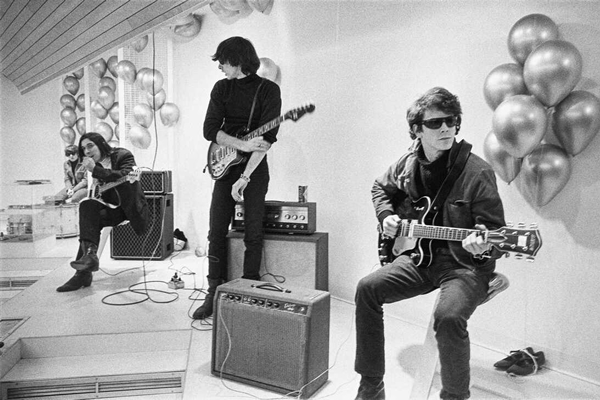 When it comes to great music documentaries – the ones that stick with you after you watch and make you want to come back to them again and again – there is one ingredient that stands out as a common thread: immediacy.
From D.A. Pennebaker's fly-on-the-wall chronicle of young Bob Dylan's 1965 tour of the UK in "Don't Look Back," to Martin Scorcese's joyful document of The Band's final concert performance in "The Last Waltz," to Jonathan Demme's thrilling cinematic rendering of the Talking Heads in performance at the peak of their creative genius in "Stop Making Sense," all of these now-revered films have endured – indeed, even grown – in popularity over the years because they captured the talent, the personality, and the power of their subjects on celluloid and preserved it for the ages, allowing generations of audiences, fans and soon-to-be-fans alike, to feel as if they were there.
But none, perhaps, have ever done it quite so viscerally as Todd Haynes' "The Velvet Underground." This is a remarkable feat when you consider that the films listed above, as well as most of the other highly regarded "rockumentaries" of the past, were all concert films, showing the performers at their center in the full bloom of their musical gifts, and Haynes' film is not that. It's something else, something singular, a piece of pure cinema that exemplifies its genre while transcending it entirely.
The basic outline of the band's story is well known, now. Coalesced in the early '60s New York art scene around a pair of charismatic geniuses (John Cale and Lou Reed), the Velvet Underground was swept into the orbit and under the wing of Andy Warhol, who turned them into the house band at his famous "Factory," added to their mix an exotic European chanteuse named Nico, and launched their record career by producing their first album – and designing an instantly iconic cover for it featuring a banana, to boot. They were, for a while, the darlings of the New York underground set, birthing a handful of additional albums across the latter years of the decade; but their sound, which was experimental, rough, and a far cry from the flower-power sound being embraced within the status quo of Middle American music fans, did not catch on. That, combined with the volatility of the relationships at its core, ensured an ignoble and unsung dissolution for the band; though its two front men went on to forge expansive solo careers on their own, the Velvets themselves remained a kind of blip, an ephemeral presence in the history of rock – and the history of New York – remembered by anyone who wasn't actually on the scene as nothing more than a buzzy band they never actually heard with a catchy name and a familiar album cover.
As one of the voice-over interviewees in Haynes' movie points out, however, the counterculture wasn't actually the counterculture – it was the culture. The rest of the world just didn't know it yet. Decades later the Velvet Underground is credited with, among other things, providing early inspiration for what would become the punk rock movement, to say nothing of influencing the aesthetic palate of (surely without exaggeration) thousands of musicians who would go on to make great music themselves – often sounding nothing like the Velvets, but somehow cut from the same raw, edgy, white-hot honest cloth, nonetheless. Yet in their moment, they were doomed before they had even begun to become a sideshow attraction, hurling performative realness in the face of a curious-but-disinterested glitterati crowd that was already embodying the superficial fakeness that would be so aptly monikered, both as an ethos and a watchword, as "Plastics" by Buck Henry and Mike Nichols in "The Graduate" barely a year after their first album was pressed.
Frankly, it's the kind of story that makes for a perfect rock 'n roll legend, and the kind of legend that deserves to be explored in a film that befits its almost mythic, archetypal underpinnings. There's nobody more qualified to deliver that film than Todd Haynes.
Haynes, of course, is a pioneer of the '90s "New Queer Cinema," whose body of work has maintained a consistent yet multi-faceted focus on key themes that include outsider-ism, dysfunctional socialization, and the fluid nature of sexuality and gender. Each and any of these interests would be enough to make him a perfect fit as the person to tell the story of the Velvet Underground, but what gives him the ability to make it a masterpiece is his ongoing fascination with music and nostalgia. Beginning with his controversial debut short "Superstar: The Karen Carpenter Story," the musical landscape of his formative years has been inseparable from his milieu, and films such as his glam-rock fantasia "Velvet Goldmine" or his post-modernist Dylan biopic "I'm Not There" have dotted his career like cornerstones. Likewise, his painstaking recreation of the past in period pieces like "Far From Heaven," "Carol," or "Wonderstruck" has proven his ability not just to capture the look and feel of a bygone era, but to transport audiences right back into it.
In "The Velvet Underground," it's more like he transports the era to the audience. His comprehensive chronicle is not just the story of the band or its members, but the story of the time and place that allowed them to exist, in which a generation waking up from the toxic artificiality of their parents' "American Dream" took creative control of the future through an unprecedented explosion of art and culture. Art was a by-any-means-necessary endeavor that now demanded a fluency across various forms of media, and a blending together of any and every thing that worked to get the message across. And yes, sometimes the media itself was the message, but even within that depressingly superficial reality was room for an infinite layering of style and substance that could take your breath away.
That description of the era in which the Velvet Underground thrived, in which Andy Warhol turned the shallow into the profound (whether he knew it or not), in which music and film and photography and poetry and painting and every other form of expression blended together in a heady and world-changing whirlwind, is also the perfect description of Haynes' film. Yes, there are famous veterans of the age sharing their memories and their insights, yes there is copious archival footage (including the godsend of Warhol's filmed portraits of the legendary faces in his orbit), yes we get to hear about Lou Reed's struggle with his sexual identity – and it's refreshing that Haynes makes no effort to categorize or finalize that aspect of the rock legend's persona, but merely lets it be a fact. But even though "The Velvet Underground" checks off all the boxes to be a documentary, it's something much more. Thanks to Haynes' seamless blend of visuals, words, history, and – always and above all – music, it's a total sensory experience, which deserves to be seen in a theater whether you subscribe to Apple TV or not. It puts you right in the middle of a world that still casts a huge shadow on our culture today.
And it's unforgettable.
PHOTOS: Best Of LGBTQ DC party
Blade's 20th annual awards celebrated at Hook Hall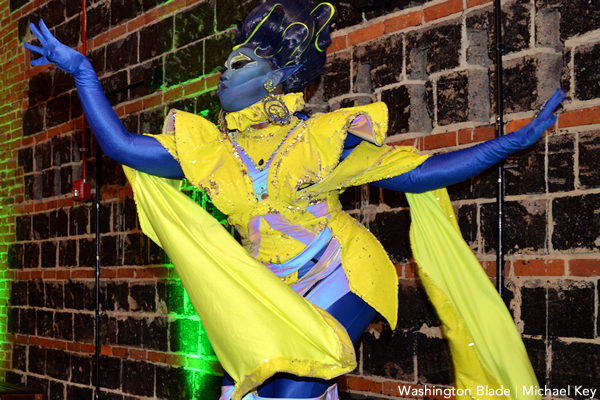 The Washington Blade presented the 20th annual Best of LGBTQ D.C. Awards at a party at Hook Hall on Thursday, Oct. 21. To view this year's winners, click here.
Event sponsored by Absolut, DC Brau and Washington Regional Transplant Community.
(Washington Blade photos by Michael Key)