In "Beauty of the Father" — Pulitzer Prize-winning playwright Nilo Cruz's exploration of familial bonds — a young American woman travels to southern Spain to meet her estranged artist father. Things go OK until she falls in love (and in bed) with dad's much younger boyfriend, and that's where it gets a little tense. A Manhattan critic said the 2004 drama's plot suggests "the crazy-quilt melodramas of early Almodóvar," but the gay playwright doesn't entirely agree.
Speaking via telephone from his home in New York City, Cruz explains, "It's no more improbable than the love triangle in 'The Graduate,' and audiences didn't find that plot so hard to grasp. Besides, the essence of 'Beauty of the Father' comes from real life. I wrote the play after spending some time in Naples, Italy, with friends — two men and a woman — who were living a similar experience."
Cruz took some license with the story: He swapped the Naples locale for Andalusia and rather than Tunisian, the younger man in his piece is a Moroccan immigrant. And perhaps most importantly, he threw a father/daughter rivalry into the mix; but otherwise all the same emotions are there, and ultimately, Cruz says, "it's about what comprises a family and the sacrifices involved in that."
"Beauty of the Father" played off-Broadway in early 2006, and is currently making its Abel Lopez-directed D.C.-area premiere at Gala Hispanic Theatre through the end of the month. Typically, Gala produces classic and contemporary Spanish language works by Latin playwrights performed in Spanish with English surtitles, but they make exceptions and, in part, Cruz's play is one of these.
While Cruz is Cuban-born (his family left Cuba for Miami in 1970 when he was 10), he writes primarily in English. For this production (titled "La belleza del padre" in Spanish), he also supplied the Spanish translation. Though fully bilingual, Cruz, who received an MFA from Brown University and has taught there as well, confesses to struggling in both languages.
"But I think it's good for a writer to struggle," he says. "To get to the essence of a thought and for the dialogue not to be entirely mundane, it takes work. Otherwise you might as well just go to the grocery store and listen to people talk."
Prior to writing "Beauty of the Father," Cruz won the Pulitzer Prize for drama in 2003 for his gorgeously written "Anna in the Tropics," the story of a "lector" who is hired to read aloud to workers to in a Cuban-American cigar factory circa 1929, and what happens when the novel he selects (Tolstoy's "Anna Karenina") begins to change their lives. The Pulitzer changed Cruz's life, too.
"It was euphoric," he says. "After all, you write the play to share it with an audience and that's what I was doing — everywhere it seemed. And to be the first Latino to win the Pulitzer for drama made the prize especially meaningful to me. I felt that I was opening the door for other Latino writers in this country."
The Pulitzer judges approved of Cruz's Latin sensibility, as well as his "magical realism that reads like a dream — with realism, which has its feet on the ground."
His work is refulgent with ethnic and sexual diversity too. In addition to a same-sex couple, "Beauty of the Father" also includes the ghost of gay poet/playwright/martyr Federico Garcia Lorca, who haunts the title character's home and studio.
"But it's true; I do like to put gay characters in my work. I'm gay myself, so it shouldn't come as a big surprise."
Beauty of the Father
Through Feb. 28
Gala Hispanic Theatre
3333 14th Street, N.W.
$20 to $36
202-234-7174
www.galatheatre.org
'We're Gonna Die' includes themes of grief, death, depression
But don't let that deter you from Round House production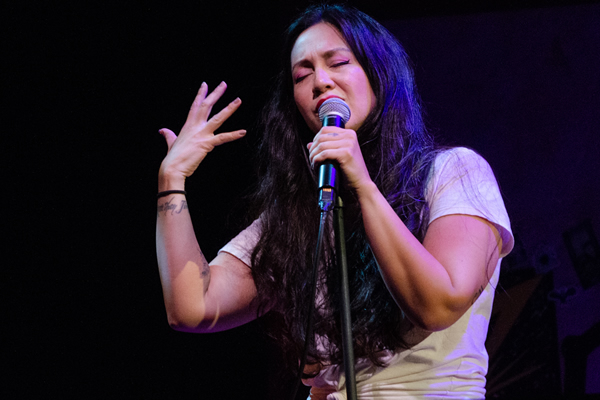 'We're Gonna Die'
Streaming through July 11
Round House Theatre
$30
Roundhousetheatre.org
Round House Theatre's current filmed offering, "We're Gonna Die," could be described as sad words interrupted by upbeat melodies. But it's not that simple.
Penned by Young Jean Lee, the hour-long solo show is based on real experiences but without details specific to place or year. Its monologues are the memories of a youngish woman (simply called the Singer in the program) who arrives at the harsh conclusion that horrible things happen all the time, and in the end, we die. But it's not all gloom and doom. The playwright – who's been called the queen of unease – peppers her work with the unexpected and the uncomfortable as well as some fun surprises and humor. And after every gloomy tale the singer shares, there's a pop-sounding song with equally unsettling lyrics.
This kind of back and forth between the serious and the not so serious, makes the show interesting.
Director Paige Hernandez, who also provides the show's happy, informal choreography, brings a fresh unpretentiousness to the piece that gels nicely with the available energy of Helen Hayes Award-winning Filipinx American actor Regina Aquino.
Sporting a knotted T-shirt and black leather pants, Aquino comes ready to work. She barrels through (in a good way) a litany of brutal memories with an inviting intensity while radiating an emotional suppleness that keeps you with her throughout the evening's various twists and turns.
As the Singer, Aquino wastes no time in apprising the audience of the miseries of life. Childhood and tween years aren't pleasant: she's shunned by alleged best friends; learning to ride a bike is violently traumatic; and during a playful game of spy, she witnesses her weird Uncle John become reduced to a puddle of tears after reciting his nightly mantra: "I am shit. I am shit." The singer learns early that life isn't easy.
Romance proves illusive. There's no dating in high school. College is a series of one-sided relationships with guys who drink too much. When she finally gets together with what seems the ideal man, he leaves her.
Things continue uncomfortably. At a family reunion she overhears her mother describing her as less lovable than her sister. But it's her father's seemingly unfair and tragic death from lung cancer that hits hardest. She knows then that despite what we may want to believe, we all die and rarely prettily.
It's oddly comforting how she concludes that none of us are special; no one is immune to unhappiness, pain, disease, and the long dirt nap. We all have this in common.
Lee (the first Asian-American woman to have a play on Broadway with "Straight White Men") wrote "We're Gonna Die" not long after her father's death. Perhaps that's why the harrowing monologue describing the patriarch's demise is the show's most affecting. And it's definitely where Aquino's gifts for pathos and sensitivity come to the fore.
This is a solo show, indeed, but Aquino isn't alone on stage. She's joined by The Chance Club, a four-person rock band featuring Laura Van Duzer, Matthew Schleigh, Jason Wilson, and Manny Arciniega. Aquino and band's interactions feel spontaneous and not over-rehearsed, infusing the show with the charm of a small live concert.
"We're Gonna Die" comes with a content advisory: "This production includes themes of loss, grief, death, and depression." But please, don't let that deter you. It's in fact peculiarly uplifting.
And by show's end, you'll be humming along to a catchy tune with the memorable chorus: "I'm gonna die / I'm gonna die someday / Then I'll be gone / And it will be OK."
Local theaters come to life to celebrate Pride
Kennedy Center, GALA, Olney and more offer live and virtual events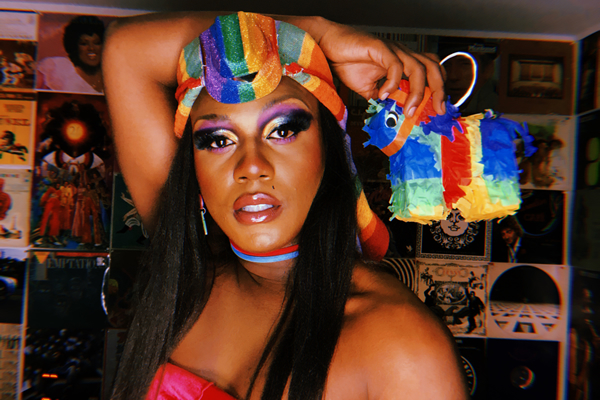 With reopening comes opportunities to celebrate Pride with live performances.
For the first time in more than a year, the Gay Men's Chorus of Washington's Potomac Fever Ensemble will be performing together live. The small, close-knit harmony a cappella group is presenting a fun mix of contemporary pop, crowd favorites, and Broadway songs at National Christian City Church at 5 Thomas Circle, N.W., on Saturday, June 12 at 3 p.m. Admission is free. Gmcw.org
And if you move fast, there's still time to catch an outdoor performance of Solas Nua's production of "In the Middle of the Fields." Penned by Deirdre Kinahan ("Wild Sky," "The Frederick Douglass Project"), the new work "centers on Eithne, who is undergoing chemo-therapy for breast cancer. Stepping out of her house and into the nearby fields, she wonders what her life will be like on the other side of recovery from a deadly disease."
Directed by Laley Lippard and featuring talented local actors Jessica Lefkow, Caroline Dubberly, and Ryan Sellers, the aptly titled play is staged outdoors at P Street Beach in Dupont Circle. Audiences are seated at a distance; blankets and chairs are available for seating options. Solasnua.org
GALA Hispanic Theatre continues its return to live performances with "Ella es tango" ("She is tango") through the end of June. An original musical revue conceived by GALA artistic director Hugo Medrano with texts by Patricia Suárez and featuring artists from Argentina and the U.S., it highlights the contribution of women composers and singers to sexy but traditionally male dominated genre.
"Ella es tango" is performed indoors at GALA's bijou space in Columbia Heights, and starting June 11, 2021, the theatre capacity increases and seats will be assigned three feet apart (every third seat) instead of six feet apart (every fifth seat). Galatheatre.org
The Olney Theatre Center (OTC) boasts an impressive lineup of summer offerings for its outdoor, open air amphitheater, the Root Family Stage.
Beginning late July through the end of August, OTC presents the weekly Friday night Andrew A. Isen Cabaret Series featuring some of the DMV's top musical talents featured in some exciting combinations.
The pairs include Awa Sal Secka and out actor Bobby Smith (July 23); Ines Nassara and Tracy Lynn Olivera (July 30); Donna Migliaccio, and Nova Payton (August 6); Rayanne Gonzales and local gay performer Rayshun Lamarr who appeared as a contestant on TV's "The Voice" (August 13); Greg Maheu and Vishal Vaidya (August 20); and finally, Malinda Kathleen Reese and Alan Wiggins (August 27).
And for two free performances on consecutive Wednesday nights in August, OTC presents "Olney in Drag" where audiences are asked to "enjoy a drink as these fabulous drag queens shine brighter than the stars in the evening sky." The first show (August 18) features Brooklyn Heights, Betty O'Hellno, Ariel Von Quinn, and Evon Michelle.
Queens taking the stage for the second show (August 25) include Kristina Kelly, Vagenesis, Tiara Missou (David Singleton who appeared in "Elf the Musical" at OTC), and Echinacea Monroe (terrific out actor Solomon Parker). Olneytheatre.org
Also this summer, the Kennedy Center has big outdoor plans for its wide-open, riverside REACH campus.
The Millennium Stage is scheduled to present free outdoor experiences ranging from live music and film screenings to dance lessons, yoga sessions, arts markets, and more.
Slated programming promises to celebrate varied cultures and styles, and work in partnership with the UNHCR, the UN Refugee Agency, National Theater for the Deaf, Smithsonian Asian American Center, Creative Nomads, SAMASAMA, D.C. Legendary Musicians, Step Afrika, and members of the Drag community, as well as internal collaborations with the Kennedy Center's Culture Caucus. Kennedy-center.org
And while the Shakespeare Theatre Company (STC) isn't venturing outdoors yet, they are continuing to present "Blindness," a brilliant piece about pandemic and societal breakdown featuring the voice of Juliet Stevenson, at Sidney Harman Hall through July 3. The unforgettable experience remains an in-person theatrical installation with socially distanced seating; 40 audience members per event; and masks required indoors).
And "All the Devils Are Here: How Shakespeare Invented the Villain starring Patrick Page" continues to stream until July 28.
Looking forward to September, STC's first full production will be a two-week limited engagement of gay writer James Baldwin's "The Amen Corner" from Sept. 14-26 in Sidney Harman Hall, completing its glorious run that was cut short by COVID in March 2020. Shakespearetheatre.org
'Will Power's Flow' a hip-hop tour de force
Justin Weaks on playing multiple parts, theater scene after COVID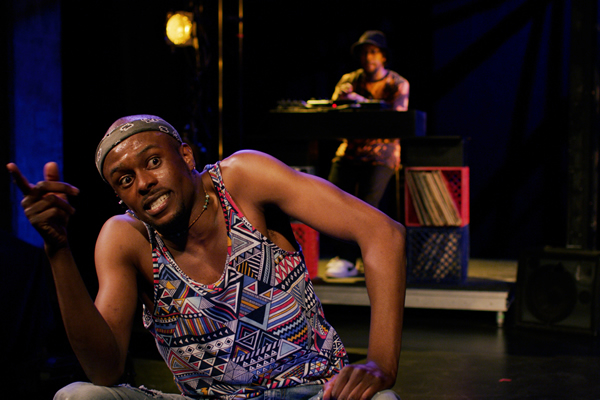 'Will Power's Flow'
Studio Theatre
Streaming through June 27
$37
Studiotheatre.org
Out actor Justin Weaks really digs hip-hop. So, when Studio Theatre asked him to take on the title role in a filmed remount of "Will Power's Flow," an early 2000s hip-hop theatrical piece about music and the storytelling of contemporary urban denizens in the West African griot tradition, it wasn't an impossible stretch.
Growing up in Concord, N.C., a suburb outside of Charlotte, Weaks' household was strictly into soul and R&B. But since living in D.C., he says, it feels like hip-hop music has deeply dug its claws into him.
In "Flow," Weaks, 30, is backed by the hip-hop beats of DJ/composer/sound designer Nick "Tha 1da" Hernandez. "But you'll hear me on some beats too. I have a good time with it."
But the most challenging aspect of tackling "Flow" is playing multiple parts, he adds. In addition to his lead role as performer Will Power (the 7th storyteller), he plays six other storytellers, and about another dozen characters. But this sort of tour de force isn't entirely new to the actor who triumphantly played multiple roles in "Long Way Down" at the Kennedy Center as well as in "Gloria" at Woolly Mammoth, the work that garnered him a Helen Hayes Award nomination.
The D.C.-based actor who describes himself as "happily single," ranks as one of Washington's most gifted talents.
WASHINGTON BLADE: Was it challenging to assay Will Power, a part so associated with a real-life artist?
JUSTIN WEAKS: Actually, this production was my introduction to Will Power. My friend and director Psalmayene 24 reached out to me – he said Studio wanted to remount "Flow" with a new actor, and asked if I was interested. I was blown away by the script. It's a behemoth of a piece. Any yes, any time you're dealing with a piece that was originally performed by its writer, there is an extra responsibility to the work and the words.
BLADE: And how was returning to the stage after a long absence?
WEAKS: The return to Studio felt right. I love the programming at Studio. Like how intimate their spaces are. As a performer you're held by the audience.
BLADE: But because of COVID restrictions, this production was filmed over two days. How was that?
WEAKS: I've had very little film experience. This was my first major rodeo in front of the camera. Everything about it was new. I learned so much while doing it. It's something that's foreign. You have to think of it as a great opportunity to learn, to grow, and see what you need to work on.
I'll admit that I feel incredibly vulnerable with this filmed play being out there. That's new for me. I've experienced vulnerability in real time when I'm on stage but to have the work be done a month ago, edited, and out there, it makes me feel exposed in a way I've never felt.
BLADE: I'm sure you'll get used to that.
WEAKS: After I've done a few feature films, I'll probably feel differently.
BLADE: Was it difficult returning to work after such an odd year?
WEAKS: Returning to work as an artist isn't easy. I consider our return process to be like boot camp. We're different people now. My body sits differently. My voice and breath are different. After isolation and not working much, I had to relearn my instrument again.
BLADE: Is it different?
WEAKS: There is so much that is changing in terms of the industry — theater and film industry. How they hire and pay artists. So many of us made more on unemployment than when we were busy working full-time pre-COVID.
Theaters will be in for a surprise when they reopen doors and find that artists don't want to go back to the way things were before the pandemic. We're in a different time now and we'll rise to the new time rather than shrinking back into what was. Clearly it wasn't serving many of us.
BLADE: And is there anything about Flow that's especially appealing to LGBTQ audiences?
WEAKS: Oh, yes. If you're someone who has struggled at all this past year, then this piece will interest you. If you're figuring out what the future looks like, how to move on, how to cope, how to have faith, or hang on to something real, then this play is for you.