Former activists on trial in Wone case
Unsolved murder has elements of gay mystery novel

Three once politically active gay men whose polygamist relationship and proclivity for S&M sex has been exposed by prosecutors following a D.C. murder investigation are scheduled to go on trial May 10 in a case that mimics a mystery novel.
Gay rights attorney Joseph Price, dairy industry official Victor Zaborsky and former Virginia gay rights group staffer turned massage therapist Dylan Ward have been charged with evidence tampering, obstruction of justice and conspiracy in connection with the August 2006 murder of Asian American attorney Robert Wone.
Wone, 32, was found stabbed to death in a second floor guest room in the Dupont Circle area townhouse where the three gay men lived at the time. Authorities have yet to charge anyone with the murder itself, but police and prosecutors have said they believe Price, Zaborsky and Ward most likely know the identity of the killer.
The men have pleaded not guilty, saying an unidentified intruder who entered their house through a rear door killed Wone while the three slept.
Wone was a longtime friend of Price since the two were students at the College of William & Mary in Virginia. He was spending the night at the gay men's house on Swann Street, N.W. after working late at his nearby office, according to his wife, Kathy Wone, and other family members who say he was straight.
The trial is set to begin after more than a year of haggling between defense and government attorneys over the admissibility of a mountain of evidence gathered by D.C. police and prosecutors. A team of nearly one dozen defense lawyers is set to face off against a smaller team of prosecutors headed by Assistant U.S. Attorney Glenn Kirschner, who is considered one of the city's most effective prosecutors.
"Given the sophistication of the defendants' cover-up of the murder of Robert Wone, the evidence obtained to date does not yet establish beyond a reasonable doubt who actually killed Robert Wone," Kirschner wrote in a government motion filed in February.
"Although the government investigation into the murder continues," he wrote, "there is ample evidence demonstrating the killer is someone known to the defendants, and not, as the defendants told the police, an unknown, unseen phantom intruder."
Much of the government's evidence against the three defendants surfaced in October 2008, when prosecutors released a 13-page affidavit in support of an arrest warrant for Ward, who was the first of the three men to be charged in the case.
The affidavit describes in detail some of the findings of crime scene investigators and an autopsy conducted on Wone. It says that someone in the house cleaned the crime scene by wiping away spattered blood. The affidavit also says chemical and fiber tests showed someone used a towel to wipe some of Wone's blood onto a knife taken from the defendants' kitchen. The men told police they found the bloody knife on a nightstand in the room where Wone was sleeping, saying it was the weapon an intruder used to stab Wone three times in the chest and abdomen.
Prosecutors, however, said later that a knife missing from a cutlery set found in Ward's bedroom appeared to be the actual murder weapon based on the shape and depth of the stab wounds. Prosecutors obtained a duplicate of the missing knife from the manufacturer for the purpose of comparing it to the wounds on Wone's body, court papers show.
Prosecutors initially said they would argue at trial that Wone had been immobilized by a paralytic drug, sexual assaulted and possibly tortured with needle punctures found in various places on his body before being stabbed. They pointed to autopsy findings showing surgical-like stab wounds on the body, with no signs that Wone moved or flinched when he was attacked. The lack of any signs of defensive wounds or slightly jagged stab wounds — which are found in virtually all stabbings — indicated the victim was immobilized, Kirchner has argued.
Kirschner has since said the government has been unable to definitively show through chemical tests that Wone was immobilized with a drug, but he indicated he might introduce evidence found in Ward's bedroom of a large collection of S&M sex devices, including body restraints, face masks, and an object used to administer an electric shock to different parts of the body.
Defense attorneys, led by seasoned trial lawyers Bernard Grimm, Thomas Connolly and Robert Spagnoletti, the gay former D.C. attorney general and a former U.S. prosecutor, have waged a fierce pre-trial fight to disqualify key pieces of government evidence. Superior Court Judge Lynn Leibovitz was expected to rule on evidence related matters as a final pre-trial hearing set for Wednesday, after Blade deadline.
While details of the murder scene and the private, sexual proclivities of the defendants have emerged over the past two years, gay activists have watched cautiously as fellow activist Price prepares for trial.
Price, an attorney in private practice, had served as general counsel to Equality Virginia, a statewide LGBT rights group based in Richmond. Ward, who worked as a staff member of the group, left the organizations a few months before the Wone murder. Price withdrew from the group shortly after the Wone murder drew extensive media coverage.
"You have gay activists on trial that had a polygamist gay family," said David Greer, a D.C. gay man and one of four editors of whomurderedrobertwone.com. "Having a conjugal relationship with more than one partner is not pushing the white-picket-fence image that gay organizations like to promote.
"To have them on trial in an unseemly situation that has surfaced here is difficult for the gay community. But it also shows that our community has matured" by not automatically rallying behind activists charged with a crime, Greer said. "It shows that our community supports justice."
DC Front Runners Pride 5K to take place as scheduled
Air quality improved overnight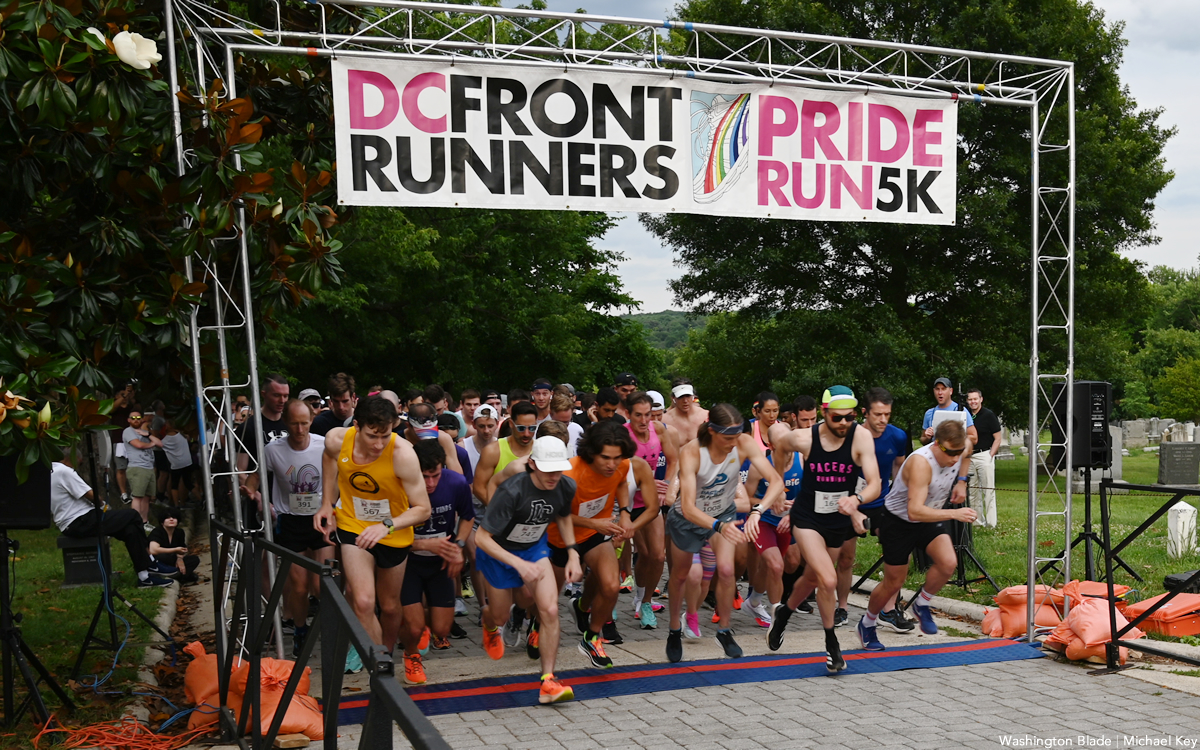 The D.C. Front Runners' annual Pride Run 5K will take place as scheduled at Congressional Cemetery on Friday.
The Blade Foundation, SMYAL, the Wanda Alston Foundation, Team DC, Teens Run DC, Pride 365 and Ainsley's Angels of America are among the race's beneficiaries. Wegmans, Shake Shack, Knead Hospitality and Design, Choice Hotels and Capital One Café are among the sponsors.
Rooftop Pool Party postponed
Capital Pride Alliance moves official event to June 22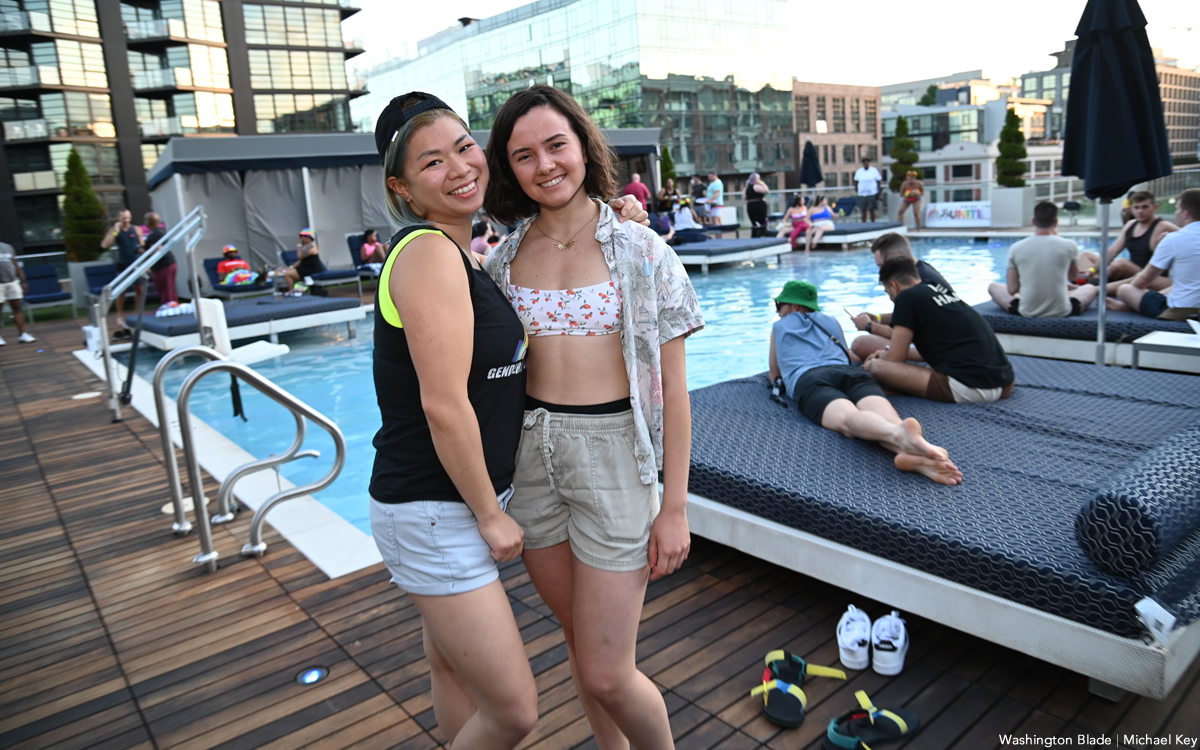 The Capital Pride Rooftop Pool Party, originally scheduled to begin at 8 p.m. tonight, has been postponed until Thursday, June 22, according to a statement released by the Capital Pride Alliance on Instagram. This action comes amid an international climate event created by the Canadian wildfire that has resulted locally in poor air quality and a haze around the region.
The Capital Pride Alliance Instagram account posted, "As with all concerns regarding health and safety issues, the Capital Pride Alliance will closely monitor the air quality situation resulting from Canadian wildfire smoke and take necessary precautions in consultation with our partners in the DC government."
"What does this mean for the pool party?" a question one private Instagram account user posed in the comment section.
"Important Update:" A representative of the Capital Pride Alliance responded through the group's official Instagram account. "Tonight's Capital Pride RoofTop Pool Party at VIDA The Yards is being postponed until Thursday, June 22 at 8:00 pm, due to the current air-quality situation resulting from the Canadian wildfires smoke. Please note that this postponement only applies to today's event."
The Capital Pride Alliance has yet to cancel or postpone any further events.
The White House earlier today rescheduled a large outdoor Pride reception planned for this evening to Saturday.
White House postpones Pride event due to wildfire smoke
Thousands expected for celebration bumped to Saturday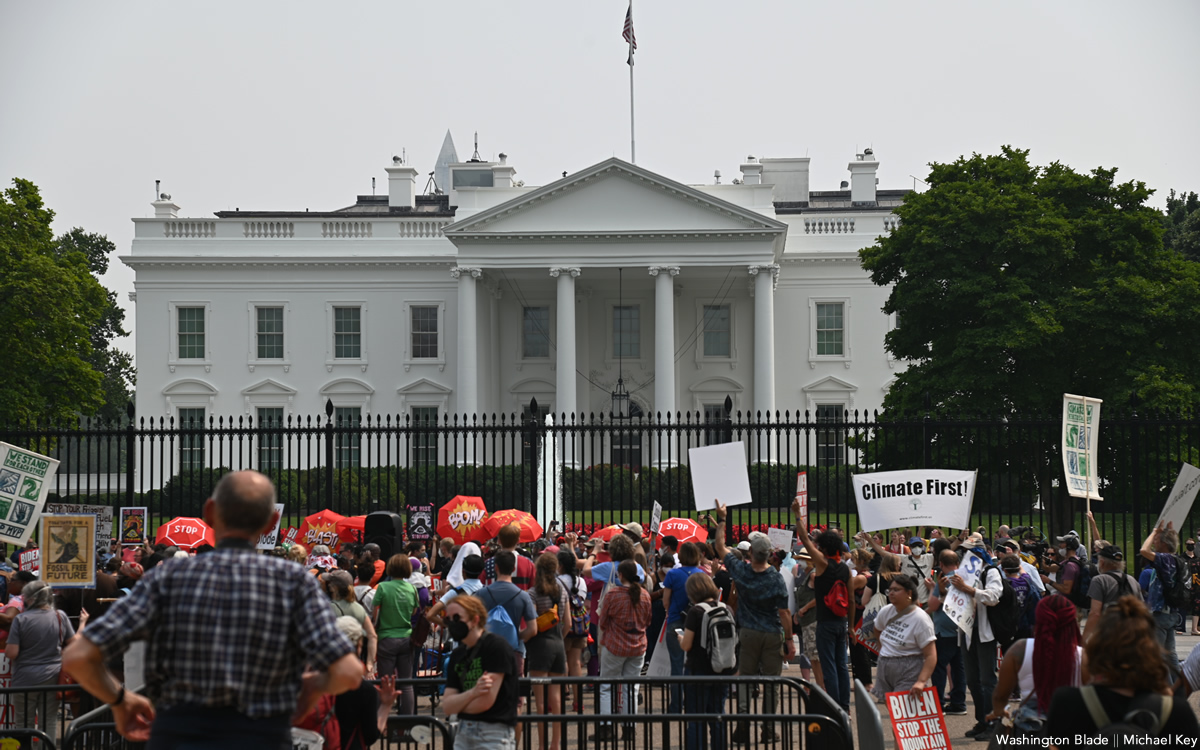 The White House announced Thursday that a Pride event scheduled for this evening has been postponed to Saturday due to the lingering Canadian wildfire smoke.
The smoke has enveloped D.C. in a dangerous haze that triggered a "purple alert" on Thursday, considered worse than a "red alert."
The event, expected to draw thousands of invited LGBTQ advocates and supporters to D.C., has been rescheduled for 1 p.m. on Saturday on the South Lawn of the White House, the same day as D.C.'s Capital Pride Parade, which kicks off at 3 p.m., and Pride on the Pier celebration, which starts at 2 p.m.