National news in brief
Casey to introduce LGBT anti-bullying bill & more

Casey to introduce LGBT anti-bullying bill
PHILADELPHIA — U.S. Sen. Bob Casey (D-Pa.) has announced plans to introduce federal anti-bullying legislation "in the next couple of days" that would be inclusive of protecting LGBT students throughout the country.
During a May 1 speech at the annual Equality Forum, Casey said the bill, which will be known as the Safe Schools Improvement Act, is necessary because data shows that bullying happens "most frequently to children who happen to be gay, lesbian, bisexual or transgender."
"We must enact legislation to do a better job of protecting children, especially those children who are being bullied every day because they're gay or lesbian," he said.
Casey said the bill would call on schools to develop policies to prohibit bullying and harassment and create a system to obtain and report data on the issue. Companion legislation to what Casey's proposing exists in the House. The sponsor of the House version, which has 108 co-sponsors, is Rep. Linda Sanchez (D-Calif.).
After the speech, Casey told the Blade his legislation would be different from the Student Non-Discrimination Act that Sen. Al Franken (D-Minn.) is poised to introduce in the Senate.
Casey said it's important for the federal government to make clear that it's going to pay more attention to the issue of bullying.
"As you know, it's been a significant issue as it relates to gay and lesbian, bisexual and transgender children for a long time — or children who happen to have parents who are gay or lesbian," he said.
Casey said the legislation wouldn't necessarily have language specifically relating to sexual orientation or gender identity but would have more of a "broader directive" toward all students.
Although he said it's possible for anti-bullying legislation to pass this year, Casey said he's "learned to be more realistic about how long bills can take."
Hawaii passes civil unions bill
HONOLULU — In an unexpected development, Hawaii's House of Representatives last week voted 31-20 to pass a civil unions bill providing the same rights and benefits of marriage to the state's same-sex couples.
The vote came April 30 during the final hours of the legislative body's session and after many political observers expected supporters to postpone a vote because they lacked sufficient support to override any veto by Republican Gov. Linda Lingle.
Lingle has not said whether she will sign or veto the bill. Opponents, led by the state Catholic Archdiocese, are demanding that Lingle veto the measure. Supporters need 34 votes to override a veto, three more than the number who voted for the measure on Thursday.
"The legislature's passage of a civil union bill marks a major step forward in Hawaii's journey toward fairness and equality, but falls short of the full security and equality protection that come only with the freedom to marry," said Evan Wolfson, executive director of the same-sex marriage advocacy group Freedom to Marry.
Hawaii's state Senate passed the bill earlier this year.
Wolfson played a role in efforts to push for same-sex marriage in Hawaii during the early 1990s, when same-sex couples filed a lawsuit asserting the state's Constitution required recognition of same-sex marriage. In a highly controversial decision, the Hawaii Supreme Court ruled in favor of the couple's suit, setting in motion a process where Hawaii could have become the nation's first state to legalize gay marriage.
But opponents fought back, pushing through a ballot measure approved by the voters that amended the state's Constitution in 1998 to ban gay marriage. The Hawaii Supreme Court ruling in 1993 has been credited with unleashing a nationwide backlash against same-sex marriage that led to ballot measures banning gay marriage in states across the country.
Wolfson and other LGBT activists have expressed hope that that backlash is subsiding, and that more states will soon approve same-sex marriage laws similar to those in Massachusetts and Washington, D.C.
Franken to introduce student non-discrimination bill
WASHINGTON — U.S. Sen. Al Franken (D-Minn.) is poised to introduce a bill that would bar discrimination against LGBT students in schools throughout the country, according to his office.
"We are hopeful that we can introduce our companion anti-bullying legislation soon," Jess McIntosh, a Franken spokesperson, told the Blade last week.
In the House, the legislation is known as the Student Non-Discrimination Act. Rep. Jared Polis (D-Colo.), a gay lawmaker, introduced the measure in January. Polis said the legislation would give schools across the country tools to fight "everything from exclusion from prom, to banning clubs, to lack of actions addressing bullying situations."
McIntosh said she couldn't say when Franken would introduce the bill; she also couldn't confirm whether the language in his bill would match the House version.
Daryl Presgraves, spokesperson for the Gay, Lesbian & Straight Education Network, which has been advocating for the bill, praised Franken for furthering the effort.
"Obviously, we're very grateful to Sen. Franken for realizing that the Student Non-Discrimination Act is an important piece of legislation that will help make schools safer for all students, regardless of sexual orientation or gender identity or expression," Presgraves said.
Immigration reform could include UAFA: report
WASHINGTON — A recently published outline of principles Senate Democrats are seeking as part of upcoming comprehensive immigration reform calls for language that would address inequities faced by same-sex bi-national couples.
The 26-page draft proposal, posted online April 29 by Politico, devotes one line to expressing a desire for language to allow LGBT Americans to sponsor their foreign same-sex partners for residency in the U.S. as part of the final immigration reform bill.
"It will eliminate discrimination in the immigration laws by permitting permanent partners of United States citizens and lawful permanent residents to obtain lawful permanent resident status," says the draft.
The proposed language is similar to standalone legislation pending in Congress known as the Uniting American Families Act. The bill would change immigration law to assist an estimated 36,000 same-sex bi-national couples living in the United States.
The draft proposal's authors are Senate Democrats leading the effort in the chamber for immigration reform: Senate Majority Leader Harry Reid (D-Nev.), Sens. Chuck Schumer (D-N.Y.) and Bob Menendez (D-N.J.).
Steve Ralls, spokesperson for Immigration Equality, called the proposal "a very significant development" toward including UAFA in comprehensive immigration reform.
"It is a solid indication that lawmakers — in crafting their priorities for the bill — saw this as being one of those priorities," he said.
Baldwin says OPM has pay-for info on DP bill
WASHINGTON — The only out lesbian in Congress told reporters last week that the administration has sent her information on finding funds to pay for domestic partner benefits legislation for federal workers.
Asked by the Blade on April 28 whether the U.S. Office of Personnel Management had yet provided the data as requested by lawmakers, Rep. Tammy Baldwin (D-Wis.) replied, "To me."
The legislation, known as the Domestic Partnership Benefits & Obligations Act, would make available to the same-sex partners of federal workers the same benefits available to the spouses of straight workers, including health and pension benefits.
"We'll be able to pay for it," said Baldwin, the bill's sponsor. "I'm confident that we will be able to offset it so that it will meet statutory pay-go requirements."
House and Senate committees with jurisdiction over the legislation reported out the bill late last year. But supporters have said they wouldn't move the bill to the floor unless OPM provided information on how to pay for the legislation's cost — an estimated $63 million each year — within the agency's existing budget.
Baldwin said for strategic reasons, she didn't want to offer more information publicly on how OPM found the needed funds to pay for the legislation.
Rachel Levine on becoming four-star admiral: 'It comes from my desire to serve'
Trans official sworn-in to U.S. Public Health Service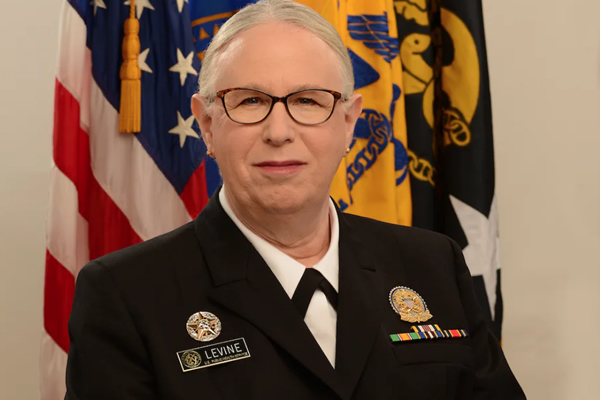 For Rachel Levine, the appointment to her new role as a four-star admiral complementing her existing duties as assistant secretary for health is another way for the first openly transgender Senate-confirmed presidential appointee to serve.
"I think that this just really comes from my desire to serve in all capacities," Levine said in an interview Tuesday with the Washington Blade. "To serve the first day in my field of academic medicine and pediatrics, but then in Pennsylvania and now in the federal government, and it furthers my ability to do that."
Levine, 63, also recognized the importance of the appointment as a transgender person within the U.S. Public Health Service, for which she was ceremonially sworn in on Tuesday
"I think for the LGBTQ+ community, it is a further sign of progress and our president's commitment to equity, to inclusion and diversity," Levine said. "So I think that it is a very important milestone, and I'm pleased to serve."
As part of her duties, Levine will lead an estimated 6,000 public health service officers serving vulnerable populations, including deployments inside and outside the country for communities beleaguered with the coronavirus, according to the Department of Health & Human Services. The role involves working closely with U.S. Surgeon General Vivek Murphy, whom Levine called her "friend and colleague."
The U.S. Public Health Service, Levine said, has deployed "many, many times," including its greatest number ever of deployments to vulnerable populations during the coronavirus pandemic. Among the places the service has deployed, Levine said, was in her home state of Pennsylvania, where she recently served as secretary of health.
Not only is Levine the first openly transgender person to serve in the uniformed health service as a four-star general, but she's also the first woman to serve in that capacity.
"We have 6,000 dedicated committed public servants really all focused on our nation's health, and they serve in details to the CDC and the FDA and the NIH, but also clinically with the Indian Health Service, and the federal prison system," Levine said. "They're also detailed and deployed throughout the country, and they deployed like never before for COVID-19 as well as the border, as well as dealing with floods and hurricanes and tornadoes."
Although the Public Health Service is primarily focused on addressing public health disasters within the United States, Levine said it has a record of deployments overseas, including years ago when it was deployed to Africa under the threat of Ebola.
Secretary of Health & Human Services Xavier Becerra had high praise for Levine in a statement upon news of taking on a leadership position in the service.
"This is a proud moment for us at HHS," Becerra said. "Adm. Levine — a highly accomplished pediatrician who helps drive our agency's agenda to boost health access and equity and to strengthen behavioral health — is a cherished and critical partner in our work to build a healthier America."
Levine, however, was careful to draw a distinction between her appointment within the Public Health Service and being a service member within the U.S. armed forces.
"It is not a military branch, it's not the armed forces: It's a uniformed force, so it's different," Levine said. "For example, the Army, the Navy, our military, there are two other uniformed branches, and that is ours, the United States Public Health Service Commissioned Corps and NOAA."
The new role, Levine said, would complement her duties as assistant secretary for health. Although not only secretaries of health have been commissioned to take the uniform, Levine said she wanted to undertake that as part of her role in the Biden administration.
The two appointments were not simultaneous, Levine said, because of a general process she undertook, which was completed just this week.
It hasn't been an easy road for Levine. During her Senate confirmation process, when she was hounded by anti-transgender attacks in conservative media and rude, invasive questioning by Sen. Rand Paul (R-Ky.) on her gender identity.
Levine, however, said she hasn't encountered any hostility regarding her new role (as of now) and shrugged off any potential attacks in the future and said the move is about her career "to serve and to help people."
"I've continued that for our nation as the assistant secretary for health and this is just a further demonstration of my commitment to service," Levine said. "I don't know what others will say, but that's the genesis of my wanting to serve in the United States Public Health Service Commissioned Corps, and to place on the uniform."
Levine's new appointment comes shortly after a group of Democratic senators led by Sen. Chris Murphy (D-Conn.) sent her a letter dated Sept. 30 calling on her and Miriam Delphin-Rittmon, assistant secretary for mental health and substance use, to issue new guidance for hospital or residential care on mental health needs of transgender people.
Asked about the letter, Levine said mental health issues are under the authority of Delphin-Rittmon and the two "will work together and we will respond."
Specifically, the senators in the letter call on the Behavioral Health Coordinating Council, or BHCC, and experts in the field of adolescent trans care to offer guidance on best practices for inpatient mental health care among these youth.
Asked what the response will look like, Levine said, "We're going to work on that."
"We will be looking at what they're asking for and the requirements, and we'll talk with them and the stakeholders and we'll look to issue appropriate guidance," Levine said.
Colin Powell, leaving mixed legacy on 'Don't Ask, Don't Tell,' dies at 84
Key figure once opposed gays in military, then backed review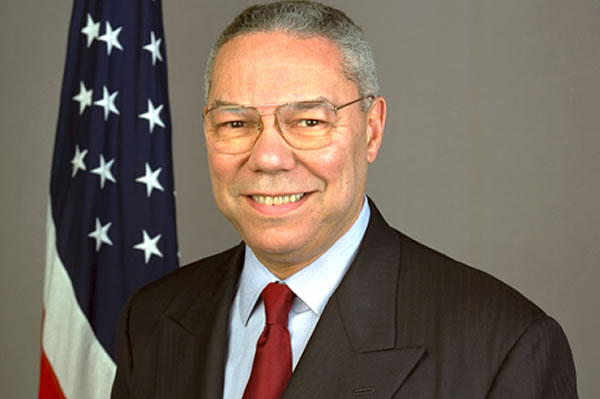 Colin Powell, the first ever Black secretary of state who served in top diplomatic and military roles in U.S. administrations, died Monday of coronavirus at age 84, leaving behind a mixed record on "Don't Ask, Don't Tell."
The world continues to grapple with the pandemic and the public grows increasingly frustrated with its persistence as many remain unvaccinated despite the wide availability of vaccines. Powell was fully vaccinated, according to a statement released upon his death. Powell reportedly suffered from multiple myeloma, a condition that hampers an individual's ability to combat blood infections.
Rising to the top of the military as chair of the Joint Chiefs of Staff, Powell supported in 1993 Congress moving forward with "Don't Ask, Don't Tell," a law that barred openly gay people from serving in the U.S. military.
During a key moment congressional testimony, Powell and other top military officials were asked whether or not allowing gay people in the military would be compatible with military readiness. Each official, including Powell," responded "incompatible." Congress would enact "Don't Ask, Don't Tell" that year.
Things changed when President Obama took office 15 years later and advocates for repeal of "Don't Ask, Don't Tell" were eager to claim Powell's voice among their ranks. After all, Powell was highly respected as a bipartisan voice after having served as secretary of state in the administration of George W. Bush and endorsing Obama in the 2008 election.
After the Obama administration in 2010 announced it would conduct a review of the idea of allowing gay people to serve openly in the military, Powell came out in support of that process. Advocates of repeal called that a declaration of reversal, although the statement fell short of a full support for gay people serving openly in the military.
"In the almost 17 years since the 'Don't Ask, Don't Tell' legislation was passed, attitudes and circumstances have changed," General Powell said in a statement issued by his office, adding, "I fully support the new approach presented to the Senate Armed Services Committee this week by Secretary of Defense Gates and Admiral Mullen."
Congress acted to repeal "Don't Ask, Don't Tell" and the policy was lifted in 2011. At the time, Powell was widely considered a supporter of ending "Don't Ask, Don't Tell" and publicly counted among supporters of repeal, although the Blade couldn't immediately find any statements from him to that effect.
In 2012, Powell had similar vaguely supportive words on same-sex marriage, saying he had "no problem with it" when asked about the issue.
"As I've thought about gay marriage, I know a lot of friends who are individually gay but are in partnerships with loved ones, and they are as stable a family as my family is, and they raise children," Powell said. "And so I don't see any reason not to say that they should be able to get married."
The Blade also couldn't immediately find any statement from Powell on transgender people serving in the military. After the Obama administration in 2016 lifted decades-old regulations against transgender service, former President Trump issued a ban by tweet the following year. President Biden reversed that ban and allowed transgender people to serve and enlist in the military in his first year in office.
Texas House approves anti-trans youth sports bill
HB 25 now heads to state Senate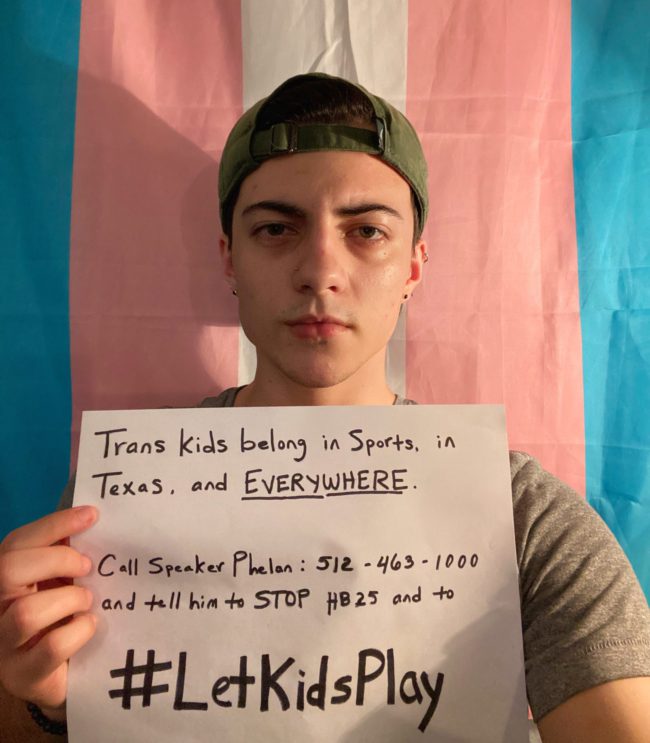 Texas House Republicans were able to push through the anti-trans youth sports measure Thursday evening after hours of emotional and at times rancorous debate, passing the bill in a 76-54 vote along party lines.
Under the provisions of Texas House Bill 25, all trans student athletes in grades K-12 will be prohibited from competing on sports teams aligned with their gender identity. The bill will now head to the Senate, where it is expected to pass.
The Texas Tribune reported that the University Interscholastic League, which governs school sports in Texas, already requires that an athlete's gender be determined by the sex listed on their birth certificate. Republican Rep. Valoree Swanson, R-Spring, the author of HB 25 has said the bill would simply "codify" existing UIL rules.
However, UIL recognizes any legally modified birth certificates. That policy could accommodate someone who may have had their birth certificate changed to match their gender identity, which can sometimes be an arduous process.
HB 25 would not allow recognition of these legally modified birth certificates unless changes were made because of a clerical error. It's not clear though how it will be determined if a birth certificate has been legally modified or not. According to the UIL, the process for checking student birth certificates is left up to schools and districts, not the UIL the Tribune reported.
"To say that tonight's passage of HB 25 is devastating is an understatement. For the past 10 grueling, exhausting, and deeply traumatic months, trans youth have been forced to debate their very existence—only to be met by the deaf ears and averted eyes of our state's leaders," Landon Richie, a GenderCool Project leader, University of Houston student and Transactivist told the Washington Blade after the vote.
"Make no mistake: This bill will not only have detrimental impacts on trans youth, who already suffer immense levels of harassment and bullying in schools, but also on cisgender youth who don't conform to Texas's idea of 'male' or 'female.' To trans kids everywhere: you belong, you are loved, you are valued, you are deserving of dignity, respect, care and the ability to live freely as your true and authentic selves, no matter where you are. We will never stop fighting for trans lives and a future where trans kids are unequivocally and unwaveringly celebrated for who they are," Richie said.
"The cruelty of this bill is breathtaking, and the legislators who are pushing it forward are doing irreparable harm to our state. Texas is a place where people value freedom and respect for diversity. This bill is a betrayal of those cherished values, and future generations will look back on this moment in disbelief that elected officials supported such an absurd and hateful measure," Shannon Minter, legal director for the National Center for Lesbian Rights told the Blade. "The families of these kids deserve better, and the burden is now on the rest of us to do everything in our power to stop this dangerous bill now," he added.
During the debate on the measure, state Rep. James Talarico, (D-Round Rock), a former middle school teacher, began his remarks by apologizing to the trans kids and families who have gone to the Capitol time and time again this year. He tells the chamber he speaks now as a legislator, and educator, and a Christian.
He quoted Republican Rep. Valoree Swanson, R-Spring, the author of HB 25 who said "if one girl wins a game, it's worth it." He says he has a different moral yardstick. "If one trans kid dies for a trophy, this bill is grotesque."
He ended speaking to his "fellow believers" in the chamber. "The worst part in these hearings have been in hearing the Bible used against trans kids to support these bills. Even tonight, 'God's law' was used to present an amendment." He then quoted the first two lines of the Bible, where God is referred to with two different Hebrew words, one masculine/one feminine. "God is non-binary." He then prevented an interruption in the chamber and continued telling trans kids that he loves them.
Fellow Democratic state Rep. Jessica González, (D-Dallas County), vice-chair of the Texas House LGBTQ Caucus asked the chamber how many trans Texas kids they are willing to hurt. She reminded her fellow representatives that cisgender women and girls will also be hurt by the bill. She shared a personal story about being outed in high school by a friend, having her locker, home, and car vandalized and losing all of her friends. "Kids are cruel."
González told lawmakers that her brother encouraged her to try out for soccer, and she was bullied with comments like "shouldn't she be trying out for the boys' team." She went from feeling a bit accepted to being an outsider again. She then reflected on carrying those feelings into adulthood and said that this bill will have long-term affects on trans kids. She asked legislators to listen to the stories of the trans kids who have bravely testified, saying kids will contemplate suicide or complete suicide.
Representative Diego Bernal, (D-San Antonio), told the chamber that some representatives can't wrap their heads around knowing that there is no problem but there is *real* harm to trans kids, and for whatever reason, that's not enough it seems to stop moving these bills.
He said that he has heard "if they already have mental health issues and suicide ideation, this can't make it worse" and "if the debate is harming them, let's just vote." The he breaks down the Texas statute's definition of bullying, telling lawmakers, "The bullying statute doesn't have an intent requirement. It doesn't matter if you don't mean to cause them harm. We are bullying these students. Know that by law … our own definitions and our own words, we are. And we don't have to."
"Texas lawmakers voted today to deliberately discriminate against transgender children. Excluding transgender students from participating in sports with their peers violates the Constitution and puts already vulnerable youth at serious risk of mental and emotional harm," Adri Perez, policy and advocacy strategist at the ACLU of Texas said in a statement to the Blade.
"There is no evidence that transgender kids pose any threat. It is indefensible that legislators would force transgender youth and their families to travel to Austin to defend their own humanity, then blatantly ignore hours of testimony about the real damage this bill causes. Trans kids and their families deserve our love and support—they've been fighting this legislation for months. Texans will hold lawmakers accountable for their cruelty," she added.
The statewide LGBTQ+ advocacy group Equality Texas in a tweet after the vote said; " We will not stop fighting to protect transgender children." Then added "We'll continue to educate lawmakers—replacing misinformation with real stories—and demand the statewide and federal nondiscrimination protections we need to prevent further harms."
We'll continue to educate lawmakers — replacing misinformation with real stories — and demand the statewide and federal nondiscrimination protections we need to prevent further harms.

— Equality Texas (@EqualityTexas) October 15, 2021