'Kameny Way' ceremony highlights Capital Pride events
200,000 expected for Sunday festival

A two-block section of 17th Street, N.W., in the heart of one of the city's most visible gay neighborhoods was to be renamed this week as "Frank Kameny Way" in honor of the veteran gay activist credited with founding the city's LGBT civil rights movement.
D.C. Mayor Adrian Fenty was scheduled to preside over a ceremony and the installation of a new street sign Thursday to officially put in place the Frank Kameny Way street designation.
The ceremony was to be part of a long list of events associated with Capital Pride, the city's annual LGBT community celebration.
The Dupont Circle Advisory Neighborhood Commission, which has jurisdiction over the 17th Street strip near Dupont Circle, initiated the Kameny street designation earlier this year.
According to ANC Commissioner Mike Silverstein, the commission voted unanimously to ask the city to designate as Frank Kameny Way a section of 17th Street between P and R streets, N.W.
"We — and everybody else we talked to — thought this was long overdue," Silverstein said.
Kameny began organizing efforts to secure gay civil rights in the late 1950s after he lost his job as a civilian astronomer with the U.S. Army Map Service when authorities discovered he was gay. He founded the Mattachine Society of Washington in the early 1960s, the city's first LGBT group. He is credited with playing a leading role in shaping the local and national LGBT rights movement for the next 40 years.
In other Capital Pride-related news, lead organizer Dyana Mason said plans were proceeding smoothly for the annual parade's kickoff at 6:30 p.m. Saturday at 23rd and P streets, N.W.
Gay activist and former Lambda Rising bookstore owner Deacon Maccubbin is the parade's grand marshal. Maccubbin is credited with starting the city's first annual LGBT pride event in 1975 as a block party near Dupont Circle.
The parade will travel east on P Street past Dupont Circle and continue along New Hampshire Avenue, R Street, and 17th Street, where participants will walk along the newly designated Frank Kameny Way.
From there, it will travel east on P Street, turn south on 14th Street, and end at 14th and N streets, N.W., near Thomas Circle.
Mason said a crowd of about 200,000 people is expected for Sunday's annual Capital Pride Festival, set to take place on Pennsylvania Avenue, N.W., between Third and Seventh streets.
Similar to past years, close to 250 booths and vendors' stands are expected to be at the festival, with dozens of LGBT and LGBT-supportive groups and businesses displaying their products or advancing their causes.
Steven Taubenkibel, a spokesperson for the Metro subway and bus system, said Metro is aware of the crowds expected for Capital Pride events over the weekend. He noted that officials were prepared to add more train cars beyond the normal weekend schedules if larger crowds and a higher ridership warrant the additions.
He said long-scheduled track repair projects would cause delays at the East and West Falls Church and the New York Avenue stations.
Mason said that in addition to entertainers scheduled to perform on the festival's main stage at Third Street, near the U.S. Capitol, several speakers, including elected officials, were expected to address the crowd from the stage.
Among those confirmed earlier this week to speak were D.C. City Council Chair and mayoral candidate Vincent Gray and the director of the Mayor's Office of GLBT Affairs Christopher Dyer.
Mason said the mayor's office had yet to confirm whether Fenty would speak at the festival. The mayor was scheduled to march in the parade.
Others expected to speak were D.C. Congressional Del. Eleanor Holmes Norton; representatives of American Veterans for Equal Rights, who were to be accompanied by the playing of taps in honor of fallen service members; and Miss D.C. Jen Corey.
Pepco, Exelon announce $2.7 million in funding for four minority-owned businesses
'It's good business sense to bring more people to the table'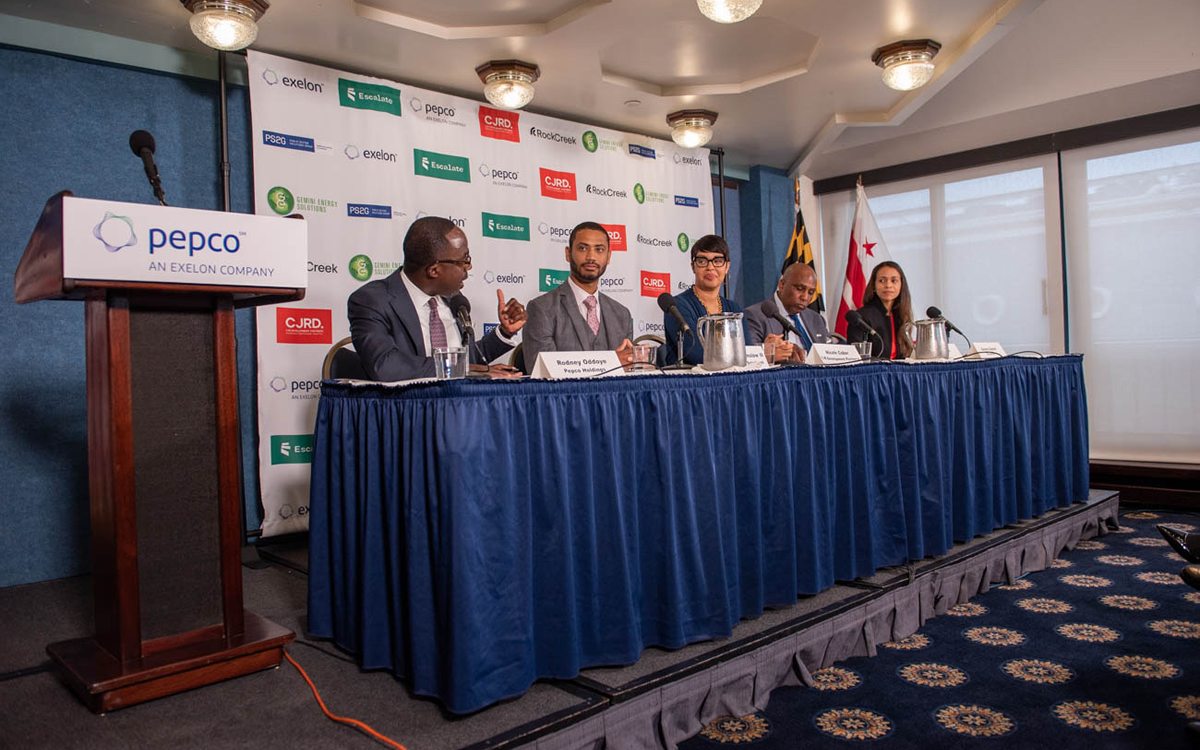 Pepco and Exelon announced a $2.7 million investment in four minority-owned businesses on Friday.
"Today's been a long time coming," said Pepco Vice President of Governmental and External Affairs Valencia McClure.
Pepco's parent company, Exelon, launched the Racial Equity Capital Fund (RECF) in 2022 to expand capital access to diverse businesses. This latest $2.7 million investment is just a portion of RECF's $36 million in funding.
At the announcement, D.C. Mayor Muriel E. Bowser spoke about the other ways Pepco and Exelon have "put their money where their mouth is" through their partnership with the D.C. Infrastructure Academy. She reported that all 22 of the residents that graduated from the program last week have a job offer from Pepco.
"We know that is not just a job, but a career," she said to the crowd's applause. "We know that working together, we can invest in D.C. residents, provide opportunity, and ensure that our D.C. businesses are a part of D.C.'s growing prosperity."
The four minority businesses that received funding were Gemini Energy Solutions, Public Sector Solutions Group, CJR Development Partners, and Escalate.
"It's good business sense to bring more people to the table," said fund recipient Nicole Cober, CJR Development's Principle Managing Partner.
Gemini Energy Solutions, which is Black owned, received $1 million, the most of the four companies. Its mission is to equitably scale energy efficiency to marginalized communities. For the founder and CEO Anthony Kinslow II, this investment means that he is able to get paid and advance the work of his organization.
"We are now able to accelerate the work in our software and technology development," he said. "What we were going to do in two years, we are now going to do in six months."
For Escalate, a workforce development platform focused on frontline worker retention, the funding means that it will be able to double the pay for frontline workers.
Public Sector Solutions Group CEO Darryl Wiggins emphasized that this investment was not just 'charity' work, but mission-driven work.
"The principle and the intent is greater than the money we receive," he said. Public Sector Solutions is Black owned.
Public Sector Solutions Group received a $600,000 debt investment; CJR Development, a minority and woman-owned small business, received a $600,000 debt investment; and Escalate, a majority Black and woman-owned company, received a $500,000 equity investment.
Exelon launched the RECF in partnership with RockCreek, one of the world's largest diverse-owned global investment firms, in 2022. The RECF expands capital access to diverse businesses so they can create more jobs, grow their companies and reinvest in their neighborhoods and communities, according to a statement from Exelon.
New RECF applications are accepted on a rolling basis. Interested businesses may apply online or contact RockCreek at [email protected] for more information.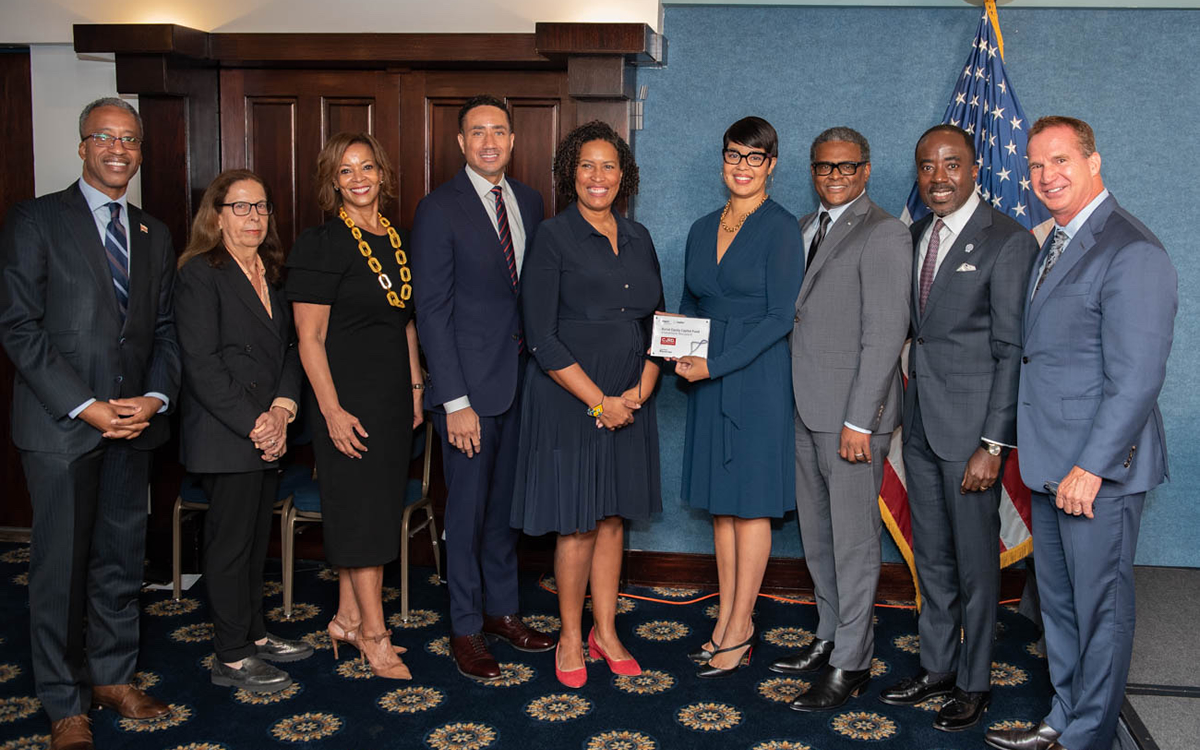 Comings & Goings
Armstrong recognized with Lifetime Achievement Award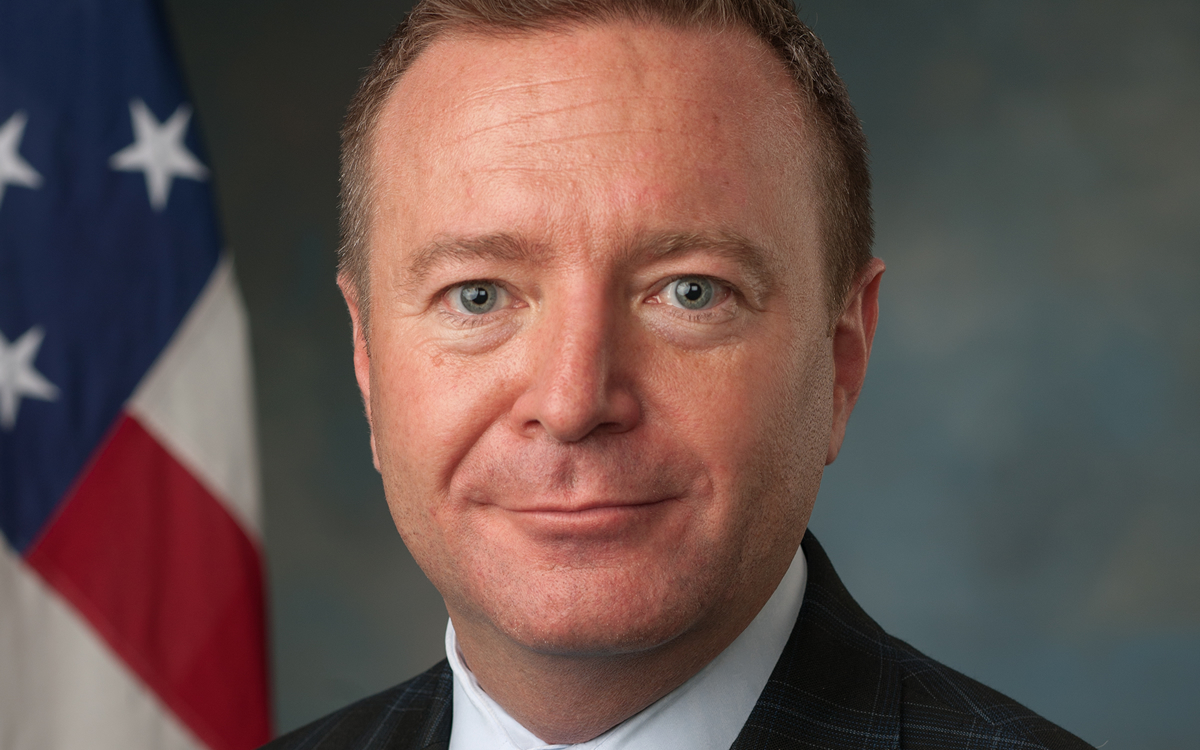 The Comings & Goings column is about sharing the professional successes of our community. We want to recognize those landing new jobs, new clients for their business, joining boards of organizations and other achievements. Please share your successes with us at: [email protected].
Congratulations to Lynden C. Armstrong on his Lifetime Achievement award from the Congressional Management Foundation in recognition of his exemplary public service in Congress.
Upon receiving the award Armstrong said, "This recognition is not just a personal achievement, but a testament to the unwavering dedication and hard work of colleagues and mentors who have been with me on this journey. I've dedicated my entire career to public service within the Senate, where recognition isn't the primary motivation for our work, making this recognition even more humbling." He is currently Deputy Assistant Senate Sergeant at Arms and Chief Information Officer.
Armstrong started his career with Sen. Pete Domenici (R-N.M.), where he rose to Deputy Chief of Staff in his more than 13-year stint. In 2004, during his tenure with Domenici, amid a debate on the Federal Marriage Amendment, Armstrong became a co-founder of the Gay, Lesbian and Allies Senate Staff (GLASS) Caucus. In 2014, he moved to the Sergeant at Arms CIO organization, where he established a new department within the CIO that was crafted to engage Senate offices in comprehending and harnessing technologies provided by the SAA.
Lynden has previously served as Chief Clerk on the U.S. Senate, Committee on Rules and Administration, and with the U.S. Senate, Joint Congressional Committee on Inaugural Ceremonies, as Deputy Inaugural Coordinator, 2012–2013. In that role among other responsibilities, he served as civilian liaison to the National Special Security Event Executive Steering Committee and subcommittees, including the Capitol, USCP, Crowd Management, Public Relations, Transportation, and credentialing, and as liaison to the Joint Task Force – National Capital Region.
AIDS Healthcare Foundation celebrates opening of new D.C. healthcare center
Ribbon-cutting marks launch of state-of-the-art facility on Capitol Hill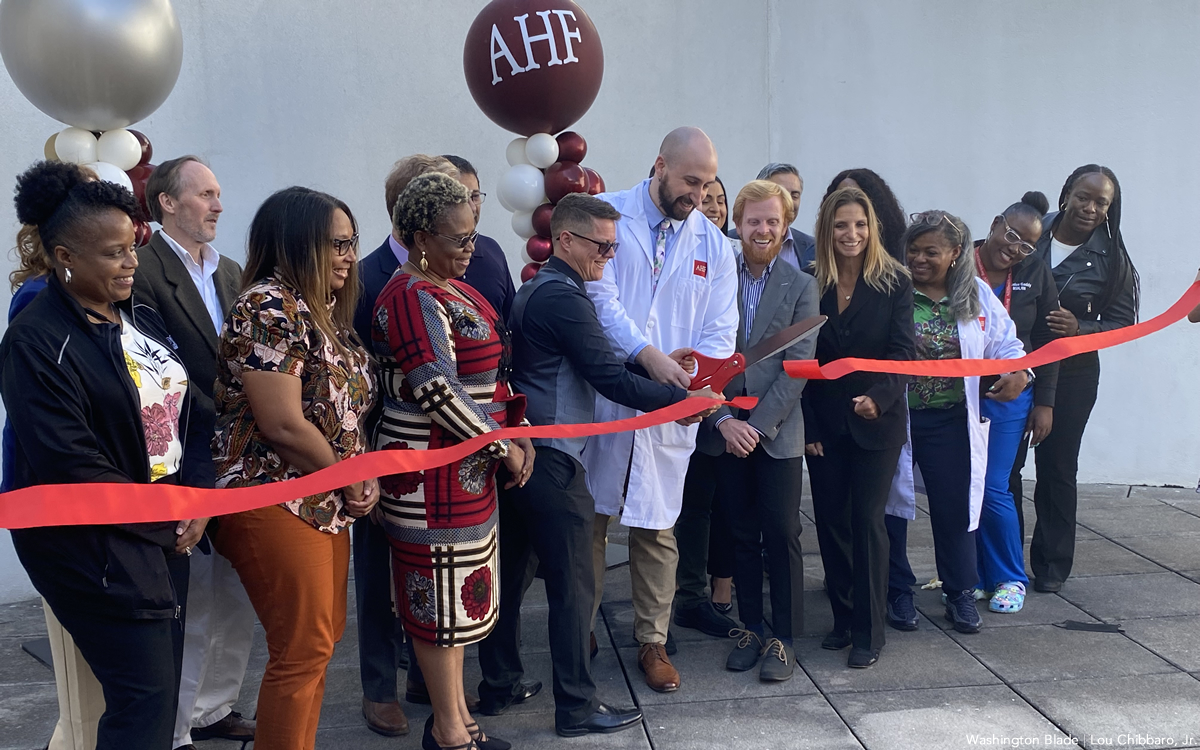 The AIDS Healthcare Foundation, the world's largest HIV/AIDS healthcare organization with its headquarters in Los Angeles, held a ribbon-cutting ceremony on Sept. 27 to mark the official opening of its Capitol Hill Healthcare Center.
The new center, which AHF describes as a state-of-the-art facility for the holistic care and treatment of people with HIV as well as a site for HIV prevention and primary care services, is located at 650 Pennsylvania Ave., S.E. a half block away from the Eastern Market Metro station.
A statement released by AHF says the Capitol Hill Healthcare Center will continue AHF's ongoing delivery of "cutting-edge medical care and services to patients regardless of insurance status or ability to pay." The statement adds, "The site also features a full-service AHF Pharmacy and will host Wellness Center services on Saturdays to offer STI testing and treatment."
The statement was referring to the testing and treatment for sexually transmitted infections. The D.C. Department of Health has said the highest number of STIs in the city have been reported for men who have sex with men.
Mike McVicker, AHF's Regional Director for its D.C., Maryland, and Virginia facilities, said the Capitol Hill center began taking patients in October of 2021 as AHF transferred its operations from its facility on Benning Road, N.E. about two miles from the Capitol Hill site. McVicker said the Benning Road site has now been closed.
AHF's second D.C. medical center is located downtown at 2141 K St., N.W. AHF operates three other extended D.C.-area health care centers in Falls Church, Va., Temple Hills, Md. and Baltimore.
"Our Capitol Hill Healthcare Center has no waiting room, so patients immediately are escorted to treatment rooms and serviced from a centrally located provider workstation," McVicker said. "The goal is to maximize efficiency using this patient-centered model to improve health outcomes and increase retention in care."
McVicker told the Blade the AHF Capitol Hill center is currently serving 585 patients and has a staff of 10, including Dr. Conor Grey, who serves as medical director. He said a separate team of five staffers operates the Saturday walk-in center that provides STI services as well as services related to the HIV prevention medication known as PrEP.
"I'm very excited to be a part of this team," Dr. Grey said at the ribbon-cutting ceremony, which was held in a courtyard outside the Capitol Hill office building where the AHF center is located. About 50 people, including D.C. government officials, attended the event.
"This is a beautiful thing to celebrate," Grey said. "So, I'm very happy to enjoy the day with all of you, and looking forward to a bright, productive future working together and fighting a common enemy that has unfortunately been with us."
Others who spoke at the event included Tom Myers, AHF's Chief of Public Affairs and General Counsel; Toni Flemming, Supervisory Public Health Analyst and Field Operations Manager for the D.C. Department of Health's HIV/AIDS, Hepatitis, STD, and Tuberculosis Administration (HAHSTA), and Dr. Christie Olejeme, Public Health Analyst for HAHSTA's Care and Treatment Division.
Also speaking at the event was Japer Bowles, director of D.C. Mayor Muriel Bowser's Office of LGBTQ Affairs.
Bowles called the AHF Capitol Hill center "another pivotal resource" for the LGBTQ community as well as for the city.
"We know, as has been previously stated, a low-barrier HIV prevention support is pivotal to the mayor's mission of eliminating HIV infections in the District of Columbia and the region," Bowles told the gathering.
"So, I'm very excited to see more services specifically provided to those in the Southeast and Northeast quadrants of our District," he said, referring to the AHF Capitol Hill center. "This is a great moment for our community, but also for D.C. as a whole."
In its statement released this week announcing the official opening of the Capitol Hill Center AHF notes that currently, 11,904 D.C. residents, or 1.8 percent of the population, are living with HIV. It points out that HIV disproportionately impacts Black residents, who make up about 44 percent of the population but comprise nearly three-quarters of the city's HIV cases.
AHF official Myers said the Capitol Hill center will join its other D.C.-area facilities in addressing the issue of racial disparities related to HIV.
"Our treatment model helps eliminate barriers for those already in care, those who may not know their HIV status, and those living with HIV who may not currently be in care," he said.
AHF says in its statement that it currently operates more than 900 healthcare centers around the world in 45 countries including 17 U.S. states. It has more than 1.7 million people in care, according to the statement. Founded in 1987, the organization has also taken on the role of public advocacy for federal and local government programs in the U.S. to address the HIV/AIDS epidemic, including efforts to lower the costs of HIV drugs.
During its work in the late 1980s and early 1990s AHF emerged as a strong advocate for addressing the special needs of gay and bisexual men who were hit hardest by HIV/AIDS at the start of the epidemic.