Will Obama appeal DOMA court rulings?
Justice Dept. has until Oct. 12 to decide

President Obama's commitment to repealing the Defense of Marriage Act is likely to come under enhanced scrutiny next week when the U.S. Justice Department announces its decision on whether or not it will appeal federal court rulings against the statute.
Legal experts across the board are expecting the administration to appeal the decisions as many LGBT advocates grumble that the defense of DOMA in court undermines Obama's campaign pledge to advocate for same-sex couples.
Richard Socarides, a gay New York attorney and former adviser to President Clinton, said he expects the Justice Department to appeal the cases because he believes the administration hasn't shown any signs of changing its position after defending DOMA at the district court level.
"I think that they're going to continue to battle the gay rights movement in the courts," Socarides said. "I think it continues to be one of the most unfortunate decisions of the president's entire first two years in office and really something that is perhaps the most troubling part of these first two years of his presidency."
Socarides said he doesn't think the administration is compelled to appeal the decisions to the U.S. First Circuit Court of Appeals even as he acknowledged that debate has taken place over whether the president can decide against upholding a federal statute.
"I think that it's clear now that the president has the option of declining to defend laws that he believes are not constitutional," Socarides said. "This law has now been declared unconstitutional, so he could agree with the federal district court … and choose not to defend it."
Evan Wolfson, executive director of Freedom to Marry, also predicted the administration will appeal the decisions made in the DOMA cases because he believes Justice Department officials think they're required to do so.
Still, Wolfson said the extent to which the Justice Department defends DOMA at the U.S. First Circuit Court of Appeals would be an appropriate gauge to determine the Obama administration's commitment to supporting LGBT people.
"I think the Justice Department can argue they have to appeal, but they should not be trying to win at all costs, and they should urge the court to adopt a presumption of unconstitutionality for the cruel exclusion from marriage that they themselves admit is discrimination," Wolfson said.
On July 8, U.S. District Court Judge Joseph Tauro ruled in two separate cases — Gill v. U.S. Office of Personnel Management and Commonwealth of Massachusetts v. U.S. Department of Health & Human Services — that the part of DOMA prohibiting federal recognition of same-sex marriage is unconstitutional.
The Obama administration defended DOMA when both those cases came before the U.S. District Court of Massachusetts.
In response to a query on the whether the administration would appeal the rulings, the White House deferred comment to the Justice Department, which didn't respond.
The deadline for making a decision in the Commonwealth case — filed by Massachusetts Attorney General Martha Coakley — is Oct. 12.
The Justice Department doesn't have to appeal the decision in the Gill case, filed by Gay & Lesbian Advocates & Defenders, until Oct. 18 because the court didn't enter judgment in the case until later.
Still, Lee Swislow, GLAD's executive director, said her organization is anticipating the Obama administration will announce its decision for both cases at the same time.
"From an efficiency point of view, the cases are clearly connected and it would make sense for the government to appeal both of them on the same day," she said.
Announcing a decision to appeal both cases at the same time would also limit the amount of negative press the White House would receive to one day as opposed to stringing out criticism over a series of days.
Swislow said she's expecting the administration to appeal both lawsuits and said doing so means the Justice Department is doing its duty of defending federal laws.
"I don't think you can read much into it in terms of the administration's support in general of LGBT rights," she said. "From a legal point of view, they have to defend the law or write an official letter to Congress on why they're not appealing."
After the Justice Department appeals the decisions to the First Circuit, Swislow said she expects a series of briefs will be filed to the appellate court on both sides, including friend-of-the-court briefs from supporters and opponents of DOMA.
Once oral arguments take place, those involved with the litigation will await the decision of the court.
"We could have a decision anywhere from a year from now to a year-and-a-half from now if they follow their average, and that's all we have to go on is how long it usually takes at the First Circuit court," Swislow said.
Once the First Circuit has made its rulings, Swislow said deciding whether or not to appeal the case further to the U.S. Supreme Court would be different for the Obama administration.
Swislow said Justice Department officials could say they've "done their job" and not challenge the ruling further — even as she acknowledged her organization would love a win for the cases at the Supreme Court.
"If we win at the First Circuit Court of Appeals, the question of whether to take it to the Supreme Court or not, I think, is a different calculation," she said.
Even as many LGBT rights supporters bemoan the administration's defense of DOMA, others say continued support for the law in court could have some advantages.
Defenders of the Obama administration have said defending anti-gay laws such as DOMA sets a precedent that would prevent future administrations from allowing litigation against pro-laws to go unchallenged.
In an article about the future of litigation against "Don't Ask, Don't Tell," Aubrey Sarvis, executive director of the Servicemembers Legal Defense Network, was quoted last week in Politico as suggesting the administration's defense of the law in court would allow the federal hate crimes law to stay on the books.
"What happens when there's a legal challenge to, say, hate crimes [law] in a next administration, a possible Republican administration?" Sarvis reportedly said. "Will they defend the federal statute?"
Swislow expressed similar beliefs that defending DOMA would set a precedent for subsequent administrations that could be hostile to LGBT rights.
"We expect them to defend this case and we're not mad at them for defending this case, and, yes, the process of the Justice Department — that mandate, really — to defend the law can help us," she said.
But Socarides scoffed at the notion that defending laws like DOMA would keep pro-gay laws safe under future administrations.
"I know that a lot of people make it in defense of the administration, but to me, it's an entirely ludicrous argument," Socarides said. "That argument turns all logic on its head. We're not going to defend civil rights because some day the Republicans may choose not to defend civil rights."
In another respect, appealing the lawsuits to the First Circuit could be beneficial to same-sex couples throughout New England because the higher court has jurisdiction over more states.
A favorable ruling at the First Circuit could invalidate part of DOMA for not just married same-sex couples in Massachusetts, but also couples living in Connecticut, Vermont and New Hampshire.
Swislow said an appeal of the DOMA cases is "really in our interest" because a victory only at the district court level would "only affect our particular plaintiffs" and not anyone else.
"It's much better, in fact, to have the case appealed so that the victory in the appellate court … affects the First Circuit [and] a victory in the Supreme Court affects the whole country," she said.
Doug NeJaime, a gay law professor at Loyola Law School, also said an appeal in the GLAD case could be beneficial to married same-sex couples across the nation because of the strong case made by plaintiffs.
"This is a very carefully and limited challenge seeking some federal recognition of married same-sex couples, but only affecting states where couples are allowed to actually enter into marriages that are recognized," NeJaime said. "So, I think this would actually be a good issue to have work its way up the appellate chain."
Still, Socarides said the Obama administration shouldn't be considered a friend to the LGBT community for appealing the lawsuits because the president hasn't said he's appealing them for the purpose of having a stronger ruling.
"If the United States came back and said we believe this is unconstitutional, but we're going to appeal it because we want a ruling from a court of appeals declaring it unconstitutional, that would be terrific, but they don't say that, do they?" he said.
(Obama photo is a Blade file photo by Michael Key)
Venezuelan man with AIDS dies in ICE custody
Pablo Sánchez Gotopo passed away at Miss. hospital on Oct. 1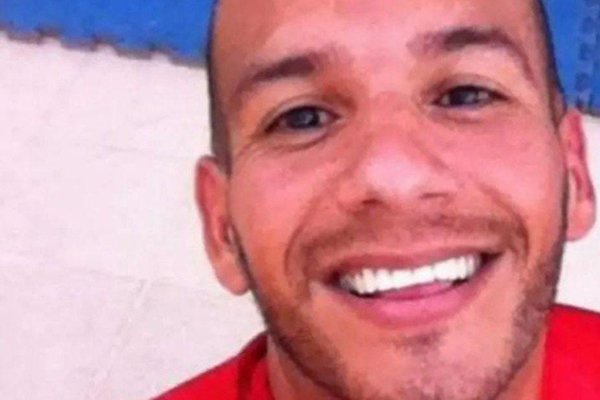 A Venezuelan man with AIDS died in U.S. Immigration and Customs Enforcement custody on Oct. 1.
An ICE press release notes Pablo Sánchez Gotopo, 40, died at Merit Health River Oaks in Flowood, Miss., which is a suburb of Jackson, the state capital. The press release notes the "preliminary cause of death was from complications with acute respiratory failure, Acquired Immune Deficiency Syndrome (AIDS), pneumonia, acute kidney failure, anemia and COVID-19."
ICE said U.S. Border Patrol took Sánchez into custody near Del Rio, Texas, on May 17. He arrived at the Adams County Detention Center in Natchez, Miss., four days later.
"Upon arrival to an ICE facility, all detainees are medically screened and administered a COVID-19 test by ICE Health Service Corps (IHSC) personnel," said ICE in its press release. "Sánchez's test results came back negative."
The press release notes Sánchez on July 28 received another COVID-19 test after he "began showing symptoms of COVID-19." ICE said he tested negative, but Adams County Detention Center personnel transferred him to a Natchez hospital "for additional advanced medical care."
ICE Enforcement and Removal Operations staff in its New Orleans Field Office, according to the press release, "coordinated with hospital staff to arrange family visitation" after Sánchez's "health condition deteriorated." Sánchez was transferred to Merit Health River Oaks on Sept. 25.
"ICE is firmly committed to the health and welfare of all those in its custody and is undertaking a comprehensive agency-wide review of this incident, as it does in all such cases," says the press release.
Venezuela's political and economic crises have prompted more than 10,000 people with HIV to leave the country, according to the New York-based Aid for AIDS International.
Activists and health care service providers in Venezuela with whom the Washington Blade has spoken in recent years have said people with HIV/AIDS in the country have died because of a lack of antiretroviral drugs. Andrés Cardona, director of Fundación Ancla, a group in the Colombian city of Medellín that works with migrants and other vulnerable groups, told the Blade last month that many Venezuelans with HIV would have died if they hadn't come to Colombia.
The Blade has not been able to verify a Venezuelan activist's claim that Sánchez was gay. It is also not known why Sánchez decided to leave Venezuela and travel to the U.S.
ICE detainee with HIV described Miss. detention center as 'not safe'
Activists and members of Congress continue to demand ICE release people with HIV/AIDS in their custody amid reports they don't have adequate access to medications and other necessary medical treatment.
Two trans women with HIV—Victoria Arellano from Mexico and Roxsana Hernández from Honduras—died in ICE custody in 2007 and 2018 respectively. Johana "Joa" Medina Leon, a trans woman with HIV who fled El Salvador, died in 2019, three days after ICE released her from a privately-run detention center.
The Blade in July 2020 interviewed a person with HIV who was in ICE custody at the Adams County Detention Center. The detainee said there was no social distancing at the privately-run facility and personnel were not doing enough to prevent COVID-19 from spreading.
"It's not safe," they told the Blade.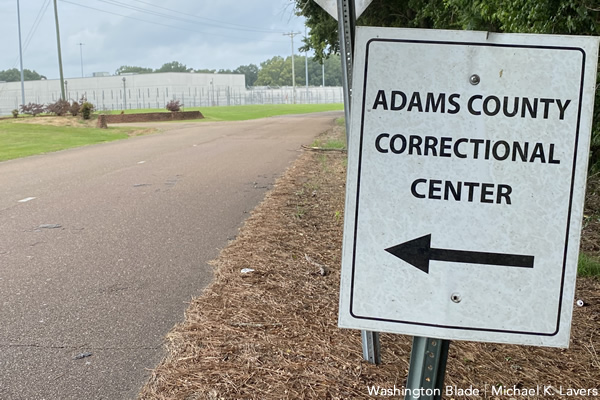 Elisabeth Grant-Gibson, a Natchez resident who supports ICE detainees and their families, on Wednesday told the Blade that she was able to visit the Adams County Detention Center and other ICE facilities in the Miss Lou Region of Mississippi and Louisiana from November 2019 until the suspension of in-person visitation in March 2020 because of the pandemic.
"Medical neglect and refusal of medical care has always been an issue in the detention center at Adams County," said Grant-Gibson. "After the facilities were closed to public visitation, those problems increased."
Grant-Gibson told the Blade she "worked with a number of families and received phone calls from a number of detainees, and I was told again and again that detainees were being refused the opportunity to visit the infirmary."
"When they did visit the infirmary, they were given virtually no treatment for the issues they were presenting with," said Grant-Gibson.
ICE in its press release that announced Sánchez's death said fatalities among its detainees, "statistically, are exceedingly rare and occur at a fraction of the national average for the U.S. detained population." ICE also noted it spends more than $315 million a year "on the spectrum of healthcare services provided to detainees."
"ICE's Health Service Corps (IHSC) ensures the provision of necessary medical care services as required by ICE Performance-Based National Detention Standards and based on the medical needs of the detainee," notes the ICE press release. "Comprehensive medical care is provided from the moment detainees arrive and throughout the entirety of their stay. All ICE detainees receive medical, dental, and mental health intake screening within 12 hours of arriving at each detention facility, a full health assessment within 14 days of entering ICE custody or arrival at a facility, and access to daily sick call and 24-hour emergency care."
An ICE spokesperson on Wednesday pointed the Blade to its Performance-Based Detention Standards from 2011, which includes policies for the treatment of detainees with HIV/AIDS.
A detainee "may request HIV testing at any time during detention" and ICE detention centers "shall develop a written plan to ensure the highest degree of confidentiality regarding HIV status and medical condition." The policy also states that "staff training must emphasize the need for confidentiality, and procedures must be in place to limit access to health records to only authorized individuals and only when necessary."

"The accurate diagnosis and medical management of HIV infection among detainees shall be promoted," reads the policy. "An HIV diagnosis may be made only by a licensed health care provider, based on a medical history, current clinical evaluation of signs and symptoms and laboratory studies."
Rachel Levine on becoming four-star admiral: 'It comes from my desire to serve'
Trans official sworn-in to U.S. Public Health Service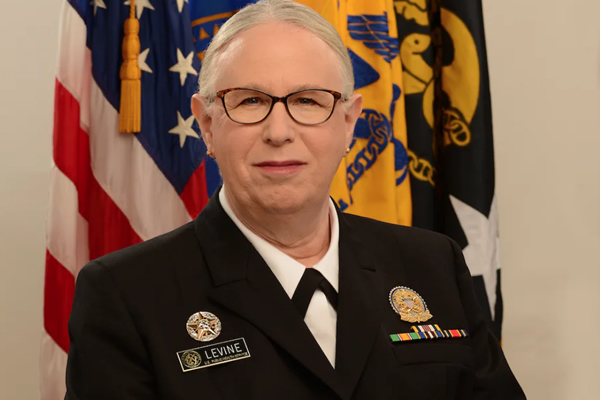 For Rachel Levine, the appointment to her new role as a four-star admiral complementing her existing duties as assistant secretary for health is another way for the first openly transgender Senate-confirmed presidential appointee to serve.
"I think that this just really comes from my desire to serve in all capacities," Levine said in an interview Tuesday with the Washington Blade. "To serve the first day in my field of academic medicine and pediatrics, but then in Pennsylvania and now in the federal government, and it furthers my ability to do that."
Levine, 63, also recognized the importance of the appointment as a transgender person within the U.S. Public Health Service, for which she was ceremonially sworn in on Tuesday
"I think for the LGBTQ+ community, it is a further sign of progress and our president's commitment to equity, to inclusion and diversity," Levine said. "So I think that it is a very important milestone, and I'm pleased to serve."
As part of her duties, Levine will lead an estimated 6,000 public health service officers serving vulnerable populations, including deployments inside and outside the country for communities beleaguered with the coronavirus, according to the Department of Health & Human Services. The role involves working closely with U.S. Surgeon General Vivek Murphy, whom Levine called her "friend and colleague."
The U.S. Public Health Service, Levine said, has deployed "many, many times," including its greatest number ever of deployments to vulnerable populations during the coronavirus pandemic. Among the places the service has deployed, Levine said, was in her home state of Pennsylvania, where she recently served as secretary of health.
Not only is Levine the first openly transgender person to serve in the uniformed health service as a four-star general, but she's also the first woman to serve in that capacity.
"We have 6,000 dedicated committed public servants really all focused on our nation's health, and they serve in details to the CDC and the FDA and the NIH, but also clinically with the Indian Health Service, and the federal prison system," Levine said. "They're also detailed and deployed throughout the country, and they deployed like never before for COVID-19 as well as the border, as well as dealing with floods and hurricanes and tornadoes."
Although the Public Health Service is primarily focused on addressing public health disasters within the United States, Levine said it has a record of deployments overseas, including years ago when it was deployed to Africa under the threat of Ebola.
Secretary of Health & Human Services Xavier Becerra had high praise for Levine in a statement upon news of taking on a leadership position in the service.
"This is a proud moment for us at HHS," Becerra said. "Adm. Levine — a highly accomplished pediatrician who helps drive our agency's agenda to boost health access and equity and to strengthen behavioral health — is a cherished and critical partner in our work to build a healthier America."
Levine, however, was careful to draw a distinction between her appointment within the Public Health Service and being a service member within the U.S. armed forces.
"It is not a military branch, it's not the armed forces: It's a uniformed force, so it's different," Levine said. "For example, the Army, the Navy, our military, there are two other uniformed branches, and that is ours, the United States Public Health Service Commissioned Corps and NOAA."
The new role, Levine said, would complement her duties as assistant secretary for health. Although not only secretaries of health have been commissioned to take the uniform, Levine said she wanted to undertake that as part of her role in the Biden administration.
The two appointments were not simultaneous, Levine said, because of a general process she undertook, which was completed just this week.
It hasn't been an easy road for Levine. During her Senate confirmation process, when she was hounded by anti-transgender attacks in conservative media and rude, invasive questioning by Sen. Rand Paul (R-Ky.) on her gender identity.
Levine, however, said she hasn't encountered any hostility regarding her new role (as of now) and shrugged off any potential attacks in the future and said the move is about her career "to serve and to help people."
"I've continued that for our nation as the assistant secretary for health and this is just a further demonstration of my commitment to service," Levine said. "I don't know what others will say, but that's the genesis of my wanting to serve in the United States Public Health Service Commissioned Corps, and to place on the uniform."
Levine's new appointment comes shortly after a group of Democratic senators led by Sen. Chris Murphy (D-Conn.) sent her a letter dated Sept. 30 calling on her and Miriam Delphin-Rittmon, assistant secretary for mental health and substance use, to issue new guidance for hospital or residential care on mental health needs of transgender people.
Asked about the letter, Levine said mental health issues are under the authority of Delphin-Rittmon and the two "will work together and we will respond."
Specifically, the senators in the letter call on the Behavioral Health Coordinating Council, or BHCC, and experts in the field of adolescent trans care to offer guidance on best practices for inpatient mental health care among these youth.
Asked what the response will look like, Levine said, "We're going to work on that."
"We will be looking at what they're asking for and the requirements, and we'll talk with them and the stakeholders and we'll look to issue appropriate guidance," Levine said.
Colin Powell, leaving mixed legacy on 'Don't Ask, Don't Tell,' dies at 84
Key figure once opposed gays in military, then backed review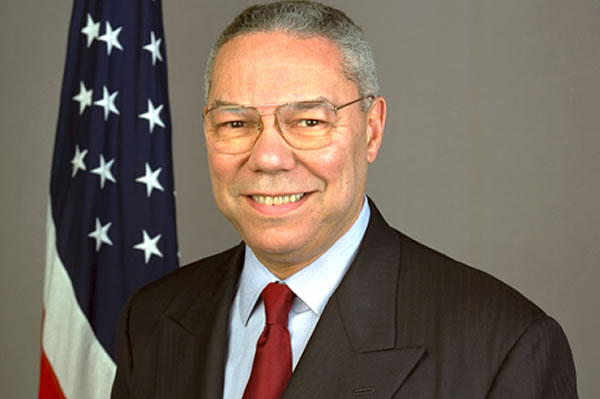 Colin Powell, the first ever Black secretary of state who served in top diplomatic and military roles in U.S. administrations, died Monday of coronavirus at age 84, leaving behind a mixed record on "Don't Ask, Don't Tell."
The world continues to grapple with the pandemic and the public grows increasingly frustrated with its persistence as many remain unvaccinated despite the wide availability of vaccines. Powell was fully vaccinated, according to a statement released upon his death. Powell reportedly suffered from multiple myeloma, a condition that hampers an individual's ability to combat blood infections.
Rising to the top of the military as chair of the Joint Chiefs of Staff, Powell supported in 1993 Congress moving forward with "Don't Ask, Don't Tell," a law that barred openly gay people from serving in the U.S. military.
During a key moment congressional testimony, Powell and other top military officials were asked whether or not allowing gay people in the military would be compatible with military readiness. Each official, including Powell," responded "incompatible." Congress would enact "Don't Ask, Don't Tell" that year.
Things changed when President Obama took office 15 years later and advocates for repeal of "Don't Ask, Don't Tell" were eager to claim Powell's voice among their ranks. After all, Powell was highly respected as a bipartisan voice after having served as secretary of state in the administration of George W. Bush and endorsing Obama in the 2008 election.
After the Obama administration in 2010 announced it would conduct a review of the idea of allowing gay people to serve openly in the military, Powell came out in support of that process. Advocates of repeal called that a declaration of reversal, although the statement fell short of a full support for gay people serving openly in the military.
"In the almost 17 years since the 'Don't Ask, Don't Tell' legislation was passed, attitudes and circumstances have changed," General Powell said in a statement issued by his office, adding, "I fully support the new approach presented to the Senate Armed Services Committee this week by Secretary of Defense Gates and Admiral Mullen."
Congress acted to repeal "Don't Ask, Don't Tell" and the policy was lifted in 2011. At the time, Powell was widely considered a supporter of ending "Don't Ask, Don't Tell" and publicly counted among supporters of repeal, although the Blade couldn't immediately find any statements from him to that effect.
In 2012, Powell had similar vaguely supportive words on same-sex marriage, saying he had "no problem with it" when asked about the issue.
"As I've thought about gay marriage, I know a lot of friends who are individually gay but are in partnerships with loved ones, and they are as stable a family as my family is, and they raise children," Powell said. "And so I don't see any reason not to say that they should be able to get married."
The Blade also couldn't immediately find any statement from Powell on transgender people serving in the military. After the Obama administration in 2016 lifted decades-old regulations against transgender service, former President Trump issued a ban by tweet the following year. President Biden reversed that ban and allowed transgender people to serve and enlist in the military in his first year in office.