Green card hold ends for foreigners in same-sex marriages
Advocates call for abeyance until courts decide issue
An agency within the Department of Homeland Security announced Wednesday that the Obama administration has resumed its authority to deport foreign nationals in legally recognized same-sex marriages within the United States following the receipt of updated legal guidance.
Christopher Bentley, a spokesperson for U.S. Citizenship & Immigration Services, confirmed on Wednesday that the temporary hold on green card applications from married same-sex couples has been lifted after the agency received the anticipated legal instructions on issues that emerged after President Obama declared the Defense of Marriage Act unconstitutional.
"USCIS has not implemented any change in policy and intends to follow the president's directive to continue enforcing the law," Bentley said.
On Feb. 23, U.S. Attorney General Eric Holder informed that Obama had determined that DOMA is unconstitutional and will no longer defend the statute against litigation in court. The temporary hold on deportations of foreign nationals in same-sex marriage, which was officially announced by USCIS earlier this week, was the result of this announcement from Holder.
Because of DOMA, American citizens who are married to foreign spouses of the same gender cannot sponsor their spouses for U.S. citizenship — even if the couple lives in a state or jurisdiction that recognizes same-sex marriage. That situation isn't the case for married opposite-sex couples in the United States. Straight Americans can sponsor their spouse for residency through green card applications.
Steve Ralls, spokesperson for Immigration Equality, expressed disappointment that the Obama administration resumed its authority to deport foreign nationals in legally recognized same-sex marriages.
"Our government should be in the business of keeping families together, not tearing them apart," Ralls said. "The Department of Justice has said it believes DOMA is unconstitutional. Immigration Equality agrees, and we believe it is inappropriate to use that unconstitutional law to separate American citizens from their loved ones."
Ralls said Immigration Equality is reiterating its call for the Obama administration to halt the denial of green card applications. Earlier in March, the organization had sent letters to the Justice Department and the Department of Homeland Security asking them to hold the deportations in abeyance until the courts determine the constitutionality of DOMA.
"At the very least, DHS should wait for the courts to settle DOMA's constitutionality before removing spouses who would immediately benefit if the law is struck down," Ralls said. "Surely we can all agree that no one should be in a rush to force American citizens and their families apart."
Lavi Soloway, an attorney with Masliah & Soloway PC in New York who handles immigration cases, said the decision to end the abeyance on green card applications is "extremely disappointing."
"While these cases cannot be approved under current law, they should not be denied," Soloway said. "Denying the applications deprives these LGBT families the protection they deserve and desperately need."
Soloway called on USCIS to delay final adjudication of green card applications filed by gay couples until DOMA's fate is resolved by Congress or the Supreme Court.
"While DOMA remains the law of the land, Secretary [of Homeland Security Janet] Napolitano and Attorney General Holder must develop interim remedies to ensure that gay and lesbian couples are not torn apart," Soloway said. "Putting these green card applications on hold is the appropriate policy at this time because it is consistent with the continued enforcement of DOMA and because it provides a desperately needed lifeline for couples who live in fear of separation every day."
Additionally, Soloway called on the Department of Homeland Security to issue a moratorium on the deportations of spouses of gay Americans.
"The executive branch has the authority to exercise discretion in both contexts and can do so while also continuing to enforce DOMA," Soloway said.
Christopher Nugent, who's gay and co-chair of the American Bar Association's rights of immigrants committee, called the lifting of the hold a "shocking" reversal for USCIS.
"USCIS' rescission on recently enacted policy and practice for vulnerable same-sex married partners represents a shocking unprecedented reversal and temporary set-back until justice prevails through the litigation or USCIS' revisiting their harmful approach," Nugent said.
Rachel Levine tackles bad information on COVID, gender-affirming care
Assistant health secretary is highest ranking transgender person in Biden administration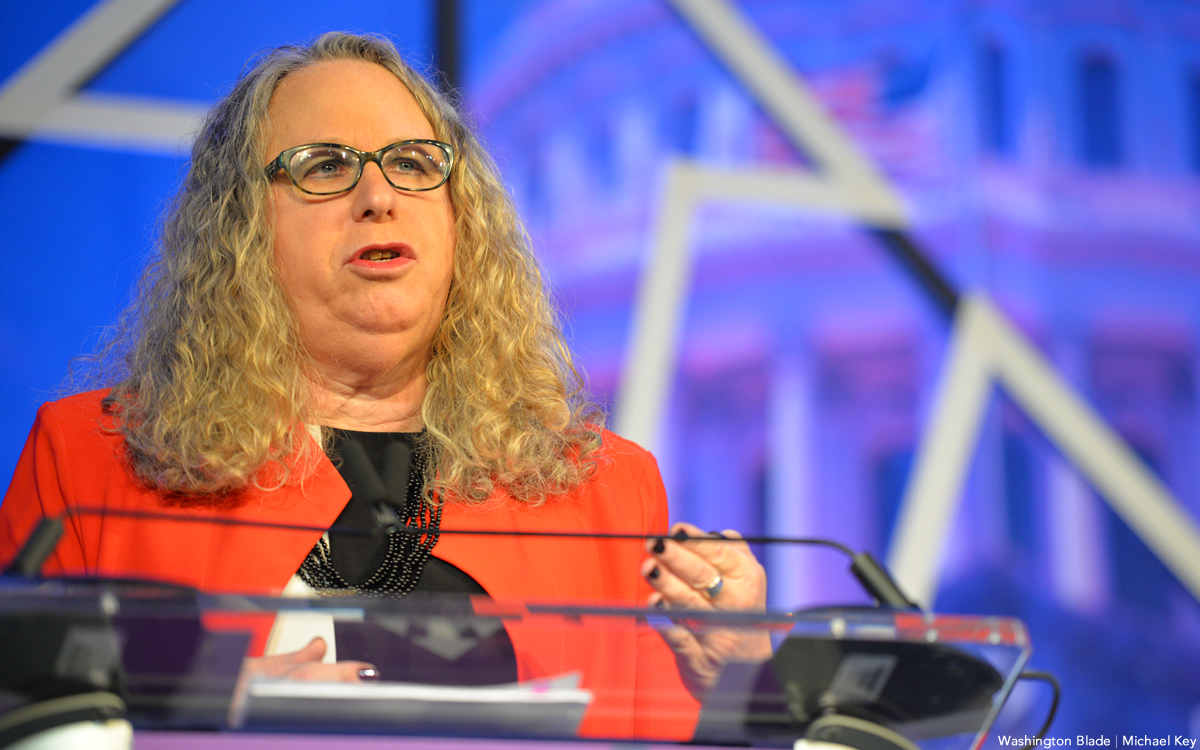 In a visit to one of America's most prestigious institutions of higher learning, Adm. Rachel Levine answered questions and offered insight about two of the most controversial healthcare issues of this decade, long COVID-19 and gender-affirming care.
Long COVID is the mysterious phenomenon in which patients endure debilitating, long-term effects from being infected by the coronavirus and gender-affirming care, treatments for transgender youth that are being targeted by lawmakers nationwide.
"Long COVID is real," said Levine, the assistant secretary for health at the U.S. Department of Health and Human Services, and the highest-ranking transgender official in the Biden administration. "We heard from patients who have suffered heart issues, lung issues, issues of fatigue and brain fog, after their COVID-19 infection. And we heard from providers at Yale who are forming a multidisciplinary clinic in order to evaluate and treat these patients."
In a public session held Monday at the Yale Law School, four of these "long haulers" shared their challenges with the admiral: Shortness of breath, pulmonary disorders, lifestyle and work limitations and disabilities that are hidden to most observers.
"Hearing the patients tell their stories is so meaningful," she said, calling it a privilege to better understand the challenges they face.
"That helps us drive policy as well as research," Levine said.
"I was very active," said Hannah Hurtenbach of Wethersfield, Conn., a 30-year-old registered nurse who was diagnosed with post-COVID cardiomyopathy, cognitive brain fog and pulmonary issues. "I loved hiking and being outside. I was constantly on the move and now I barely leave my couch. I barely leave my house and I can't really handle even a part time job now when I used to work full time. So that has been really difficult at age 30 to be facing those sorts of issues that I never really anticipated feeling."
Hurtenbach told the Washington Blade she appreciated Levine's visit.
"Sharing my experience today with the admiral was probably one of the more highlight moments of this experience," she said. "Knowing that the federal government is taking action, is paying attention, and listening to these stories means more to me than anything else, and especially knowing that what I've gone through over the last couple of years can be led and used into the future research and help others just like myself."
A woman named Christine told the Blade that even though she is so impacted by long COVID that she needs assistance to walk and has to pause as she speaks because of her shortness of breath, she felt attending this event was worth all the struggle to get there.
"I'm so glad I came. I learned a lot from hearing from the others," she said, who like her are trying to recover from long COVID.
Levine told the Blade that so far, she herself has not contracted COVID, and that she is double-vaccinated and double-boosted. With the president announcing the end of emergency COVID declarations on May 11, she said the administration is pushing Congress to approve extra funding for long COVID and other related needs. But how can she expect to get that through a House of Representatives full of anti-vaxxers, anti-maskers and COVID-deniers, including in GOP leadership?
"Long COVID is real and we hear you," she said. "We plan to engage Congress to talk about the funding that we need. And we'll continue to work. We do have to get past misinformation in this country, but we are here to give the correct information about COVID-19 and long COVID, and we'll continue to engage Congress on that."
Hurtenbach expressed disappointment in those colleagues in healthcare who came out publicly in opposing vaccines and mask mandates.
"I just wish they had paid better attention in school and learned more of the science," the nurse said. "I wish they would trust the science that they are supposed to be promoting for their patients as well."
Following Monday morning's public meeting, Levine held a private session with long COVID patients and Yale doctors, researchers, counselors, physical therapists and other providers. Then in the afternoon, the admiral spoke at another event, held at Yale Medical School: "A Conversation on LGBTQI+ Health and Gender-Affirming Care." Although it was closed to press, Yale Asstistant Professor of Medicine Diane Bruessow attended the event and shared with the Blade what Levine told those gathered, which is that she remains positive and optimistic.
"I think over time, things will change, and things will get better," said Levine, adding the caveats, "I don't know if they will get better everywhere in the United States. I also don't know if it's going to be quick. I think the next two years will be really, really hard." Especially with more than 270 anti-trans pieces of legislation moving their way through state legislatures.
"But I am going to stay positive. I'm going to think that over time, things will improve," Levine said, pledging that both she and the Biden administration would do everything they can to help families with trans kids. "I think the tide will turn."
Levine: Long COVID is real
Patrons of The Eagle NYC robbed of thousands
NYPD investigators believe the criminals used facial recognition to access the victims' phones and funds once they were incapacitated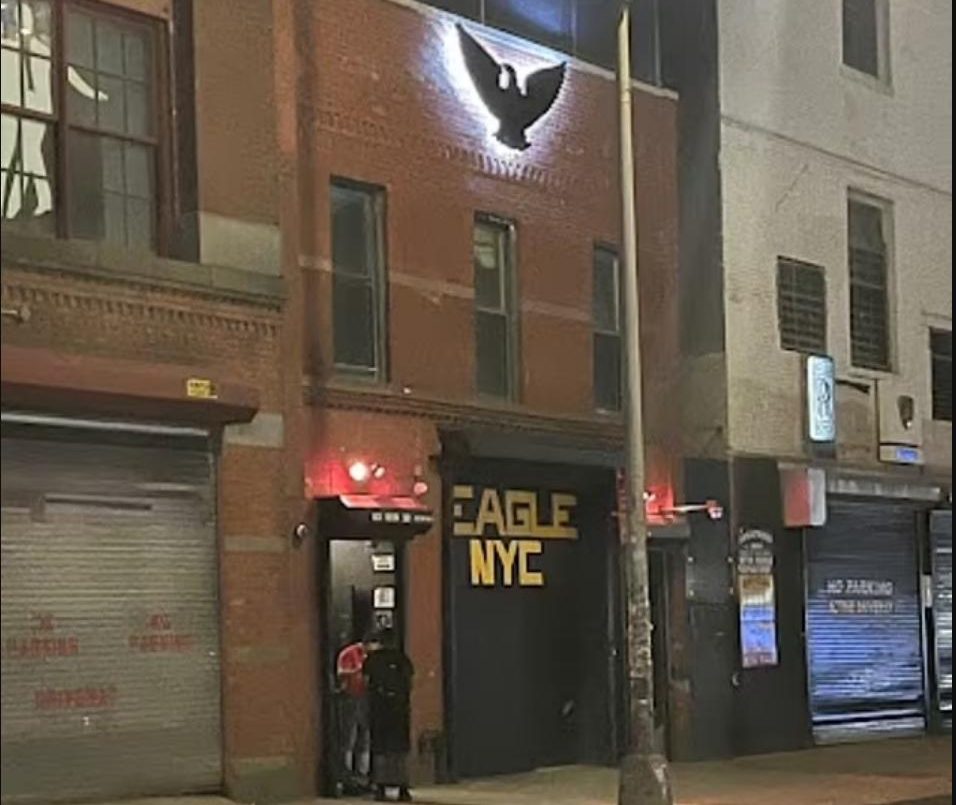 The New York City Police Department, (NYPD) confirmed that a series of robberies committed at The Eagle NYC, a Chelsea gay leather bar last Fall, had the three victims losing thousands of dollars after the criminals used facial recognition to access the victims' phones.
NBC News Out correspondent Matt Lavietes reported the three men, who were in their late 30s and 40s, visited The Eagle NYC, on separate nights in October and November and were each robbed of $1,000 to $5,000, according to the NYPD's deputy commissioner of public information.
No arrests have been made and the investigation is ongoing, authorities said.
Capt. Robert Gault of the city's 10th Precinct, who spoke about the incidents at a police community council meeting last week, told NBC News that NYPD investigators believe the criminals used facial recognition to access the victims' phones and funds once they were incapacitated.
"What we think is happening with this scheme is they're being lured away from the club, maybe to say, 'Hey, you wanna come with me? I got some good drugs,' or something like that,'" Gault said. "And then, once they get into a car to do whatever it is that they're going to do, at some point or another, they don't know what happened when they wake up."
Criminals use facial recognition to patrons at NYC gay bar:
State Department spokesperson welcomes Pope Francis' comments against criminalization laws
Ned Price is openly gay, said pontiff 'speaks with authority'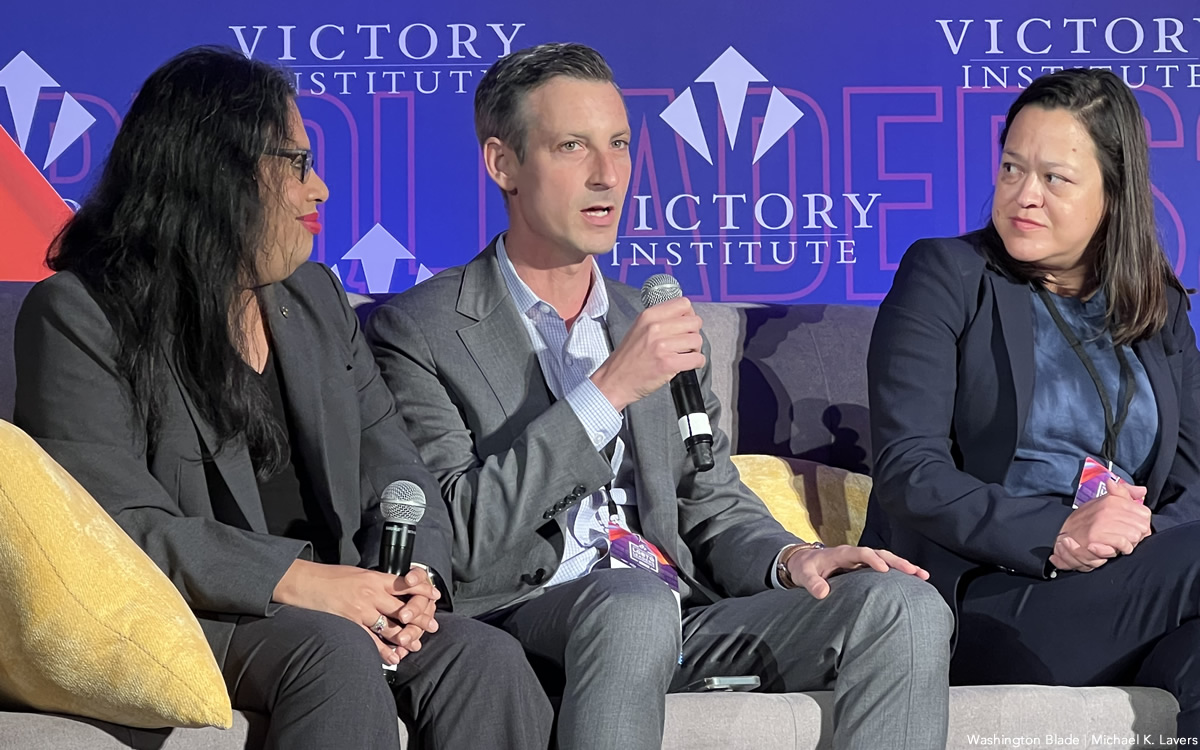 State Department spokesperson Ned Price on Monday said he welcomes Pope Francis' recent comments against criminalization laws.
"His Holiness using his voice in this way is something that will be noticed by people and governments around the world," Price told the Washington Blade during his daily press briefing. "He obviously speaks with authority that perhaps no one else can. We welcome those remarks."
Francis, Archbishop of Canterbury Justin Welby and the Rt. Rev. Ian Greenshields of the Church of Scotland on Sunday after they left South Sudan publicly denounced criminalization laws and said their respective churches should welcome LGBTQ and intersex people. Francis during an exclusive interview with the Associated Press on Jan. 24 described criminalization laws as "unjust" and said "being homosexual is not a crime."
The Vatican's tone towards LGBTQ and intersex issues has softened since Francis assumed the papacy in 2013, but the church continues to consider homosexuality a sin. The Vatican remains opposed to marriage rights for same-sex couples. 
Price on Monday referred to President Joe Biden's memorandum that committed the U.S. to promoting LGBTQ and intersex rights abroad as part of his administration's overall foreign policy.
The openly gay State Department spokesperson in May 2021 told the Blade the decriminalization of consensual same-sex sexual relations is one of the five priorities for the White House in its efforts to promote LGBTQ and intersex rights abroad. Singapore, Barbados, Antigua and Barbuda and St. Kitts and Nevis have legalized homosexuality since that interview.
"We will continue, as an administration, as a government, to doing (sic) what we can, perhaps in a very different way, but practical steps that we can to promote and protect the rights of LGBTQI+ persons around the world," said Price on Monday, referring to Biden's foreign policy memorandum.