UPDATED: Nation's largest LGBT funder changing its focus?
Advocates worry 'ATM is closed' at Arcus Foundation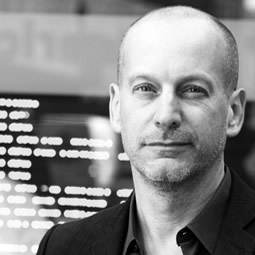 UPDATE: We learned Friday after publishing this story that Arcus founder Jon Stryker had committed $200,000 to the campaign against North Carolina's Amendment One late last week.
While most LGBT people have probably never heard of the Arcus Foundation, it has touched many of their lives.
The nation's largest grant-maker to LGBT causes, Arcus delivers money to a range of non-profit groups advocating for LGBT rights and health.
But recent changes at Arcus have some advocates quietly worrying about the future of those programs.
Arcus CEO Yvette Burton departed April 3 amid rumors she was fired by the board. Burton, a former market development research director at IBM, took the helm of Arcus in January 2011 not long after the departure of longtime activist Urvashi Vaid, who spent five years running the foundation.
"Yvette's departure was a termination," said a source with knowledge of the situation at Arcus who spoke on condition of anonymity. The source added that Burton's efforts to "clean house" at Arcus ruffled feathers throughout the organization.
Burton did not respond to several requests for comment.
An Arcus official told the Blade that the foundation's work continues but the organization would not comment specifically on Burton's departure.
"The Foundation's commitment to its mission is longstanding," Bryan Simmons, vice president of communications at Arcus, told the Blade. "Our strategies will continue to support that mission regardless of any change in leadership."
Other changes at Arcus were evident before Burton's departure. The organization's board of directors had purportedly initiated a new strategic planning process to reassess programming and giving priorities, according to the source. Many organizations were reportedly told that they would not be guaranteed funding beyond 2012, and some ties were severed altogether.
"'You'll have to qualify under our new guidelines,'" the source paraphrased the message from Arcus to some of its LGBT grant recipients. "Subtext: 'You'll probably not be getting funding moving forward.'"
In addition, several sources also contend the organization's founder, billionaire philanthropist Jon Stryker, may have ceased personally giving to political campaigns and 501(c)4 organizations, however after this article was originally published, the organizers of the campaign to stop Amendment One in North Carolina revealed that Stryker had wired the campaign $200,000 Friday. Stryker could not be reached for comment.
"Is this a prep to exit the LGBT space altogether? Possibly," the source said. "Was [Burton] a disaster? Possibly."
Another knowledgeable source noted the turnover at Arcus' main office in Kalamazoo, Mich., and said that Stryker has had a change of heart regarding his philanthropic priorities.
Some activists unaffiliated with grantee organizations have attempted to sound the alarm.
"Any change at any funder in the LGBT movement is pretty big for any orgs they fund," said Kalpana Krishnamurphy, director of the Race and Gender Justice Program at the Western States Center, an immigration-focused organization. "Changes in leadership bring new priorities and new focuses for the work."
Though Arcus has no direct programming of its own, more than $58.4 million in Arcus grants went to small programs and organizations doing LGBT-related work between 2007-2010, making it the largest grant maker to LGBT causes.
"Hearing from organizations in different areas — men who have sex with men [support organizations], HIV-specific projects, younger gay men of color — hearing that organizations have not been getting funded or getting the cold shoulder, is not the worst kept secret in the world," another prominent LGBT activist told the Blade on condition of anonymity. "The ATM is closed."
Sources familiar with Arcus said that Burton took seriously her mission to transform the way the Foundation operated and made many staffing changes quickly. One source said that Burton sought to increase grantee accountability and professionalize the organization. The staffing changes, however, may have led to a revolt by some in the organization. Vaid, who ran Arcus for five years, did not respond to emailed interview requests.
Despite the upheaval, other leaders that rely on Arcus dismissed concerns about a shift in focus and expressed confidence in the foundation's commitment to LGBT causes.
"With Arcus and, actually, all the LGBT funders, they've been consistent with their funding over a number of years, and to us and I'm sure to other organizations, that's extremely important," said Brad Sears, executive director of the Williams Institute at UCLA, which receives funding from Arcus for its research in the field of LGBT workplace issues. "When you're hiring people, and you want them to have a job now and in the future, it's great to have both funding for multiple years, and funding that is at least somewhat more flexible for general operating."
The Arcus Foundation's reach is broad. The organization has contributed to everything from the Gill Foundation, the National Gay & Lesbian Task Force and the Transgender Law Center to AIDS and HIV research, small LGBT-welcoming churches, LGBT religious advocacy groups and non-LGBT organizations that develop programming targeting LGBT people of color or other underrepresented groups within the LGBT community.
"We are not an LGBT organization — we are an organization being funded by Arcus because of the work we're doing to bridge racial justice and LGBT justice," Krishnamurphy said. "Arcus's funding in this area [is really] crucial."
"We wouldn't have been able to have our GLBT program at all," said Akaya Windwood, president of the Rockwood Leadership Institute, about Arcus's contributions. "It made it possible for us to have a robust LGBT program that focuses a lot on communities of color, underrepresented communities within the movement, and rural."
According to the most recent available IRS forms from 2010, the organization's total assets were just short of $180 million, most of that being in investments, rather than cash on hand.
The largest single contributor was the organization's founder, Stryker who gave $30,790,736. The contribution was made in 583,600 shares of Stryker Medical stock. Along with savings and securities interest and dividends, as well as assets on sales of several million dollars worth of assets, the Stryker money made the biggest chunk of the organization's nearly $50 million in revenue for 2010.
Meanwhile, after expenses and new investments, Arcus contributed $27 million to various LGBT-focused and conservation programs throughout the world in 2010, which — when compared to the Gill Foundation's nearly $12 million in disbursements that same year — makes Arcus the biggest funder of LGBT programs in the world.
"General operating support from any foundation is really critical for LGBT organizations," said Masen Davis, executive director of the Transgender Law Center. "There are still too few funders throughout the United States that are supporting LGBT equality and that can make it very difficult for organizations of any size to really work in scale to create change for our community. Arcus has been really important to us and I hope that they continue to be important to our work for years to come."
Hundreds of LGBT-focused programs at non-profits throughout the nation might not exist if not for Arcus.
"We're extremely thankful," said Troy Plummer, executive director of Reconciling Ministries — a group that pushes for LGBT inclusion in the United Methodist Church — explaining that the multi-year grants from Arcus for general operations helped the organization expand programs within the denomination.
"We have been able to consider projects that we would have never considered before the funding from the Arcus Foundation," Plummer said. "And they were intentionally strategic in wanting to build capacity of our organization, and that was very helpful, and it continues to be helpful in doing so."
Arcus's focus on intersectional work — especially in regard to race, religion and age groups — is considered vital for organizations outside what many consider the marriage-focused mainstream of the LGBT movement.
"We've observed some drift in traditional funders in amount or percentage allocation toward 'marriage equality efforts," said Cindi Love, executive director of SoulForce, whose Equality Ride targeting anti-gay policies at private colleges has been partially funded by an Arcus grant for several years. "Arcus has absolutely from the first day been one of the strongest supporters of the ride because of its emphasis on the development of the next generation of leaders within our movement."
Amid the nervousness, optimism still springs from the LGBT leaders that continue to rely on Arcus.
"I feel like Arcus has really taken care with their grantees so that they're able to build and take action when they need to, so shifts in that funding are clearly important to all the grant receivers," Plummer told the Blade. "I appreciate Arcus rethinking their strategic visioning, and what they want to do to make an impact on a large scale," saying that he was impressed with the result of the last iteration of the foundation's strategic plan.
"I don't know yet whether or not we're part of that plan," he added.
"I know that they're undergoing some strategic planning, and that Arcus has gone through quite a bit of transition, so, we're all out here cheering them on, and hoping that they get to a really solid place," said Windwood. "If Arcus thrives then that means that other organizations thrive."
Immigrant rights groups demand ICE release transgender, HIV-positive detainees
Letter notes Roxsana Hernández case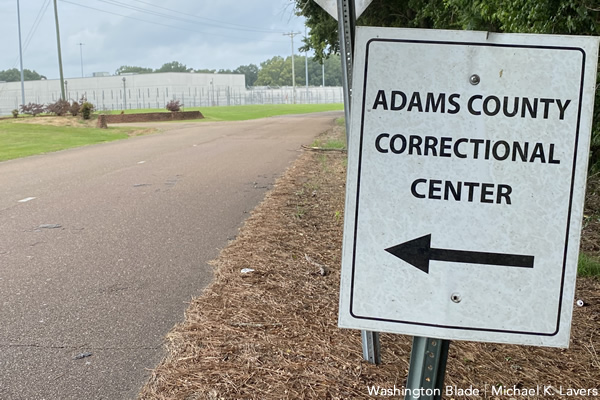 Eight immigrant advocacy groups this week demanded the release of all transgender and HIV-positive people who are in immigrant detention facilities.
Immigration Equality, the National Center for Lesbian Rights, the Transgender Law Center, the Santa Fe Dreamers Project, the Center for Victims of Torture, Familia: Trans Queer Liberation Movement, Mijente and the National Immigrant Justice Center made the request in a letter they sent to Homeland Security Secretary Alejandro Mayorkas and acting U.S. Immigration and Customs Enforcement Director Tae Johnson on June 16.
"As you know, transgender and HIV-positive people are severely suffering in U.S. immigration detention facilities," reads the letter. "Those who do not perish from mortally deficient medical negligence are regularly mistreated, isolated and sexually assaulted."
The letter notes DHS "for years" has "attempted to create conditions of confinement that are safe for these historically disenfranchised minorities."
"This has been a fool's errand," it says. "Under both Democrat and Republican leadership, DHS has wasted millions of taxpayer dollars attempting to overcome a simple and inevitable truth: It is not possible for the U.S. government to house transgender and HIV-positive asylum seekers safely. Every progressive policy, every well-meaning protocol and every specialized facility has utterly failed. This has to stop. It is in your exclusive power to put an end to this ongoing human rights atrocity."
"What makes this situation even more intolerable, is that the vast majority of the transgender and HIV-positive people suffering in immigration detention fled to the U.S. to escape persecution and torture," adds the letter. "To these asylum seekers, the U.S. is more than a symbol of liberty. It is one of the few places in the world where they may hope to build a safer future. And yet, by detaining trans and HIV-positive people in such inhumane and unsafe conditions, the U.S. government is subjecting them to some of the same kinds of mistreatment they sought to escape."
The groups in their letter demand ICE and U.S. Customs and Border Protection "to immediately release all transgender and HIV-positive people in their custody" and "review its system for identifying transgender and HIV-positive individuals, and work with stakeholders to ensure that it is effective and safe." The groups also seek the creation of a policy "that deems all transgender and HIV-positive individuals non-detainable."
The letter notes the case of Roxsana Hernández, a trans asylum seeker from Honduras with HIV who died in a New Mexico hospital on May 25, 2018, while she was in ICE custody.
Hernández's family in a lawsuit it has filed against the federal government and five private companies who were responsible for Hernández's care allege she did not have adequate access to medical care and other basic needs from the time she asked for asylum at the San Ysidro Port of Entry in San Diego on May 9, 2018, to her arrival at the Cibola County Correctional Center, a privately-run facility in Milan, N.M., a week later.
ICE in 2017 opened a unit for trans women at the Cibola County Correctional Center. It closed last year.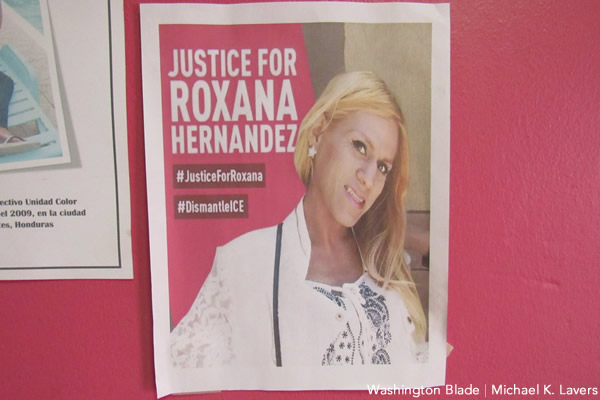 The letter also notes the case of Johana "Joa" Medina León, a trans woman with HIV from El Salvador who asked for asylum in the U.S. in 2019 after she suffered persecution in her home country because of her gender identity.
Medina was in ICE custody at the privately-run Otero County Processing Center in Chaparral, N.M., until her transfer to a hospital in nearby El Paso, Texas, on May 28, 2019. ICE on the same day released Medina from their custody.
"She became worse, worse, worse," Medina's mother, Patricia Medina de Barrientos, told the Washington Blade in an exclusive interview in the Salvadoran capital of San Salvador that took place a few weeks after Medina's death. "She asked for help because she was a nurse, but they refused. She was denied help. There was no medical attention."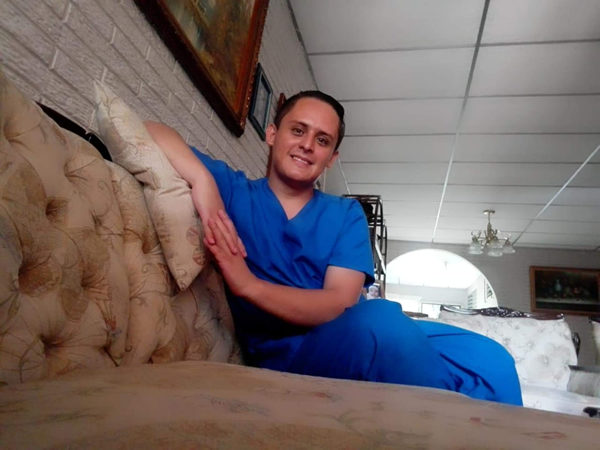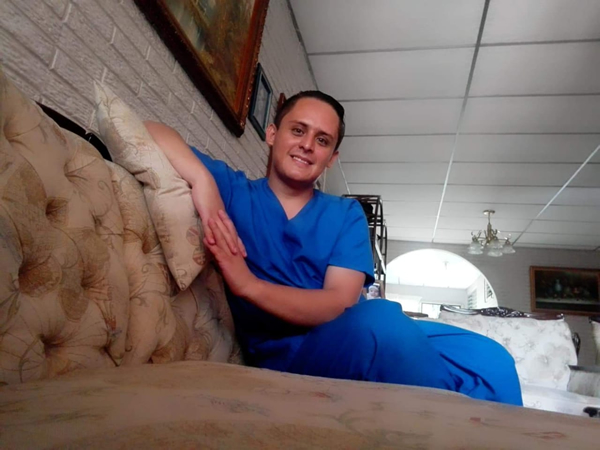 The letter also includes testimonials from dozens of other trans and/or HIV-positive people who say they suffered physical abuse and survived sexual assault while in ICE custody. They also allege they did not receive adequate health care — including access to hormones and antiretroviral drugs — while in detention.
"Throwing LGBTQ and HIV-positive asylum seekers into prison is cruel, expensive and dangerous. For transgender and HIV-positive people, it can even be deadly," said Immigration Equality Policy Director Bridget Crawford in a statement. "In response to years of consistently documented abuses against the community, the government has implemented ineffective half-measures that have utterly failed. That is why we have demanded that DHS release all transgender and HIV-positive people immediately. No one should ever be locked into prison because they fled persecution based on their sexual orientation, gender identity, or HIV status. Doing so during a pandemic is a human rights atrocity."
Immigration Equality is among the groups that have previously demanded ICE release all trans people who are in their custody. Advocacy organizations have also called for the release of people with HIV in ICE custody, especially during the COVID-19 pandemic.
DHS, which oversees ICE, has not responded to the Blade's request for comment on the June 16 letter.
Anti-LGBTQ Colorado baker loses Trans birthday cake court case
Phillips violated Colorado's ant-discrimination law citing the fact that at issue was a 'product' not freedom of speech or expression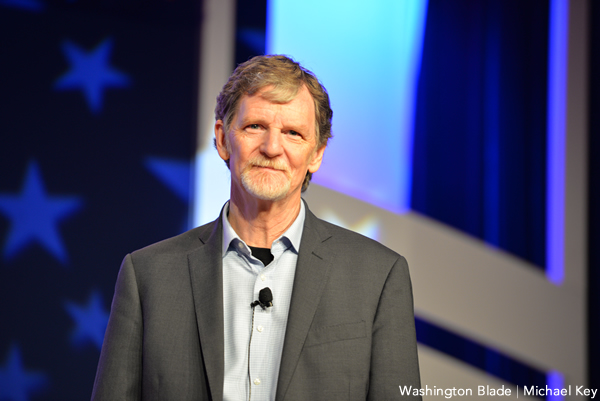 DENVER – A Colorado State District Court Judge ruled against the baker who had previously refused to bake a cake for a same-sex wedding and won at the U.S. Supreme Court a partial narrow victory in that case in 2018.
CBSN Denver reported that Denver District Judge A. Bruce Jones order that Jack Phillips violated Colorado's anti discrimination law Tuesday citing the fact that at issue was a 'product' not freedom of speech or expression.
In court documents, Jones said that Phillips refusal to make the plantiff, Autumn Scardina a cake made with blue icing on the outside and pink on the inside to celebrate her gender transition on her birthday because of her transgender status but without a written message, was in violation of the law. Phillips was ordered to pay a $500 fine.
Jones noted in his ruling that Phillips testified during a trial in March that 'he did not think someone could change their gender' and he would not celebrate "somebody who thinks that they can."
"The anti-discrimination laws are intended to ensure that members of our society who have historically been treated unfairly, who have been deprived of even the every-day right to access businesses to buy products, are no longer treated as 'others,'" the judge wrote.
The Scottsdale, Arizona based Alliance Defending Freedom, an anti-LGBTQ legal group that has been place on the Southern Poverty Law Center's Hate Watch List for spreading propaganda and lies about LGBTQ people, told CBSN that the group would appeal Jones' ruling.
"Radical activists and government officials are targeting artists like Jack because they won't promote messages on marriage and sexuality that violate their core convictions," ADF's general counsel, Kristen Waggoner, said in a media statement.
The maximum fine for each violation of Colorado's Anti-Discrimination Act is $500. But it was not clear from the ruling if the fine was for the two attempts that Scardina made to order the cake or just one.
BREAKING: A court has ruled Jack Phillips should be punished for not designing a cake celebrating a gender transition, an act that would violate his conscience.

Jack has been enduring this harassment for a decade and it must STOP.@AllianceDefends will appeal this decision.

— Kristen Waggoner (@KWaggonerADF) June 16, 2021
Supreme Court rules for religious agency seeking to reject LGBTQ families
Unanimous decision bottled up to context of city contract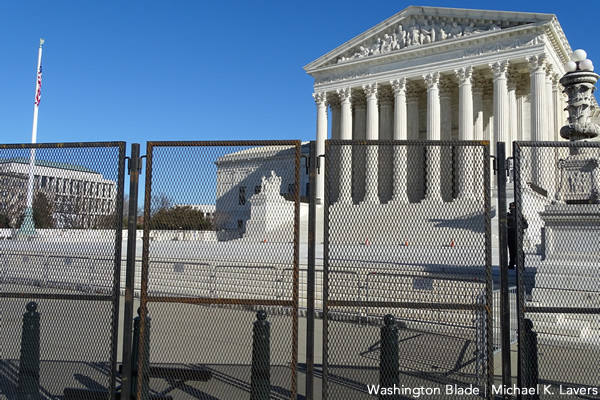 The U.S. Supreme Court ruled on Thursday in favor of a religious-affiliated foster care agency seeking to refuse child placement into LGBTQ homes, issuing a decision with limited reach that determined the City of Philadelphia's enforcement of a contract with non-discrimination provisions violates freedom of religion under the First Amendment.
In a surprise twist, the ruling was unanimous with nine justices on the court agreeing to the result in favor of Catholic Social Services, with Chief Justice John Roberts writing the opinion. As noted by SCOTUSblog, the court seemed much more divided in oral arguments, although inclined to rule for the foster care agency.
"The refusal of Philadelphia to contract with CSS for the provision of foster care services unless the agency agrees to certify same-sex couples as foster parents cannot survive strict scrutiny and violates the Free Exercise Clause of the First Amendment," Roberts writes.
Although Catholic Social Services had also contended a freedom of speech right under the First Amendment to reject same-sex couples, Roberts adds the court didn't reach a conclusion on that part of the argument.
Becket Law, which had argued in case on behalf of Catholic Social Services, crowed in a statement over its win at the Supreme Court.
"It's a beautiful day when the highest court in the land protects foster moms and the 200-year-old religious ministry that supports them," said Lori Windham, senior counsel at Becket. "Taking care of children, especially children who have been neglected and abused is a universal value that spans all ideological divides.
A key portion of the Roberts decision that could limit its reach is language specific to Philadelphia's contract with the city allowing for discretion on enforcement, which he says means the measure isn't generally applicable measure.
"Section 3.21 of the contract requires an agency to provide services defined in the contract to prospective foster parents without regard to their sexual orientation," Roberts writes. "But section 3.21 also permits exceptions to this requirement at the 'sole discretion' of the Commissioner. This inclusion of a mechanism for entirely discretionary exceptions renders the non-discrimination provision not generally applicable."
The American Civil Liberties Union, which had argued before the Supreme Court in the case and sided with the City of Philadelphia, claimed a small victory after the decision.
"The decision will not affect any foster care programs that do not have the same system for individualized exemptions that were at issue here," Leslie Cooper, deputy director of the ACLU LGBTQ & HIV Project, said in a statement. "This is good news for the more than 400,000 children in foster care across the country, who are the ones who get hurt the most if placement decisions are made based on an agency's religious beliefs rather than the child's best interest. And this decision does not allow discrimination in other taxpayer-funded government programs such as homeless shelters, disaster relief programs and health care."
Marianne Duddy-Burke, executive director of the LGBTQ Catholic group DignityUSA, initially issued a statement saying the decision opened the door to discrimination against LGBTQ families, but subsequently updated it with a reaction more attune to the decision's language.
"While we are disappointed in the specifics of today's ruling, we are relieved that the court did not allow a broad exemption to nondiscrimination provisions in foster and adoption care," Duddy-Burke said. "It remains deeply problematic that some religiously affiliated agencies continue to seek the ability to ban same-sex couples from opening their hearts and homes to children in need and undermine our hopes for expanding our families. The biases that lie at the heart of this case need to be eradicated."
David Flugman, a lawyer at the New York-based Selendy & Gay PLLC whose practice includes LGBTQ rights, said in a statement the technical nature of the Fulton is "sure to invite even more litigation."
"Today the Supreme Court held, on narrow, technical grounds, that the City of Philadelphia's attempt to ensure that Catholic Charities abide by the same non-discrimination provisions applicable to all other city contractors could not withstand Catholic Charities' religious right to refuse to screen loving same-sex couples to act as foster parents," Flugman writes. "The Court did not take up Catholic Charities' invitation to scuttle the 30 year-old test for free exercise claims that was announced in Smith v. Employment Division, which held that a neutral law of general applicability could survive even if it burdens religious practice."
The Supreme Court reversed and remanded decision of the U.S. Third Circuit of Court of Appeals, which had ruled in favor of City of Philadelphia enforcing its contract with Catholic Social Services. Both the appeals courts and the lower trial court had come to the opposite conclusion of the U.S. Supreme Court.
Notably, although the City of Philadelphia in addition to the contract it struck with Catholic Social Services has in a place LGBTQ non-discrimination ordinance, the Supreme Court determines that measure doesn't apply in the context of foster care services because it's limited to the services "made available to the public."
"Certification is not 'made available to the public' in the usual sense of the words," Roberts writes. "Certification as a foster parent is not readily accessible to the public; the process involves a customized and selective assessment that bears little resemblance to staying in a hotel, eating at a restaurant, or riding a bus."
Fatima Goss Graves, CEO of the National Women's Law Center, said in a statement the decision from the Supreme Court "is a harmful loss to the children in the foster care system in Philadelphia as well as the countless LGBTQ parents."
"Weakening the government's ability to protect their civil rights is hardly in their best interest, and we're committed to ensuring this loophole is not stretched to further justify hatred or prejudice," Graves added. "We must protect the right of every person to live without fear of discrimination because of who they are or who they love, and we must hold that value particularly close when it comes to the best interest of LGBTQ youth and the families who love them."