April 27, 2012 at 7:58 am EDT | by Chris Johnson
Hollywood comes to Capitol Hill to push for Social Security bill
A Los Angeles congresswoman beamed in support from Hollywood on Thursday to spread the word about legislation she introduced in the U.S. House to end inequities that same-sex couples face in the Social Security system.
During a news conference on Capitol Hill, Rep. Linda Sánchez (D-Calif.) said her legislation, the Social Security Equality Act, would allow gay families to gain access to the same survivor and pension benefits available to opposite-sex couples.
"The gay and lesbian population will not be told by their government that they are second-class citizens," Sánchez said. "Same-sex couples pay into Social Security — they should receive the full benefits they have earned."
Sánchez's bill, H.R. 4609, would eliminate the Social Security Administration policy denying same-sex couples benefits. According to Sánchez, gay male couples receive 18 percent less in Social Security benefits than straight couples, while lesbian couples receive 31 percent less because women statistically earn less money.
Four types of Social Security benefits are denied to same-sex couples: spousal retirement benefits after one spouse retires; disability benefits if one spouse becomes disabled; survivor's benefits, which allow surviving spouses to claim either their own Social Security benefit or an amount equal to the compensation that would have been afforded to their deceased spouse; and the death benefit, which provides for burial expenses.
The legislation, which was previously introduced in 2010, has 95 co-sponsors: all Democrats. The four openly gay members of Congress — Reps. Barney Frank (D-Mass.), Tammy Baldwin (D-Wis.), Jared Polis (D-Colo.) and David Cicilline (D-R.I.) — have all signed on in support.
Celebrities appeared at the news conference to advocate for the legislation alongside the lawmakers and LGBT advocates. Supporters carried signs reading "Outlaw Social Security Discrimination" and "Stop Economic Violence Against LGBT Seniors." One sign was a mock Social Security card with "same-sex couples" written in the line allotted for a name.
George Takei, famed for his role as "Mr. Sulu" in the "Star Trek" series, appeared with his spouse, Brad Altman, and decried the hardship that same-sex couples face because of inequities in the Social Security system as "unfair and unjust."
"There are same-sex couples who are denied equality often when misfortune befalls same-sex couples," Takei said. "One falls ill, or tragically one might pass away. A survivor is left not only grieving, but financially insecure — and often the home they've built together, shared together is lost."
Hal Sparks, known for his role as "Michael" in Showtime's "Queer as Folk," also spoke out against the current system for putting LGBT seniors in a position that is "not only emotionally difficult, but financially or physically dangerous."
"It is odd for me, at this very moment, that as the law stands, I have rights that many of the people who are standing behind me, to my right and my left, do not have," Sparks said. "If the law is not changed, they are headed toward a future that is more limited, more fractured and, quite frankly, more dangerous than mine."
Another speaker at the event felt the discrimination under the current Social Security system firsthand. Alice Herman, from Los Angeles, a spokesperson for the grassroots group "Rock for Equality," talked about the difficulties she faced after losing Sylvia, her partner of 45 years.
Even though both had paid into Social Security for more than 50 years, Herman at the age of 73 wasn't able to receive survivor benefits following the death of her partner, who had a greater income. While Herman was a social worker, her partner worked in business and climbed the corporate ladder.
"When she died, much to my amazement, Social Security denied me the death benefit, then Social Security refused to provide me with the survivor's benefit," Herman said. "These denials came even though we were legally married. They dismissed our 45 together, our 45 years of love and commitment, our 45 years of contributing to society as meaningless."
Had she been able to receive these benefits, Herman said she would have been able to stay in her home. However, she was forced to find another place to live because the only other option would be living in her car.
LGBT advocates also railed against the Social Security system for not providing gay couples the same benefits as others.
Lorri Jean, CEO of the L.A. Gay & Lesbian Center, said same-sex couples pay into Social Security with every paycheck, but are unable to reap the full benefits of the system.
"Every single month, the L.A. Gay & Lesbian Center provides programs and services to thousands of lesbian, gay, bisexual and transgender seniors," Jean said. "Too many come because they have been denied Social Security benefits."
Rea Carey, executive director of the National Gay & Lesbian Task Force, commended Sanchez for introducing the legislation and emphasized Social Security's effectiveness at being "one of the most successful anti-poverty programs in the nation's history."
"The Social Security Equality Act begins to give same-sex couples the dignity they deserve and the financial security they desperately need," Carey said. "In a time of flat income for most Americans and disappearing pensions, it is absolutely vital for the government to protect our most vulnerable."
Michael Adams, executive director of Services & Advocacy for GLBT Elders, or SAGE, also stressed the need for the bill as a way to help LGBT elders.
"Whether it's our LGBT community or our community as a whole, our elders are our pioneers," Adams said. "They are the people who led the way for us, and the fact that in 2012, we are still having this argument over whether LGBT elders would be treated with dignity and respect and tolerance is outrageous."
Adams said most seniors rely on Social Security for at least half of their retirement income, and LGBT elders need Social Security even more because they're more likely to be living in poverty than opposite-sex couples. Additionally, Adams said LGBT elders are more likely to live single in their old age, and one-third of single elders rely on Social Security for their entire retirement income.
Despite the push by advocates, movement in the Republican-controlled House is unlikely. Nonetheless, Sánchez said she's hopeful the legislation will receive a hearing in the House Ways & Means Committee, which will have jurisdiction over the bill.
Sánchez said she hasn't had the opportunity to have a conversation with Chairman Dave Camp (R-Mich.) about the bill because it has just been introduced, but said "that conversation will be taking place in the near future." The Ways & Means Committee didn't respond to a request for comment on the measure.
The legislation is being introduced relatively late in the 112th Congress compared to other LGBT bills, which were introduced at the start of last year. Sánchez said the bill was being introduced at this time because "there were certain legislative nuances to the bill that we had to work out."
Advocates at the news conference also said talks were underway about a Senate companion, although no one would identify any potential Senate sponsors or give an estimate on when the legislation would be introduced.
It's unclear whether the bill would be necessary if the Defense of Marriage Act, which prohibits federal recognition of same-sex couples, were overturned, or if further revision would be needed after DOMA is lifted to ensure same-sex couples are eligible for Social Security benefits.
Sánchez said she wants to push for DOMA repeal as she advocates for the Social Security Equality Act.
"Ultimately, DOMA is an issue that we have to deal with, and the preferable route would be to repeal DOMA," Sánchez said. "But this is one step we can make on the path to making that happen and we're hoping that if we get the support that we need and the grassroots to have this legislation pass — because it's such a clear case of economic discrimination — then that undermines the arguments in DOMA."
Jean talked about the need to overturn DOMA at the same time she pushed for passage of the new legislation.
"Of course, we still need to repeal the Defense of Marriage Act and ensure that same-sex couples are given all of the rights that are straight brothers and sisters enjoy," Jean said. "But until that day, the Social Security Equality Act will make a crucial difference to countless elderly people."
Chris Johnson is Chief Political & White House Reporter for the Washington Blade. Johnson is a member of the White House Correspondents' Association. Follow Chris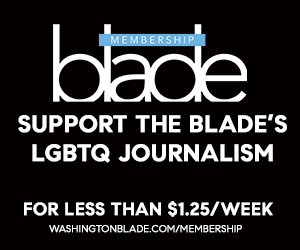 Sign Up for Blade eBlasts