Money race underway in Maryland
Up to $7 million needed for marriage fight; O'Malley to host beach fundraiser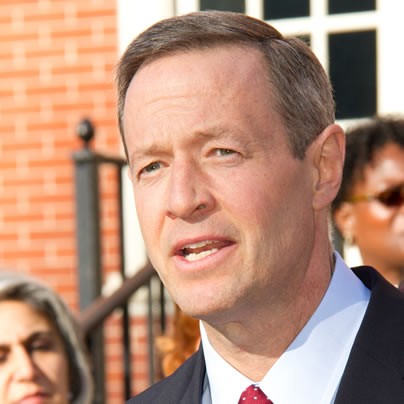 Marylanders for Marriage Equality is confident it can run a "winning campaign" to defeat a voter referendum seeking to kill Maryland's same-sex marriage law on a budget of between $5 million and $7 million, according to the organization's campaign manager, Josh Levin.
"We feel good about that budget," Levin told the Blade last week. "We feel like we'll be able to do the things we need to do thanks to the effort of our coalition and our partners who are going to be talking to voters, who are going to be helping us in ways that I'm not sure are always the case in other campaigns."
Levin's comments came at a time when virtually all of the state's political observers believe opponents of the marriage equality law will obtain far more than the number of petition signatures they need to place the referendum on the ballot in the Nov. 6 election.
The referendum language, which the Maryland State Board of Elections won't draft until August, is expected to ask voters to approve or overturn a law passed earlier this year by the Maryland General Assembly legalizing same-sex marriage. The law also allows churches and religious organizations to refuse to perform such marriages.
Both sides have begun raising and spending money to wage their respective campaigns for and against the same-sex marriage law. But Maryland's election law doesn't require the campaigns to publicly disclose the amount of money they have raised or spent until Oct. 12, when the first of three campaign finance reports for a state referendum is due to be filed, according to Jared DeMarinis, a spokesperson for the election board.
He said the second campaign finance report must be filed on Oct. 26 and the third on Nov. 27, 21 days after the election.
DeMarinis said the election law requires organizations seeking to place the marriage equality law on the ballot in a referendum to file finance reports during the petition gathering process, which began earlier this year and continues through June 30. Those groups were required to disclose the receipt and expenditure of funds linked solely to the petition process during the past several months.
In what may come as a surprise to advocates of campaign finance disclosure laws, Marylanders for Marriage Equality isn't required to disclose the amount of money it raises and spends and the names of its first round of donors until Oct. 12. The identity of its donors that contribute money between Oct. 26 and Election Day on Nov. 6 won't have to be disclosed until 21 days after the election.
When asked last week by the Blade how much the campaign has raised so far, Levin said, "I don't think I'm going to comment on that one."
Some LGBT rights advocates in Maryland and elsewhere have expressed concern that Marylanders for Marriage Equality will need as much as $10 million to $12 million to wage an effective campaign to defeat the referendum and allow the same-sex marriage law to take effect.
These advocates, most of whom spoke to the Blade on condition that they not be identified, said Maryland's marriage equality campaign will be competing for big donors and other contributors with the marriage equality campaigns in Maine, Minnesota and Washington State, where similar marriage referendums will be on the ballot in November.
The big donors, both gay and LGBT-supportive allies, are also being lobbied heavily to make large contributions to President Obama's re-election campaign, placing further strain on the pool of funds needed by the pro-same-sex marriage campaigns.
"I don't see Maryland having a very easy time pulling $10 million out to run this," said Andy Szekeres, a professional fundraiser from Denver, who's gay.
Szekeres is the former partner in a Denver-based fundraising company that raised more than $37 million for various political campaigns over the past several years.
"I think they're grossly underestimating the resources that they're going to need," he said of Marylanders for Marriage Equality.
According to Szekeres, who was hired last year to help the statewide LGBT group Equality Maryland boost its fundraising efforts, the marriage equality side in Maryland must purchase TV ads in the expensive Washington, D.C. and Baltimore media markets.
He said he sees no evidence so far that the campaign has begun to buy and reserve TV ad time now, when the cost is lower than it will be in September and October, when the referendum campaign heats up and the Obama campaign and Maryland congressional candidates flood the airways with TV commercials.
Evan Wolfson, executive director of the national marriage equality advocacy group Freedom to Marry, said his group is "deeply embedded" in the marriage referendum campaigns in Maine, Minnesota, and Washington State and is helping those campaigns raise money. He told the Blade that the money needed to win marriage equality in those three states "will well exceed $25 million."
He said Maryland's marriage equality campaign will need "$10 million plus" to successfully fend off the referendum seeking to kill the state's same-sex marriage law.
Wolfson has declined to comment on why Freedom to Marry has not joined the coalition of groups that that formed Marylanders for Marriage Equality. Campaign finance reports filed in Maine, Minnesota, and Washington show that Freedom to Marry has contributed thousands of dollars to the marriage equality campaigns in those states.
Levin and other officials with Marylanders for Marriage Equality dispute Szekeres' and Wolfson's assessment of the campaign's fundraising needs, saying they believe they will have the resources to run an aggressive and effective grassroots campaign throughout the state.
"I'm not worried," said Levin. "We've got a lot of folks around the country who are working on this issue and we've got four states where it's on the ballot. And I think that supporters around the country are going to look at all four states. Hopefully they'll support all four."
Levin pointed to a poll last month commissioned by the campaign and conducted by the firm Public Policy Polling showing support for the same-sex marriage law leading among likely voters in Maryland by a margin of 57 percent to 37 percent. The same poll showed the marriage equality side leading among black voters in the state by a margin of 55 percent to 36 percent.
The poll findings, released on May 24, showed a dramatic increase in support of same-sex marriage by black voters following President Obama's announcement that he and first lady Michelle Obama believe gay and lesbian couples should be allowed to legally marry.
Although the Public Policy Polling poll was commissioned by Marylanders for Marriage Equality, officials with the group note that a separate ABC News-Washington Post poll released around the same time found that 59 percent of blacks across the country expressed support for same-sex marriage.
"I think we've opened some eyes and changed some minds about Maryland here in the last couple of months," Levin said. "Our poll numbers are probably the best in the country of the states where we are looking at this issue on the ballot right now."
He added, "I know that I'm learning from my fellow campaign managers in the other states about what's working there. We're talking. We're trying to work together. It's not a rivalry. It's a partnership. We all want to move this forward."
Marylanders for Marriage Equality spokesperson Kevin Nix also points out that the group's coalition partners are especially influential and knowledgeable on Maryland politics. They include the NAACP of Maryland, the ACLU of Maryland, Equality Maryland, the Human Rights Campaign, the National Gay and Lesbian Task Force, and the Service Employees International Union (SEIU) of Maryland, among other organizations.
LGBT advocates say the marriage equality side is likely to benefit from Maryland's status as a solid Democratic state expected to vote strongly for Obama in the presidential election taking place at the same time as the marriage referendum. With polls showing that Democratic voters in general and Obama voters in particular tend to support same-sex marriage rights at higher levels than other voters, the presidential election will likely be a major boost to the campaign in favor of Maryland's marriage equality law.
Polls conducted earlier this year also showed that as many as 30 percent of Maryland voters saying they plan to vote for Republican presidential candidate Mitt Romney also support same-sex marriage.
LGBT advocates in Maryland are also hopeful that Gov. Martin O'Malley, who enjoys widespread popularity throughout the state, will follow through with his promise to campaign vigorously in support of the same-sex marriage law and help raise money for the campaign. O'Malley has been credited with playing a key role in persuading the legislature to pass the law.
O'Malley's chief fundraising consultant, Colleen Martin Lauer of the fundraising firm Martin-Lauer Associates, is working with the campaign, Lauer told the Blade. She declined to provide details on what her firm is doing, deferring inquires to the campaign.
O'Malley and Maryland House Speaker Michael E. Busch (D-Anne Arundel County) are scheduled to co-host a June 26 fundraiser in Ocean City for Marylanders for Marriage Equality. According to the Washington Post, tickets for the event start at $1,000.
Szekeres said he's rooting for the success of the Maryland campaign as well as the pro-marriage equality campaigns in Maine, Minnesota and Washington. But he said other states have had similarly strong coalitions, with polling numbers showing the same-sex marriage side ahead. He notes that same-sex marriage has lost in each of the 32 states that have had ballot measures on the issue.
The 2008 approval of California's Proposition 8, which overturned that state's gay marriage law, and the 2009 defeat of a same-sex marriage law approved by the Maine legislature that year were especially heartbreaking, Szekeres and others familiar with those ballot measures said.
California voters approved Proposition 8 by a margin of 52 to 48 percent following polling numbers showing the marriage equality side was ahead. Polls showed that Maine's same-sex marriage law would survive the referendum vote shortly before voters rejected the law by a margin of 53 to 47 percent.
Opponents of a Maine same-sex marriage law passed by the state legislature initiated the 2009 referendum, which killed the law before it took effect. This year's referendum in Maine was initiated by same-sex marriage supporters, who want Maine to become the first state to put a same-sex marriage law in place through a popular election.
"We lose these things 52 to 48 percent across the country," said Szekeres. "I've been at these things and our polling showed we were much higher in Maine [in 2009] than we were. People lie to pollsters. They don't want to be bigots to the pollsters but they are when they go vote."
He and others familiar with same-sex marriage ballot campaigns have said TV ads by opponents that allege that gay marriage is harmful to children and the traditional family continue to succeed in persuading a majority of voters to turn against marriage equality.
"Again, if they think they can run this on a shoestring budget because 57 percent of the people six months out from the election tell pollsters they support us, that's not going to happen," said Szekeres in discussing the Maryland referendum. "There will be a lot of negative advertising and negative advertising works. And we just don't seem to have an effective response."
Nix said Marylanders for Marriage Equality retained the D.C.-based national advertising firm Dixon-Davis Media Group to prepare the campaign's TV ads on behalf of the same-sex marriage law.
The firm's website describes itself as a "full-service strategic communications company and advertising agency serving Democratic candidates, campaigns and causes."
Nix said the campaign has also retained the Hart Research polling company to conduct internal polls to help the campaign develop the best possible messages for persuading voters to support marriage equality.
Matthew Crenson, professor emeritus of political science at Johns Hopkins University in Baltimore, said he has observed a "shift in the electorate" that is likely to break the gay marriage losing streak on ballot measures.
"I think there's a better than 50-50 chance that Maryland will become the first state to approve gay marriage in a referendum," he said.
"One decisive event was when the NAACP endorsed [marriage equality] because African Americans in Maryland, especially those closely attached to churches, have traditionally been opposed to gay marriage and gay rights," he said.
"But the NAACP defined this as a civil rights issue, which is similar to the kind of issues that African Americans have raised in the past," he said. "And I think that introduced a kind of shift in the electorate that makes it more than likely that [same-sex marriage] will pass."
Maryland political observer Michael J. Wilson, a Montgomery County resident and former executive director of the national group Americans for Democratic Action, said he too senses a shift in the direction of voters upholding the same-sex marriage law.
"I think there's reason to be hopeful," he said, adding that the ability of the marriage equality side to turn out their supporters at the polls will be a crucial factor in the outcome.
"In Maryland, if you carry Baltimore City, Baltimore County, Montgomery County, and Prince George's County by a big enough margin, you win a statewide election," Wilson said. "If you carry those big counties you can win the state, even if the other counties go 60 to 40 against you."
Michael K. Lavers contributed to this report.
Bomb threat shuts down Takoma Park holiday drag show
MotorKat evacuated when Tara Hoot was performing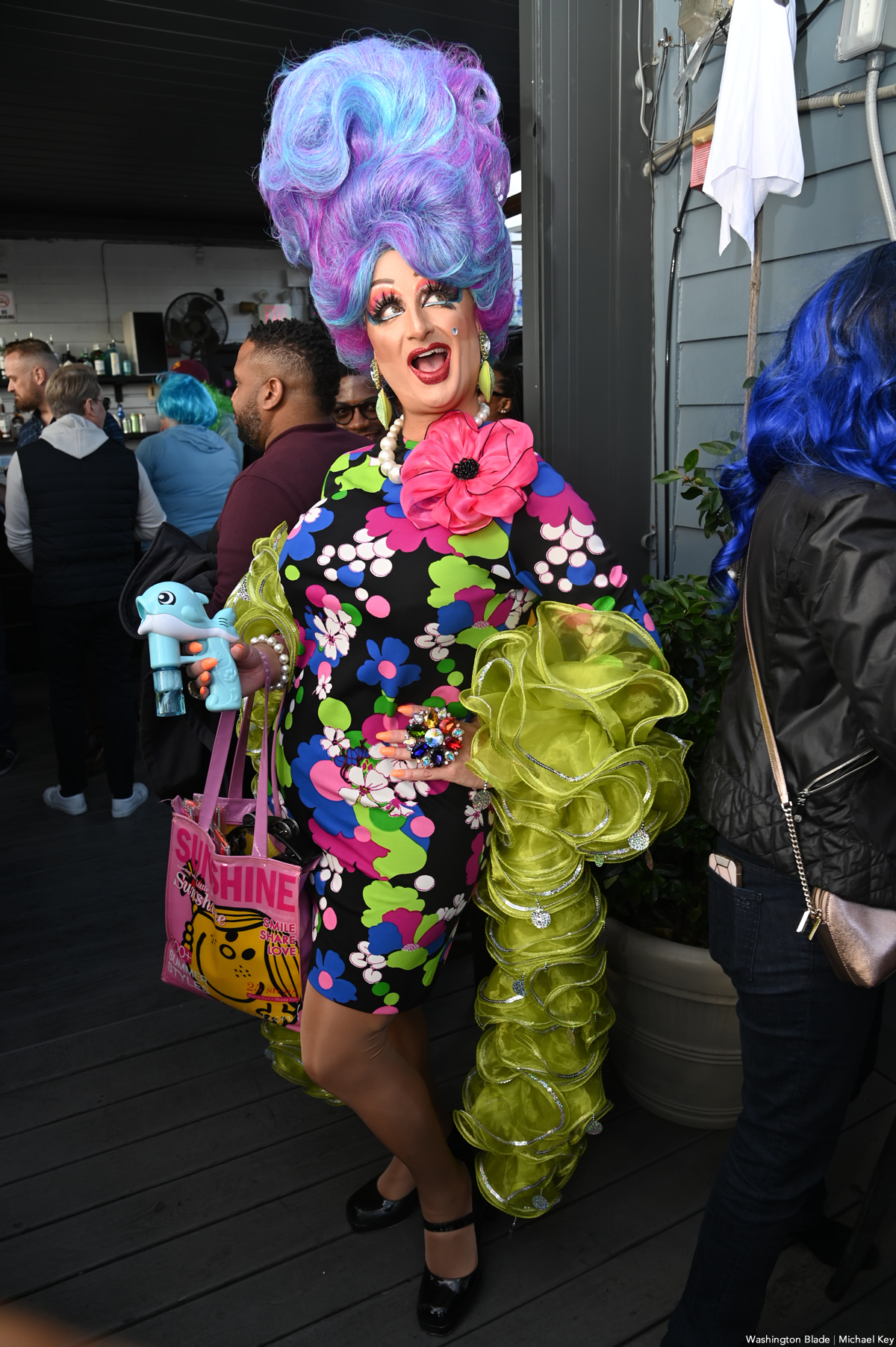 Police cordoned off a popular strip in Takoma Park on Saturday after a bomb threat shut down businesses, including a holiday performance by drag artist Tara Hoot.
MotorKat General Manager Mike Rothman told the Washington Blade that Takoma Park police notified them of a bomb threat to their business around noon.
Tara Hoot was delivering a holiday brunch performance at the MotorKat when the evacuation order came in.
Rothman said they were notified "five minutes into her final performance." Tara Hoot herself told the audience to leave for their safety.
Police proceeded to tape off the area and evacuated all businesses between Eastern and South Carroll Avenues, including TakomaBevCo, which is co-owned by MotorKat Wine Director Seth Cook.
Cook told the Blade that police brought in "bomb-sniffing dogs" to clear the area before allowing businesses to reopen around 2 p.m.
"The timing is unfortunate as this is one of the busiest weekends before the holidays," Cook said.
Rothman was also disappointed by the lost revenue due to what ultimately was a false threat, but he was firm that the Takoma Park LGBTQ community is resilient and would continue to thrive despite this setback.
"Takoma Park is a pretty proud and resilient community," he said. "I don't expect people to lay down and be scared by this."
MotorKat and TakomaBevCo reopened for business around 3 p.m.
Comings & Goings
Jimmy Alexander joins WTOP News as a feature reporter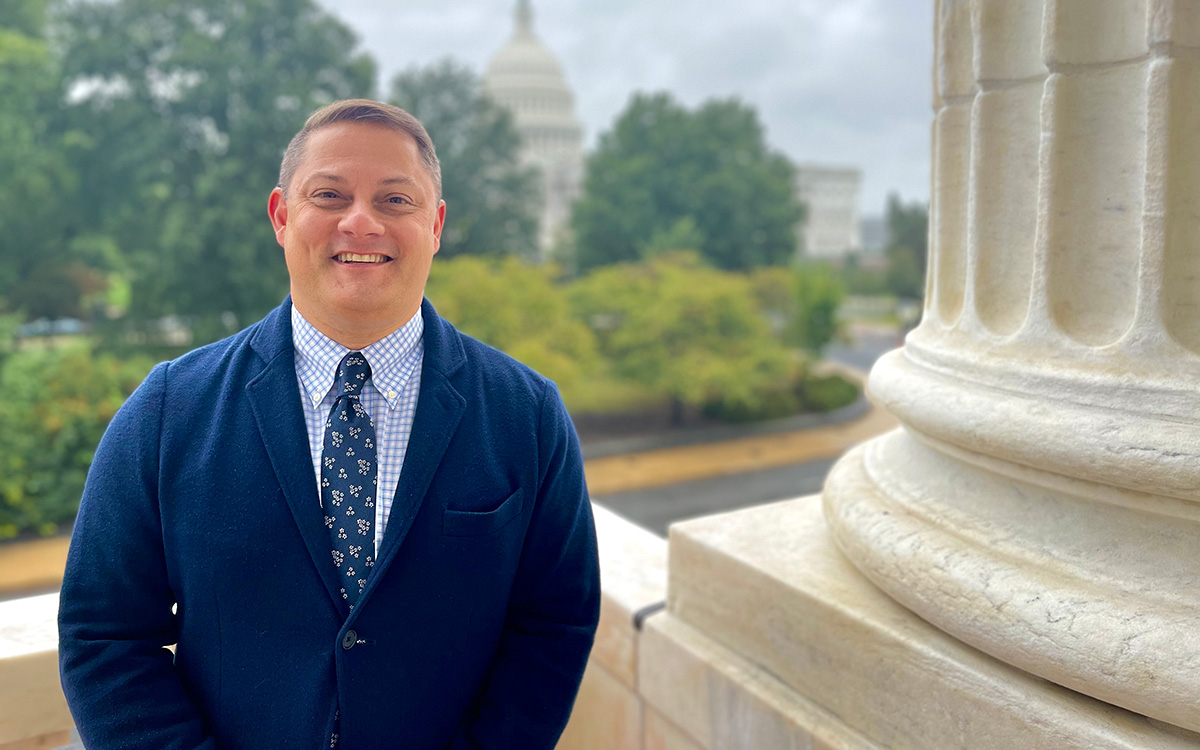 The Comings & Goings column is about sharing the professional successes of our community. We want to recognize those landing new jobs, new clients for their business, joining boards of organizations, and other achievements. Please share your successes with us at: [email protected]. 
Congratulations to Jimmy Alexander who has been hired at WTOP News as a feature reporter. Over the last four years Alexander has been covering stories as varied as the Jan. 6 insurrection to the 17th Street High Heel Race. He has been working as a co-host on the Jack Diamond Morning show on Cumulus Media, Manning Media. On his acceptance of the new position Alexander said, "I'm thrilled that at WTOP News, I will be able to focus on events and people that bring hope to your heart and a smile to your face."
Alexander is a versatile multimedia broadcaster with more than two decades of experience covering both major news events in Washington D.C., and important human-interest stories outside the Beltway. He is an engaging interviewer with a track record of having compelling conversations with the biggest names in government and show business, from presidents to Paul McCartney. Prior to this he worked as a freelance feature reporter with WDCW50-DC News Now. He is also with Writer-20, Twenty Country Countdown, United Stations Radio Networks. There he developed a concept for a countdown show featuring country music's weekly top songs on-air and online and prepared weekly scripts for a three-hour show.
Alexander conducted the only Jan. 6, 2021 interview with "The QAnon Shaman" Jacob Chansley. Since 2016, he has served by request of the D.C. mayor as official host of the 17th Street High Heel Race, the city's second largest LGBTQ event of the year. He is featured in the documentary "Joan Rivers: A Piece of Work," and is a frequent guest on CNN's Morning Show "New Day." He covered White House visits by Queen Elizabeth, the Pope, and the yearly Easter Egg Roll. He also won $10,000 on the game show "Pyramid."
LGBTQ University of Maryland students prepare to celebrate Hanukkah
Eight-day festival to begin Thursday night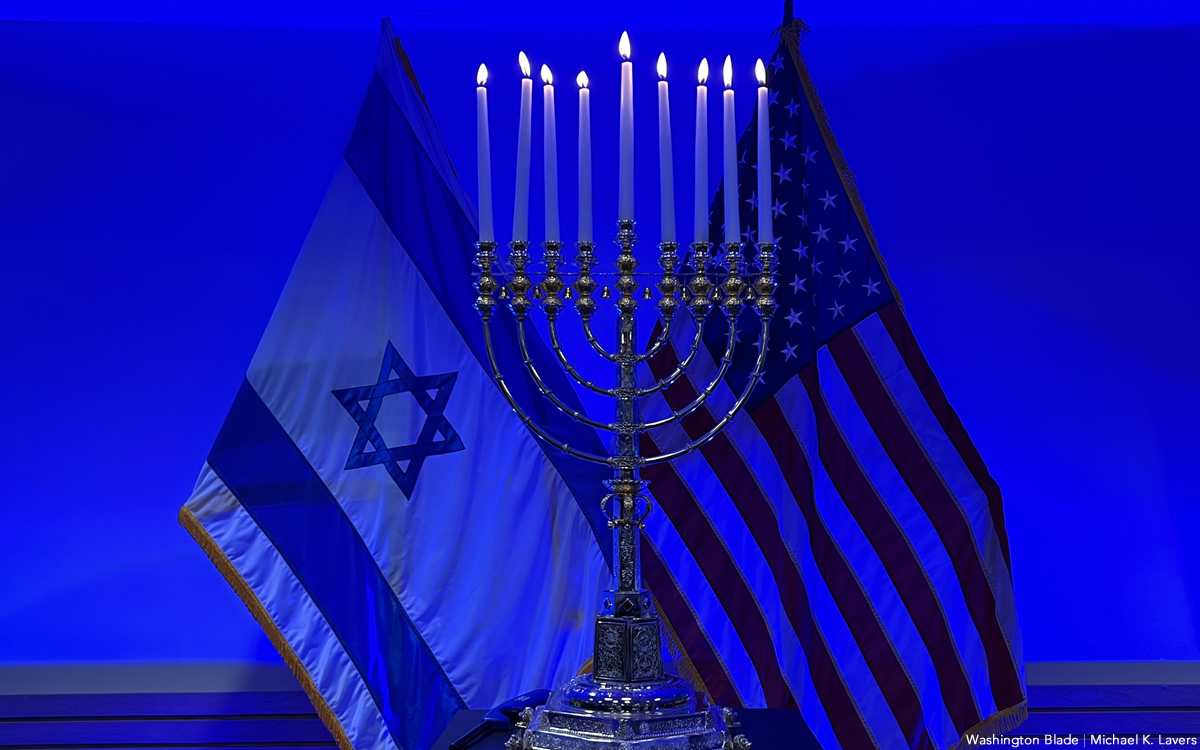 A number of Hanukkah events for LGBTQ students will take place at the University of Maryland this week.
Queer Jewish students and allies are welcome to attend Crazy Cozy Chill Chanukah Celebration on Sunday at the University of Maryland Hillel. Hamsa, home to queer Jewish life on campus, hosted a study break with hot drinks, snacks and games and a chance to welcome Hanukkah early. 
The first night of Hanukkah is Thursday.
Chabad UMD is hosting a menorah lighting on Thursday in front of McKeldin Library and plans to mention the war between Israel and Hamas, according to Rabbi Eli Backman of Chabad UMD. The event is going to be a focus on the positivity and the message of the Hanukkah story.  
"We've been around for thousands of years and all those who've tried to make sure that we didn't live to see the next generation (is) no longer here," Backman said. "That message will really resonate at home for the holiday."
The story of the Maccabees is one of the few stories where Jewish people fought, Backman said. In Jewish history, people don't see a military response in many of the other holiday moments.
"It should give us a boost of energy," Backman said. "A boost of strength (and) a boost of hope."
Part of the Hanukkah story's message is that Jewish people were in a position that they needed to form a military to secure their borders, Backman said. And they succeeded. 
For some, celebrating Hanukkah depends on the people they're around, Florence Miller, a sophomore English and Women, Gender and Sexuality Studies who is Hamsa's president, said.
Miller is agnostic and does not find themself to be a religious person, but the thing that has kept their Jewish faith is the people about whom they care are Jewish and the sense of community that comes from being Jewish.
"I just wanted to do a Hanukkah event," Miller said. "It's been a good refresher with how the semester has been."
Miller last year attended a Hanukkah party and played a game of dreidel, a spinning top with four sides marked with a Hebrew letter. The people who were in attendance wanted to bet something, but the only thing they could find were pinto beans.
"When I took them out of my pocket one got stuck in there," Miller said. "I still have that bean."
For some Jewish students it's important to go to Hanukkah events like Hamsa's celebration to be around like-minded Jewish people, Yarden Shestopal, a sophomore American Studies major, said.
"Which is why I like Hamsa," Shestopal said. "Since we're all queer people or allies we kind of share that mentality of acceptance."
Being part of the Jewish community at the University of Maryland has opened Shestopal up to how diverse the LGBTQ and Jewish communities are. Shestopal this year, however, debated whether or not to put his menorah up on the windowsill of his apartment because of the rise in anti-Semitism due to the war in Israel.  
"I'm pretty sure I am going to put the menorah in my window," Shestopal said. "The only way to combat anti-Semitism is to stay visible." 
Several University of Maryland students lived in Israel before or during their time at the university.
Elisheva Greene, a junior animal science major, went to seminary, a school for women to learn about Torah, during the pandemic. Greene said celebrating Hanukkah while a war is happening is going to be a similar feeling. 
"I'm able to do what I can from over here by supporting my family and friends," Greene said. "The biggest thing I can be doing is living my life as a Jewish person and showing that I express my Judaism and I'm not afraid."
Greene recalled they could not go more than 1,000 feet from home for two months and Hanukkah took place during that time. While it was difficult, Greene said people still put their menorahs on their windowsill.
"Knowing the resilience the Israelis have and the fact people like to show their Jewishness (is not) gonna stop me," Greene said. "Like there's a war going on but you're gonna be a Jew and you're gonna flaunt that."