5 questions as Supreme Court considers marriage
Justices poised to issue most significant rulings on gay rights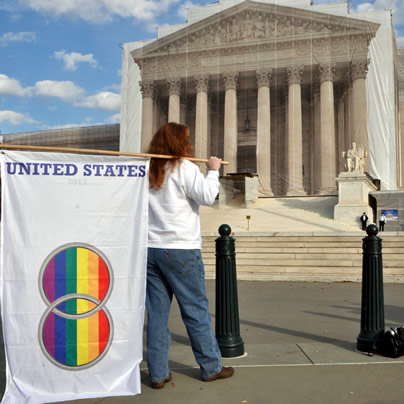 In the wake of last week's announcement that the Supreme Court will hear lawsuits challenging California's Proposition 8 and the Defense of Marriage Act, observers over the next several months will wait on pins and needles for what may be the most significant ruling on LGBT rights in history.
Here are five questions that advocates are pondering as they await decisions in Hollingsworth v. Perry, the challenge to Prop 8, and Windsor v. United States, the lawsuit against DOMA.
1. Will the Supreme Court overturn same-sex marriage bans in all states?
By taking up the Prop 8 case, as opposed to letting stand a more narrow ruling from the U.S. Ninth Circuit Court of Appeals that applied only to California, the court has an opportunity to make a ruling that not only says the same-sex marriage ban in California is unconstitutional, but marriage bans in all states throughout the country are as well.
David Boies, a co-counsel representing plaintiffs in the lawsuit on behalf of the American Foundation for Equal Rights, said during a conference call last week justices would produce a ruling that's more expansive than California if they decide the Prop 8 case on its merits and find it violates the U.S. Constitution.
"That would mean there would be a fundamental right to marry in every state in the country because obviously the federal constitution applies to every state in the country," Boies said.
Much in the same way that the 1967 ruling in Loving v. Virginia ended bans on interracial marriage in all states, such a sweeping decision from the Supreme Court in Prop 8 would require the 41 states that don't have same-sex marriage on the books to allow gay couples to marry. Not only would marriage equality be restored to California, it would be extended to the estimated 646,000 same-sex couples throughout the country.
Jon Davidson, legal director at Lambda Legal, said this outcome is one of several possible ways the Supreme Court could rule if justices find a constitutional right to marry under either the due process clause or the equal protection clause.
"Either finding that we share the fundamental right or finding that it violates equal protection generally to not allow same-sex couples to marry when different-sex couples can would extend the right to marry to all 50 states," Davidson said.
Still, the general consensus among legal experts is that the court isn't likely to reach this outcome when it's possible for them to reach a ruling on more narrow grounds that would just affect California or a limited number of states.
Doug NeJaime, who's gay and a law professor at Loyola Law School, posited that since California allows domestic partnerships but not same-sex marriage, the court could produce a ruling requiring all eight states that offer either domestic partnerships or civil unions to provide full marriage rights for gay couples. Those states are California, Illinois, Rhode Island, Delaware, Hawaii, Oregon, Nevada and New Jersey.
"The middle course would be one that says states that have allowed same-sex couples to have comprehensive domestic partnerships or civil unions don't have an adequate justification for preventing them from marrying," NeJaime said. "That would affect more than just California, but it wouldn't affect every state."
2. What happens if the Supreme Court upholds both Prop 8 and DOMA?
In what he might be considered the opposite scenario compared to the situation described above, the Supreme Court could also deal a devastating blow to LGBT advocates by upholding either or both Prop 8 and DOMA.
A loss for LGBT advocates in the court in the Prop 8 case would mean they would need another voter-initiated ballot campaign to repeal the measure ballot, much like the divisive and expensive 2008 campaign that led to its passage by voters.
John O'Connor, the newly appointed executive director of Equality California, said "everything's on the table" for discussion in the event that the Supreme Court determines the ban on same-sex marriage in California is constitutional.
"The question about would we go back to the ballot — it's absolutely a possibility," O'Connor said. "The timing and the tactics and all of that remain to be determined between now and the time the decision comes down but it's absolutely a priority for us to plan that."
Asked whether he'd rule out the possibility of going back to the ballot in 2014 at this point, O'Connor replied, "Absolutely not. I wouldn't rule it out. That's definitely a possibility that we'll be considering."
Similarly, a decision upholding DOMA would mean that Congress would have to act to repeal DOMA — mostly likely using the Respect for Marriage Act as the vehicle to undo the law. That would be a difficult task as long as Republicans remain in control of the House.
Rep. Jerrold Nadler (D-N.Y.), the chief sponsor of the Respect for Marriage Act, said in a statement he intends to work with Congress to build support for the legislation even before the court renders a decision on DOMA.
"As the Supreme Court reviews DOMA, I will continue to spearhead the participation of Members of Congress who believe that DOMA is unconstitutional in the Windsor case," Nadler said. "At the same time, I will keep working with my colleagues to increase support for the Respect for Marriage Act, my bill to repeal DOMA and remove official discrimination from our legal code."
3. Will the U.S. government weigh in on the Prop 8 lawsuit?
Amid news that the Supreme Court will take up the Prop 8 lawsuit, a new call has emerged for the Obama administration to weigh in on the lawsuit to assert a constitutional right for same-sex couples to marry.
Ted Olson, co-counsel for plaintiffs in the Prop 8 case, said during the conference call last week that participation from the Obama administration in the litigation would have "great effect" on the outcome of the case.
"I would hate to predict what the United States government is doing, but given the stand the president of the United States and the attorney general of the United States made with respect to marriage equality, we would certainly hope that they would participate," Olson added.
Although President Obama asserted his personal view in May that same-sex couples should be able to marry, the Obama administration hasn't yet answered the question of whether that's a guaranteed right under the Constitution. The Obama administration could participate by filing a friend-of-the-court brief along with other parties, or less likely, by asking to intervene in the case.
Asked Tuesday during a White House press briefing about the Obama administration's position on the Prop 8 case, White House Press Secretary Jay Carney declined to comment, saying, "For comment on the court's actions on that case, I would point you to the Department of Justice. As you know the administration is not a party in that case, and I just have nothing more for you on it."
Following the briefing, Tracy Schmaler, a Justice Department spokesperson, told the Washington Blade, "No updates at this point."
Richard Socarides, a gay New York advocate who's called on Obama to take an active role in supporting marriage equality, said arguing in favor of the constitutional right to marry — for all states and not just California — is "a logical extension" of the position already articulated by the administration when it determined DOMA was unconstitutional.
"If you apply that [heightened scrutiny] test that they advocate to any of the 30 states that have constitutional amendments that ban gay marriage, then all of those state amendments go out the window," Socarides said. "So, obviously, that's very important to us, and that's the government position, and I think it's important that they say so clearly rather than trying to duck it."
Additionally, Socarides said the Obama administration won't be able to run from the issue because justices will likely ask U.S. Solicitor General Donald Verrilli Jr. or whomever is representing the administration during oral arguments about its position on Prop 8.
"They're kidding themselves if they don't think some judge isn't going to ask them," Socarides said. "During the argument of the DOMA case, [Samuel] Alito or [Clarence] Thomas or [John] Roberts or [Antonin] Scalia is going to say to them, 'If we apply the test you are advocating to Proposition 8, what would happen?' They're going to get asked this question. That's what's silly about this."
Lambda's Davidson agreed that a friend-of-the-court brief from the Obama administration would have an impact on the Supreme Court.
"They're more likely to read a brief from the solicitor general than from other parties," Davidson said. "And I think that they care what another branch of government says to them, so I think it will be significant. I don't think they will decide a certain way just because the executive branch says so. They will make up their minds, but to have one branch of government telling another what they think the outcome would be, they'd pay attention to that."
But the notion that participation from the Obama administration would be helpful to convincing justices to overturn Prop 8 isn't universal.
Nan Hunter, a lesbian law professor at Georgetown University, said the Justice Department has articulated that laws related to sexual orientation should be subjected to heightened scrutiny and an additional brief wouldn't have much sway.
"I don't really think it makes much difference, frankly, to the court," Hunter said. "The political alignment of the Obama administration is very clear on this, so I don't really think it'll make much difference."
4. What happens if the Supreme Court denies standing to anti-gay forces in the lawsuit?
In addition to announcing that it would take up cases challenging Prop 8 and DOMA, the Supreme Court also called for attorneys involved in the lawsuit to answer questions about whether certain parties involved in the lawsuit have standing to present their views before the court. The standing issue will be resolved as part of the final ruling the Supreme Court makes before its term expires in June.
For the Prop 8 case, the standing question is singular: Do anti-gay groups that helped pass Prop 8 at the ballot have the right to defend the law in court because California Gov. Jerry Brown and Attorney General Kamala Harris have declined to do so? That was the opinion of the Ninth Circuit, which determined ProtectMarriage.com could defend the law after the group's standing was certified by the California Supreme Court.
But in the DOMA case, there are issues of standing on both sides. The court asks parties to respond to whether the court has standing to hear the DOMA case because the U.S. Justice Department, the party that won the case at the district court, appealed the case as opposed to the losing side. Additionally, the court asks if the House Republican-led Bipartisan Legal Advisory Group — which took up defense of DOMA after the Obama administration announced it would no longer do so — has standing to defend the law.
The questions open up the possibility for the Supreme Court to strike down Prop 8 on technical grounds without getting into the merits of the anti-gay ban. It could assert that anti-gay groups don't have standing to defend the law, nullifying the Ninth Circuit decision and leaving in place retired U.S. District Judge Vaughn Walker's decision finding that same-sex couples in California have a guaranteed right to marry under the U.S. Constitution.
NeJaime said asking about the standing issue in the Prop 8 case may be an attempt for the court to open the door to striking down the same-sex marriage ban without ruling on the merits of the case.
"This court has been interested in standing for a long time," NeJaime said. "The conservatives on the court have consistently cut back standing, so it's not shocking to me that the court is at least interested in that standing question, and I also think it could be slightly strategic so that there is this other issue in the case that would allow the court to avoid a ruling on the merits if they decided that they don't want to do that."
The question of what would happen if parties lack standing in the DOMA case gets a little murkier because the issue affects both the plaintiffs (the Justice Department) and the defendants (BLAG). On Tuesday, the Supreme Court announced that it had hired Vicki Jackson, a Harvard lawyer, to argue that neither the Obama administration nor BLAG have standing to petition the court in the case.
Still, the consensus among legal experts is that justices would likely conclude both parties have standing in the DOMA case to evaluate the law on its merits, even though many raised questions about BLAG because it's a five-member committee and not reflective of the position of Congress, or even the House, as a whole.
Hunter said precedent exists for the Supreme Court to hear a case in which the Justice Department has declined to defend a law and members of Congress have taken up defense of the statute instead.
"The reason here that I think five members of the court will reach the merits in the DOMA case is that the practical necessity for them to do so is just overwhelming," Hunter said. "I just don't see them allowing a federal statute to just kind of evaporate in this situation without consideration of the merits. I'm cautiously optimistic that when they do consider the merits, they will find DOMA unconstitutional, but my hunch is that the standing question is more likely to end up being important in the Prop 8 case than it will be in the DOMA case."
5. What would happen if the Supreme Court applied heightened scrutiny to its ruling?
Another outcome in the cases that would be beneficial to the LGBT community is a determination by the Supreme Court that laws related to sexual orientation should be subjected to heightened scrutiny, or a greater assumption they're unconstitutional.
The Supreme Court has never declared that laws related to sexual orientation should be subjected to a higher level of scrutiny as it has for race, national origin, gender and alienage even in high-profile cases such as Lawrence v. Texas, which struck down state sodomy laws throughout the country, and Romer v. Evans, which struck down Colorado's anti-gay Amendment 2. Still, the belief that sexual orientation laws merit this level of scrutiny is the view held by the Obama administration and the U.S. Second Circuit of Appeals, the court from which the DOMA case was appealed.
Legal experts said such a ruling from the Supreme Court in which justices applied heightened scrutiny would benefit lawsuits challenging other anti-gay laws throughout the country — whether they be the Arizona law stripping away domestic partner benefits from state employees or the Tennessee law prohibiting municipalities from passing non-discrimination ordinances.
While it seems that making a decision on laws related to sexual orientation are subjected to heightened scrutiny would automatically institute the first outcome enumerated in this piece — the invalidation of all restrictions throughout the country — legal experts say that might not be the case.
NeJaime said the application of heightened scrutiny in the DOMA case would make it more likely for them to strike down Prop 8 as well, but it wouldn't necessarily apply to same-sex marriage bans elsewhere.
"They could apply heightened scrutiny to Prop 8, which they could frame as a very specific question, and then it would take a future case to apply heightened scrutiny to some marriage ban, like a ban in Arkansas where there's no domestic partnership," NeJaime said.
Some observers have speculated that the Supreme Court selected the Windsor case as the vehicle to determine the constitutionality of DOMA because that's the only case in which a federal appeals court has ruled the anti-gay law is unconstitutional by applying heightened scrutiny to the statute.
But Hunter disputed that notion and said the decision to take up Windsor is the result of U.S. Associate Justice Elena Kagan's involvement in the other lawsuit in which an appeals court made a ruling against DOMA — the consolidated case of Gill v. Office of Personnel Management and Commonwealth of Massachusetts v. Department of Health & Human Services — when she was U.S. solicitor general and the Obama administration was still defending the law in court.
"What makes the most sense is to have all nine justices participate in that decision, and Kagan can't participate in Gill." Hunter said. "I think they were waiting for a second court of appeals to produce an opinion, and I think they would have taken whatever case wasn't Gill. It was sort of anything but Gill, and that's purely because of the Kagan recusal problem."
VP Harris to oversee White House Office of Gun Violence Prevention
Goal is to implement and expand upon legislation, executive actions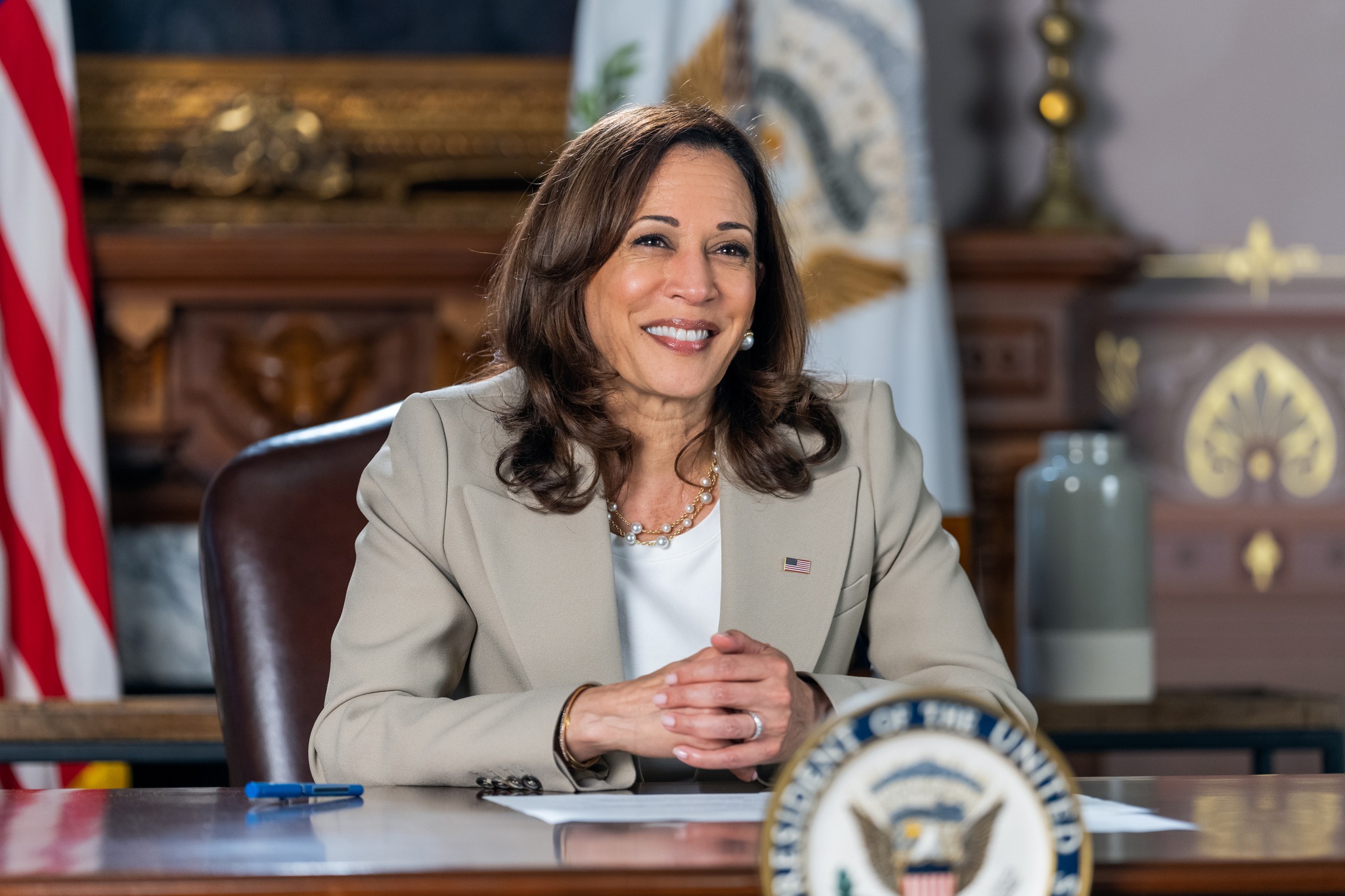 The White House announced Thursday evening that President Joe Biden on Friday will establish the first-ever White House Office of Gun Violence Prevention, to be overseen by Vice President Kamala Harris.
The office will focus on implementing and expanding upon executive and legislative actions, including the Bipartisan Safer Communities Act, "to reduce gun violence, which has ravaged communities across the country."
Serving under Harris will be Stefanie Feldman, "a longtime policy advisor to President Biden on gun violence prevention," and "leading gun violence prevention advocates Greg Jackson and Rob Wilcox."
"Every time I've met with families impacted by gun violence as they mourn their loved ones, and I've met with so many throughout the country, they all have the same message for their elected officials: 'do something,'" Biden said in a statement.
The president noted his signing of last year's bipartisan gun violence prevention law, a flagship legislative accomplishment for the administration, along with his issuance of more executive actions than any president in history to address this problem.
Calling these "just the first steps," Biden said the establishment of the White House Office on Gun Violence Prevention will "build upon these measures and keep Americans safe."
He also urged Congress to do more by passing legislation requiring universal background checks, and baning assault weapons and high capacity magazines.
In a statement, Harris said, "This epidemic of gun violence requires urgent leadership to end the fear and trauma that Americans experience every day."
"The new Office of Gun Violence Prevention will play a critical role in implementing President Biden's and my efforts to reduce violence to the fullest extent under the law," she said, "while also engaging and encouraging Congressional leaders, state and local leaders, and advocates to come together to build upon the meaningful progress that we have made to save lives."
"Our promise to the American people is this: we will not stop working to end the epidemic of gun violence in every community, because we do not have a moment, nor a life to spare," the vice president said.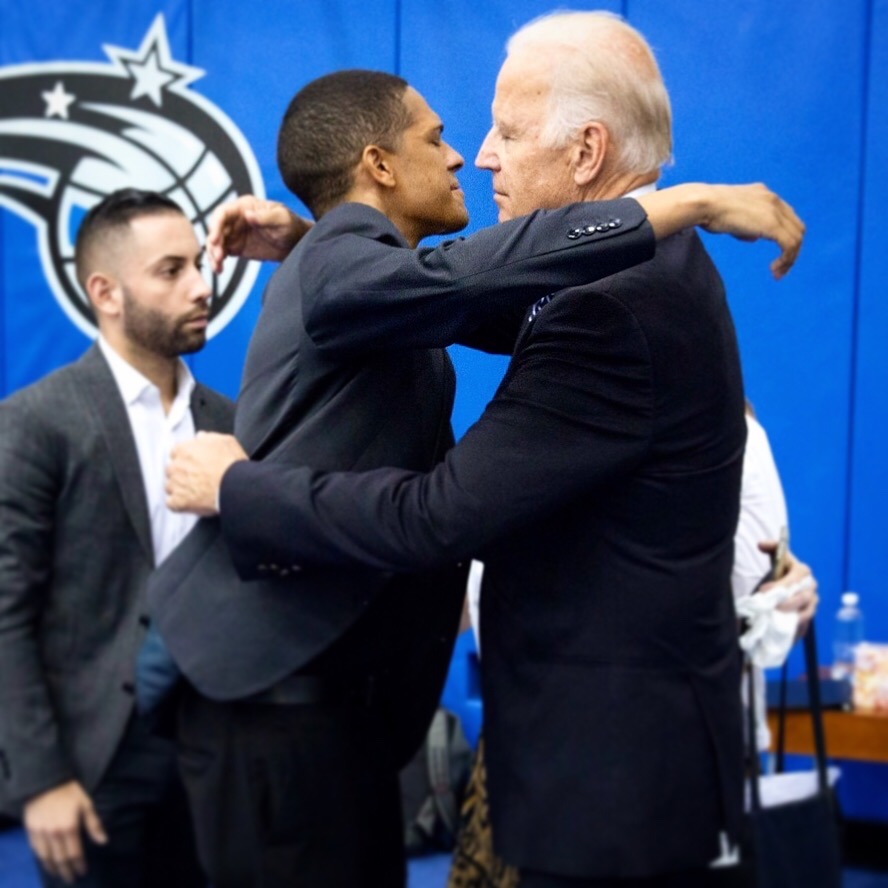 LGBTQ media 'excited' about Press Forward national media funds
Coalition of donors pledges $500 million for local news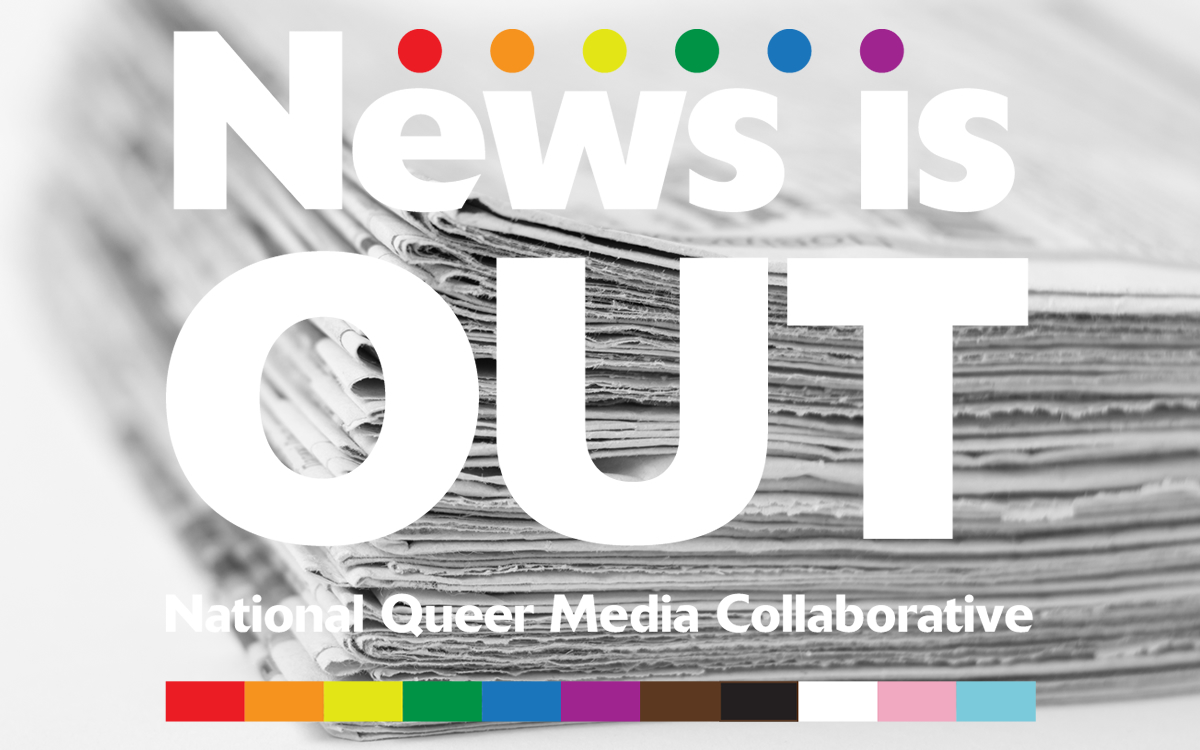 Members of News Is Out, a collaborative of six leading LGBTQ media organizations across the country, have expressed support and excitement about the newly announced national Press Forward effort to support local media in the United States. News Is Out members represent more than 200 years of LGBTQ news and culture coverage, with two member papers starting more than 50 years ago.
"This new effort from foundations, including MacArthur Foundation and Knight Foundation, truly will be a game-changer in the local media space," said Tracy Baim, co-founder of Windy City Times, which is part of a Chicago collaborative that is also advocating for local funding in that city. "Local media are critical to covering issues across the country, from LGBTQ+ and environmental issues to education and criminal justice reform. Philanthropy can provide an important complement to other needed revenues to help local media survive and thrive."
In the U.S., 7.1 percent of adults, or 18 million people, identify as LGBTQ, according to Gallup. About 21 percent of Gen Z identifies as LGBTQ. The media serving this community has been life-saving, resource sharing and an integral part of the movement for LGBTQ equality, News Is Out members said, adding that this media continues to fill a vital information need.
According to the Press Forward announcement, "A coalition of 22 donors announced Press Forward, a national initiative to strengthen communities and democracy by supporting local news and information with an infusion of more than a half-billion dollars over the next five years.
"Press Forward will enhance local journalism at an unprecedented level to re-center local news as a force for community cohesion; support new models and solutions that are ready to scale; and close longstanding inequities in journalism coverage and practice."
The Knight Foundation and the John D. and Catherine T. MacArthur Foundation have been leading the Press Forward effort.
News Is Out is supported in part by a technology grant from the Knight Foundation. The program is called the Queer Media Sustainability Lab
News Is Out is a nearly two-year-old alliance created launched by the Local Media Association, with initial funding from Google News Initiative. The members are Bay Area Reporter, Dallas Voice, Philadelphia Gay News, Washington Blade, Windy City Times and TAGG, a national queer women's magazine.
News Is Out members have collaborated on editorial, business and fundraising opportunities.
"LGBTQ media have always played a critical role in covering and informing our communities," said Lynne Brown, publisher of the Washington Blade. "While we have lost dozens of LGBTQ news media outlets in recent years, those of us who have survived are thriving in 2023. We have done so because we have innovated and sought new forms of revenue. The News Is Out Collaborative has assisted with support that propels us forward."
"LGBTQ+ media is needed now more than ever, as our communities face a backlash across this country," said Leo Cusimano, publisher of the Dallas Voice. "By working together in News Is Out, we have formed a strong alliance to help our members in technology training, editorial collaborations and much more. New funds into this ecosystem will be vital to strengthening the network of local LGBTQ+ media in this country."
Census Bureau asks White House to test questions on sexual orientation, gender identity
Data would be included in annual American Community Survey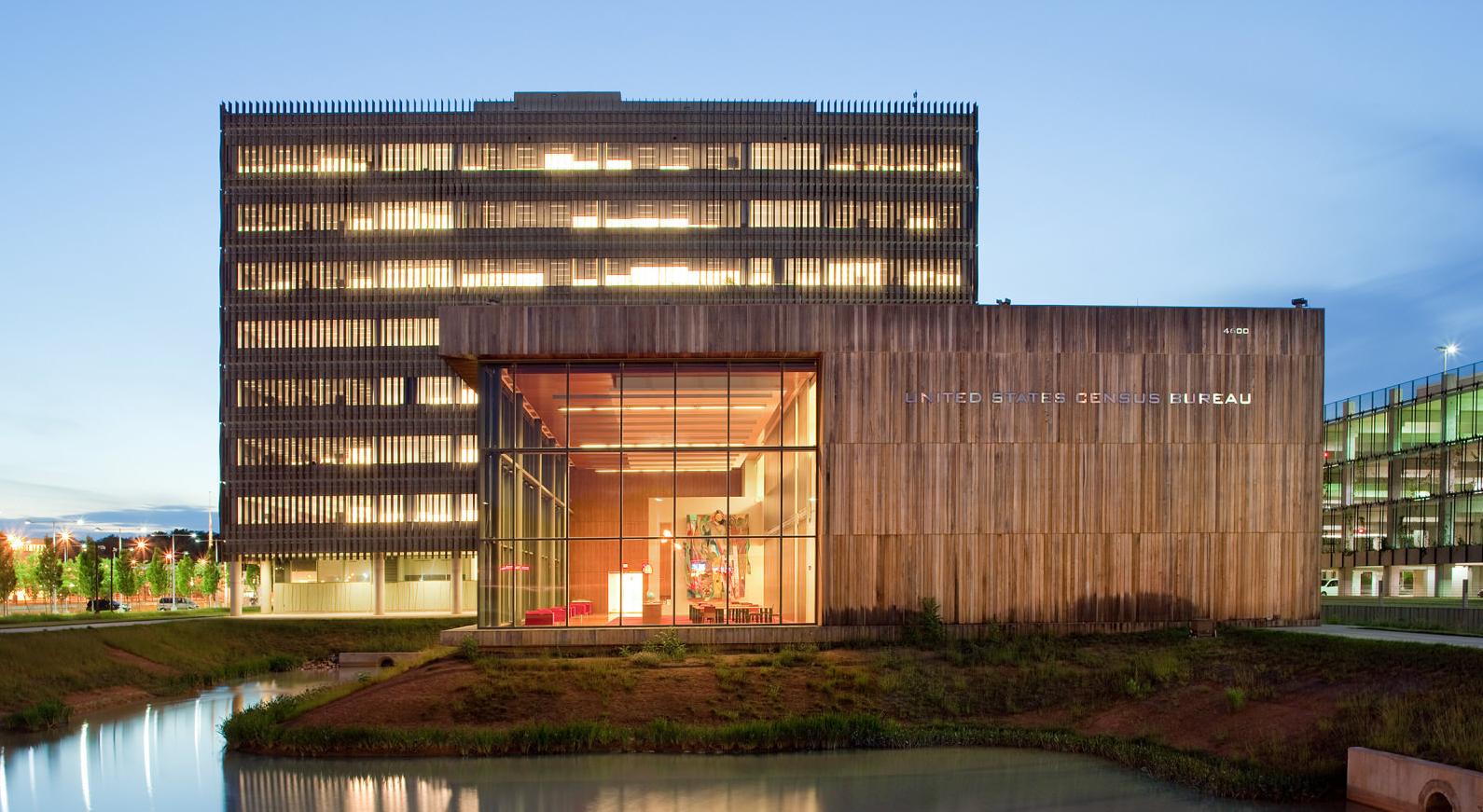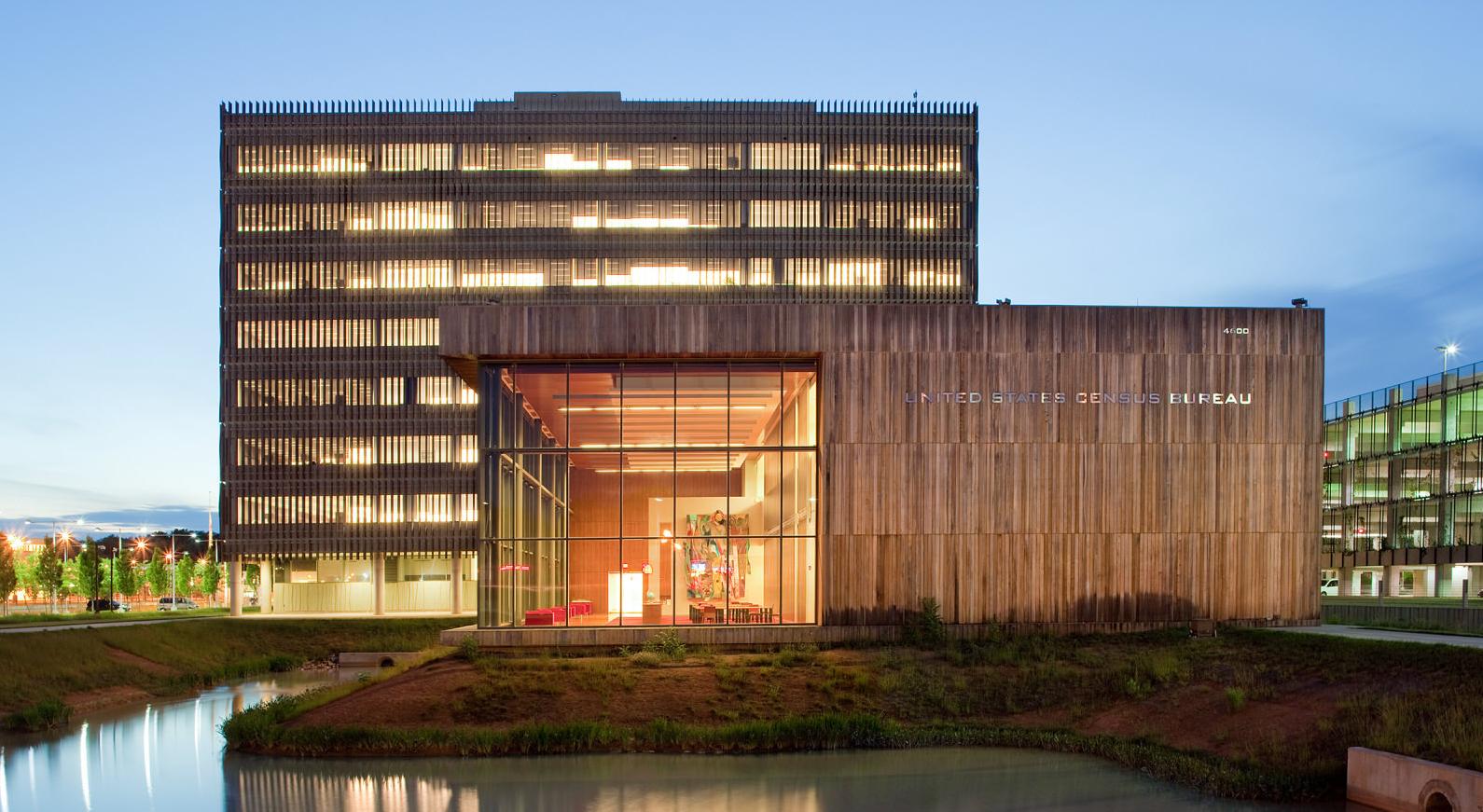 The U.S. Census Bureau on Tuesday asked the Biden administration to sign off on plans to test questions on sexual orientation and gender identity for respondents aged 15 and older on the agency's annual American Community Survey.
Data on these metrics will help inform civil rights and equal employment enforcement, the Census Bureau said in a notice published on the Federal Register.
Testing will help the agency determine wording, response categories and placement of the questions on the survey — its most comprehensive, covering 3.5 million households each year.
A key unknown will be how answers will be provided by proxies such as parents, spouses or others in a household who isn't the person about whom the question is asked.
"Younger LGBT people might not yet be out to their parents or others who are answering these questions as a proxy reporter, so the quality of the data might not be as good for younger people," M. V. Lee Badgett, an economics professor at the University of Massachusetts Amherst, told PBS News.
Currently, the Census Bureau and its annual American Community Survey only ask questions about same-sex couples who are married or cohabitating.
"We anticipate having much more info about the LGBT people than is currently available — including about the demographic and socioeconomic status of LGBT people who aren't in same-sex couple households, including occupational status, industry and wages, and about LGBT people who were born outside the U.S. and LGBT people with disabilities, and their families," Kerith Conron, research director of the Williams Institute at UCLA School of Law, told the Associated Press.