Woman alleges harassment, sues Family Research Council
Claims anti-gay group fired her for filing bias complaint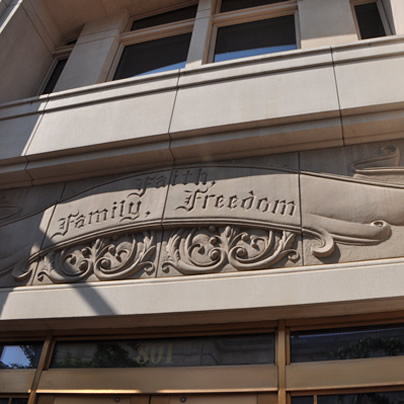 In a little noticed development, a former high-level official with the anti-gay Family Research Council has accused the group in a lawsuit of firing her in retaliation for complaining that her supervisor subjected her to sexual harassment.
News of the lawsuit, which was filed in federal court in July 2011, was first reported last week by conservative journalist and commentator Evan Gahr in his blog Chimpstein.com.
Moira Gaul, who at the time of her dismissal served as the FRC's Director of Women's and Reproductive Health, charges in the lawsuit that the retaliation began in January 2009 after she filed a gender discrimination complaint before the D.C. Office of Human Rights against the supervisor.
The complaint says the supervisor, who is identified only as the director of FRC's Center for Human Life and Bioethics, engaged in "inappropriate behavior" toward Gaul since he became her supervisor in March 2007.
"Examples of his behavior include, but are not limited to pressuring me to attend parties, referring to me as a 'young, attractive woman,' and emailing me 'hi cutie,'" Gaul states in the OHR complaint.
"He also referred to the use of birth control pills by young women as 'whoring around.' His attitude toward me and other women was rude, belittling, and at times angry," she said in the OHR complaint.
William J. Hickey, the lead attorney representing FRC in the lawsuit, did not respond to a request by the Washington Blade for comment. The FRC's vice president for communications, J.P. Duffy, couldn't immediately be reached for comment.
Gaul's attorney, Shannon L. Stokes, said neither she nor Gaul would comment on the case at the present time.
In a Sept. 2, 2011 court brief or "answer" to the lawsuit on FRC's behalf, Hickey said FRC denies Gaul's allegations that it engaged in discrimination or retaliation against her.
Hickey's brief also says the lawsuit "fails to state a cause of action against defendant and should be dismissed."
In a November motion for summary judgment seeking dismissal of the case, Hickey argues that Gaul dropped her gender discrimination case before the Office of Human Rights after a settlement was reached several months after she filed the complaint. He asserts in the motion that she and her attorneys could not raise allegations made in that complaint if her lawsuit goes to trial.
Although the attorneys on both sides have so far refused to discuss the matter with the media, Hickey appears to be referring to a decision by U.S. District Court Judge John D. Bates granting an FRC motion for a "protective order" that places a "seal" on information and evidence related to Gaul's OHR complaint about gender discrimination and allegations of sexual harassment by her supervisor.
Gahr, who broke the story on the lawsuit, reported that multiple media reports show that prominent anti-abortion attorney William L. "Bill" Saunders served as director of FRC's Center for Human Life and Bioethics during the period Gaul alleges she was subject to sexual harassment.
Her OHR complaint says it was the director of that FRC center that allegedly committed the gender discrimination linked to the alleged sexual harassment against her.
Several papers authored or co-authored by Saunders on the right-to-life movement and efforts to overturn the Supreme Court ruling Roe v. Wade, which legalized abortions in the country, are currently posted on the FRC's website with the FRC logo printed above the title of the papers.
The FRC's website, however, makes no mention of Saunders having worked for the organization.
A May 22, 2009 press release from Americans United for Life, one of the nation's most prominent anti-abortion groups, announced that Saunders joined the group's staff at that time as senior counsel. The AUL website currently shows that Saunders still holds that position.
A spokesperson for the AUL didn't return a call from the Blade seeking comment on Gaul's lawsuit and earlier complaint before the D.C. Office of Human Rights involving Saunders.
Saunders couldn't be reached for comment.
A mediation process required by the court to determine whether Gaul's lawsuit could be settled took place earlier this year, according to court records. But the filing of motions by both sides earlier this month seeking a summary judgment ruling in their favor indicates the mediation process has so far been unsuccessful.
Gaul's lawsuit, which was filed July 7, 2011 in U.S. District Court for the District of Columbia, says Gaul continued to perform her job duties in what it calls a "hostile work environment" from the time her supervisor allegedly began hassling her in March 2007 through 2009, when she decided it was necessary to file the OHR complaint.
The lawsuit says stress created by her interaction with her supervisor aggravated her pre-existing chronic health problems, which FRC knew about at the time it hired her in 2005. The lawsuit says that prior to her filing the OHR complaint, FRC accommodated her special health needs, allowing her to take time off from work to seek medical treatment.
A flare up of one of her health problems required that she take a short-term disability leave from January 2009 to March 2009, according to the lawsuit.
Although FRC officials initially told her that her health insurance coverage would continue during her disability leave, she was informed in March 2009 that "FRC was retroactively cancelling her health insurance for the period she was on short-term disability leave," the lawsuit says.
In February 2009, one month after she filed her complaint, FRC's then executive vice president issued Gaul a formal reprimand for "insubordination" during the time she was on disability leave. It was the first time she had ever received a reprimand during her tenure with FRC, according to the lawsuit.
The lawsuit says the retaliation against her continued upon her return to work when FRC personnel officials delayed the reinstatement of her health insurance. Due to her health problems, she contacted various staffers and managers to request a prompt reinstatement of her insurance.
"Rather than assist her, the FRC's then executive vice president threatened to issue another reprimand for insubordination to Ms. Gaul if she attempted to raise the issue of her health insurance coverage again with FRC management or any other staff member in the D.C. office other than human resources," the lawsuit charges.
In May 2009, according to the lawsuit, Gaul was formally reprimanded for "failing to submit time sheets on schedule." It says Gaul is unaware of any FRC employee receiving a reprimand for submitting late time sheets.
Gaul was hopeful that the alleged retaliation would end when she reached a settlement with FRC over her OHR complaint on July 31, 2009, the lawsuit says.
But the lawsuit says her work environment "remained hostile" after the settlement over the next three months leading up to her dismissal on Oct. 22, 2009, which FRC called a "layoff," the lawsuit says.
"Upon information and belief, other employees laid off in 2009 were given more than a month's notice of their impending layoff," it says. "Ms. Gaul, on the other hand, was told to clear her belongings by the close of business the next day."
The lawsuit says a termination memorandum given to her by the FRC cited "political hostility" against the abstinence movement, on which Gaul devoted much of her work, and a reduction of federal funding for abstinence programs as the primary reason for her termination.
"The memorandum also stated that the FRC needed a person with a background in a variety of 'life issue' areas beyond abstinence, which the memorandum claimed that Ms. Gaul did not have," the lawsuit says
"The reasons cited by the FRC in the termination memorandum were mere pretexts," the lawsuit charges.
It says Gaul, who has a bachelor's degree in biology and a master's degree in public health, worked on a wide range of other issues and was highly qualified to continue as FRC's women's and reproductive health director.
"In January 2010 three months after Ms. Gaul's termination, the FRC created a new position with duties similar to the ones previously held by Ms. Gaul," the lawsuit says. "This new position was fully funded by the FRC budget."
The lawsuit says up until the time of her dismissal, Gaul remained dedicated to carrying out FRC's mission in the area of women's health.
"Despite all of the problems in her work environment, Ms. Gaul continued to produce at a high level," it says. "In August 2009, she was rated in the second highest quartile for contribution in the policy department. Ms. Gaul was promoted to the position of Fellow and Director of Women's and Reproductive health that same month."
The lawsuit adds, "In September 2009, the FRC released a report on Pregnancy Resource Centers co-authored by Ms. Gaul, which she then presented at a national conference. In October 2009, Ms. Gaul presented the Pregnancy Resources Center report and taught at an international pro-life conference in Hungary."
Federal judge halts enforcement of Fla. trans healthcare ban
Advocacy groups challenged Senate Bill 254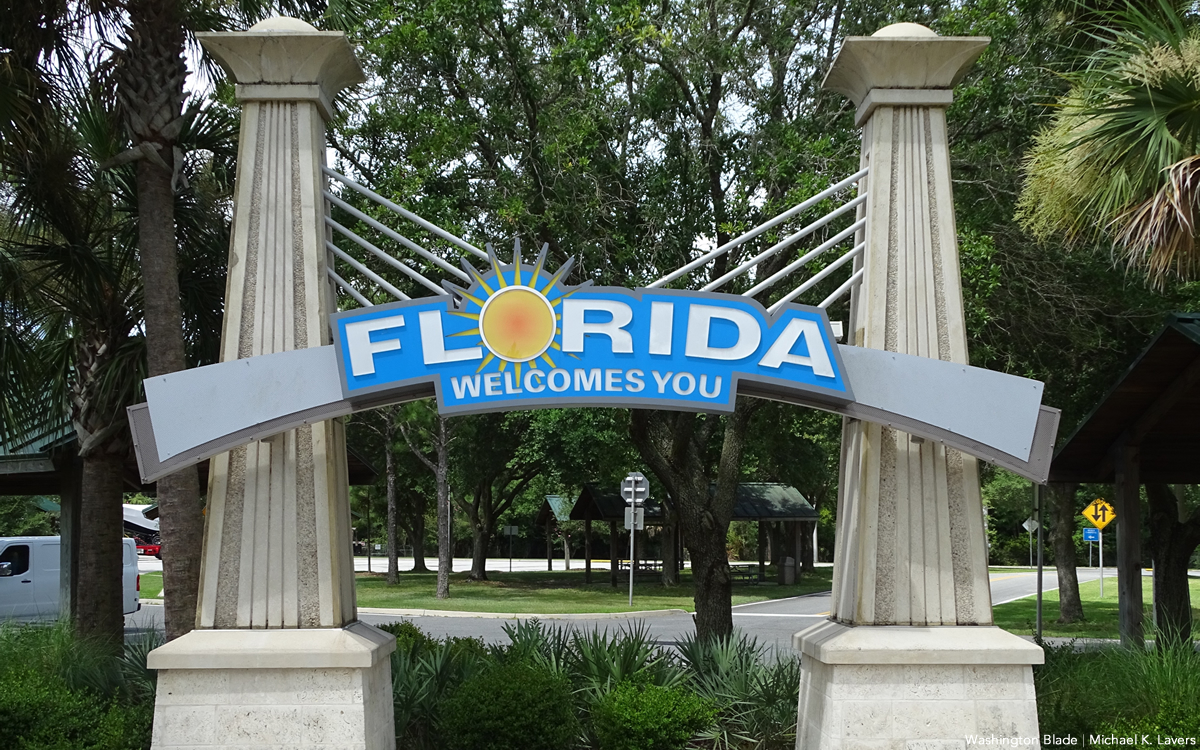 In his 44 page ruling, Judge Robert Hinkle of the U. S. District Court for the Northern District of Florida has barred the state from any further enforcement action against transgender youth or their parents from seeking appropriate gender-affirming care.
Hinkle's ruling allows Florida parents challenging the ban to access necessary medical care for their trans children while the legal challenge to the bans continues. The ruling blocks enforcement of Florida state Boards of Medicine and Osteopathic Medicine rules banning established medical care for trans adolescents as well as provisions in Senate Bill 254 that codify those rules into state law with added criminal and civil penalties.
In his summary Hinkle wrote: "Gender identity is real. Those whose gender identity does not match their natal sex often suffer gender dysphoria. The widely accepted standard of care calls for evaluation and treatment by a multidisciplinary team. Proper treatment begins with mental health therapy and is followed in appropriate cases by GnRH agonists and cross-sex hormones. Florida has adopted a statute and rules that prohibit these treatments even when medically appropriate."
In today's ruling the court indicated that the plaintiff parents are likely to succeed in their claims that SB 254 and the Boards of Medicine rules unconstitutionally strip them of the right to make informed decisions about their children's medical treatment and violate the equal protection rights of trans youth by denying them medically necessary, doctor-recommended healthcare.
The challenge to the Boards of Medicine and SB 254 healthcare bans is likely to proceed quickly to trial.
The families are represented by Southern Legal Counsel, GLBTQ Legal Advocates and Defenders, the National Center for Lesbian Rights and the Human Rights Campaign, which issued the following statement:
"Today's ruling is a powerful affirmation of the humanity of transgender people, the efficacy of well-established, science-based medical care, and of the rights of parents to make informed healthcare decisions for their children. The court recognized the profound harm the state of Florida is causing by forcing parents to watch their kids suffer rather than provide them with safe and effective care that will allow them to thrive. We are incredibly relieved that these Florida parents can continue to get healthcare for their children while we proceed to challenge these bans and eventually see them fully overturned."
Read the ruling:
Events roundup: Federal gov't celebrates Pride month
Bidens to host White House Pride reception on Thursday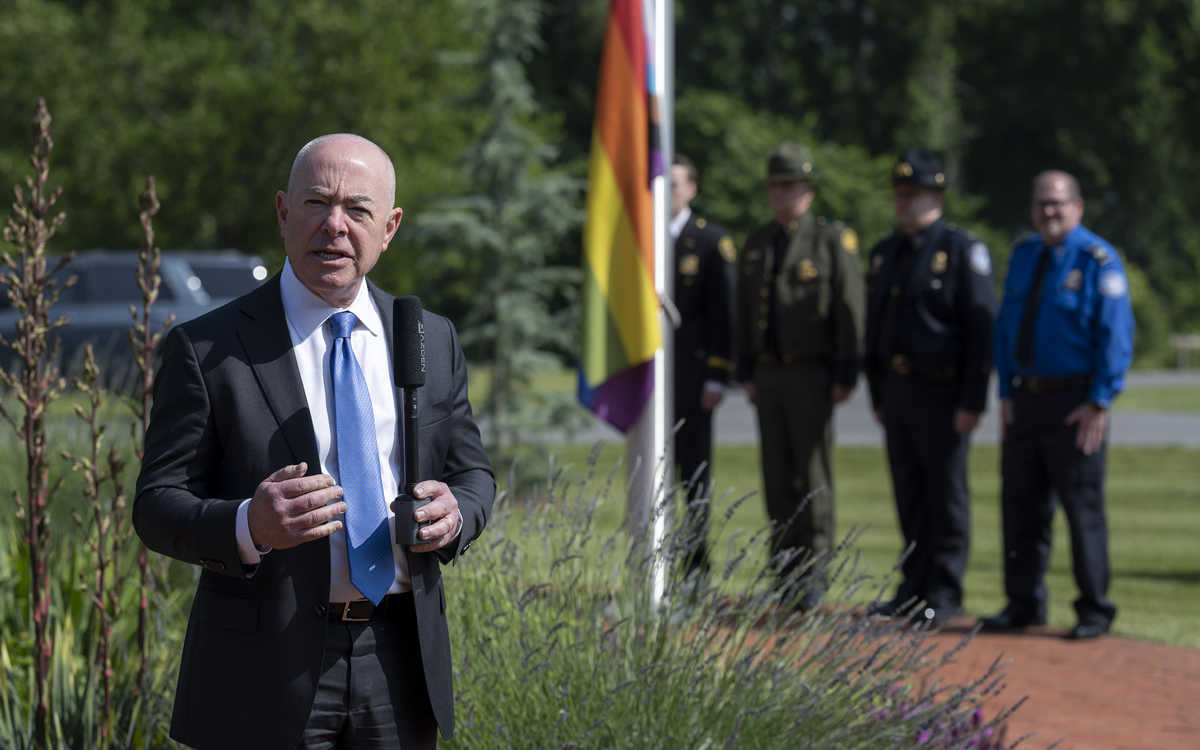 The White House, U.S. federal agencies, and Congress are honoring Pride month with a slate of official and unofficial events this year, many taking place this week.
Details for some events have not yet been announced, so this article will be updated when new information becomes available – such as details about the U.S. State Department's Pride reception, which is expected to happen later this month.
The U.S. Department of the Interior kicked off Pride month with a celebration on June 1, where DoI Secretary Deb Haaland raised the Progress Pride Flag alongside members of Interior's LGBTQ community.
Washington, D.C. Mayor Muriel Bowser's Office of LGBTQ Affairs hosted a flag raising ceremony on June 1 at the John A. Wilson Building. The Mayor's Office is also sponsoring a District of Pride Showcase at the Lincoln Theatre on June 29.
On June 2, the U.S. Department of Homeland Security held a flag raising ceremony at the agency's headquarters with DHS Secretary Alejandro Mayorkas.
Speaker Emerita U.S. Rep. Nancy Pelosi (D-Calif.) will throw out the ceremonial first pitch during the Washington Nationals Night OUT game on Tuesday, Major League Baseball's longest-running annual Pride event. The Speaker will be honored this year for her advancement of LGBTQ civil rights throughout her career in Congress.
The U.S. Department of Defense's DoD Pride, an LGBTQ employee resource group for service members and DoD civilian employees, will hold its annual Pride month event on June 7 at the Pentagon.
President Joe Biden and First Lady Dr. Jill Biden are hosting a Pride month celebration on the South Lawn of the White House on June 8, which will feature a performance by singer-songwriter Betty Who.
The LGBTQ Victory Fund's June 22 Federal PAC Reception will feature LGBTQ members of Congress: U.S. Reps. Chris Pappas (D-N.H.), Eric Sorensen (D-Ill.), Mark Pocan (D-Wis.), Mark Takano (D-Calif.), Robert Garcia (D-Calf.), and Sharice Davids (D-Kan.).
On June 28, Vice President Kamala Harris and Second Gentleman Doug Emhoff are hosting a reception in celebration of Pride at the Vice President's residence, in collaboration with GLAAD.
Same-sex marriage support remains strong at 71 percent high
Supreme Court issued Obergefell ruling in 2015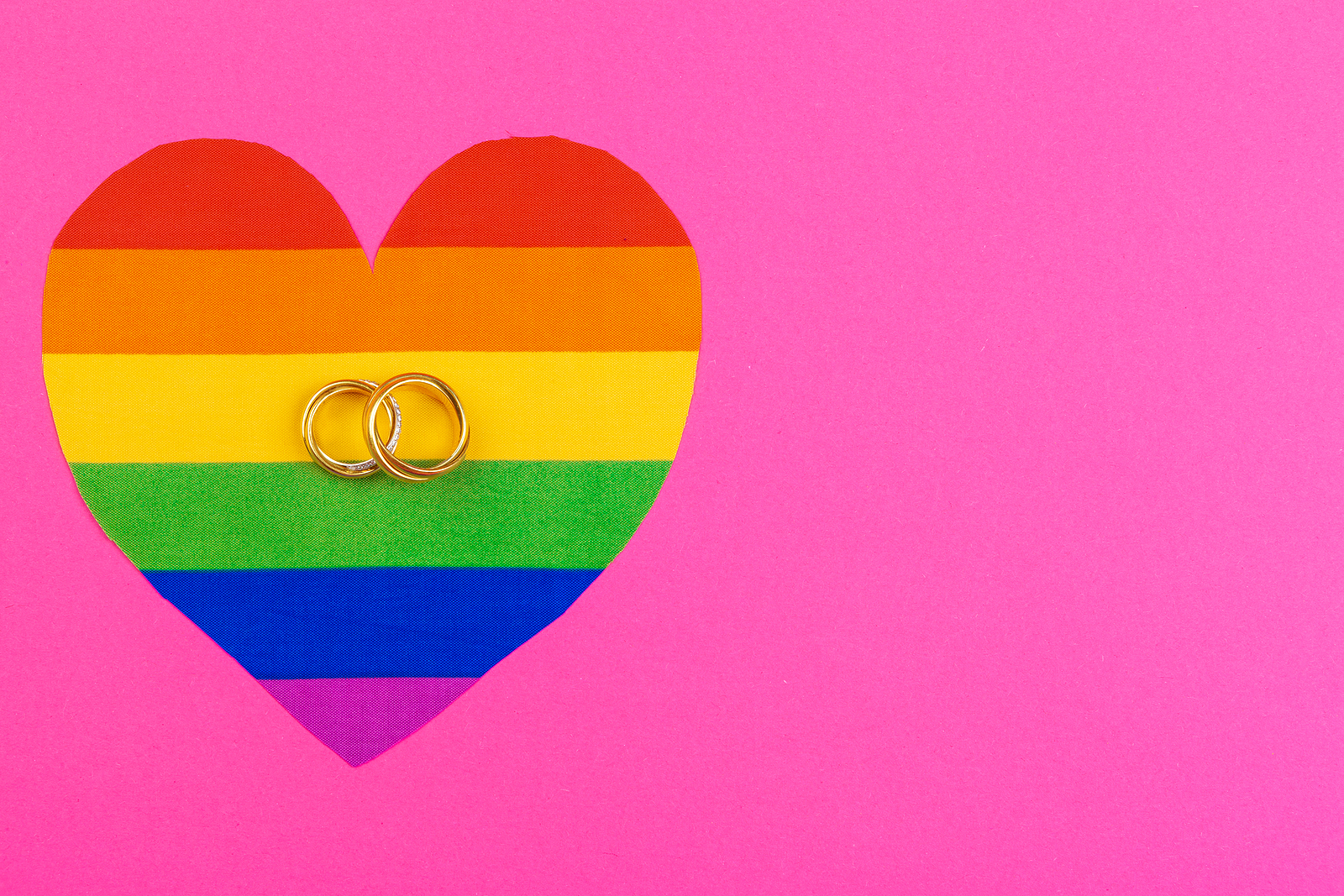 A Gallup Poll released Monday showed that support for same-sex marriage is maintaining a position of 71 percent of Americans who think it should be legal, matching the previous year's percentage.
Gallup noted that public support for legally recognizing gay marriages has been consistently above 50 percent since the early 2010s.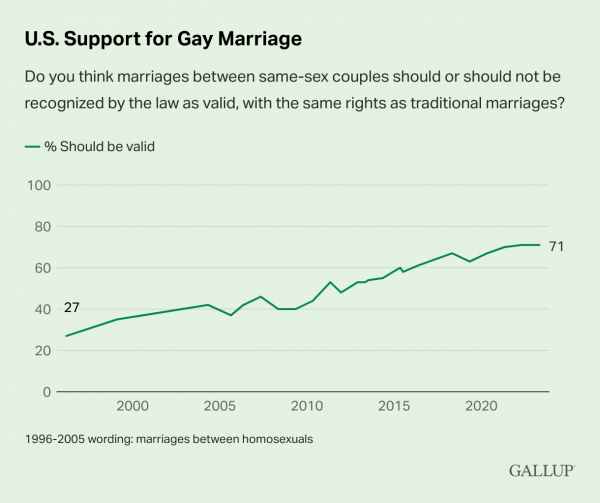 The latest figures are from Gallup's annual Values and Beliefs poll, conducted May 1-24.
When Gallup first polled about same-sex marriage in 1996, barely a quarter of the public (27 percent) supported legalizing such unions. It would take another 15 years, until 2011, for support to reach the majority level. Then in 2015, just one month before the U.S. Supreme Court's Obergefell v. Hodges decision, public support for legalizing gay marriage cracked the 60 percent level. In 2021, it reached the 70 percent mark for the first time and has been there each of the past three years.
Support Relatively Low Among Republicans, Weekly Churchgoers
Gallup has recorded increases in support for same-sex marriage across all major subgroups over time. Today, majorities of all but two key subgroups — Republicans (49 percent) and weekly churchgoers (41 percent) — say gay marriages should be legally recognized.
Republican support for gay marriage has hovered around the 50 percent mark since 2020, with slight majorities backing it in 2021 and 2022. The latest 49 percent recorded for this group is statistically similar to the level of support Gallup has recorded in recent years.
Like all other subgroups, weekly churchgoers (41 percent) are more supportive of gay marriage now than they were in the previous two decades. However, their level of support has been steady since 2018 — ranging between 40 percent and 44 percent.
Bottom line
Same-sex marriage has received majority support in the U.S. for over a decade, and support has been on an upward trajectory for most of Gallup's polling since 1996.
Gay marriage became the law of the land after the Supreme Court's 2015 Obergefell decision, and President Joe Biden signed bipartisan legislation to ward off future judicial attempts at undoing its legality late last year.
Among many groups — including older adults, Protestants and residents of the South — perspectives on gay marriage have gone from majority opposition to majority support over the course of Gallup's trend spanning more than a quarter of a century. But two groups remain holdouts on the issue, with Republicans evenly divided on the legality of same-sex unions and weekly churchgoers maintaining their position against it.