Year in review: Gems from the stage
Region rich with gay-themed and helmed theater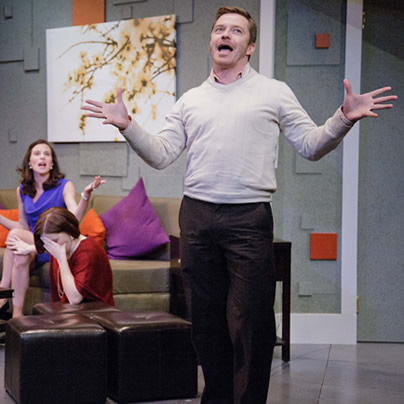 Like so many past years, 2012 also saw an energetic pool of LGBT theater professionals contributing to the vitality and success of the ever-expanding local theater scene. The following gives you an idea.
Undoubtedly, one of the area's hardest working theater folks throughout this year has been Signature Theatre's gay associate director Matthew Gardiner. He's also one of its most talented.
Gardiner staged four excellent and very different Signature productions beginning with "Really Really," a comic tragedy about today's mind numbingly self-absorbed youth. Next up, he directed and choreographed a well-executed production of the '70s campfest musical, "Xanadu." In the fall, he helmed gay playwright Christopher Shinn's "Dying City," an intimate drama about life and death in the shadow of the Iraq War with strapping actor Thomas Keegan playing both the butch army officer and his more effusive gay identical twin. Gardiner finished the year directing and choreographing a first rate production of "Dreamgirls." And if all that weren't enough, sometime in early fall he made time to choreograph MetroStage's notable production of "Jacques Brel is Alive and Well and Living in Paris."
Last spring's "Twist Festival D.C." gave local audiences were given an opportunity to experience the magic of gay puppeteer extraordinaire Basil Twist. The mini-fest kicked off at the Shakespeare Theatre Company with "Petrushka," Twist's trippy take on the classic Russian ballet about a love triangle involving three puppets: the eponymous clown, a ballerina and a Moor. Originally commissioned for New York's Lincoln Center in 2000, the charming show featured pirouetting puppets and floating objects accompanied by real life Russian identical twins playing a reduction of Igor Stravinsky's score on identical pianos.
Other festival productions included "Arias with a Twist" (Twist's campy collaboration with legendary downtown New York drag performer Joey Arias); and "Dogugaeshi," a Japanese-inspired journey of images accompanied by original Japanese lute compositions (at Woolly Mammoth and Studio Theatre respectively).
Over the year, art imitated life with gay actors giving memorable performances as gay characters including Tom Story and Chris Dinolfo as a mismatched but devoted couple in Roundhouse Theatre's "Next Fall." Rep Stage's production of gay playwright Jon Marans' "The Temperamentals" featured Rick Hammerly as Bob Hull, a founding member of the Los Angeles-based Mattachine Society (the first gay rights organization in the United States). And at Theater J, MaryBeth Wise played one half of a same-sex couple in Annie Baker's comic drama "Body Awareness."
Also at Theater J, Will Gartshore played an allegedly "ex-gay" Christian in "The Religion Thing" (penned by local playwright Renee Calarco and staged by her gay brother, director Joe Calarco). Gartshore's layered performance gave dimension to a character that might otherwise have been perceived simply as a creepy stereotype.
Impressively, Gartshore performed three different one-man cabarets in just two weeks this summer: A mix of well-known and obscure tunes titled "Underappreciated & Overexposed" at Signature Theatre, "Dressed Up" the next weekend, then companion piece "Stripped Down" at Round House Theatre's Silver Spring space. With his gorgeous tenor, talent for intimate storytelling and ability to put across both a painful breakup song and cheekily spun version of Cole Porter's "You're the Top," with equal ease, Gartshore took his audiences on a gratifying and fun musical journey. D.C. is lucky to have him.
Local out actor Bobby Smith showed off his skill set in 2012. In the fall, Smith wowed audiences playing the title character in MetroStage's topnotch production of "Jacques Brel is Alive and Well and Living in Paris," a musical revue celebrating the work of the late singer/songwriter known as the voice of postwar Paris. Smith was terrific as the world weary, cynical yet sentimental Brel.
Following "Jacques Brel," Smith staged a charming take on Rodgers and Hammerstein's beloved musical "Cinderella" at the Olney Theatre Center (runs through Dec. 30).
In 2012, some openly gay actors played it straight. The versatile and nimble Alex Mills starred as the upstanding scientist and his terrifying alter ego in Synetic Theatre's "Jeckyll and Hyde." Broadway actor Nicholas Rodriquez returned to Arena Stage to play love-struck Freddy Eynsford-Hill, the Edwardian dandy who falls in love with Eliza in "My Fair Lady" (through Jan. 6). And Holly Twyford and Matthew Montelongo fought and fornicated in Studio Theatre's world premiere of "Dirt," Bryony Lavery's play about morality and decay.
A highlight from this year was Arena Stage's production of Larry Kramer's stunning drama "The Normal Heart." Considered a rant when it premiered in New York in 1985, Kramer's autobiographical AIDS play has aged beautifully — still full of fury but also empathetic, loving and sad. This production was skillfully staged by gay director George C. Wolfe and featured a fabulous cast including Patrick Breen as Ned, the Kramer character, and handsome Luke MacFarlane as his lover who has been diagnosed with the virus.
For Shakespeare Theatre Company's gay artistic director Michael Kahn, 2012 was a spectacular year. Not only did his company celebrating its 25th anniversary season, it was also honored with the prestigious Regional Theatre Tony Award. Not too shabby.
PHOTOS: GMCW Holiday Show
Chorus performs at Lincoln Theatre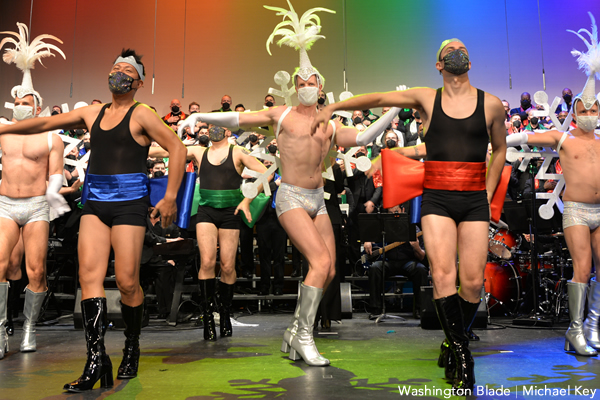 The Gay Men's Chorus of Washington performed its "Holiday Show" at Lincoln Theatre on Saturday. The Chorus has performances on Dec. 11 and 12. For tickets and showtimes, visit gmcw.org.
(Washington Blade photos by Michael Key)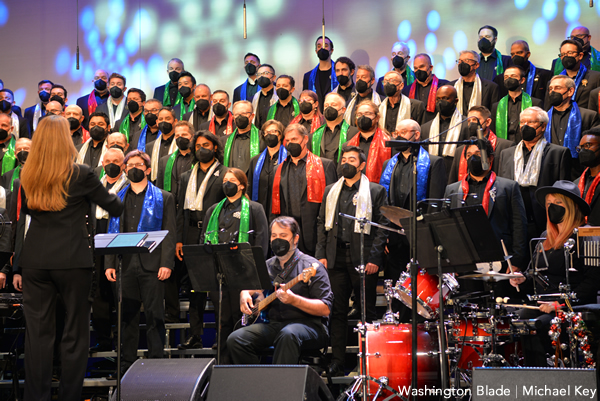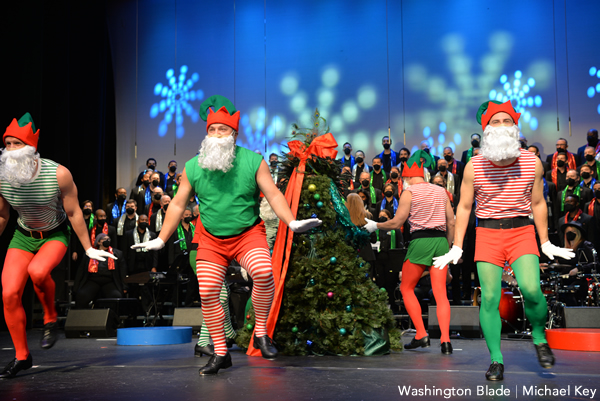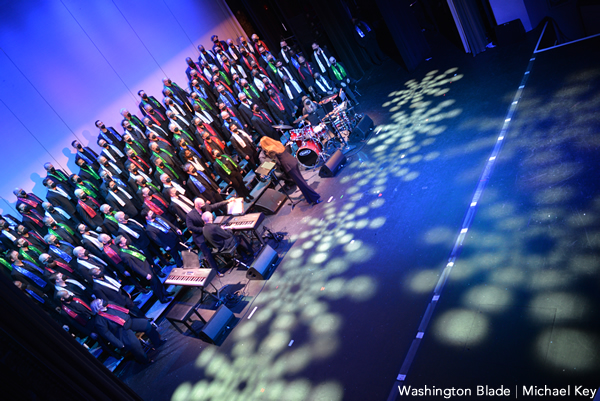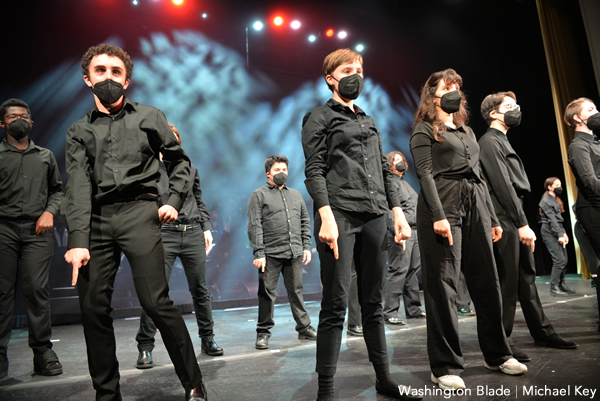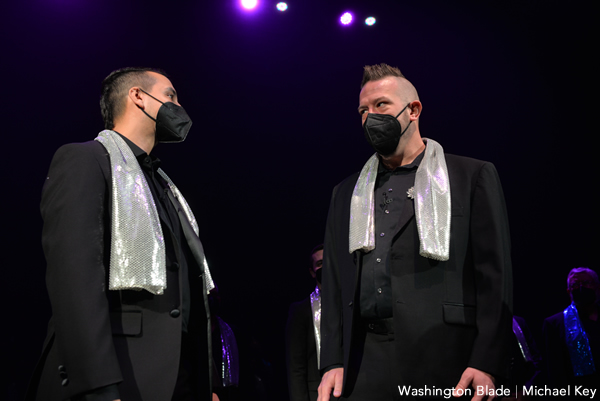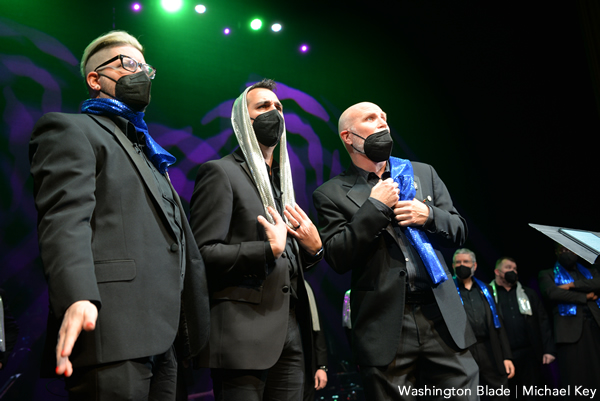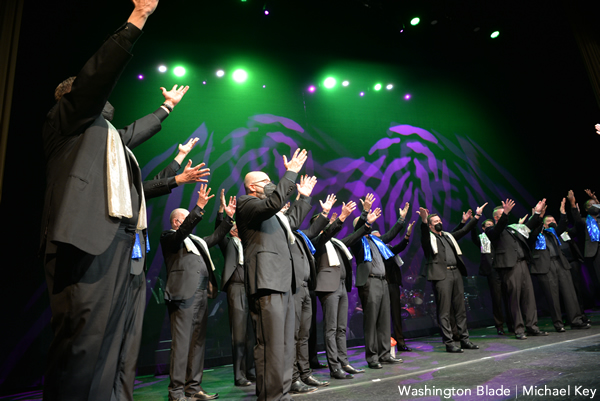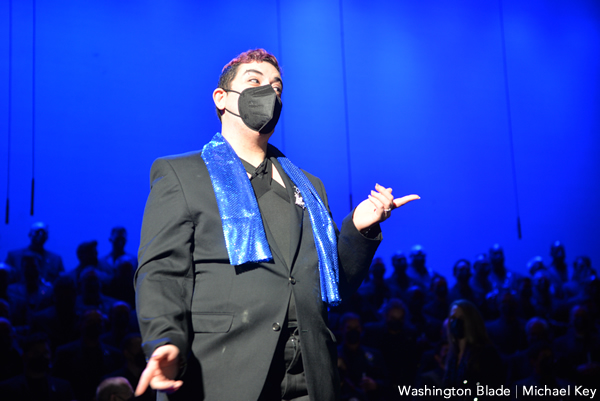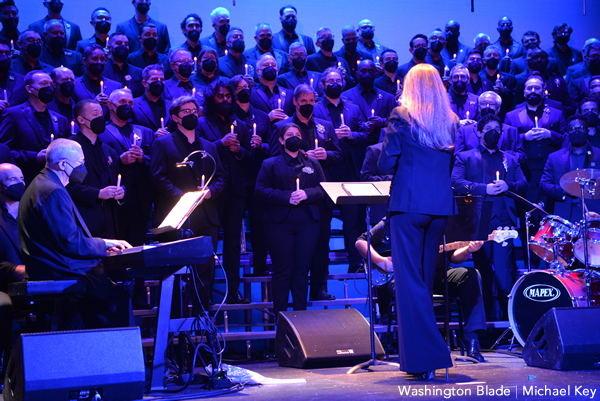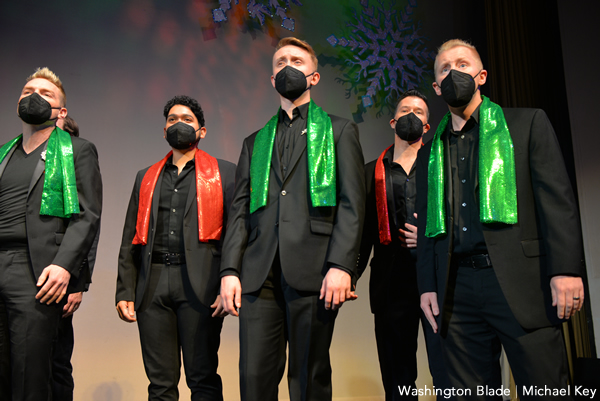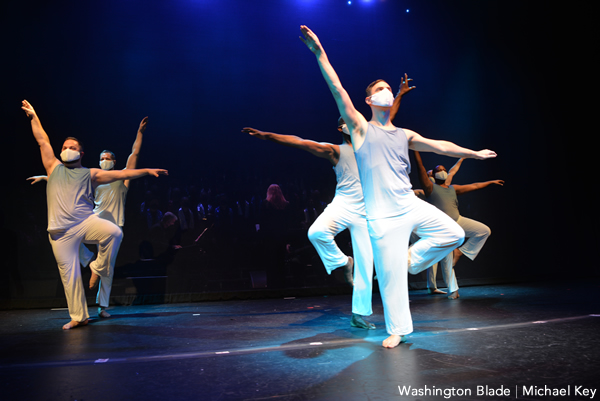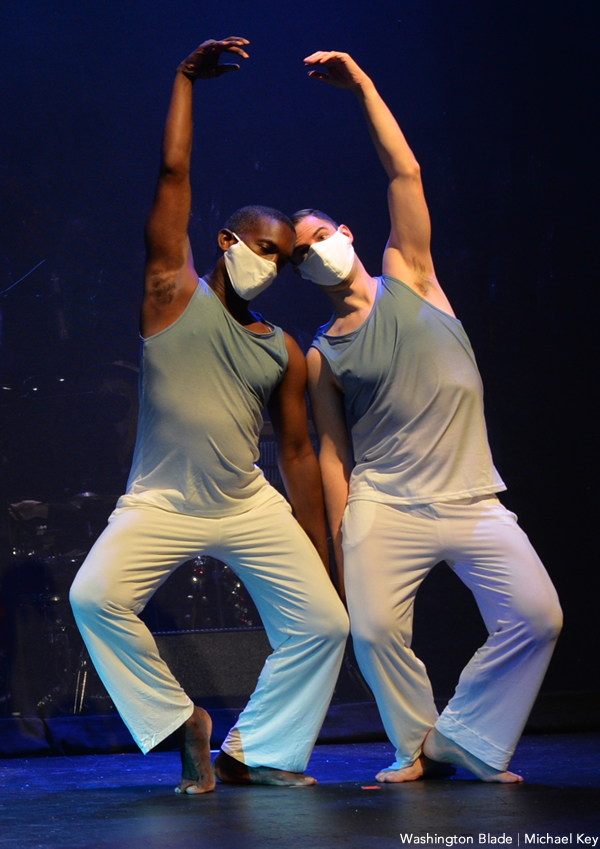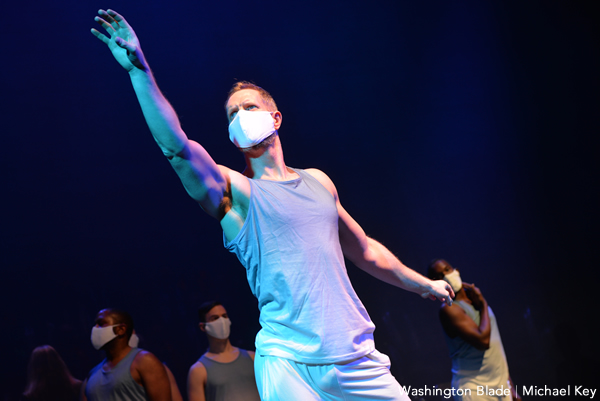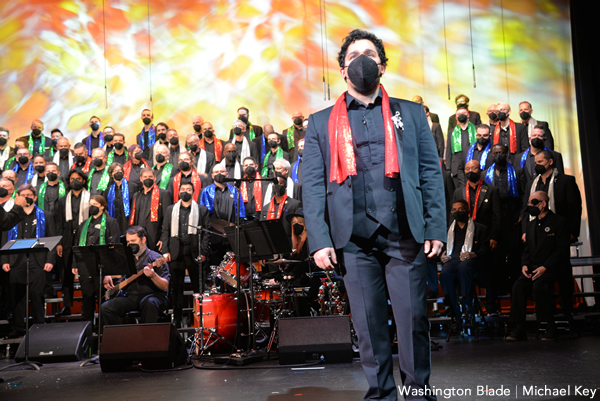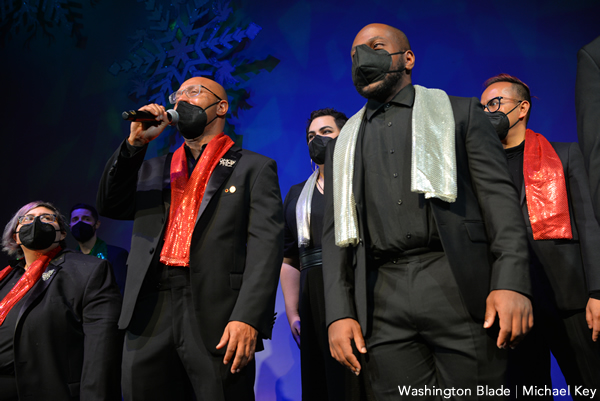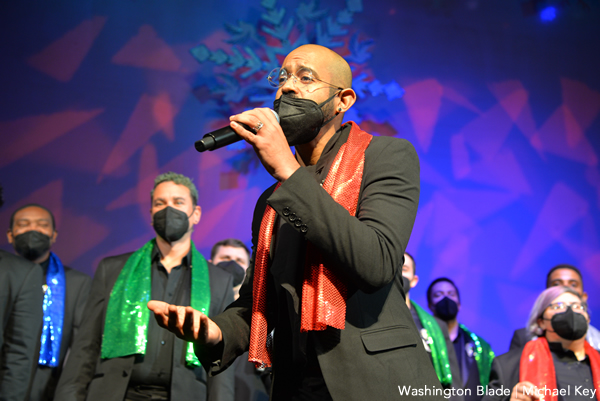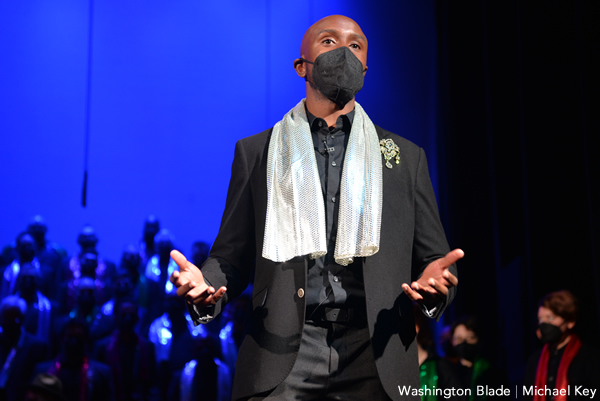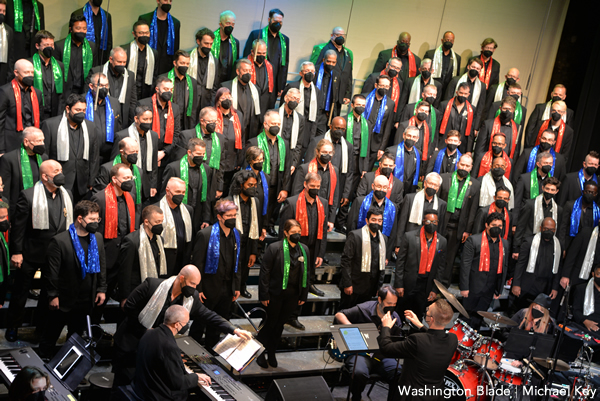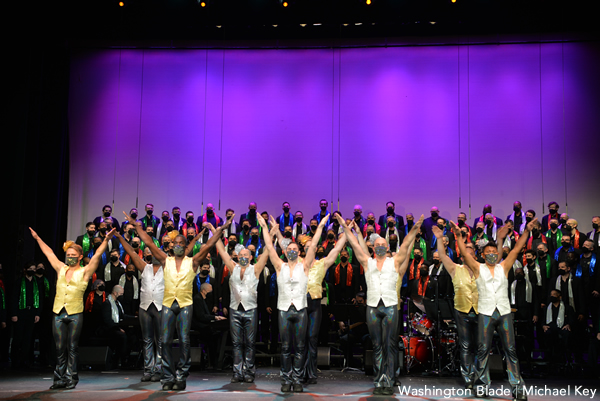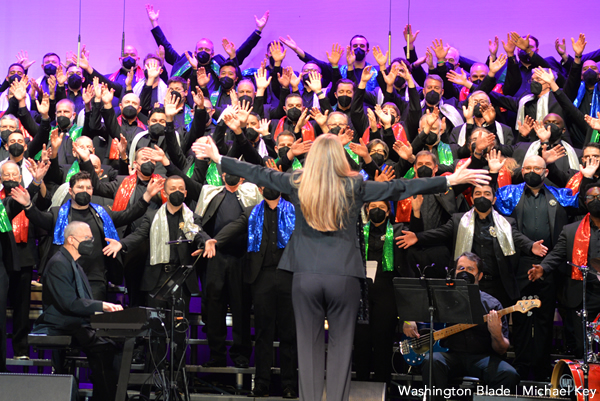 PHOTOS: International LGBTQ Leaders Conference opening reception
Politicians and activists from around the world met and mingled at the JW Marriott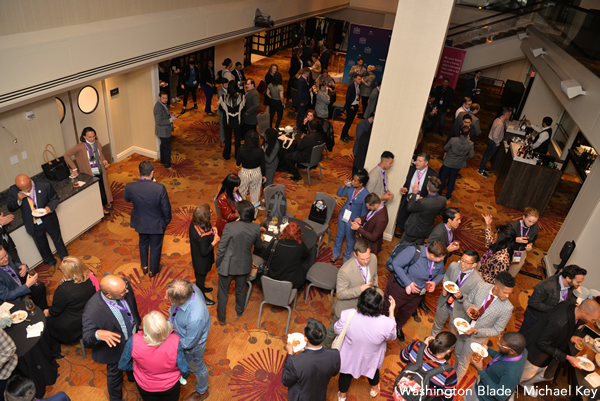 The LGBTQ Victory Institute held an opening reception for the 2021 International LGBTQ Leaders Conference at the JW Marriott on Thursday.
(Washington Blade photos by Michael Key)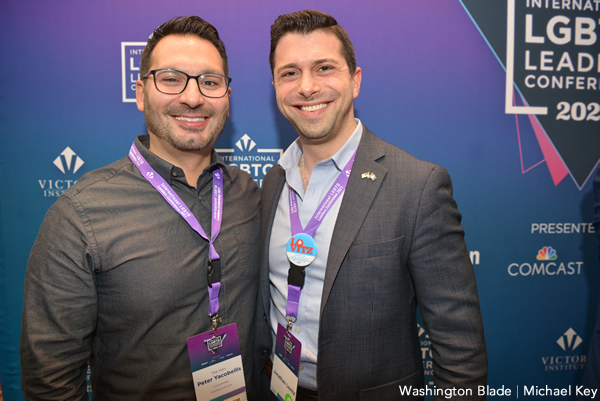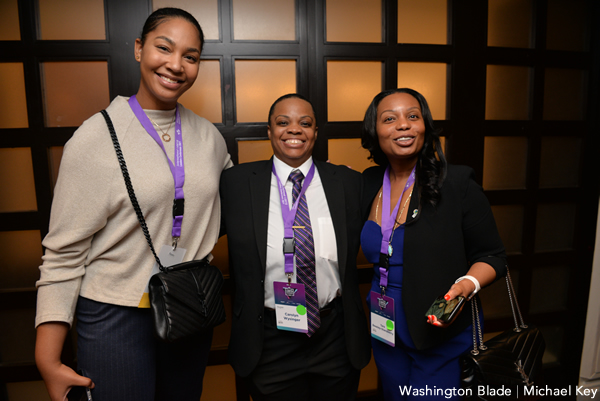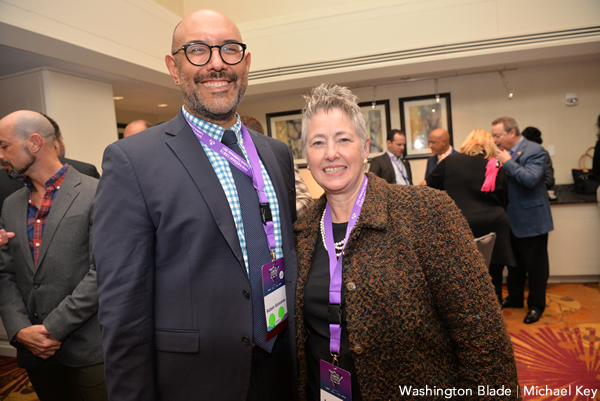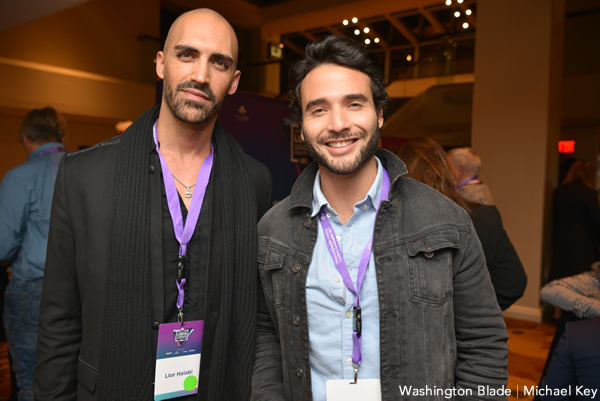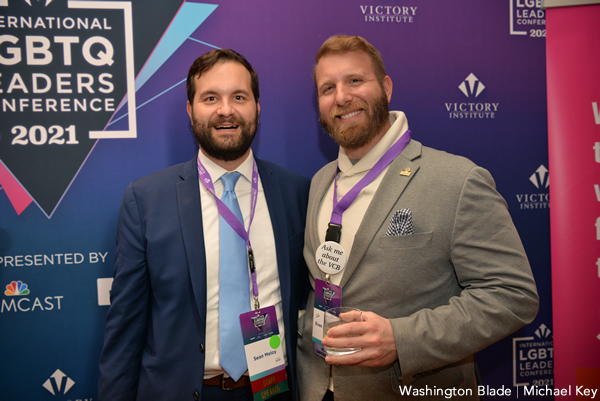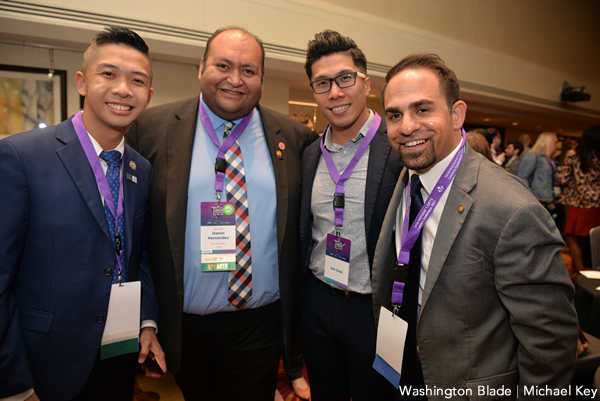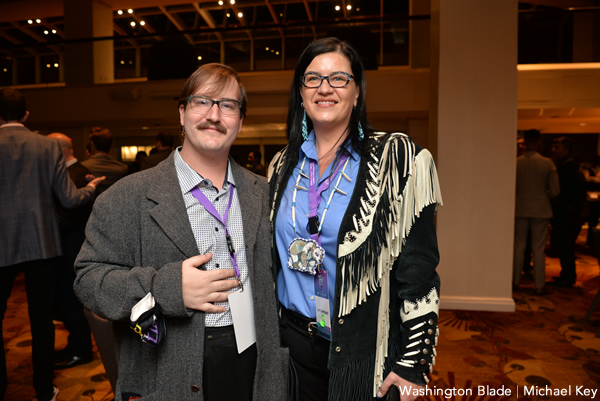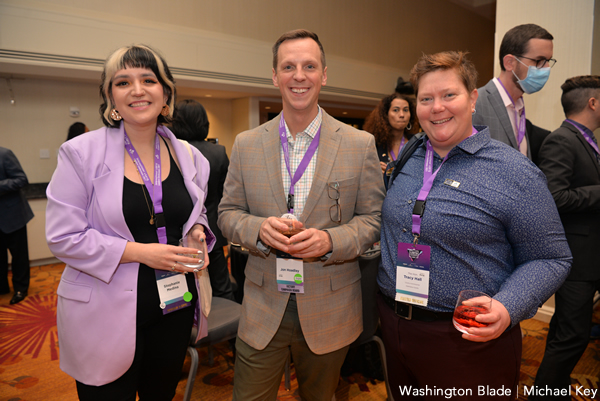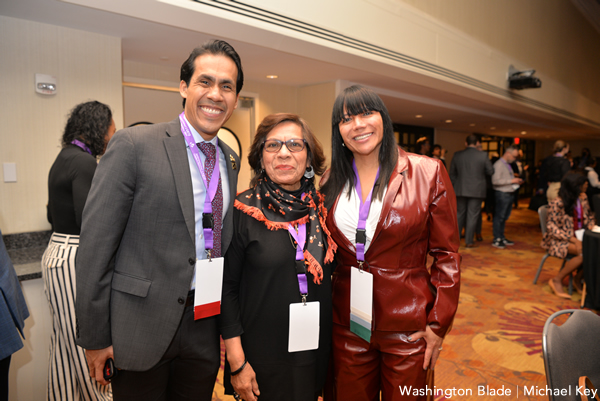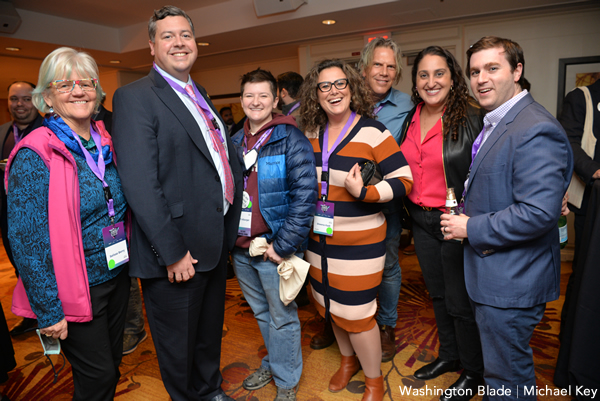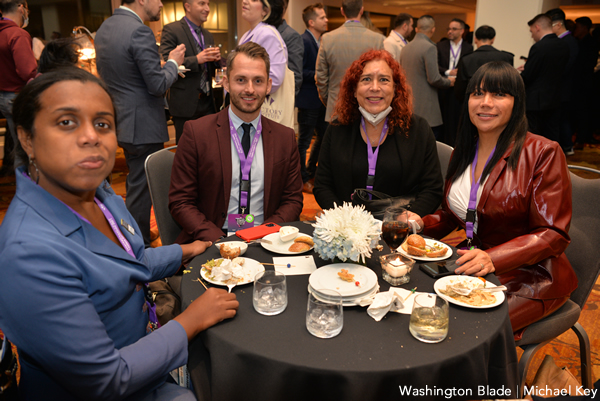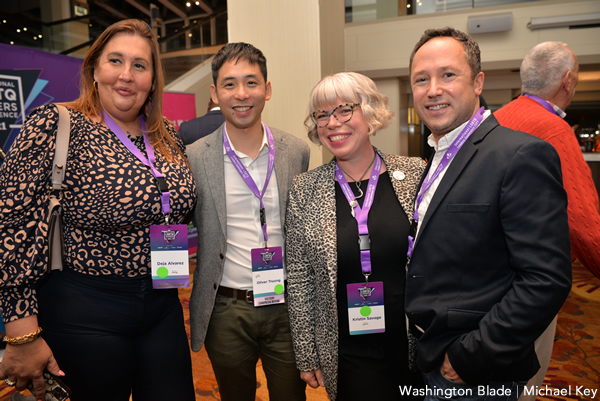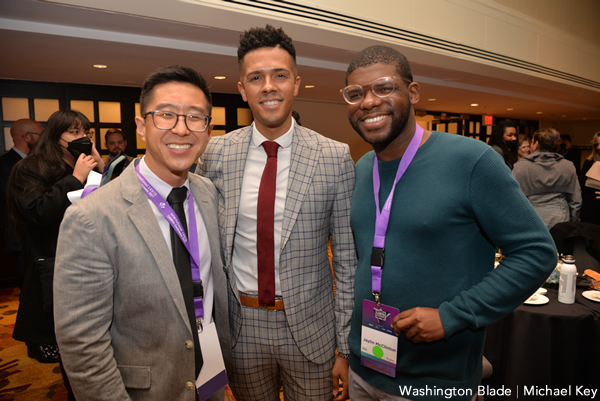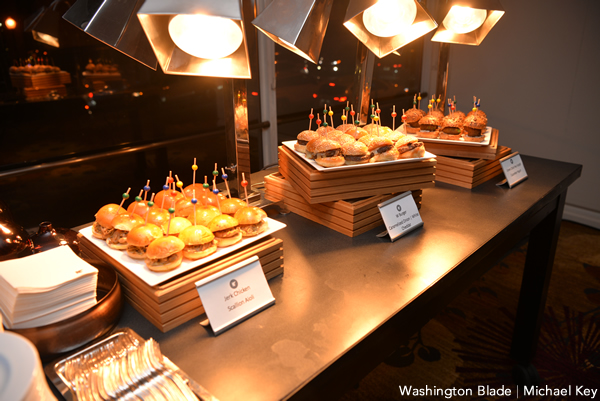 Meet the husbands and creative partners behind 'Christmas Angel'
A funny, redemptive world premiere with a diverse cast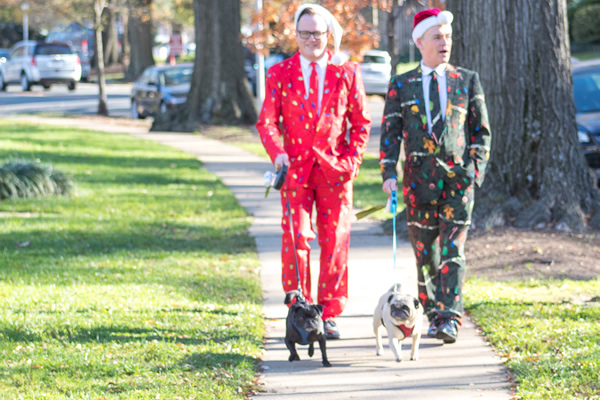 'The Christmas Angel'
Dec. 9-19
Creative Cauldron
410 South Maple Avenue
Falls Church, VA 22046
Tickets:  $35. Students $20.
Masks and proof of vaccination are required
creativecauldron.org
"Ours is like a lava lamp," says composer Matt Conner describing the collaborative creative process he shares with musical writing partner and husband Stephen Gregory Smith. "We move together in motion in a continual ebb and flow."
A couple for 23 years, married for eight, and making musicals together for 11, the talented pair's current offering is "The Christmas Angel," opening on Dec. 9 at Creative Cauldron in Fairfax.
A musical adaptation of the same-named 1910 novel by Abbie Farwell Brown, it's the story of Angelina Terry (Kanysha Williams), a wealthy embittered recluse who learns the lessons of Christmas from a box of old toys that she casts into the street. Also featured in the hour-long one-act are Ryan Sellers as Horton, Angelina's butler, and Carl Williams who plays her brother. The angel and toys are brought to life by an ensemble of a dozen teens plucked from the company's musical theater training program.
Via phone from their home in Arlington, Smith and Conner shared thoughts on their new show and working style. In attendance are pug dogs Edgar Allan Pug and Lord Byron, whom they call Eddie and Byron in public – otherwise "it's just too much," says Conner whose ultimate fantasy involves living on a pug farm where he'd write music and present the occasional show.
Rather than finish each other's sentences, the duo (both Helen Hayes Award winners – Smith for acting and Conner for directing) expound on one another's thoughts.
While Conner composes the music, Smith writes the book and lyrics, and together they co-direct. "But there's no end and beginning where my job ends and his begins," says Smith. "What we do complements each other's work."
Still, there are differences. Smith's approach is focused. He writes pages at night and edits in the morning. Conner's method is more relaxed, preferring to sit at the keyboard and talk rather than writing things down. But throughout the creative process, there's never a moment when the project isn't on their mind. They can be watching TV or buying milk when an exciting idea pops up, says Conner.
A clever nod to Dickens, the novel is more than just a female "Christmas Carol," says Smith. And in some spots, he's beefed up the 55-page book, fleshing out both storyline and characters including the toys whose shabby appearance belies a youthful confidence.
He adds, "Every holiday season you go to the attic and pull down the box, or boxes in my case, of holiday decorations and it's all old but it's new. That's the nostalgic feeling of toys from the attic that we're trying to find through the show."
The music is a combination of traditional carols performed by a hand bell chorus, and original Christmas songs that intentionally sound very familiar. The score includes songs "Don't Hide Your Light," "The Sweetest Gift," and "Yestermore" – the moment when the past, present, and future come together.
Also, there's Angelina's Bah! Humbug! number "Fiddlesticks," her great renunciation of the holidays. She believes the world a disappointing place to be, and the sooner realized the better.
Conner and Smith aren't new to Creative Cauldron. Through the company's Bold New Works project, the team was commissioned to write five world premiere musicals in just five years. The result was "The Turn of the Screw," "Monsters of the Villa Diodati," "Kaleidoscope," "Witch" and "On Air."
Judging from some of the titles and their slightly macabre content, it seems the duo was better poised to write for Halloween than Christmas, but nonetheless, they were commissioned. Creative Cauldron's producing director Laura Connors Hull brought them the obscure yet charming book that surprisingly had never before been reworked for stage or celluloid, and the pair got to work last spring.
Conner and Smith agree, "The show is a lot of things rolled up into one."
Not only is it a funny, redemptive world premiere with a diverse cast, but it's also a story largely unknown to today's audiences. Additionally, the show boasts intergenerational appeal while holding messages about Christmas, family, and finding light when you're in a darker place.
More information about Conner and Smith, including links to their music and popular podcast "The Conner & Smith Show," can be found on their terrific website at connersmithmusicals.com.