Md. inn hosts same-sex weddings
Several gay couples exchanged vows at Black Walnut Point Inn on Tuesday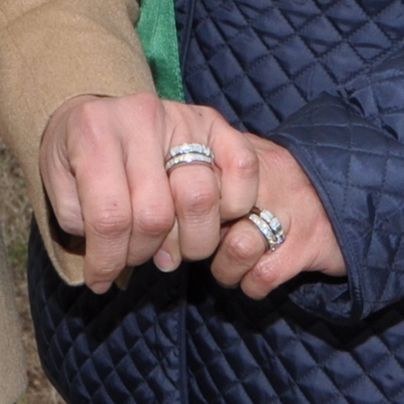 TILGHMAN, Md.—A gay-owned Eastern Shore inn on Tuesday hosted more than half a dozen same-sex weddings on the first day gays and lesbians could legally marry in Maryland.
Tracy Staples, owner of the Black Walnut Point Inn on Tilghman Island in Talbot County who married his partner, Bob Zuber, shortly after the law took effect at midnight, officiated the wedding of Baltimore residents Clayton Zook and Wayne MacKenzie shortly after 12:30 p.m. in a gazebo overlooking the Chesapeake Bay.
The couple met more than six years ago while working at a Huntsville, Ala., television station. Zook, 28, joked with reporters after he and MacKenzie, 30, exchanged vows that their decision to get married at the inn was "kind of a last minute decision."
"We thought it would be great to be a part of the first day that it's legal in Maryland," Zook said. "It's an easy day to remember for an anniversary. As far as all the legal ramifications and everything goes, it's great for us to say state of Maryland we thank you for giving us these rights for giving us equal rights and we want to show you that we do appreciate that and so getting married on the first day shows the people of Maryland that there are same-sex couples that are interested in matrimony."
Kevin and Joey Lowery of Glen Burnie also married at the inn—Joey Lowery, who is deaf, spoke his vows to his soon-to-be-spouse after he interpreted them to him.
Michelle Miller and Nora Clouse of Stevensville in Queen Anne's County have been together for 15 years. The couple had a commitment ceremony 10 years ago, and Miller conceded she thought "that was going to be it."
"I'm very proud of Maryland, especially since the popular vote and the people had to decide on this issue," she told the Washington Blade after she and Clouse exchanged vows.
Maryland is among nine states and D.C. that allow same-sex couples to legally marry.
Staples and Zuber are among the more than a dozen gays and lesbians who tied the knot immediately after the Maryland's same-sex marriage law took effect at midnight—seven couples exchanged vows at Baltimore City Hall earlier today as Mayor Stephanie Rawlings-Blake, lesbian state Del. Mary Washington (D-Baltimore City) and Equality Maryland Executive Director Carrie Evans watched.
Ruth Siegel of Silver Spring married her partner of 15 years, Nina Nethery, inside Black Walnut Point Inn just after midnight. The couple, along with Staples and Zuber and Dwayne Beebe and Jonathan Franqui of Pensacola, Fla., who also tied the knot immediately after the same-sex marriage law took effect, shared a champagne toast and a rainbow wedding cake after they exchanged vows.
"I just couldn't stop crying and everybody else couldn't stop crying," Siegel told the Blade after she and her spouse watched Zook and MacKenzie tie the knot. "We had a nice little crowd of people that we didn't know. And everybody got really close really fast. It was incredible."
Beebe, who has been in the U.S. Navy for 19 years, proposed to Franqui, 28, in uniform while marching in last July's annual San Diego Pride parade.
Florida does not recognize same-sex marriages, but Beebe told the Blade during a post-wedding interview at the Tilghman Island Inn that he and Franqui considered exchanging vows while they were taking care of his mother who continues to fight cancer at Walter Reed Army Medical Center in D.C.
"When we decided to make it legal, we were kind of figuring the options of so are we going to go to New York, are we going to go to Iowa or wherever," Beebe said. "After the election, in Maryland it was going to be legal on [Jan.] 1 so we decided to come here, visit Mom while she's undergoing treatment for cancer and also get our marriage license and then it sort of just all evolved into let's do it on New Year's night."
Beebe attended the other same-sex weddings that took place later on Tuesday at the Black Walnut Point Inn while wearing his Navy uniform.
"It's amazing to be able to wear my uniform and be openly gay," he said. "There's really not emotions or words to describe to live almost 19 years under 'Don't Ask, Don't Tell' and then to be lifted and then to be actually legally married in the state to somebody that you love and you are in love with and that you want to spend the rest of your life with and that you can't be fired for it, they can't do anything to you, you're just living your life the way you're supposed to. It's amazing. And to be able to wear my uniform is that much better."
Rooftop Pool Party postponed
Capital Pride Alliance moves official event to June 22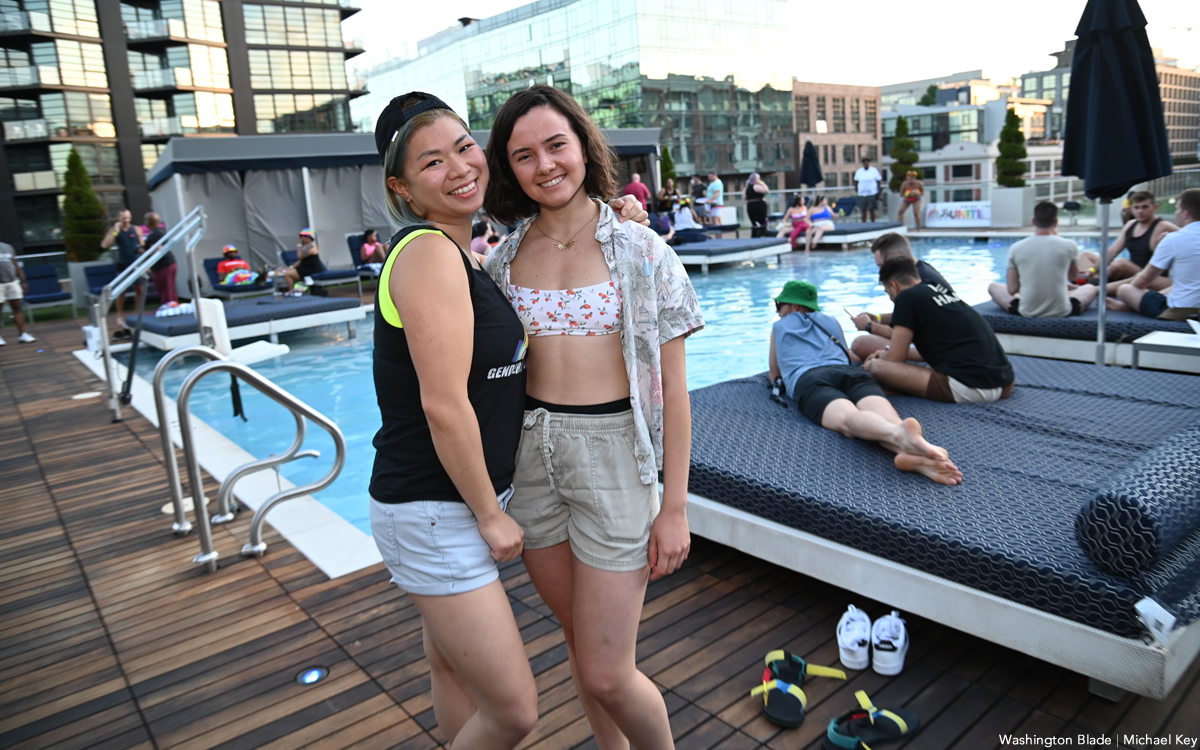 The Capital Pride Rooftop Pool Party, originally scheduled to begin at 8 p.m. tonight, has been postponed until Thursday, June 22, according to a statement released by the Capital Pride Alliance on Instagram. This action comes amid an international climate event created by the Canadian wildfire that has resulted locally in poor air quality and a haze around the region.
The Capital Pride Alliance Instagram account posted, "As with all concerns regarding health and safety issues, the Capital Pride Alliance will closely monitor the air quality situation resulting from Canadian wildfire smoke and take necessary precautions in consultation with our partners in the DC government."
"What does this mean for the pool party?" a question one private Instagram account user posed in the comment section.
"Important Update:" A representative of the Capital Pride Alliance responded through the group's official Instagram account. "Tonight's Capital Pride RoofTop Pool Party at VIDA The Yards is being postponed until Thursday, June 22 at 8:00 pm, due to the current air-quality situation resulting from the Canadian wildfires smoke. Please note that this postponement only applies to today's event."
The Capital Pride Alliance has yet to cancel or postpone any further events.
The White House earlier today rescheduled a large outdoor Pride reception planned for this evening to Saturday.
White House postpones Pride event due to wildfire smoke
Thousands expected for celebration bumped to Saturday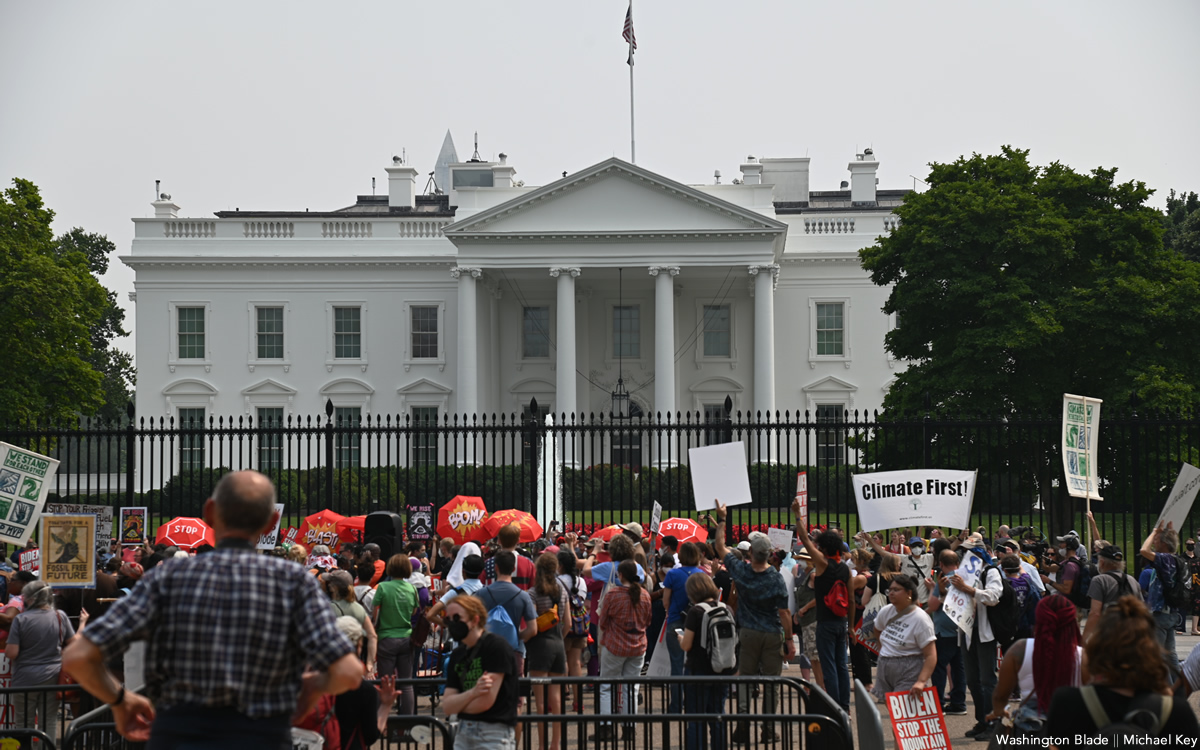 The White House announced Thursday that a Pride event scheduled for this evening has been postponed to Saturday due to the lingering Canadian wildfire smoke.
The smoke has enveloped D.C. in a dangerous haze that triggered a "purple alert" on Thursday, considered worse than a "red alert."
The event, expected to draw thousands of invited LGBTQ advocates and supporters to D.C., has been rescheduled for 1 p.m. on Saturday on the South Lawn of the White House, the same day as D.C.'s Capital Pride Parade, which kicks off at 3 p.m., and Pride on the Pier celebration, which starts at 2 p.m.
Rehoboth election canceled after just 3 candidates file for 3 races
Mayor Stan Mills unopposed in bid for second term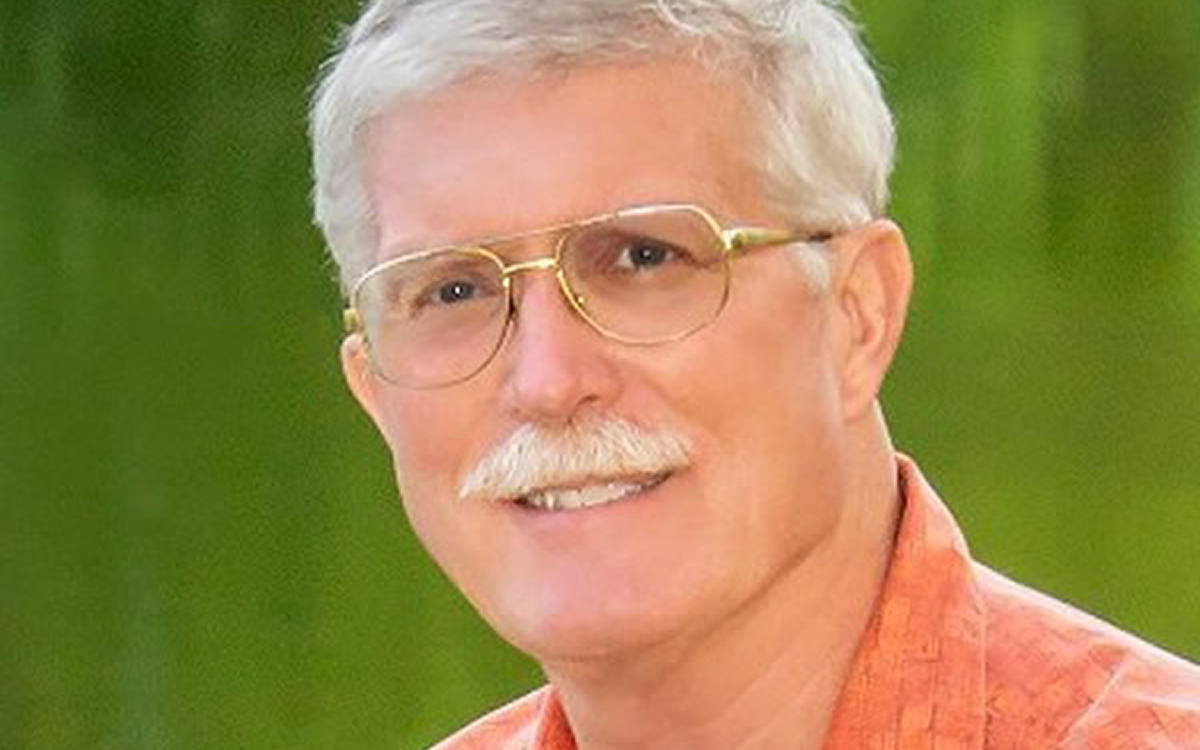 Rehoboth Beach voters won't be heading to the polls this August because municipal elections were canceled after just three candidates filed to run for three open seats.
Stan Mills will be Rehoboth's mayor for a second term, while Patrick Gossett, who's gay, will remain on the Board of Commissioners and Donald Preston will join the board, replacing Jay Lagree.
Lagree filed to run in the Aug. 12 election but withdrew from the running shortly thereafter. He did not respond to a voicemail asking why he withdrew, but released a statement citing his age and hearing loss as reasons for bowing out of the race.
"After much consideration, I am withdrawing my candidacy for city commission," he said in a statement released on June 6. "I have been honored to serve on the commission and to serve the citizens of Rehoboth Beach, and I had intended to continue my service. However, I am getting older every day. My hearing has become a problem; although, with correction, I can do pretty well most of the time."
Mills was the target of criticism when he ran for mayor three years ago, unseating incumbent Paul Kuhns. Critics were concerned about his stance on development, which surfaced when Mills voted against Clear Space Theatre's plans to build a new complex on Rehoboth Avenue, killing the already approved deal that was widely supported by the local business community.
More than a decade ago, as city commissioner, Mills used an ordinance to target bars hosting late-night eating and drinking on outside patios. Six of the eight bars targeted were owned and operated by gay businesspeople, former Aqua Grill owner Bill Shields told the Delaware State Public Integrity Commission. Police arrested and fingerprinted Shields before releasing him later as it became clear that Aqua Grill was grandfathered in and did not have to follow the ordinance. In a sharply worded decision, Delaware's Public Integrity Commission said Mills used his public office for personal gain when targeting the bars, since he owned a bed and breakfast next door, and should have recused himself from the decision.
Asked about it in 2020, Mills told the Blade that it was "old news."
"I'm sorry that happened, I'm sorry the way that was perceived," he said. "It's lessons learned and not forgotten, but we have to move on."
On Monday, Mills raised the Pride flag outside of city hall and presented CAMP Rehoboth, the local LGBTQ community center, with a proclamation honoring LGBTQ+ Pride month along with two commissioners.
CAMP Rehoboth declined to comment on the election, citing its 501(c)(3) status, which does not allow it to endorse candidates.
When Mills ran for election in 2020, real estate agent Joe Maggio called attention to the issue, writing in an editorial for the Blade that Mills "uses his official role to enhance his personal interests and impose his personal prejudices."
Mills did not respond to an email and voicemail seeking comment.
Gossett, who did not immediately respond to a voicemail, has served on the Board of Commissioners for 10 years. He was one of four commissioners that voted to overturn Clear Space Theatre Company's approval to build two buildings in downtown Rehoboth in 2021. Clear Space appealed to Delaware's Superior Court but later dropped the lawsuit, citing the cost of litigation and other factors. It has since abandoned plans to build the expansion in downtown Rehoboth, but executive director Wesley Paulson told the Delaware Business Times they will look for a new location "outside of the city."
Preston is a political newcomer but comes endorsed by Lagree.
"He's young, smart, has the same goals and objectives for Rehoboth Beach as I have," he told WGMD.
Preston did immediately respond to a voicemail. The three politicians will be certified on June 16.