More than 100 attend Equality Virginia lobby day
Advocates from across the state traveled to Richmond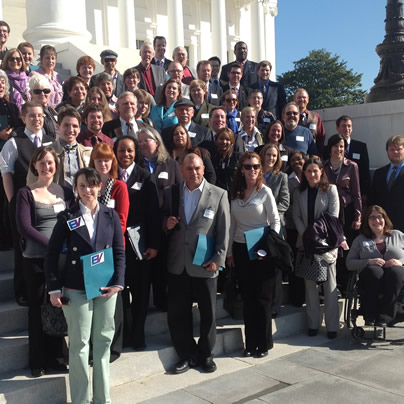 RICHMOND, Va.—Dozens of advocates from across the commonwealth gathered in the state capital on Tuesday for Equality Virginia's annual legislative lobby day.
They spoke with lawmakers in support of Senate Bill 701, which would ban discrimination against LGBT state employees. Advocates also sought backing for measures that would define bullying in Virginia and require school districts to adopt policies that specifically prohibit students and school employees from engaging in it.
They lobbied against House Bill 1617 that would prohibit publicly funded colleges and universities from discriminating against any student group based on their "religious, political, philosophical, or other content of the organization or group's speech."
Equality Virginia Executive Director James Parrish told the Washington Blade during an interview at the Library of Virginia that the measure state Del. Todd Gilbert (R-Shenandoah) introduced "sounds very well-meaning." He added his organization sees "the flip side of that as saying colleges have to fund organizations that willingly discriminate," while referring to the controversy over the Boy Scouts of America's long-standing ban on openly gay scouts and scoutmasters.
"Equality Virginia believes it is not our place to tell private organizations what to do," Parrish said. "It is our place to say public dollars shouldn't fund those organizations."
Aside from advocating for or against specific measures, advocates also attended workshops on a variety of topics that included the lack of legal protections for LGBT Virginians and transgender advocacy in the commonwealth. Congressman Bobby Scott, state Dels. Rob Krupicka (D-Alexandria) and Scott Surovell (D-Fairfax), gay state Sen. Adam Ebbin (D-Alexandria) and Richmond City Council President Charles Samuels are among those who attended a post-lobby day reception at the Library of Virginia.
Parrish also announced that Newark (N.J.) Mayor Cory Booker will deliver the keynote address at Equality Virginia's annual Commonwealth Dinner in Richmond on April 6.
"It's an important issue to address — LGBT rights in general," Fredericksburg attorney Jessica Jeanty told the Washington Blade. She met with state Del. Robert Orrock (R-Spotsylvania) and a legislative aide to state Sen. Ryan McDougle (R-Hanover) earlier in the day. "I was looking for a way to get involved, especially a way to get involved that's effective. I think reaching out to state legislators is one of the most effective ways to make a difference in this area."
The gathering took place four days after the state Senate passed SB 701 by a 24-16 vote margin. The Republican-controlled House of Delegates on Jan. 15 overwhelmingly approved gay interim Richmond Circuit Court Judge Tracy Thorne-Begland's judgeship after blocking his nomination during a late-night vote last May that sparked outrage among LGBT advocates.
SB 701 faces an uphill battle in the House of Delegates, but state Sen. A. Donald McEachin (D-Henrico) told the Blade during an interview at his capitol office that he remains optimistic about the measure's prospects in light of Thorne-Begland's appointment.
"I'd like to believe there's a new sense of enlightenment in the House," he said. "I'm hopeful that same sense of enlightenment will continue. The bill is all about fairness; it's all about making sure that no one in the state workforce should have to worry about being discriminated against because of who they are. And to that end, it's something that Fortune 500 companies do that call Virginia home, so I'm hopeful the House will look at the totality of the circumstances and see a way to pass it."
Ebbin, who co-sponsored SB 701 with McEachin, said the four Republicans who voted for SB 701 indicate "we may do a little better in the House."
"The subcommittee of the General Laws Committee we'll go to has proved a very formidable obstacle in the past," he conceded, while acknowledging the fact four Republican senators who voted for SB 701 indicate it may fair slightly better in the House than in previous years. "I've brought this forward every year since the Kaine administration and I'm committed to continuing to do so. We're chipping away and I think eventually this will pass; eventually."
Senate subcommittee approves 'love shack' bill
Ebbin spoke with the Blade hours after the Senate Courts of Justice Committee unanimously approved Senate Bill 939, which would repeal an 1873 law that criminalizes unmarried couples who live together.
Gov. Bob McDonnell told WTOP radio on Tuesday he supports the so-called "Love Shack" measure in spite of his views toward "cohabitators, homosexuals or fornicators" he expressed in his master's thesis he wrote while attending Regent University in Virginia Beach. Ebbin said he remains "confident" that SB 939 will pass in the full Senate in the coming days.
"At this date, the House needs to acknowledge the reality of the 21st century," he said. "I'm very optimistic they will."
"Equality Virginia definitely supports getting rid of all these bills that are constitutionally irrelevant," Parrish added. "We're for getting all those laws off the books."
Advocates: Va. LGBT rights movement continues to make strides
A House of Delegates subcommittee earlier this month killed a proposal that would have repealed the commonwealth's voter-approved constitutional ban on same-sex marriage, but advocates maintain SB 701 and Thorne-Begland's appointment prove the state's LGBT rights movement continues to move forward.
"It is definitely progress, especially since both were so difficult," Jeanty said. "I was shocked to hear that there was any kind of contention about Tracy Thorne-Begland at all, so to see that he finally has a full-time judgeship is great. I think that's progress. I also think that SB 701 is progress, but I think there's much more to go. There are many more bills that need to be passed. It's a little bit of progress, but we still need more."
Joyce Scher, co-founder of Mothers and Others of Virginia, agreed.
"I'm thrilled about Tracy, just absolutely thrilled," she told the Blade during the Equality Virginia reception. "Sorry that everybody had to work so hard because he was so worthy of having that job."
Ebbin, who is the first openly gay person elected to the Virginia Legislature, said he feels his Richmond colleagues have begun to respond favorably to LGBT-specific issues.
"I don't bring up gay issues with everyone, but I think just being here — and they know who I am, does make a difference and over time things can only get better," Ebbin said. "People say how can you stand being in Richmond. I say I love being here knowing that I can grab that microphone anytime I want when people say anything that needs to be reacted to. There's no place I'd rather be than watching Virginia wake up from history."
Bomb threat shuts down Takoma Park holiday drag show
MotorKat evacuated when Tara Hoot was performing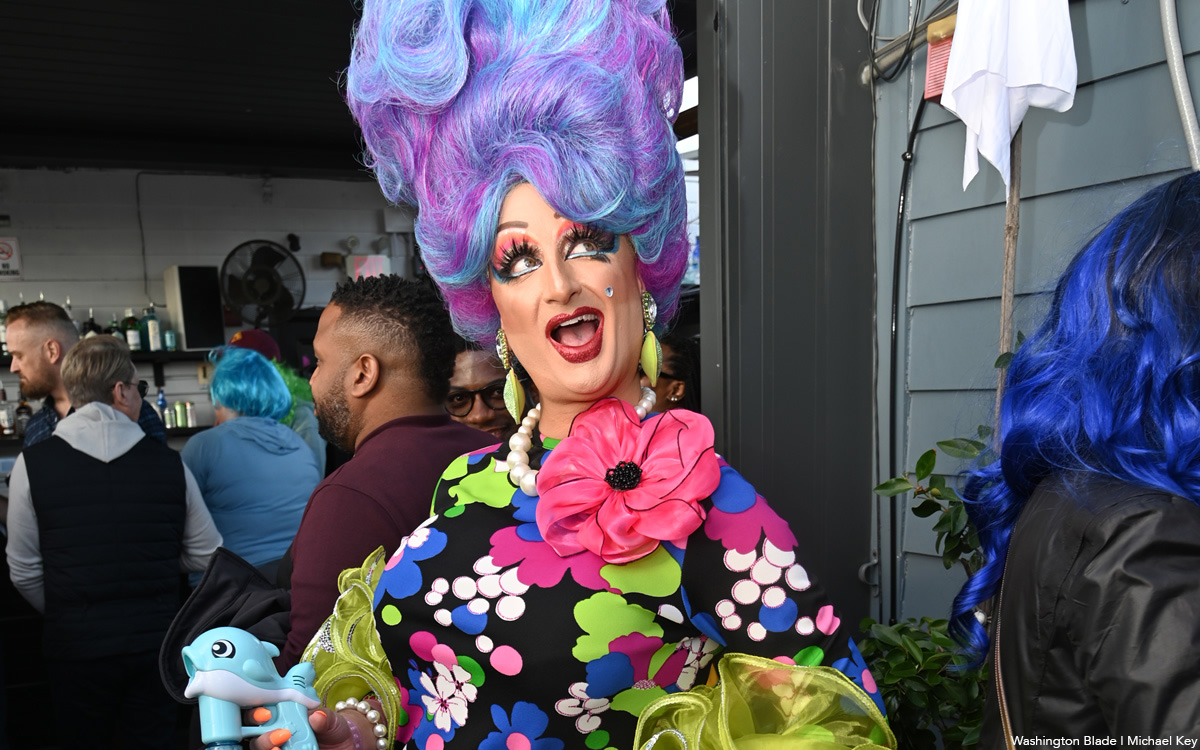 Police cordoned off a popular strip in Takoma Park on Saturday after a bomb threat shut down businesses, including a holiday performance by drag artist Tara Hoot.
MotorKat General Manager Mike Rothman told the Washington Blade that Takoma Park police notified them of a bomb threat to their business around noon.
Tara Hoot was delivering a holiday brunch performance at the MotorKat when the evacuation order came in.
Rothman said they were notified "five minutes into her final performance." Tara Hoot herself told the audience to leave for their safety.
Police proceeded to tape off the area and evacuated all businesses between Eastern and South Carroll Avenues, including TakomaBevCo, which is co-owned by MotorKat Wine Director Seth Cook.
Cook told the Blade that police brought in "bomb-sniffing dogs" to clear the area before allowing businesses to reopen around 2 p.m.
"The timing is unfortunate as this is one of the busiest weekends before the holidays," Cook said.
Rothman was also disappointed by the lost revenue due to what ultimately was a false threat, but he was firm that the Takoma Park LGBTQ community is resilient and would continue to thrive despite this setback.
"Takoma Park is a pretty proud and resilient community," he said. "I don't expect people to lay down and be scared by this."
MotorKat and TakomaBevCo reopened for business around 3 p.m.
Comings & Goings
Jimmy Alexander joins WTOP News as a feature reporter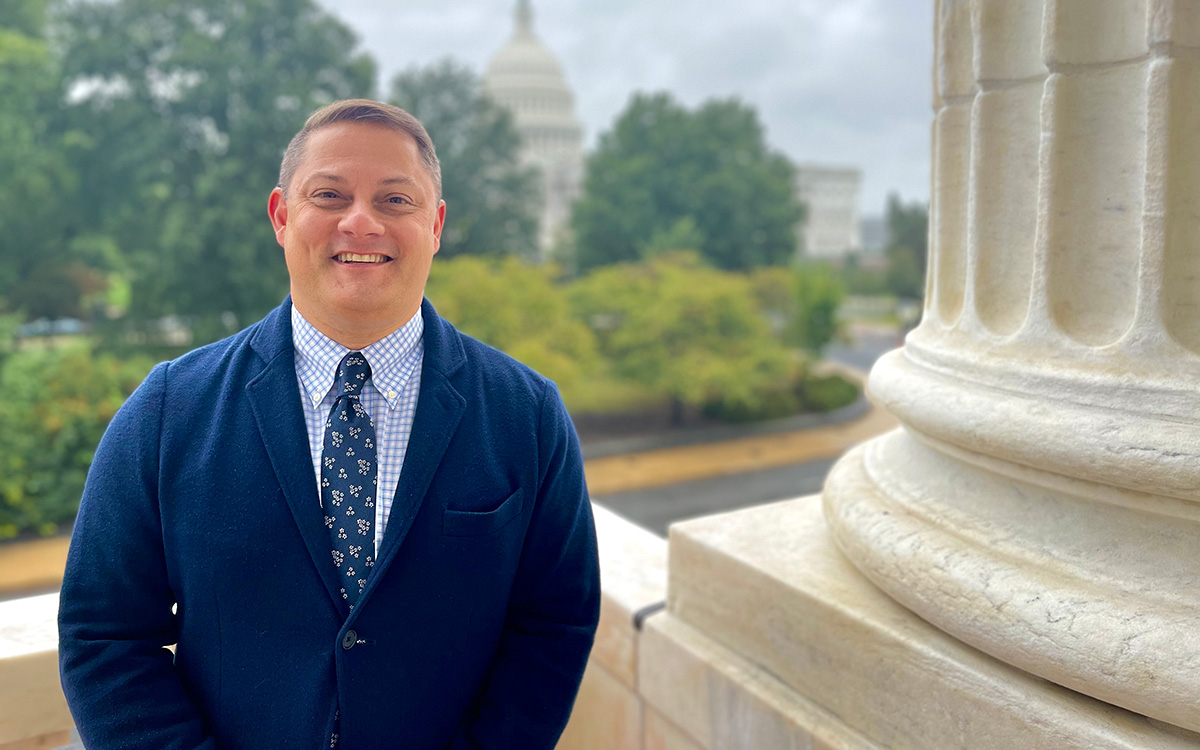 The Comings & Goings column is about sharing the professional successes of our community. We want to recognize those landing new jobs, new clients for their business, joining boards of organizations, and other achievements. Please share your successes with us at: [email protected]. 
Congratulations to Jimmy Alexander who has been hired at WTOP News as a feature reporter. Over the last four years Alexander has been covering stories as varied as the Jan. 6 insurrection to the 17th Street High Heel Race. He has been working as a co-host on the Jack Diamond Morning show on Cumulus Media, Manning Media. On his acceptance of the new position Alexander said, "I'm thrilled that at WTOP News, I will be able to focus on events and people that bring hope to your heart and a smile to your face."
Alexander is a versatile multimedia broadcaster with more than two decades of experience covering both major news events in Washington D.C., and important human-interest stories outside the Beltway. He is an engaging interviewer with a track record of having compelling conversations with the biggest names in government and show business, from presidents to Paul McCartney. Prior to this he worked as a freelance feature reporter with WDCW50-DC News Now. He is also with Writer-20, Twenty Country Countdown, United Stations Radio Networks. There he developed a concept for a countdown show featuring country music's weekly top songs on-air and online and prepared weekly scripts for a three-hour show.
Alexander conducted the only Jan. 6, 2021 interview with "The QAnon Shaman" Jacob Chansley. Since 2016, he has served by request of the D.C. mayor as official host of the 17th Street High Heel Race, the city's second largest LGBTQ event of the year. He is featured in the documentary "Joan Rivers: A Piece of Work," and is a frequent guest on CNN's Morning Show "New Day." He covered White House visits by Queen Elizabeth, the Pope, and the yearly Easter Egg Roll. He also won $10,000 on the game show "Pyramid."
LGBTQ University of Maryland students prepare to celebrate Hanukkah
Eight-day festival to begin Thursday night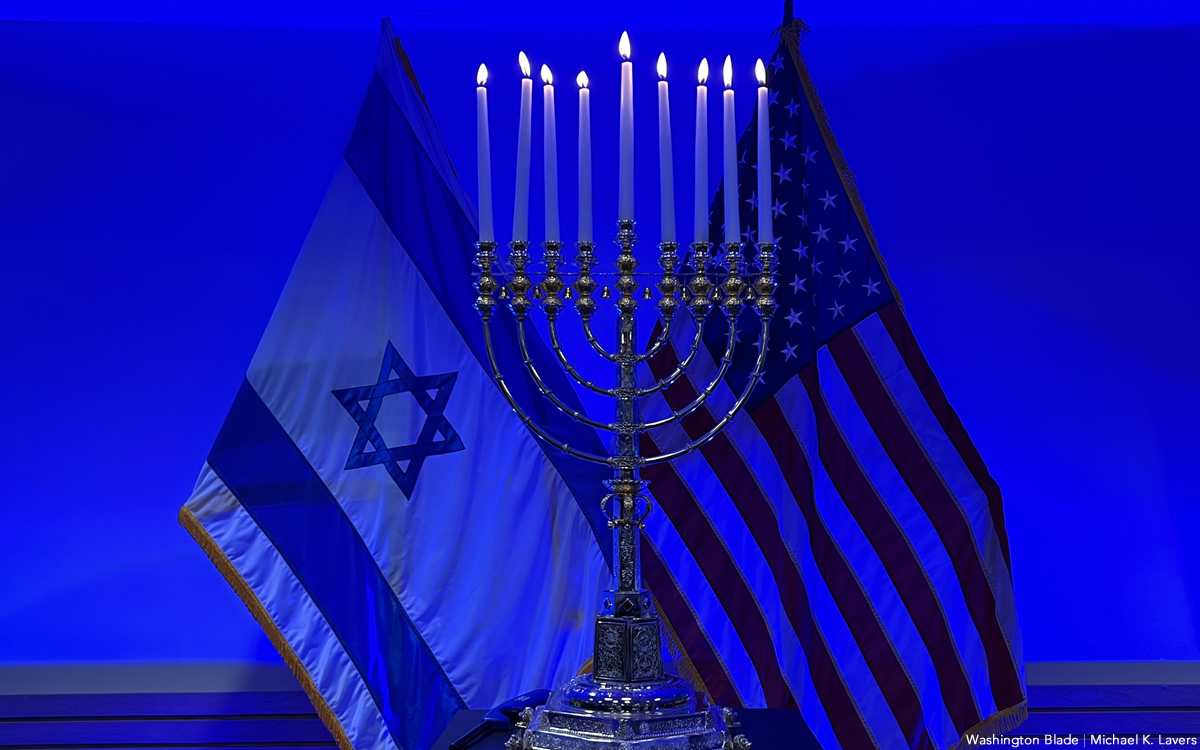 A number of Hanukkah events for LGBTQ students will take place at the University of Maryland this week.
Queer Jewish students and allies are welcome to attend Crazy Cozy Chill Chanukah Celebration on Sunday at the University of Maryland Hillel. Hamsa, home to queer Jewish life on campus, hosted a study break with hot drinks, snacks and games and a chance to welcome Hanukkah early. 
The first night of Hanukkah is Thursday.
Chabad UMD is hosting a menorah lighting on Thursday in front of McKeldin Library and plans to mention the war between Israel and Hamas, according to Rabbi Eli Backman of Chabad UMD. The event is going to be a focus on the positivity and the message of the Hanukkah story.  
"We've been around for thousands of years and all those who've tried to make sure that we didn't live to see the next generation (is) no longer here," Backman said. "That message will really resonate at home for the holiday."
The story of the Maccabees is one of the few stories where Jewish people fought, Backman said. In Jewish history, people don't see a military response in many of the other holiday moments.
"It should give us a boost of energy," Backman said. "A boost of strength (and) a boost of hope."
Part of the Hanukkah story's message is that Jewish people were in a position that they needed to form a military to secure their borders, Backman said. And they succeeded. 
For some, celebrating Hanukkah depends on the people they're around, Florence Miller, a sophomore English and Women, Gender and Sexuality Studies who is Hamsa's president, said.
Miller is agnostic and does not find themself to be a religious person, but the thing that has kept their Jewish faith is the people about whom they care are Jewish and the sense of community that comes from being Jewish.
"I just wanted to do a Hanukkah event," Miller said. "It's been a good refresher with how the semester has been."
Miller last year attended a Hanukkah party and played a game of dreidel, a spinning top with four sides marked with a Hebrew letter. The people who were in attendance wanted to bet something, but the only thing they could find were pinto beans.
"When I took them out of my pocket one got stuck in there," Miller said. "I still have that bean."
For some Jewish students it's important to go to Hanukkah events like Hamsa's celebration to be around like-minded Jewish people, Yarden Shestopal, a sophomore American Studies major, said.
"Which is why I like Hamsa," Shestopal said. "Since we're all queer people or allies we kind of share that mentality of acceptance."
Being part of the Jewish community at the University of Maryland has opened Shestopal up to how diverse the LGBTQ and Jewish communities are. Shestopal this year, however, debated whether or not to put his menorah up on the windowsill of his apartment because of the rise in anti-Semitism due to the war in Israel.  
"I'm pretty sure I am going to put the menorah in my window," Shestopal said. "The only way to combat anti-Semitism is to stay visible." 
Several University of Maryland students lived in Israel before or during their time at the university.
Elisheva Greene, a junior animal science major, went to seminary, a school for women to learn about Torah, during the pandemic. Greene said celebrating Hanukkah while a war is happening is going to be a similar feeling. 
"I'm able to do what I can from over here by supporting my family and friends," Greene said. "The biggest thing I can be doing is living my life as a Jewish person and showing that I express my Judaism and I'm not afraid."
Greene recalled they could not go more than 1,000 feet from home for two months and Hanukkah took place during that time. While it was difficult, Greene said people still put their menorahs on their windowsill.
"Knowing the resilience the Israelis have and the fact people like to show their Jewishness (is not) gonna stop me," Greene said. "Like there's a war going on but you're gonna be a Jew and you're gonna flaunt that."