Veteran strategist takes helm of coalition to pass ENDA
McTighe says executive order would make issue a partisan one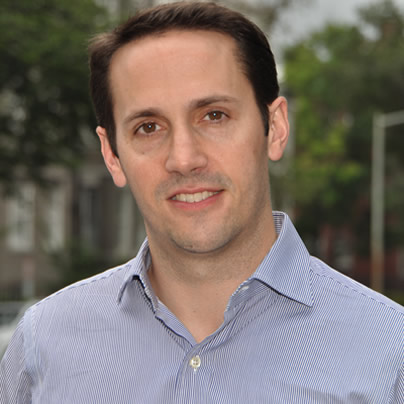 For Matt McTighe, the strategy for passing the Employment Non-Discrimination Act is similar to the one he oversaw guiding the legalization of same-sex marriage in Maine: Having LGBT people tell their stories about the harms they face under current law.
"The big things are just the need for personal interactions, really trying to educate people using our own personal stories," McTighe said.
The gay 34-year-old veteran political strategist, who in addition to leading the 2012 ballot campaign that brought marriage equality to Maine had a hand in efforts as a Gill Action Fund operative in defeating anti-gay marriage efforts in Massachusetts and New Hampshire, has been contracted through the fall to head the $2 million LGBT campaign known as "Americans for Workplace Opportunity." The campaign has a singular goal: pass ENDA.
During an interview with the Washington Blade on Tuesday, McTighe said he wanted to bring the recent success the LGBT community has seen on marriage equality to ENDA in the wake of legalization of same-sex marriage at the ballot in three states and in legislatures in two states.
"We can take those same proven tactics and apply them to other issues that haven't had as much resources behind them or as much as a concerted push behind them in recent years and see if we can get it done," McTighe said.
Ian Grady, the Equality Maine communications director who worked with McTighe under the Maine marriage campaign, said his former boss' ability to work with people of different political affiliations makes him "a great choice" to lead the new coalition.
"In Maine, while he led the efforts to secure marriage, he brought together people and groups from across the political spectrum to build the support we needed to win," Grady said. "He's a natural choice to lead this new, bi-partisan effort."
Foremost on McTighe's mind is ensuring successful, bipartisan passage of ENDA in the Senate, where a vote is expected in the fall. The campaign has identified several key states with undecided senators where it'll concentrate on building grassroots support: Arizona, Arkansas, Florida, Idaho, Indiana, Nevada, New Hampshire, New Jersey, Ohio, Pennsylvania, Tennessee and West Virginia.
With U.S. senators at home in their districts during August recess, McTighe said the immediate focus of the campaign includes efforts "to generate a high number of quantity contacts and quality contacts" of individuals and business leaders who have a personal connection to lawmakers and are able to talk with them about ENDA.
"And so far, that outreach has been going really well, we have a growing list of supportive companies, a growing list of faith leaders who are coming on board and some really high-profile prominent advocates on both sides of the aisle," McTighe said.
Also on the agenda while Congress is on hiatus is updating the research and polling on ENDA, which McTighe says has remained stagnant for some time.
"The last real massive comprehensive poll on this was done in early 2011," McTighe said. "So, we need updated research, we need updated numbers. Our guess is that support has only increased in recent years because we've seen support increase on marriage and growing acceptance of LGBT Americans across the country."
Amid anticipated plans for town halls for lawmakers and their constituents, McTighe said he encourages ENDA supporters to question their representatives in Congress about ENDA "as long as they do it in a respectful way that gives them space."
"It's never helpful for them to do it in an accusatory way that's going to put it on the defensive and frame it as, 'Why aren't you supporting this thing already?'" McTighe said. "Because the case is for some of these legislators, yeah, we wish all of them were supportive, but some of them just really haven't had the exposure to the education."
Three of the undecided senators on ENDA are Democrats: Sens. Bill Nelson (Fla.), Mark Pryor (Ark.) and Joe Manchin (W.Va.). Nelson has been quoted in the Tampa Bay Times about having concerns over the transgender protections in ENDA, including whether private business insurance policies would have to pay for gender reassignment surgery.
While expressing faith that Nelson would cast a vote in favor of ENDA based on the lawmaker's record, McTighe said the way to bring the Florida senator on board is through additional education and lobbying from transgender constituents.
"I think the things that Sen. Nelson has said and certainly his past voting record shows that he's open-minded, fair-minded who, I think, gets that these are his constituents, too, and anybody needs to be protected," McTighe said.
McTighe said he's "optimistic" that ENDA would find 60 votes to overcome a filibuster in the Senate, but added "it's not going to be easy" getting there and he wouldn't predict the number of votes that would be ultimately won on the Senate floor.
The Senate vote has such prominence in McTighe's strategy that he said he wouldn't openly speculate about the strategy for passing ENDA in the House, saying it's "premature" to talk about ideas like a discharge petition or the Senate inserting ENDA into a larger bill that the House would later pass.
"The biggest thing is that we know for sure that we're not going to get anywhere until we actually have a successful bipartisan vote that actually comes to the floor and can overcome a filibuster in the Senate," McTighe said. "To me, it's pointless to speculate about what's going to happen in the House, or what's going to happen on the executive order in the administration until we really give it our all to get a full Senate vote."
Still, McTighe said his work during the short-term on the Senate vote is meant to build support for success in the lower chamber of Congress.
"Even though I'm only contracted to oversee this effort through the Senate vote this fall, everything I'm doing and all the plans, field and research groundwork I'm putting into place is predicated on the notion that the coalition will need to keep the fight going in the House," McTighe said.
McTighe said he sees a path forward in the House following a bipartisan vote on the Senate floor if other GOP lawmakers joins Sens. Mark Kirk (R-Ill.), Lisa Murkowski (R-Alaska), Susan Collins (R-Maine) and Orrin Hatch (R-Utah) in supporting the bill.
"We think we've got a really good shot of getting anywhere between two to five more," McTighe said. "If we can do that, and show that this isn't a partisan issue, I think a lot of Republicans in the House are going to look at this and probably put some pressure on leadership that this is an issue that so many Americans support, this is an issue in every state you'll see, in every poll you'll see support growing, and the polls are only going in one direction."
McTighe says executive order would 'inject level of partisanship' into debate
The campaign is focused on the Senate without looking for additional help beyond what the administration is currently offering. McTighe said he's happy with the level of support from the administration and Obama's position on the legislation is clear.
"I think the president has been great in expressing his support for this legislation and expressing his support for the pathway of trying to actually get a bill passed because the administration recognizes and has a long track record of supporting workplace protections," McTighe said.
Notably, McTighe expressed a lack of interest in Obama issuing an executive order that would prohibit LGBT workplace discrimination among federal contractors, saying that kind of unilateral administrative action "injects a level of partisanship into whatever that debate is."
"We want to embrace the legislative process here instead and actually work with the Senate, and work eventually with the House to get this passed because an executive order would only cover approximately 20 percent of the American workforce or less through federal contractors, whereas passing a full ENDA, which we're only going to get to with a bipartisan majority, is going to cover everybody," McTighe said. "The minute an executive order is invoked, now you're going to make it a lot harder for people from whatever party the current administration is not in, so in this case Republicans coming on board, it makes it harder for them because now this is much more of a partisan issue."
The Americans for Workplace Opportunity coalition includes more than 90 groups seeking to pass ENDA headed by a steering committee of eight prominent groups — LGBT-affiliated and otherwise — seeking to pass the legislation. The steering committee consists of American Civil Liberties Union, American Federation of Teachers, American Unity Fund, Human Rights Campaign, Leadership Conference on Civil & Human Rights, National Center for Transgender Equality, National Gay & Lesbian Task Force and the Service Employees International Union.
McTighe said these groups working under a single umbrella to pass ENDA is more effective than each of them working individually because a bigger pool of resources will be combined toward a larger goal.
"We know there's a focus and we know that we've got significant resources that are going to be better spent and more effectively utilized because they're going to all flow through one entity, and in this case it's going to be overseen by me as campaign manager, and I can treat it as I would any other campaign, focusing on a deadline and a specific goal," McTighe said.
Getting access to the steering committee, McTighe said, required organizational strength as well as shared belief that the tactics employed to win marriage equality are the right ones to pass ENDA.
"This is a very specific campaign where funding is being allocated for very specific purposes, so we're working with the organizations that do that, that actually do that level of research-driven targeted field [work] with a tailored message and message-testing like what we've seen done with all the marriage states," McTighe said.
Still, the steering committee lacks some groups known for their work on ENDA, including GetEQUAL, the National Center for Lesbian Rights, Lambda Legal, Log Cabin Republicans and Freedom to Work. Freedom to Work's absence is particularly striking because that group is focused specifically on winning LGBT workplace protections.
McTighe emphasized that each of these organizations is part of the larger 90-group coalition to pass ENDA and emphasized that inclusion on the steering committee "really depends on the tactics" that these organizations pursue.
"I look at it as a pie; this is one slice of the pie," McTighe said. "There's a much bigger movement, and this is true of every movement and every campaign. There are going to be groups that are supportive, some of them are going to be part of the coalition some might be on a board, some might be on a separate advisory board."
Asked whether he was happy with Freedom to Work's contributions to the effort to pass ENDA, McTighe replied, "I haven't had a lot of firsthand experience working with Freedom to Work, but everything that I've seen, I know they're really dedicated to this issue, and I look forward to working with them as part of the broader coalition that we're all going to be working in."
Tico Almeida, president of Freedom to Work, said he hasn't met McTighe, but looks forward to collaborating as part of the effort to pass ENDA.
"I've never met Mr. McTighe, but I've heard really wonderful things about him from our contacts at the Gill Foundation, in Maine, and elsewhere in our movement," Almeida said. "I'm looking forward to learning more about AWO's efforts, especially since Freedom to Work has a full docket of lobbying, litigation, field organizing, Republican outreach, Spanish-language Latino outreach, collaboration with faith and business leaders, and social media efforts that we will roll out in September."
The presence of another group on the steering committee, the ACLU, is also noteworthy because that group is the chief organization that's seeking to narrow a religious exemption to enable a greater number of meritorious cases for LGBT workplace discrimination. McTighe denied the group's inclusion means the campaign would share this goal, nor did the issue come up during negotiations in bringing the ACLU on board.
"The opportunities to amend it — whether it was in the committee process, or previous years, or in the early drafting stages — some of these organizations had positions were they were really trying to advocate for narrow exemptions or different wording or additional language, but in the case of coming together in the steering committee, we're united in trying to get a bill passed that's already passed the committee and that's the version that's out there right now," McTighe said.
But the main message that McTighe had for supporters of ENDA was that people need to make clear the federal employment non-discrimination protections don't exist to grow the number of voices calling for its passage.
"You need to get those same people who are shocked and even outraged when they hear protections don't currently exist … trying to contribute in a productive way whether it's supporting the organization — supporting Americans for Workplace Opportunity in this case — also just talking to the legislators, telling them them in an open-minded way why they care about it," McTighe said.
Patti LaBelle, Gladys Knight dazzle at AIDS Healthcare Foundation World AIDS Day Concert at Kennedy Center
Renowned vocalists delivered show-stopping performances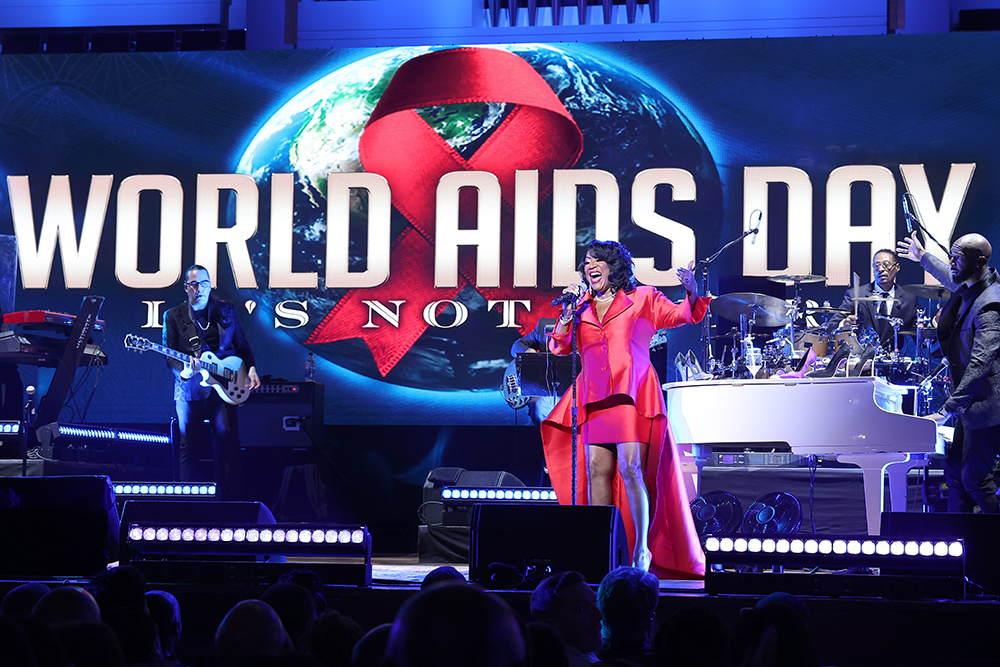 The AIDS Healthcare Foundation (AHF) hosted its 2022 World AIDS Day Concert on Wednesday, Nov. 30, at the concert hall of The Kennedy Center in D.C. Renowned multi-Grammy Award-winning vocalists Patti LaBelle and Gladys Knight delivered show-stopping performances to the packed crowd, which included supporters, dignitaries such as: Harold Phillips, Director of the White House Office of National AIDS Policy; White House Senior Advisor for Public Engagement, Mayor Keisha Lance Bottoms, Congresswoman Sheila Jackson Lee, and New Orleans Mayor, Mayor LaToya Cantrell, and more, in a night of hope and celebration.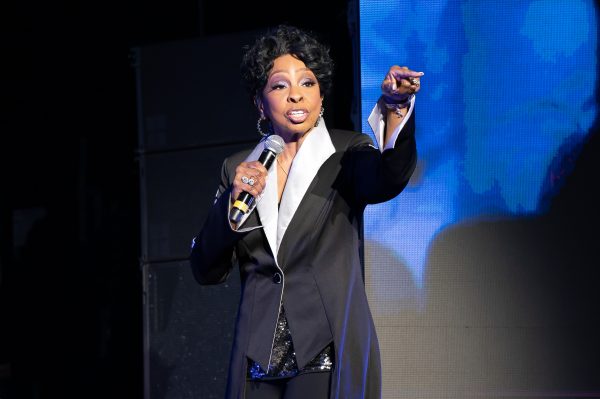 AIDS Healthcare Foundation (AHF), is the world's largest HIV/AIDS care provider, currently operating in 45 countries. The concert is held every year to commemorate World AIDS Day, observed internationally each year on Dec. 1. This year also marked the global organization's 35th anniversary.
At the event, longtime humanitarian and AIDS advocate, Princess Diana was honored, posthumously, with AHF's Lifetime Achievement Award. Under its "Keep the Promise!" banner, AHF also acknowledged progress made in the global fight against HIV and AIDS and continues to raise awareness about "The Other Pandemic" as a reminder of the significant work still to be done on HIV/AIDS, as well as remembering the lives that have been lost over the years.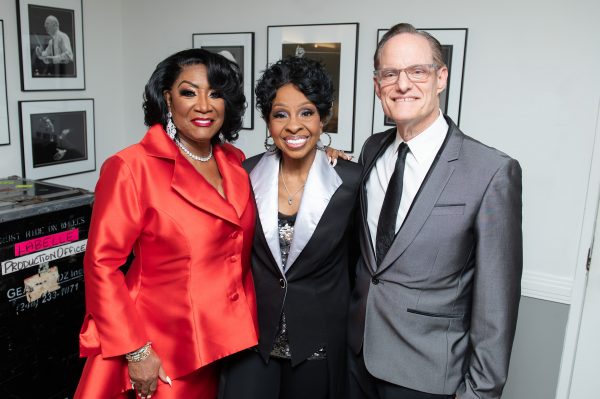 Michael Weinstein, President of AHF, said, "As millions remain affected by HIV/AIDS around the globe, World AIDS Day annually provides an opportunity to honor those we've lost and those living with HIV/AIDS today, as well as reminding leaders and the community of the work that still remains to address this epidemic. From providing compassionate AIDS hospice care in those darkest early days to growing to become the largest global AIDS organization today, now providing lifesaving care and treatment to more than 1.7 million people around the globe, we also celebrate the tireless work of all those who help make today's AHF possible: our staff, Board, affiliate organizations and affinity groups, friends, family and elected officials and community partners across the globe, but most of all, our clients and patients—with our annual 2022 World AIDS Day event. It was a momentous night to host our World AIDS Day concert at The Kennedy Center for the first time, and welcome back the legendary Patti LaBelle, and have another great American icon, Gladys Knight join us, while also being able to honor the legacy and humanitarian work of the late Princess Diana."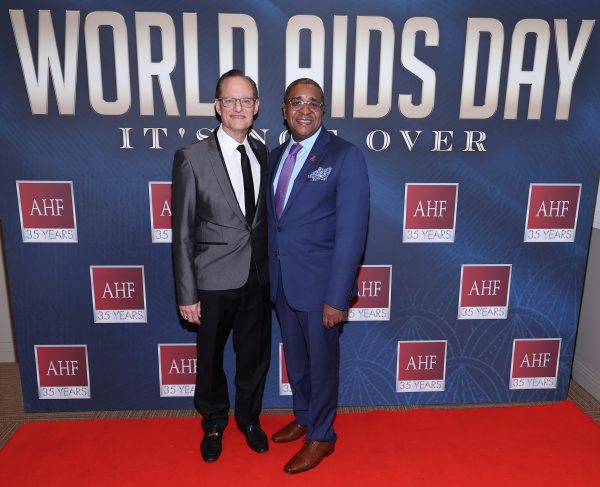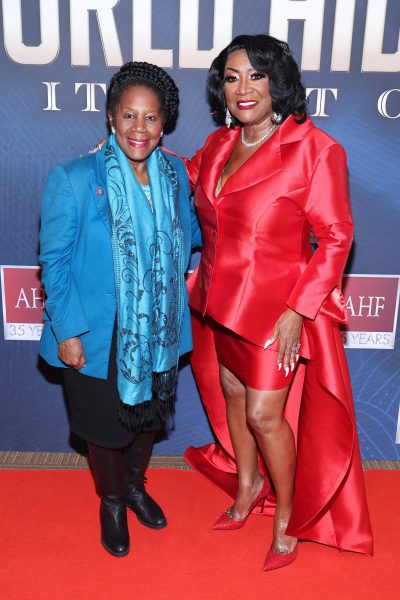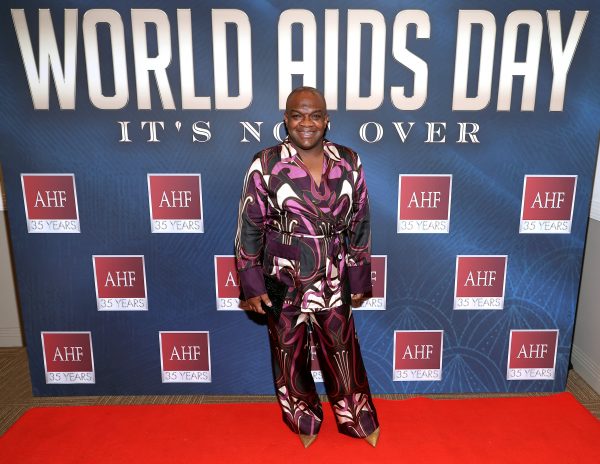 Blinken: PEPFAR 'shows us what American diplomacy can do'
Secretary of state spoke at World AIDS Day event in D.C. on Friday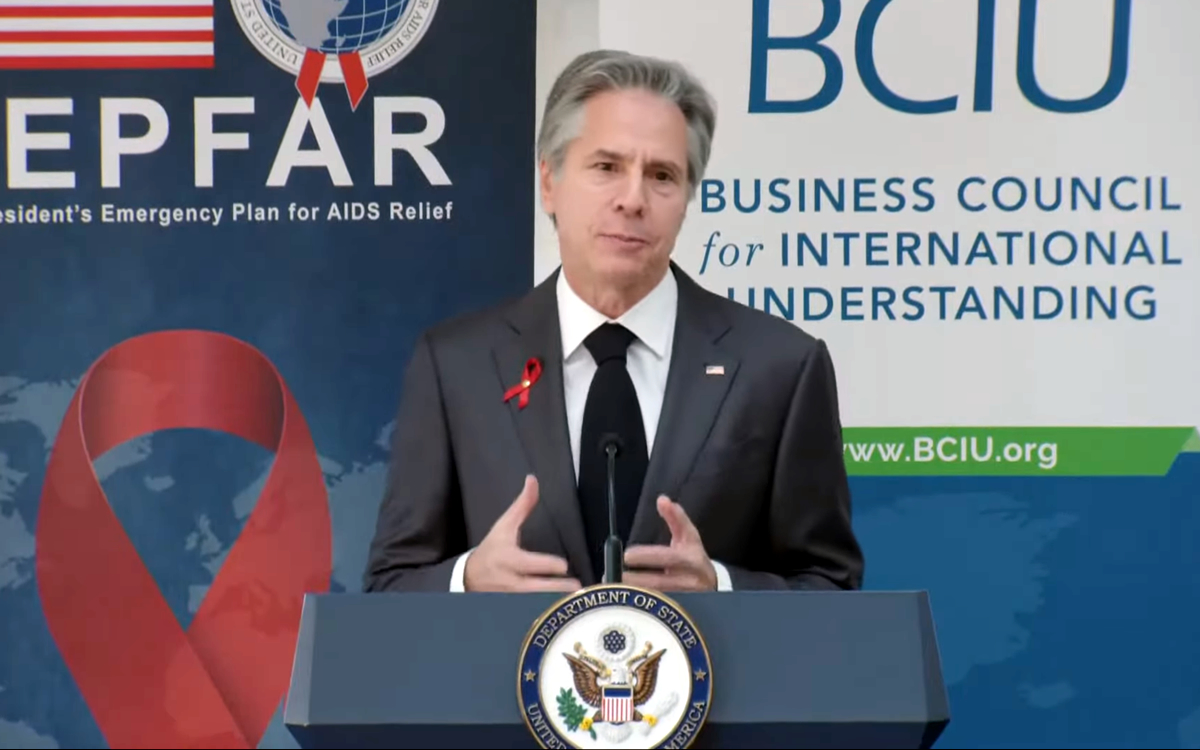 Secretary of State Antony Blinken on Friday noted the President's Emergency Plan for AIDS Relief has saved more than 25 million lives since its launch in 2003.
Blinken, who spoke at the Business Council for International Understanding's World AIDS Day event at the Hay-Adams Hotel in D.C., said the more than $100 billion the U.S. has earmarked for PEPFAR over the last two decades has funded 70,000 new community health clinics, 3,000 new laboratories and the hiring of 340,000 health care workers.
"Entire public health systems formed, with over a dozen countries which have either reached their HIV-treatment goals or managed control of the virus altogether," said Blinken.
Then-President George W. Bush in 2003 signed legislation that created PEPFAR. California Democrat Barbara Lee, members of the Congressional Black Caucus and Dr. Anthony Fauci, the director of the National Institute of Allergy and Infectious Diseases and chief White House medical advisor who is retiring at the end of this month, are among those who played a key role in PEPFAR's creation.
"PEPFAR has benefitted from bipartisan support, as we've heard, across four presidencies, across ten Congresses," said Blinken. "It's resulted in an investment of more than $100 billion to the global HIV/AIDS response. This is the largest commitment by one country ever to address a single disease."
Lee and Fauci were among those who attended the event alongside U.S. Global AIDS Coordinator John Nkengasong; Assistant Health Secretary Rachel Levine; Dr. Deborah Birx, the former White House Coronavirus Response Director, and HIV and Hepatitis Policy Institute Executive Director Carl Schmid.
Blinken in his speech noted "the systems put in place by PEPFAR have become an integral part of the health security architecture of countries around the world."
Blinken also said PEPFAR has bolstered responses to COVID-19, Ebola and the avian flu.
"We are continuing to build on PEPFAR's many successes to create a stronger global health security architecture to prevent, to detect, to respond to future health emergencies. Doctor Fauci, you once said that PEPFAR 'shows what the goodwill of a nation can do,' and you were right," said Blinken. "PEPFAR also shows us what American diplomacy can do: Bring together governments, bring together the public and private sectors, communities to tackle challenges that none of us can actually effectively deal with alone and that creates and has created a healthier, safer and ultimately more secure world."
Five-year PEPFAR strategy to target LGBTQ people
Blinken acknowledged there is still "very serious work still required for us to end the global HIV health epidemic by 2030," noting HIV/AIDS continues to disproportionately impact LGBTQ and intersex people and other marginalized groups.
"Too many countries still have fragile and insufficiently resourced public health systems, which makes it difficult to offer services beyond HIV/AIDS treatments, and that undercuts our capacity to respond to emerging threats," he said.
Blinken noted the U.S. on Thursday announced a new PEPFAR strategy that will help "fill those gaps" over the next five years. It includes the following:
• Targeted programming to help reduce inequalities among LGBTQ and intersex people, women and girls and other marginalized groups
• Partnerships with local organizations to help reach "hard-to-reach" communities.
• Economic development and increased access to financial markets to allow countries to manufacture their own antiretroviral drugs, tests and personal protective gear to give them "the capacity to meet their own challenges so that they're not dependent on anyone else."
"This latest PEPFAR strategy will keep making advancements like that possible so that millions more people can live healthy lives and live lives to their full potential," said Blinken.
Hakeem Jeffries makes history with appointment to lead House Democrats
Democratic Rep. Hakeem Jeffries of New York, an LGBTQ ally, will become the first Black lawmaker of either party to serve in the top spot of either of the two chambers of Congress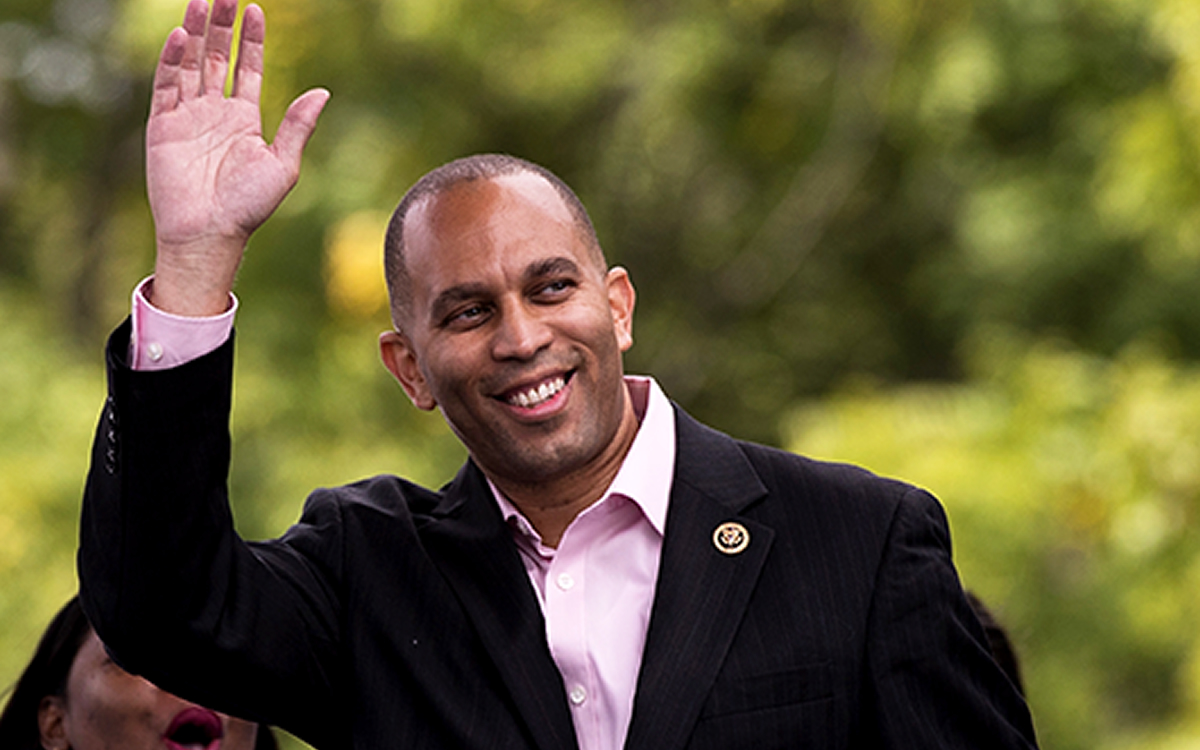 With his election on Wednesday to take over as House Democratic minority leader next year, Rep. Hakeem Jeffries (D-N.Y.) became the first-ever Black lawmaker from either party who will serve in that role in either of the two chambers of Congress.
House Democrats also chose, for the second and third-highest ranking positions, Reps. Katherine Clark (Mass.) and Pete Aguilar (Caif.). All ran unopposed and rather than by formal ballots were elected by voice vote for unanimous consent.
The moves signaled broad consensus among House Democrats in their decision to send the new slate of lawmakers, young and diverse with some progressive bona fides, to serve in the party's senior leadership positions.
The three lawmakers are all members of the Congressional LGBTQ+ Equality Caucus and longtime allies of the community. Jeffries, as chair of the House Democratic Caucus, introduced the Respect for Marriage Act in the House this summer.
The Caucus declined to comment on the House Democratic leadership elections.
When Aguilar succeeds Jeffries in that role next year, it will be the highest-ranking position in House leadership ever held by a Latino member. Clark, meanwhile, will become the second woman to serve as Democratic House Whip after Rep. Nancy Pelosi (D-Calif.), the current House Speaker.
Pelosi announced on Nov. 18 her plans to step down from House Democratic leadership after the next Congress is seated. She made history in 2001 as the first woman elected to the second highest-ranking position in the chamber, and then again in 2007 when she took the top slot, becoming the first woman Speaker of the House.
Following her announcement, Pelosi was celebrated for her many legislative accomplishments at the top of her party's caucus, where she served for two decades under four presidents. A Washington Post column called Pelosi the "best speaker in U.S. history."
Considering that Pelosi also presided over some of the biggest legislative milestones in the modern LGBTQ rights movement, such as the 2011 repeal of "Don't Ask, Don't Tell," Jeffries has a high bar to clear when he's handed the torch in January.
In addition to his leadership on the Respect for Marriage Act, Jeffries has been a major advocate in Congress for other pro-LGBTQ pieces of legislation like the Equality Act and, in 2014, the Hate Crime Reporting Act.
Jeffries has been a vocal champion of measures to make the U.S. Capitol more welcoming for transgender and gender nonconforming people – such as by calling for single-occupancy gender-neutral restrooms on the Hill and rules that would adopt gender-neutral language in the House.
He has also spoken out forcefully against anti-LGBTQ hate from some members of the House Republican caucus, such as the dangerous rhetoric from Rep. Marjorie Taylor Greene (Ga.), who has repeatedly tried to link queer people to child sexual abuse.