First D.C. medical marijuana dispensaries open
AIDS activists hail development; cautious reaction from federal prosecutor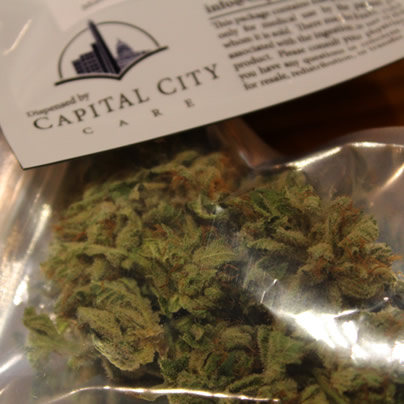 Advocates for people with AIDS and other serious illnesses breathed a sigh of relief three weeks ago when the first of three dispensaries approved by the D.C. Department of Health to sell medical marijuana opened its doors about a mile north of the U.S. Capitol.
Capital City Care, located in a converted townhouse at 1334 North Capitol St., N.W., sold its first doctor-approved dose of high-grade cannabis to an HIV-positive man on July 29, 15 years after D.C. voters approved a 1998 ballot initiative to legalize medical marijuana in the nation's capital.
Medical marijuana advocates in D.C. said initial concerns that dispensaries could only accept payments in cash for a typical purchase of $250 or more and that the dispensaries would be located in unsafe neighborhoods, subjecting buyers to potential muggings, were largely unfounded.
Although the cultivation centers where the marijuana will be grown are in remote warehouse sections of Northeast D.C., most of the dispensaries are expected to open in safe neighborhoods, according to Ben Young, chief of staff for D.C. Council member David Catania (I-At-Large), who wrote the implementing legislation for the medical marijuana law.
One of the other two dispensaries that have so far been approved for a license, Takoma Park Wellness Center, recently opened in the city's Takoma Park neighborhood at 6925 Blair Rd., N.W. The other one, Metropolitan Wellness Center, just opened near the Eastern Market Metro station on Capitol Hill at 409 8th St., S.E.
And officials with Capital City Care say they will soon provide a shuttle service to drive patients to and from central locations downtown or to a nearby Metro station. The officials also note that payment for marijuana supplies can be made by bank debit cards, although banks won't allow patients to pay by credit card or check.
D.C.'s medical marijuana law encountered the first in a series of roadblocks shortly after the 1998 ballot measure passed with nearly 70 percent of the votes cast when Congress intervened by preventing the law from being implemented for more than a decade. When Congress finally lifted its hold on the law in 2009, the City Council and D.C. Department of Health began a laborious process of developing strict rules and procedures for licensing and approving cultivation centers and the dispensaries.
"It's really gratifying that this 15-year journey has moved to where we are now," said D.C. attorney Wayne Turner, who, in his role as a gay rights and AIDS activist, was among the leaders of the campaign in support of the 1998 ballot initiative.
"We still have Congress looming over our head," he said. "And we have an administration that is not that supportive."
With that as a backdrop, both AIDS activists and D.C. government officials have said the additional four years it has taken to get the medical marijuana program up and running appears to have helped the city avoid some of the pitfalls encountered by medical marijuana programs in other states, such as California and Colorado.
Among the problems encountered by states that legalized medical marijuana in the past were threats by federal law enforcement officials to shut down the cultivation centers and dispensaries and arrest the people operating them by invoking federal drug laws under which marijuana remains illegal.
Federal law enforcement officials have backed down from those threats following strong objections raised by elected officials in the states that have legalized medical marijuana. But with the sale of marijuana for medical purposes set to begin in D.C., banks and credit card companies informed the Capital City Care dispensary that they would not approve payment for marijuana by credit card or check.
"They said the reason is the banks may not be able to file suit and go after someone for a bad debt if the sale is not legal under federal law," said Patricia Hawkins, an official with the D.C. Community AIDS Network, which is partnering with Capital City Care to provide counseling services for its marijuana clients.
Hawkins, the former deputy director of the then Whitman-Walker Clinic, said banks have agreed to allow Capital City Care and other dispensaries expected to open soon to accept payment by bank debit cards, giving patients the option of paying by debit card or cash.
Meanwhile, spokespersons for the U.S. Department of Justice and the Office of the U.S. Attorney for D.C. told the Blade in separate statements that they don't expect to go after the city's medical marijuana dispensaries or cultivation centers for violating federal drug laws.
"The Department of Justice has advised U.S. Attorneys that prosecution of significant drug traffickers, including marijuana, remains a core priority of the Department, but that focusing enforcement efforts on individuals with cancer and other serious illnesses who use marijuana as part of a recommended treatment regimen likely is not an efficient use of federal resources," DOJ spokesperson Allison Price told the Blade in an email.
Matthew Jones, a spokesperson for Ronald Machen Jr., the U.S. Attorney for D.C. who serves as the city's chief prosecutor, released a similar statement to the Blade.
"With respect to medical marijuana, the U.S. Attorney's Office for the District of Columbia will abide by the Justice Department guidance issued to prosecutors that it is not an efficient use of resources to focus enforcement efforts on individual patients with cancer or other serious illnesses, or on individual caregivers who are not engaged in the commercial cultivation, sale, or distribution of marijuana," Jones said.
Scott Morgan, a spokesperson for Capital City Care, said that under rules established by the D.C. DOH anyone seeking to buy marijuana under the city's medical marijuana program must meet three requirements. They must have been diagnosed with at least one of several specified illnesses or conditions, including HIV/AIDS, cancer, MS, and glaucoma.
Next, they must be approved for marijuana treatment by a doctor licensed to practice in D.C. and who has been approved by the DOH to refer patients for marijuana treatment. And finally, the patient must be a D.C. resident.
A price list available on the Capital City Care website shows that a variety of strains of marijuana are available but all sell for $380 or more for an ounce. Patients can buy smaller quantities for as low as $20 for a gram.
Although the cost of marijuana on the street through the black market is about the same or possibly a little less, medical marijuana advocates such as Turner caution patients against buying their supplies on the street.
"You don't know what you're getting on the street," Turner said. "Some impurities are mold and mildew. And that is harmful to people with an impaired immune system."
Morgan said Capital City Care's cultivation center is operated like a pharmaceutical factory where strict standards of cleanliness and organic growing conditions are employed to ensure that the marijuana is pure and free of contaminants.
Bowser's highest-level adviser resigns after sexual harassment allegation
Female staffer accuses John Falcicchio of longstanding abuse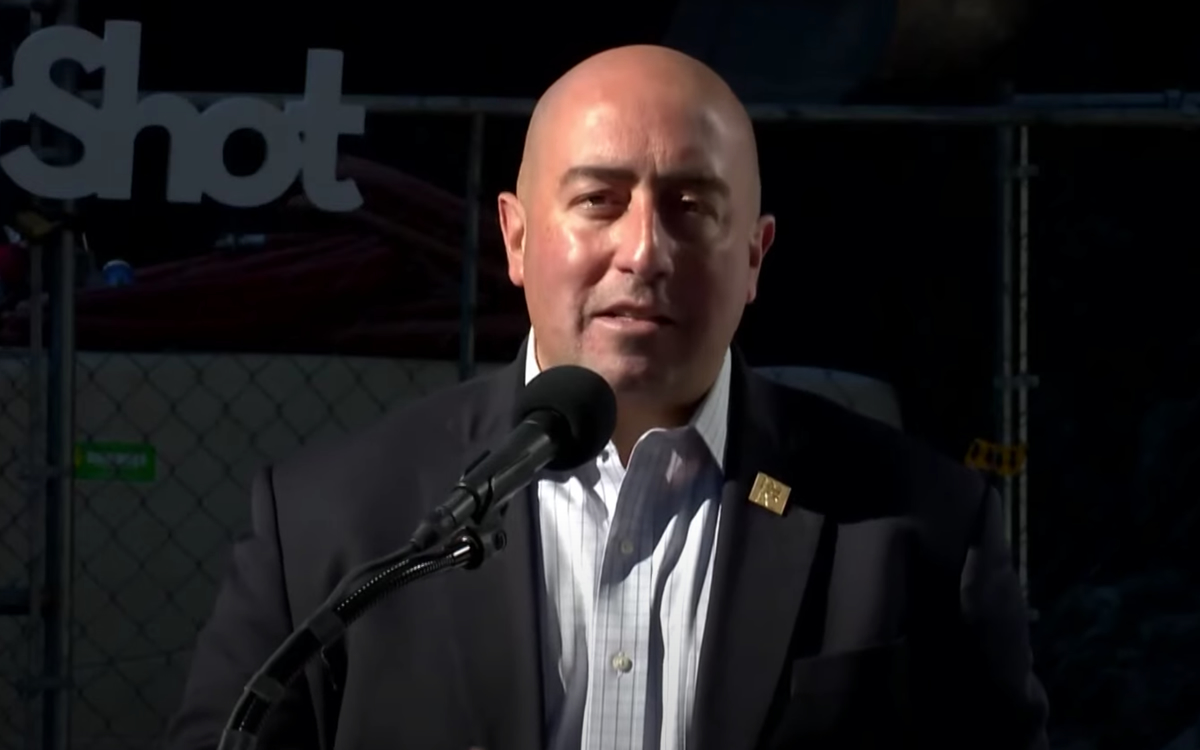 Lawyers representing a D.C. government employee shook up the city's political establishment on Monday when they announced that the employee filed a sexual harassment complaint against John Falcicchio, the now former D.C. Deputy Mayor for Planning and Economic Development and Mayor Muriel Bowser's longtime chief of staff.
The attorneys, Debra Katz and Kayla Morin, did not identify the city employee.
The announcement by Katz and Morin in a press release came shortly after Mayor Bowser issued her own announcement at a news conference on the same day. The mayor confirmed that Falcicchio's sudden resignation last Friday, March 17, followed her decision to launch an investigation into allegations against Falcicchio.
But Bowser said issues surrounding her longtime adviser's departure amounted to "a sensitive matter that includes privacy concerns" that prevented her from disclosing why she initiated the investigation and why Falcicchio abruptly resigned.
She said the investigation was being conducted by the city's Office of Legal Counsel, which is "following established policies and procedures" and that all relevant D.C. government staff members were fully cooperating with the investigation.
"I can also tell you that this investigation does not involve any allegations of improprieties related to business transactions," Bowser told reporters attending the news conference, which was initially called to celebrate the completion of the city's 9th Street, N.W. protected bike lane project and to discuss updates on the Capital Bikeshare program.
"I have every confidence in my new chief of staff, Lindsey Parker, and in our new Interim Deputy Mayor for Planning and Economic Development, Keith Anderson," Bowser said at the news conference. "And I have immense confidence in the 37,000 employees of the D.C. government who will keep us moving forward," she said.
Parker has served as the city's chief technology officer since 2019 and as assistant city administrator since 2022. Anderson has served as director of the D.C. Department of General Services, which oversees the city's buildings and properties.
"We represent an employee of the District of Columbia who came forward to report serious allegations of sexual harassment by former Chief of Staff and Deputy Mayor for Planning and Economic Development John Falcicchio," the statement released by attorneys Katz and Morin says.
"It is our understanding that this behavior is longstanding, and our client is cooperating fully with the investigation, which Mayor Bowser initiated immediately," the statement continues. "Our client is courageous. She came forward to ensure accountability and protect other women," it says. "Given the gravity of our client's allegations – which involve unwelcome advances and sexual contact – we ask the media to respect her privacy," the statement says.
It concludes by encouraging "everyone affected" to contact Maia Ellis, the Associate Director of the Mayor's Office of Legal Counsel, who's leading the investigation, at [email protected].
Katz is a founding partner and Morin is an associate of the D.C. law firm Katz Banks Kumin, which specializes in sexual harassment law, whistleblower law, and employment law, according to a write-up on its website.
Md. Senate approves transgender rights bill
Maryland House of Delegates passed similar measure on Saturday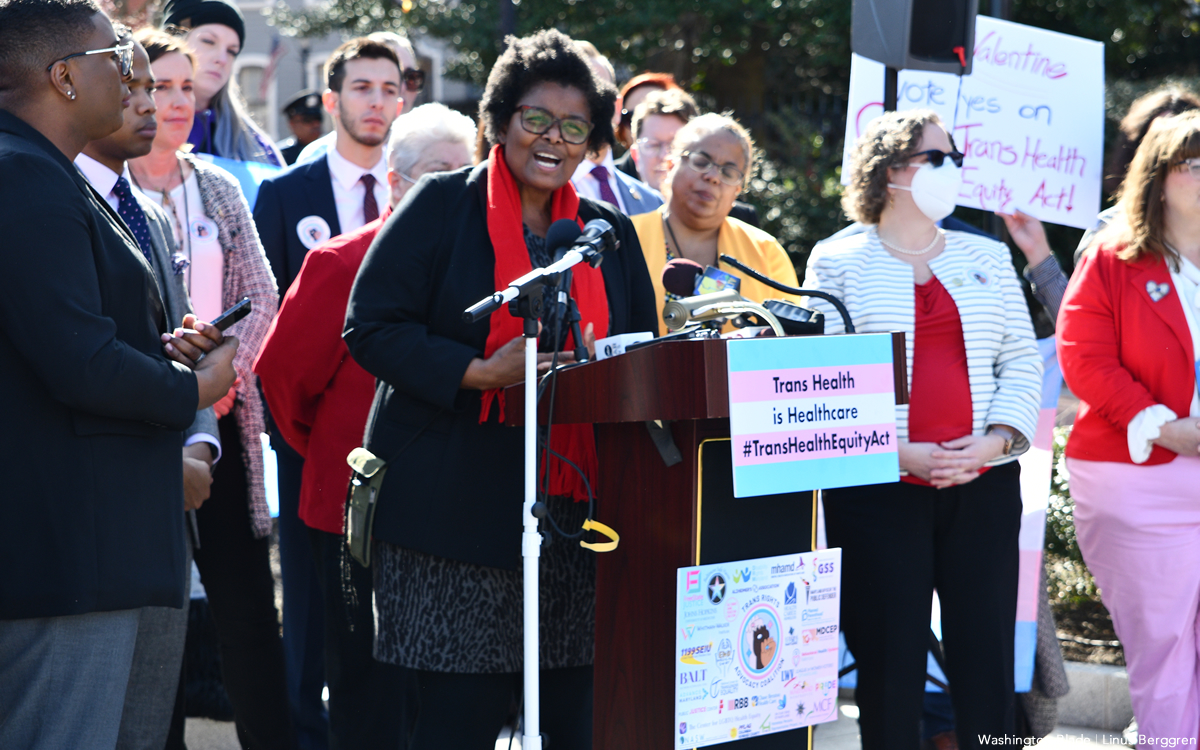 The Maryland Senate on Monday approved a bill that would require the state's Medicaid program to cover gender-affirming treatment for transgender people.
Senate Bill 460 or the Trans Health Equity Act passed by a 31-15 vote margin.
"Requiring, beginning on Jan. 1, 2023, the Maryland Medical Assistance Program to provide gender-affirming treatment in a nondiscriminatory manner; requiring that the gender-affirming treatment be assessed according to nondiscriminatory criteria that are consistent with current clinical standards; prohibiting the issuance of an adverse benefit determination related to gender-affirming treatment unless a certain experienced health care provider has reviewed and confirmed the appropriateness of the determination; etc," reads a summary of the bill.
The Maryland House of Delegates on Saturday passed a similar measure.
Md. House of Delegates approves transgender rights bill
State Medicaid program would be required to cover gender-affirming treatment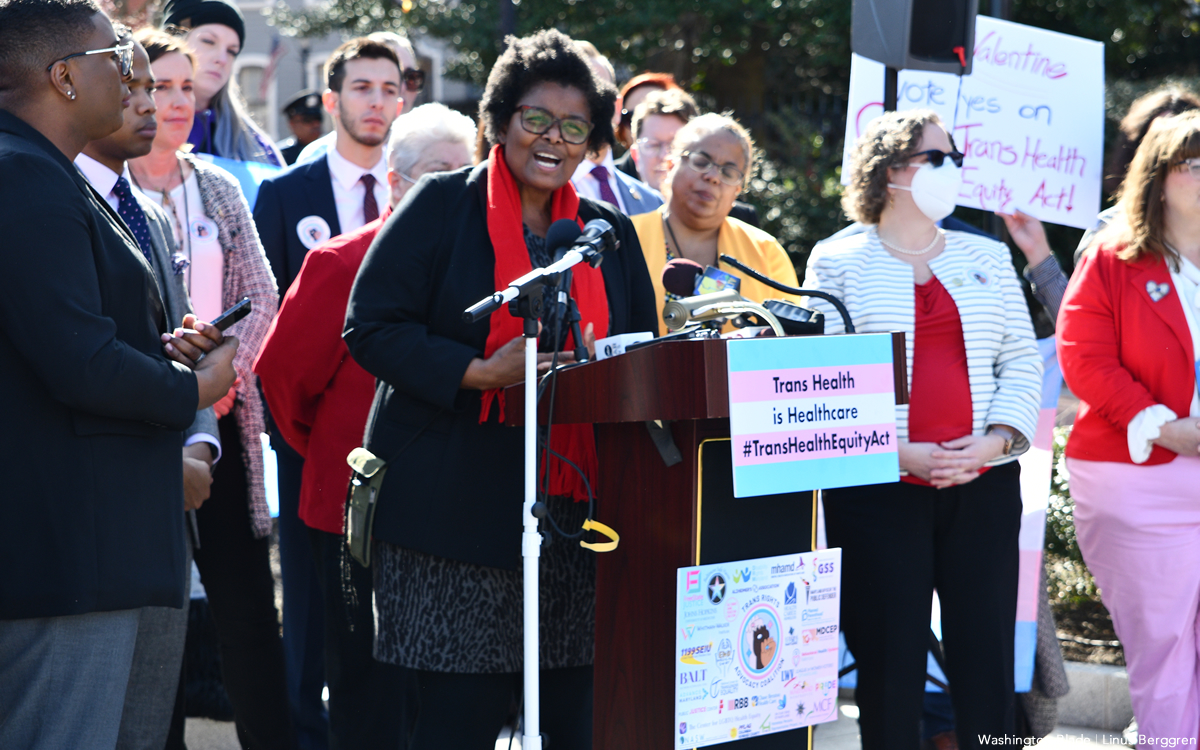 The Maryland House of Delegates on Saturday approved a bill that would require the state's Medicaid program to cover gender-affirming treatment for transgender people.
House Bill 283, or the Trans Health Equity Act, passed by a 93-37 vote margin. The measure now goes before the Maryland Senate.
"Proud that the MD House of Delegates passed the Trans Health Equity Act with such a strong majority," tweeted state Del. Anne Kaiser (D-Montgomery County), who introduced HB 283.
Proud that the MD House of Delegates passed the Trans Health Equity Act with such a strong majority. #TransHumanity pic.twitter.com/1E8MoDFQex

— Anne R. Kaiser (@DelegateKaiser) March 18, 2023