Advocates see momentum for ENDA, other bills
Anti-bullying measure, marriage-related bills also on tap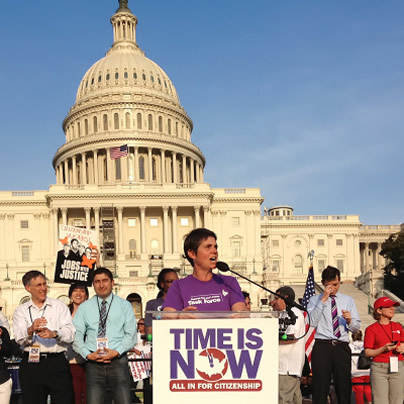 As lawmakers return from August recess, advocates are anticipating movement on pro-LGBT legislation in the Senate during the upcoming weeks, although the Employment Non-Discrimination Act appears to have the most momentum.
The long-pursued legislation to bar anti-LGBT job bias passed out of committee in July on a bipartisan basis and supporters of the bill are expecting a vote sometime this fall.
Michael Cole-Schwartz, spokesperson for the Human Rights Campaign, said ENDA is the legislative focus for the organization as well as for the multi-group Americans for Workplace Opportunity campaign it formed after the panel vote.
"Obviously the congressional calendar has many agenda items but we fully expect to see a Senate vote on ENDA in the fall and we're working with our partners in the Americans for Workplace Opportunity campaign to build support for this critical bill," Cole-Schwartz said.
But when ENDA will come up in the Senate this fall remains unclear. The office of Senate Majority Leader Harry Reid (D-Nev.), hasn't responded to multiple requests from the Blade to comment on the timing for an ENDA floor vote since the bill was reported out of committee. Reid has previously pledged in a Pride statement this year to bring up the legislation "soon."
Allison Preiss, spokesperson for the Senate Health, Education, Labor & Pensions Committee, echoed remarks from HRC by saying panel Chair Tom Harkin (D-Iowa) is hoping a vote would take place this fall, but wasn't more specific.
"Chairman Harkin is also optimistic that this fall, the Senate will consider the Employment Non-Discrimination Act, which passed the HELP Committee on a bipartisan basis and includes for the first time protections against discrimination based not only on sexual orientation but on gender identity as well," Preiss said.
Christian Berle, legislative director for Freedom to Work, said the time has come for a Senate floor vote on ENDA because the organization believes that sufficient lobbying has occurred to reach the 60-vote threshold required to overcome a filibuster.
"Based on Freedom to Work's outreach to Senate Republicans since ENDA passed out of the HELP Committee, we are confident that we have the 60 votes necessary to advance and pass this critical legislation," Berle said. "It is now time for Senator Reid to keep his six-and-a-half year old commitment to bring ENDA to the floor of the Senate as soon as possible."
Moreover, Berle said holding the Senate vote on ENDA as soon as possible is necessary to generate momentum to move the legislation in the Republican-controlled House, where passage of ENDA will be challenging to say the least. Two options that have been floated are attaching ENDA to a larger vehicle bill or a discharge petition.
"The sooner we pass ENDA out of the Senate, the sooner we can begin a robust campaign to get ENDA through the House of Representatives and on the president's desk," Berle said. "Whether we attach ENDA to a spending bill in the Senate or launch a discharge petition in the House, we know that we can only win on ENDA if we are willing to try."
But ENDA isn't the only piece of pro-LGBT legislation that is pending on the Senate calendar for a vote. The Senate HELP Committee has also reported out education reform legislation known as the Strengthening America's Schools Act that includes anti-bullying measures known as the Student Non-Discrimination Act and the Safe Schools Improvement Act.
Shawn Gaylord, director of public policy for the Gay, Lesbian and Straight Education Network, also said he's expecting a vote on this legislation in the Senate in the fall.
"GLSEN anticipates ESEA reauthorization to gain momentum in mid to late fall, and our continued efforts to build bipartisan support in both chambers will ensure this LGBT-inclusive bill to be strongly positioned to move forward," Gaylord said.
Preiss maintained that Harkin is committed to working for passage of the bill, which would reauthorize the Elementary & Secondary Education Act, as she touted the LGBT provisions in the bill.
"Chairman Harkin is committed to working with leadership on a path forward to reauthorize the Elementary and Secondary Education Act, the Committee-passed version of which contains a number of important anti-bullying provisions," Preiss said.
Another LGBT-relevant bill that has been reported out of the committee is the Charlie Morgan Act, which would ensure veterans in same-sex marriages have access to certain spousal benefits.
It's unclear if this legislation is still necessary now that the Supreme Court has struck down the Defense of Marriage Act and the Obama administration has said it would no longer enforce Title 38, which had barred gay veterans from receiving these benefits. Jeff Frank, a spokesperson for the Senate Committee on Veterans Affairs Chair Bernie Sanders (I-Vt.), said he doesn't have any predictions about the bill.
Also on the docket is the fiscal year 2014 financial services appropriations bill. That legislation contains a provision inserted by Sen. Jeanne Shaheen (D-N.H.) that would prohibit LGBT discrimination in the juror selection process for federal courts.
Reid's office didn't immediately respond to a request for comment on when — if it all — these pro-LGBT measures would come up for a Senate floor vote.
Many other bills related to the federal government's recognition of same-sex unions are also pending even in the wake of the Supreme Court decision against DOMA, although none besides the Charlie Morgan Act have yet to be approved by committee.
The most prominent among them is the Respect for Marriage Act, which was introduced by Sen. Dianne Feinstein (D-Calif.) and would fully repeal DOMA. Advocates say that legislation to ensure married so gay couples can reap federal benefits of marriage that are still in question if they marry in one jurisdiction and move to a state that doesn't recognize same-sex marriage. Among these benefits are Social Security benefits and veterans benefits.
A Senate Judiciary Committee aide, who spoke on condition of anonymity, said Sen. Patrick Leahy (D-Vt.) has plans for action on the legislation in committee this fall.
"Chairman Leahy is committed to a full repeal of the Defense of Marriage Act, which is why he is working with Sen. Feinstein on the Respect for Marriage Act," the aide said. "We are in the process of pushing for quick implementation of the Windsor decision, and look forward to a Senate Judiciary Committee hearing on the bill later this fall. After the hearing, the Chairman will consider moving legislation through the committee."
Other pending pro-LGBT legislation before the Senate that hasn't seen committee action is the Housing Opportunities Made Equal (HOME) Act, which is sponsored by Sen. Sherrod Brown (D-Ohio) and would bar discrimination against LGBT people in housing programs. Another bill sponsored by Sen. Chuck Schumer (D-N.Y.) known as the Tax Parity for Health Plan Beneficiaries Act would ensure gay couples in civil unions won't be taxed on employer-provided health benefits.
Even if these bills pass the Senate, it remains to be seen whether they  can muster enough support to pass in the Republican-controlled House. But it's not unprecedented. Earlier this year, under significant pressure from women's advocates and other groups, the House passed reauthorization of the Violence Against Women Act with protections for LGBT victims of domestic violence.
Bills in the House that currently lack Senate companions are the Social Security Equity Act, which would allow Social Security benefits to flow to gay couples; post-"Don't Ask, Don't Tell" legislation known as the Restore Honor to Service Members Act; and a bill to help LGBT homeless youth known as the Runaway & Homeless Youth Act. Another version of the Domestic Partnership Benefits & Obligations Act is expected to be introduced imminently by Rep. Mark Pocan (D-Wis.).
Rea Carey, executive director of the National Gay & Lesbian Task Force, said while issues like Syria may dominate the discussions among lawmakers in the coming weeks, she still expects them to advance legislation to help LGBT people and other social justice causes.
"While the situation in Syria is understandably front and center for Congress — especially as putting our brave service members, including LGBT service members, in harm's way is being considered — members of Congress must also simultaneously focus on vitally important domestic issues as they return from recess," Carey said. "These include job and economic security issues such as the urgent passage of the Employment Non-Discrimination Act and freedom and justice issues such as comprehensive and inclusive immigration reform."
Victory Fund honors Maine House speaker at D.C. conference
Ryan Fecteau is gay Catholic University alum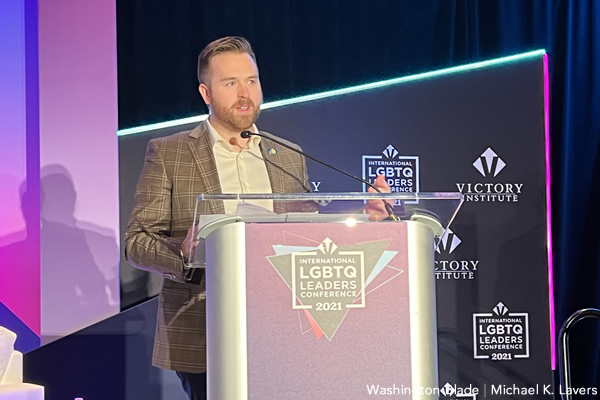 The Victory Fund on Saturday honored Maine House Speaker Ryan Fecteau on the last day of its International LGBTQ Leaders Conference in D.C.
Fecteau — an openly gay Catholic University of America alum — won a seat in the Maine House of Representatives in 2014. He became the chamber's speaker in 2018.
"Hate and intolerance will not derail us," said Fecteau after Florida state Rep. Carlos Guillermo Smith presented him with the Tammy Baldwin Breakthrough Award, which is named after U.S. Sen. Tammy Baldwin (D-Wis.). "Our community will not be intimidated."
The Victory Fund on Friday honored Guatemalan Congressman Aldo Dávila, a gay man who is living with HIV.
Rachel Levine: Efforts to deny health care to trans youth are 'politics'
Former Pa. health secretary opened Victory Fund conference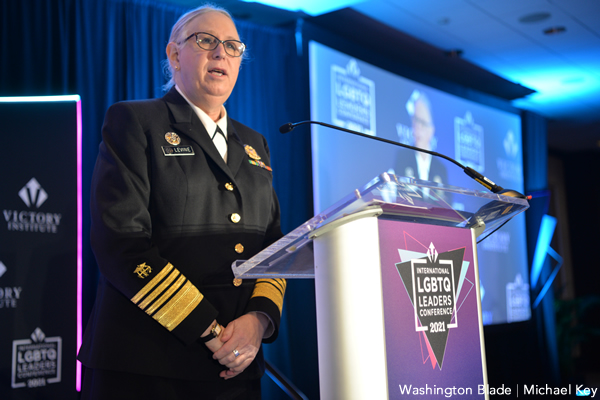 Assistant Health Secretary Rachel Levine on Thursday criticized efforts to prevent transgender youth from accessing health care.
"Unfortunately, some have fought to prevent transgender youth from accessing the health care that they need," she said in a speech she delivered at the opening of the Victory Fund's 2021 International LGBTQ Leaders Conference that took place in-person at the JW Marriott in downtown D.C. "This is politics and this politics has no place in health care and public health and they defy the established standards of care written by medical experts."
Levine was Pennsylvania's Health Secretary until President Biden nominated her to become assistant secretary of health.
She became the first openly trans person confirmed by the U.S. Senate in March. Levine in October became a four-star admiral in the U.S. Public Health Service.
The conference will take place in-person and virtually through Sunday.
VIDEO: Biden addresses advocates on World AIDS Day
President says end to transmission 'within striking distance'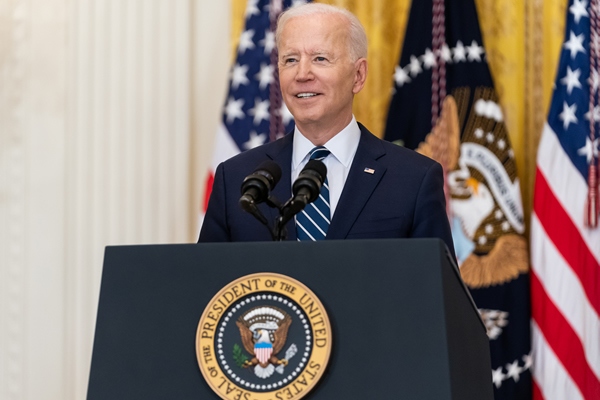 President Biden, in remarks delivered Wednesday at the White House in recognition of World AIDS Day, said to advocates in the fight against HIV/AIDS the end to HIV transmission was near.
"It's because of you and it's not hyperbole to suggest that we are within striking distance of eliminating HIV transmission, within striking distance," Biden told attendees in the East Room.
Joining Biden in the East Room were Secretary of Health & Human Services Xavier Becerra and Gabriel Maldonado, an HIV/AIDS Advocate and founder of TruEvolution, a Riverside, Calif.-based LGBTQ group.
Biden also during his remarks touted having made the appointment of Harold Phillips to lead the White House Office of National AIDS Policy — a position that had gone vacant throughout the entirety of the Trump administration.
Notably, Biden talked about the Ending the HIV Epidemic plan, an initiate health officials started in the Trump administration, by saying was to beat HIV domestically by 2030. That was initial target date when the initiative, but Biden had campaigned on defeating by HIV by 2025 to the skepticism off observers.
Watch Biden full remarks below: