LGBT workers caught in standoff as ENDA blocked
Boehner won't bring up bill; White House continues to withhold executive order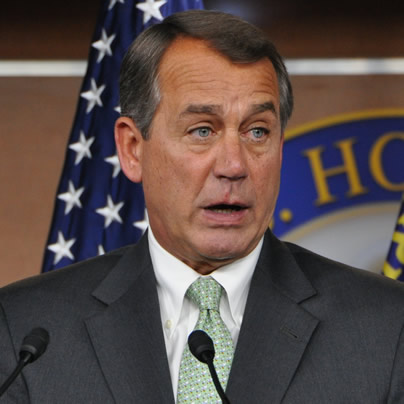 After Senate passage of the Employment Non-Discrimination Act, progress toward protecting LGBT workers has hit a wall amid an apparent standoff between the U.S. House and the White House.
On the one hand, U.S. House Speaker John Boehner (R-Ohio) has said he sees "no need or no basis" for ENDA, which would bar most employers from discriminating against LGBT workers. On the other, the White House insists the House of Representatives must take  action and is continuing to withhold an executive order prohibiting federal contractors from engaging in anti-LGBT discrimination.
Boehner made the comments in opposition to ENDA, articulating a view he previously expressed through a spokesperson, when asked by the Washington Blade last week whether he would allow a vote on the legislation despite his own misgivings about the bill.
"I think this legislation that I've dealt with as chairman of the Education & The Workforce Committee long before I was back in the leadership is unnecessary and would provide a basis for frivolous lawsuits," Boehner said. "People are already protected in the workplace. I'm opposed to continuing this."
LGBT advocates immediately pounced on Boehner's remarks, saying there's no basis to believe the bill would lead to "frivolous lawsuits," citing a recent study by Government Accountability Office finding that the enactment of similar state laws have resulted in "relatively few employment discrimination complaints." Advocates also noted an employee can be fired for being gay in 29 states and 33 states have no protections for transgender workers.
The next day, the Blade asked White House Press Secretary Jay Carney whether Boehner's continued obstruction of a House vote on ENDA has led to any reconsideration of an executive order from President Obama barring LGBT discrimination among federal contractors. Carney restated Obama's support for ENDA and redirected attention to Boehner in his response.
"So we are not at all ready to believe that the fight is over in the House, because it is the president's strong conviction that this is the right thing to do and that the arguments against it do not hold up to scrutiny or the test of history," Carney said. "So we're going to keep fighting for the House to take it up and urging the House to take it up."
Despite the outward appearance of a standoff between the White House and the House of Representatives, LGBT advocates dismiss the notion of gridlock and say movement continues behind the scenes.
Tico Almeida, president of Freedom to Work, said some of the momentum seen in the Senate continues in the House.
"More than a dozen House members have joined as ENDA co-sponsors within the last month alone, and we just reached the 200 sponsor mark," Almeida said "By the end of this week, Freedom to Work will have met with and lobbied more than 15 Republican House offices in the two weeks since the Senate vote, and we think the number of ENDA co-sponsors will continue to grow."
Almeida predicted that ENDA "would pass if allowed to reach the floor of the House," joining Senate Majority Leader Harry Reid (D-Nev.), House Minority Leader Nancy Pelosi (D-Calif.), Sen. Jeff Merkley (D-Ore.), Rep. Jared Polis and the Human Rights Campaign in making that assessment.
Laura Durso, director of the LGBT Research and Communications Project at the Center for American Progress, said the standoff on action for LGBT workers actually exists elsewhere.
"I personally see the standoff really between the Republican leadership in the House and the bipartisan majority of the American public, the bipartisan majority in the Senate who had supported ENDA," Durso said.
Meanwhile, ENDA supporters are continuing to draw attention to the lack of federal workplace non-discrimination protections for LGBT workers.
Last week, a coalition of groups including the Movement Advancement Project, issued an update to its series of reports on the state of LGBT workers with a new study that examines the particular plight faced by LGBT workers of color.
The report, titled "A Broken Bargain for LGBT Workers of Color," takes a broader look at issues for LGBT people of color other than workplace discrimination, but finds they have higher rates of unemployment in comparison to their straight counterparts.
The unemployment rate for LGBT Asian and Pacific Islanders is 11 percent compared to 8 percent for straight Asian and Pacific Islanders; for LGBT Latinos it's 14 percent compared to 11 percent for straight Latinos; and 15 percent for LGBT African Americans compared to 12 percent for straight African Americans.
Additionally, the report found unemployment rates for transgender people of color have reached as high as four times the national unemployment rate.
"Hiring bias and on-the-job discrimination mean that qualified LGBT workers of color may not have the opportunity to find jobs that match their abilities and aspirations and that allow them to support themselves and their families," the report concludes.
CREDO, a progressive social change organization, has prepared an online petition calling on Boehner to allow a vote on ENDA. As of last week, more than 49,000 people had signed.
"The Employment Non-Discrimination Act passed the Senate," the petition states. "Stop blocking an up-or-down vote, and let all members of the House go on the record about where they stand on equal rights in the workplace."
Meanwhile, calls continue for President Obama to sign an executive order to bar LGBT discrimination among federal contractors. If the order were along the lines of Executive Order 11246 signed by President Lyndon Johnson, it would bar discrimination based on sexual orientation and gender identity for federal contractors that earn more than $10,000 a year in federal contracts.
Sarah Trumble, policy counsel for the centrist group known as the Third Way, said the White House may decide to issue the executive order "as a down payment" for LGBT workers while anticipating later action from Congress.
"Because these issues are actually separate, even if the White House does issue the executive order, we would still need ENDA and Speaker Boehner would continue to feel the pressure to give the bill a vote," Trumble said.
Almeida expressed frustration that the Obama administration continues to hold out on the executive order.
"There's no need to wait months, or even wait days, before adding strong LGBT workplace protections to millions of American jobs," Almeida said. "The unexplained delays by the Obama administration are perplexing."
Almeida said that last week the company Bechtel, a global engineering and construction company, received a $143 million contract from the U.S. government even though protections for transgender workers aren't included in its non-discrimination policy.
"The existing federal contractor Executive Order 11246 already bans sex discrimination, giving the Labor Department the authority to insert transgender protections into the language of contracts like the one Bechtel signed last week," Almeida said. "But the Labor Department is sadly allowing those opportunities for progress to slip away."
Such action from the Labor Department, Almeida noted, would bring the existing executive order into alignment with the U.S. Equal Employment Opportunity's decision in Macy v. Holder that found transgender discrimination amounts to gender discrimination prohibited under current law.
"We will keep pushing for both President Obama and Labor Secretary Perez to take concrete action to ensure American taxpayer money is not squandered on harassment or discrimination," Almeida concluded.
EXCLUSIVE: Outgoing Rep. Cicilline on future of LGBTQ rights and life after Congress
Gay congressman departs office this week; led major LGBTQ legislative victories
Speaking with the Washington Blade by phone on Tuesday from Rhode Island, U.S. Rep. David Cicilline (D-R.I.) was optimistic about the outcome of the debt ceiling negotiations that have roiled Capitol Hill, the White House, and Wall Street for weeks.
"My sense of it is there are enough Democratic and Republican votes to get it to the president's desk," said the congressman, who would fly back to Washington in the evening with the expectation that a vote would be held the following day.
Even amid the chaos and back-and-forth travel this week, Cicilline was ready to look back on the landmark legislative accomplishments of his distinguished career in politics, which have included groundbreaking advancements for LGBTQ rights.
And despite the ascendancy of anti-LGBTQ attacks from the right, including from much of the Republican caucus, he told the Blade there is ample reason to be optimistic that the chamber's pro-equality work will continue in his absence.
As announced back in February and effective on Thursday, Cicilline will retire from Congress to lead his state's largest philanthropic organization, the Rhode Island Foundation, having represented its 1st Congressional District in the U.S. House since 2011.
A former attorney, Cicilline was tapped to lead the House Judiciary Committee's Subcommittee on Antitrust, Commercial, and Administrative Law as well as the House Foreign Affairs Committee's Subcommittee on the Middle East, North Africa, and Global Counterterrorism.
Particularly in recent years, the congressman became one of the most powerful House Democrats, elected to leadership in 2017 as a co-chair of the House Democratic Policy and Communications Committee and picked in 2021 by then-House Speaker Nancy Pelosi (D-Calif.) to serve as one of the nine members tasked with managing the House's second impeachment of former President Donald Trump.
Among other legislative achievements, Cicilline is widely credited with leading the House's passage, twice, of the biggest civil rights bill since the 1964 Civil Rights Act – the Equality Act, which would prohibit anti-LGBTQ discrimination in areas from education and housing to employment and public accommodations.
While the Senate failed to pass the Equality Act, Cicilline said, "I'm handing that work off to [U.S. Rep.] Mark Takano [D-Calif.], who I know will take it over the finish line" once Democrats win control of the House again.
The congressman told the Blade that he hopes his leadership on this bill will be remembered as a key part of his legacy – and was adamant that its passage through both chambers is now a question of "when" rather than "if."
"The majority of Americans support the Equality Act, and a majority of voters in every single state support nondiscrimination protections for LGBTQ+ people," so "this is about the Republican conference in Congress catching up with the American people," Cicilline said.
Congress is beginning to look more like America in at least one respect, though. After his first election to the House, Cicilline was one of only three openly LGBTQ members serving in Congress (having already made history in 2003 as the first openly gay mayor of a state capital, Providence, R.I.).
Today, "I'm leaving with 10 colleagues in the House and two in the Senate," he said, "so that's great progress."
"The calvary has arrived" with "young new members who are going to lead the next wave of this fight" such as openly LGBTQ U.S. Reps. Robert Garcia (Calif.), Becca Balint (Vt.), Eric Sorensen (Ill.), and Ritchie Torres (N.Y.), Cicilline said.
Echoing comments from his final speech on the House floor last week, the congressman also expressed his faith and confidence in party leaders with whom he has worked closely, including Democratic House Minority Leader Hakeem Jeffries (D-N.Y.)
Tonight, I addressed the House of Representatives for the final time as a Member of Congress.

As a lifelong Rhode Islander, it is only fitting that my final message is one of HOPE — hope for our democracy and our Congress.

Watch here:https://t.co/2HTSNuuk1P

— Congressman David N. Cicilline (@RepCicilline) May 24, 2023
Hopes and expectations for the current Democratic conference's ability to deliver on behalf of LGBTQ Americans were buttressed late last year by passage of the Respect for Marriage Act, legislation co-led by Cicilline that codified fundamental rights for same-sex couples that might otherwise be erased if the U.S. Supreme Court overturns or weakens its constitutional protections for marriage equality.
How to combat the rightwing crusade against LGBTQ and especially trans Americans
However prepared Cicilline believes his colleagues are to meet the moment, the congressman is also up to speed on the unprecedented challenges presented by the current political climate with respect to LGBTQ rights.
This year, state legislatures have introduced hundreds of bills targeting trans Americans, which endeavor to restrict their access to everything from lifesaving healthcare to public bathrooms. At the same time, anti-trans rhetoric has escalated to such an extent that a rightwing pundit speaking at CPAC said "transgenderism must be eradicated from public life entirely," which some interpreted as a call for genocide against the community.
Legislatively, Cicilline said it is all part of a cynical political strategy adopted by Republicans. Having concluded that their crusade against same-sex marriage was no longer winnable, the party sought another way to fight against LGBTQ rights, eventually polling anti-trans positions and messaging that successfully motivates "the most extreme parts of their political base," he said.
"Our Republican colleagues have weaponized the trans community in such a way that they think it's politically advantageous to attack even trans kids," which is "really horrific" especially considering the potential for tragic real-world consequences, including targeted violence against the trans community, Cicilline said.
"I hope people who are seeking public office will be conscious of that and will be responsible, but unfortunately, I think there are some who are so driven by their desire for power, that they're prepared to do almost anything to get there," the congressman added.
Some conservatives hope their polarization of and fear mongering about trans issues will drive a wedge, providing sufficient incentive or a permission structure for LGB Americans to turn their backs on the trans community, Cicilline said, but "That's not gonna happen."
"We are standing in lockstep with our trans brothers and sisters, and we're just not going to allow them to be attacked in this way," he said.
Broadly speaking, Cicilline said elected Democrats must "stand up for the queer community, speak out, condemn this kind of [anti-LGBTQ/anti-trans] legislation, and let the American people see the contrast" between the Democratic Party, which "stands for inclusion and has fought for LGBTQ+ equality" and the GOP, which is pushing "these very toxic and dangerous and un-American attacks on the LGBTQ community."
The congressman noted that working against the interests of LGBTQ Americans is nothing new for congressional Republicans. "With just a couple of exceptions," he said, the House GOP caucus voted against the Equality Act's nondiscrimination protections, which stem directly from America's most basic foundational values of fairness and equality.
"So that means I have colleagues in the Congress of the United States on the Republican side who fundamentally rejected the legislation that would grant me and others in my community full equality as citizens of this country, [colleagues who would] allow discrimination to continue against our community," Cicilline said.
When it comes to navigating interpersonal working relationships with anti-LGBTQ Republicans in the chamber, though, "I frankly don't really care how they feel about us," the congressman said. "That's irrelevant to me."
Cicilline to continue advocating for LGBTQ Americans after Congress
In addition to the Equality Act, Cicilline said that if Democrats recapture control of the House, he expects to see renewed momentum for a bill that he authored, the Global Respect Act, and another for which he was an original cosponsor, the LGBTQI+ Data Inclusion Act. Both were passed by the House but not by the Senate and therefore remain "unfinished business," he said.
The Global Respect Act, Cicilline said, "will allow the U.S. to impose visa sanctions on anyone who commits gross human rights violations against the LGBTQ community," while the latter bill would mandate that federal surveys must include data collection on sexual orientation and gender identity.
Other legislative efforts that Cicilline has led, in areas from antitrust to foreign policy to gun violence, also include some "unfinished business" – bills that might see movement in the next Congress that carry the potential, in many cases, to measurably impact the lives of all Americans.
For instance, Cicilline, who has been at the vanguard of Congress's work modernizing and strengthening antitrust law, remains hopeful about the eventual passage of six bills that he introduced in 2021, all designed to increase competition in digital markets.
These would curb the monopolistic power of dominant tech platform companies whose business models center engagement as the primary mechanism to drive advertising revenue – even though, as these firms are aware, content that tends to earn more engagement tends to be that which is incendiary, offensive, hateful, false, or misleading, violent or otherwise outrageous.
Looking beyond Congress, Cicilline said he is eager to continue advancing "equality and justice for our community" at the Rhode Island Foundation, building upon the organization's existing work "supporting the organizations that are doing really important work to support the LGBTQ community."
Cicilline acknowledged that leading an "explicitly non-partisan organization" will be a departure from his work in Washington – though perhaps not to the extent one might imagine.
"You know, our community remains, in this country, a marginalized community," the congressman said. "In fact, it's the only community, still, in America, that it's legal to discriminate against."
At this point, rather than pivoting back to discussing the need for passage of the Equality Act, Cicilline instead explained that because of the lack of national nondiscrimination protections, he is even more eager to include the LGBTQ community in the foundation's work advancing diversity, equity, and inclusion.
Ala. extends ban on transgender female athletes to universities
Republican Gov. Kay Ivey signed bill on Tuesday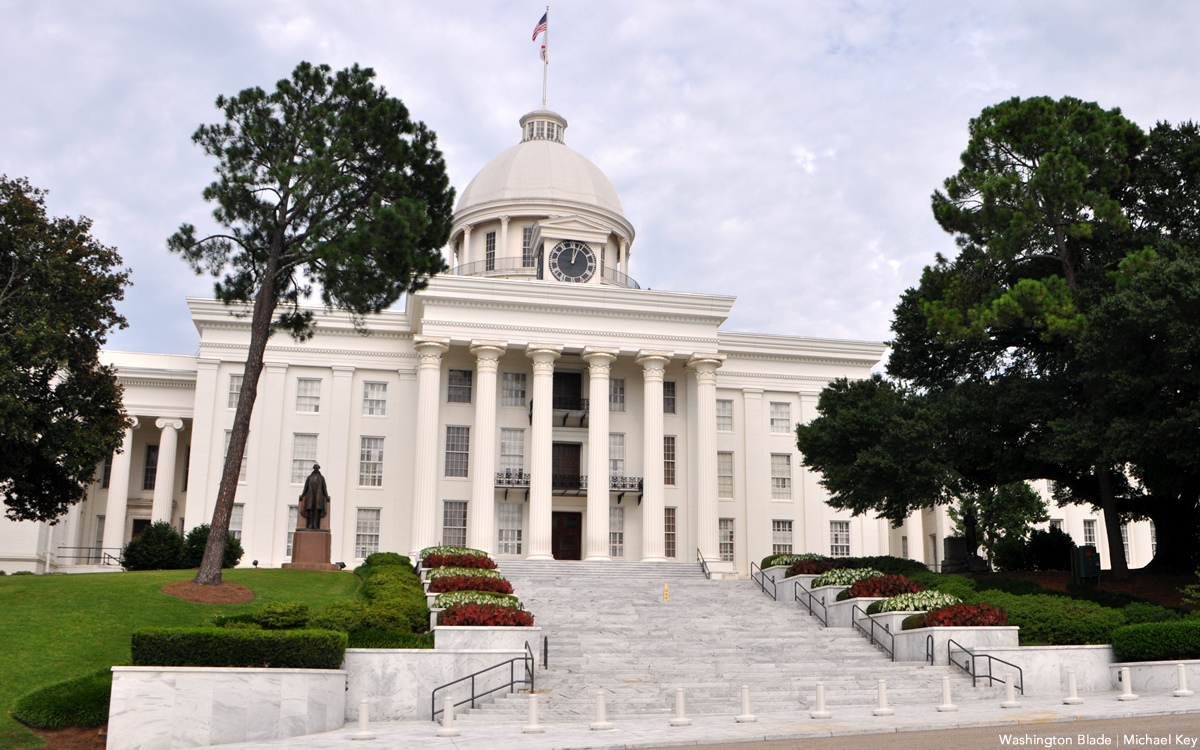 Governor Kay Ivey on Tuesday signed House Bill 261, which limits transgender students to playing sports in public colleges and universities only with "their biological sex assigned at birth."
"Look, if you are a biological male, you are not going to be competing in women's and girls' sports in Alabama. It's about fairness, plain and simple," said Ivey in a statement released by her office.
House Bill 261 was approved 26-4 in the Alabama Senate and 83-5 in the House of Representatives. In the vote in the House more than a dozen lawmakers abstained from the vote.
Ivey had previously signed legislation in 2021 banning trans female athletes from competing in K-12 girls sports. At the time she signed that bill the governor had noted that "Alabama remains committed to protecting female athletes at all levels and upholding the integrity of athletics."
Carmarion D. Anderson-Harvey, Alabama state director of the Human Rights Campaign, said the legislation is part of a "systematic attack against LGBTQ+ people" in Alabama and elsewhere.
"In just two years, [Ivey] and extremist lawmakers in Alabama have passed four anti-LGBTQ+ bills. From dictating what bathrooms we can use to blatantly ignoring the actual problems in women's sports, these politicians are making Alabama an increasingly hostile place for transgender people and the LGBTQ+ community as a whole," Anderson-Harvey said.
Second Japanese court rules same-sex marriage ban is unconstitutional
Judge issued ruling in Nagoya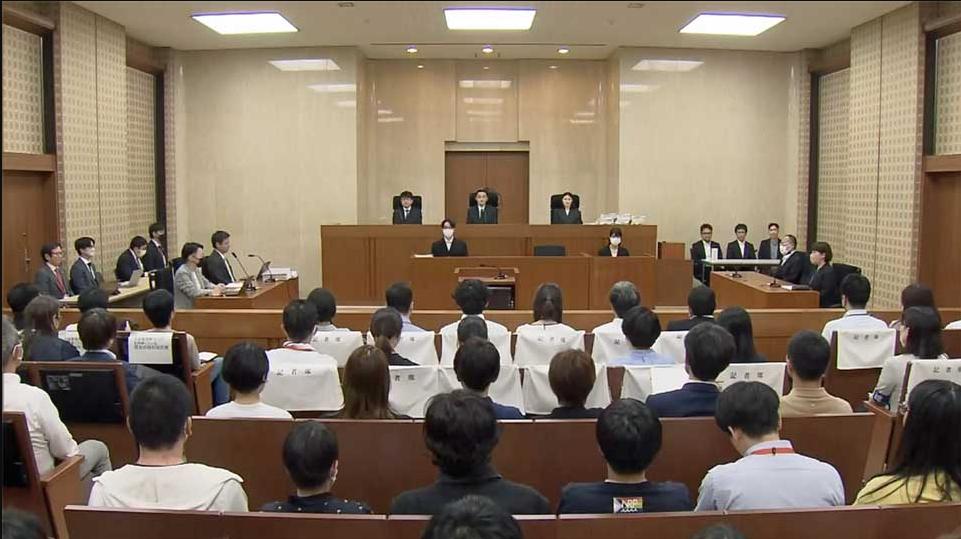 In a ruling issued Tuesday, the Nagoya District Court became the second major higher court in the country to rule that the lack of legal recognition of same-sex marriage is unconstitutional.
Presiding Judge Osamu Nishimura said more people have become supportive of recognizing same-sex marriage, and the reasoning behind excluding same-sex couples from the legal marriage system is becoming "shaky," resulting in a situation that is "difficult to ignore," the Kyodo News agency reported.
Kyodo also noted the court pointed out that the public remains divided over the issue, and it was only in 2015 that a system to issue certificates recognizing same-sex couples as being in "relationships equivalent to marriage" was introduced by local governments in Japan for the first time.
In March 2021 the Sapporo District Court issued its ruling that the local in Sapporo government's actions violated two provisions of the Japanese Constitution: Article 14 that ensures the right to equal treatment and Article 24, which does not expressly deny the right of marriage to same-sex couples.
In Tuesday's ruling, Nishimura echoed the Sapporo decision saying that a failure to recognize same-sex marriage violates Article 14 of the constitution, which stipulates that all people are equal, and Article 24, which stipulates that "laws shall be enacted from the standpoint of individual dignity and the essential equality of the sexes."
The two rulings are at odds with opinions issued by other high courts across Japan. Public Media Broadcaster NHK reported that in June 2022 the Osaka District Court ruled that the ban does not violate the constitution. The judge said Article 24 stipulates that marriage shall be based on the mutual consent of parties from both sexes.
The Tokyo District Court also ruled the ban constitutional in November that year. At the same time, the judge said not providing legal protections for same-sex families represents an "unconstitutional state."
With this second ruling, pressure is building on the Japanese Diet (Parliament) to legalize same-sex unions.
The case, brought by two male residents in a relationship from Aichi Prefecture, were represented by attorney Yoko Mizushima who told reporters: "This ruling has rescued us from the hurt of last year's ruling that said there was nothing wrong with the ban, and the hurt of what the government keeps saying," referring to the June 2022, Osaka District Court ruling last year that the ban was not unconstitutional.