LGBT workers caught in standoff as ENDA blocked
Boehner won't bring up bill; White House continues to withhold executive order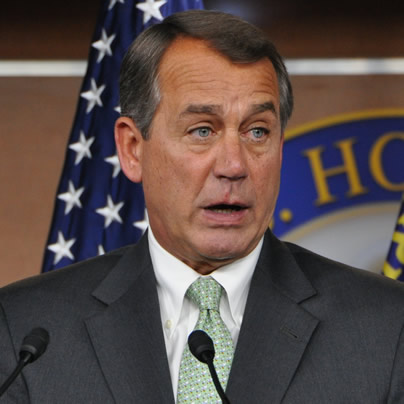 After Senate passage of the Employment Non-Discrimination Act, progress toward protecting LGBT workers has hit a wall amid an apparent standoff between the U.S. House and the White House.
On the one hand, U.S. House Speaker John Boehner (R-Ohio) has said he sees "no need or no basis" for ENDA, which would bar most employers from discriminating against LGBT workers. On the other, the White House insists the House of Representatives must take  action and is continuing to withhold an executive order prohibiting federal contractors from engaging in anti-LGBT discrimination.
Boehner made the comments in opposition to ENDA, articulating a view he previously expressed through a spokesperson, when asked by the Washington Blade last week whether he would allow a vote on the legislation despite his own misgivings about the bill.
"I think this legislation that I've dealt with as chairman of the Education & The Workforce Committee long before I was back in the leadership is unnecessary and would provide a basis for frivolous lawsuits," Boehner said. "People are already protected in the workplace. I'm opposed to continuing this."
LGBT advocates immediately pounced on Boehner's remarks, saying there's no basis to believe the bill would lead to "frivolous lawsuits," citing a recent study by Government Accountability Office finding that the enactment of similar state laws have resulted in "relatively few employment discrimination complaints." Advocates also noted an employee can be fired for being gay in 29 states and 33 states have no protections for transgender workers.
The next day, the Blade asked White House Press Secretary Jay Carney whether Boehner's continued obstruction of a House vote on ENDA has led to any reconsideration of an executive order from President Obama barring LGBT discrimination among federal contractors. Carney restated Obama's support for ENDA and redirected attention to Boehner in his response.
"So we are not at all ready to believe that the fight is over in the House, because it is the president's strong conviction that this is the right thing to do and that the arguments against it do not hold up to scrutiny or the test of history," Carney said. "So we're going to keep fighting for the House to take it up and urging the House to take it up."
Despite the outward appearance of a standoff between the White House and the House of Representatives, LGBT advocates dismiss the notion of gridlock and say movement continues behind the scenes.
Tico Almeida, president of Freedom to Work, said some of the momentum seen in the Senate continues in the House.
"More than a dozen House members have joined as ENDA co-sponsors within the last month alone, and we just reached the 200 sponsor mark," Almeida said "By the end of this week, Freedom to Work will have met with and lobbied more than 15 Republican House offices in the two weeks since the Senate vote, and we think the number of ENDA co-sponsors will continue to grow."
Almeida predicted that ENDA "would pass if allowed to reach the floor of the House," joining Senate Majority Leader Harry Reid (D-Nev.), House Minority Leader Nancy Pelosi (D-Calif.), Sen. Jeff Merkley (D-Ore.), Rep. Jared Polis and the Human Rights Campaign in making that assessment.
Laura Durso, director of the LGBT Research and Communications Project at the Center for American Progress, said the standoff on action for LGBT workers actually exists elsewhere.
"I personally see the standoff really between the Republican leadership in the House and the bipartisan majority of the American public, the bipartisan majority in the Senate who had supported ENDA," Durso said.
Meanwhile, ENDA supporters are continuing to draw attention to the lack of federal workplace non-discrimination protections for LGBT workers.
Last week, a coalition of groups including the Movement Advancement Project, issued an update to its series of reports on the state of LGBT workers with a new study that examines the particular plight faced by LGBT workers of color.
The report, titled "A Broken Bargain for LGBT Workers of Color," takes a broader look at issues for LGBT people of color other than workplace discrimination, but finds they have higher rates of unemployment in comparison to their straight counterparts.
The unemployment rate for LGBT Asian and Pacific Islanders is 11 percent compared to 8 percent for straight Asian and Pacific Islanders; for LGBT Latinos it's 14 percent compared to 11 percent for straight Latinos; and 15 percent for LGBT African Americans compared to 12 percent for straight African Americans.
Additionally, the report found unemployment rates for transgender people of color have reached as high as four times the national unemployment rate.
"Hiring bias and on-the-job discrimination mean that qualified LGBT workers of color may not have the opportunity to find jobs that match their abilities and aspirations and that allow them to support themselves and their families," the report concludes.
CREDO, a progressive social change organization, has prepared an online petition calling on Boehner to allow a vote on ENDA. As of last week, more than 49,000 people had signed.
"The Employment Non-Discrimination Act passed the Senate," the petition states. "Stop blocking an up-or-down vote, and let all members of the House go on the record about where they stand on equal rights in the workplace."
Meanwhile, calls continue for President Obama to sign an executive order to bar LGBT discrimination among federal contractors. If the order were along the lines of Executive Order 11246 signed by President Lyndon Johnson, it would bar discrimination based on sexual orientation and gender identity for federal contractors that earn more than $10,000 a year in federal contracts.
Sarah Trumble, policy counsel for the centrist group known as the Third Way, said the White House may decide to issue the executive order "as a down payment" for LGBT workers while anticipating later action from Congress.
"Because these issues are actually separate, even if the White House does issue the executive order, we would still need ENDA and Speaker Boehner would continue to feel the pressure to give the bill a vote," Trumble said.
Almeida expressed frustration that the Obama administration continues to hold out on the executive order.
"There's no need to wait months, or even wait days, before adding strong LGBT workplace protections to millions of American jobs," Almeida said. "The unexplained delays by the Obama administration are perplexing."
Almeida said that last week the company Bechtel, a global engineering and construction company, received a $143 million contract from the U.S. government even though protections for transgender workers aren't included in its non-discrimination policy.
"The existing federal contractor Executive Order 11246 already bans sex discrimination, giving the Labor Department the authority to insert transgender protections into the language of contracts like the one Bechtel signed last week," Almeida said. "But the Labor Department is sadly allowing those opportunities for progress to slip away."
Such action from the Labor Department, Almeida noted, would bring the existing executive order into alignment with the U.S. Equal Employment Opportunity's decision in Macy v. Holder that found transgender discrimination amounts to gender discrimination prohibited under current law.
"We will keep pushing for both President Obama and Labor Secretary Perez to take concrete action to ensure American taxpayer money is not squandered on harassment or discrimination," Almeida concluded.
Florida House committee passes "Don't Say Gay" bill
Equality Florida quickly condemned the measure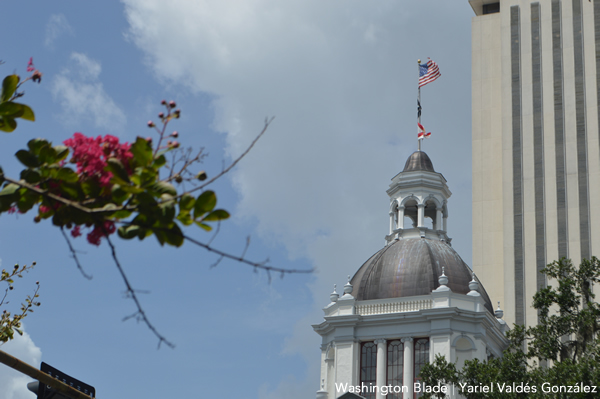 The Republican majority Florida House Education and Employment Committee on Thursday passed House Bill 1557, the Parental Rights in Education bill, colloquially referred to as the "Don't Say Gay" bill advancing the measure to the full House.
HB 1557 and its companion bill, Senate Bill 1834, would ban classroom discussions about sexual orientation and gender identity in schools, erasing LGBTQ identity, history, and culture — as well as LGBTQ students themselves.
The bill also has provisions that appear to undermine LGBTQ support in schools and include vague parental notification requirements which could effectively "out" LGBTQ-identifying students to their parents without their consent.
"The Trevor Project's research has found that LGBTQ youth who learned about LGBTQ issues or people in classes at school had 23 percent lower odds of reporting a suicide attempt in the past year. This bill will erase young LGBTQ students across Florida, forcing many back into the closet by policing their identity and silencing important discussions about the issues they face," said Sam Ames, director of advocacy and government affairs at the Trevor Project. "LGBTQ students deserve their history and experiences to be reflected in their education, just like their peers."
In an email to the Los Angeles Blade, Brandon J. Wolf, the press secretary for Equality Florida noted; "Governor DeSantis' march toward his own personal surveillance state continues. Today, the Don't Say Gay bill, a piece of legislation to erase discussion of LGBTQ people from schools in Florida, passed its first committee and became another component of an agenda designed to police us in our classrooms, doctor's offices, and workplaces. Make no mistake — LGBTQ people are your neighbors, family members, and friends. We are a normal, healthy part of society and we will not be erased."
This will kill kids, @RonDeSantisFL. You are purposefully making your state a harder place for LGBTQ kids to survive in. In a national survey (@TrevorProject), 42% of LGBTQ youth seriously considered attempting suicide last year. Now they can't talk to their teachers? https://t.co/VtfFLPlsn3

— Chasten Buttigieg (@Chasten) January 20, 2022
The Trevor Project's 2021 National Survey on LGBTQ Youth Mental Health found that more than 42 percent of LGBTQ youth seriously considered attempting suicide in the past year, including more than half of transgender and non-binary youth.
According to a recent poll conducted by Morning Consult on behalf of The Trevor Project, 85 percent of transgender and non-binary youth — and two-thirds of all LGBTQ youth (66 percent) — say recent debates about state laws restricting the rights of transgender people have negatively impacted their mental health.
When asked about proposed legislation that would require schools to tell a student's parent or guardian if they request to use a different name/pronoun or if they identify as LGBTQ at school, 56 percent of transgender and non-binary youth said it made them feel angry, 47 percent felt nervous and/or scared, 45 percent felt stressed, and more than 1 in 3 felt sad.
If you or someone you know needs help or support, the Trevor Project's trained crisis counselors are available 24/7 at 1-866-488-7386, via chat at TheTrevorProject.org/Get-Help, or by texting START to 678678.
Lesbian couple murdered, dismembered in Mexico border city
Julissa Ramírez and Nohemí Medina Martínez killed in Ciudad Juárez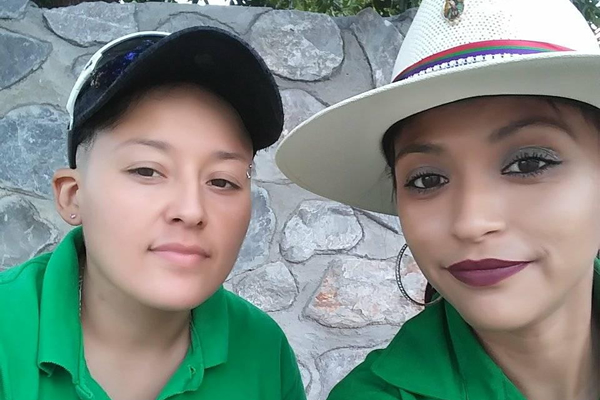 Authorities in the Mexican border city of Ciudad Juárez on Sunday found the dismembered bodies of a lesbian couple along a local highway.
The dismembered body parts of Julissa Ramírez and Nohemí Medina Martínez were found in plastic bags that had been placed along the Juárez-El Porvenir Highway.
El Diario, a Mexican newspaper, reported the married women lived in El Paso, Texas, which is across the Rio Grande from Ciudad Juárez. Authorities said relatives last spoke with Ramírez and Medina on Saturday afternoon.
A source in Ciudad Juárez with whom the Washington Blade spoke on Thursday confirmed Ramírez and Medina "were lesbian women" and their murder was "very violent."
Members of Comité de la Diversidad Sexual de Chihuahua, an LGBTQ rights group in the state of Chihuahua in which Ciudad Juárez is located, and Chihuahua Gov. María Eugenia Campos Galván are among those who have expressed outrage over the women's murders. Comité de la Diversidad Sexual de Chihuahua on Wednesday also urged local and state authorities to investigate whether the murder was a hate crime.
"People of sexual diversity are questioned, including their existence through heteronormative discourse," said the group in a statement. "They have the right to a life free of violence in which they exercise all their rights, in addition to living without fear or fear of rejection and aggressions that can unfortunately escalate to hate crimes."
EXHORTA SECRETARÍA DE GOBERNACIÓN A @MaruCampos_G A ACABAR CON LESBOFOBIA@SEGOB_mx a través de @CONAPRED y @CONAVIM_MX pidió al Gob del Estado que esclarezca el asesinato de Yulizsa y Nohemí…#JusticiaParaYulizsaYNohemi (1/3) pic.twitter.com/kLC7UNIoV2

— Comité de la Diversidad Sexual de Chihuahua (@DiversidadChih) January 19, 2022
El Diario reported Ramírez and Medina are two of the nine women who have been reported killed in Ciudad Juárez since the beginning of the year.
Personas de las Diversidades Afectivo Sexuales, an LGBTQ rights group in Ciudad Juárez, and feminist organizations on Thursday organized a protest during which participants demanded local, state and federal authorities do more to end to violence against women in the city. The press release that announced the demonstration specifically cited Ramírez and Medina.
"We seek justice and clarification in the murder of Nohemí and Yulissa, a lesbian couple who was found in Juárez-Porvenir Highway," it reads.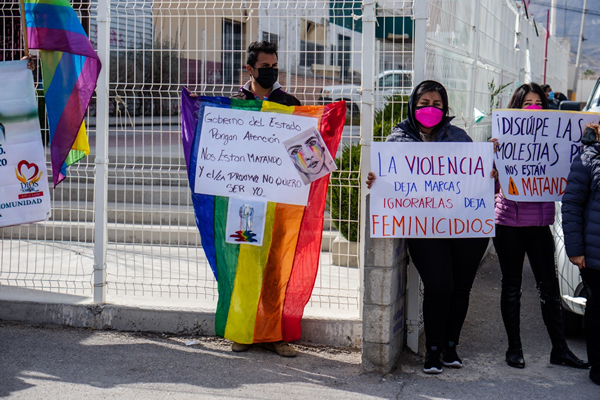 NCAA adopts new policy amid fervor over transgender athletes
Sport-by-sport approach requires certain levels of testosterone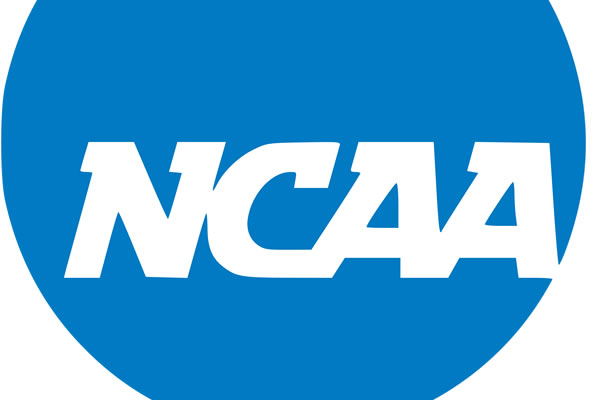 The National Collegiate Athletic Association has announced it has adopted new procedures on competition of transgender athletes, creating a "sport-by-sport" approach that also requires documentation of testosterone levels across the board amid a fervor of recently transitioned swimmers breaking records in women's athletics.
The NCAA said in a statement its board of governors voted on Wednesday in support of the "sport-by-sport" approach, which the organization says "preserves opportunity for transgender student-athletes while balancing fairness, inclusion and safety for all who compete."
Although the policy defers to the national governing bodies for individual sports, it also requires transgender athletes to document sport-specific testosterone levels beginning four weeks before their sport's championship selections. The new policy, which consistent with rules for the U.S. Olympics, is effective 2022, although implementation is set to begin with the 2023-24 academic year, the organization says.
John DeGioia, chair of the NCAA board and Georgetown president, said in a statement the organization is "steadfast in our support of transgender student-athletes and the fostering of fairness across college sports."
"It is important that NCAA member schools, conferences and college athletes compete in an inclusive, fair, safe and respectful environment and can move forward with a clear understanding of the new policy," DeGioia said.
More specifically, starting with the 2022-23 academic year, transgender athletes will need to document sport-specific testosterone levels beginning four weeks before their sport's championship selections, the organizational. These athletes, according to the NCAA, are also required to document testosterone levels four weeks before championship selections.
In terms of jurisdiction, the national governing bodies for individual sports are charged determines policies, which would be under ongoing review and recommendation by the NCAA, the organizational says. If there is no policy for a sport, that sport's international federation policy or previously established International Olympics Committee policy criteria would be followed.
The NCAA adopts the policy amid controversy over University of Pennsylvania swimmer Lia Thomas smashing records in women's swimming. Thomas, which once competed as a man, smashed two national records and in the 1,650-yard freestyle placed 38 seconds ahead of closest competition. The new NCAA policy appears effectively to sideline Thomas, who has recently transitioned and unable to show consistent levels of testosterone.
Prior to the NCAA announcement, a coalition of 16 LGBTQ groups, including the Human Rights Campaign and Athlete Ally, this week sent to a letter to the collegiate organization, urging the organizations strengthen non-discrimination protections as opposed to weakening them. The new policy, however, appears to head in other direction, which the LGBTQ groups rejected in the letter.
"While decentralizing the NCAA and giving power to conferences and schools has its benefits, we are concerned that leaving the enforcement of non-discrimination protections to schools will create a patchwork of protections rather than a comprehensive policy that would protect all athletes, no matter where they play," the letter says. "This would be similar to the patchwork of non-discrimination policies in states, where marginalized groups in some states or cities are protected while others are left behind by localities that opt not to enact inclusive policies."
JoDee Winterhof, vice president of policy and political affairs for the Human Rights Campaign, said in a statement after the NCAA announcement the new policy was effectively passing the buck.
"If the NCAA is committed to ensuring an environment of competition that is safe, healthy, and free from discrimination, they cannot dodge the question of how to ensure transgender athletes can participate safely," Winterhof said. "That is precisely why we and a number of organizations across a wide spectrum of advocates are urging them to readopt and strengthen non-discrimination language in their constitution to ensure the Association is committed to enforcing the level playing field and inclusive policies they say their values require. Any policy language is only as effective as it is enforceable, and with states passing anti-transgender sports bans, any inclusive policy is under immediate threat. We are still reviewing the NCAA's new policy on transgender inclusion and how it will impact each and every transgender athlete."