Obama signs bill for HIV organ donation
Lifting of ban opens organ donor pool by 500 to 600 people annually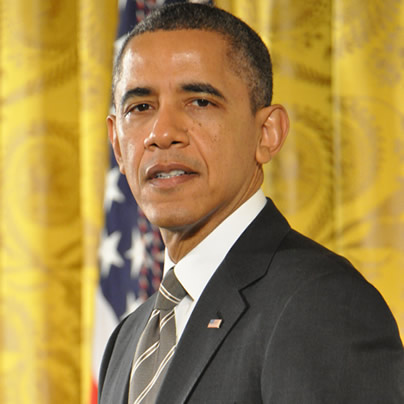 President Obama signed into law on Thursday afternoon a bill approved by Congress with significant bipartisan support that lifts the ban on the donation of organs from HIV-positive people to others with HIV.
In a statement, Obama said he signed the legislation, called the HIV Organ Policy Equity Act, or HOPE Act, to provide the opportunity for people with HIV to receive organ donations.
"The potential for successful organ transplants between people living with HIV has become more of a possibility," Obama said. "The HOPE Act lifts the research ban, and, in time, it could lead to live-saving organ donations for people living with HIV while ensuring the safety of the organ transplant process and strengthening the national supply of organs for all who need them."
First enacted in 1988 during the peak of AIDS crisis, the ban on the donation of organs from HIV-positive donors and related research was passed by Congress as part of the Organ Transplant Amendments Act.
Efforts to repeal the ban picked up steam now that HIV-positive people are living longer lives thanks to advances in antiretroviral therapy. Despite their new longevity, these patients are now more likely to face chronic conditions such as liver and kidney failure, for which organ transplants are the standard form of care.
Kyle Murphy, a spokesperson for the National Minority AIDS Council, said the bill signing demonstrates  Obama is committed to "evidence-based solutions" to confronting HIV/AIDS.
"The outdated ban on HIV-positive organ donation left countless infected, but otherwise healthy organs unused while condemning thousands of people living with HIV to languish on transplant wait lists," Murphy said. "Reforming this policy not only gives hope HIV-positive individuals in need of a new organ, it will also free up uninfected organs for HIV-negative patients."
The U.S. House passed the HOPE Act by voice vote on Nov. 12. Although versions of the legislation were introduced in both chambers of Congress, the House approved the Senate-passed version, which the Senate approved in June by unanimous consent.
In the Senate, the bill was introduced by Sens. Barbara Boxer (D-Calif.) along with Tammy Baldwin (D-Wis.), Tom Coburn (R-Okla.) and Rand Paul (R-Ky.) as original co-sponsors. In the House, Reps. Lois Capps (D-Calif.) was lead sponsor and Andy Harris (R-Md.) was an original co-sponsor.
Capps said in a statement the legislation was crafted after years of work and passed in collaboration with the HIV and medical communities after achieving building a bipartisan, bicameral consensus.
"This proves that even in a divided Congress, we can come together to pass common sense bills with bipartisan efforts that will help save lives, improve health outcomes, and save taxpayer dollars," Capps said.
Harris, a physician, said in a statement the legislation "gives new hope" to people with HIV awaiting organ transplants.
"As a physician who has performed anesthesia during organ transplants, I have seen firsthand the life-saving joy that receiving an organ can bring to patients and their families," Harris said. "I appreciate the bipartisan support this common sense change to an outdated law has received."
Under the HOPE Act, the Department of Health & Human Services and the Organ Procurement Transplant Network, or OPTN, will be directed to create standards for research on HIV-positive organ transplantation. The law permits the secretary to permit positive-to-positive transplantation if the results of research are determined to warrant such a change. The secretary would be required to direct OPTN to create standards to ensure that the organ transplant doesn't impact the safety of the transplantation network.
An estimated 100,000 patients are on the active waiting list for organ transplants in the United States and about 50,000 people are added to the list each year. According to a study in the American Journal of Transplantation, allowing organ transplants from HIV-positive donors to HIV-positive recipients could increase the organ donation pool by 500 to 600 donors each year.
Obama concluded in his statement that lifting the ban on HIV organ donation is line with his previous efforts to confront the HIV/AIDS epidemic.
"Improving care for people living with HIV is critical to fighting the epidemic, and it's a key goal of my National HIV/AIDS Strategy," Obama said. "The HOPE Act marks an important step in the right direction, and I thank Congress for their action."
Bob Dole dies at 98; anti-LGBTQ record is part of his legacy
Opposition to LGBTQ rights a part of former Senate majority leader's legacy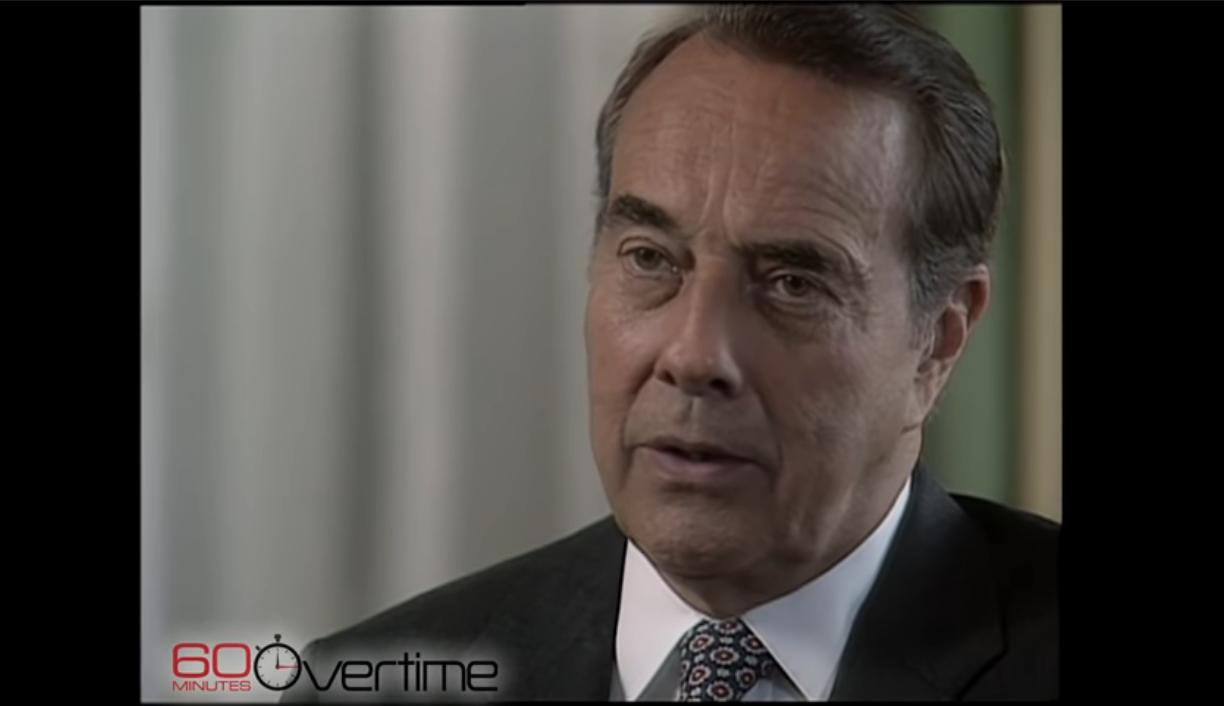 In a tweet Sunday morning the Elizabeth Dole Foundation announced the death of former U.S. Sen. Bob Dole (R-Kan.) at the age of 98. Reaction was immediate from longtime friends, political allies of the Senator and others including President Biden who served with him in the U.S. Senate.
In a statement released by the White House, the president said of his friend and former Senate colleague; "Bob was an American statesman like few in our history. A war hero and among the greatest of the Greatest Generation. And to me, he was also a friend whom I could look to for trusted guidance, or a humorous line at just the right moment to settle frayed nerves. […] Bob was a man to be admired by Americans. He had an unerring sense of integrity and honor. May God bless him, and may our nation draw upon his legacy of decency, dignity, good humor, and patriotism for all time."
It is with heavy hearts we announce that Senator Robert Joseph Dole died early this morning in his sleep. At his death, at age 98, he had served the United States of America faithfully for 79 years. More information coming soon. #RememberingBobDole pic.twitter.com/57NtGfqtmL

— Elizabeth Dole Foundation (@DoleFoundation) December 5, 2021
The tributes to Dole that poured in Sunday from every segment of government, political, public and personal reflected his lifelong career of public service to Americans including his championing the rights of disabled Americans playing a key role in the passage of the Americans with Disabilities Act (ADA) in 1990. Dole himself was disabled, having been grievously wounded in combat while serving in the U.S. Army in the Italian campaign during World War II.
Dole earned two Purple Hearts and was awarded the Bronze Star for his service, but doctors weren't sure he'd survive. He was hospitalized for three years. He suffered infections, grueling therapy, several operations and in one instance developed a blood clot that nearly killed him.
He spent the rest of his life struggling with disabilities caused by his war injuries, most noticeably loss of the use of his right arm.
After his recovery and convalescence he enrolled at the University of Arizona in Tucson on the GI Bill, and later transferred to Washburn University in his home state of Kansas. He graduated in 1952.
After college and while still in law school, Dole became active in local politics in his hometown of Russell, Kan. In his first run for elected office he won a seat in the Kansas House of Representatives. He served from 1951 to 1953 until he ran and was elected Russell County Attorney. He remained in that position until 1961, when he was first elected to Congress as a Republican.
In what he later said publicly were the two most important votes while serving in Congress, in 1964 he voted in favor of the Civil Rights Act, and in 1965 voted in favor of the Voting Rights Act.
During the turbulent era of the 1960's marked by the Civil Rights movement and opposition to America's involvement in the Vietnam conflict, Dole ran for the U.S. Senate in 1969 and was was elected after defeating his fellow Republican, former Kansas Gov. Bill Avery, in the primary race.
From Jan. 3, 1969, until his departure from the Senate on June 11, 1996, Dole built a career that established his place as a power broker and deal maker in Republican politics with considerable influence across both parties garnering the respect of Democratic leaders including the late-U.S. Sen. Ted Kennedy (D-Mass.).
In the early 1970s, Dole served as chairman of the Republican National Committee from 1971 to 1973 including during the 1972 election and Watergate break-in and he resided at the Watergate apartments at the time of the break-in.
An ardent supporter of then-President Richard Nixon, Dole stood by him during the Watergate scandal often clashing with other Republicans leaders who ultimately convinced Nixon to resign the office. In later years Dole still praised Nixon's record as president, serving as a eulogist at the former president's state funeral in 1994.
In a commentary for Politico magazine on April 27, 2017, Dole wrote; "I can say with confidence that the beginning of the 21st century is still the Age of Nixon; we're still living in a world he played a role in shaping. Though our country has changed in many ways in the 43 years since Nixon's resignation and 23 years since his death, the basic domestic policies and international order that he brought to fruition remain in place."
While Dole was often seen as a moderate by some, in practice he was a hard nosed partisan Republican sometimes echoing Nixon's attack impulses. In 1976, then-President Gerald Ford selected him as his running mate at the Republican National Convention.
During the Ford-Dole campaign run he blamed the deaths and injuries of 1.7 million American soldiers on "Democrat wars," and derided the Democratic Party challenger, Georgia Gov. Jimmy Carter, as no more than a "Southern-fried McGovern."
"I figured up the other day, if we added up the killed and wounded in Democrat wars in this century, it would be about 1.6 million Americans, enough to fill the city of Detroit," Dole said.
In a bit of political irony, he had partnered with U.S. Sen. George McGovern (D-S.D.), who Nixon defeated in a landslide election in 1972, to help pass legislation making food stamps more accessible.
In 1980 he made a run for the White House on his own, ultimately deciding to withdraw after a poor showing in the Republican primary in New Hampshire against former California Gov. Ronald Reagan. Dole was re-elected to his third term as senator that year.
Dole went on to serve as chairman of the Senate Finance Committee from 1981 to 1985, and in November of 1984, he was elected Senate majority leader. He then made another attempt for the Republican presidential nomination in 1988, during that campaign his reputation as a political hardliner was cemented during an interview with then-NBC News anchor Tom Brokaw.
Dole exploded in apparent anger over a question posed about a television advert being run by the campaign of then Vice President George H.W. Bush, his Republican challenger for the nomination, that accused Dole of "straddling" on taxes. He snapped at Brokaw, saying Bush should "stop lying about my record." He beat Bush in Iowa, but fell short again in New Hampshire and again he withdrew from the race.
During that campaign, the New York Times reported Dole strongly disagreed today with Congressman Jack Kemp on AIDS testing and urged that the issue of AIDS be kept out of the 1988 presidential race.
"To try to make this a Democratic or Republican issue is a loser," said Dole. "It's a loser for the people involved, and it's a loser for the people we're trying to protect."
On Feb. 22, 1989, during the session of the 101st Congress, the Hate Crimes Statistics Act was reintroduced in the U.S. House of Representatives. It had previously been introduced in the 99th and 100th Congresses. The act would require the Justice Department to collect and publish data about crimes motivated by hatred based on race, religion, ethnicity and sexual orientation.
Then on June 27, 1989, the House passed the act by a 368-47 vote. It moved on to the Senate where as the then-minority leader, Dole signed on as a co-sponsor.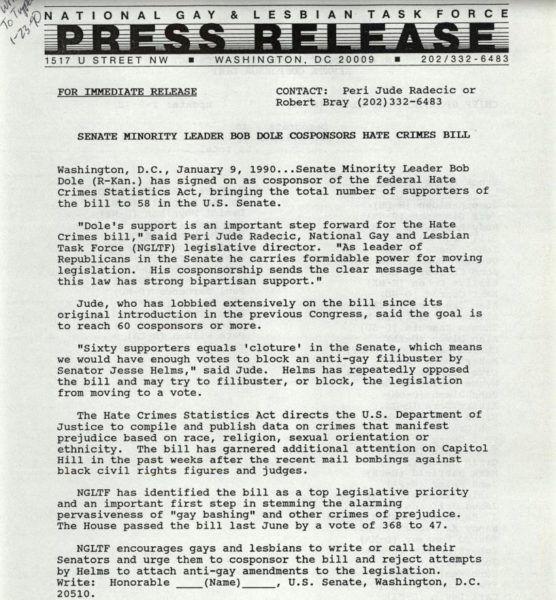 On Feb. 8, 1990, the Senate passed the Act by a 92-4 vote and sent it to President George H.W. Bush who signed the bill into law on April 23, 1990.
The 1994 mid-term elections gave Republicans control of both the Senate and the House, mainly due to the fallout from President Bill Clinton's policies and Dole became the senate majority leader for a second time.
Dole again decided to make another run for the presidency in 1995 and it was in the lead-in to that campaign his anti-LGBTQ positions on military service by gay and lesbians and same-sex marriage became clear.
In the Fall of 1995, Dole returned a $1,000 dollar campaign contribution from the Log Cabin Club, a pro-gay Republican organization that is now known as Log Cabin Republicans. That caused Congress' only openly gay Republican member, U.S. Rep. Steve Gunderson (R-Wis.), to castigate Dole publicly in a letter that read; "One need not be anti-gay just to prove you are pro-family," Gunderson wrote. "I know of no gay Republican (and frankly few gay Democrats) who seek any special class or privileges. All we seek is the end to blatant discrimination in America."
Dole's campaign returned the money, saying the Republican presidential contender was "100 percent" opposed to the Log Cabin Club's agenda.
Gunderson, in his letter, also noted he had supported Dole's past presidential efforts and had endorsed him before being asked. When first told of the donation controversy, Gunderson said he assumed his friends had mistaken Dole's campaign for that of "other decidedly bigoted candidates. I was embarrassed to learn I was wrong," he said.
Gunderson questioned whether Dole would reject the support of anyone who was gay. "If this is so, do you intend to now reject my support and request those on your staff who happen to be gay to resign?"
Eight months later in early May of 1996, in an effort to shore up support of his campaign from the Christian conservative movement within the Republican party, Dole signed on as the first co-sponsor of the Senate version of the Defense of Marriage Act. The legislation barred federal benefits for same-sex couples while allowing states the right to refuse recognition of such marriages that are recognized in other states.
In no small bit of irony one of the responses to Dole's actions came from the Log Cabin Republicans. "The intolerant wing of the Republican Party is rearing it's ugly head again," said Richard Tafel, executive director of Log Cabin Republicans. "What Dole is missing here is that he already has deep support among religious conservatives. There is a growing perception of the GOP Congress as intolerant, and Dole's action yesterday only enhances such a view."
Dole's position on same-sex marriage was later derided by the Human Rights Campaign in an advert campaign, run only in the San Diego market during the GOP convention, that took aim at prominent Republicans who opposed same-sex marriages, but whose own marriages were not always accepted by mainstream society.
The HRC ads called out presidential nominee Dole and other Republicans for "wasting our time" and "trying to score political points by attacking gay Americans."
One spot featured pictures of Dole with Elizabeth, his second wife, and U.S. Sen. Phil Gramm (R-Texas) with his Asian American wife, Wendy. The ad notes that divorced people and couples of different ethnicities have not always been accepted wholly by society.
In the discussions and the political back and forth leading up to what ultimately became the ban on gays and lesbians serving in the U.S. military, colloquially referred to as "Don't Ask-Don't Tell," "Serving is not a right," Dole said. "It is a privilege in the United States. And there are certain restrictions."
Dole, who had resigned from the Senate on June 11, 1996 to run his presidential campaign lost that fall. Clinton who was an incumbent, won in a 379–159 Electoral College landslide, capturing 49.2 percent of the vote against Dole's 40.7 percent and Ross Perot's 8.4 percent.
Dole at age 73 was the last World War II veteran to have been the presidential nominee of a major party. In 1997, months after losing the election Dole was presented with the Presidential Medal of Freedom by Clinton.
"Through it, we honor not just his individual achievement but his clear embodiment in the common values and beliefs that join us as a people," Clinton said. "Values and beliefs that he has spent his life advancing. Sen. Dole, a grateful nation presents this award, with respect for the example you have set for Americans today and for Americans and generations yet to come."
In the years that followed his political career Dole served as national chairman of the World War II Memorial raising funds for its construction. He was a popular spokesperson for Viagra, Visa, Dunkin' Donuts and along with pop singer, Britney Spears, Pepsi-Cola. He continued to speak out for disabled Americans, and also established The Robert J. Dole Institute of Politics, housed on the University of Kansas campus in Lawrence, Kan.
In 2007, President George W. Bush appointed him to help lead a bipartisan commission to investigate a neglect scandal at Walter Reed Army Medical Center. Then alongside his wife Elizabeth Dole, in 2012, established the Elizabeth Dole Foundation, which is designed to empower, support and honor the nation's 5.5 million military caregivers.
Despite his many accomplishments, in 2014 he still attacked the rights of LGBTQ Americans to be married. Dole suggested that fellow Republican, U.S. Sen. Rob Portman of Ohio, didn't support ratifying the Convention on the Rights of Persons with Disabilities because Portman, who had a gay son, had come out in favor of gay marriage, the Daily Beast and other media outlets reported in July of 2014.
Dole also supported former President Donald Trump and endorsed Trump in both the 2016 and 2020 campaigns. In an interview with USA Today conducted for his 98th Birthday, Dole said he was "Trumped out", and that Trump had lost the 2020 election despite his claims to the contrary. "He lost the election, and I regret that he did, but they did", Dole stated, adding that Trump "never had one bit of fraud in all those lawsuits he filed and statements he made."
********************
60 Minutes Archive: Bob Dole (Steve Kroft, 1993)
Víctor Grajeda, primer diputado suplente abiertamente gay, llega al Congreso de Honduras
Sampedraño hace historia al ser electo por más de 100,000 votos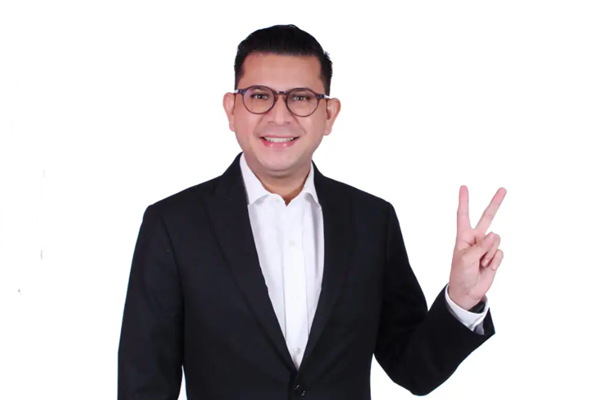 Reportar sin Miedo es el socio mediático del Washington Blade en Honduras. Esta nota salió en su sitio web el 30 de noviembre.
TEGUCIGALPA, Honduras — Miles de personas LGBTIQ+ votaron este 28 de noviembre contra el Partido Nacional, que ha gobernado Honduras más de 12 años y en los últimos tres meses utilizó una campaña de odio, miedo y discriminación hacia la diversidad sexual y el derecho a decidir de las mujeres.
El voto de la diversidad sexual de Honduras benefició mayoritariamente a la candidata del partido de oposición Libertad y Refundación (Libre), Xiomara Castro, quien es considerada la casi segura ganadora de los comicios del 2021 en Honduras por más de 20 puntos arriba de su rival, el candidato por el Partido Nacional, Nasry Asfura.
El triunfo de Xiomara representa la esperanza de un cambio en temas de políticas y leyes, pero también un avance en derechos humanos, dijo a Reportar sin Miedo el presidente de la juventud del Partido Libre, Kevin Ramos.
"Vamos a construir una nueva era. Fuera los escuadrones de la muerte. Fuera la corrupción. Fuera el narcotráfico y el crimen organizado. Fuera las ZEDE. No más pobreza y más miseria en Honduras. Hasta la victoria siempre. Unido, pueblo. Juntos vamos a transformar este país", expresó Castro en su primer discurso. Ella sería la primera presidenta del país en 200 años de independencia.
En el proceso electoral de 2021 sólo participaron cinco candidatxs LGBTIQ+. Por el departamento de Cortés, como aspirantes a diputado propietario se lanzaron Fredy Fúnez, Odalis Sarmiento por el PINU y Víctor Grajeda como diputado suplente del Partido Libre. Ninguna persona trans participó en el proceso.
Grajeda va encabezando los cuatro primeros lugares de las diputaciones de Cortés junto con su compañera de fórmula Silvia Ayala. Él es decorador y tiene un negocio junto con su pareja.
"En mi tiempo libre trabajo en decoración", agrega este hombre abiertamente gay nacido en cuna humilde, quien tuvo que trabajar desde pequeño para sobrevivir en la violenta ciudad de San Pedro Sula.
Víctor lamenta la falta de diversidad que ofrecen los partidos políticos hondureños. Para él, la oportunidad de participar en este proceso es única. "No podía dejarla atrás. Nos permite crear una representación digna y transparente". No ser un político de clóset es, para Víctor, desafiar al sistema. "Busco abrir espacios y descartar la disciminación por la orientación o la identidad sexual", asegura.
Víctor aprovechó para agradecerle a la diputada electa Silvia Ayala por incluirlo en su plantilla ganadora. "Gracias a Silvia por hacerme parte de su fórmula", dice el nuevo diputado suplente. "Ella desde el principio confió en mí y fue muy inclusiva al hacerme su candidato suplente".
Grajeda promete promover leyes que penalicen los crímenes de odio, así como la creación de unidades especializadas para la investigación de estos delitos. Entre sus promesas también están crear programas de salud mental.
Al contrario de otros partidos políticos hondureños, Libertad y Refundación se ha caracterizado por abrir más sus puertas a la inclusión de personas LGBTIQ+ como la activista Kendra Jordany o la abogada Vienna Ávila, a quien Libre nombró secretaria de la diversidad sexual.
"Ciudadanas y ciudadanos, le apostamos a que Honduras se pueda convertir en un país de esperanza", dijo Kevin Ramos. "Nosotros, como parte de la diversidad sexual, esperamos que cumpla sus promesas de ofrecer derechos a nuestra población".
El fin de un gobierno de discriminación y odio
Con su voto, la población diversa pone un alto a los gobiernos nacionalistas, que en más de una década no han garantizado derechos para las personas trans y diversas.
El discurso de odio se pronuncia desde la misma cúpula del gobierno nacionalista encabezado por el presidente Juan Orlando Hernández. El mandatario llamó "enemigos de la independencia" a lxs miembrxs de la diversidad sexual de Honduras en un tristemente célebre discurso por el bicentenario de la independencia, el 15 de septiembre de 2021.
Un reflejo de la visión heterocispatriarcal de los partidos políticos en Honduras es la cantidad de candidatxs de la diversidad sexual en los comicios de este año.
Entretanto, en Francisco Morazán, Miguel Caballero Leiva se presentó como aspirante a una diputación por el partido Unificación Democrática. Sin embargo, todavía no hay resultados de las posiciones electorales para saber el destino de estxs candidatxs.
La discriminación anti-LGBTIQ+ ejercida por el partido en el poder continúa a pesar de la sentencia condenatoria por el transfeminicidio de Vicky Hernández cometido la noche del 28 al 29 de junio de 2009.
Hernández, defensora de derechos humanos, se convirtió en la primera víctima del golpe de Estado que marcó la historia reciente de Honduras. El golpe de 2009 derrocó al entonces presidente Manuel Zelaya, esposo de la actual candidata presidencial Xiomara Castro.
Ni el gobierno de facto del empresario del transporte Roberto Micheletti ni las administraciones nacionalistas de Porfirio Lobo y Juan Orlando Hernández aclararon o buscaron castigar el crimen contra Vicky. Por el contrario, durante los 12 años de poder nacionalista aumentó desmedidamente la cantidad de crímenes de odio en Honduras.
Desde el 2009 hasta la fecha hay un registro de 389 muertes violentas contras personas LGBTI+. Solo en 2021 han sido asesinadas 16 personas: diez gays, tres transexuales y tres lesbianas, reporta Cattrachas en su Observatorio de Muertes Violentas.
Hubo un destello de esperanza a mediados de este año, cuando por fin la Corte Interamericana de Derechos Humanos condenó al Estado de Honduras por el transfeminicidio de Vicky Hernández.
"Esta es la apertura para que vean que ninguna lucha es exclusiva de un grupo de personas", dijo en aquella ocasión la coordinadora de Cattrachas, Indyra Mendoza.
Sin embargo, aunque el Estado dijo que iba a cumplir con la sentencia por el caso de Vicky Hernández, hasta el momento no ha pedido perdón a la familia ni cumplido con una serie de reparaciones de la condena de la Corte IDH.
Algunxs no pudieron votar contra el nacionalismo
A pesar del deseo de las personas trans de usar su voto para sacar del poder al Partido Nacional, algunas de ellas se quedaron sin esa posibilidad.
La directora de Oprouce, la líder trans Sasha Rodríguez, no pudo votar porque nunca recibió el nuevo Documento Nacional de Identidad (DNI).
Igual que Rodríguez, miles de personas estaban habilitadas para votar, pero el Registro Nacional de las Personas no les entregó sus nuevas identidades, sin las cuales no podían votar, según las nuevas reglas electorales.
Los usuarios de redes sociales comentaron que los problemas en la entrega de los DNI eran otros de los trucos del oficialismo para seguir en el poder fraguando un supuesto fraude en las votaciones del 28 de noviembre.
"El triunfo de Xiomara es una reivindicación como ciudadana", dijo Sasha Rodríguez. "Ella ha sido una aliada de la población diversa y las personas LGBTIQ+ hablaron. Ya se cansaron de 12 años en el poder del Partido Nacional y su líder Juan Orlando Hernández, que se unió con los fundamentalistas religiosos, en especial los evangélicos, para seguir difundiendo mentiras y discriminaciones hacia todas".
Rodríguez recordó el discurso de Hernández del pasado 15 de septiembre, donde manifestó su rechazo a los derechos de las personas diversas. En medio del ambiente electoral en Honduras asesinaron a Tatiana García en Santa Rosa de Copán. Ella era militante del partido de gobierno. También más de 10 personas trans sufrieron discriminación o fueron víctimas de agresiones.
 

 

 

View this post on Instagram

 

 

 

 

 

 

 

 

 

 

 

 

 

 

 

 

 

 

 

 

 

 

 

 

 

 

 

 

 

 

 

 

 

 

 

 

 

 

 

 

 

 

 

 

 

 

 

 

 

 

 

 

 

 

 

 

 

 

 

 

 

 

 

 

 

 

 

 

 

 

 

 

 

 

 

 

 

 
La Red Lésbica Cattrachas denunció ante el Consejo Nacional Electoral (CNE) que el Partido Nacional junto a los antiderechos utilizaban sus discursos de odio para estigmatizar a las personas LGBTI+ y mujeres.
El CNE admitió el 23 de noviembre su denuncia por prejuicio de la dignidad humana, por promover el odio y la discriminación a grupos históricamente colocados en situación de vulnerabilidad.
La violencia en Honduras se extiende a lxs candidatxs pertenecientes a los grupos LGBTIQ+. El Observatorio Político de Cattrachas registró, hasta el 21 de noviembre, 33 muertes violentas de candidatas y candidatos. También denunció una serie de ataques y amenazas a diferentes sectores.
En un evento público, la coordinadora de la red, Indyra Mendoza, pidió un alto a la violencia política. "No hay elecciones libres si lxs candidatxs tienen miedo. Necesitamos que el país entero rechace las agresiones, necesitamos que defender derechos humanos no sea una condena".
Cattrachas también denunció al exsecretario del presidente Hernández, el ministro Ebal Díaz, quien utilizó en sus campañas el video de una niña con discapacidad para manipular la opinión pública sobre el tema del aborto. «Es cruel que hagan política atacando a las mujeres y a las personas con discapacidad», señaló la red lésbica.
Violencia antes y durante las elecciones
El más reciente caso de violencia contra la población diversa de Honduras es el de Emeli Rachel Villafranca (23), quien fue salvajemente golpeada por cuatro hombres en Tegucigalpa, denunció la organización Arcoíris. A tres días antes de las elecciones, más de 20 organizaciones LGBTIQ+ presentaron una propuesta de reforma de ley ante el Registro Nacional de las Personas para que reconozca el cambio de nombre de las personas. Se recogieron 4,600 firmas a nivel nacional. En el marco de este evento se realizó una marcha exigiendo justicia, alto a la violencia y a los discursos de odio.
 

 

 

View this post on Instagram

 

 

 

 

 

 

 

 

 

 

 

 

 

 

 

 

 

 

 

 

 

 

 

 

 

 

 

 

 

 

 

 

 

 

 

 

 
Personas LGBTIQ+ monitorean las elecciones
Al menos 30 mujeres trans distribuidas en la capital Tegucigalpa, en el centro de Honduras, y San Pedro Sula, en la costa norte, realizaron un proceso de observación ciudadana en centros de votación masivos. Las observadoras registraron incidencias de discriminación, problemas de identificación con el nombre registro al nacer y otras anomalías.
La directora de la Asociación Muñecas de Arcoíris, JLo Córdova, denunció que en su centro de votación sufrió discriminación al ejercer el sufragio porque fue llamada públicamente con el nombre registrado en su DNI. "Esto no debería ser. Recomendamos mejor capacitación en temas de diversidad y género a lxs integrantes de las mesas electorales".
Por otro lado, tanto en San Pedro Sula y Tegucigalpa, más de 15 personas de diferentes organizaciones LGBTI+ realizaron el trabajo de observadoras electorales nacionales.
La activista lesbiana Seidy Irías dijo a Reportar sin Miedo que un país que no considera los derechos humanos de las personas con mayor vulnerabilidad no es una república. "Luchemos por un gobierno visible para todas las poblaciones", dijo Seidy.
En las redes sociales se promovió el #VotoConOrgullo y la respuesta fue masiva. "Las juventudes demostramos que no somos de cristal, sino de diamantes en este proceso electoral, el cual fue un triunfo contundente para la democracia pacífica y participativa", expresó el director de Honduras Diversa, Néstor Hernández.
 

 

 

View this post on Instagram

 

 

 
El triunfo de Xiomara Castro representa para muchxs el rompimiento de una brecha de desigualdad. «Hoy, más de una niña se levantó creyendo que también puede ser presidenta», dijo el influencer Denisol Mehujael.
Victory Fund honors Maine House speaker at D.C. conference
Ryan Fecteau is gay Catholic University alum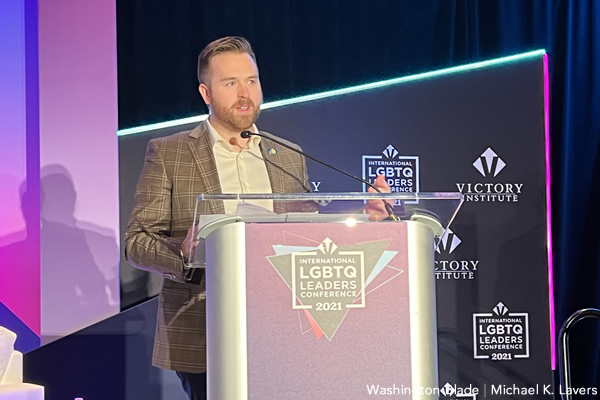 The Victory Fund on Saturday honored Maine House Speaker Ryan Fecteau on the last day of its International LGBTQ Leaders Conference in D.C.
Fecteau — an openly gay Catholic University of America alum — won a seat in the Maine House of Representatives in 2014. He became the chamber's speaker in 2020.
"Hate and intolerance will not derail us," said Fecteau after Florida state Rep. Carlos Guillermo Smith presented him with the Tammy Baldwin Breakthrough Award, which is named after U.S. Sen. Tammy Baldwin (D-Wis.). "Our community will not be intimidated."
The Victory Fund on Friday honored Guatemalan Congressman Aldo Dávila, a gay man who is living with HIV.