Gray to embrace 'two-way dialogue' with LGBT community
Activists begin to take sides in hotly contested mayoral race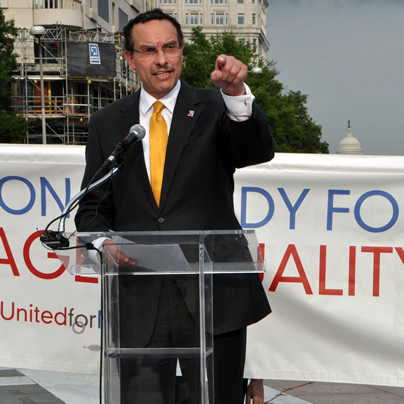 The manager of D.C. Mayor Vincent Gray's just-announced re-election campaign called Gray's record on LGBT issues "rock solid" and said the campaign will be open to an ongoing, "two-way dialogue" with LGBT people throughout the city.
Chuck Thies, a longtime D.C. political consultant who Gray picked to lead his 2014 campaign, told the Blade he believes LGBT people understand that Gray's longtime support for their rights and dignity is based on the mayor's deeply held beliefs that are not motivated by politics.
"So will there be a focused outreach to the LGBT community? Absolutely," Thies said. "And I think it will not just be outreach. I'm expecting a two-way dialogue."
Gray's announcement on Monday that he plans to run for a second term came in the form of an open letter to D.C. voters, which he released as he and Thies visited the offices of the Board of Elections and Ethics to register Gray as a candidate. The two also picked up petitions to obtain the 2,000 signatures from registered Democrats needed for Gray to run in the April 1, 2014 Democratic primary. The deadline for filing the petitions is Jan. 2.
Gray became the 11th candidate to enter the Democratic primary contest at a time when four members of the D.C. City Council, a restaurant owner-political activist and five lesser-known candidates have vowed to challenge his record, among other things, on grounds of ethics and political corruption.
Similar to political activists across the city, several LGBT activists told the Blade that despite Gray's solid record on LGBT issues they are reluctant to support the mayor's re-election bid out of concern that he might be implicated in a two-and-a-half year ongoing investigation by the U.S. Attorney's office into Gray's 2010 election campaign.
Four people associated with the 2010 Gray campaign have pleaded guilty to felony charges stemming from allegations that they helped operate a secret "shadow" campaign that raised $655,000 without reporting the existence of those funds in violation of campaign reporting laws.
Gray has said he knew nothing about the shadow campaign or alleged illegal activity by some of his campaign aides.
Among those considered his main rivals are D.C. Council members Jack Evans (D-Ward 2), Muriel Bowser (D-Ward 4) and Tommy Wells (D-Ward 6). Also entering the race last month was Council member Vincent Orange (D-At-Large), who ran and lost his bid for mayor in 2006 to former Mayor Adrian Fenty.
Political observers say Wells and Andy Shallal, owner of the local restaurant chain Busboys and Poets who has been a longtime advocate for progressive causes, could attract support from progressive voters because of their outspoken calls for campaign finance reform and stronger ethics-in-government laws.
Veteran D.C. gay activist Bob Summersgill, a Ward 3 ANC commissioner and former president of the Gay and Lesbian Activists Alliance, is among the LGBT activists that supported Gray in 2010 but aren't supporting him now. Summersgill said he's backing Wells for mayor.
"All of the major candidates have excellent records on LGBT issues," Summersgill said in response to a Blade survey of the city's LGBT activist leaders. "I have largely looked at other issues in deciding who to support."
Summersgill and Deacon Maccubbin, owner of the now closed Lambda Rising bookstore and a longtime Democratic Party supporter, said they are backing Wells, among other things, because he has taken the lead in speaking out against political corruption and pushing for campaign finance and ethics reforms.
Other prominent LGBT activists who backed Gray in 2010 said they remain strong supporters of Gray and plan to work to help the mayor win election to a second term.
"I've been waiting to see what the mayor was going to do," said gay Democratic activist Lane Hudson. "Now that he's announced he will seek re-election I am 110 percent in support of that."
Hudson added, "I think he's probably the most competent mayor we have ever had. He understands the D.C. government better than anyone that I know. He has been accessible and he's a hard worker."
On LGBT issues, Hudson said of Gray, "There's never been anyone who's had a better record on LGBT issues in D.C. politics."
Others backing Gray are D.C. transgender activists Jeri Hughes and Alexandra Beninda, who called Gray the nation's most supportive mayor on transgender issues.
Hudson, Hughes and Beninda each said the fact that Gray has not been implicated in wrongdoing related to his 2010 mayoral campaign leads them to believe Gray's long-stated assertion that the wrongdoing took place without his knowledge or approval.
Barrie Daneker, treasurer of the Gertrude Stein Democratic Club, the city's largest LGBT political group, and John Fanning, a Ward 2 gay civic activist, are among a sizable number of LGBT activists backing Evans. The two note that Evans' strong support for LGBT rights dates back to the beginning of his tenure as a Council member 20 years ago.
Christopher Dyer, the gay Democratic activist who served as director of the city's Office of GLBT Affairs under Mayor Fenty, is among the LGBT advocates backing Bowser's mayoral bid.
Veteran gay activist A. Billy S. Jones-Hennin is among those who remain undecided in the mayoral race.
"I believe Gray has done a credible job as mayor," Jones-Hennin told the Blade, "however, the cloud of his 2010 election woes is still lingering. I'm impressed by the campaign of Bowser."
One of the lesser-known mayoral candidates, Reta Jo Lewis, a former State Department official, has said she is a strong supporter of LGBT rights.
The positions on LGBT-related issues among the remaining candidates that took out petitions to get on the Democratic primary ballot for mayor couldn't immediately be obtained. They include Christian Carter, Michael Green, Frank Sewell and Octavia Wells.
Gay attorney's plans to run for Del. Senate foiled by redistricting
Activists say move will 'dilute' LGBTQ vote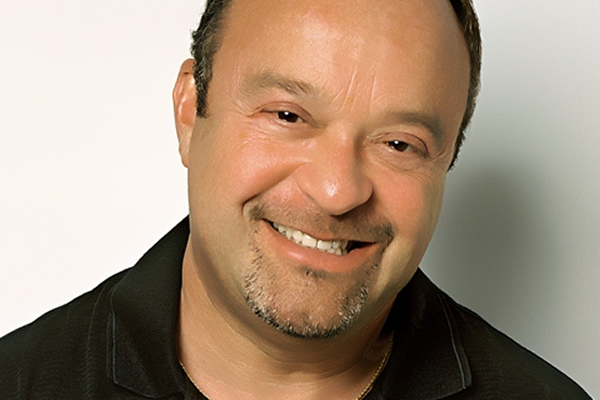 Plans by Delaware gay attorney and Democratic Party activist Mitch Crane to run for a seat in the Delaware State Senate in a district that included areas surrounding the town of Lewes, where Crane lives, and Rehoboth Beach ended abruptly this week when state officials approved a redistricting plan that removes Crane's residence from the district.
The seat for which Crane planned to run is in Delaware's 6th Senate District which, in addition to Lewes and Rehoboth, includes the towns of Dewey Beach, Harbeson, Milton, and surrounding areas, according to the state Senate's website.
The seat is currently held by Ernesto "Ernie" Lopez, a moderate Republican who became the first Hispanic American elected to the Delaware Senate in 2012. Lopez announced in July that he would not seek re-election in 2022.
The redistricting plan, which was approved by leaders of the Democratic-controlled Delaware General Assembly, places the section of the Lewes postal district where Crane lives into the 19th Senate District. Crane said that district is in a heavily Republican and conservative part of the state dominated by supporters of President Donald Trump who remain Trump supporters.
Under Delaware law, changes in the district lines of state Senate and House districts, which takes place every 10 years following the U.S. Census count, are decided by the Delaware General Assembly, which is the state legislative body.
Crane told the Washington Blade that neither he nor any other Democrat would have a realistic chance of winning the State Senate seat next year in the 19th District.
"Jesus could not win in that district if he was a Democrat," said Crane.
Crane said a Democratic candidate could win next year in the reconfigured 6th Senate District now that incumbent Lopez will not be seeking re-election.
The Cape Gazette, the Delaware newspaper, reported in an Oct. 22 story that Crane was one of at least two witnesses that testified at a two-day virtual hearing held Oct. 18-19 by a State Senate committee, that the proposed redistricting would dilute the LGBTQ vote in the 6th District and the draft proposal should be changed.
"The proposed lines remove a significant percentage of the LGBTQ residents from the current 6th District where most of such residents of southern Delaware live and place them in the 19th District which has a smaller such population," the Cape Gazette quoted Crane telling the committee. "By doing so, it dilutes the impact of the gay community which shares political beliefs," the newspaper quoted him as saying.
"The proposed lines dilute the voting power of the LGBTQ community in addition to others who respect diversity," the Cape Gazette quoted 6th District resident Sandy Spence as telling the committee.
In an Oct. 10 email sent to potential supporters before the redistricting plan was approved, Crane said he believes he has the experience and record that make him a strong candidate for the state Senate seat. He is a former chair of the Sussex County Democratic Party, where Rehoboth and Lewes are located; and he currently serves as an adjunct professor at Delaware State University's graduate school, where he teaches American Governance and Administration.
He is a past president of the Delaware Stonewall PAC, a statewide LGBTQ advocacy group, and he's the state's former Deputy Insurance Commissioner.
"I intend to focus on smart growth in Sussex County; work on the problems of homelessness and the need for affordable housing; and assuring that this district receives its fair portion of tax dollars," he said in his Oct. 10 email message announcing his candidacy.
Crane said he posted a Facebook message on Oct. 26 informing supporters that the redrawn district lines removed him from the district, and he is no longer a candidate.
MSNBC's Capehart to host SMYAL's Fall Brunch Nov. 6
Ashland Johnson to serve as keynote speaker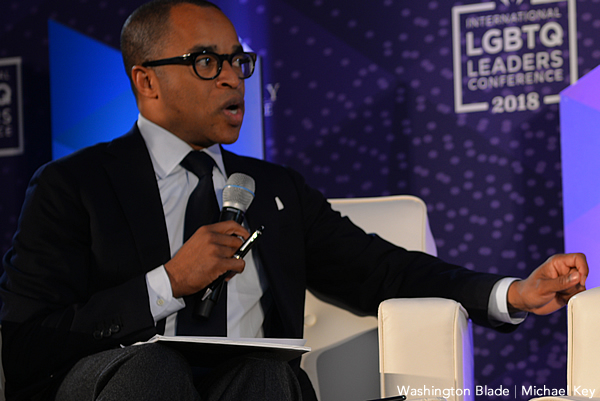 Pulitzer Prizing-winning gay journalist Jonathan Capehart, the anchor of MSNBC's "Sunday Show with Jonathan Capehart," will serve as host for the 24th Annual SMYAL Fall Brunch scheduled for Saturday, Nov. 6, at D.C.'s Marriott Marquis Hotel.
The annual Fall Brunch serves as one of the largest fundraising events for SMYAL, which advocates and provides services for LGBTQ youth in the D.C. metropolitan area.
"Each year, a community of advocates, changemakers, and supporters comes together at the Fall Brunch to raise much-needed funds to support and expand critical programs and services for queer and trans youth in the DMV area," a statement released by the organization says.
The statement says attorney and former Division I women's collegiate basketball athlete Ashland Johnson will be the keynote speaker at the SMYAL Fall Brunch. Johnson founded the sports project called The Inclusion Playbook, which advocates for racial justice and LGBTQ inclusion in sports.
Other speakers include Zahra Wardrick, a SMYAL program participant and youth poet; and Leandra Nichola, a parent of attendees of Little SMYALs, a program that SMYAL says provides support for "the youngest members of the LGBTQ community" at ages 6-12. The SMYAL statement says Nichola is the owner and general manager of the Takoma Park, Md., based café, bar, retail, and bubble tea shop called Main Street Pearl.
According to the statement, the SMYAL Fall Brunch, including a planned silent auction, will be live streamed through SMYAL's Facebook page for participants who may not be able to attend in person. For those attending the event in person, proof of COVID-19 vaccination will be required, and masks will also be required for all attendees when not actively eating or drinking, the statement says.
The statement says that for attendees and supporters, the Fall Brunch is "a community celebration of how your support has not only made it possible for SMYAL to continue to serve LGBTQ youth through these challenging times, it's allowed our programs to grow and deepen."
Adds the statement, "From affirming mental health support and housing to fostering community spaces and youth leadership training, we will continue to be there for queer and trans youth together."
McAuliffe: Youngkin 'most homophobic' candidate in Va. history
Former governor spoke with Blade on Oct. 21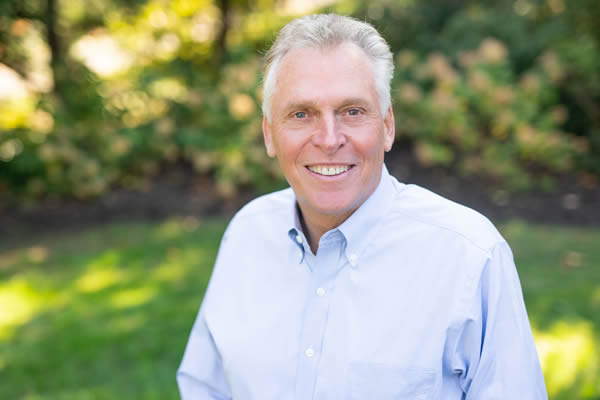 Terry McAuliffe described Republican Glenn Youngkin as the "most homophobic" and most "anti-choice candidate" in Virginia history during an Oct. 21 telephone interview with the Washington Blade.
"I'm running against the most homophobic, anti-choice candidate in Virginia history," said McAuliffe. "I ran against Ken Cuccinelli. That's saying something."
McAuliffe, a former chair of the Democratic National Committee, in 2013 defeated Cuccinelli, Virginia's then-attorney general who vehemently opposed LGBTQ rights, in that year's gubernatorial race. Youngkin, the former co-CEO of the Carlyle Group, a private equity firm, is running against McAuliffe in the race to succeed current Gov. Ralph Northam.
State Del. Hala Ayala (D-Prince William County) is running for lieutenant governor, while Attorney General Mark Herring is seeking re-election. They are running against Republicans Winsome Sears and Jason Miyares respectively.
The entire Virginia House of Delegates is also on the ballot on Nov. 2. The outcome of those races will determine whether Democrats maintain control of the chamber.
Youngkin remains opposed to marriage equality
The Associated Press a day after McAuliffe spoke with the Blade published an interview with Youngkin in which he reiterated his opposition to marriage equality, but stressed it is "legally acceptable" in Virginia and he would "support that" as governor.
The anti-LGBTQ Family Research Council, which the Southern Poverty Law Center has categorized as an extremist group, earlier this month endorsed Youngkin. The Human Rights Campaign and Equality Virginia's political action committee are among the groups that have backed McAuliffe.
Youngkin earlier this year said he does not support allowing transgender children to play on sports teams that are consistent with their gender identity. Youngkin has also expressed support for Tanner Cross, a gym teacher at a Leesburg elementary school who was suspended in June after he spoke against the Virginia Department of Education guidelines that are designed to protect trans and non-binary students.
HRC in 2019 named the Carlyle Group as a "Best Place to Work for LGBTQ Equality" in its annual Corporate Equality Index. McAuliffe scoffed at this recognition.
"They should have checked with their co-CEO who's against marriage equality," he told the Blade. "That would have been the first place I would have gone to ask."
'I've always been out front fighting to protect everybody'
McAuliffe's first executive order as governor after he took office in 2014 banned discrimination against LGBTQ state employees. He also vetoed several anti-LGBTQ religious freedom bills, created Virginia's LGBTQ tourism board and became the state's first governor to declare June Pride month.
McAuliffe noted to the Blade that he is also the first governor of a southern state to officiate a same-sex wedding. The lesbian couple whom he married has recently appeared in one of his campaign ads.
"I spent four years vetoing every single legislation Republicans brought forth and came across my desk that would have discriminated against the LGBTQ community," said McAuliffe. "I've always been out front fighting to protect everybody."
McAuliffe noted that CoStar, a D.C.-based commercial real estate company, moved more than 1,000 jobs to Richmond from Charlotte after then-North Carolina Gov. Pat McCrory signed House Bill 2, which banned trans people from using public restrooms consistent with their gender identity and prohibited municipalities from enacting LGBTQ-inclusive nondiscrimination measures. McAuliffe described HB 2 to the Blade as the "anti-gay bill."
"There's real consequences … to discriminatory actions and I will not tolerate any of it," he said.
McAuliffe last month said during his first debate against Youngkin that local school boards "should be making their own decisions" with regards to the implementation of the Virginia Department of Education guidelines for trans and non-binary students. McAuliffe during his second debate against Youngkin stressed "locals" should provide input on the policy, but added "the state will always issue guidance."
McAuliffe told the Blade he has "been so offended about how many folks have tried to really demonize our children here in this state." McAuliffe referenced children with "self-identity issues" during the interview, but he did not specifically cite those who identify as trans or non-binary.
"We've got to help our children … we got to help our children who are desperately in need today," he said. "And we got to show them that we'll be there for them, as I say, no matter how they identify or who they love."
Youngkin on Saturday during a campaign event in Henrico County said he would ban the teaching of critical race theory in Virginia schools. McAuliffe criticized his opponent on this issue when he spoke with the Blade.
"Critical race theory is not taught in Virginia, nor has it ever been taught," said McAuliffe. "These are dog whistles that are used, and especially in the CRT, it's a racist dog whistle and it just fits into this whole pattern of using our children as political pawns and I hate it."
Youngkin 'would drive businesses out of' Va.
McAuliffe has continued to portray Youngkin as an extremist on other issues that range from abortion and vaccine mandates as polls suggest the race between the two has grown tight. McAuliffe also continues to highlight former President Trump's support of Youngkin.
McAuliffe told the Blade that Youngkin is "100 percent against abortion" and said his opponent would "bring those Texas-style type abortion" laws to Virginia.
The law, which bans almost all abortions in Texas and allows private citizens to sue doctors and anyone else who helps a woman obtain one, took effect last month. The U.S. Supreme Court on Nov. 1 will hear oral arguments in a case that challenges the law.
"We always knew that the Supreme Court would be a backstop on women's rights issues: Roe v. Wade. That is gone. It's over," said McAuliffe. "Donald Trump's Supreme Court is going to overrule the basic tenants of Roe v. Wade."
McAuliffe added the Supreme Court "is going to allow these states to roll back women's reproductive rights, so that's no longer a talking point."
"This is reality," said McAuliffe. "Every woman in Virginia needs to understand it."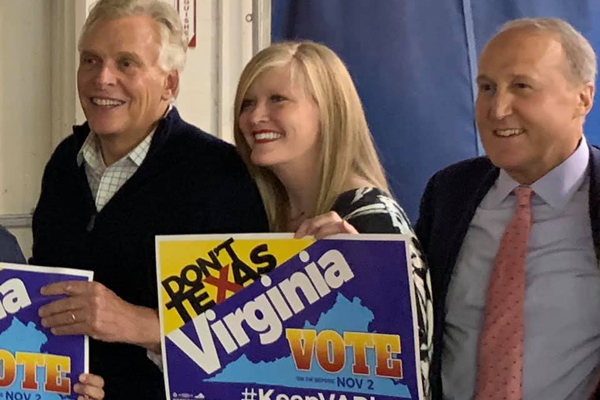 Youngkin, for his part, has said he would not have signed the Texas law.
Trump on Oct. 13 described Youngkin as a "great gentleman" when he called into the "Take Back Virginia Rally" in Henrico County that John Fredericks, host of "Outside the Beltway with John Fredericks" who co-chaired the former president's 2016 campaign in Virginia, organized.
Participants recited the Pledge of Allegiance to an American flag that was present at the U.S. Capitol insurrection. Youngkin in a statement his campaign released said he "had no role" in the event and said it was "weird and wrong to pledge allegiance to a flag connected to January 6."
"As I have said many times before, the violence that occurred on January 6 was sickening and wrong," he said.
McAuliffe told the Blade that Youngkin would make Virginia "a dangerous place to live and work."
"His governorship, if he were to be elected, would roll back individual liberties," said McAuliffe. "He doesn't support gay marriage, he is for eliminating abortion here in the commonwealth of Virginia and he will drive businesses out of our state and finally it is dangerous for people."