Marriage and more
A look at the top 10 local news stories of 2013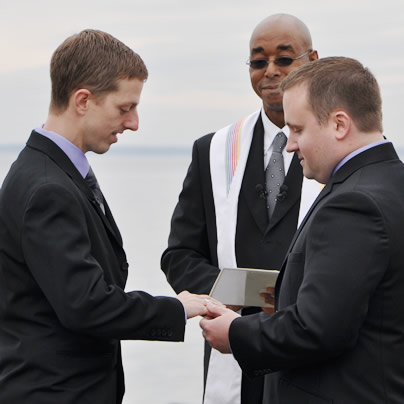 The momentous events of 2013 hit close to home, as marriage equality arrived in Maryland and Delaware. But last year wasn't all about marriage. It was a big year for Democrats in Virginia and a lesbian lawmaker announced a bid for Maryland governor.
Here's a look at the top 10 local news stories of 2013 as chosen by Blade editorial staffers.
#1 Marriage equality comes to Md., Del.
Maryland and Delaware were among the states in which same-sex couples began to legally marry in 2013.
Seven same-sex couples married at Baltimore City Hall on Jan. 1 shortly after Maryland's same-sex marriage law took effect in a ceremony that Baltimore Mayor Stephanie Rawlings-Blake officiated. They include long-time mayoral aide James Scales and his partner, William Tasker.
"New Year's Day will have a new meaning for the hundreds — if not thousands — of couples who will finally have the right to marry the person they love," said Rawlings-Blake.
More than half a dozen same-sex couples exchanged vows at the Black Walnut Point Inn on Tilghman Island in Talbot County on Jan. 1. These include innkeepers Tracy Staples and Bob Zuber who tied the knot almost immediately after the law took effect at midnight.
"I'm very proud of Maryland," Michelle Miller of Stevensville in Queen Anne's County told the Washington Blade on Jan. 1 after she married Nora Clouse at the Black Walnut Point Inn.
Delaware Gov. Jack Markell on May 7 signed his state's same-sex marriage bill into law.
State Sen. Karen Peterson (D-Stanton) came out as a lesbian on the floor of the state Senate while she and her colleagues debated the measure. The New Castle County Democrat and her partner of more than 20 years, Vikki Bandy, on July 1 became the state's first legally married same-sex couple when the couple converted their civil union into a marriage during a ceremony that New Castle County Clerk of the Peace Ken Boulden officiated.
"It's exciting, both historically and personally," Peterson told reporters after she and Bandy exchanged vows inside the New Castle County Clerk of the Peace's office in Wilmington. "I never thought in our lifetimes we would be getting married."
Boulden later on July 1 also officiated Joseph Daigle, II, and Daniel Cote's wedding in Wilmington that Attorney General Beau Biden, New Castle County Executive Tom Gordon and other local and state officials attended.
"Today we are witnesses to a historic event for Delaware and for our community and quite frankly our future," said Biden.
Delaware Family Policy Council President Nicole Theis and Rev. Leonard Klein of the Diocese of Wilmington are among those who testified against the same-sex marriage bill. Members of the Westboro Baptist Church on July 1 protested the law outside the New Castle County Clerk of the Peace's office in Wilmington and at other locations throughout the state.
State Rep. Mike Ramone (R-Middle Run Valley) is the only Republican lawmaker who co-sponsored the measure. John Fluharty, executive director of the Delaware Republican Party, on March 15 came out during an exclusive interview with the Blade at an Equality Delaware fundraiser in Wilmington.
"I'm here this evening because I support marriage equality," said Fluharty. "It's an issue that's of personal importance for me as a gay man."
#2 McAuliffe elected Va. governor
Former Democratic National Committee Chair Terry McAuliffe on Nov. 6 defeated Virginia Attorney General Ken Cuccinelli in the commonwealth's gubernatorial race.
McAuliffe has repeatedly said his first executive order as governor will be to ban discrimination against LGBT state employees. The former DNC chair in February also endorsed marriage rights for same-sex couples.
State Sen. Ralph Northam (D-Norfolk) easily defeated Chesapeake minister E.W. Jackson in the state's lieutenant gubernatorial race. The State Board of Elections on Nov. 25 officially certified state Sen. Mark Herring (D-Loudoun County) as the winner of the race to succeed Cuccinelli as attorney general, but state Sen. Mark Obenshain (R-Harrisonburg) requested a recount because he lost to his Democratic rival by only 165 votes.
Cuccinelli highlighted his opposition to marriage rights for same-sex couples during two debates against McAuliffe that took place in Hot Springs and McLean in July and September respectively. LGBT rights advocates also blasted the outgoing attorney general for appealing a federal appellate court's March ruling that found Virginia's sodomy law unconstitutional.
Jackson faced persistent criticism during the campaign over his previous comments that equated gay men to pedophiles and "very sick people."
"Without exception, the Democratic candidates for statewide office offered unflinching support for marriage equality, a welcoming business climate and respect for a woman's right to choose," said gay state Sen. Adam Ebbin (D-Alexandria) after the election. "The people of Virginia aligned themselves with McAuliffe's and Northam's vision of an inclusive, forward moving commonwealth."
#3 Va. lawmakers confirm gay judge
Virginia lawmakers on Jan. 15 confirmed gay Richmond Circuit Court Judge Tracy Thorne-Begland's judgeship.
The Virginia House of Delegates in May 2012 blocked the former prosecutor's nomination to the Richmond General Court after state Del. Bob Marshall (R-Prince William County) alleged he misrepresented himself when he failed to disclose his sexual orientation when he enlisted in the U.S. Navy in the late 1980s.
Thorne-Begland in 1992 publicly discussed his sexual orientation during an interview on ABC's "Nightline." He unsuccessfully challenged his discharge from the U.S. Navy under the Pentagon's "Don't Ask, Don't Tell" policy then-President Bill Clinton signed into law in 1993.
Thorne-Begland is also a former Equality Virginia board member.
"Equality Virginia is pleased that the House of Delegates could see that Thorne-Begland is a qualified candidate with integrity and a long history of public service," said Equality Virginia Executive Director James Parrish in a statement after lawmakers approved Thorne-Begland's judgeship. "Thorne-Begland has served his country and his city with honor and unquestioned competence first as a Navy pilot and then as a prosecutor."
Thorne-Begland is Virginia's first openly gay judge.
 #4 10 percent of D.C. residents are gay: report
A report released in February by the Gallup polling organization showed that the District of Columbia has the highest percentage of self-identified LGBT residents in the nation in comparison to the 50 states.
Ten percent of 493 D.C. residents who responded to Gallup's daily tracking polls between June 1 and Dec. 30, 2012 identified themselves as lesbian, gay, bisexual or transgender, according to the report. By comparison, 3.3 percent of a sample of 4,195 Maryland residents and 2.9 percent of a sample of 6,323 Virginians identified themselves as LGBT.
The report did not compare D.C. to other cities. Gary Gates of the Williams Institute at the UCLA School of Law, which studies LGBT related demographics, told the Blade the Gallop statistics appeared to be a more accurate snapshot of the country's LGBT population than previous studies.
#5 Mizeur runs for governor in Md.
Maryland state Del. Heather Mizeur (D-Montgomery County) on July 16 officially entered the 2014 gubernatorial campaign.
"I'm running for governor because I love this state and I see limitless possibilities on what we can accomplish together," the Montgomery County Democrat told the Washington Blade before she announced her candidacy. "There are great challenges facing us and also incredible opportunities."
Mizeur last month raised eyebrows when she tapped Rev. Delman Coates of Mount Ennon Baptist Church in Clinton as her running mate. The Prince George's County pastor in 2012 emerged as one of the most prominent supporters of Maryland's same-sex marriage law that voters approved in a referendum.
"I have stood up for justice," said Coates at a Nov. 14 campaign event during which Mizeur officially introduced him as her running mate. "I stand before you today not driven by professional or personal ambition, but by a calling to bring hope to others when they need it the most."
Mizeur will face Lt. Gov. Anthony Brown and Attorney General Doug Gansler in the state Democratic primary in June. She could become the country's first openly gay governor if Maryland voters elect her to succeed Martin O'Malley.
"Diversity is enormously important," Mizeur told the Blade in July. "Not simply to have a gay governor, but to have a governor who can represent the voices of people in communities that have not always had a voice in the process."
#6 Rash of violent incidents in June
Four transgender women, a gay man dressed in drag, and a lesbian were victims of separate violent attacks, including a murder, during the last two weeks of June, prompting LGBT activists to call a "community response" meeting to address the incidents.
Lesbian Malika Stover, 35, of Southeast D.C., was shot to death on June 22 following what police said was an argument with a neighbor that did not appear to be linked to her sexual orientation.
But transgender activist Earline Budd, who organized the meeting, said Stover's slaying stunned people in the LGBT community who knew her.
"This is really putting all of us on edge," she said. "You're seeing all of these incidents happening in such a short period of time."
Police arrested a 23-year-old male suspect for allegedly stabbing transgender woman Bree Wallace, 29, multiple times on June 21 in an abandoned house in Southeast D.C. Police said the incident stemmed from a dispute and did not appear to be a hate crime. In another incident on June 23, gay male drag performer Miles Denaro was beaten and dragged by the hair by two women at the Manny & Olga's pizzeria near 14th and U streets, N.W. in an incident that was captured on video and posted on the Internet. The two women were arrested and pleaded guilty to a charge simple assault.
#7 Trans birth certificate bill hailed  
A bill signed into law by D.C. Mayor Vincent Gray in August that removes obstacles to the process of enabling transgender people to change their birth certificates to reflect their new gender has been hailed as a groundbreaking measure.
Among other things, the new law repealed a provision in an existing law that required transgender individuals to undergo gender reassignment surgery as a condition for obtaining a new birth certificate. Transgender advocates said the surgery was too expensive for many people and medically hazardous to others.
The new law is named the JaParker Deoni Jones Birth Certificate Equality Amendment Act of 2013 in honor of a transgender woman murdered near her home in 2012.
Another key provision in the law requires the D.C. Registrar to issue a new birth certificate designating a new gender for "any individual who provides a written request and a signed statement from a licensed healthcare provider that the individual has undergone a gender transition."
#8 T.H.E. declares bankruptcy
Transgender Health Empowerment, D.C.'s leading transgender services and advocacy organization for nearly 10 years, declared Chapter 11 bankruptcy on July 7. A short time later it discontinued all of its transgender-related programs.
The bankruptcy filing came after the D.C. Department of Health abruptly cut off its funding for T.H.E. when it learned that the IRS placed liens on the organization for its failure to pay more than $260,000 in employee withholding taxes over a period of at least three years. The bankruptcy filing shows that T.H.E.'s total debt comes to more than $560,000.
During a bankruptcy trustee's hearing in August, T.H.E. executive director Anthony Hall said the group's only source of income at the time of the hearing was a city grant calling for the organization to operate a non-LGBT related temporary housing facility for crime victims.
Longtime transgender activist Earline Budd, a former T.H.E. employee and one of its founders, has called on the city to investigate the group's management practices to determine the cause of its financial problems.
#9 Mautner merges with Whitman-Walker
The Mautner Project, a national lesbian health organization based in Washington, D.C. since its founding in 1990, became an arm of D.C.'s Whitman-Walker Health in 2013 in what leaders of both groups called an "historic collaboration."
In a joint statement released in June, the two organizations said the arrangement would bring the Mautner Project's programs and staff under the "umbrella" of Whitman-Walker, an LGBT community health care provider founded in 1978.
Leslie Calman, Mautner Project's executive director at the time the merger was announced, said the joining of the two groups would allow Mautner to "offer more critical services to a greater number of women who need those services throughout the region. It's a natural fit."
Whitman-Walker CEO Don Blanchon said Whitman-Walker had been looking for ways to expand its services to women. He said the Mautner Project's "programs and reach within their community will help us fulfill that mission."
Calman said that in addition to continuing its services for lesbians with serious illnesses such as cancer, the Mautner programs at Whitman-Walker would also continue various illness prevention programs such as cancer screening, smoking cessation and obesity reduction.
#10 Carson steps down as Hopkins speaker
A rising star in the Republican Party stirred controversy by comparing LGBT activism to bestiality and pedophilia, leading him to give up his role as commencement speaker at John Hopkins University.
The former neurosurgeon at Johns Hopkins made the remarks during an appearance on Fox News' Sean Hannity when expressing his opposition to legalizing same-sex marriage.
"And no group, be they gays, be they NAMBLA (North American Man/Boy Love Association,) be they people who believe in bestiality — it doesn't matter what they are — they don't get to change the definition" of marriage, Carson said.
Carson's remarks invoked the ire of students at John Hopkins University, where he was selected to speak as commencement speaker. The organization Media Matters asserted a majority of the graduating class, or around 700 students, called for his ouster. Although sources initially said Carson wouldn't relinquish his speaking role at commencement, Carson eventually indicated he would acquiesce to students' desires and step down as speaker.
But Carson went on to other public appearances, including one later in the year at a venue closer in tune with his views. Carson was among the speakers the anti-gay Family Research Council's Values Voter Summit, where he articulated his opposition to marriage equality.
"We need to recognize that God created the family structure for a reason and marriage is a sacred institution from God himself, and there is no reason that man needs to change the definition of marriage," Carson said.
Bomb threat shuts down Takoma Park holiday drag show
MotorKat evacuated when Tara Hoot was performing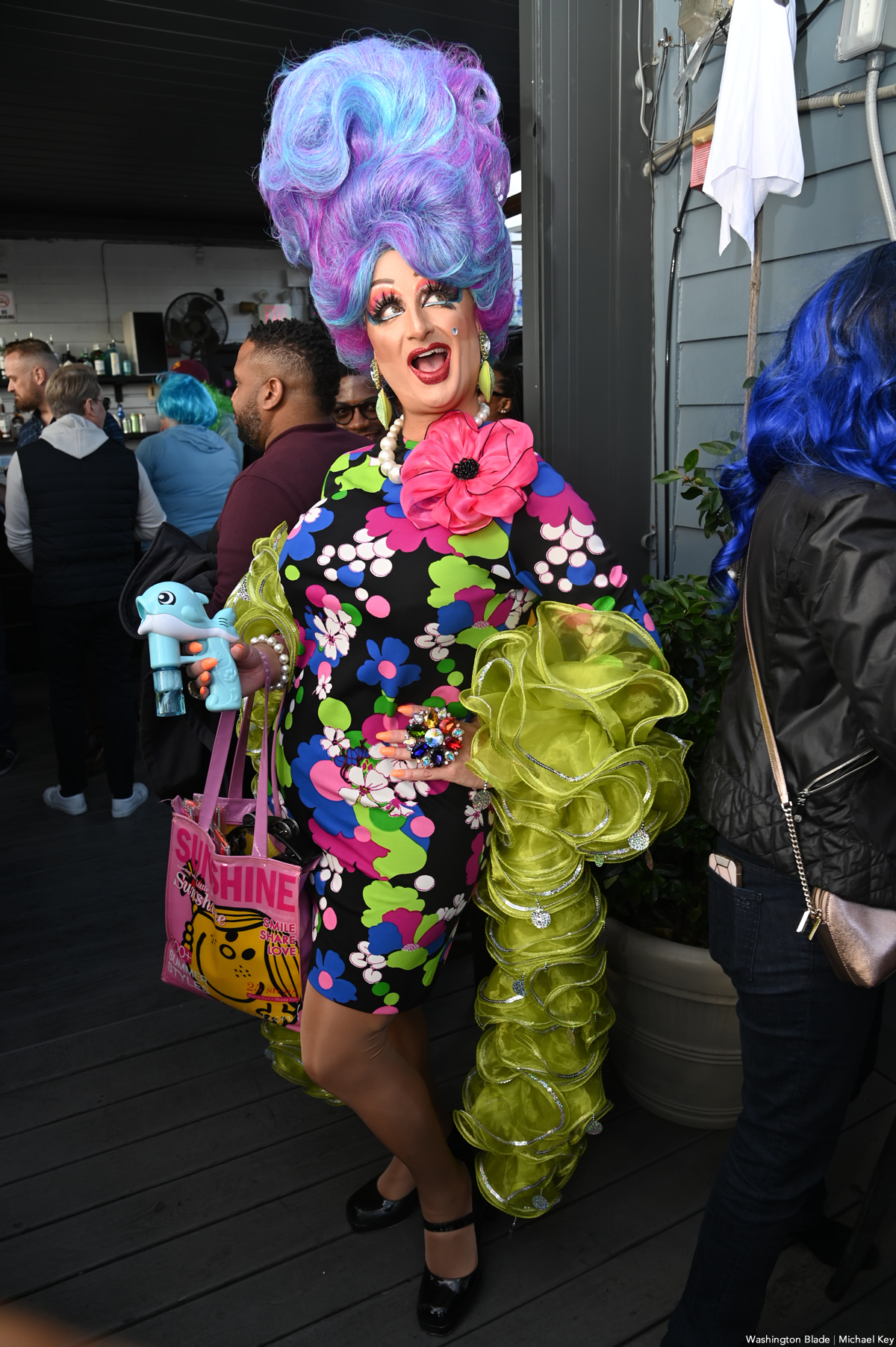 Police cordoned off a popular strip in Takoma Park on Saturday after a bomb threat shut down businesses, including a holiday performance by drag artist Tara Hoot.
MotorKat General Manager Mike Rothman told the Washington Blade that Takoma Park police notified them of a bomb threat to their business around noon.
Tara Hoot was delivering a holiday brunch performance at the MotorKat when the evacuation order came in.
Rothman said they were notified "five minutes into her final performance." Tara Hoot herself told the audience to leave for their safety.
Police proceeded to tape off the area and evacuated all businesses between Eastern and South Carroll Avenues, including TakomaBevCo, which is co-owned by MotorKat Wine Director Seth Cook.
Cook told the Blade that police brought in "bomb-sniffing dogs" to clear the area before allowing businesses to reopen around 2 p.m.
"The timing is unfortunate as this is one of the busiest weekends before the holidays," Cook said.
Rothman was also disappointed by the lost revenue due to what ultimately was a false threat, but he was firm that the Takoma Park LGBTQ community is resilient and would continue to thrive despite this setback.
"Takoma Park is a pretty proud and resilient community," he said. "I don't expect people to lay down and be scared by this."
MotorKat and TakomaBevCo reopened for business around 3 p.m.
Comings & Goings
Jimmy Alexander joins WTOP News as a feature reporter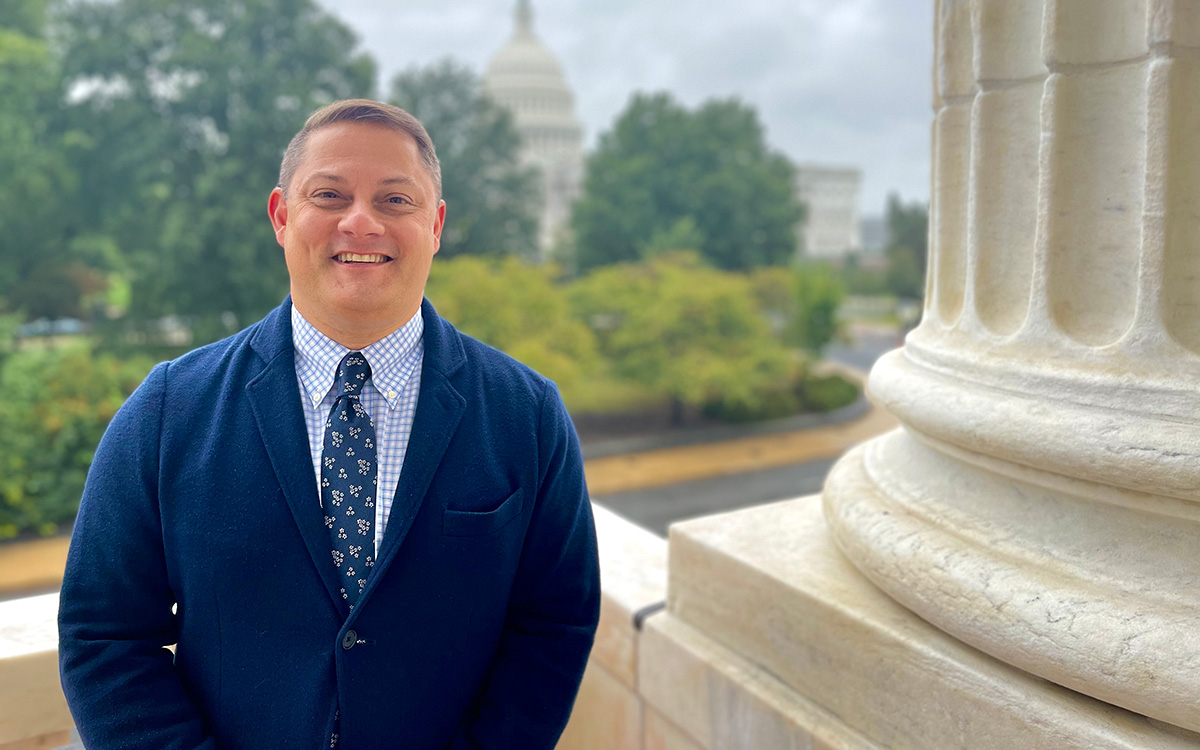 The Comings & Goings column is about sharing the professional successes of our community. We want to recognize those landing new jobs, new clients for their business, joining boards of organizations, and other achievements. Please share your successes with us at: [email protected]. 
Congratulations to Jimmy Alexander who has been hired at WTOP News as a feature reporter. Over the last four years Alexander has been covering stories as varied as the Jan. 6 insurrection to the 17th Street High Heel Race. He has been working as a co-host on the Jack Diamond Morning show on Cumulus Media, Manning Media. On his acceptance of the new position Alexander said, "I'm thrilled that at WTOP News, I will be able to focus on events and people that bring hope to your heart and a smile to your face."
Alexander is a versatile multimedia broadcaster with more than two decades of experience covering both major news events in Washington D.C., and important human-interest stories outside the Beltway. He is an engaging interviewer with a track record of having compelling conversations with the biggest names in government and show business, from presidents to Paul McCartney. Prior to this he worked as a freelance feature reporter with WDCW50-DC News Now. He is also with Writer-20, Twenty Country Countdown, United Stations Radio Networks. There he developed a concept for a countdown show featuring country music's weekly top songs on-air and online and prepared weekly scripts for a three-hour show.
Alexander conducted the only Jan. 6, 2021 interview with "The QAnon Shaman" Jacob Chansley. Since 2016, he has served by request of the D.C. mayor as official host of the 17th Street High Heel Race, the city's second largest LGBTQ event of the year. He is featured in the documentary "Joan Rivers: A Piece of Work," and is a frequent guest on CNN's Morning Show "New Day." He covered White House visits by Queen Elizabeth, the Pope, and the yearly Easter Egg Roll. He also won $10,000 on the game show "Pyramid."
LGBTQ University of Maryland students prepare to celebrate Hanukkah
Eight-day festival to begin Thursday night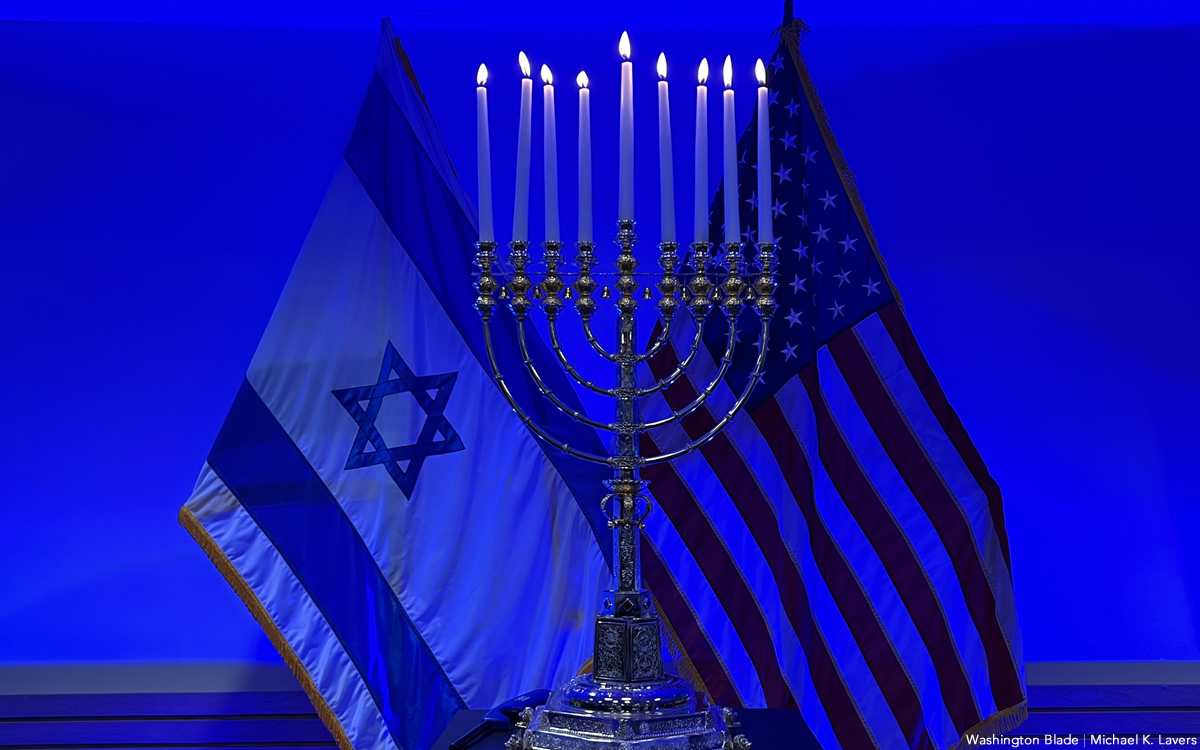 A number of Hanukkah events for LGBTQ students will take place at the University of Maryland this week.
Queer Jewish students and allies are welcome to attend Crazy Cozy Chill Chanukah Celebration on Sunday at the University of Maryland Hillel. Hamsa, home to queer Jewish life on campus, hosted a study break with hot drinks, snacks and games and a chance to welcome Hanukkah early. 
The first night of Hanukkah is Thursday.
Chabad UMD is hosting a menorah lighting on Thursday in front of McKeldin Library and plans to mention the war between Israel and Hamas, according to Rabbi Eli Backman of Chabad UMD. The event is going to be a focus on the positivity and the message of the Hanukkah story.  
"We've been around for thousands of years and all those who've tried to make sure that we didn't live to see the next generation (is) no longer here," Backman said. "That message will really resonate at home for the holiday."
The story of the Maccabees is one of the few stories where Jewish people fought, Backman said. In Jewish history, people don't see a military response in many of the other holiday moments.
"It should give us a boost of energy," Backman said. "A boost of strength (and) a boost of hope."
Part of the Hanukkah story's message is that Jewish people were in a position that they needed to form a military to secure their borders, Backman said. And they succeeded. 
For some, celebrating Hanukkah depends on the people they're around, Florence Miller, a sophomore English and Women, Gender and Sexuality Studies who is Hamsa's president, said.
Miller is agnostic and does not find themself to be a religious person, but the thing that has kept their Jewish faith is the people about whom they care are Jewish and the sense of community that comes from being Jewish.
"I just wanted to do a Hanukkah event," Miller said. "It's been a good refresher with how the semester has been."
Miller last year attended a Hanukkah party and played a game of dreidel, a spinning top with four sides marked with a Hebrew letter. The people who were in attendance wanted to bet something, but the only thing they could find were pinto beans.
"When I took them out of my pocket one got stuck in there," Miller said. "I still have that bean."
For some Jewish students it's important to go to Hanukkah events like Hamsa's celebration to be around like-minded Jewish people, Yarden Shestopal, a sophomore American Studies major, said.
"Which is why I like Hamsa," Shestopal said. "Since we're all queer people or allies we kind of share that mentality of acceptance."
Being part of the Jewish community at the University of Maryland has opened Shestopal up to how diverse the LGBTQ and Jewish communities are. Shestopal this year, however, debated whether or not to put his menorah up on the windowsill of his apartment because of the rise in anti-Semitism due to the war in Israel.  
"I'm pretty sure I am going to put the menorah in my window," Shestopal said. "The only way to combat anti-Semitism is to stay visible." 
Several University of Maryland students lived in Israel before or during their time at the university.
Elisheva Greene, a junior animal science major, went to seminary, a school for women to learn about Torah, during the pandemic. Greene said celebrating Hanukkah while a war is happening is going to be a similar feeling. 
"I'm able to do what I can from over here by supporting my family and friends," Greene said. "The biggest thing I can be doing is living my life as a Jewish person and showing that I express my Judaism and I'm not afraid."
Greene recalled they could not go more than 1,000 feet from home for two months and Hanukkah took place during that time. While it was difficult, Greene said people still put their menorahs on their windowsill.
"Knowing the resilience the Israelis have and the fact people like to show their Jewishness (is not) gonna stop me," Greene said. "Like there's a war going on but you're gonna be a Jew and you're gonna flaunt that."