Shades of 'Blue'
Lesbian-themed 'Warmest Colour' the toast of Cannes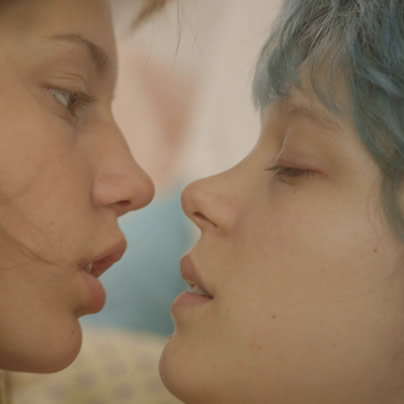 It was a good year for LGBT film in 2013 — which means plenty of DVD options for cold winter nights at home.
The most fabulous movie of the year was clearly Pedro Almodóvar's "I'm So Excited." This superb farce by a master filmmaker at the peak of his powers is staged largely within the confines of a malfunctioning airplane. While the pilots try to find a place to land, the three male flight attendants drug the coach passengers and perform elaborate musical routines to distract the first class passengers, who include a virgin with psychic powers, a notorious dominatrix (played by Almodóvar regular Cecilia Roth), a shady businessman, a pair of newlyweds and a famous actor. While maintaining a delightfully campy tone, Almodóvar manages to make some interesting observations about sexual identity, death, ethics and morality.
Camp was also an essential element of a more mainstream offering: "The Hunger Games: Catching Fire." Wonderful over-the-top performances by Stanley Tucci as Caesar Flickerman and Elizabeth Banks as Effie Trinket skillfully guide the audience through the darkening political landscape of the dystopian Panem.
Real-life stories served as the inspiration for several notable LGBT movies of 2013. Helmed by openly gay director Lee Daniels, "The Butler" chronicled the emergence of the civil rights movement through the eyes of White House butler Cecil Gaines (Forest Whitaker). "The Dallas Buyers Club" told the story of Ron Woodroof, a homophobic straight man who is diagnosed with AIDS. With the help of Rayon, a transsexual, he fights the medical establishment by smuggling drugs into the county. HBO's "Behind the Candelabra" recounts the tempestuous relationship between famous pianist Liberace (Michael Douglas) and his younger lover Scott Thorson (Matt Damon), whom he literally tries to remake in his own image.
HBO also presented "Moms Mabley: I Got Somethin' to Tell You," a documentary about the groundbreaking African-American stand-up comedian. Director Whoopi Goldberg details not only Mabley's onstage life as a trailblazing performer who challenged racial and gender barriers and who was the highest paid performer at the legendary Apollo Theatre, but also her offstage life as a lesbian who was teasingly called "Mr. Moms."
Another outstanding documentary was "We Steal Secrets: The Story of WikiLeaks," written and directed by filmmaker Alex Gibney, who combines archival footage with incisive interviews to tell the intertwined stories of WikiLeaks founder Julian Assange and Private Bradley Manning (now known as Chelsea Manning).
Directed by Linda Bloodworth-Thomason, the documentary "Bridegroom" tells the emotional story of Shane Bitney Crone and Tom Bridegroom. Their plans to marry are crushed by Bridegroom's untimely death. Crone's grief is exacerbated when his partner's family bars him from the funeral. A year after Bridegroom's accidental death, Crone made a video called "It Could Happen To You." The video became a viral sensation on YouTube and Facebook and inspired Bloodworth-Thomason to make this moving documentary about the importance of marriage equality.
Although billed as a murder mystery, "Kill Your Darlings" is really a coming-of-age story about Beat poet Alan Ginsberg (played by Daniel Radcliffe). The movie recreates the meeting of Ginsberg, Jack Kerouac and William Burroughs and the tortured relationship between their friend Lucien Carr and David Kammerer (an excellent Michael C. Hall).
Lesbian director Kimberly Peirce took an unexpected turn after winning acclaim for "Boys Don't Cry." Working with openly gay screenwriter Roberto Aguirre-Sacasa (who adapted Lawrence D. Cohen's script for the famous 1976 Brian De Palma film of the Stephen King novel), Peirce tried to put a contemporary feminist spin on the classic horror tale "Carrie." While Peirce never manages to fully put her personal stamp on the material, her version is still quite terrifying. She puts a stronger focus on the tangled relationship between fundamentalist Margaret White (an unnerving performance from Julianne Moore) and her teenage daughter Carrie (the tremendous Chloë Grace Moretz) and takes a fresh look at spoiled rich girl Chris (Portia Doubleday). Peirce also explores Carrie's fear and delight at researching and refining her new-found telekinetic powers, (and the careful orchestration of her revenge at prom) and the dehumanizing impact of technology.
"Blue is the Warmest Colour" was the surprise hit of the Cannes Film Festival. In an unprecedented move, the jury awarded the prestigious Palme d'Or not only to director Abdellatif Kechiche but to lead performers Léa Seydoux (Emma) and Adèle Exarchopoulos (Adèle). Inspired by both the contemporary graphic novel of the same name by Julie Maroh and a sprawling 18th century novel by Pierre de Marivaux, the movie tracks the rise and fall of the passionate relationship of teenage schoolgirl Adèle and blue-haired art student Emma. The movie was controversial for explicit sex scenes between the two women, a controversy that was mirrored in the movie's discussions of how male artists have depicted female nudes throughout the ages.
Finally, one of the queerest movies of the year came from straight director Woody Allen. Inspired by the Bernie Madoff story, "Blue Jasmine" is Allen's heartfelt homage to Tennessee William's "A Streetcar Named Desire." Jasmine French (the superb Cate Blanchett) is a New York socialite who loses everything when her investment banker husband Hal is jailed for fraud. She flees to San Francisco to live with her estranged sister Ginger (Sally Hawkins). Jasmine tangles with Sally's ex-husband Augie (Andrew Dice Clay), who lost his life savings in one of Hal's schemes, and Sally's current boyfriend Chili (Bobby Cannavale), resists the advances of her lecherous boss (Michael Stuhlbarg) and is wooed by the suave but naïve diplomat Dwight (Peter Sarsgaard).
The movie moves back and forth between Jasmine's memories of her Park Avenue life with Hal and her attempts to start over again in San Francisco, which are derailed by the potent combination of guilt, anger, denial, vodka and Xanax. Blanchett, who won raves for her recent stage performance as Blanche DuBois in "Streetcar," offers a stunning performance as a forlorn figure who is both exasperating and seductive as she descends into madness.
New book reveals that some secrets last a lifetime
'All the Broken Places' should be on your must-read list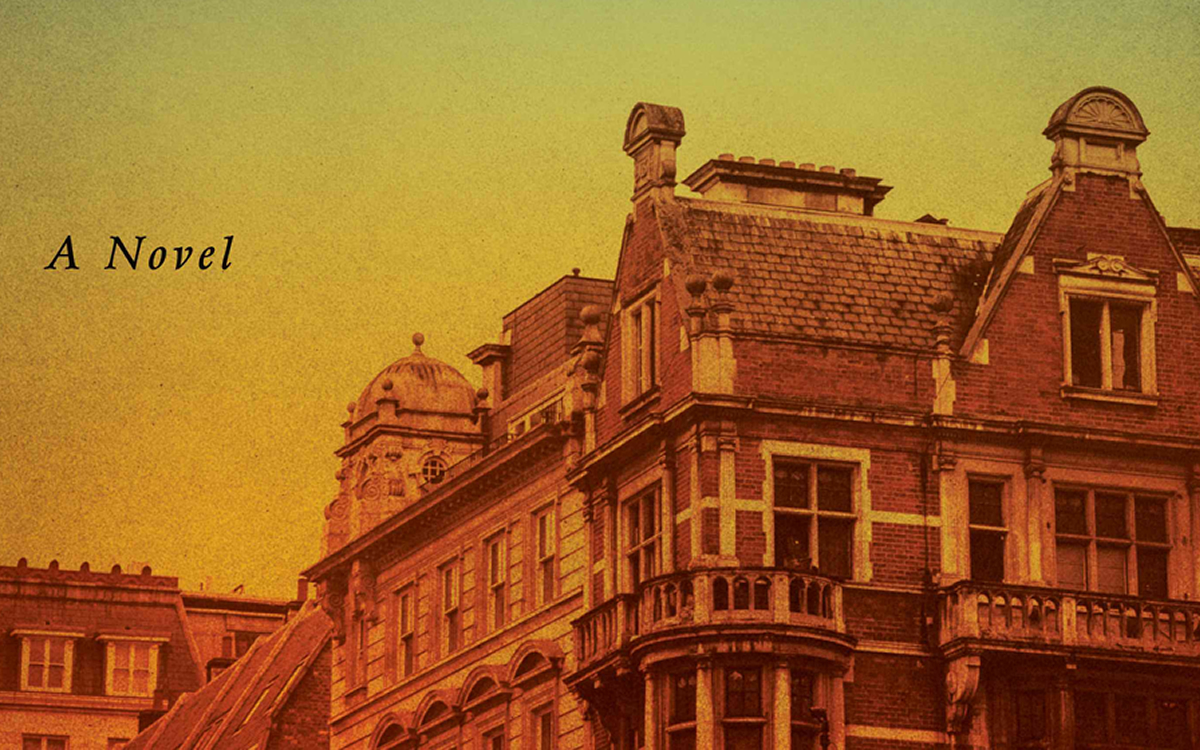 'All the Broken Places'
By John Boyne
c. 2022, Pamela Dorman Books
$28/400 pages
It shall not pass your lips.
No, That Thing You Do Not Talk About is off-limits in all conversation, a non-topic when the subject surfaces. Truly, there are just certain things that are nobody's business and in the new novel, "All the Broken Places" by John Boyne, some secrets must last a lifetime.
She hated the idea that she would have to adjust to new neighbors.
Ninety-one-year-old Gretel Fernsby wasn't so much bothered by new people, as she was by new noise. She hated the thought of inuring herself to new sounds, and what if the new tenants had children? That was the worst of all. Gretel never was much for children, not her own and certainly not any living below her.
Once, there was a time when Gretel could imagine herself with many children. That was nearly 80 years ago, when she was in love with her father's driver, Kurt. She thought about Kurt through the years – he had fallen out of favor with her father, and was sent elsewhere – and she wondered if he survived the war.
Her father didn't, nor did her younger brother but Gretel didn't think about those things. What happened at the "other place" was not her fault.
She hadn't known. She was innocent.
That was what she told herself as she and her mother fled to Paris. Gretel was 15 then, and she worked hard to get rid of her German accent but not everyone was fooled by her bad French or her story. She was accosted, hated. As soon as her mother died, she sailed to Australia, where she lived with a woman who loved other women, until it became dangerous there, too. She practiced her English and moved to London where she was married, widowed, and now she had to get used to new neighbors and new sounds and new ways for old secrets to sneak into a conversation.
OK, clear your calendar. Get "All the Broken Places" and just don't make any plans, other than to read and read and read.
The very first impression you get of author John Boyne's main character, Gretel, is that she's grumpy, awful, and nasty. With the many bon mots she drops, however, the feeling passes and it's sometimes easy to almost like her – although it's clear that she's done some vile things in her lifetime, things that emerge slowly as the horror of her story dawns. Then again, she professes to dislike children, but (no spoilers here!) she doesn't, not really, and that makes her seem like someone's sweet old grandmother. 'Tis a conundrum.
Don't let that fool you, though. Boyne has a number of Gretel-sized roadside bombs planted along the journey that is this book. Each ka-boom will hit your heart a little harder.
This is a somewhat-sequel to "The Boy in the Striped Pajamas," but you can read it alone. Do, and when you finish, you'll want to immediately read it again, to savor anew.
The Blade may receive commissions from qualifying purchases made via this post.
The 'Spoiler' is you're going to cry
Love is worth it even when you know it's going to end badly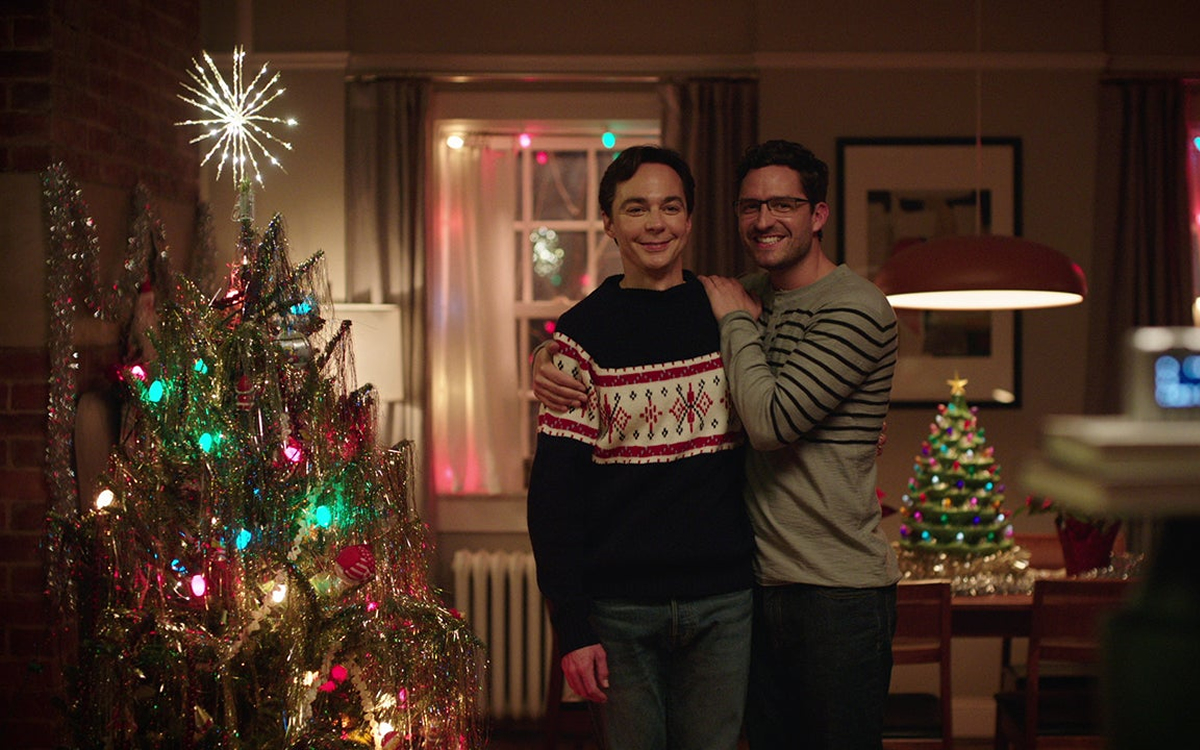 It's been a refreshing year for LGBTQ love stories on the screen. From "Fire Island" to "Bros," from "Crush" to "Anything's Possible," we've seen narratives that offer up hopeful and positive alternatives to the gloomy outcomes presented by movies of the past. Instead of stories that reinforce the tired trope of doomed queer romance, we're finally seeing ourselves get the same chance at a happily-ever-after ending as everybody else. 
It's been a welcome change – but just when Hollywood finally seems to have finally figured out that all our relationships don't have to end in tragedy, "Spoiler Alert" has come along to remind us that sometimes they still do.
Based on the best-selling memoir by Michael Ausiello ("Spoiler Alert: The Hero Dies") and directed by Michael Showalter from a screenplay by David Marshall Grant and gay blogger/author/pundit Dan Savage, it's the true story of a couple (Ausiello and his eventual husband, photographer Kit Cowan) who find love and build a relationship over the course of more than a decade only to face the heartbreak of Kit's diagnosis of – and his (SPOILER ALERT, hence the title) premature passing from – a rare form of terminal cancer. Though It's not exactly a rom-com, it does try to keep things light-hearted, and it aims for the uplift despite its foregone tragic conclusion.
That's a tough tightrope to walk. The book, penned by veteran television and entertainment journalist Ausiello, pulled it off successfully, becoming a bestseller – and not just among queer readers – with its warts-and-all celebration of what it truly means to commit to love. After all, we may adore our fairy tale fantasies, but we all know that even a couple's best-case scenario is guaranteed a sad ending; Ausiello's first-person written narrative managed to get the point across that it's all worth it, anyway.
Sometimes, though, a literary device that works on the page doesn't translate easily to the screen, and on film, Ausiello's "we-already-know-the-outcome" approach faces a more resistant challenge.
In the first act of the film, which details the meeting and early romance of its two lead characters (Jim Parsons and Ben Aldridge as Michael and Kit, respectively), our knowledge of the ending becomes an obstacle. This may be particularly true for more jaded viewers, who are apt to be keenly aware of the emotional payoffs being set up in advance. Heartwarming moments can easily come off as deliberate, even manufactured, and one might sense an obvious bid to force our identification with the characters in the movie's deployment of all the standard "new gay relationship" tropes. In reading, it's easy to personalize such universal moments through our own imaginations, which can fill in the spaces (and the faces) in a way that rings true for us. On film (this film, at least), such communally identifiable experiences run the risk of feeling manipulative: a little too perfect, a little too pat, a little too "meet-cute," and a little too… well, precious.
The dissonance between formulaic fantasy and genuine lived experience is sometimes made even more obtrusive by occasional flashbacks to Michael's childhood, framed as excerpts from an imagined '90s sitcom, which distance us further from the story – a stylistic ploy that seems intended to keep the tone of the narrative as far from tragic as possible.
When it's time to get real, however, Showalter's film lands on more solid ground. Once the blissful "happy-ever-after" couple-hood of the two men is established, the movie takes us into deeper, more mature – and therefore, less predictable – territory. Things don't end up being perfect in Michael and Kit's ostensible lover's paradise: jealousies, self-esteem issues, and the inevitable individual growth that sometimes drives wedges between us in our relationships take their toll. As any successful long-term couple – queer or otherwise – is bound to discover, relationships take a lot of work, and seeing the two protagonists confront that seldom-told part of the story goes a long way toward making their experience more relatable for those who are looking for more than mere aspirational fantasy.
So, too, does the acting from the two leads. Parsons, who struggles against the obvious artificiality of playing against being two-decades-too-old in the film's earlier scenes, blossoms once the story moves ahead in time to deliver an emotionally brave and affectingly authentic portrait of a man overcoming the baggage of his awkward and socially isolated youth (there's a Smurf addiction involved, need we say more?) and finding the resilience to weather a battle for his lover's life. Aldridge, a Brit flawlessly playing American, is perhaps even better – not that it needs to be a competition – as Kit, whose easy-going self-esteem masks a world of unresolved insecurities and makes an almost-too-good-to-be-true character endearingly real; perhaps more importantly, the emotional journey he's tasked with portraying requires an absolute dedication to unornamented truth, and he delivers it impeccably.
It helps that the two actors, who carry most of the movie's running time, have a convincingly natural chemistry together that gradually persuades us to invest in these characters even if we had resisted becoming invested in them before. Bolstering the emotional solidity even further is the presence of seasoned pros Sally Field and Bill Irwin as Kit's parents, who deepen this not-as-clueless-as-they-seem pair beyond the familiar stereotype they represent and raise them above the easy sentimentality they might otherwise have carried into the story's already-poignant mix.
These considerable advantages are enough to help us forgive the movie's contrived expository beginnings, though its ongoing sitcom conceit for childhood flashbacks – as well as its occasional fourth-wall-breaking interruptions from Michael's TV obsessed imagination – continue to feel a little gimmicky, especially after the plot has passed the point where such amusements are welcome or even necessary.
Still, the movie's fortunate choice to play against its tearjerker underpinnings – such as when it undercuts a particularly histrionic scene of hospital drama by calling itself out on its own shameless nod (which any gay movie buff will surely already recognize) to an iconic moment from a cinema classic – keeps the tears which finally come from feeling as though they've been shamelessly manipulated out of us. It's this quality that marks the best entries in the tearjerker genre; the thing that movies like "Terms of Endearment" and "Steel Magnolia" have in common (besides Shirley MacLaine) is their ability to lean fully into the artifice of their own weepy, sentimental style without sacrificing the sincerity of their emotional payoffs. Films like these don't play their big moments for drama, or even for laughs, to keep us involved – they play those moments for truth. "Spoiler Alert" clearly aspires to the same standard.
It mostly succeeds, after an awkward start; though some viewers might find its quirkier narrative conceits to be an overcompensation for its weepy ending, its characters are real enough to get past all that and win us over. And though it's hard to deny that it's ultimately another tragic gay love story, it manages to remind us that love is worth it even when you know it's going to end badly.
After all, just because a romance is doomed doesn't mean it has to be a downer.
Protester with Pride flag disrupts World Cup game
Protest took place during match between Portugal and Uruguay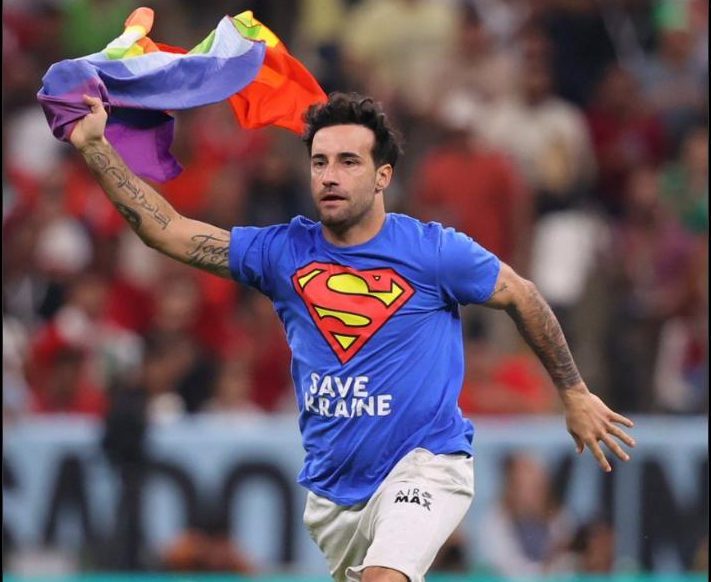 During a World Cup match between Portugal and Uruguay Monday, a lone protester ran across the field waving a Pride flag moments after the second half kickoff.
Video and still images show the man wearing a blue T-shirt emblazoned with the Superman symbol and the phrase "Save Ukraine" on the front and "Respect for Iranian Woman" on the back.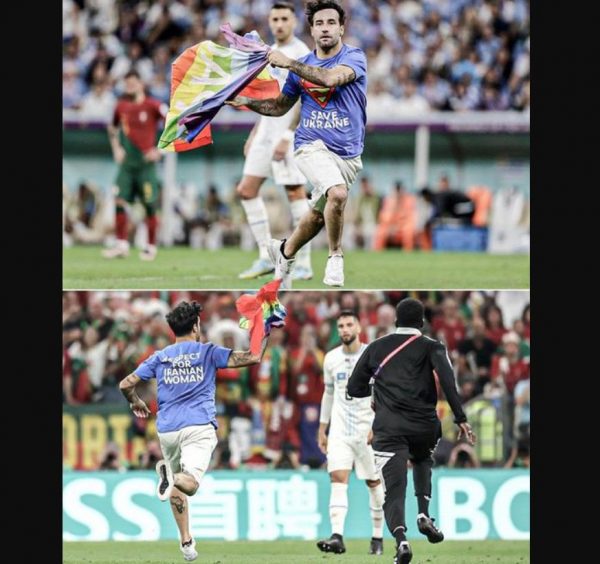 Qatari security personnel chased him down and then marched him off the playing field. Israeli Public Radio correspondent Amichai Stein tweeted video clips of the incident:
World Cup: A protester ran into the game holding a rainbow flag – with a 'Save Ukraine' and 'Respect For Iranian Women' shirt – @OrryLavie pic.twitter.com/s6dIcZLkQz

— Amichai Stein (@AmichaiStein1) November 28, 2022
FIFA had no immediate comment on the incident, the Associated Press noted reporting that in the first week of the tournament in Qatar, seven European teams lost the battle to wear multi-colored "One Love" armbands during World Cup matches. Fans also complained they weren't allowed to bring items with rainbow colors, a symbol of LGBTQ rights, into the stadiums of the conservative Islamic emirate.
Qatar's laws against homosexuality and treatment of LGBTQ people were flashpoints in the run-up to the first World Cup to be held in the Middle East. Qatar has said everyone was welcome, including LGBTQ fans, but that visitors should respect the nation's culture.