'Kinky' Grand 'Candelabra'
Our Top 10 countdown of the entertainment world's gayest moments of the year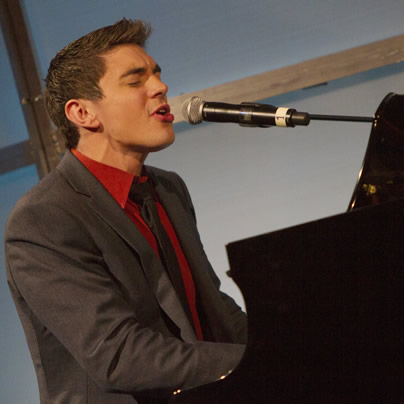 Here is our Top 10 countdown of the entertainment world's gayest moments of the year:
10. Gay MSNBC anchor Thomas Roberts draws criticism for hosting the Miss Universe pageant in Russia in November. Roberts and Miss Universe co-owner Donald Trump claimed it was a chance to make a positive impact in the country where anti-LGBT laws are abundant. "We are good, regular, hard-working people who come from solid families," Roberts said. "So when I heard there was a chance at this assignment, I aggressively went after it." Many gay rights activists criticized any work in Russia with some even calling for a boycott of the 2014 Sochi Olympics.
9. Gay country singer Steve Grand has a massive YouTube hit with his video "All-American Boy" in July. While many enjoyed the hot video,  some gay viewers objected to the storyline, which finds the friend ultimately rejecting Grand's advances. Grand, who appeared at D.C.'s Town Danceboutique in November, said the video was more about "longing for someone" as opposed to "being gay."
8. Out hip-hop newcomer Frank Ocean won two Grammy Awards in February. His 2012 project "Channel Orange" won in the new category Best Urban Contemporary Album and he shared a joint award with Kanye West and Jay-Z in the Best Rap/Sung Collaboration for "No Church in the Wild." He was nominated in four other categories. Ocean's acceptance in the mainstream hip-hop world — where homophobic lyrics are not uncommon — was seen as a major sign of progress.
7. The hit Broadway musical "Kinky Boots" was a major triumph on Tony night in June when out actor Harvey Fierstein, ally Cyndi Lauper and out actor Billy Porter all won. The show, which tells the story of a struggling British shoe factory whose owner forms an unlikely partnership with drag queen Lola to save the business, was a critical and commercial success. Lauper performed one of the songs ("Sex is in the Heel") in Washington in November at the Warner Theatre during her "She's So Unusual 30th Anniversary Tour."
6. However, gay themes can't in and of themselves save a show, especially on TV. It was an uneven year for TV shows with gay characters. For every success, like Netflix's "Orange is the New Black," which features a lesbian lead character serving jail time, there were also high-profile failures such as the Ryan Murphy-helmed "The New Normal," a sitcom about a gay couple that NBC cancelled in May, and "Partners," the CBS sitcom cancelled at the end of 2012 before its remaining seven episodes were aired in the U.S.
5. MSNBC suspended Alec Baldwin from his weekly talk show in November two weeks after he used an anti-gay slur against a New York photographer. A TMZ-captured video appeared to show Baldwin calling a paparazzo who tried to take a photo of his wife and infant daughter a "cocksucking fag" though the actor claimed he said "fathead" and subsequently apologized. Baldwin has been in hot water before for similar comments. He apologized to GLAAD earlier in the year for calling British reporter George Stak a "toxic little queen."
4. The HBO Liberace biopic "Behind the Candelabra" starring Michael Douglas and Matt Damon is a critical and ratings success when it airs in May. It won three Emmys in September including Best Miniseries or Movie and Best Director for Steven Soderbergh who said earlier that he originally planned the film for theatrical release, but couldn't get backing. "Nobody would make it," the straight director told the New York Post. "We went to everybody in town. They all said it was too gay."
3. "The Book of Matt: Hidden Truths About the Murder of Matthew Shepard" creates major controversy when it's released in September. Gay journalist Stephen Jiminez, publishing around the 15th anniversary of Shepard's death, claims Shepard had a sexual relationship with convicted murderer Aaron McKinney and that Shepard's death was not a hate crime so much as a crystal meth-fueled attack based on alleged conflicts over a drug deal at a time when the two were working for rival drug suppliers. Many LGBT activists including the Shepard Foundation dismissed the book as "attempts now to rewrite the story" based on "untrustworthy sources, factual errors, rumors and innuendo." Jiminez says he worked on the book for 13 years and interviewed more than 100 people on the record.
2. It was another big year for celebrities coming out. Among this year's crop are "Prison Break" actor Wentworth Miller, "Cosby Show" vet Raven-Symone, Los Angeles Galaxy pro soccer player Robbie Rogers, Broadway vet Victor Garber, "Kyle XY" actor Matt Dallas and actress/singer Maria Bello. Perhaps most memorable — though hardly shocking — was Jodie Foster. While accepting the Cecil B. DeMille Award at the Golden Globes in January, Foster she'd been out for years to her family and friends and though not ever using the word "lesbian," acknowledged her former partner Cydney Bernard. In the political world, U.S. Rep. Mike Michaud (D-Maine) came out, making him the eighth openly LGB member of Congress.
1. If Hollywood seemed surprisingly squeamish about gays (see the "Candelebra" entry at No. 4), gay visibility in the sports world was unprecedented in 2013. Among the notables were basketball player Jason Collins who came out on the cover of Sports Illustrated in May; swimmer Diana Nyad, who swam from Cuba to Florida in August; British diver and Olympic Bronze medalist Tom Daley who came out in December; and Brendan Ayanbadejo who was part of the Super Bowl-XLVII-winning Baltimore Ravens in 2012 and has been a staunch advocate of same-sex marriage as a straight ally. Ayanbadejo guest edited the Aug. 30 edition of the Blade.
PHOTOS: Miss Gay D.C.
Courtney Kelly crowned winner of annual drag competition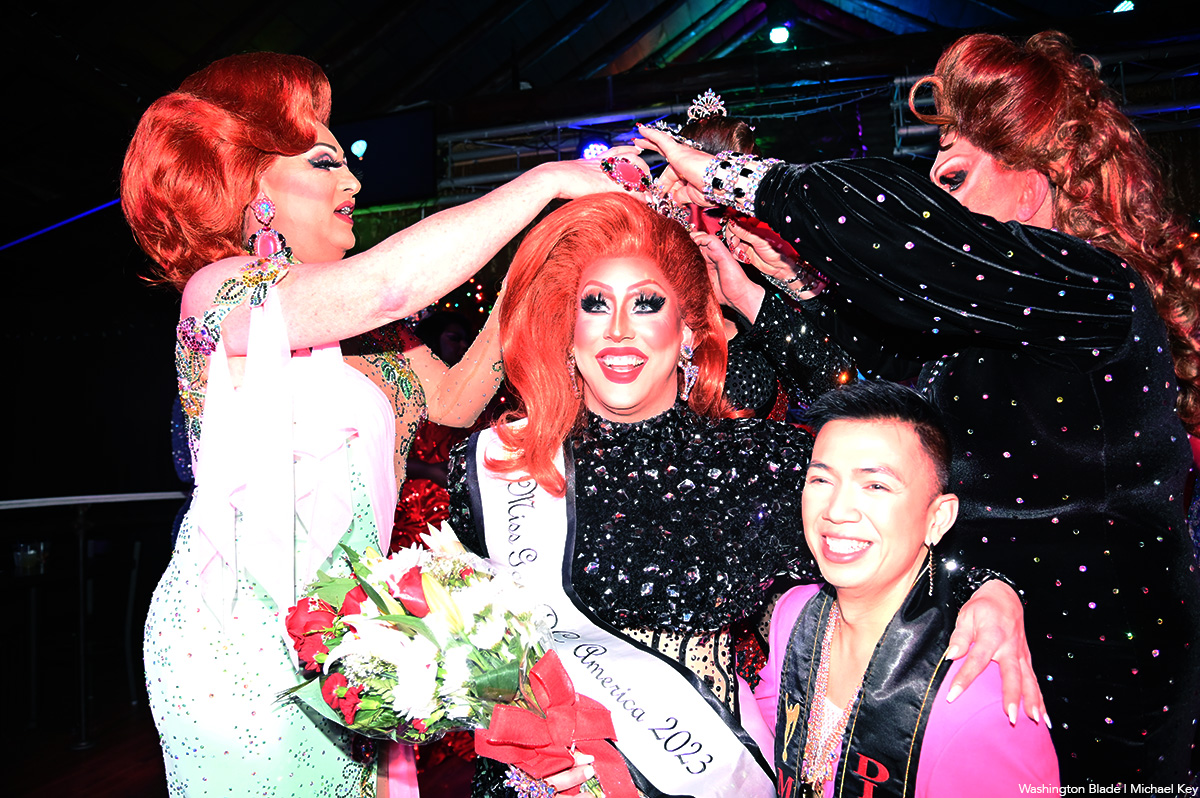 The 2023 Miss Gay D.C. competition was held at The Lodge in Boonsboro, Md. on Saturday, Dec. 2. Six contestants vied for the crown, and Courtney Kelly was crowned the winner.
(Washington Blade photos by Michael Key)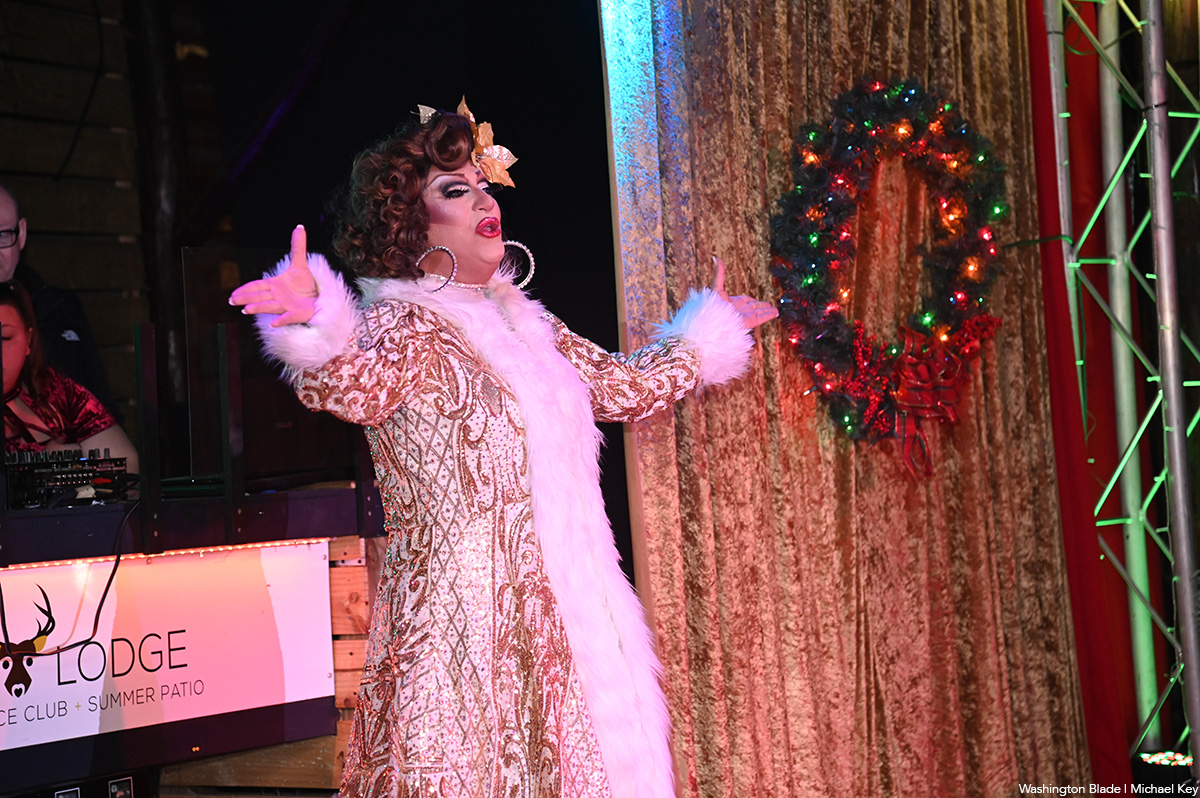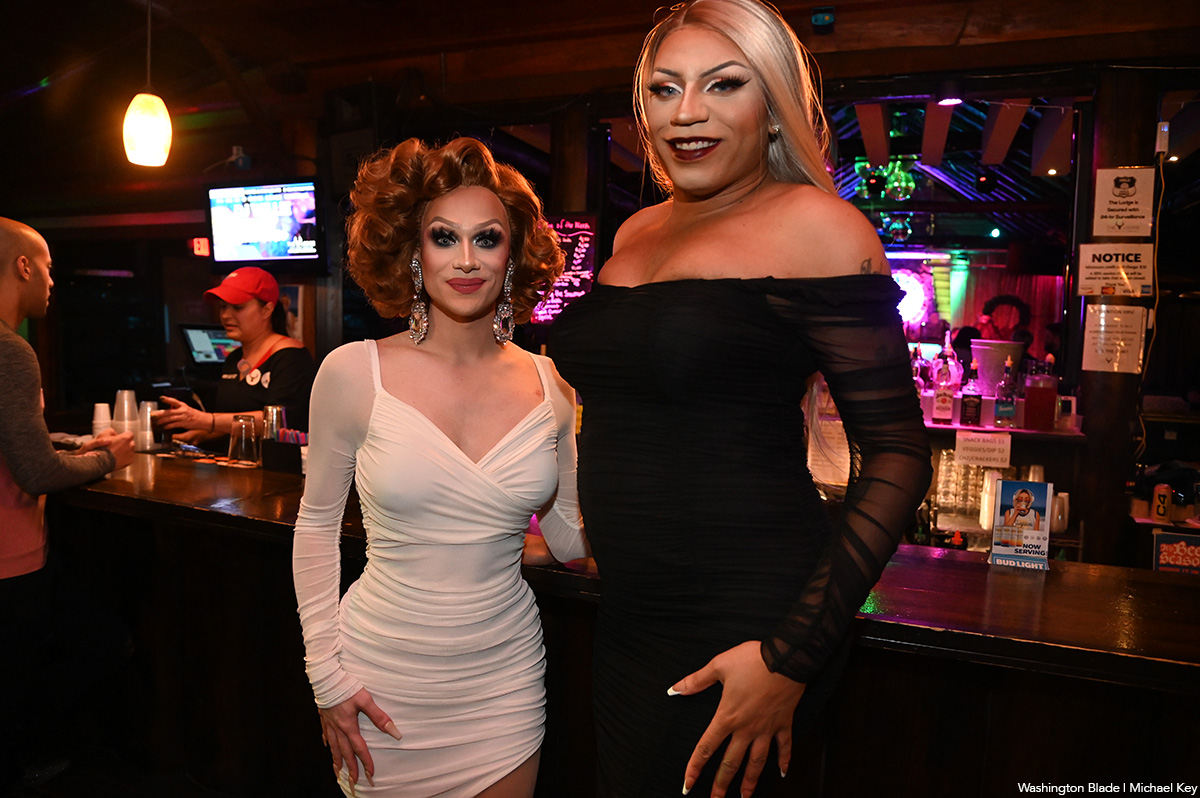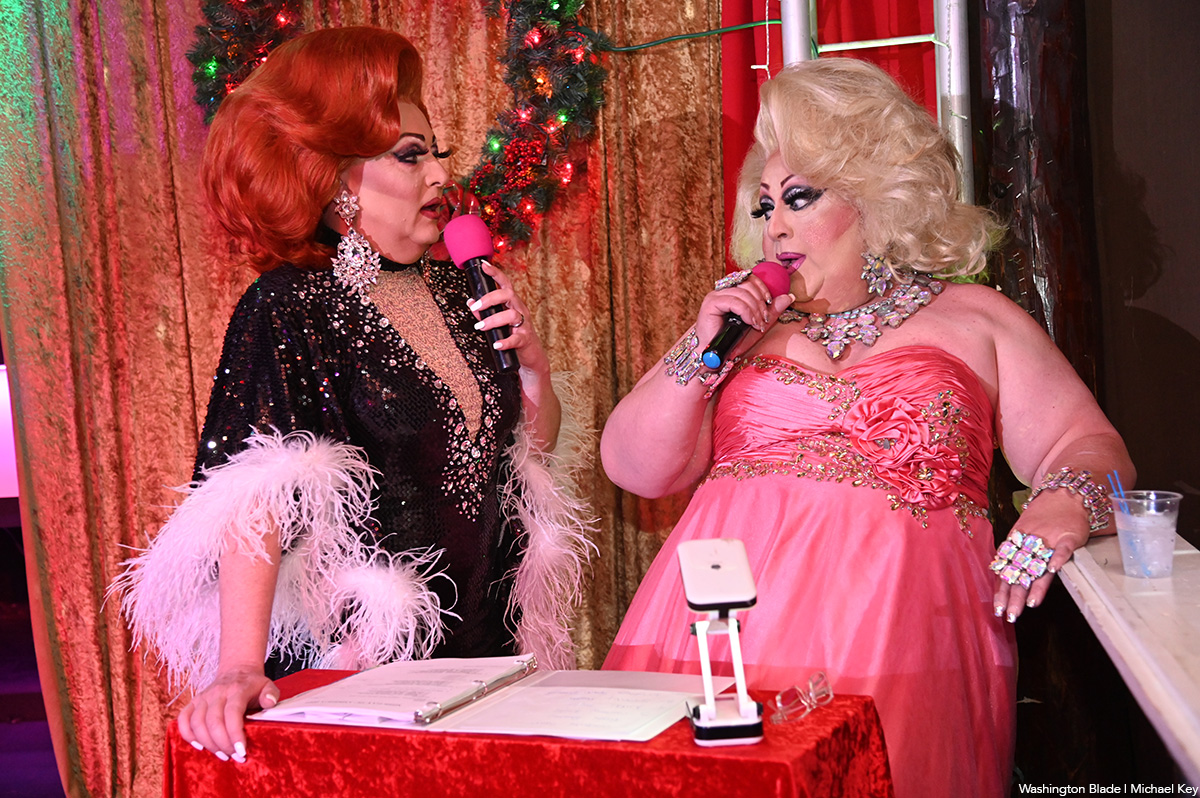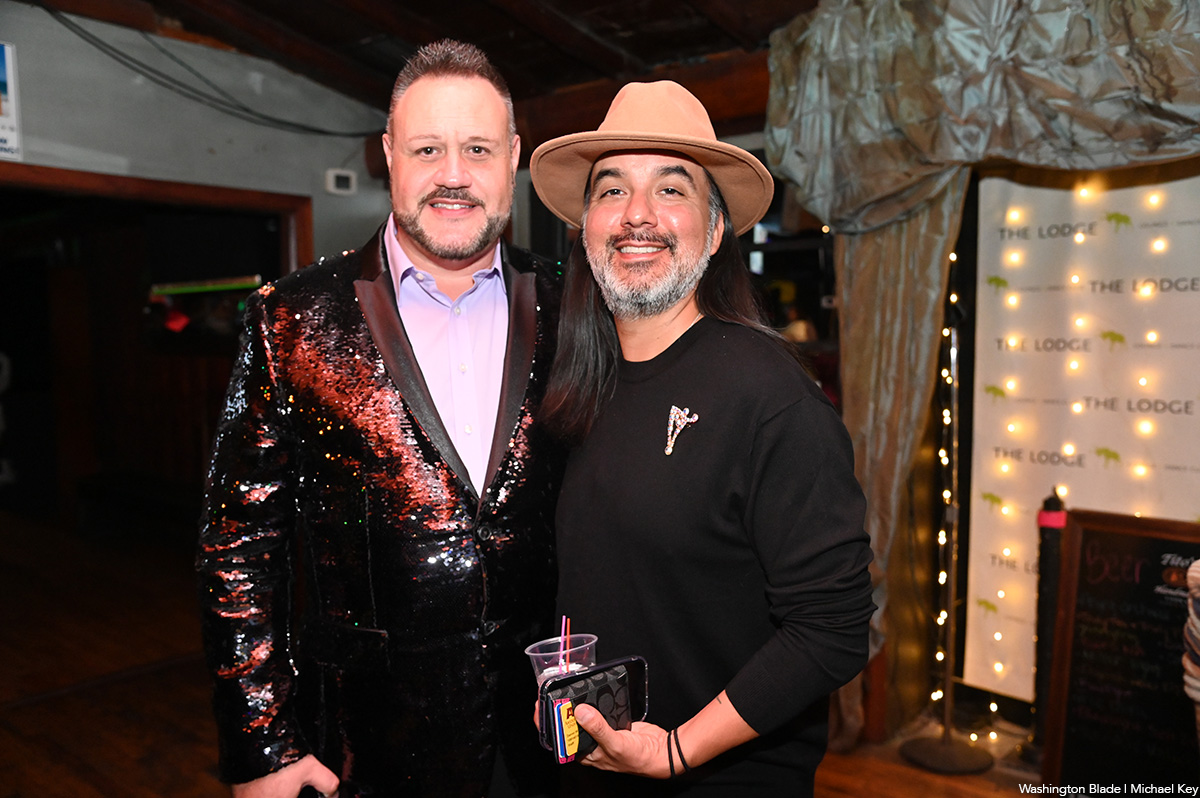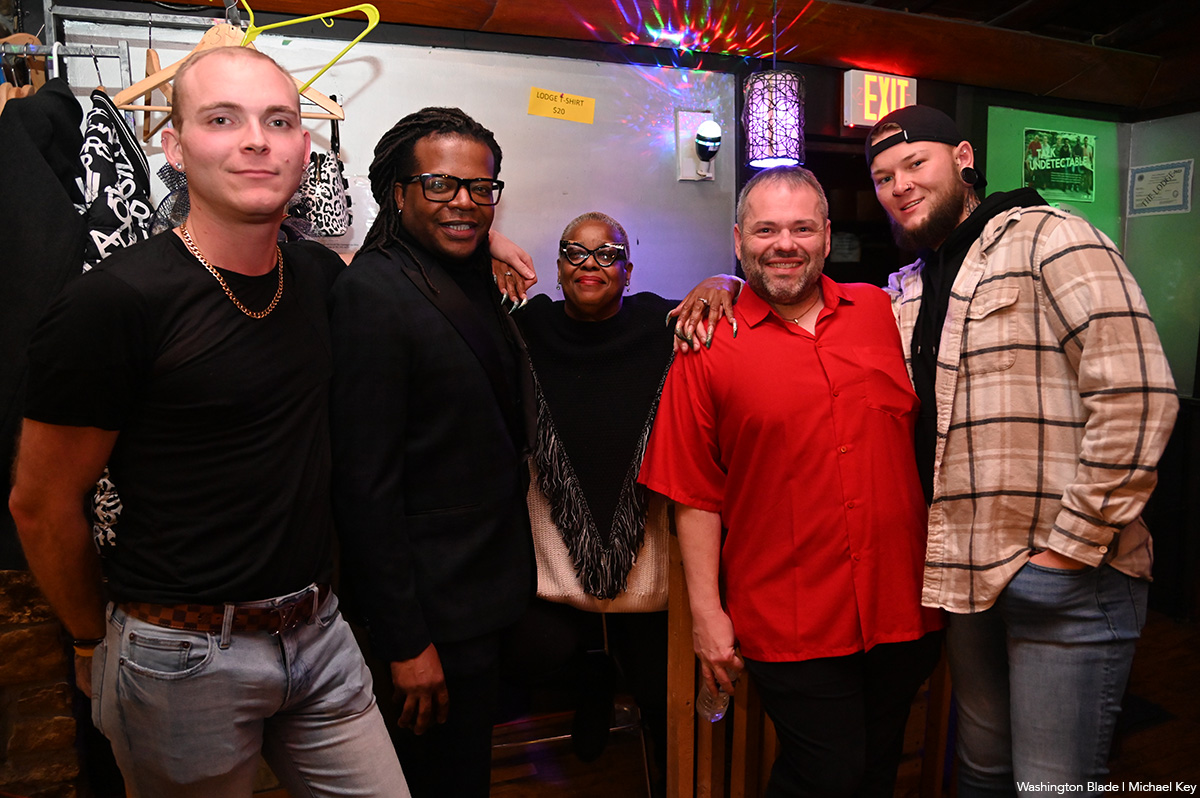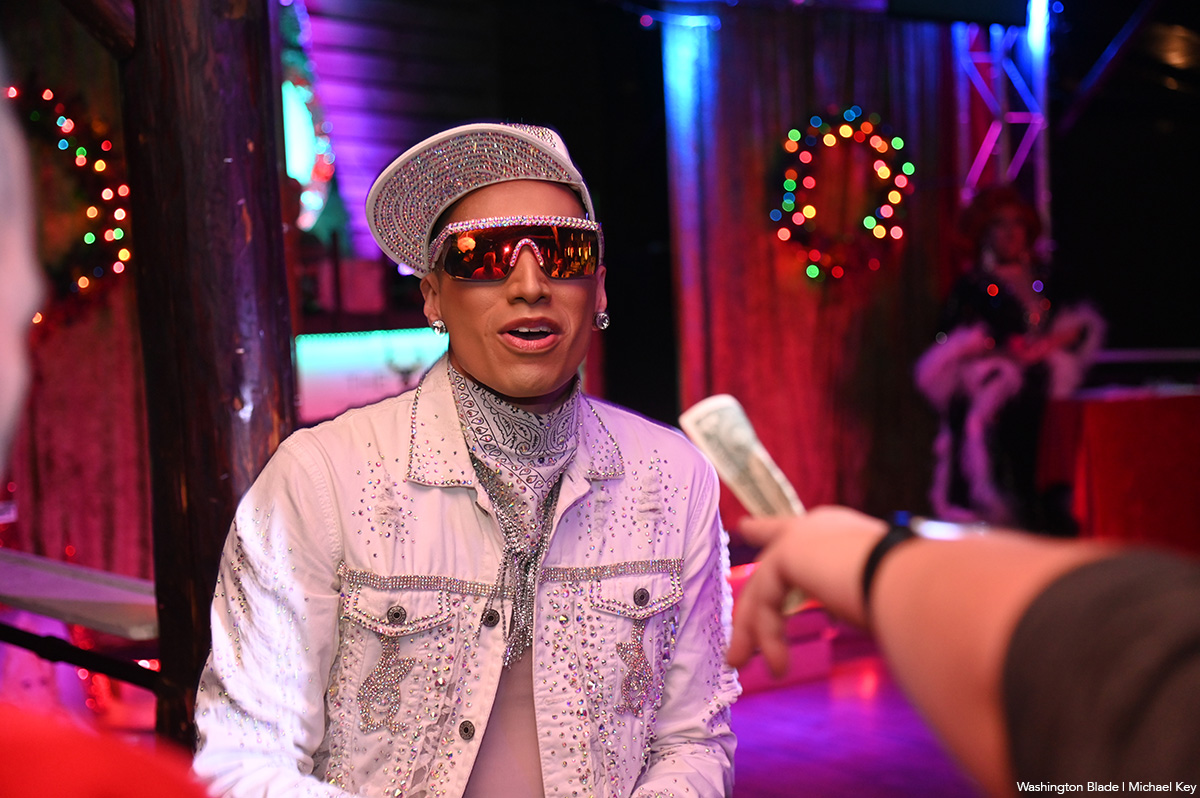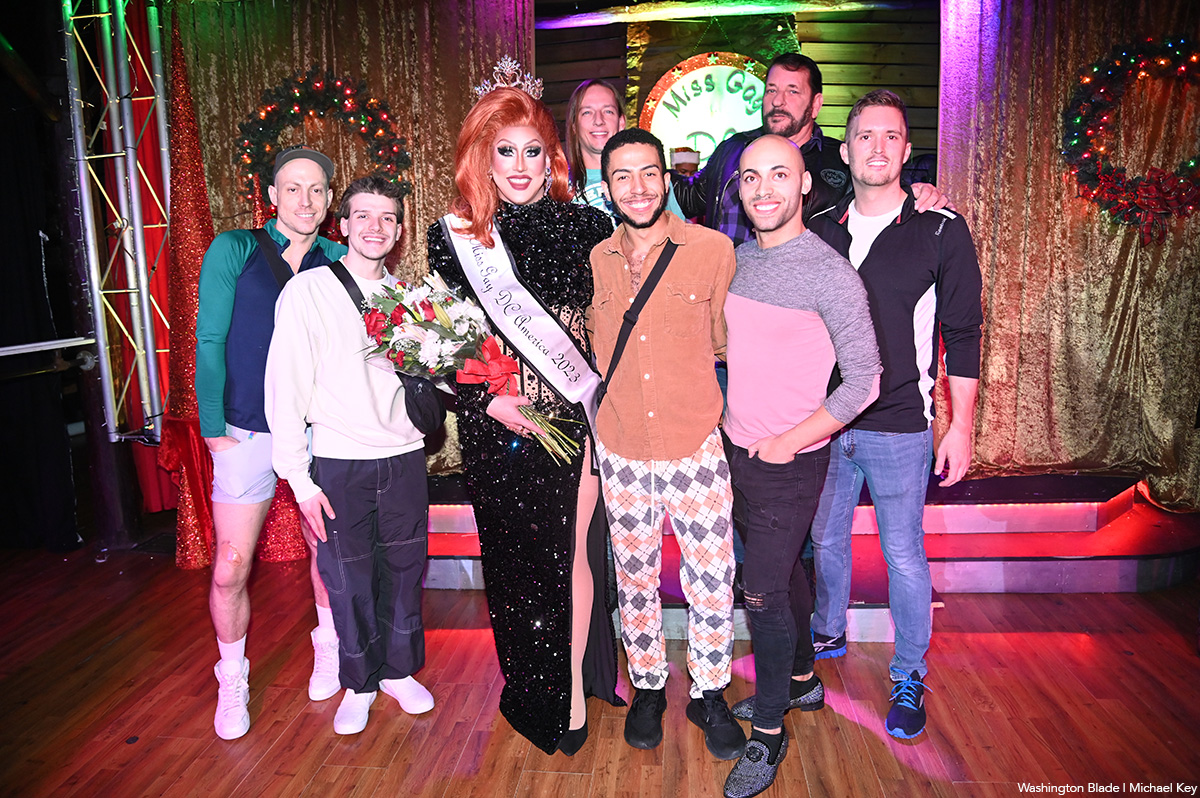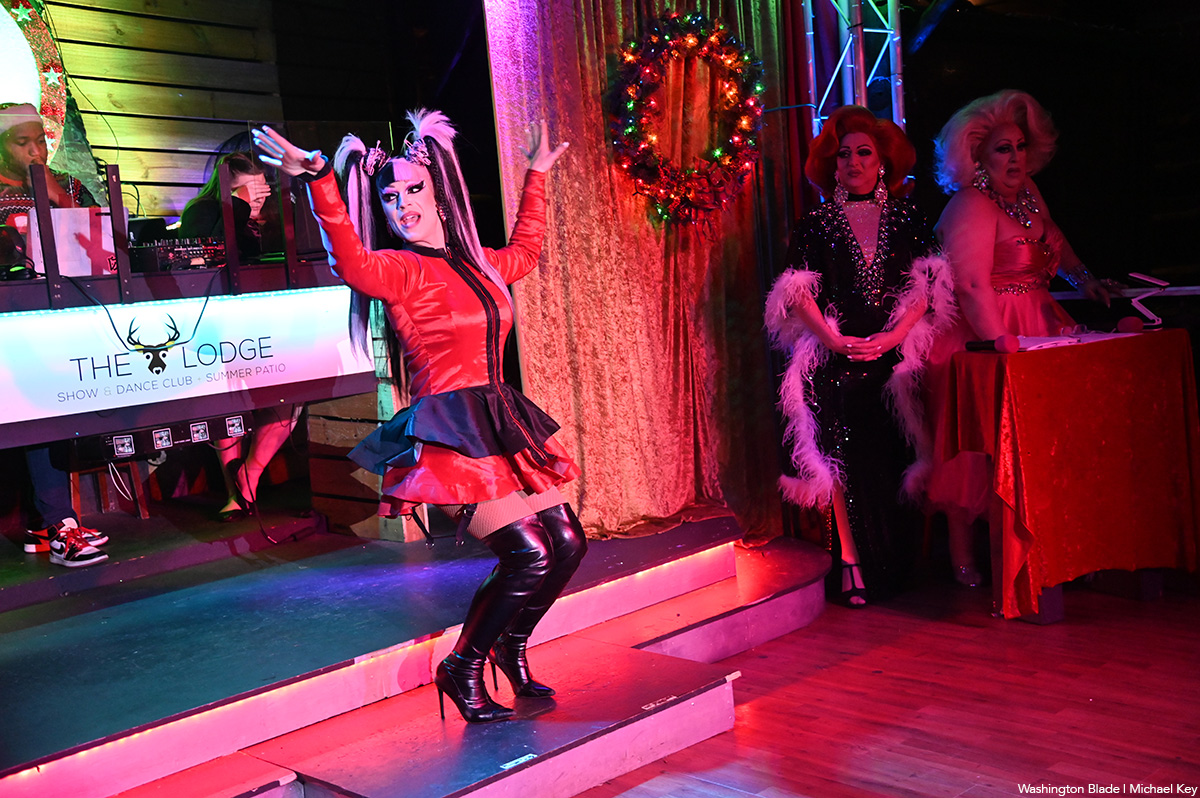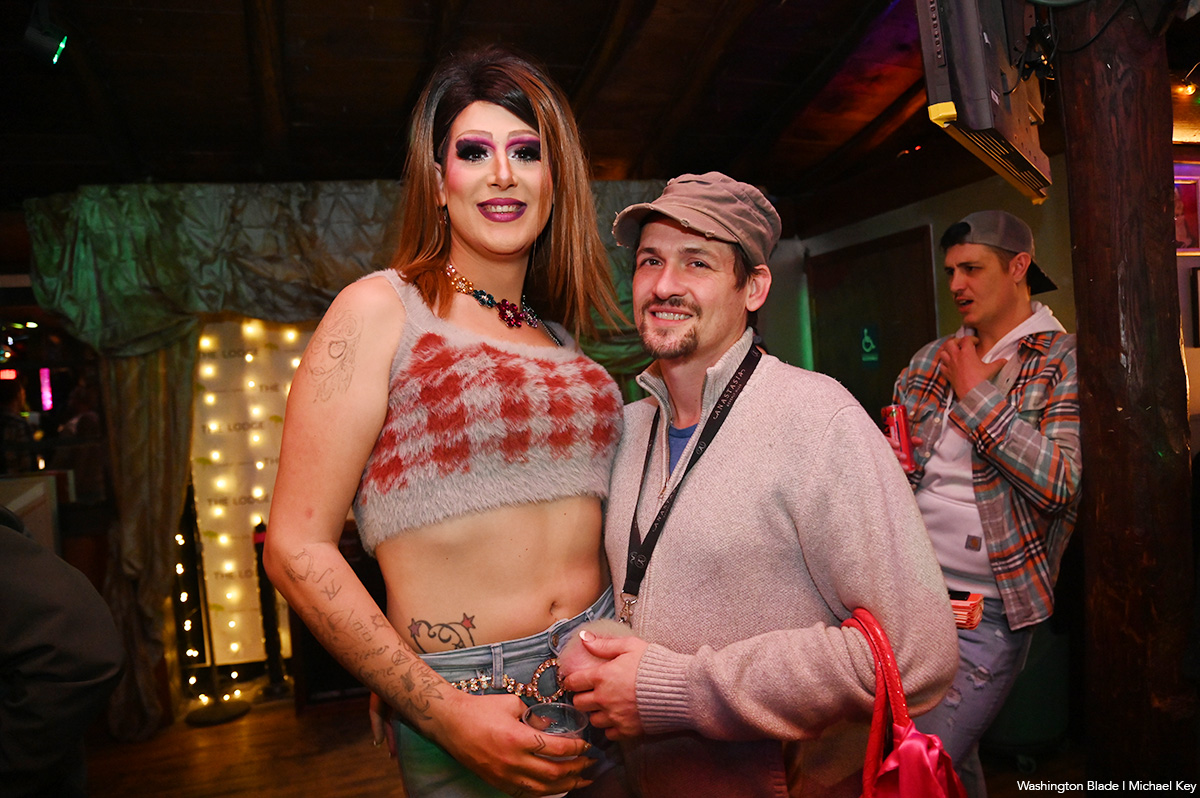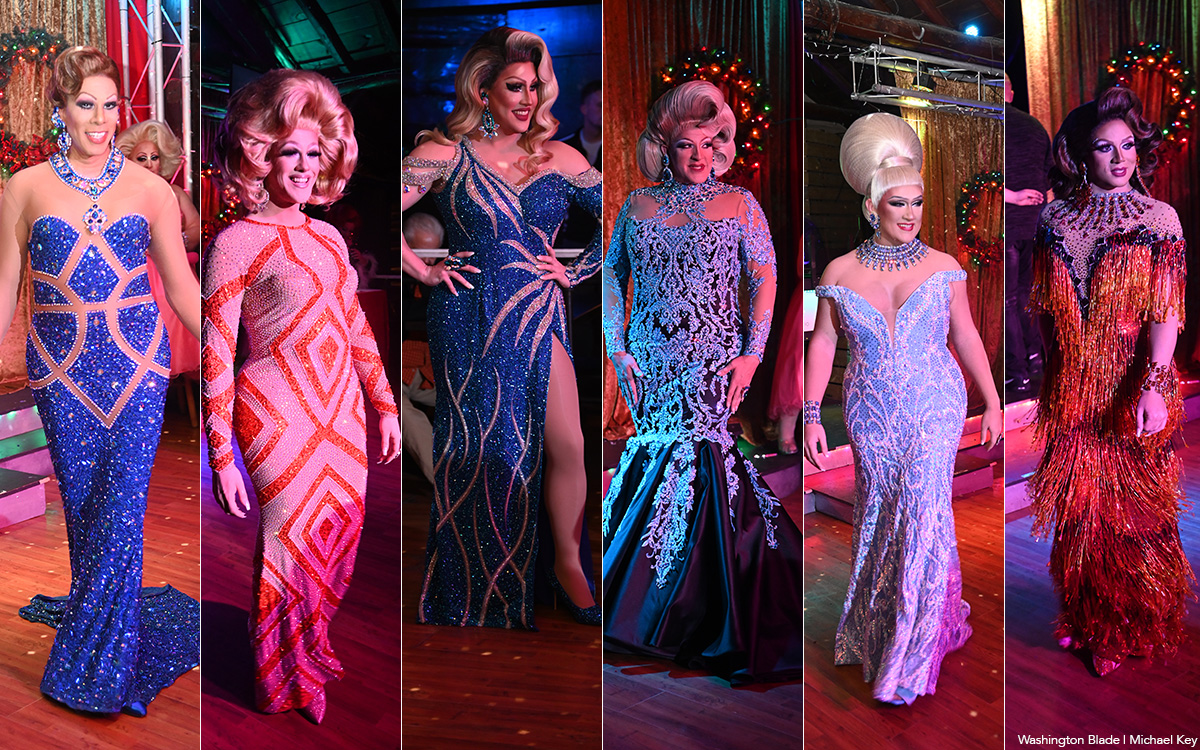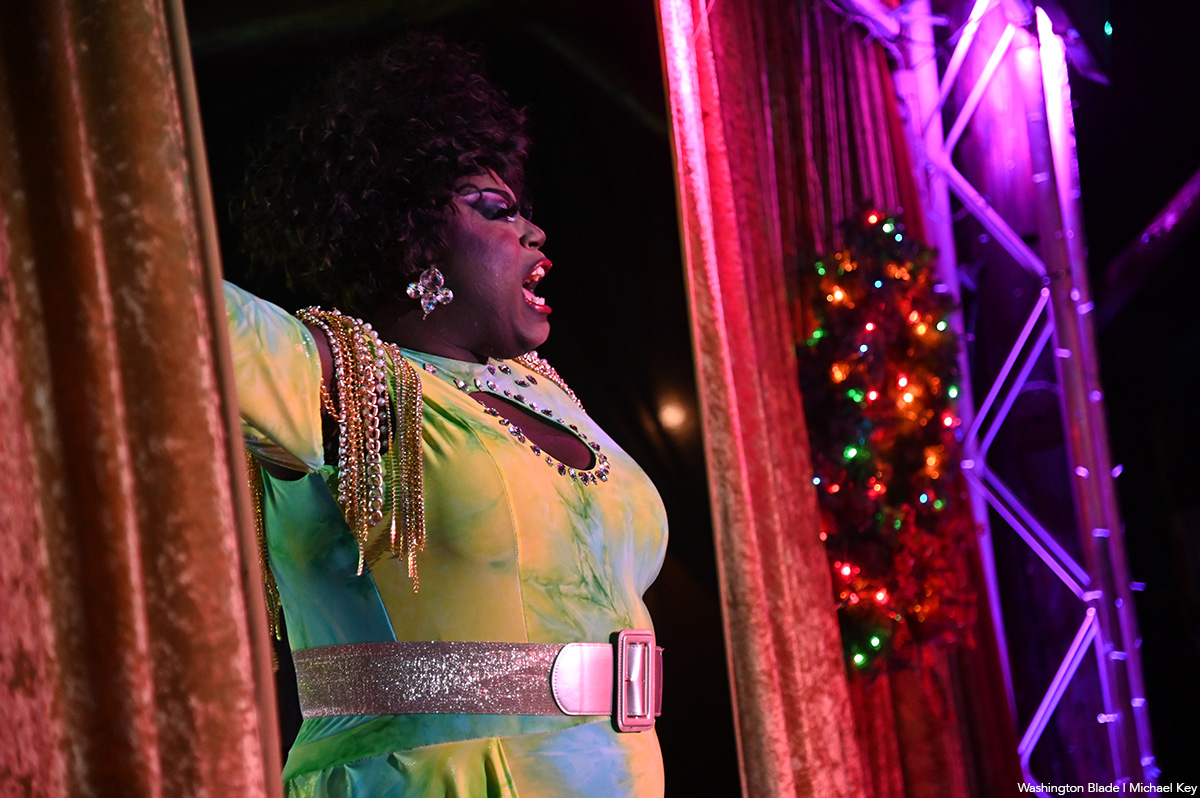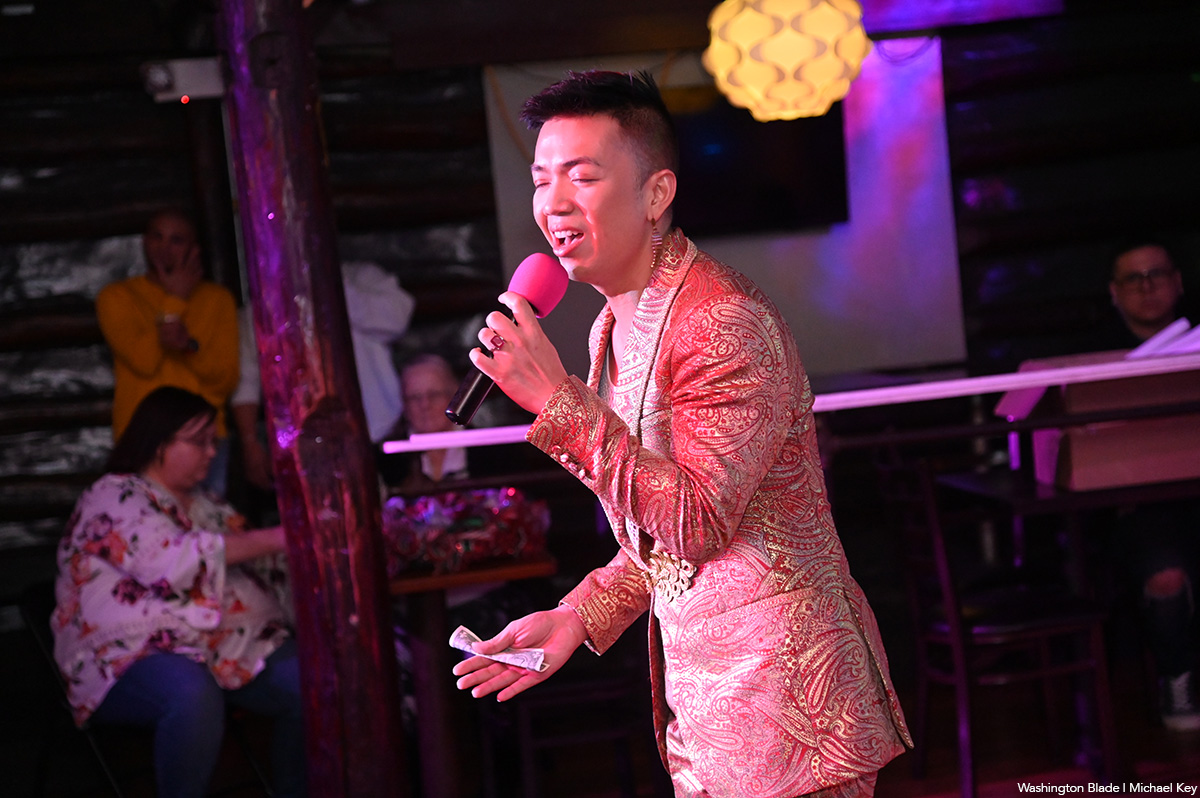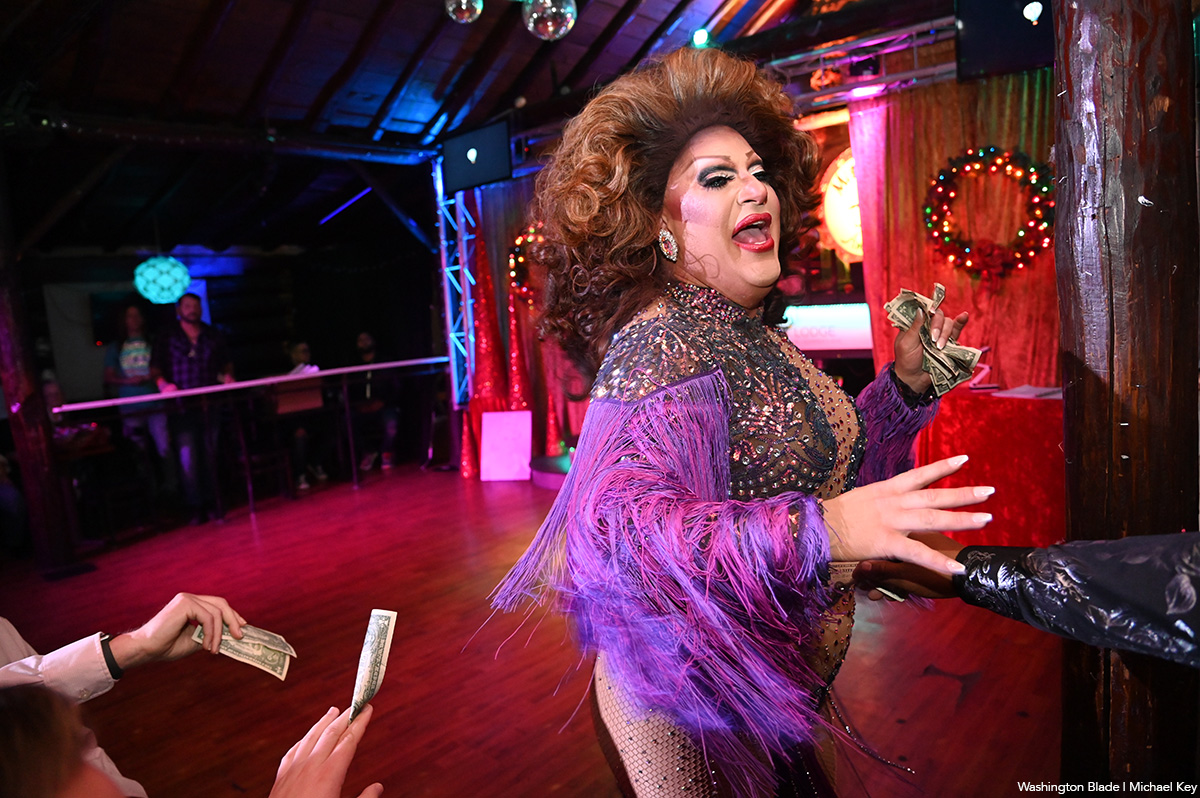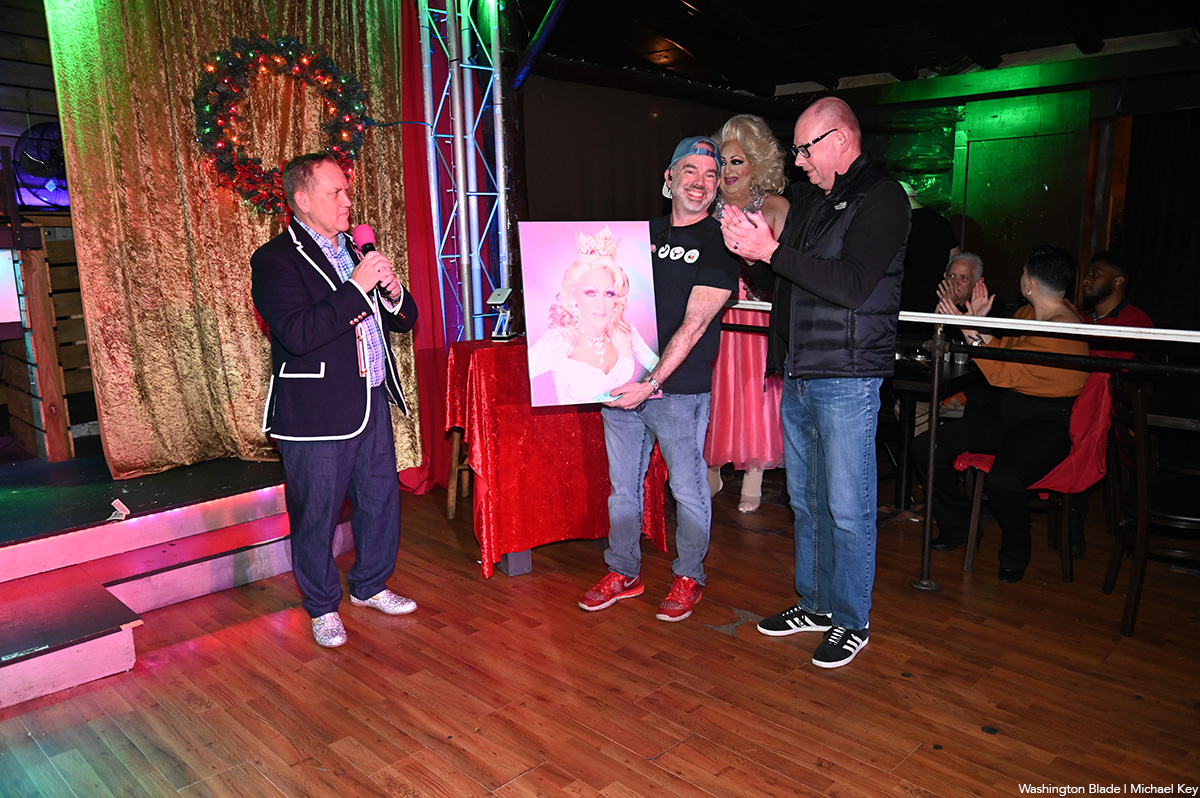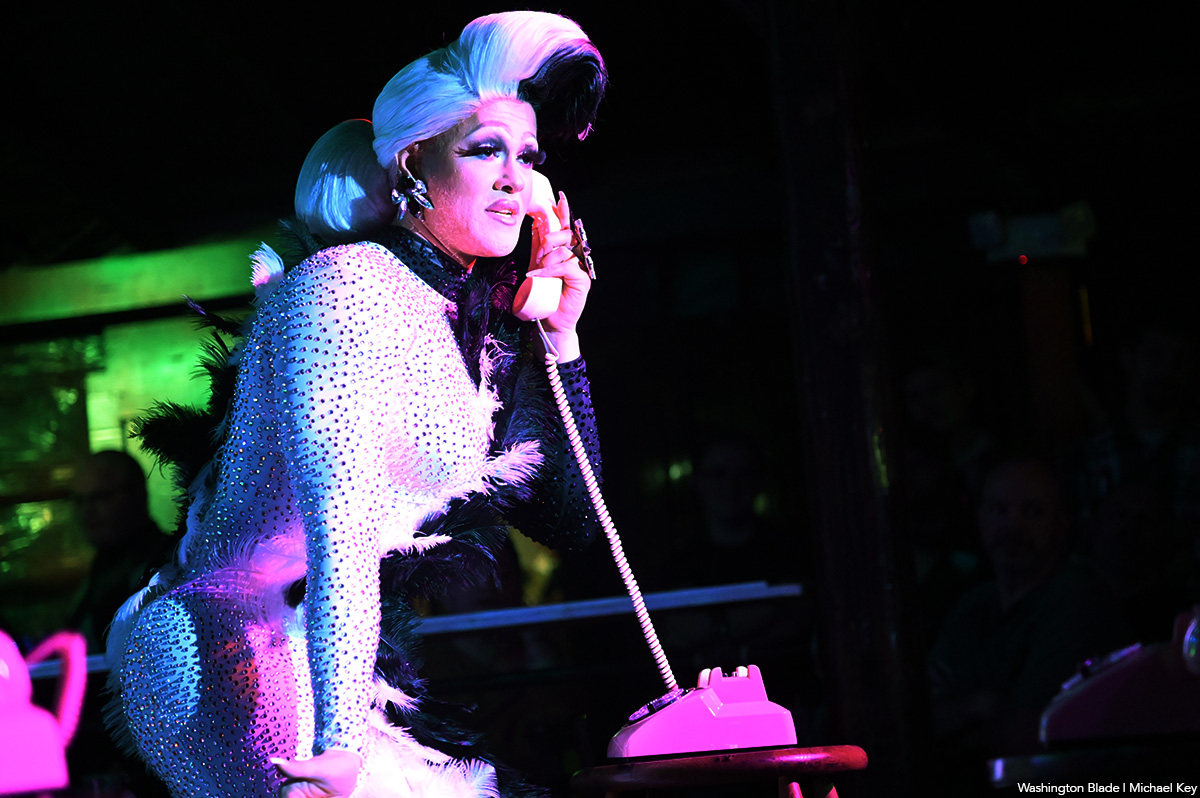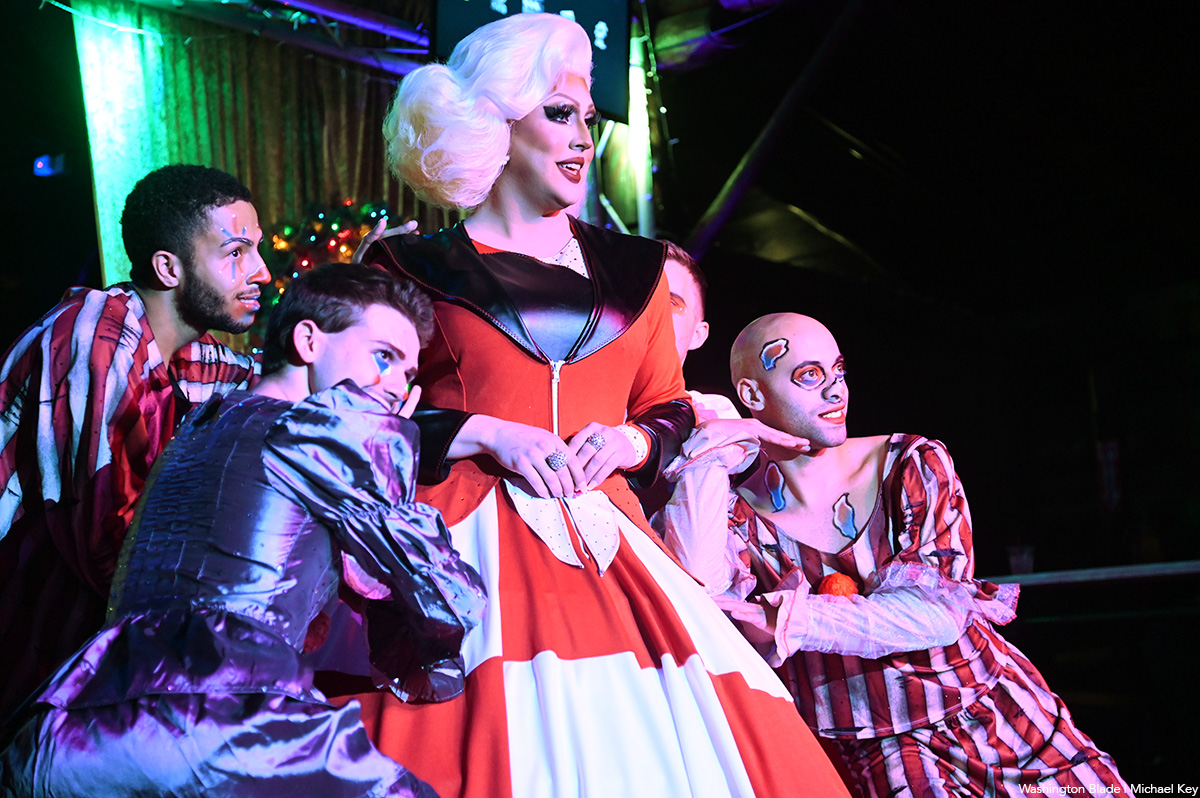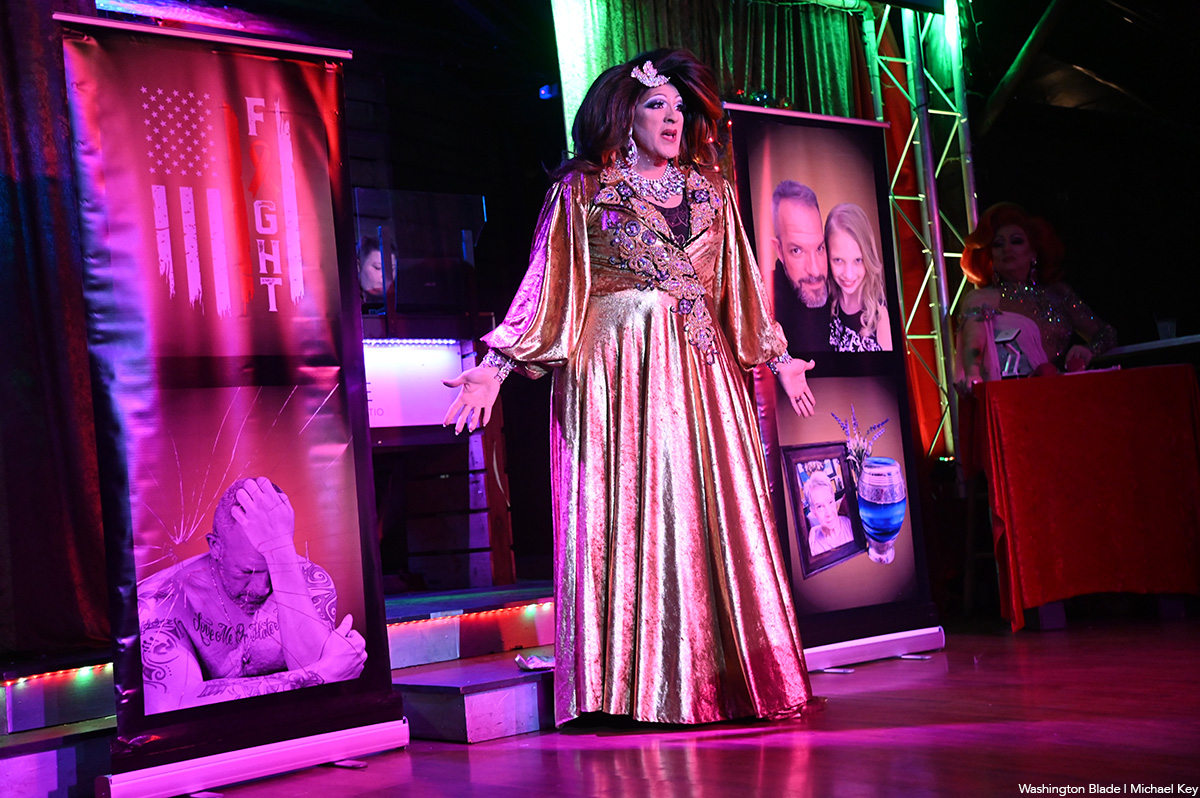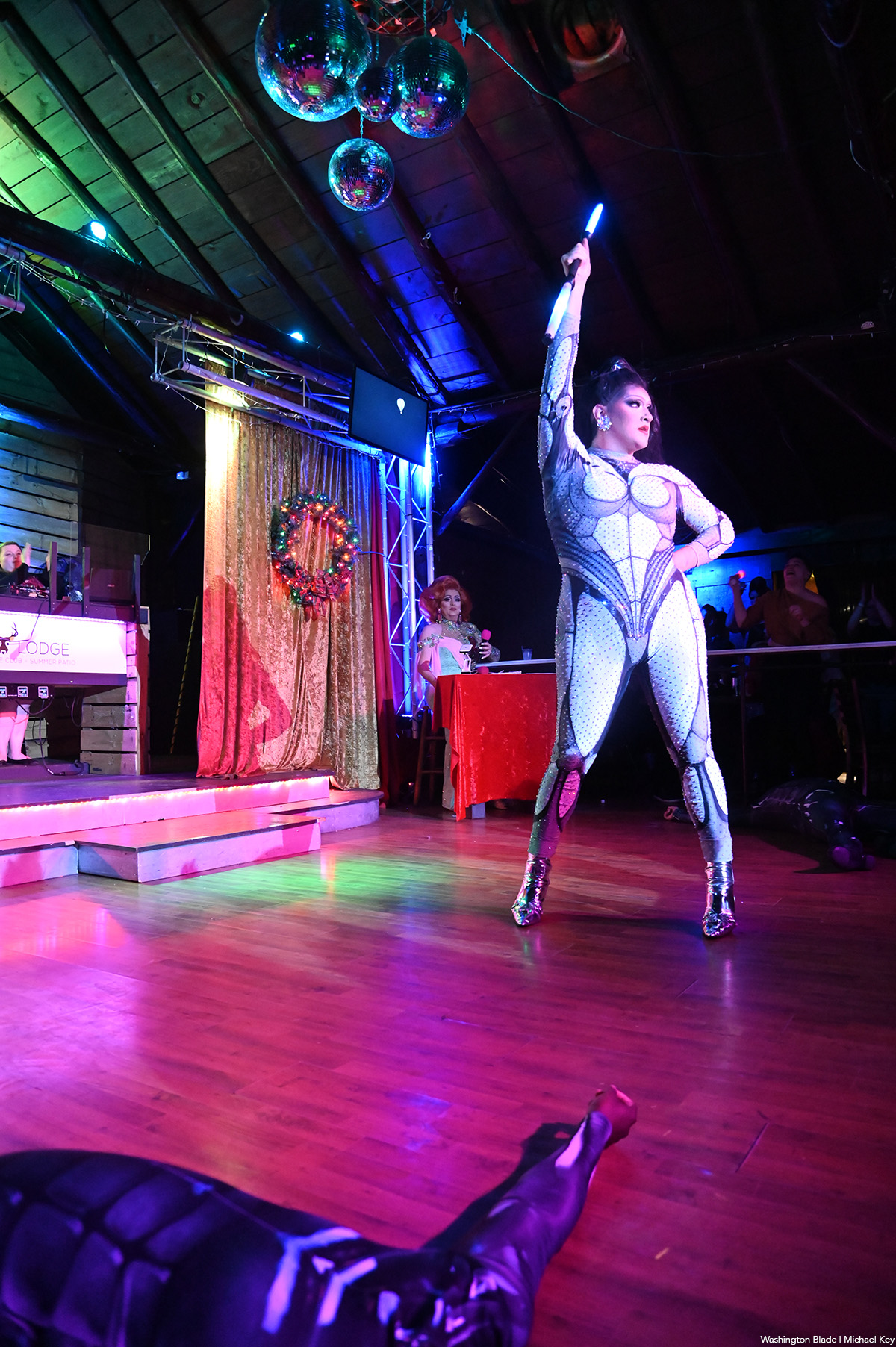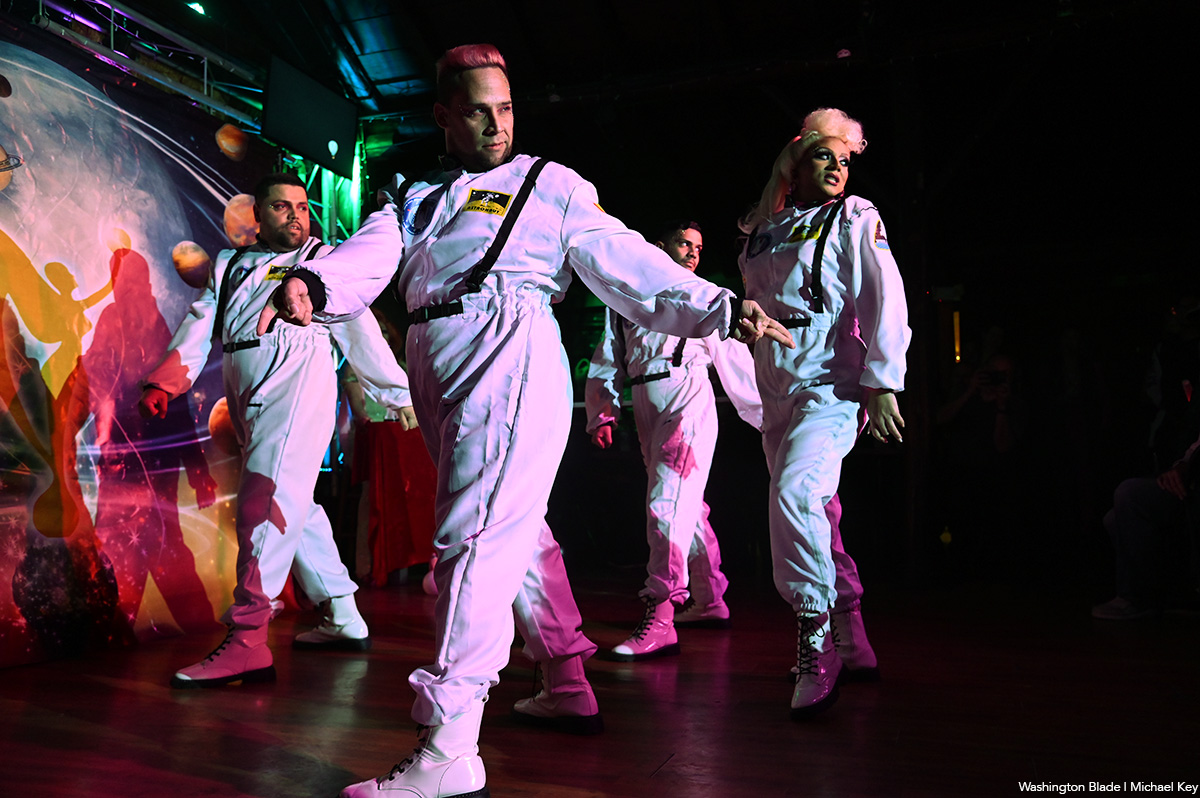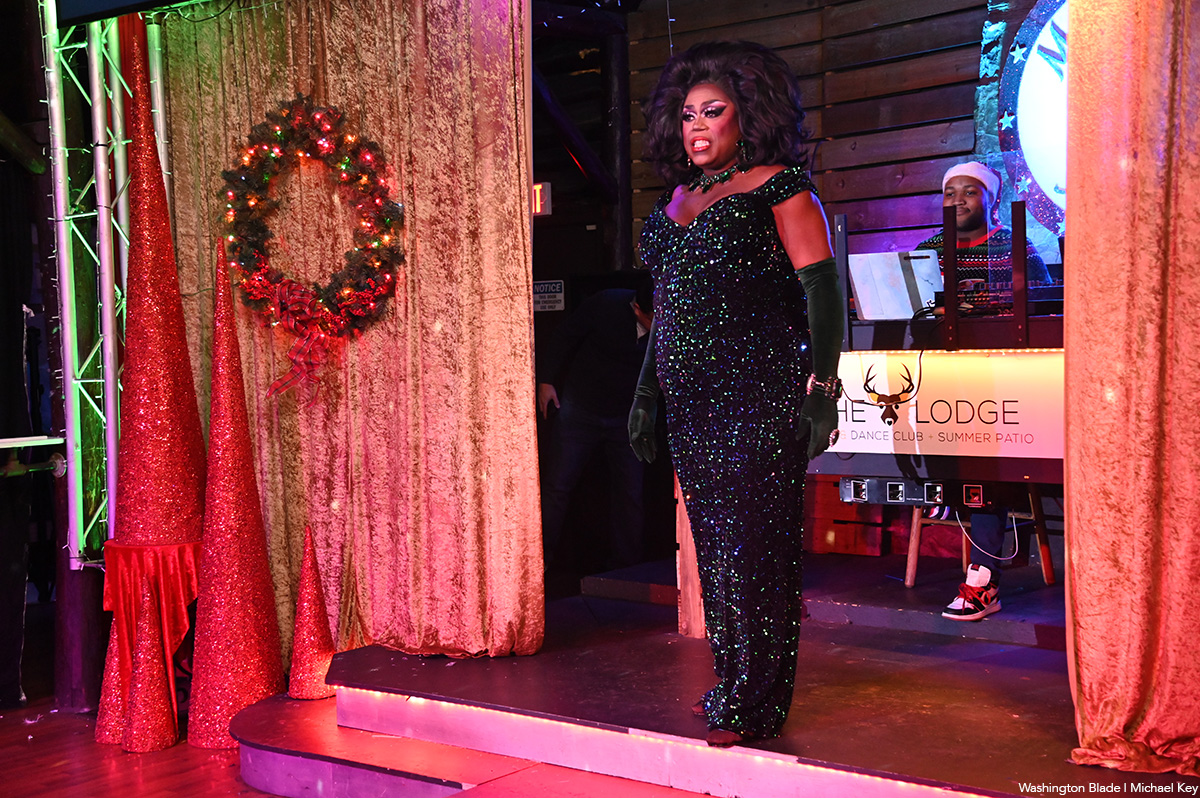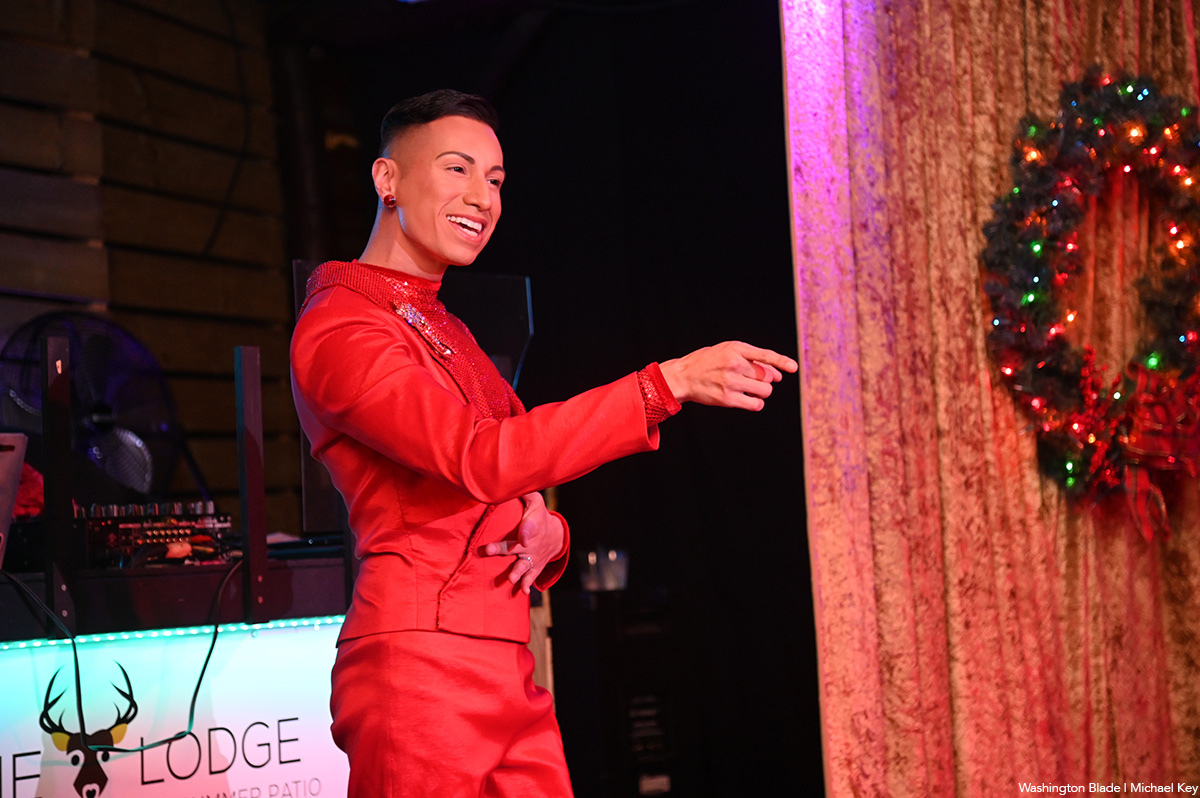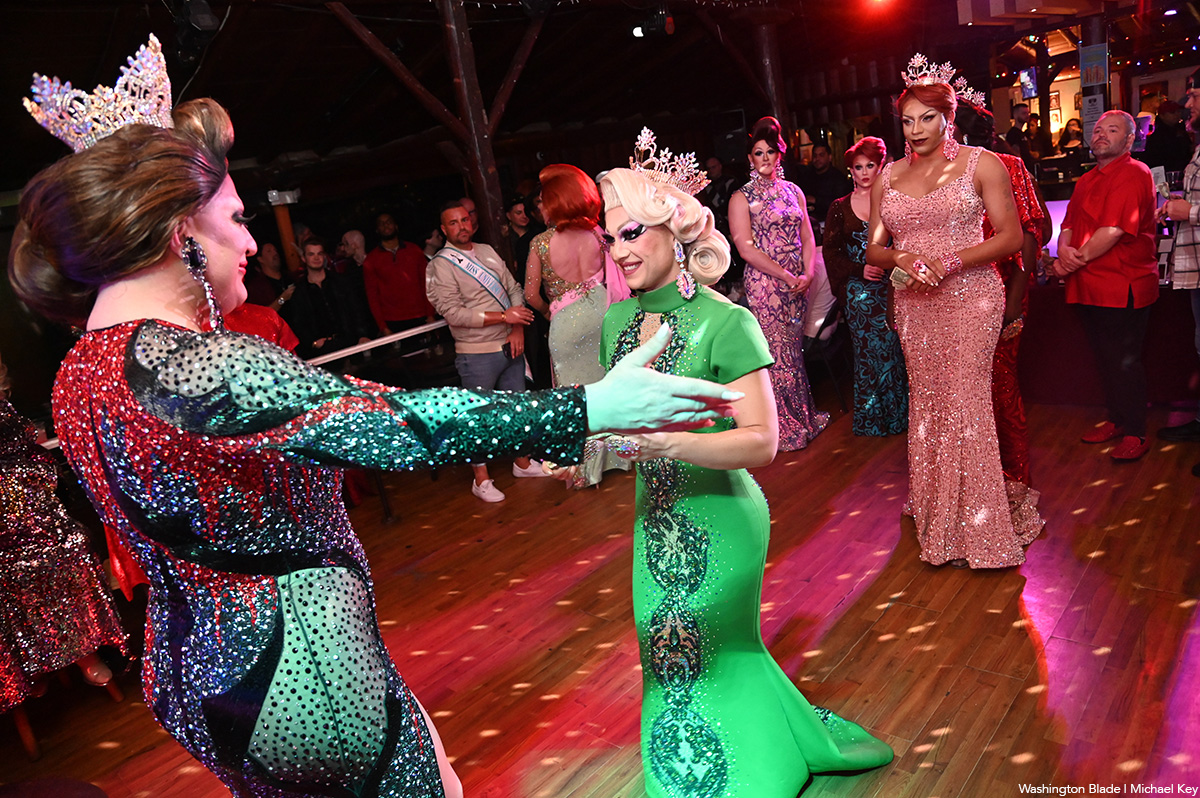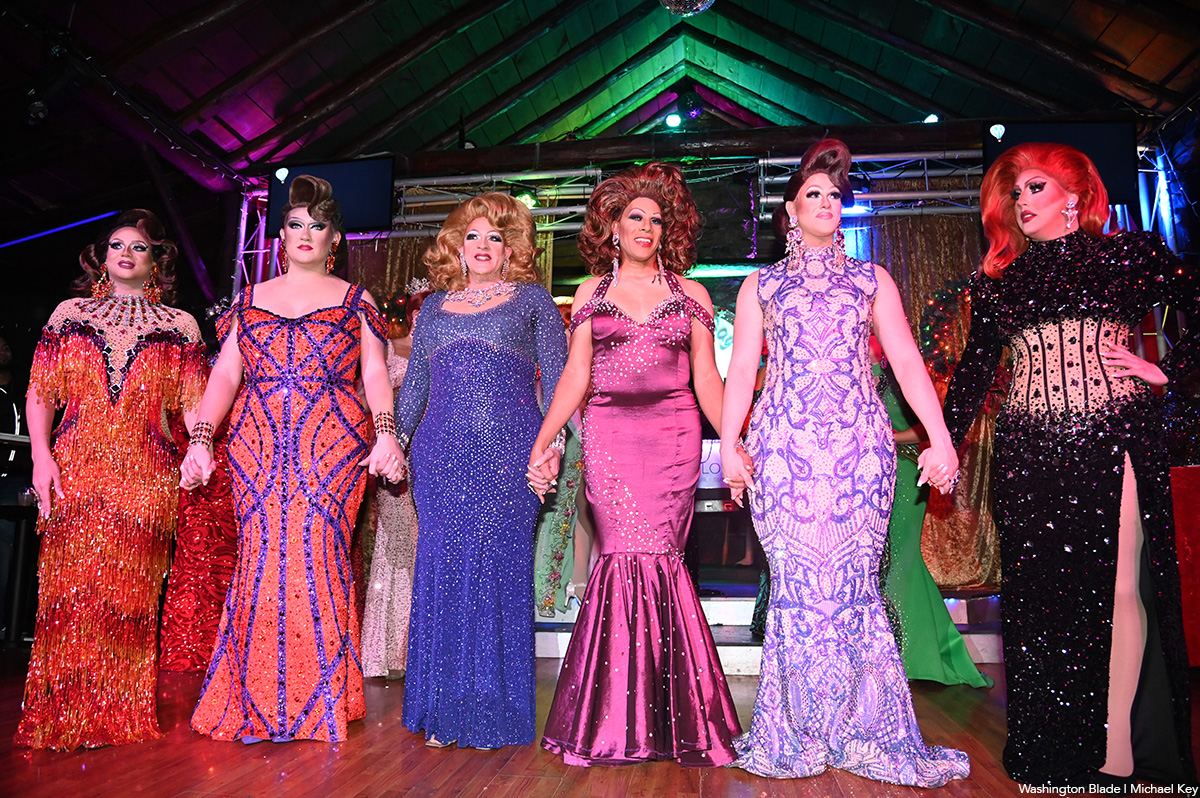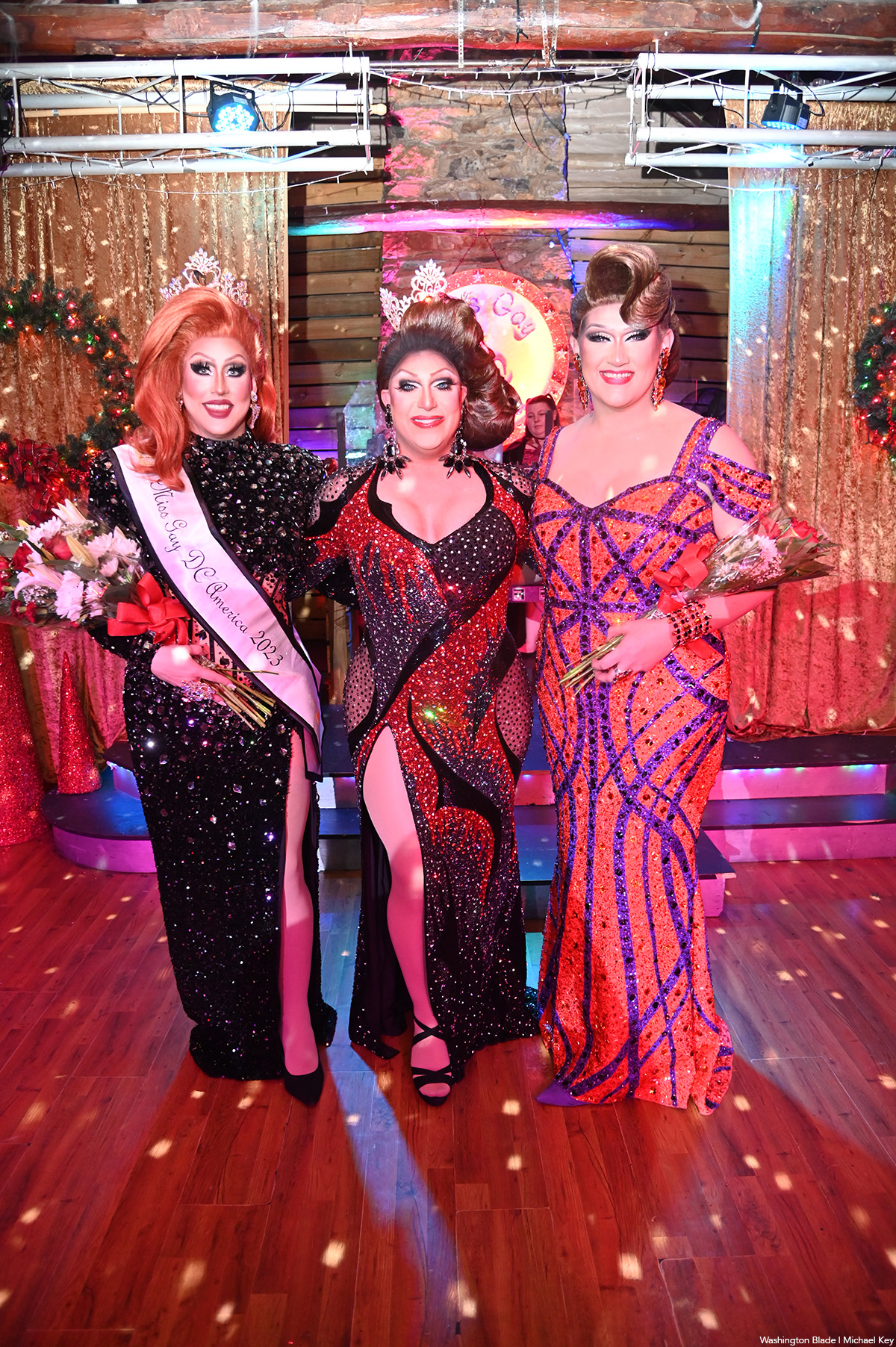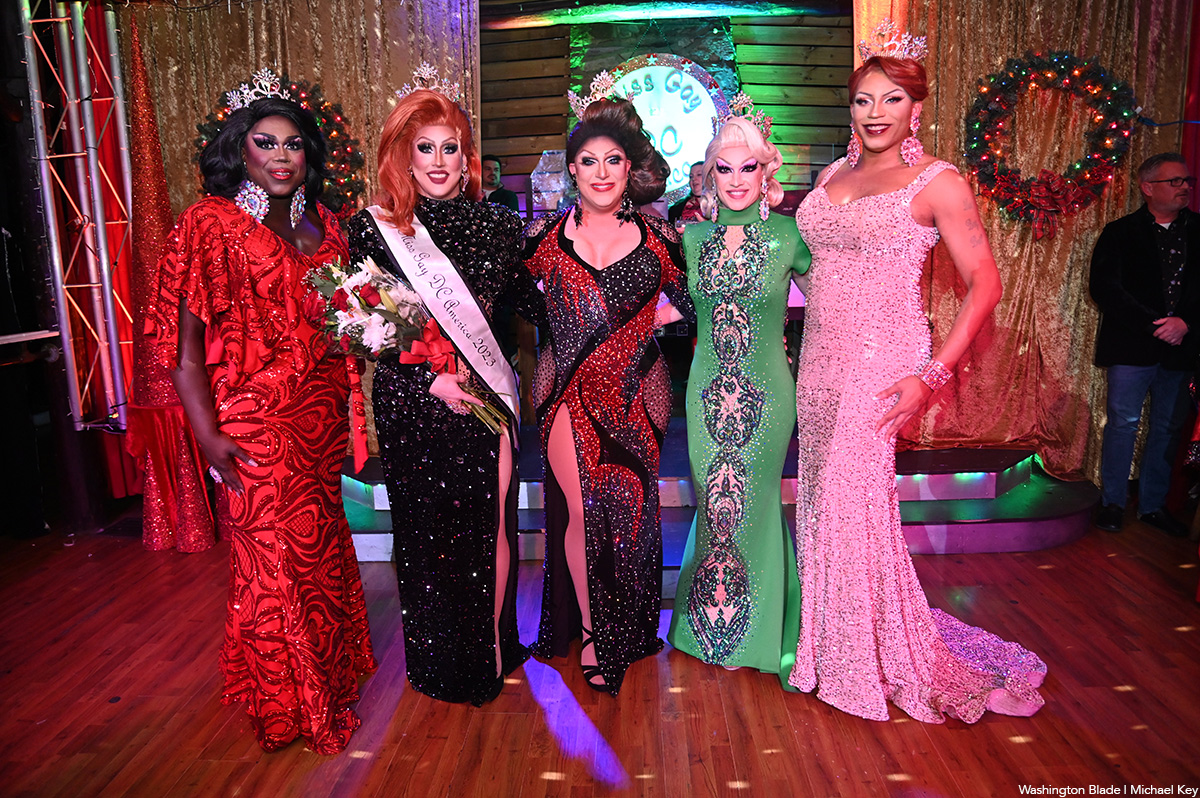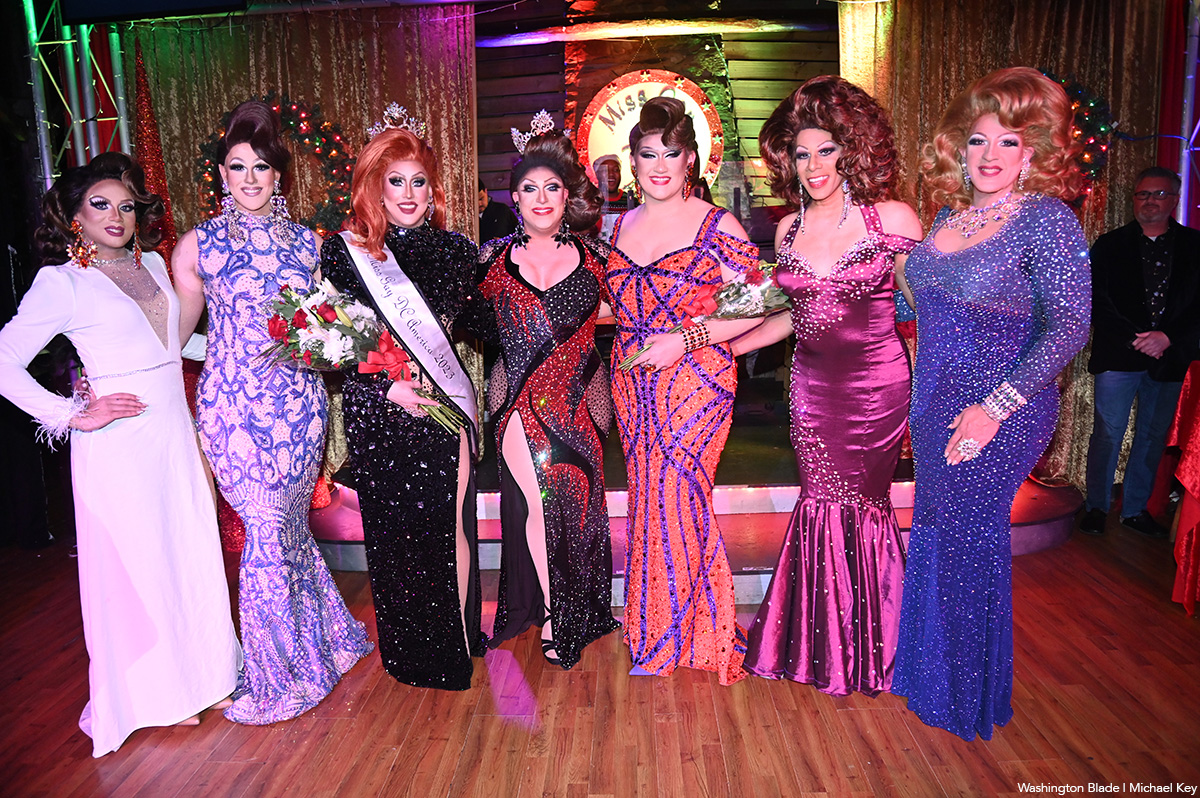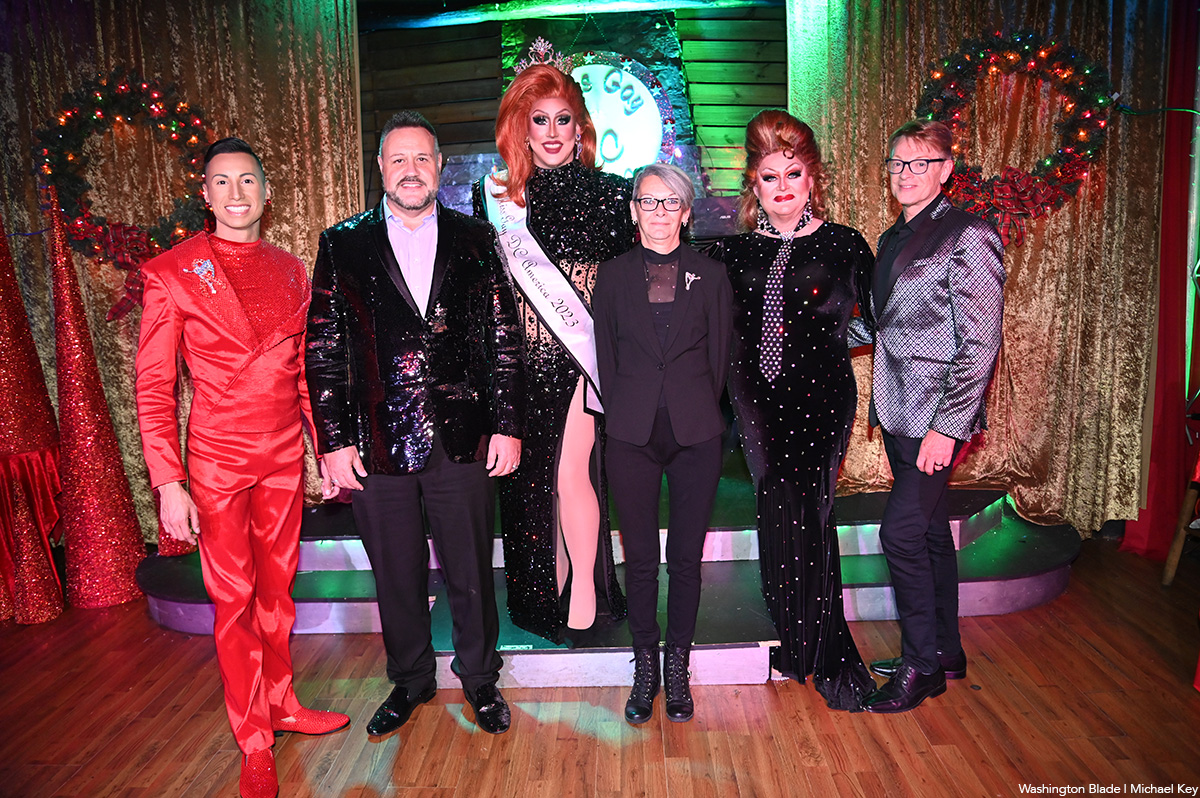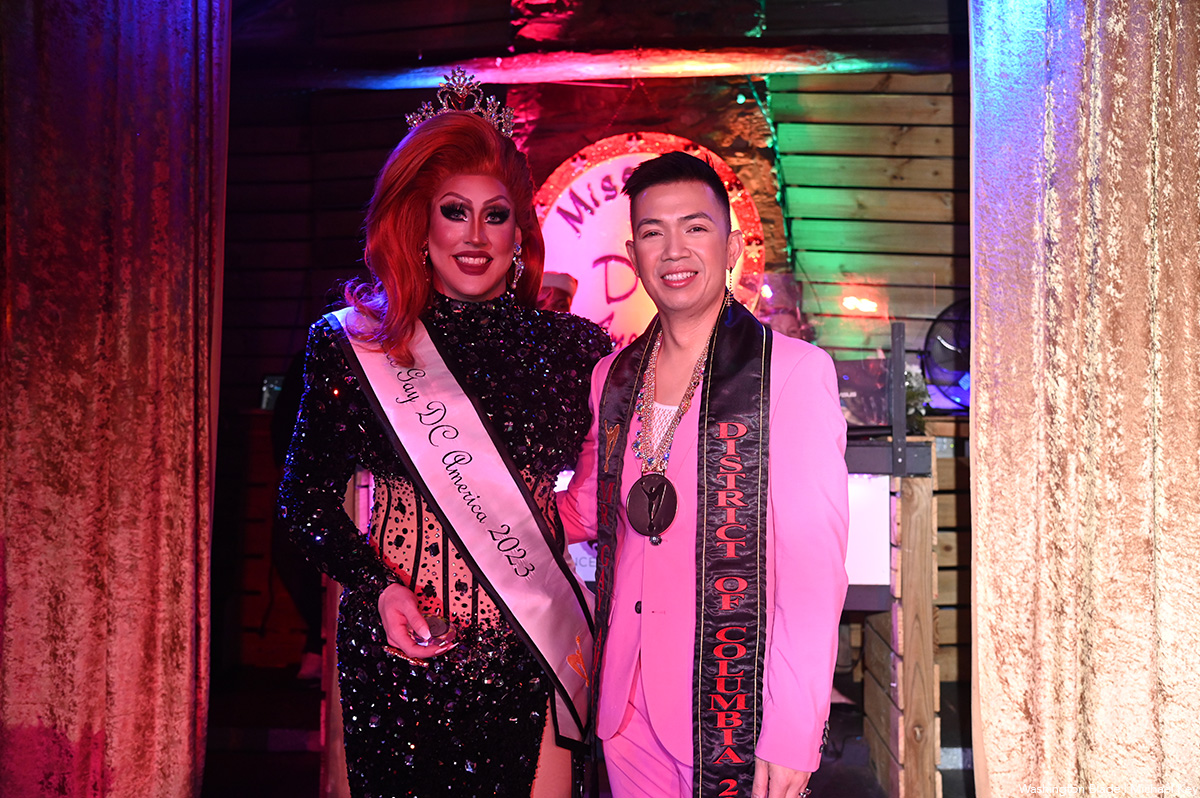 Covering Miss Gay DC at @TheLodgeMD for @WashBlade pic.twitter.com/LSYpfzmKM5

— Michael Patrick Key (@MichaelKeyWB) December 3, 2023
More queer books we love
Bellies: A Novel, Time Out and more for your gift list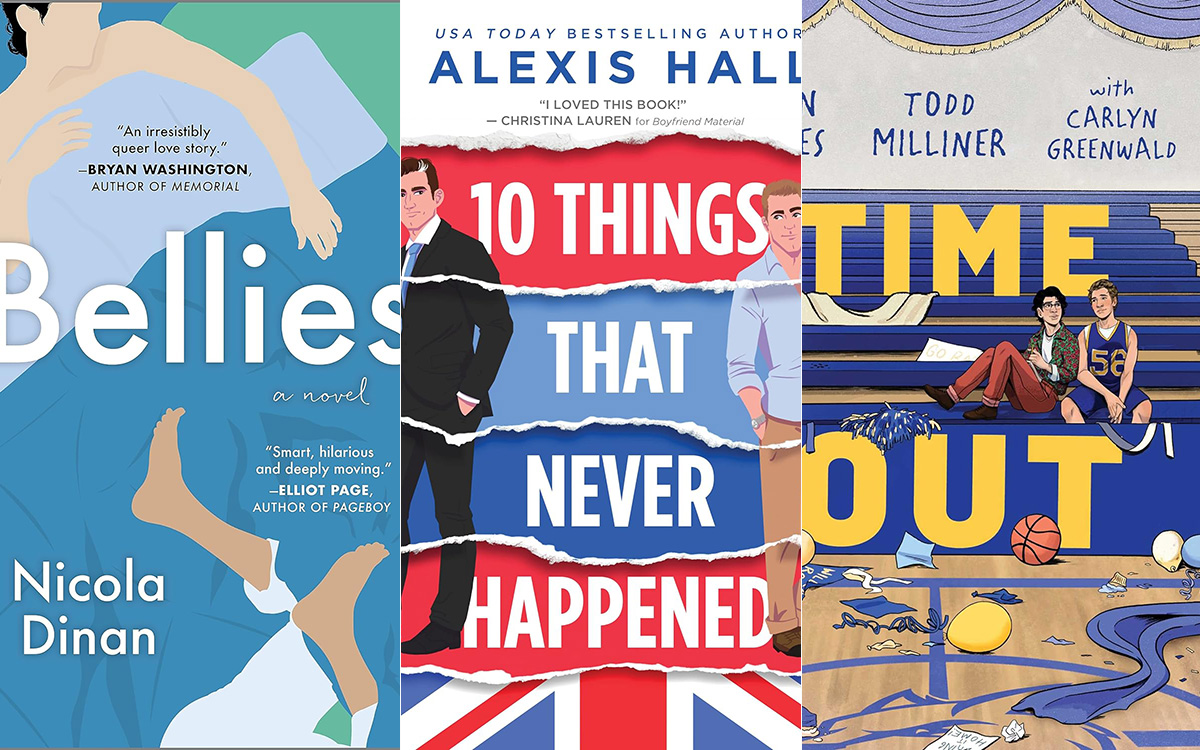 For the person on your gift list who'd love a boy-meets-boy story, wrap up "Bellies: A Novel" by Nicola Dinan (Hanover Square Press), the tale of a playwright and the man who loves him wholly, until a transition threatens to change everything.
If there's a romantic on your list, then you're in luck: finding a gift is easy when you wrap up "10 Things That never Happened" by Alexis Hall (Sourcebooks), the story of Sam, whose job is OK, and his boss, Jonathan, who should have never hired Sam. Too late now, except for the romance. Wrap it up with "Time Out" by Sean Hayes and Todd Milliner with Carlyn Greenwald (Simon & Schuster), the story of a basketball player who's newly out of the closet, and a politically minded boy who could easily get his vote.
For the person on your list who likes to read quick, short articles, wrap up "Inverse Cowgirl: A Memoir" by Alicia Roth Weigel (HarperOne). It's a collection of essays on life as an intersex person, and the necessity for advocating for others who are, too.
Our favorite books for holiday gifts
Hitchcock, Britney, Barbra, and more!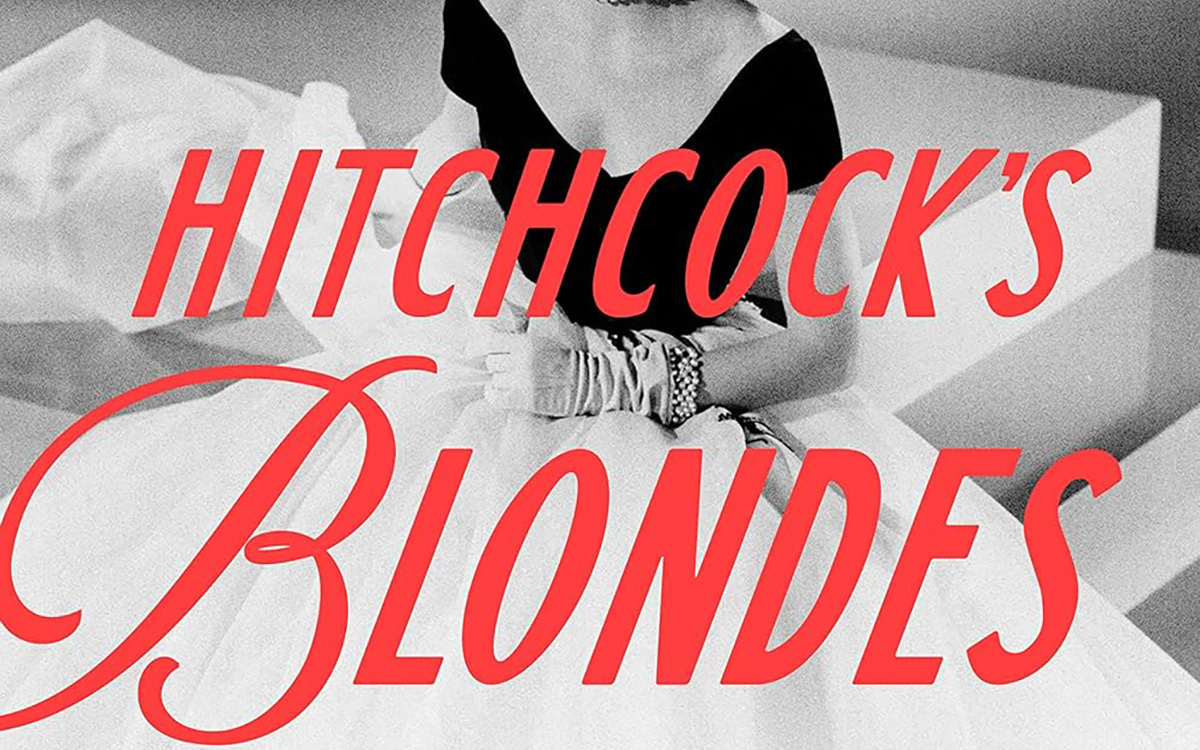 When it gets dark early, it's cold outside and you want to spice up your life, what's more intriguing than a book? Here are some holiday gift ideas for book lovers of all ages.
Who isn't fascinated by the dark, twisty, sometimes, mordantly witty, movies of Alfred Hitchcock, or by Grace Kelly, Tippi Hedren, Ingrid Bergman and the other actresses in his films? "Hitchcock's Blondes: The Unforgettable Women Behind the Legendary Director's Dark Obsession" by Laurence Leamer, author of "Capote's Women," is an engrossing story not only of Hitchcock, but of the iconic "blondes" he cast in some of his most beloved movies from "39 Steps" to "Rear Window" to "Vertigo" to "Psycho." $29. G.P. Putnam's Sons.
Reading about Hitchcock, no matter how intriguing the book, is never as good as watching his films. "Alfred Hitchcock: The Essentials Collection" (Blu-ray $39.96. DVD: $32.40) features "Rear Window," "North by Northwest," "Psycho" and "The Birds."
"Corona/Crown," by D.C.-based queer poet Kim Roberts in collaboration with photographer Robert Revere, is a fab present for lovers of photography, museums, and poetry. Revere and Roberts were deeply affected by the closure of museums during the COVID pandemic. In this lovely chapbook, they create a new "museum" of their own. "This is what I learned when the pandemic struck," Roberts writes, "when I couldn't stop thinking about the artwork in all the museums, bereft of human eyes." $21.25 WordTech Editions
Few things are as scary and/or captivating as a good ghost story. "The Night Side of the River," by acclaimed lesbian writer Jeanette Winterson, author of "Why Be Happy When You Could Be Normal?" and "Oranges Are Not the Only Fruit," is a provocative and engrossing collection of ghost stories. These deliciously chilling stories feature spirits, avatars, a haunted estate, AI and, pun intended, lively meetings between the living and the dead. $27. Grove.
"Blackouts," a novel by queer writer Justin Torres that received this year's National Book Award for fiction, is a breathtaking book about storytelling, queer history, love, art, and erasure. A perfect gift for aficionados of characters that become etched into your DNA. $30. Farrar, Straus & Giroux.
"The Woman in Me," the memoir by Britney Spears will be devoured by queers of all ages – from tweens to elders. Much of Spears's story is known – from her youth in Louisiana to her rapid rise to fame to her conservatorship (when her father controlled her life). Yet the devil, as the saying goes, is in the details. In this riveting memoir, Spears reveals the horrifying and exhilarating aspects of her life: from how her father controlled what she ate and when she took a bath to the restrictions put on her ability to see her sons to her love of singing, dancing, and creating music. Spears writes of the queer community's "unconditional" love and support for her.  $32.99. Gallery.
Few memoirs have been more eagerly anticipated than Barbra Streisand's "My Name Is Barbra." In its nearly 1,000 pages, EGOT-winning (Emmy, Grammy, Oscar and Tony), divine, queer icon Streisand, 81, tells seemingly everything about her life. She quarreled with Larry Kramer over filming "The Normal Heart." It didn't work out: Streisand thought mainstream audiences would be turned off by explicit sex scenes. Marlon Brando and Streisand were good friends, she loves Brazilian coffee ice cream and her mother was a horror show. Contrary to how some lesser mortals see her, she doesn't see herself as a diva. The print version of "My Name is Barbra" is fab. The audio version, a 48-hour listen, which Streisand narrates, is even better. $47. Viking. $45 on Audible.
"Chasing Rembrandt," by Richard Stevenson is a terrific gift for mystery lovers. Richard Stevenson was the pseudonym for Richard Lipez, the out queer author, who wrote witty, engaging mysteries featuring the openly gay detective Donald Strachey. Sadly, Stevenson died in 2022. But, "Chasing Rembrandt," a novel featuring Strachey and his romantic partner Timmy, was published this year. The idea for the story was sparked by a real-life incident when paintings were stolen from the Isabella Stewart Gardner Museum. "Robbers wreak havoc, smashing the glass covers protecting masterpieces and slicing paintings out of their frames," Stevenson writes at the beginning of this entertaining story, "They make off with thirteen works, including three Rembrandts and a Vermeer, worth more than half a billion dollars and beloved in the world of art. It is arguably the greatest property theft in human history."
With the repartee of Nick and Nora and the grit of Philip Marlowe, Strachey works to solve this mystery. $16.95. ReQueered Tales.
Some books never get old. "The Wild Things," the beloved children's picture book written and illustrated by acclaimed gay writer and illustrator Maurice Sendak, was published in 1963. Sixty years later, the Caldecott Medal-winning classic is still loved by three to five-year-olds, their parents, siblings, aunts, and uncles. A new digital audio version of "Where the Wild Things Are," narrated by Michelle Obama, was released this fall. Who can resist the Wild Things, when they plead: "Oh, please don't go–we'll eat you up–We love you so!"? Widely available in hard cover, paperback and e-book format. Audio: $5.50.
What's more fun than playing a festive album while you're reading during the holidays? Deck the halls! This year, queer icon Cher has released "Christmas," her first holiday album. Highlights of the album include: Cher singing with Cyndi Lauper on "Put A Little Holiday In Your Heart," Stevie Wonder on "What Christmas Means to Me" and Darlene Love on "Christmas (Baby, Please Come Home)" and the rapper Tyga on "Drop Top Sleigh Ride." The perfect gift for Cher aficionados.
The Blade may receive commissions from qualifying purchases made via this post.