A minister's fresh start
Detroit Baptist official resigns after coming out; plans Silver Spring church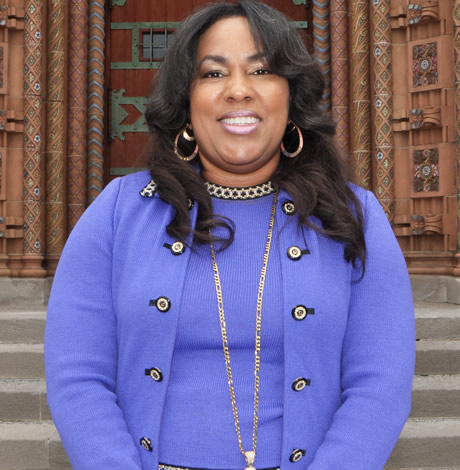 Bishop Allyson Abrams is no stranger to challenge. When her secret threatened to come out in her Detroit church — that she was a lesbian married to a woman — she knew she had to act fast to save her job and livelihood. Now, several months and one resignation later, Abrams is starting over by opening a new church in Silver Spring, Md.
Abrams, originally from Alabama, grew up in the church with her mother, grandmother and grandfather all very involved. She remembers sitting in the back of the church at around age 8 and having a conversation with God in which she felt he was telling her to become involved in ministry.
After receiving her bachelor's of science in mechanical engineering at Howard University, she followed that calling to a seminary in Ohio. While there, one of her favorite professors challenged her that scripture prohibits homosexuality.
"I had so much respect for my professor so I went back and looked at the scripture," Abrams says. "That began my journey to question homosexuality. God began to reveal to me what scripture meant. It was like a light bulb going off. We can't be so religious that we hurt and wrong people."
Abrams, who before marrying her wife had been married to a man and had children, began to question her sexuality after this revelation. She went on to pastor at one church in Detroit for seven years. Then, she moved on to Zion Progress Baptist Church becoming its first female pastor. During that time, Abrams married her wife, Diana Williams, in Iowa, though she declines to go into details about exactly when they were married or to what degree she intended to keep her marriage hidden.
Word eventually traveled around that Abrams had married a woman and some of her friends began to receive phone calls and text messages asking if it was true. Abrams was afraid that her church would hear about it from someone else and decided to tell the deacons of her church. They urged her to share the news with the congregation.
During a sermon on the love of Christ, Abrams disclosed to her church that she was a lesbian and married to a woman.
"I wasn't sure at all what people would say or feel," Abrams says. Some were supportive of me. I just needed to be honest with them and have them hear it from me and not somebody else."
Abrams says she felt freedom after revealing her secret.
"There's a certain joy that you have that you can't share with the congregation because of what the church says about it. I thought about it all the time."
After five years with the church, Abrams felt it best to resign. She says she did not feel coerced into stepping down, only that she felt it was the best decision at the time.
She and her wife wanted to move to a marriage equality state where there were groups moving the LGBT movement forward. Both having connections to the D.C. area, they decided Maryland was a good fit.
Her new church, Empowerment Liberation Cathedral (633 Sligo Ave., Silver Spring, Md.), opens in May. It's conceived as a welcoming and affirming Baptist church that she is starting with support from her wife. Abrams has needed additional financial support and has been holding fundraisers including concerts with other fellowships asking for donations.
"We welcome and affirm every race, gender, sexuality and disability," Abrams says. "We want to give them a safe space, teach principles and to pour into them God's love. People say it's amazing to hear a pastor say that God loves us the way we are. I'm always going to make sure God knows them."
Rev. Charles Christian Adams of Hartford Memorial Church in Detroit is a colleague of Abrams. He believes her new church will be a success.
"She's conscientious and preaches with an open heart. There's not a lot of love in churches. Any church she pastors will have that trademark," he says.
Empowerment Liberation Cathedral also offers virtual membership. Abrams says she received lots of requests for her to preach all over the country after her story came out. Unable to travel all over and meet everyone's requests, she decided to create a virtual membership for her church so that anyone can hear her preach.
"It's very difficult still. All I worked hard for is over. It's like being back at the beginning. It's hard as a woman to get to the top level. I'm kind of kicked to the curb. Now I'm reaching out for support. I'm still the same preacher and the same person. I'm asking the Maryland LGBT community for support."
Bistro du Jour transports you from Wharf to Seine
New casually sophisticated restaurant a welcoming, inclusive space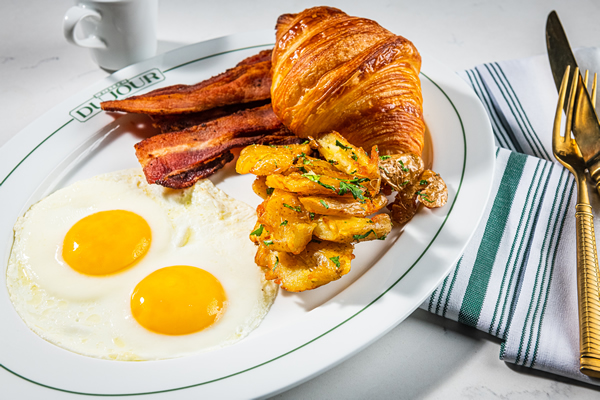 Delights run morning to night at The Wharf's new Bistro du Jour, a casually sophisticated French outpost sliding into a prime waterfront space.
Courtesy of gay-owned KNEAD Hospitality + Design, this new restaurant flaunts a menu born from a Seine-side bistro, serving coffee in the morning hours to Champagne in the evening. Its all-day culinary oeuvre begins with coffee (from La Colombe) and omelettes, and ends with items like a towering and meaty bi-patty cheeseburger L'Americain.
Taking over the sweet spot vacated by Dolcezza, Bistro du Jour is a sister to Mi Vida and The Grill, KNEAD group's two other Southwest waterfront locales. The group also runs several other formal and large-format restaurants they have populated across the city.
Why bring French to the Wharf?
"We have been here for almost four years and we knew what the area was missing and acted on it," says one of the co-owners, Jason Berry. "We wanted something where people could come in at all hours of the day and find something they wanted, from coffee and pastry to a full-on sit down at night."
The Bistro opens at 7:30 a.m. serving that local La Colombe coffee, plus flaky, buttery pastries from KNEAD's partner Mah-Ze-Dahr Bakery. Breakfast service starts at 8 a.m. with brioche doughnuts, quiches, a "massive" Belgian waffle, and French toast topped with a blueberry compote and sweetened whipped cream.
Executive Chef Treveen Dove – transferred after three years at another KNEAD spot, Succotash Prime) – oversees the offerings, a tour of the "greatest hits" of a typical Parisian bistro.
"Oeufs Sur Le Plat is to die for, with the griddled buttered bread topped with a sunny side up egg, sautéed mushrooms and a Mornay sauce… It's so rich and delicious."
By 11 a.m., the Bistro transitions to other traditional French fare, like French onion soup, tuna Niçoise salad, steak frites, mussels in a white wine and garlic butter, and a croque madame sandwich dripping with gruyere and creamy Bechamel. One unique offering is whipped brown butter with radishes and crostinis. There are also gougeres, warm cheese puffs shot through with gruyere.
Come 4 p.m., the dinner menu fills out even more, with additional dinner items confit de canard (duck leg with green lentils and red wine shallots); and a robust, earthy coq au vin (braised chicken with bacon, mushrooms and mashed potatoes); and a lamb shepherd's pie with mashed potatoes that would be at home on a French Alps farm.
Due to space limitations, the Bistro lacks a sit-down bar. Yet beverage director Darlin Kulla, who has been a part of the KNEAD family for more than four years, has put together a focused menu of six craft cocktails. You'll find not only a French 75 (gin, lemon verbena, lemon, bubbles), but also a Manhattan and a "Champs Elysees" with cognac, chartreuse, lemon, and bitters.
The bar itself carries only one brand of each liquor: one gin, rum, and vodka. " If you want vodka, you're having Grey Goose," notes Reg with a smile.
Given the cuisine, there is a considerable French wine list topping 60 bottles, leaning heavily on Champagne and sparkling wine. There are almost 20 red, white, rose, and Champagne options by the glass and carafe, as well. The bar rounds out its stock with French aperitifs and bottled beer.
Notably, the majority of the restaurant's seating is situated on the building's exterior, in a newly constructed all-season patio enclosure with almost 70 seats. The owners designed the space to maximize waterfront views, capacity, and flexibility. During warmer days, the Potomac breeze is welcome to flutter around coffee-sippers; in the colder months, the windows roll down for a fully enclosed and conditioned space. The patio's banquettes arrived directly from France, and twinkling strung lights sway from the ceiling.
The interior is done up in Mediterranean greens, pinks, and creams. Big windows welcome in daytime natural light, but allow for a dim, mood-lit atmosphere in the evening. Traditional bentwood bistro chairs dot the space and antique-style tin tiles reflect a classic Parisian flair. Over at the bar, the glassware display was created from a single panel of antiqued brass. At the rear, a daytime counter offers coffee, pastries, and drinks.
As Bistro du Jour's owners are both gay men, they note that, "Our restaurants are intended to be welcoming to all guests of all backgrounds, beliefs and demographics. We cater to everyone, which is the only way to lead a hospitality organization."
"When you're part of a minority group in society," they say, "the only way to lead your restaurants is as inclusive, welcoming, and hospitable leaders."
Though smaller than their other ventures, a French bistro right on the teeming, pedestrian-heavy Wharf "was the perfect fit," they say. 
Dining without a dining room
Today's hosts are likely more casual than in the past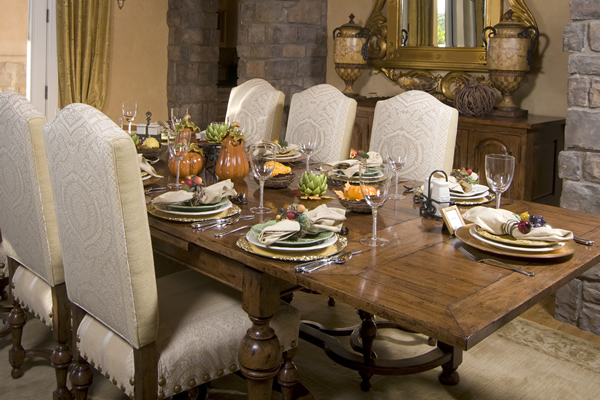 With Thanksgiving quickly approaching, you may be thinking about gathering your loved ones and kindred spirits to celebrate the positive things in your life, praise your higher power, pay homage to indigenous people, or just stuff your face and fall asleep in front of the television at the traditional Thanksgiving after-party: the football game.
Thinking back to my childhood, I remember the wonderful smells coming from the kitchen. The elegant table in the formal dining room was adorned with a crisp, white tablecloth, "the good china," sterling silver place settings, a variety of serving dishes for the forthcoming bounty, and a cornucopia centerpiece containing dried fruits and vegetables.
My dad, Ozzie, would carve the turkey and my mom, Harriet, would bring out the pecan and mincemeat pies for dessert…wait a minute…did I really grow up in a 1950s sitcom? Yup, I did, although Ozzie was Don and Harriet was Grayce.
Sometimes we would visit my maternal grandparents in Maine, whose formal dining room was less so – an extended part of the living room in the 1940s version of an open floor plan in their three-bedroom apartment over the general store and gas station that my grandfather owned.
On occasion, we would go to Massachusetts to spend a day or two with my paternal grandmother and her extended clan. There was nothing "formal" about the dining room there. Dinner took place on a litany of card tables set up on the jalousied porch off the kitchen.
When dinner was over, my grandmother would rise from the head of the table and declare, "I made the dinner. Now you do the dishes." My father and his sisters would scurry like baby chicks to adhere to her demand.
As I grew older, I rarely lived near family. Every so often, I would be invited to dinner as the obligatory guest – the girlfriend of whatever young man I was seeing at the time. Later, I would become part of the restaurant holiday dining crowd.
For several years, I had a standing date with a good friend for dinner and a movie on Thanksgiving Day. We would choose restaurants that advertised dishes like Lobster Thermador, Champagne Ravioli, or Boeuf Bourguignon, but would invariably select the traditional turkey dinner with dressing and all the trimmings from the prix fixe menu.
Fast-forward to 2020 and we may not have gathered at all, content to have Whole Foods or Door Dash deliver Thanksgiving dinner to be eaten in front of the television while watching Hallmark movies.
Now here we are. The formal dining room has gone the way of the good china and the sterling silver. For most of us, they are simply not necessities in our lives any longer. So how do you host a dinner party when there is no room specifically designated for dining?
First, you don't need to purchase things you have no room to store later. Although "rent" can be a four-letter word to a real estate agent, a party rental company's website allows you to select items online and have them delivered and removed at a fraction of the cost.
Are you trying to seat a large group for dinner? Let's start with the premise that all your guests do not need to be at a banquet table. Consider having several tables for two or four placed around the room. It will give you the ambiance of your favorite bistro and still allow for conversation among your guests.
You can also rent folding chairs, linens, place settings, and stemware. Once your order arrives, just set the tables and add candles or your favorite centerpieces to complete a festive look.
If you have no room for a seated event, you can order standing cocktail tables. Your breakfast bar or kitchen counter will make a perfect buffet line.
Better yet, have an open house, inviting guests at slightly different times so you see everyone without feeling like you're in the middle of a crowded concert.
Is your style even more casual? Rather than worrying about recycling plastic cups and sporks, pick up a bunch of Oftast dinner or dessert plates for 79 cents each at Ikea. Add a 6-pack of Svalka wine glasses and cutlery service for four from the Mopsig collection for $5 each. Pull out some pillows and eat while sitting cross-legged on the floor surrounded by family and friends.
Some of us may have trouble getting back up, but we'll be in perfect position to fall asleep during the football game.
Valerie M. Blake is a licensed Associate Broker in D.C., Maryland, and Virginia with RLAH Real Estate. Call or text her at 202-246-8602, email her via DCHomeQuest.com, or follow her on Facebook at TheRealst8ofAffairs.
Fun holiday gifts for car fans
Something for everyone, from Bentley trikes to a Mercedes tree topper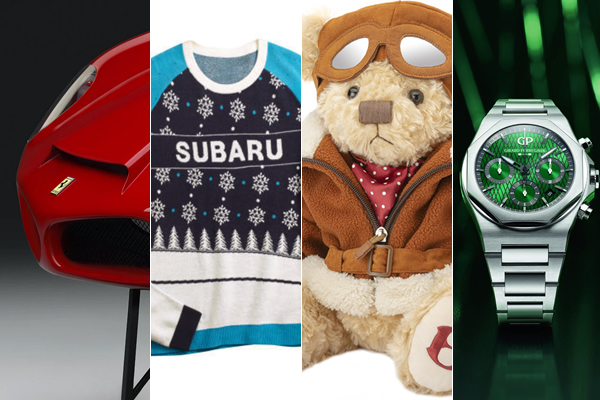 For all those gear heads in your life, here are some fun holiday gifts to get their motors running. Many of these stocking stuffers are affordable. Others, well, not so much.
Bentley Trike for Tykes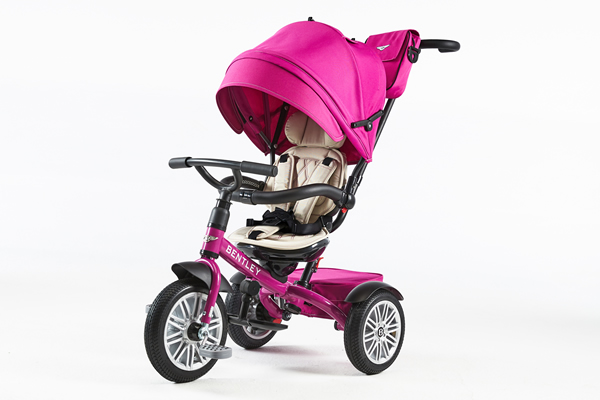 Leave it to Bentley to create a fancy fuchsia trike ($500). With six modes, from stroller to tricycle, parents can adjust this three-wheeler as a toddler gets older. Along with the "Big B logo," the Bentley name is emblazoned on the down tube. Yes, there are more subdued colors, but why bother?
Ford Sherpa Blanket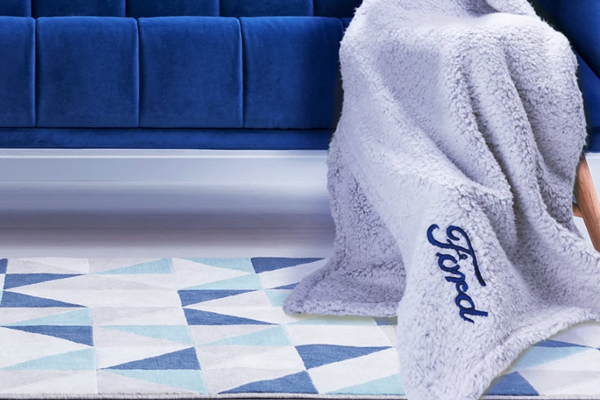 Cuddle up with a warm and fuzzy Sherpa blanket ($30), made of 100% polyester and the Ford logo embroidered in the corner.
MINI Travel Bag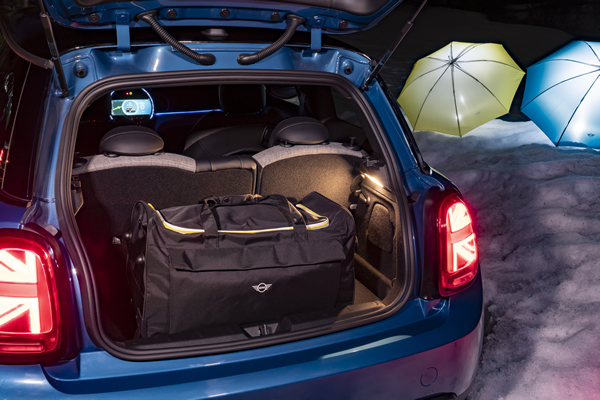 For quick weekend getaways, MINI has a large soft-luggage travel bag ($190) with extendible handle, two wheels, large main compartment, outer pocket and removable zipped pockets.
Porsche Table-top Clock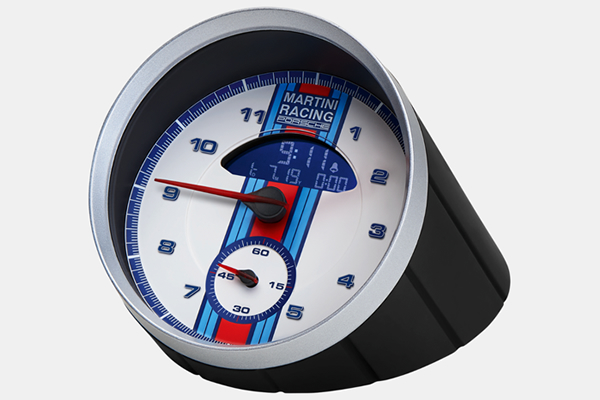 The alarm tone on this tabletop clock ($250) sounds just like a throaty Porsche 911 engine. Includes Martini Racing design, as well as a countdown function and analog/digital display.
Rolls-Royce Portable "Pursuit Seat"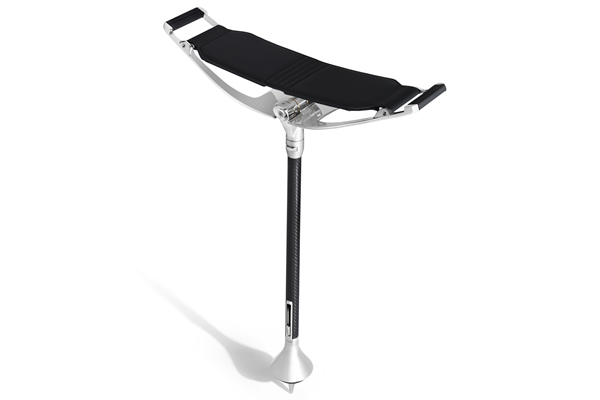 Rolls-Royce, known for its relentless pursuit of perfection, now has a portable "Pursuit Seat" ($8,800) — perfect for any derriere. The adjustable seat is anything but old school, made of carbon fiber, polished aluminum and cushy leather (tastefully embossed with the Spirit of Ecstasy insignia, of course).
Mercedes Tree Topper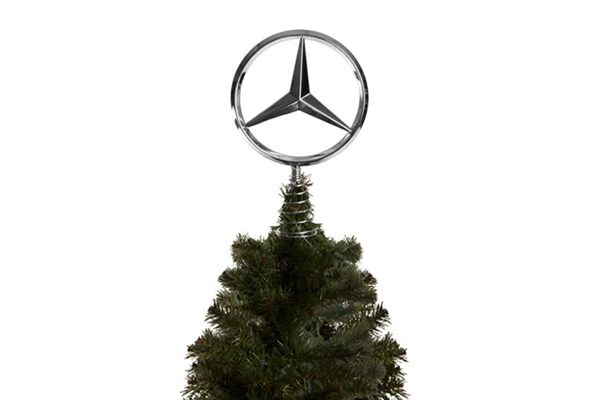 What better tree topper than a Mercedes three-pointed metal star ($52), which measures 8 inches across. Post on social, and dare anyone to top that!
Aston Martin Wrestwatch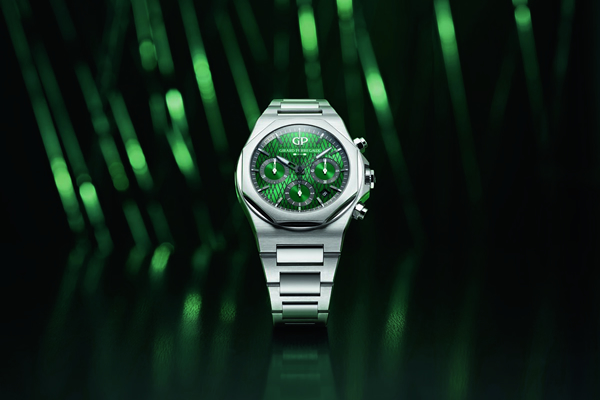 Just in time for the holidays, there's the Laureato Chronograph Aston Martin Edition ($18,000). Made by Girard-Perregaux), this ritzy wristwatch has a high-grade stainless-steel case, finely polished edges on the bezel, sapphire-crystal pane on the back, and racing-green paint applied to the dial 21 times.
Jaguar Suitcase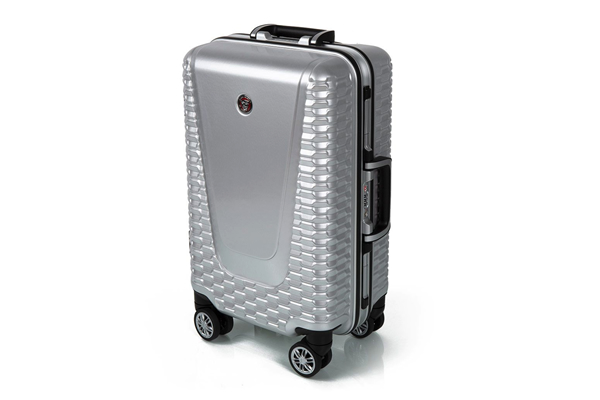 Simple but elegant, Jaguar's compact suitcase ($282) has a polycarbonate shell, aluminum frame and multidirectional wheels that look like real alloy car wheels. Two larger suitcases also available.
Subaru Holiday Sweater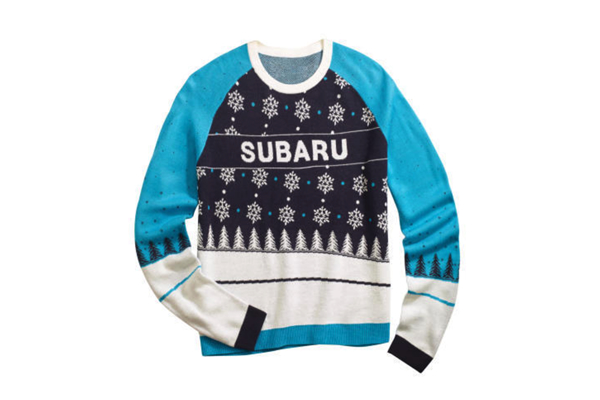 Just shy of being an entrant at some ugly-sweater contest, this festive Subaru holiday sweater ($70) is 100% acrylic and incredibly comfortable.
Front End of a 1962 Ferrari 268 SP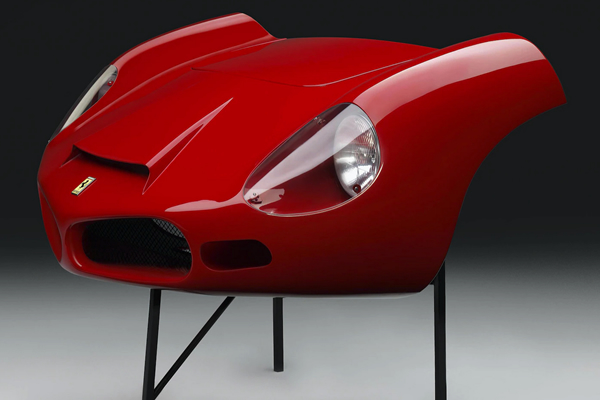 Only one 1962 Ferrari 268 SP race car was ever built, and now there's a full-scale replica of the front end ($22,000). A pedestal is available, or enthusiasts can mount this work of art on the wall.
Ferrari Vintage Steering Wheel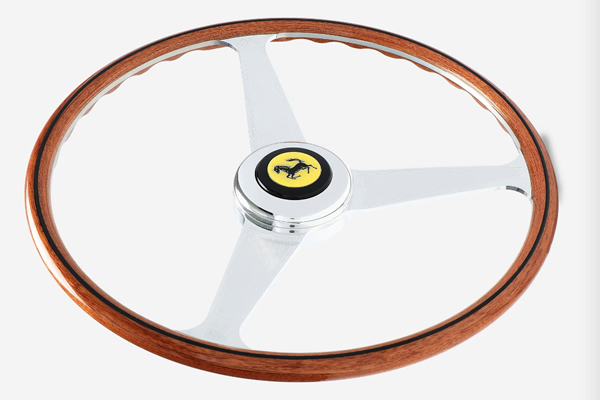 For more frugal fare (kinda sorta) Ferrari offers a vintage three-spoke steering wheel ($4,010). Such steering wheels were used in Ferraris between 1959 and 1965, and this full-scale repro—made of mahogany and polished aluminum—features the iconic prancing horse in the center.
Bentley Heritage Bear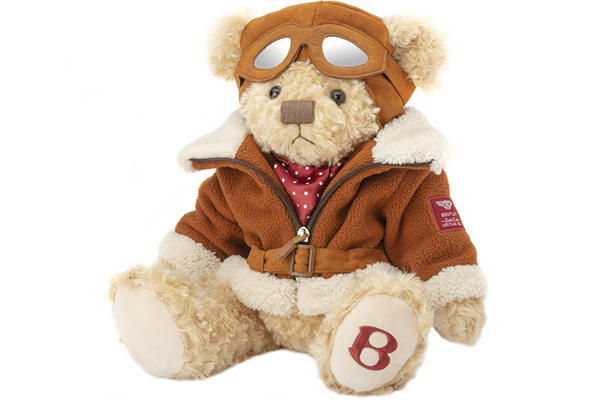 Many automakers offer cuddly teddy bears, and Bentley is no exception. The limited-edition Heritage Bear ($57) is decked out in snazzy fleece jacket, suede-like helmet and racing goggles. There's even a dust bag with drawstring for safekeeping.