Top 45 headlines of the Blade's 45 years
The biggest LGBT stories, from DOMA to 'Will & Grace'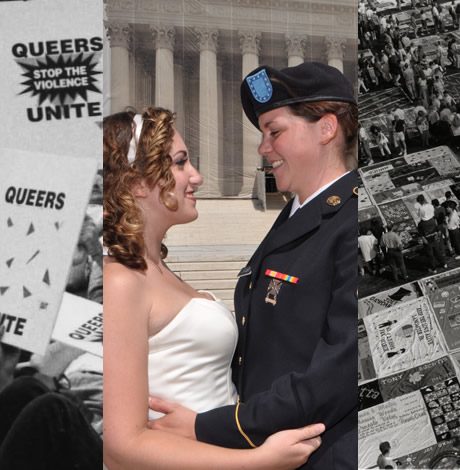 To help commemorate the Blade's 45th anniversary, the editorial staff worked to identify the top 45 headlines from our archives.
These headlines often represent single events, but sometimes are used thematically to encompass a series of related events. Each one survived several rounds of voting to make the cut and determine its order in the final list.
The stories are a mix of local and national events that helped shape the LGBT movement.
45. 2013: Former Washington Wizards center Jason Collins in April became the first male athlete who actively plays in a major American professional sports league to come out as gay. The watershed announcement prompted other athletes to declare their sexual orientation. These include former University of Missouri defensive end Michael Sam who came out in February and was drafted by the NFL's Rams.
44. 1982: An investigation by the Washington Blade reveals that the FBI is spying on D.C. gays. Sources said the FBI and D.C. police were looking into prostitution with adults or minors, the sale and distribution of child pornography and possible infiltration by foreign intelligence agents. The Blade, which interviewed more than 25 people to verify that the investigation was taking place, found that D.C. gay bars, bar owners and some patrons were under surveillance. Spokespeople for the D.C. police and the FBI denied that gays were being singled out for different treatment.
43. 1998: "Will & Grace" debuts in September, marking a significant change in Hollywood's presentation of LGBT people, their lives and relationships. The sitcom featured Will Truman, a gay lawyer living in New York City, and his straight friend and roommate Grace Adler, an interior designer. Storylines in the comedy involved Will and Grace's problems seeking romantic relationships as well as struggles in maintaining their own friendship. The most successful TV series featuring gay characters, "Will & Grace" ran for eight years, earned 16 Emmys and made it into the Nielsen Top 20 for half of its network run.
42. 1992: In October, more than 500,000 people come to see the NAMES Project's AIDS Memorial Quilt on the National Mall. The 23,000 panels on display covered more than 15 acres around the Washington Monument, and the Quilt included panels from every state and 28 countries. The Quilt was displayed for the first time on the National Mall in 1987, during the National March on Washington for Lesbian & Gay Rights. In January of 1993, the NAMES Project was invited to march in President Clinton's inaugural parade.
41. 1991: The country's first Black Gay Pride Day is held in Washington drawing 800 participants. Activists Welmore Cook, Theodore Kirkland and Ernest Hopkins organized the event in response to their concern of supporting the increasing number of HIV-positive black people in the District. The event raised nearly $3,000 for AIDS charities with the support of the D.C. Coalition of Black Lesbians & Gay Men and the Inner City AIDS Network.
40. 1976: Former nun-turned-gay rights activist Jean O'Leary is elected as the first openly gay delegate to the 1976 Democratic National Convention. O'Leary, who started the Lesbian Feminist Liberation in 1972 and co-founded National Coming Out Day in 1987, was also the organizer of the first meeting of gay rights activists in the White House under President Carter in 1977. O'Leary continued to serve on the Democratic National Committee for 12 years after she became a delegate.
39. 2008: After running a largely gay-friendly campaign, Barack Obama is elected as the nation's first black president. He frequently pledged during the campaign to seek "equality for all," vowing to fight for full federal recognition of same-sex couples and develop a comprehensive national HIV/AIDS strategy, among other steps. But in the months following his inauguration, Obama drew criticism from some activists for not doing more to advance LGBT priorities in Congress.
38. 1973: D.C. Mayor Walter Washington signs into law Title 34, which bans discrimination on the basis of sexual orientation in housing, public accommodations, bank credit and employment. The law also banned discrimination on the basis of marital status and personal appearance. It narrowed the "business necessity" exclusion, which said that businesses would have to prove that practicing nondiscrimination would cost them money and render it impossible to remain in business at all in order to ignore the law.
37. 2011: Franklin E. Kameny, who is credited with playing the lead role in establishing an assertive and credible civil rights movement for lesbians and gays in the early 1960s and who coined the phrase "Gay is Good," died at his home in Washington, D.C. on Oct. 11 at the age of 86. His voluminous papers chronicling his gay and later LGBT rights work covering the repeal of sodomy laws, allowing gays and lesbians to serve in the military, and the enactment of local and state laws banning LGBT discrimination, among many other efforts, are available for scholars and researchers at the Library of Congress.
36. 2004: On Nov. 2, voters in 11 states vote overwhelmingly in support of state constitutional amendments prohibiting same-sex unions. The development came after two other states voted earlier in the year to add constitutional amendments banning gay marriage. President George W. Bush also supported that year the Federal Marriage Amendment, but his endorsement did not rally sufficient support to pass the measure through Congress. The amendment stalled in the U.S. Senate, and was rejected outright in the U.S. House.
35. 1988: About 1,100 AIDS activists, angry at the Food & Drug Administration for taking too long to approve new drugs for people with AIDS, stage a protest at FDA headquarters and close it for the day. Protesters sat or sprawled on the pavement outside the building's main entrance, preventing employees from entering or leaving. Some demonstrators, who climbed onto an overhanging roof above the building's main entrance, attached placards and banners proclaiming "silence = death" and "test drugs, not people" to office windows. The demonstration resulted in 176 arrests.
34. 1987: The Second National March on Washington for Lesbian & Gay Rights draws between 200,000 and 600,000 participants. In addition to demanding civil rights, participants also called on President Ronald Reagan to take greater action to confront the growing AIDS epidemic. The event included the unveiling of Cleve Jones' NAMES Project AIDS Memorial Quilt and a protest before the Supreme Court building for its 1986 ruling upholding sodomy laws. Speakers included Latino civil rights leader Cesar Chevez; comedian Whoopi Goldberg; and Jesse Jackson, then a Democratic presidential contender.
33. 1980: Gay activist Mel Boozer becomes the first openly gay person to have his name placed in nomination as a candidate at the Democratic National Convention. Supporters named Boozer, then a president of the Gay Activists Alliance, as a vice presidential candidate. Boozer, who was black, also addressed the convention during primetime. "I know what it means to be called a 'nigger' and I know what it means to be called a 'faggot,' and I understand the differences in the marrow of my bones. And I can sum up that difference in one word: none."
32. 1986: The U.S. Supreme Court ruled in Hardwick v. Bowers that homosexual activity is not protected by the Constitution. The court upheld a Georgia sodomy law that criminalized oral and anal sex in private between consenting adults, and said that "majority belief that sodomy is immoral" was sufficient reason to validate sodomy laws. The issue in the case was the right of privacy, and the court ruled that the Constitution's 14th Amendment right did not extend to private, homosexual conduct.
31. 1983: Gay leaders, independent medical researchers and health and social service agency officials testify before a congressional panel that the federal government's response to AIDS had been too little, too late. Organizations such as the National Gay Task Force called on the federal government to give substantial funding to AIDS research and create a commission specifically designed to fight the AIDS epidemic. Several witnesses echoed the plea, alleging that the lack of resources had already cost researchers the ability to study the first generation of AIDS cases.
30. 1993: On April 25, the March on Washington for Gay, Lesbian & Bi Equal Rights & Liberation drew an estimated 750,000 participants to Washington. The political rally drew more mainstream media coverage — including a Newsweek cover story — and more participants than previous marches. Protesters also took part in more than 250 march-related events, including conferences, workshops, lobbying events and religious ceremonies.
29. 1982: Wisconsin Gov. Lee Dreyfus signs into law the nation's first statewide gay civil rights bill, making it illegal in the Badger State to discriminate on the basis of sexual orientation in housing, employment and public accommodations. "There are some questions the government has no business asking," Dreyfus said of the bill.
28. 2012: U.S. Rep. Tammy Baldwin (D-Wisc.) made history in November when she became the nation's first out lesbian or gay person to win election to the United States Senate. Her decisive victory over Republican Tommy Thompson, the state's former governor, solidified Baldwin's status as a popular and respected public official with strong support from gay and straight voters alike.
27. 1979: On Oct. 14, tens of thousands of people participate in the National March on Washington for Lesbian & Gay Rights. It was the first such march on Washington. Among the many participating groups were the National Gay Task Force, the Gertrude Stein Democratic Club, and the D.C. Area Feminist Alliance. In the days following the march, activists from across the country descended upon Capitol Hill to speak to lawmakers about anti-discrimination laws.
26. 1985: In late July, actor Rock Hudson issues a statement saying he has AIDS and is receiving treatments in Paris that are unavailable in the U.S. He died three months later at age 59. His announcement and death drew massive mainstream media attention to AIDS, and numerous AIDS fundraisers ensued to help fund research, treatment and services for people with AIDS. Actress Elizabeth Taylor, a friend of Hudson's, went on to start an AIDS fundraising organization, the American Foundation for AIDS Research.
25. 1997: Actress Ellen DeGeneres comes out in an article in the April 17 issue of Time magazine. The headline: "Yep, I'm Gay." Her alter ego, Ellen Morgan, also came out in the April 30 episode of "Ellen," becoming the first gay lead character on television. The hour-long episode featured Laura Dern as Ellen's romantic interest; Oprah Winfrey played a therapist who assured Ellen that there's nothing wrong with being gay.
24. 2007: A debate raged among LGBT activists over how to best advance LGBT rights after the U.S. House of Representatives passed an Employment Non-Discrimination Act that lacked explicit protections for transgender people. Rep.Tammy Baldwin (D-Wis.), a lesbian, introduced an amendment to add a trans provision to the bill, but withdrew it before a vote. Her move was considered a symbolic gesture to assure trans people they were not forgotten. The bill passed the House, 235-184, but after President Bush threatened a veto, the Senate failed to take up the measure.
23. 2012: The American Psychiatric Association on Dec. 2, removed Gender Identity Disorder from its list of mental disorders. The organization specifically removed GID from its Diagnostic and Statistical Manuel (DSM) of Mental Disorders and replaced it with Gender Dysphoria. The process to revise the DSM began more than a decade earlier.
22. 2009: Throughout the year, more same-sex couples win the right to marry. The Iowa Supreme Court unanimously strikes down the state's ban on same-sex marriage; Vermont becomes the first state to legalize same-sex marriage via the legislative path after it overrides Gov. Jim Douglas's veto; Maine lawmakers followed, with Gov. John Baldacci signing the bill; and New Hampshire becomes the sixth state to legalize same-sex marriage.
21. 2013: More states begin to legalize same-sex marriage in the aftermath of the Supreme Court's decision striking down DOMA. Marriage laws in Rhode Island and Hawaii took effect on Aug. 1, 2013, and Dec. 2, 2013, respectively. Illinois' same-sex marriage law took effect statewide on June 1. Gays and lesbians also gained marriage rights in New Mexico, Oregon and Pennsylvania since the DOMA decision.
20. 1996: At the 1996 International Conference on AIDS in Vancouver, it's announced that HIV/AIDS cocktails, three-drug combinations used to combat the disease, held promise in combating symptoms. The introduction of the cocktails fundamentally changed the way AIDS was perceived, shifting it away from an inevitably fatal disease to one that, while chronic, was more manageable. The cocktails showed promise in blood tests of people with access to the drugs even though the number of available cocktails was limited at the time.
19. 1982: Gay Related Immune Disorder, or GRID, becomes the first name to describe what now is known as AIDS. Cases reached epidemic proportions, moving beyond clusters of gay men in New York and San Francisco and into groups with no obvious risk factors. Scientists later agreed that Acquired Immune Deficiency Syndrome more accurately described the disease, which did not exclusively affect gay men. In 1984, government researchers identify what they believe is the "probable cause" of AIDS: HTLVIII, the Human T-cell Leukemia Virus. In June 1988, the Presidential Commission on the Human Immunodeficiency Virus Epidemic, a 13-member panel, released a comprehensive report of 583 recommendations to address the AIDS epidemic.
18. 1993: President Clinton angers gays across the country when he backs off his campaign promise to end the ban on gays in the military, instead endorsing a policy by Sen. Sam Nunn (D-Ga.). Supporters touted the law — which became known as "Don't Ask, Don't Tell" — as a compromise because it would allow gays to serve in the military provided that they didn't disclose their sexual orientation. Under the policy, about 13,000 service members were discharged, some because their sexual orientation was disclosed by others to commanding officers.
17. 1996: The Defense of Marriage Act abruptly surfaces in May before quickly working its way through Congress and winning President Clinton's signature in September. The law prohibits the federal government from recognizing same-sex marriage, and allows states not to recognize same-sex unions performed in other states. Same-sex marriage was not legal anywhere in the U.S. when Clinton signed DOMA into law, but now marriage rights for gay couples are available in six states. Because of DOMA, legally married same-sex couples in these states aren't eligible for federal benefits.
16. 1970: A crowd of 2,000 gay demonstrators in New York commemorates the first anniversary of the Stonewall Riots with a march and rally. The event, known as Christopher Street Liberation Day, occurred June 28 and reportedly took up about 15 blocks of the street. The New York Times reported there was little animosity, and "some bystanders applauded when a tall, pretty girl carrying a sign 'I am a Lesbian' walked by." Pride marches took place simultaneously in Los Angeles and Chicago.
15. 2009: Mayor Adrian Fenty on Dec. 18 signed a bill approved days earlier by the D.C. City Council in an 11-2 vote legalizing same-sex marriage in the nation's capital. The legislation successfully cleared a required legislative review by Congress and withstood efforts by opponents who attempted unsuccessfully to require that it come before voters in a referendum. The Religious Freedom and Civil Marriage Equality Amendment Act of 2009 took effect March 3, 2010.
14. 2012: Same-sex marriage laws were upheld at the ballot box for the first time. Voters in Maryland, Maine and Washington on Nov. 6 backed gay nuptials statutes in their respective states. Minnesotans on the same day rejected a proposed state constitutional amendment that would have defined marriage as between a man and a woman.
13. 2008: In May, a California Supreme Court ruling legalizes same-sex marriage in the state. Later that year, the Connecticut Supreme Court rules similarly. A ballot initiative to overturn the California ruling was put to voters on Election Day in November. Following an expensive campaign funded largely by the Mormon Church and anti-gay groups such as Focus on the Family, California voters passed Proposition 8, which rescinded same-sex marriage rights in the state.
12. 1977: In June, singer Anita Bryant leads a highly publicized campaign to repeal a gay civil rights ordinance in Dade County, Florida. The ordinance made it illegal to discriminate on the basis of sexual orientation in housing, employment, loans and public accommodations. Bryant founded Save Our Children to protest the ordinance and she led several more campaigns around the country to repeal other local anti discrimination ordinances. A boycott was organized against the Florida Citrus Commission, who used Bryant in advertising. Bryant's campaign in Dade County was overturned in 1998.
11. 1974: U.S. Reps. Bella Abzug and Edward Koch, Democrats from New York, introduce the Equality Act of 1974.The bill would have added "sexual orientation" to the 1964 U.S. Civil Rights Act, making it illegal to discriminate against gays and lesbians in employment, housing and public accommodations. The Equality Act, the first federal legislation in support of gay rights, never passed.
10. 2009: Eleven years after the murder of the gay college youth for whom the bill was partly named, President Obama signed into law the Matthew Shepard & James Byrd, Jr. Hate Crimes Prevention Act. It was the first time federal protections for the LGBT community were enshrined into U.S. code. Byrd, a black man, was dragged to death behind a truck in 1998 by three white men in Texas.
9. 1998: Matthew Shepard, a gay college student, is tortured and left to die near Laramie, Wyo., in October. He was found tied to a fence and was brought to a hospital, where he later died. The killers were sentenced in April 1999 and November 1999 to life in prison. Grief following his death led to the introduction of federal legislation that would enable the Justice Department to prosecute hate crimes against LGBT people. The bill languished in Congress for years before becoming law (see number 10).
8. 2010: After nearly two years of struggles in Congress, President Obama signed legislation known as the "Don't Ask, Don't Tell" Repeal Act to lift the U.S. military's ban on openly gay service. The armed forces discharged more than 13,000 service members under the law before it was formally lifted one year later.
7. 2003: On June 26, the U.S. Supreme Court rules in Lawrence v. Texas that sodomy laws are unconstitutional. In 1998, John Lawrence and Tyron Garner were arrested in Lawrence's Houston home and jailed overnight after officers responding to a disturbance report found the men having sex. The court voted 6-3 to strike down the law, and the opinion covered similar laws in 12 other states. With its decision, the court also reversed Bowers v. Hardwick, its 1986 decision that upheld Georgia's sodomy law on the argument that it had been harmful to gay people's struggles for liberty and equality.
6. 2012: Ending the evolution he started 18 months earlier, President Obama announced during a TV interview with then-closeted ABC anchor Robin Roberts that he supports marriage rights for same-sex couples. Obama made history by winning re-election just six months after taking that position in a race against Mitt Romney, who remained opposed to marriage equality.
5. 1978: San Francisco City Supervisor Harvey Milk is gunned down by Supervisor Dan White, who also shoots and kills Mayor George Moscone. Milk, who was gay and a pioneer for LGBT rights, in 1978 helped to defeat the Briggs Initiative, which would have prevented gays from working as teachers in California. On the day of his assassination, U.S. Sen. Dianne Feinstein, then the president of the Board of Supervisors, heard gunshots and called police, found Milk's body and announced the news to the media. A candlelight vigil to the City Hall of between 25,000 and 40,000 marchers followed the assassination. More than 2,000 angry gay demonstrators protested the 1979 sentence of voluntary manslaughter of Dan White on May 21.
4. 1981: It is reported that an estimated 170 gay men have succumbed to a rare pneumocystis carinii pneumonia and Kaposi's sarcoma over the preceding two years. The U.S. Centers for Disease Control issued reports on three studies that cited a serious malfunctioning of the body's immune systems in these cases. By December, 43 percent of those infected with either pneumocystis or Kaposi's had died. The reports were the nation's first indication of the coming HIV/AIDS epidemic.
3. 2003: The Massachusetts Supreme Court rules in November that same-sex marriage is legal, making the Bay State the first in the country to grant marriage rights to gay couples. In its ruling for the case, known as Goodrich v. Department of Public Health, the court specified state law prohibited gays from marrying and gave state lawmakers 180 days to take appropriate action to address the issue. Then-Gov. Mitt Romney ordered town clerks to begin issuing marriage licenses to same-sex couples.
2.  1973: The American Psychiatric Association in December resolves that homosexuality should no longer be considered a mental disorder. Officials rendered the decision after intense lobbying from gays, including veteran activist Frank Kameny, as well as an endorsement from all 68 district branches of the APA. The new resolution — adopted by 13 members of the APA Board of Trustees with two remaining members abstaining — called for an end to discrimination and repeal of sodomy laws throughout the country. The National Gay Task Force at the time called the decision "an instant cure."
1. 2013 & 2014:  The U.S. Supreme Court issued its most historic rulings on LGBT rights to date. First, in 2013, by striking down Section 3 of the Defense of Marriage Act and issuing a decision restoring marriage equality to California after passage of Proposition 8. Same-sex marriage returned to the largest state in the nation, and for the first time, federal benefits began to flow to married same-sex couples. Then, just this week, the court declined to hear marriage cases from five states, instantly bringing marriage equality to Virginia, Utah, Oklahoma, Indiana and Wisconsin.
Rodriquez scores historic win at otherwise irrelevant Golden Globes
Award represents a major milestone for trans visibility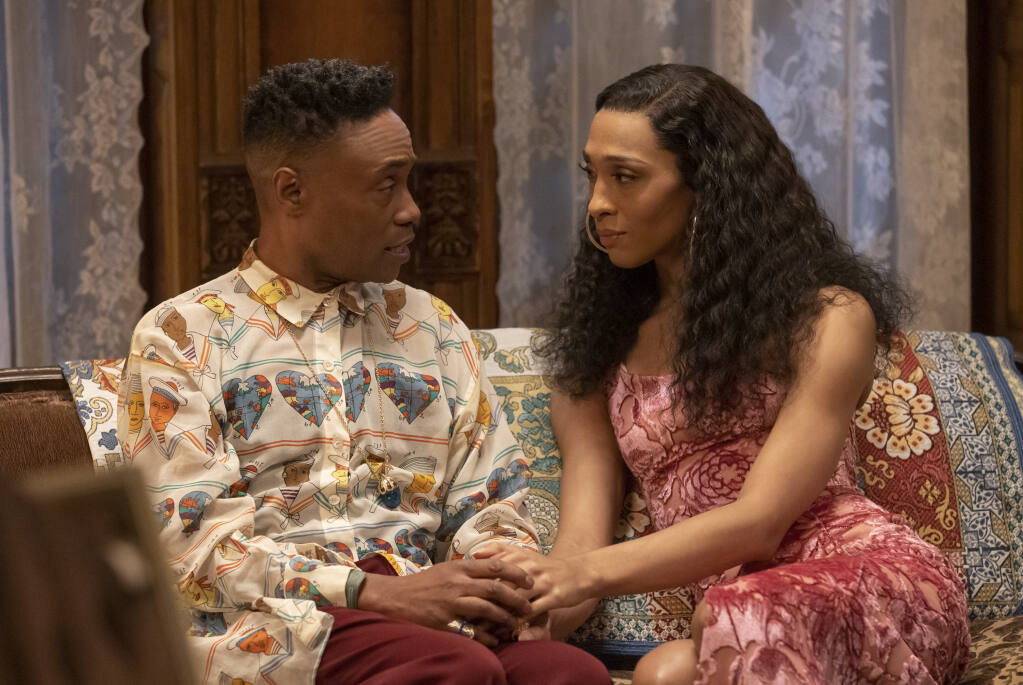 HOLLYWOOD – Despite its continuing status as something of a pariah organization in Hollywood, the Hollywood Foreign Press Association has managed to cling to relevance in the wake of last night's behind-closed-doors presentation of its 79th Annual Golden Globe Awards by sole virtue of having bestowed the prize for "Best Leading Actress in a Television Series – Drama" on Michaela Jaé Rodriguez for her work in the final season of "Pose" – making her the first transgender performer to win a Golden Globe.
The ceremony took place as a private, no-press-or-audience event in which winners were revealed via a series of tweets from the Golden Globes Twitter account. No celebrities were present (not even the nominees or winners), although actress Jamie Lee Curtis participated by appearing in a video in which she pronounced her continuing loyalty to the HFPA – without mention of the longstanding issues around diversity and ethical practices, revealed early in 2021 by a bombshell Los Angeles Times report, that have led to an nearly industry-wide boycott of the organization and its awards as well as the cancellation of the annual Golden Globes broadcast by NBC for the foreseeable future.

While the Golden Globes may have lost their luster for the time being, the award for Rodriquez represents a major milestone for trans visibility and inclusion in the traditionally transphobic entertainment industry, and for her part, the actress responded to news of her win with characteristic grace and good will.
Posting on her Instagram account, the 31-year old actress said:
"OMG OMGGG!!!! @goldenglobes Wow! You talking about sickening birthday present! Thank you!
"This is the door that is going to Open the door for many more young talented individuals. They will see that it is more than possible. They will see that a young Black Latina girl from Newark New Jersey who had a dream, to change the minds others would WITH LOVE. LOVE WINS.
"To my young LGBTQAI babies WE ARE HERE the door is now open now reach the stars!!!!!"
As You Are Bar and the importance of queer gathering spaces
New bar/restaurant poised to open in 2022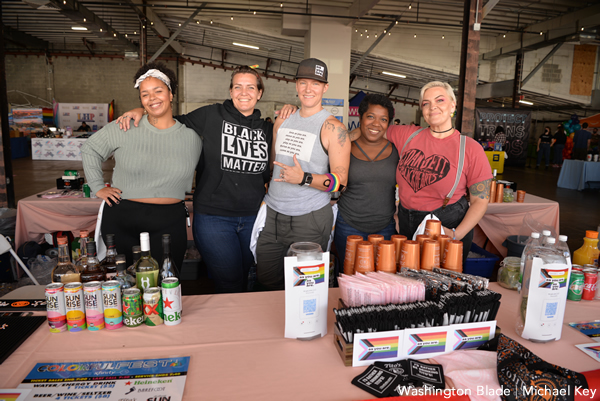 More than just a watering hole: As You Are Bar is set to be the city's newest queer gathering place where patrons can spill tea over late-morning cappuccinos as easily as they can over late-night vodka-sodas.
Co-owners and founders Jo McDaniel and Rachel Pike built on their extensive experience in the hospitality industry – including stints at several gay bars – to sign a lease for their new concept in Barracks Row, replacing what was previously District Soul Food and Banana Café. In a prime corner spot, they are seeking to bring together the disparate colors of the LGBTQ rainbow – but first must navigate the approval process (more on that later).
The duo decided on this Southeast neighborhood locale to increase accessibility for "the marginalized parts of our community," they say, "bringing out the intersectionality inherent in the queer space."
Northwest D.C., they explain, not only already has many gay bar options, but is also more difficult to get to for those who don't live within walking distance. The Barracks Row location is right by a Metro stop, "reducing pay walls." Plus, there, "we are able to find a neighborhood to bring in a queer presence that doesn't exist today."
McDaniel points out that the area has a deep queer bar history. Western bar Remington's was once located in the area, and it's a mere block from the former Phase 1, the longest-running lesbian bar, which was open from 1971-2015.
McDaniel and Pike hope that As You Are Bar will be an inclusive space that "welcomes anyone of any walk of life that will support, love, and celebrate the mission of queer culture. We want people of all ages, gender, sexual identity, as well as drinkers and non-drinkers, to have space."
McDaniel (she/her) began her career at Apex in 2005 and was most recently the opening manager of ALOHO. Pike (she/they) was behind the bar and worked as security at ALOHO, where the two met.
Since leaving ALOHO earlier this year, they have pursued the As You Are Bar project, first by hosting virtual events during the pandemic, and now in this brick-and-mortar space. They expressed concern that receiving the Alcoholic Beverage Regulation Administration (ABRA) liquor license approval and the local Advisory Neighborhood Commission, or ANC, approval will be a long and expensive process.
They have already received notice that some neighbors intend to protest As You Are Bar's application for the "tavern" liquor license that ABRA grants to serve alcohol and allow for live entertainment (e.g. drag shows). They applied for the license on Nov. 12, and have no anticipated opening date, estimating at least six months. If ABRA and the city's Alcoholic Beverage Control Board give final approval, the local ANC 6B and nearby residents can no longer protest the license until the license comes up for renewal.
Until approval is given, they continue physical buildout (including soundproofing) and planning their offerings. If the license is approved, ABRA and the ABC Board can take action against As You Are Bar, like any bar, at any time if they violate the terms of the license or create a neighborhood disturbance that violates city laws such as the local noise ordinance. In the kitchen, the duo snagged Chef Nina Love to develop the menu. Love will oversee café-style fare; look out for breakfast sandwiches making an appearance all the way until close. They will also have baked goods during the day.
McDaniel and Pike themselves will craft the bar menu. Importantly, they note, the coffee bar will also serve until close. There will be a full bar as well as a list of zero-proof cocktails. As with their sourcing, they hope to work with queer-, minority-, and women-owned businesses for everything not made in-house.
Flexible conceptually, they seek to grow with their customer base, allowing patrons to create the culture that they seek.
Their goal is to move the queer space away from a focus on alcohol consumption. From book clubs, to letter-writing, to shared workspaces, to dance parties, they seek an all-day, morning-to-night rhythm of youth, families, and adults to find a niche. "We want to shift the narrative of a furtive, secretive, dark gay space and hold it up to the light," they say. "It's a little like The Planet from the original L Word show," they joke.
Pike notes that they plan on working closely with SMYAL, for example, to promote programming for youth. Weekend potential activities include lunch-and-learn sessions on Saturdays and festive Sunday brunches.
The café space, to be located on the first floor, will have coffeehouse-style sofas as well as workstations. A slim patio on 8th Street will hold about six tables.
Even as other queer bars have closed, they reinforce that the need is still present. "Yes, we can visit a café or bar, but we always need to have a place where we are 100 percent certain that we are safe, and that our security is paramount. Even as queer acceptance continues to grow, a dedicated queer space will always be necessary," they say.
To get there, they continue to rally support of friends, neighbors, and leaders in ANC6B district; the ANC6B officials butted heads with District Soul Food, the previous restaurant in the space, over late-night noise and other complaints. McDaniel and Pike hope that once nearby residents and businesses understand the important contribution that As You Are Bar can make to the neighborhood, they will extend their support and allow the bar to open.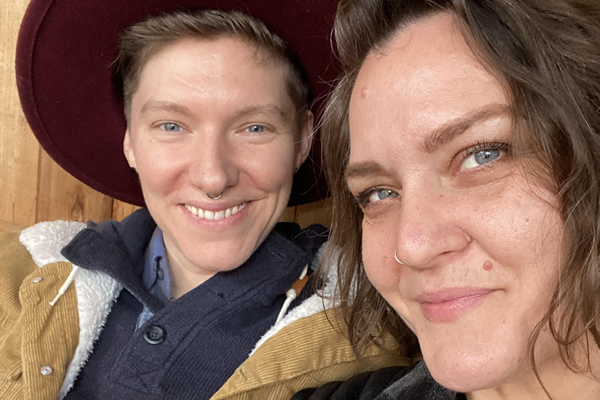 Need a list-minute gift idea?
Books, non-profit donations make thoughtful choices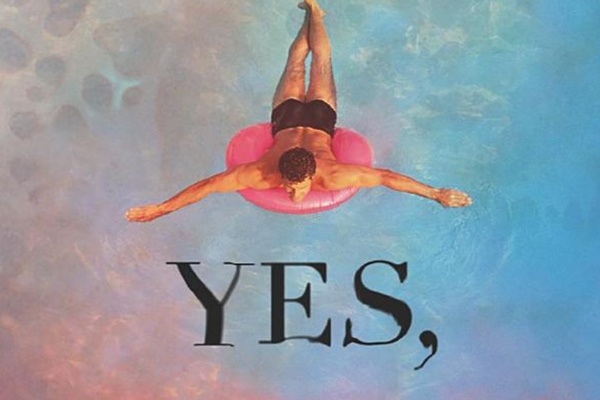 You knew this was coming.
You knew that you were going to have to finish your holiday shopping soon but it snuck up on you, didn't it? And even if you're close to being done, there are always those three or five people who are impossible to buy for, right? Remember this, though: books are easy to wrap and easy to give, and they last a while, too. So why not head to the bookstore with your Christmas List and look for these gifts.
And if you still have people to shop for, why not make a donation to a local non-profit in their name? A list of D.C.-area suggestions follows.
BOOKS: NONFICTION
If there's about to be a new addition to your family, wrapping up "Queer Stepfamilies: The path to Social and Legal Recognition" by Katie L. Acosta would be a good thing. In this book, the author followed forty LGBTQ families to understand the joys, pitfalls, and legalities of forming a new union together. It can't replace a lawyer, but it's a good overview.
For the parent who wants to ensure that their child grows up with a lack of bias, "Raising LGBTQ Allies" by Chris Tompkins is a great book to give. It's filled with methods to stop bullying in its tracks, to be proactive in having That Conversation, and how to be sure that the next generation you're responsible for becomes responsible in turn. Wrap it up with "The Healing Otherness Handbook" by Stacee L. Reicherzer, Ph.D., a book that helps readers to deal with bullying by finding confidence and empowerment.
If there's someone on your gift list who's determined to get "fit" in the coming year, then give "The Secret to Superhuman Strength" by Alison Bechdel this holiday. Told in graphic-novel format (comics, basically), it's the story of searching for self-improvement and finding it in a surprising place.
So why not give a little nostalgia this year by wrapping up "A Night at the Sweet Gum Head" by Martin Padgett? It's the tale of disco, drag, and drugs in the 1970s (of course!) in Atlanta, with appearances by activists, politics, and people who were there at that fabulous time. Wrap it up with "After Francesco" by Brian Malloy, a novel set a little later – in the mid-1980s in New York City and Minneapolis at the beginning of the AIDS crisis.
The LGBTQ activist on your gift list will want to read "The Case for Gay Reparations" by Omar G. Encarnacion. It's a book about acknowledgment, obligation on the part of cis citizens, and fixing the pain that homophobia and violence has caused. Wrap it up with "Trans Medicine: The Emergence and Practice of Treating Gender" by Stef M. Shuster, a look at trans history that may also make your giftee growl.
FICTION
Young readers who have recently transitioned will enjoy reading "Both Sides Now" by Peyton Thomas. It's a novel about a high school boy with gigantic dreams and the means to accomplish them all. Can he overcome the barriers that life gives him? It's debatable… Pair it with "Can't Take That Away" by Steven Salvatore, a book about two nonbinary students and the troubles they face as they fall in love.
The thriller fan on your list will be overjoyed to unwrap "Yes, Daddy" by Jonathan Parks-Ramage. It's the story of a young man with dying dreams of fame and fortune, who schemes to meet an older, more accomplished man with the hopes of sparking his failing career. But the older man isn't who the younger thinks he is, and that's not good. Wrap it up with "Lies with Man" by Michael Nava, a book about a lawyer who agrees to be counsel for a group of activists. Good so far, right? Until one of them is accused of being involved in a deadly bombing.
For the fan of Southern fiction, you can't go wrong when you wrap up "The Tender Grave" by Sheri Reynolds. It's the tale of two sisters, one homophobic, the other lesbian, and how they learn to forgive and re-connect.
NON-PROFIT GIVING
Like nonprofit organizations throughout the country, D.C.-area LGBTQ supportive nonprofit groups have told the Blade they continue to rebuild amid the coronavirus pandemic, which disrupted their fundraising efforts while increasing expenses, at least in part by prompting more people to come to them for help.
This holiday season, if you're looking for a thoughtful gift, consider making a donation to one of our local LGBTQ non-profit organizations in someone else's name. This list is by no means exhaustive, but a good place to start your research.
Contributions to the LGBTQ supportive nonprofit organizations can be made via the websites of these local organizations:
• Blade Foundation, which funds local scholarships and fellowships for queer student journalists, bladefoundation.org
• DC Center, our local community center that operates a wide range of programming,  thedccenter.org/donate
• Food & Friends, which delivers meals to homebound patients, foodandfriends.org
• HIPS, which advances the health rights and dignity of those impacted by sex work and drugs, hips.org
• SMYAL, which advocates for queer youth, smyal.org
• Wanda Alston Foundation, which offers shelter and support for LGBTQ youth, wandaalstonfoundation.org
• Whitman-Walker Health, the city's longtime LGBTQ-inclusive health care provider, whitmanwalkerimpact.org
• Casa Ruby, which provides shelter and services to youth in need, casaruby.org
• Us Helping Us, which helps improve the health of communities of color and works to reduce the impact of HIV/AIDS on the Black community, ushelpingus.org/donate