Why we support Muriel Bowser for mayor
A candidate who will give our son the best opportunities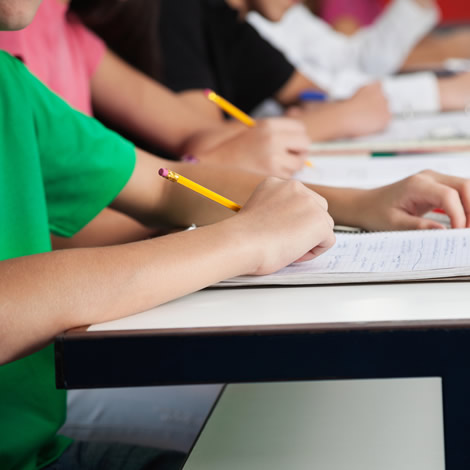 My partner and I have lived in the District of Columbia for more than 25 years. We have invested here, built our careers here, bought homes and enjoyed all of the amenities that the District has to offer.
We have participated in the District's political process by voting for mayors, Council members, school board representatives, ANC members, etc. Each time we cast our vote for a particular candidate or issue we did so because of personal preference. Sometimes we agreed on candidates and issues and other times we did not and in those instances that we did not agree, we agreed to "disagree" and moved on with our daily lives.  In some cases, a little friendly wager may have been involved – for instance — I may have to do the weekly laundry or if my candidate or issue won — he may have to do the weekly grocery shopping.
Election 2014 is a new experience for us. Since the last election for mayor in the District of Columbia my partner and I have become parents. We adopted an energetic and enthusiastic boy from the District who has filled our lives with happiness and challenges all wrapped in one.  Along with the happiness and challenges comes a great responsibility. It is up to us, his parents, to ensure that he has all of the skills, resources and tools needed to become a responsible productive member of the District of Columbia. No longer are my partner and I casting votes as individuals based on personal preference or individual likes or dislikes. For the first time our political decision will be based on who WE feel is best prepared to ensure a better future for our family.
For mayor, we are going to vote for a candidate we feel will give our son the best chance to grow up with a great education, live in a safe neighborhood, and be able to buy a house, raise a family and enjoy living in a diverse neighborhood in the District and that candidate for us is Muriel Bowser.
Before I go further, my partner and I are lucky to live in a District where we have great candidates who offer themselves for public office and this election is no different. We respect those who may support a different candidate than us and ask for the same – Democracy is a great gift and having the right to exercise our vote is priceless.
We support Muriel because we know her, we trust her and we share in her vision that she has for the future of the District of Columbia. We subscribe to Muriel's vision that we are all different individually but collectively share the values of fairness, justice and hard work. We, as parents, share Muriel's belief that all children in the District of Columbia deserve the right to a quality education. We want a world-class public education system for our son. We share Muriel's belief that all residents of the District of Columbia should have access to affordable housing units. We want our son to have the opportunity to live in the District of Columbia and to raise a family of his own – a shameless plug to for "grandparency."
We share Muriel's belief that good government is transparent government and applaud her for the ethical reforms she has brought through legislation to the District government. We want our son to live in a District where its leaders are trustworthy honest, fair and held accountable.
As my partner and I have shifted from our personal wants and needs to those of our family we are heartened that great leaders such as former District of Columbia Mayor Anthony Williams, who many credit, including us, with engineering a renaissance in the District and President Barack Obama have endorsed Muriel as the best qualified candidate to lead the District of Columbia moving forward. We do too!
Clark Ray is a longtime District resident.
Claiming our power in the HIV-AIDS epidemic
'It is my experience that our community is heroic'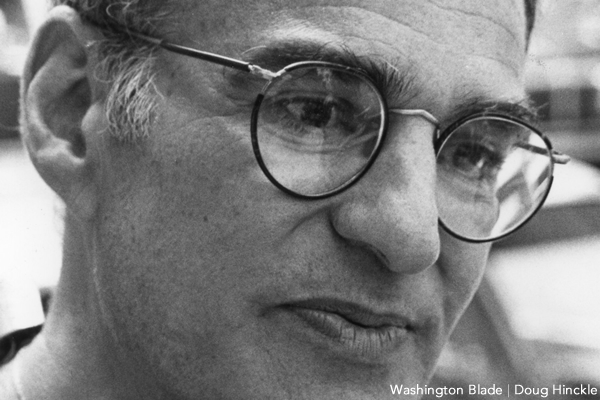 "Unless we fight for our lives, we shall die," wrote Larry Kramer in the New York Native in March 1983. Before Kramer's article "1,112 and Counting," gay people were doing what they could to care for the sick and mourn their dead with quiet dignity.
After the article appeared in gay papers across the country, gay people grew increasingly unwilling to be quiet about the deaths of gay men and the preternatural silence about the epidemic from elected officials.
In San Francisco, the momentum generated by a July 1984 political march spiraled into support for an independent gay AIDS activist group in San Francisco. Gay community leaders tapped Paul Boneberg, then 31 and president of the Stonewall Democratic Club, to head the new group.
Mobilization Against AIDS came into existence in the fall of 1984 with the express goal of organizing street demonstrations, a goal it accomplished by staging monthly protests. Besides its street demos, Mobilization, beginning in 1985, took on the task of organizing the annual AIDS candlelight vigil that the San Francisco People with AIDS Coalition had started in 1983.
As the 1980s wore on, and tens of thousands of gay men died with still no effective treatment for AIDS, Larry Kramer's nerves were shot.
In a March 10, 1987, speech Kramer gave at the New York Lesbian and Gay Community Services Center, today known as the LGBT Center of New York, he laid into the gay community as only Larry Kramer could. "If my speech tonight doesn't scare the shit out of you, we're in real trouble," he told the group.
By then, 32,000 AIDS cases had been reported across the country—nearly a third of them in New York. President Reagan still hadn't spoken about AIDS to frightened Americans.
"If what you're hearing doesn't rouse you to anger, fury, rage, and action, gay men will have no future here on earth," said Kramer. "How long does it take before you get angry and fight back?" The crux of the speech was Kramer's simple question: "Do we want to start a new organization devoted solely to political action?"
The answer was a resounding "Yes!" Two days later, about 300 people again showed up at the center where they formed ACT UP, the AIDS Coalition to Unleash Power. The group's first demonstration—a protest on Wall Street against the exorbitant price of just-approved AZT, the most expensive drug ever to that point—introduced what became the group's distinctive brand of street theater. ACT UP took the camp humor and theatricality of the Gay Liberation Front "zaps" to a whole new level.
As Kramer told me in our interview for "Victory Deferred," "The fact that everybody responded to ACT UP, I think was more just a question of time, and moment, and frustration. It was the right time for it to happen."
As in every catastrophe humans have faced throughout history, there were only two options for gay men when the viral cluster bomb erupted in the community: fight or flight.
"AIDS made us choose," said Paul Boneberg, in our interview in San Francisco for "Stonewall Strong." "Most chose to stay and fight." In his characteristically understated manner, Boneberg added, "It is my experience that our community is heroic."
Larry Kramer put it a little differently in our 1995 interview. We talked in the living room of his Fifth Avenue apartment, the setting for some of gay America's most historic moments, including the world's first AIDS fundraiser in 1981 and, in 1982, the formation of GMHC, the world's first AIDS service organization. Reflecting in particular on ACT UP, Kramer said, "Singlehandedly, we changed the image of gay people from limp-wristed fairies to guerrilla warriors."
John-Manuel Andriote has reported on HIV-AIDS as a journalist since 1986. His most recent book, which he calls a bookend for acclaimed debut novel 'Victory Deferred', is 'Stonewall Strong: Gay Men's Heroic Fight for Resilience, Good Health, and a Strong Community.' The research materials and recorded interviews for Victory Deferred comprise a special collection curated by the Smithsonian's National Museum of American History.
Mother of slain gay youth speaks out
Promoting power of kindness to heal our broken world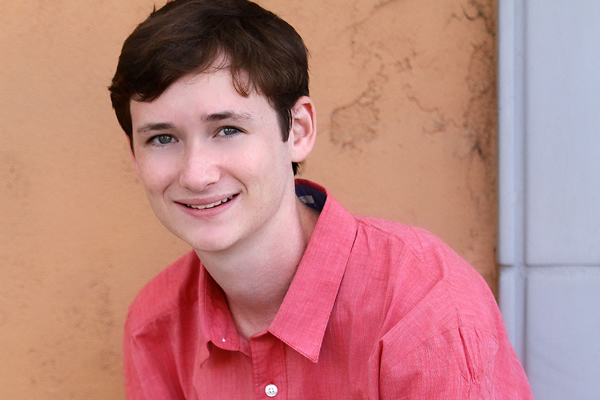 I told myself I would not do it again: explain who I am and who my son was as an introduction to my story. I love writing, but how many times can I talk about the horrific things that happened? What you need to know: he was gay, Jewish, and the victim of a hate crime. This tragedy propelled me into the public eye and gave me a chance to be an outspoken advocate for the LGBTQIA+ community, and it also ended the beautiful life of my son Blaze Bernstein. He should be enjoying gay pride month this June, but instead his body lies in an Orange County cemetery since January 2018. He died at just 19 years of age.
I don't want to be a captive storyteller, forced to regurgitate our sad truth and the story of how we endured Blaze's disappearance and violent death. I want to talk about the great things we have accomplished since then and the miraculous things people around the country did and continue to do to show their support for those who identify as queer and for the kindness movement we wholeheartedly embraced when we started #BlazeitForward in honor of Blaze. The story of my brilliant and kind son who was going to change the world, should not start with the horrific ending of his life. The story should start with hope because his life started with and even in death continues to give hope to all of us.
The night he disappeared many of my dreams for my family ended and a radical new timeline began. I came out of the closet as a supporter of LGBTQIA+ and a parent of a gay teen. While Blaze was alive and living in the closet, he was not comfortable with us participating in any activities that would draw attention to his sexual orientation. While we encouraged him to live openly, he was young and we respected his right to "out" himself. We will never know how our failure to educate ourselves and our family on how best to support a gay child impacted the tragedy that came to us.
Our family lived in the shadow of the normative Orange County world that we raised him in that did not understand the needs of gay teenagers or the dangers they face both from alienation that can lead to teen suicide nor did we understand the dangers posed by malevolent outsiders and ignorant peers, teachers and strangers. It was this revelation after his death that spurred our entry into the public eye when the opportunity arose.
My husband Gideon and I made the quick decision that Blaze's death should herald a new age of sex positivity. We also wanted to do something about the stereotypes and hateful tropes we heard about Jewish people and that inundated the media. While Blaze would not live to see a world where his uniqueness and kindness became an ideal, we live to promote it. We exposed the haters and hate groups as we did the unthinkable: put our mourning on hold and immediately used his death to educate the public about the danger hate groups such as Atomwaffen pose to all of us. We also began promoting the power of kindness to heal our broken world and to promote and support LGBTQIA+ community and ethnic diversity.
As the years after his death progressed, a pattern began to develop. The polarization in political, religious and sexual beliefs became unmanageable in our country. We could not come together to fight the pandemic when it began. Civil unrest ensued. Corruption and racism exposed throughout the United States caused rioting and more polarization. Reforms were proposed. People began to see the need for learning how to have respectful discourse. Some became more sensitive and either apologetic for wrongs against the marginalized or outraged by the way the system has kept us marginalized. No one was left untouched by the violence, inequity, and unhappiness that was left in the wake of the events of the last few years.
We coined the term #BlazeitForward and use it to encourage people to do intentional kind acts in honor of Blaze and his legacy. My husband and I spent the last few years powering the Facebook public group #BlazeitForward where we encourage our members to post stories of kindness, community philanthropy and everyday miracles. We also oversee endowments created in Blaze's name that fuel college scholarships, the Blaze Bernstein school of Culinary Arts at the Merage Jewish Community Center, annual Orange County School of the Arts conservatory funding, an annual Real Arts internship for the University of Pennsylvania, and annual donations to various foundations such as homeless shelters, Orangewood Foundation, the Human Relations Council, Second Harvest Food Bank, Children's Hospital of Orange County, Tilly's Life Center, the Anti-Defamation League, The LGBTQ Center of Orange County, and The City of Hope, to name a few.
In addition to our advocacy for marginalized people and Holocaust education, we speak out against homophobia and hate groups, conversion therapy, bullying and hate speech. We do all of this to give life to Blaze's legacy of kindness while we await the commencement of the criminal trial set to begin by the fall of this year.
In June we stand proud with good people around the country and celebrate Gay Pride. I cringe at the absurdity that I could not do this with Blaze. We "came out" and support the LGBTQIA+ community because there are parents out there who do not know what to do or say to help their LGBTQIA+ children. Hearing me speak out could be the first time, they learn the importance of giving these kids acceptance and love.
If you want to repair the world, you need to start at home with your own family. Do it right now. Call your younger siblings and tell them you are a proud supporter of this community. Give your teen a hug and tell them that their sexual orientation is not something they need to hide – you love them and support them unconditionally. Tell your kids that hate in any form and for any reason is something you will not support. Educate your kids on hate groups, the Holocaust, the dangers of ethnocentrism and the beauty of diversity. Go to a Pride parade. Show your support for and be curious about people who aredifferent. Listen non-judgmentally to the stories of others. Join the #BlazeitForward group on Facebook. Create a legacy of kindness in your family.
Jeanne Pepper is a writer and the mother of Blaze Bernstein, who was killed in an anti-LGBTQ hate crime.
Pride centers this father-daughter relationship
Love, acceptance, and open communication are key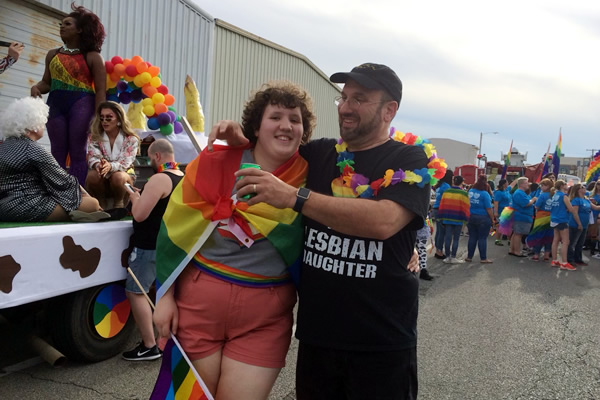 Eden Ungar, now 19 and a student at University of Kentucky, vividly recalls the day she came out to her father, Stuart.
She was a freshman in high school and the two were driving to the gym. She told him she'd be going to the upcoming Louisville Pride parade with her friends.
Stuart Ungar, 55, said "It's okay if…" and then trailed off.
Eden's response: "Yeah, I don't like guys."
Her dad accepted it immediately. "Yeah, ok… cool, that's fine," he said.
Stuart's recollection of the conversation isn't nearly as clear as his daughter's because it didn't change anything for him.
"It's great if she is. It's great if she isn't," he had once said when his son asked if Stuart thought Eden was gay.
Her father's laid-back reaction to her revelation was unsurprising but also a relief to Eden.
"Usually people make such a big deal out of it, but I knew I didn't want that," she said in a recent interview with her father. "Obviously I wanted some reaction, but I didn't want anything over the top. I wanted to know I was supported but not anything too crazy. This was really the best-case scenario."
For a long time Eden "didn't say anything about anything," Stuart said.
But when she talked about joining the Pride Parade for the second time in 2018, he saw an opportunity to further cement his support for his daughter: Stuart had started an organization called Evolve Kentucky to increase awareness about the benefits of electric cars. The group had participated in parades before so he thought, 'Why not Pride?'
The positive reaction surprised and touched him. An organization member who worked for Tesla and had a brand new Model 3 had the 'T' logo on the hood in rainbow colors and put "LOVE" across the front grill also in rainbow.
For Eden, it was the "I [HEART] my lesbian daughter," shirt Stuart wore as they marched together that meant so much to her. Eden said that especially among the adults in the crowd, "you could see how much they cared that he is such a good dad because they might not have had that in their own lives."
Stuart picked up on the crowd's response.
"Actually it was just really emotional for me," Stuart said, pausing as he choked up. "I guess it's still emotional."
His daughter, watching him closely, laughed good-naturedly.
"I really felt like people were really smiling at me and giving me the thumbs up, and it really dawned on me that not everybody is having a great time with their parents being supportive," Stuart said. "That is really sad."
Sad, and potentially dangerous. A 2009 study by researchers at San Francisco State University on the health impacts of LGBTQ adolescents who were rejected by their families found that these young adults were more than eight times as likely to have attempted suicide and almost six times more likely to report high levels of depression.
The Trevor Project's survey of nearly 35,000 LGBTQ youth in 2020 found that only one in three reported their home to be affirming of their sexual orientation and gender identity.
"LGBTQ youth face unique mental health challenges and continue to experience disparities in access to affirming care, family rejection, and discrimination," Trevor Project Executive Director Amit Paley wrote.
Eden knows she is lucky to be able to speak about her sexuality with ease and self-confidence in front of her father.

"I've heard slurs," Eden said. "The f- slur, guys yelling in the hallways. I knew people in the GSA who had parents who weren't supportive. I have friends … who cannot come out to their parents because they don't accept it or they even deny their child's sexuality."
She said that both her father and her mother, Laura Ungar, have made her life so much easier with their love and acceptance, and also by keeping things normal. They maintain open lines of communication.
"There are some parents who are supportive, but they don't want to talk about it. They're like 'I know this about you and I don't hate you for it, but we're not going to talk about it.' But it still is a big part of my identity," Eden said, smiling. "I can talk about LGBTQ issues that I'm thinking about, or like – just make a joke."
Vanessa Falcon is a rising college freshman who lives in the Miami area and is an intern with the Urban Health Media Project. Mary Stapp teaches journalism in D.C.-area high schools and for UHMP and is the D.C. state director for the Journalism Education Association.