First steps of Pentagon review on trans service underway
Top brass to meet on lifting prohibition based on gender identity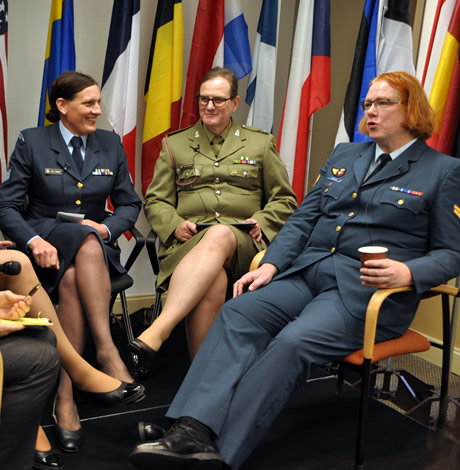 USA Today
.
The defense official, who spoke on condition of anonymity, said the working group established to examine openly transgender military service is set to hold its first meeting on Monday.
"The working group will be comprised of military and civilian personnel from the Office of the Secretary of Defense, the various military services and the Joint Staff and will look at the policy and readiness implications of welcoming transgender persons to serve openly in the U.S. military," the official said.
According to USA Today, key issues for the Pentagon to resolve are housing for transgender troops, what uniforms they'll be permitted to wear and medical treatments. It's unclear at this point if the military intends cover transition-related care for transgender service members.
In a memo dated July 28 and obtained Wednesday by the Washington Blade, Defense Secretary Ashton Carter outlines his plan for transgender service that he announced earlier this month. The memo seeks to protect transgender troops from expulsion and directs officials to develop a plan within six months to incorporate those troops into the ranks.
"The working group will start with the assumption that transgender persons can serve openly without adverse impact on military effectiveness and readiness unless and except where objective, practical impediments are identified, and shall present its recommendations to me within 180 days," Carter says.
Carter writes in the memo as of July 13 no service member may be involuntarily separated or denied reenlistment on the basis of gender identity without the personal approval of a senior civilian official — an apparent attempt to limit or halt further discharges. The senior civil official given this authority is Brad Carson, under secretary of defense for personnel and readiness, who's also leading the working group.
Although repeal of "Don't Ask, Don't Tell" enabled openly gay people to serve in the U.S. military, transgender troops are prohibited from serving openly in the armed forces under DOD Instruction 6130.03, which calls for separation of service members who undergo gender reassignment or have "psychosexual conditions" that include transvestitism or transsexualism.
Amid building pressure from LGBT advocates to lift the trans ban, Carter announced last month he intends to set up a working group that over a six-month period is set to examine the policy with a bias toward allowing Americans to serve in the armed forces regardless of gender identity and raised the authority to discharge individuals in the armed forces on the basis of gender identity.
Sue Fulton, president of the LGBT military group SPARTA, said the process underway at the Pentagon is "moving forward with appropriate speed."
"Pentagon leaders recognize the problems currently facing unit commanders, who have been trying to support their transgender troops under unwieldy and confusing regulations," Fulton added. "The next few months will allow the Working Group to bring a hodgepodge of outdated personnel and medical policies into alignment with current medical understanding; the result will strengthen the force and keep good troops where we need them."
Aaron Belkin, director of the San Francisco-based Palm Center, said plenty of material exists that can help guide the Pentagon toward openly transgender military service.
"The research by retired General and Flag Officers as well as the experiences of 18 foreign militaries, who allow transgender troops to serve, show that administrative and medical issues associated with lifting the ban are not complicated or burdensome, and that implementation is easy to get right," Belkin said.
The Pentagon has started its first steps of reviewing the U.S. military's ban on openly transgender service and has scheduled a meeting with top brass on the issue, a defense official said Wednesday. The news was first reported by
6 killed in shooting at Christian school in Nashville
The shooter was identified as Audrey Hale, 28, of Nashville, according to police who identifies as transgender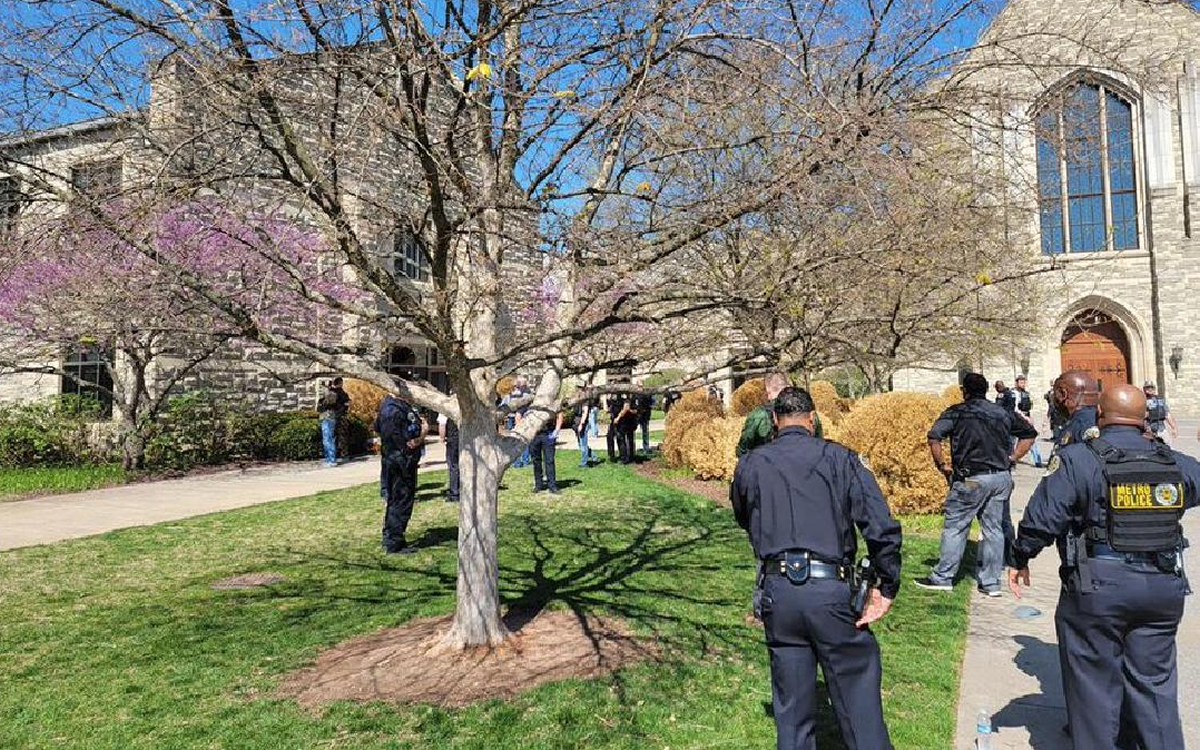 In a press conference Nashville Police Chief John Drake told reporters that earlier Monday morning a 28-year-old local female armed with two "assault-type rifles and a handgun," was killed by responding officers.
"At one point she was a student at that school," Chief Drake told reporters hours after the shooting at The Covenant School. "But unsure what year […] but that's what I've been told so far."
The shooter was identified as Audrey Hale, 28, of Nashville, according to the chief, who identifies as transgender.
According to Drake three children and three adults were killed in the shooting at The Covenant School on Burton Hills Boulevard, a private Christian school.
Children's Hospital Vanderbilt University Medical Center spokesperson John Howser told reporters "We can now confirm 3 children and 2 adults from the school shooting were transported to our Adult Emergency Department (The 2 adults) and (The 3 children) to the Pediatric Emergency Department at Monroe Carell Jr. Children's Hospital," Howser said adding "All 5 patients have been pronounced dead."
Police identified the three slain students as Evelyn Dieckhaus, Hallie Scruggs, and William Kinney, all age 9.
The three faculty members killed were Cynthia Peak and Mike Hill, both 61, and school head Katherine Koonce, 60.
At his only scheduled public event at the White House, President Joe Biden called the shooting "sick" and renewed his call for Congress to ban assault weapons.
Chief Drake noted that the shooter was killed on the school's second floor by his officers acknowledging that the victims were students and staff members of the school.
The school has students from preschool through sixth grade and on a normal day has about 200 students and 40 staff members on campus.
In a statement, Tennessee Gov. Bill Lee tweeted: "I am closely monitoring the tragic situation at Covenant. As we continue to respond, please join us in praying for the school, congregation & Nashville community."
I am closely monitoring the tragic situation at Covenant, & the @TNDeptofSafety & @TNHighwayPatrol are assisting local law enforcement & first responders at the scene.

As we continue to respond, please join us in praying for the school, congregation & Nashville community.

— Gov. Bill Lee (@GovBillLee) March 27, 2023
NBC News reported that just days ago, a 17-year-old suspect wounded two administrators at a Denver high school before he was found dead.
In February, three students were gunned down at Michigan State University. And in January, two students were fatally shot at a charter school in Des Moines, Iowa.
The Washington Post and other media outlets reporting that Rep. Andrew Ogles (R-Tenn.), who represents the Nashville district where the Covenant School is located, said Monday in a statement that he was "utterly heartbroken" by the mass shooting.
Gun reform activists including Fred Guttenberg, whose daughter Jamie was killed in the mass shooting at Marjory Stoneman Douglas High School in Parkland, Florida, on February 14, 2018, have called out Ogles for his hypocrisy posting tweets of Ogles posing with his children all carrying assault rifles in a 2021 family Christmas card photo:
The tragedy of the latest mass shooting is listening to Tennessee politicians who refuse to call it a shooting but who engaged in behavior that caused this to be more likely when they glorify guns. Tennessee Rep @AndyOgles, is this you with your family? pic.twitter.com/LJGnUKqJdA

— Fred Guttenberg (@fred_guttenberg) March 27, 2023
Vice president to visit three African countries that criminalize homosexuality
Ugandan lawmakers passed anti-homosexuality bill last week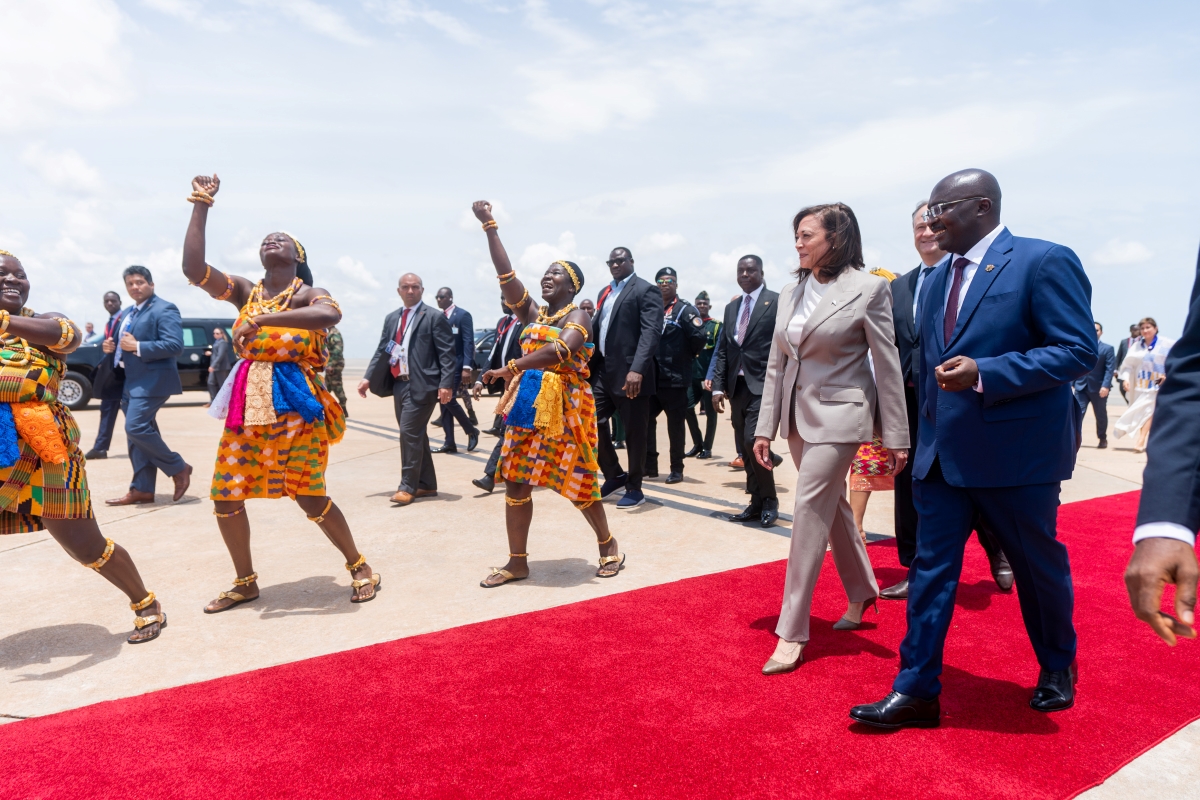 Vice President Kamala Harris this week will visit three countries in Africa that criminalize consensual same-sex sexual relations.
Harris and her husband, second gentleman Douglas Emhoff, arrived in Ghana on Sunday. They will travel to Tanzania and Zambia before returning to the U.S. on April 2.
Ghana, Tanzania and Zambia are among the dozens of countries in which consensual same-sex sexual relations remain criminalized.
The Washington Blade last week reported LGBTQ and intersex Ghanaians remain in limbo as lawmakers continue to debate the Promotion of Proper Human Sexual Rights and Ghanaian Family Values Bill that, would among other things, further criminalize LGBTQ and intersex people and make advocacy on their behalf and allyship illegal. A Ghanaian representative who spoke during a March 20 meeting that focused on the integration of LGBTQ and intersex rights into the U.N. Security Council's work said the body is not an appropriate venue to discuss them.
"You know that a great deal of work in my career has been to address human rights issues, equality issues across the board, including as it relates to the LGBT community," said Harris on Monday during a press conference with Ghanaian President Nana Afuko-Addo that took place in Accra, the Ghanaian capital. "I feel very strongly about the importance of supporting the freedom and supporting and fighting for equality among all people and that all people be treated equally. This is an issue that we consider and I consider to be a human rights issue and that will not change."
Tanzanian President Samia Suluhu, with whom Harris is scheduled to meet on Thursday, last month described LGBTQ rights as "imported cultures." The Tanzanian government has also banned children's books from schools because of their LGBTQ-specific content.
The State Department in 2019 recalled then-U.S. Ambassador to Zambia Daniel Foote after the Zambian government sharply criticized him for publicly defending a gay couple who had been convicted of violating the country's colonial-era sodomy law and sentenced to 15 years in prison.
Then-Zambian President Edgar Lungu later pardoned the couple. Current Zambian President Hakainde Hichilema, which whom Harris will meet on March 31, last September reiteated his government does not support LGBTQ and intersex rights.
Harris arrived in Africa less than a week after Ugandan lawmakers approved a bill that would further criminalize homosexuality and LGBTQ and intersex people. White House Press Secretary Karine Jean-Pierre said the measure if signed "would impinge upon universal human rights, jeopardize progress in the fight against HIV/AIDS, deter tourism and investment in Uganda, and damage Uganda's international reputation."
"The bill is one of the most extreme anti LGBTQI+ laws in the world," she said on March 22 during her daily press briefing. "Human rights are universal — no one should be attacked, imprisoned or killed simply because of who they are or who they love."
President Joe Biden in 2021 signed a memo that committed the U.S. to promoting LGBTQ and intersex rights abroad as part of the White House's overall foreign policy. Then-State Department spokesperson Ned Price later told the Blade the decriminalization of consensual same-sex sexual relations is one of the Biden-Harris administration's five priorities as it relates to LGBTQ and intersex rights overseas.
A senior administration official told reporters during a conference call that previewed Harris' trip that she "is very much focused on opportunities in Africa and a positive message and the great things we can do in partnership with African countries. And you're going to really see that as the theme of the trip, given Africa's role in the world and what we think can be done with Africans, for the sake of Africans in the United States and the rest of the world."

"But that doesn't mean that she would shy away from discussing difficult issues, and you know her track record on the LGBTQ issue," added the official. "She spent her whole career fighting for rights of overlooked and marginalized people, including LGBTQ people."
The official further stressed the Biden-Harris administration "is very clear about the right for all people to live free of harm and discrimination and to realize their full potential and to fully participate in society."
"The vice president has been clear about that throughout her engagements in the United States and elsewhere in the world, and it won't be any different when she is in Africa," added the official. "We have said, you know, including in recent days — expressed the concerns we have about certain developments that we've seen on the African continent, whether it's laws or practices that are anti-LGBTQ. And that's not consistent with what this administration stands for."
The official also said they "don't think that is a choice between taking a firm stand on that set of really important issues and the big positive opportunity that the vice president sees in Africa and she's going to emphasize on this trip."
The Blade will provide further updates of Harris' trip as they become available.
Transgender activists, allies in New Zealand shut down British TERF
Protester threw tomato juice at Posie Parker in Auckland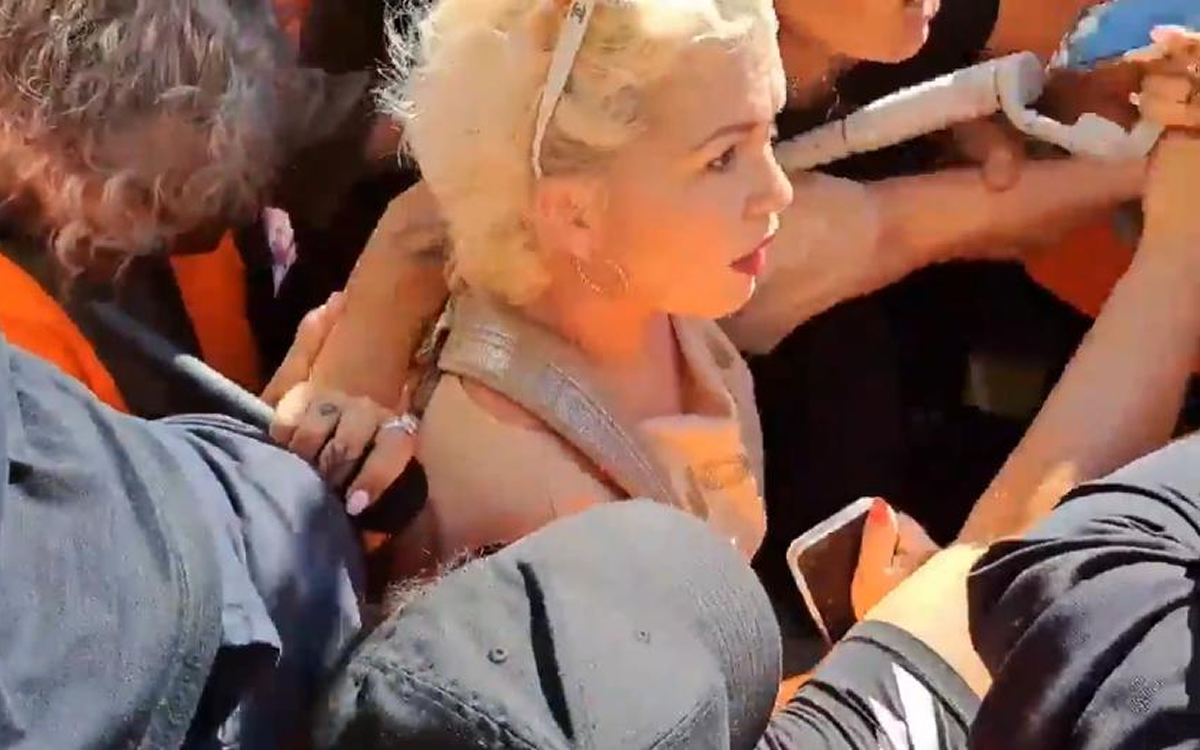 Transphobic British gender-critical activist Kellie-Jay Keen-Minshull hastily abandoned her "Let Women Speak" event-rally in Auckland after thousands gathered to noisily protest her presence on Friday (local time.)
Keen-Minshull, also known as Posie Parker, quickly departed from the planned Speak Up For Women NZ event at Albert Park in Auckland without addressing those gathered after being shouted down by a crowd of heckling transgender and LGBTQ protesters, later estimated by police to number more than 5,000, and she was doused with tomato juice.
One of her supporters later tweeted an image of Keen-Minshull taking a selfie after she was doused in the tomato sauce:
This is what is known as "getting your hands dirty". Thank you for your bravery, Posie. You are a legend. pic.twitter.com/uokiHLfv1s

— Graham Linehan (@Glinner) March 25, 2023
#LetWomenSpeakAuckland showed the world what happens when women gather to speak about our rights. It's been trending since it happened. I'd call that a win. No more hiding boys.

— Kellie-Jay Keen (@ThePosieParker) March 25, 2023
She was escorted away from the park and the crowd by a gaggle of Auckland Police officers to safety and driven away quickly in a marked Auckland Police cruiser.
Chaotic scenes in Auckland as anti-trans campaigner Posie Parker appears | Newshub:
A scheduled rally in the island nation's capital city of Wellington by TERF supporters and others of Keen-Minshull had been also cancelled due to security concerns.
Scotland's billionaire writer and Harry Potter franchise creator J.K. Rowling, who has become a fiery outspoken transphobic voice in the public discourse over trans rights globally, tweeted after the Auckland event was cancelled in response to Auckland Pride's tweeted statements:
"There are multiple videos of Kellie-Jay being assaulted. Women have become used to lies, threats of violence and outright denial of reality, but if you imagine anyone feels 'defeated', think again. Your men's rights activists showed the world exactly who they are. #LetWomenSpeak"
We reject this narrative. We are of the firm belief that the demonstration of unity, celebration, and acceptance alongside joyous music, chanting, and noise of 5,000 supporters was too loud to overcome and the reason for her departure – and not the actions of any one individual.

— Auckland Pride 🏳️‍⚧️ (@AucklandPride) March 25, 2023
"Do not cause or incite violence, no matter how mad the other side may make you. Introducing violence into this protest will do nothing but harm our most marginalised communities" was clear in safety messaging from the Trans Liberation Alliance beforehand.

— Auckland Pride 🏳️‍⚧️ (@AucklandPride) March 25, 2023
The presence of neo-Nazis dogged Keen-Minshull's controversial tour of Australia in the past couple of weeks and led to her visa to enter New Zealand being reviewed by Immigration New Zealand and Immigration Minister Michael Wood.
Neo-Nazi anti-trans far-right extremists gathered outside on the steps of Victoria's Parliament House in Melbourne, Australia, last week to support Keen-Minshull during her "Let Women Speak" event-rally in the state's capital.
During the March 18 demonstration, the neo-Nazi protestors kept throwing up the stiff-arm Nazi salute shouting Nazi slogans. Last year the Victorian government had banned the Nazi swastika, with those who defied the ban facing jail terms and hefty fines, the salute however, is not covered under the law. The group also shouted homophobic and transphobic epithets and other terms denigrating the pro-trans activists as well as carried signs that read "Destroy Paedo Freaks."
At a later gathering in Hobart, capital of Australia's island state of Tasmania, Keen-Minshull was chased off by trans supporters as a planned gender critical Let Women Speak Australia rally she held was met with angry counter protest.
Auckland Pride also issued a statement:
"Tāmaki Makaurau demonstrated its values today and stood up to the vile anti-trans hatred of Posie Parker. The thousands and thousands of Aucklanders who came out to stand in solidarity with trans communities sent a clear message to Parker, her supporters and the general public that intolerance will not be tolerated here.
Parker's subsequent withdrawal from her Wellington event demonstrates the power of community organizing and solidarity in showing her that her hateful views are not welcome here. This news will be a relief to many in our communities targeted by her hatred.
Auckland Pride unequivocally stands by peaceful protest as a means of counter protest, and does not endorse any physical violence, regardless of the extent of injury caused.
There is a narrative quickly taking hold among anti-trans groups and individuals that Parker abandoned her event because of violence from our community.
We reject this narrative. We are of the firm belief that the demonstration of unity, celebration, and acceptance alongside joyous music, chanting and noise of 5,000 supporters was too loud to overcome and the reason for her departure — and not the actions of any one individual.
We also reject that there was any further physical threat from our community towards Parker. This is a baseless rumour that is being perpetrated by those who feel defeated by the events of today. We urge the media not to repeat these allegations without evidence.
Auckland Pride was not an official organizer of today's counterprotest, and organizers consistently reiterated that the kaupapa was one of non-violence and repeatedly encouraged people to remain peaceful."
"Do not cause or incite violence, no matter how mad the other side may make you. Introducing violence into this protest will do nothing but harm our most marginalised communities" was clear in safety messaging from the Trans Liberation Alliance beforehand.
"However, as a leading voice in the community on these matters and an experienced organizer of effective and peaceful events we can play a greater role in advising and supporting future protests and counter-protests. We have taken lessons from today about our need to play a greater role to ensure future events remain peaceful and non-violent, especially in a time of rising hatred globally towards rainbow communities.
While our community is in a celebratory mood today, we cannot forget that we have also glimpsed the scale of the challenge ahead of us in the weeks and months to come.
Auckland Pride, InsideOUT Kōaro, and Gender Minorities Aotearoa will make a decision this week about progressing our judicial review against the Minister of Immigration for his decision to let Posie Parker into the country in the first place.
For anyone who does not believe protection was necessary:
Neo-nazis were present at today's protest in support of Posie Parker, alongside the far-right counterspin media.
Posie Parker's attendance also mobilized Destiny Church who were violent towards Minister Davidson, and violent towards counter-protestors on Queen Street and Aotea Square. Parker's attendance unsurprisingly mobilized a coalition of hateful groups.
Going into today, the minister was made aware that this was likely and subsequently provided evidence of their expected attendance yesterday at the High Court. Justice Gendall agreed we clearly raised issues of public order yesterday."
Keen-Minshull was later seen by multiple media outlets in the international departure area of Auckland International Airport. She later tweeted:
Trans activists are terrorists https://t.co/3E9VCGcdU2

— Kellie-Jay Keen (@ThePosieParker) March 26, 2023