September 16, 2016 at 12:21 pm EDT | by Chris Gerard
FALL ARTS 2016: Albums
New music releases are generally sparse during the summer and then pick up dramatically during the fall months when record labels traditionally unleash some of the year's most exciting offerings. This year proves no exception, as the calendar is jammed with a great roster of diverse new releases that should generate plenty of anticipation for fans of just about any musical genre.
The latest from Against Me!, featuring transgender vocalist Laura Jane Grace, is "Shape Shift With Me," due today (Sept. 16). Look for her memoir "Tranny: Confessions of Punk Rock's Most Infamous Anarchist Sellout" Nov. 15.
Today also brings new releases by British electronic duo AlunaGeorge, "I Remember"; South-African hip-hop combo Die Antwoord's 'Mount Ninji and Da Nice Time Kid"; Mac Miller with "The Divine Feminine" and the latest by R&B superstar Usher, "Hard II Love."
Vocalist extraordinaire Idina Menzel will release her first non-holiday studio album since 2008 when "Idina" drops on Sept. 23. The same date brings a new album by Kristin Chenoweth, "The Art of Elegance"; "Natural Causes" by the talented pop vocalist Skylar Grey and the second album by 18-year-old Canadian sensation Shawn Mendes, "Illuminate."
September 30 brings the long-awaited new album by the quirky and amazingly gifted pianist/singer/songwriter Regina Spektor, "Remember Us to Life." Also due on the 30th is the latest from Bon Iver, one of the critics' favorite artists of recent years, who returns with "22, A Million"; alternative icons Pixies' second post-reunion studio album, 'Head Carrier" and fast-rising singer/songwriter Banks with "The Altar," featuring the single "Fuck With Myself."
Some of the key new albums due in October include the latest by the long enduring punk-pop trio Green Day, who return Oct. 7 with "Revolution Radio," the band's first album in four years. Due the same day is the latest from LGBT icon and musical legend Melissa Etheridge, "Memphis Rock and Soul," a tribute to the Stax record label. Also slated for Oct. 7 are new releases by acclaimed electro-indie duo Phantogram, OneRepublic, Norah Jones and a 20-year retrospective collection by influential British alternative rockers Placebo, "Place for Us to Dream."
Electro pioneers the Orb are back on Oct. 14 with "Chill Out, World", along with the latest by the Naked and Famous, "Simple Forms"; pop vocalist JoJo's "Mad Love" and the extraordinary jazz saxophonist Donny McCaslin with "Beyond Now."
Superstar crooner Michael Bublé is back with "Nobody But Me" on Oct. 21, which will feature a duet with pop star Meghan Trainor. Hair-metal survivors Bon Jovi, still a massive global concert draw, is back on the 21st with "This House is Not For Sale." Also that day, gay-friendly gospel singer Amy Grant will release "Tennessee Christmas." Despite the title cut (a song from her first holiday record in 1983), this is an all-new collection of recordings, her first such effort since 1999.
Pop sensation Tove Lo will unleash "Lady Wood" on Oct. 28, along with the latest by acclaimed lesbian artist and OUTmusic Award winner Rachael Sage, "Choreographic" and Australian electronic pop duo Empire of the Sun with "Two Vines."
Upcoming releases already announced so far for November include the latest by Danish indie-popsters Efterklang, "Leaves — the Colour of Falling," Nathan Sykes, former member of British boyband the Wanted, with "Unfinished Business," trippy electronic pioneers Enigma with their first album in eight years, "The Fall of a Rebel Angel," the first new rock album by Sting in 13 years, "57th and 9th" and the veteran heavy metal supergroup Metallica with "Hardwired … to Self-Destruct."
There are plenty of other upcoming releases widely expected to land sometime this fall but without official release dates. The big one is the first solo studio album by Lady Gaga since her largely panned 2013 release "Artpop."
Others include rapper 50 Cent with "Street King Immortal," Azealia Banks with "Business and Pleasure," a new studio album by pop/hip-hop hit makers Black Eyed Peas, the latest by iconic pop diva Christina Aguilera, a new batch of harmonic California pop from Haim, "Digital Distortion" by Iggy Azalea, a new release by dance/pop legend Kylie Minogue, the latest by rapper Wiz Khalifa and a string of new rock albums by heavy-hitters such as U2, Soundgarden, the Rolling Stones, Pearl Jam, the Offspring, Nine Inch Nails, Modest Mouse, Metric, Lush, Incubus, Guns N' Roses, Brand New, Avenged Sevenfold and Linkin Park.
The big upcoming archival release this fall is coming from the massive catalogue of the late David Bowie. Last year Bowie announced a series of career-defining box sets that will ultimately represent the definitive library of his amazing and historic catalog, all remastered and presented with top-notch quality and attention to detail. "Five Years: 1969/1973" hit last fall and covered his albums from "Space Oddity" through "Pin-Ups," along with live albums and a batch of rarities.
The highly anticipated second in the series hits on Sept. 23. "Who Can I Be Now? (1974–1976)" is the first posthumous set in the series, as the legendary superstar died in January shortly after his 69th birthday. The new set will start where the last one left off, including deluxe remastered versions of classic albums like "Young Americans," "Diamond Dogs," and "Station to Station." Perhaps most intriguing is the previously unreleased studio album "The Gouster," which Bowie eventually shelved. After extensive reworking it morphed into "Young Americans."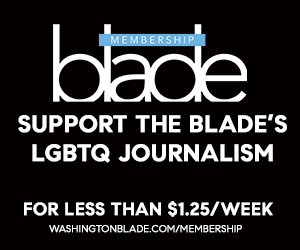 Sign Up for Blade eBlasts