FALL ARTS 2016: Albums
Against Me!, Idina, Etheridge and more have fall albums ready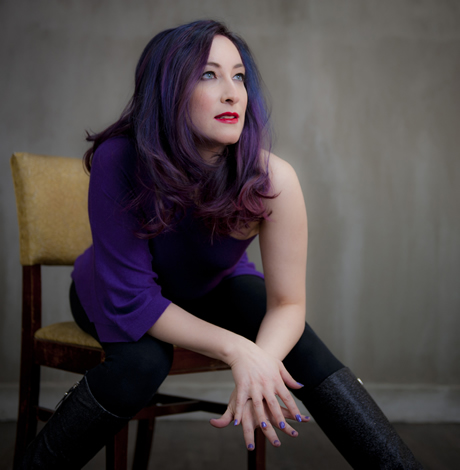 New music releases are generally sparse during the summer and then pick up dramatically during the fall months when record labels traditionally unleash some of the year's most exciting offerings. This year proves no exception, as the calendar is jammed with a great roster of diverse new releases that should generate plenty of anticipation for fans of just about any musical genre.
The latest from Against Me!, featuring transgender vocalist Laura Jane Grace, is "Shape Shift With Me," due today (Sept. 16). Look for her memoir "Tranny: Confessions of Punk Rock's Most Infamous Anarchist Sellout" Nov. 15.
Today also brings new releases by British electronic duo AlunaGeorge, "I Remember"; South-African hip-hop combo Die Antwoord's 'Mount Ninji and Da Nice Time Kid"; Mac Miller with "The Divine Feminine" and the latest by R&B superstar Usher, "Hard II Love."
Vocalist extraordinaire Idina Menzel will release her first non-holiday studio album since 2008 when "Idina" drops on Sept. 23. The same date brings a new album by Kristin Chenoweth, "The Art of Elegance"; "Natural Causes" by the talented pop vocalist Skylar Grey and the second album by 18-year-old Canadian sensation Shawn Mendes, "Illuminate."
September 30 brings the long-awaited new album by the quirky and amazingly gifted pianist/singer/songwriter Regina Spektor, "Remember Us to Life." Also due on the 30th is the latest from Bon Iver, one of the critics' favorite artists of recent years, who returns with "22, A Million"; alternative icons Pixies' second post-reunion studio album, 'Head Carrier" and fast-rising singer/songwriter Banks with "The Altar," featuring the single "Fuck With Myself."
Some of the key new albums due in October include the latest by the long enduring punk-pop trio Green Day, who return Oct. 7 with "Revolution Radio," the band's first album in four years. Due the same day is the latest from LGBT icon and musical legend Melissa Etheridge, "Memphis Rock and Soul," a tribute to the Stax record label. Also slated for Oct. 7 are new releases by acclaimed electro-indie duo Phantogram, OneRepublic, Norah Jones and a 20-year retrospective collection by influential British alternative rockers Placebo, "Place for Us to Dream."
Electro pioneers the Orb are back on Oct. 14 with "Chill Out, World", along with the latest by the Naked and Famous, "Simple Forms"; pop vocalist JoJo's "Mad Love" and the extraordinary jazz saxophonist Donny McCaslin with "Beyond Now."
Superstar crooner Michael Bublé is back with "Nobody But Me" on Oct. 21, which will feature a duet with pop star Meghan Trainor. Hair-metal survivors Bon Jovi, still a massive global concert draw, is back on the 21st with "This House is Not For Sale." Also that day, gay-friendly gospel singer Amy Grant will release "Tennessee Christmas." Despite the title cut (a song from her first holiday record in 1983), this is an all-new collection of recordings, her first such effort since 1999.
Pop sensation Tove Lo will unleash "Lady Wood" on Oct. 28, along with the latest by acclaimed lesbian artist and OUTmusic Award winner Rachael Sage, "Choreographic" and Australian electronic pop duo Empire of the Sun with "Two Vines."
Upcoming releases already announced so far for November include the latest by Danish indie-popsters Efterklang, "Leaves — the Colour of Falling," Nathan Sykes, former member of British boyband the Wanted, with "Unfinished Business," trippy electronic pioneers Enigma with their first album in eight years, "The Fall of a Rebel Angel," the first new rock album by Sting in 13 years, "57th and 9th" and the veteran heavy metal supergroup Metallica with "Hardwired … to Self-Destruct."
There are plenty of other upcoming releases widely expected to land sometime this fall but without official release dates. The big one is the first solo studio album by Lady Gaga since her largely panned 2013 release "Artpop."
Others include rapper 50 Cent with "Street King Immortal," Azealia Banks with "Business and Pleasure," a new studio album by pop/hip-hop hit makers Black Eyed Peas, the latest by iconic pop diva Christina Aguilera, a new batch of harmonic California pop from Haim, "Digital Distortion" by Iggy Azalea, a new release by dance/pop legend Kylie Minogue, the latest by rapper Wiz Khalifa and a string of new rock albums by heavy-hitters such as U2, Soundgarden, the Rolling Stones, Pearl Jam, the Offspring, Nine Inch Nails, Modest Mouse, Metric, Lush, Incubus, Guns N' Roses, Brand New, Avenged Sevenfold and Linkin Park.
The big upcoming archival release this fall is coming from the massive catalogue of the late David Bowie. Last year Bowie announced a series of career-defining box sets that will ultimately represent the definitive library of his amazing and historic catalog, all remastered and presented with top-notch quality and attention to detail. "Five Years: 1969/1973" hit last fall and covered his albums from "Space Oddity" through "Pin-Ups," along with live albums and a batch of rarities.
The highly anticipated second in the series hits on Sept. 23. "Who Can I Be Now? (1974–1976)" is the first posthumous set in the series, as the legendary superstar died in January shortly after his 69th birthday. The new set will start where the last one left off, including deluxe remastered versions of classic albums like "Young Americans," "Diamond Dogs," and "Station to Station." Perhaps most intriguing is the previously unreleased studio album "The Gouster," which Bowie eventually shelved. After extensive reworking it morphed into "Young Americans."
Tori Amos spins magic at Sunday night D.C.-area concert
First show in the area since '17 finds Gen X icon vocally subdued but musically energized
As with many veteran rock stars, it's sometimes hard to get a handle on how hot or cold Tori Amos's 30-year-old solo career is at the moment. It sometimes seems like she's moving past the take-her-for-granted-because-she's-never-away-for-long phase, and there certainly was that sense in the air Sunday night for her D.C.-area stop of her current "Ocean to Ocean Tour," her first show here since 2017, which, with COVID, feels like a lifetime ago.
But there are also signs that it's never been chillier for Amos in the overall pop culture landscape. It's been a decade since she charted a single on any chart and there were no videos or singles from her "Ocean to Ocean" album last fall. It landed just outside the top 100 on the U.S. Billboard 200 album sales chart altogether, a new low that would have been unthinkable even a few years ago when her "regular" (i.e. non-specialty/concept) albums were almost guaranteed a top 10 debut.
The slide has been swift, too: 2014's "Unrepentant Geraldines" hit No. 7, the next album (2017's polarizing "Native Invader") only made it to 39, then came "Ocean's" thud at no. 104. There's a lot you could point to to explain it — streaming, her aging Gen X fan base, the endless undulations of the music industry itself — but in some ways it has started to feel like she's getting less and less return on her artistic dollar than one would expect.
Yeah, that always happens with veteran female pop stars once they hit their 50s and beyond, but Amos and her small but mighty fan base, who for decades exhibited a devotion of Grateful Dead-like proportions, outran the trend for so long, to see it finally catching up is a bit bewildering.
But then you go hear her live at a decent-size venue like The Theater at MGM National Harbor (which seats 3,000 and was about 97 percent full), and it feels nearly like old times. Sure, some of the excitement was just that we're all gagging at being at concerts at all and having mask restrictions and vaccine requirements paused, but there was an electricity that, while mellower than it was at Amos concerts in the '90s, still felt magical. I've never in my life seen so long a line for the merch table.
The concert itself was, for the most part, sublime. It was the first time since 2009 she's toured with a band and while her solo shows are great too, there was pent-up yearning to hear her unleash full-on with a solid rhythm section (Jon Evans on bass, Ash Soan on drums) again. Beat-heavy songs like "Raspberry Swirl" and "Cornflake Girl" sounded tepid with canned beats the last few times out, so to hear everything truly live (save a few BGVs and effects) last night was heavenly.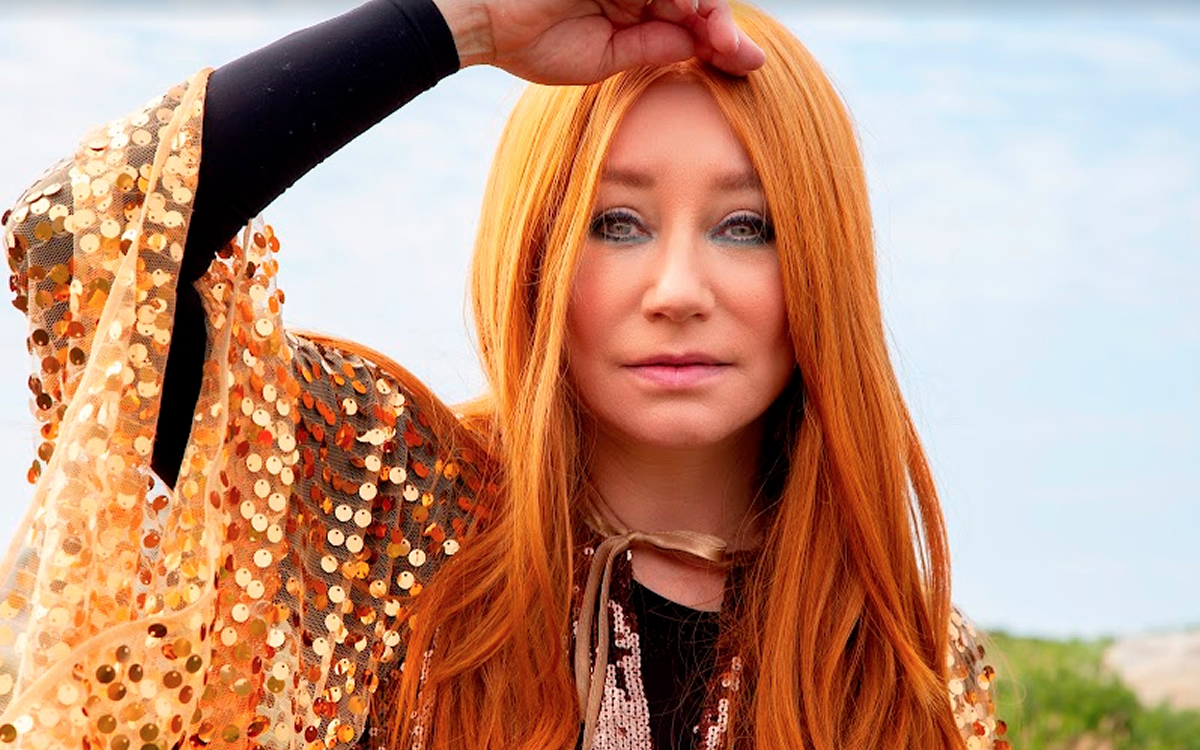 The show had special poignancy too, as Amos grew up in the region. She has written and commented heavily on the immense toll her mother's 2019 death took on her personally and artistically, so that the date happened to be Mother's Day gave the proceedings added gravitas. "Mother Revolution" and "Jackie's Strength" spoke, of course, to the holiday, though (and this is quibbling) I would have vastly preferred "Mother" from "Little Earthquakes," a deep cut we haven't heard live in eons.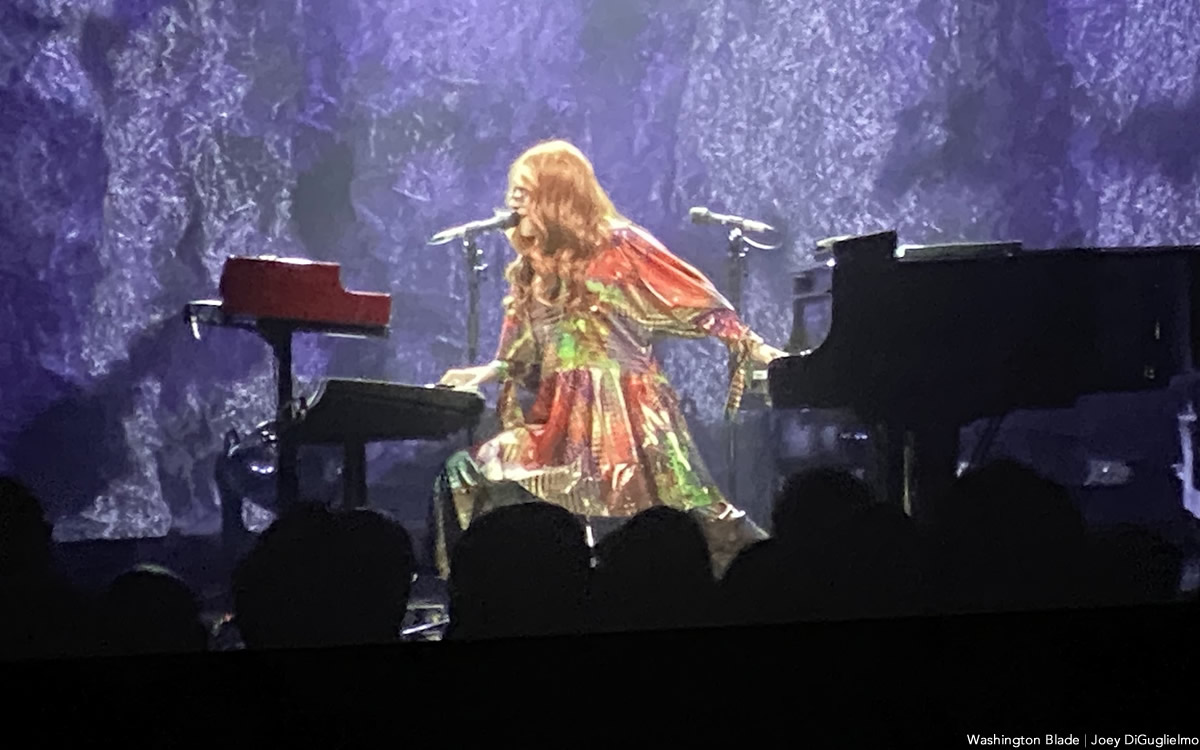 Highlights included the slinky, rhythm-loopy opener "Juarez"; "Ocean to Ocean," one of three cuts performed from the new record, which shimmered with Philip Glass-like piano arpeggios; the vampy, slinky interplay between the three musicians on "Mother Revolution"; and unexpected fan favorite "Spring Haze." Amos, overall, is varying up the set list quite a bit less than is her norm, so it was one of the few surprises of the evening. 
The lengths of several of the songs were drawn out considerably. At times — "A Sorta Fairytale," the aforementioned "Revolution" — that worked well and gave the band time to languidly jam. At other points, it felt a bit self-indulgent and even slightly boring — as on "Sweet Sangria" and "Liquid Diamonds."
"Russia," a bonus cut from the last album, sounded just how it did when Amos performed it here in 2017, but took on added resonance because of current events. Closing line "Is Stalin on your shoulder" was chilling.
Overall, the show — lighting, pacing, everything — largely worked. The sound mix, which fans have said has been muddy at some venues recently on the tour, was pristine. Pacing only lagged a few times in some of the mid-tempo cuts from later albums, but just when you felt some were zoning — the flow of those entering and exiting is a good barometer — Amos whipped things back together with a fan favorite like "Past the Mission" or "Spring Haze."
It all came to a satisfying, audience-friendly climax with "Cornflake Girl," then the two encore cuts, "Precious Things" and "Tear in Your Hand," both from the first album.
Vocally, the range was there and sounded lovely, but the oomph was considerably held back. Vocal preservation for the many dates ahead? Probably. It's understandable. Amos, at 58, may lack the stamina she had 20 years ago, but it did feel underwhelming in passages that in years past would have been full on, balls out like the "Bliss" bridge or the "nine-inch nails" passage from "Precious Things."
Not one acknowledgment or mention by Amos of the female folk duo openers Companion. I'd have invited them out for a few numbers to sing BGVs. I mean, heck, they're in the house, why not? And other than the welcome, a brief soliloquy on Mother's Day was the only Amos comment of the entire night.
Still Amos never came off as aloof. She seemed genuinely excited to be playing live again and the queer-heavy crowd responded in kind.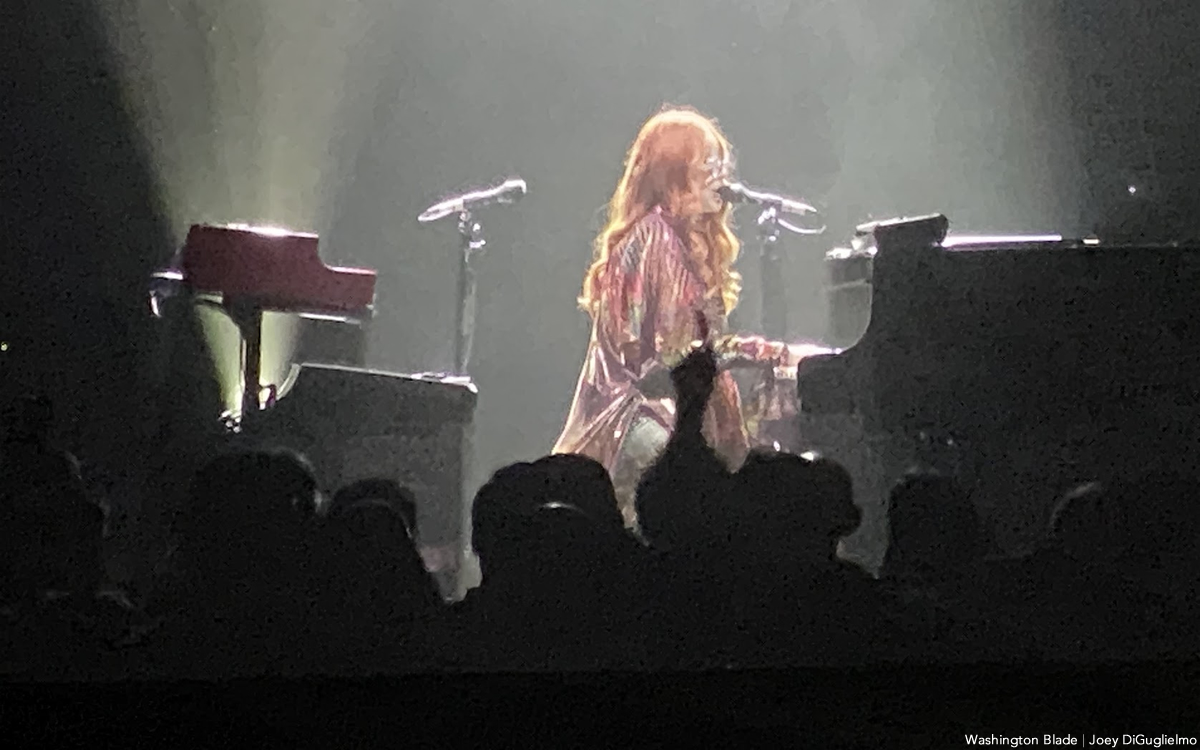 Dance festival to feature electronic music acts
DJ Diplo, Martin Garrix, Alan Walker and Meduza entertain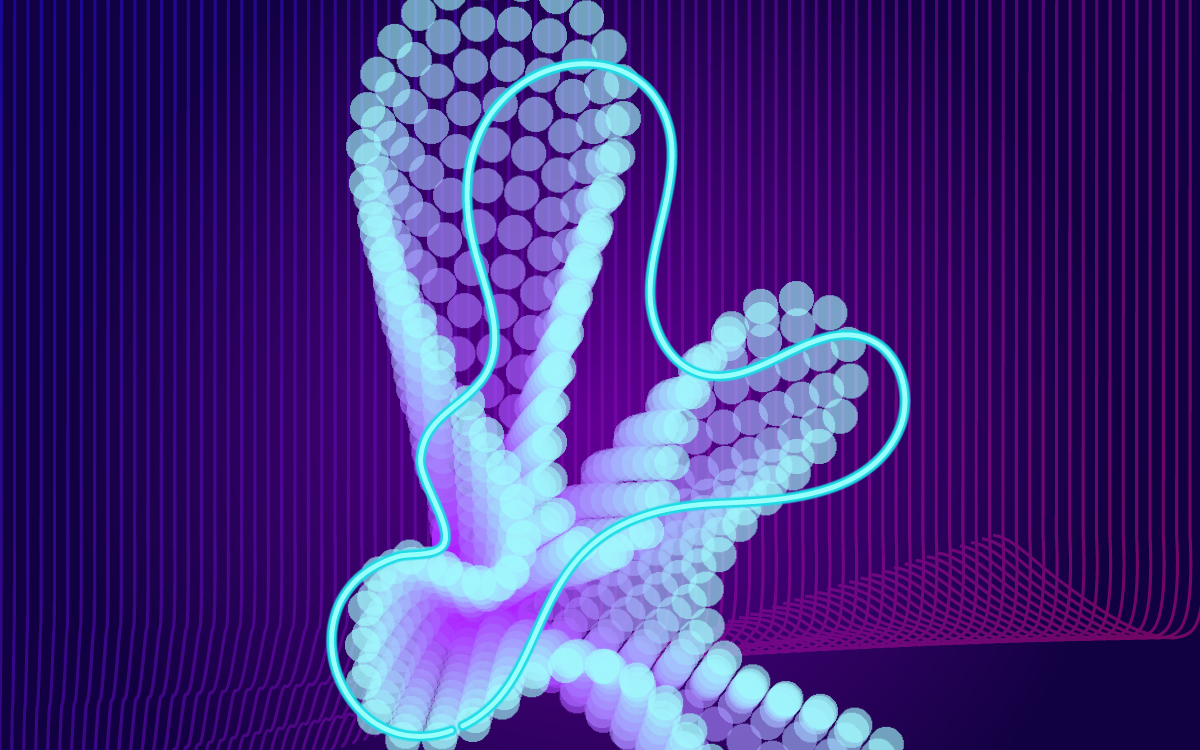 Insomniac and Club Glow will host the inaugural edition of the Project GLOW music festival on Saturday, April 30 and Sunday, May 1 at the RFK Festival Grounds.
This festival will feature internationally acclaimed top electronic music acts such as DJ Diplo, Martin Garrix, Alan Walker and Meduza among many others. There will also be three curated stages of music, food and beverage offerings.
Project GLOW will platform its homegrown nonprofits GOODProjects and DC Vote. To Write Love On Her Arms, a nonprofit movement dedicated to presenting hope and finding help for people struggling with depression, addiction, self-injury, and suicide, will also offer their resources to those in need during the festival.
For more information, visit the festival's website.
Melissa Etheridge shares Q&A in advance of April 26 Tysons tour stop
Rock pioneer finds inspiration in the past — from revisiting old demos to reconnecting with celeb pals like Ellen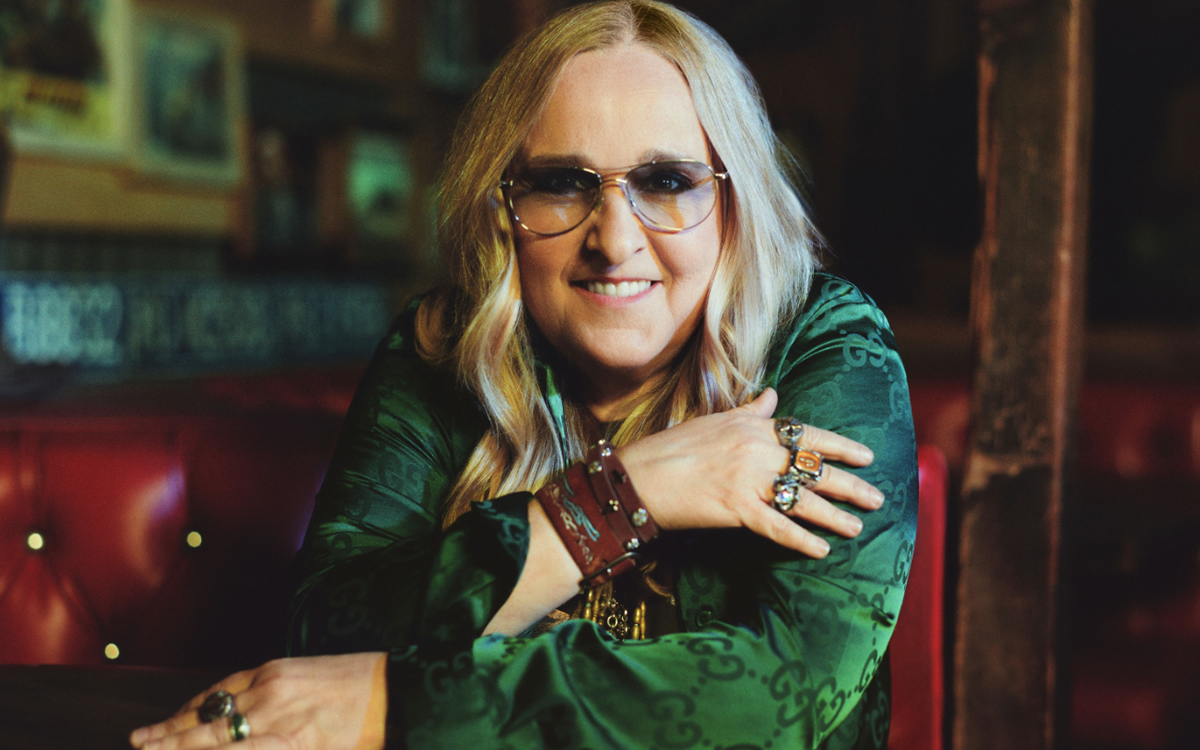 Melissa Etheridge
'One Way Out Tour'
Tuesday, April 26
Capital One Hall
7750 Capital One Tower Rd.
Tysons, VA
7:30 p.m.
Tickets: $55
ticketmaster.com
capitalonehall.com
melissaetheridge.com
We caught up with rock legend Melissa Etheridge on April 8 by phone from Snoqualmie, Wash. — it's about 26 miles east of Seattle —where she was playing the Snoqualmie Casino on her "One Way Out Tour," which plays our region on Tuesday, April 26.
It's named after her latest album, released last fall, which found Etheridge, who's been out since '93, revisiting demos from early in her career.
Her comments have been slightly edited for length.
WASHINGTON BLADE: "One Way Out" sounds like such a cool project. Was it all re-recorded stuff of old songs or were some of those vintage takes on the record as well?
MELISSA ETHERIDGE: The last two songs, the live songs, were from where? From 2002? OK, but the other songs were newly recorded.
BLADE: And how many of them did you remember?
ETHERIDGE: You know, when I found them again, they all came back very clearly. And I was like, "Oh, this is — why did I throw that away? That's weird." And I really enjoyed, you know, hearing them, they were just old demos. I'd never done full-blown recordings. So I thought, "This is great, I want to do these songs."
BLADE: We have a relatively new venue you're going to be playing, Capital One Hall. I've only been there once. You excited?
ETHERIDGE: Yeah, it's always fun. I love the D.C.-area crowd. It's just really, really nice.
BLADE: And how do you decide where you'll be? Or do you have any say in it?
ETHERIDGE: Well, it's not necessarily me. I do have a say in it, in what I want the whole tour to look like. But it is really up to William Morris, my agent, to find the right venue that understands what we need and the kind of atmosphere we're looking for that and the amount of people and, you know, that sort of thing.
BLADE: Tell me about Etheridge TV. I just wonder, when we were in that acute phase of the pandemic, wasn't it even remotely tempting to you to just take a break?
ETHERIDGE: No, because since I was 12 years old, I sang all the time for people, like five days a week and it's just been what I do. And so when it was like, I was looking at a massive, cavernous amount of time that I was going to be home, I still needed a way to pay the bills, so we put our heads together — I've got one of the greatest television minds with me, you know, my wife (TV producer Linda Wallem), so I had the space and I had the equipment, and I was like, "Let's do it." And it was really fun to learn new things. It was fun to learn about computers and sound and streaming and lights and cameras and all these things that I didn't know. … I feel a little smarter.
BLADE: When did you start back on the road?
ETHERIDGE: We went out last fall. We went out September, October, right around there. And you know, it was a little different, Now things are things are loosening up … but some places still require masks. But people are starting to get back out and it feels good. It's not the overwhelming thing that it was a few months ago.
BLADE: And what was it like being on 'Ellen' again for her final season?
ETHERIDGE: Oh, I love her. She's such an old friend. You know, I say that about myself, too. (chuckles) But, you know, she's just a relationship in my life that I have treasured. We've watched each other grow and the changes we've made and the successes and what we've gone through and I love that she had me on and just it was just a really — she's a dear friend. And she showed an old photo there, and we both said, "Oh, that was before we were so busy."
BLADE: Do you talk to her often?
ETHERIDGE: I would say we see each other socially once or twice a year. It just seemed like once we started having children, all my friends from my 20s and 30s when we were not as busy — it just gets harder to stay in touch and life got crazy.
BLADE: So when you were hanging out back in the day with Ellen and Rosie and everybody, how was it that Brad Pitt was in that group too?
ETHERIDGE: Well, my girlfriend (Julie Cypher) had been married to Lou Diamond Phillips and we were all very good friends with Dermot Mulroney and Catherine Keener and Catherine Keener did a movie with Brad, like a movie nobody saw, like Johnny Dangerously or something (1991's "Johnny Suede"), some really weird movie. So I met Brad before he was terribly famous. He was a part of that group. There was a whole group of all of us that just hung out, and we were all totally different. We were just like young, hungry Hollywood and we'd talk about, "Oh, I had this audition," or "I went and did this," and we were just all trying to make it in that town. So we'd get together and have fun.
BLADE: I was so terribly sorry to hear about Beckett (Etheridge's son, who died in 2020 at age 21 after struggling with opioid addiction). How are you and the rest of the family, especially (Beckett's twin) Bailey, dealing with it now?
ETHERIDGE: There are many, many families like us that deal with a loss like that. It just blows a family sideways. But we have a deep love and connection, all of us. We all knew he had a problem and it's a problem that starts way before he actually passes, so it was not a surprise. So now we're just living with the missing aspect. You try not to think about what could have been and you try to think about him in a happier place and that he's out of pain, so that helps us.
BLADE: Had he and Bailey been as close in recent years?
ETHERIDGE: They were very close, but in the last couple of years as he made worse and worse choices, we couldn't support that, so they were less close, but of course in her heart, it was her brother, he was very dear to her.
BLADE: Did you watch the Grammys? Was there anybody you were particularly rooting for?
ETHERIDGE: I watched bits and pieces of it. I had a show that night, so I didn't get to see the main thing, but I have seen pieces and I just love the crazy diversity and you know, the TikTok people winning stuff, it's like, "Wow, this is so not the Grammys I remember from the '80s," but that was what, 30 years ago? So it's all good.
BLADE: You were such a perennial favorite back in the day in the best rock female category. Were you pissed when they eliminated it?
ETHERIDGE: It's sad because I felt like the criteria they were using to judge what is female rock, they just really dropped the ball. I still think there are some amazing musicians that could be considered, you know, rock, but it feels like we're having a hard time even defining what rock and roll is now anyway. There's a whole bunch of strong women out there playing, rocking, you know, playing guitar, being excellent musicians and songwriters. If you can't call it best rock female, OK, call it something else.
BLADE: I remember so vividly when you were on the Grammys in 2005, in the midst of chemo, when you sang "Piece of My Heart." I remember you saying you were wondering how people would react to seeing you bald. Having been through that, any thoughts on the Will/Jada Oscars situation since her baldness, too, was due to a medical condition?
ETHERIDGE: You know, it's funny, I did feel a little remembrance of (thinking), "I just hope people don't make fun of me." That was kind of the first thing because to go out there bald, that was so different for me as an artist whose hair had kind of defined her. I was thinking, "How am I gonna rock without my hair?" I thought people might make fun of me, but I got over that. I just thought, "Well, if somebody makes fun of me, that just makes them look bad." So I just walked through it. And you know, it's hard to draw the line between what's funny and what's painful and how to look at something. I feel for all parties involved.
BLADE: When you go on these cruises, do fans give you some space or do they swarm around the minute you walk out? Is it even enjoyable for you?
ETHERIDGE: Yeah, it is. You know, we did our last one, now we're doing Etheridge Island, we now have a destination in Mexico, outside of Cancun, it's just this island that we're going to that is really fantastic. But I do I make myself available, I don't run away. When I have to be somewhere, I have a great company we work with called Sixthman that knows how to get me from point A to point B without being bogged down. But I do my make myself available. Everyone gets a picture with me. It's my work, but I love it. I try to make myself available but also have some time just for myself too.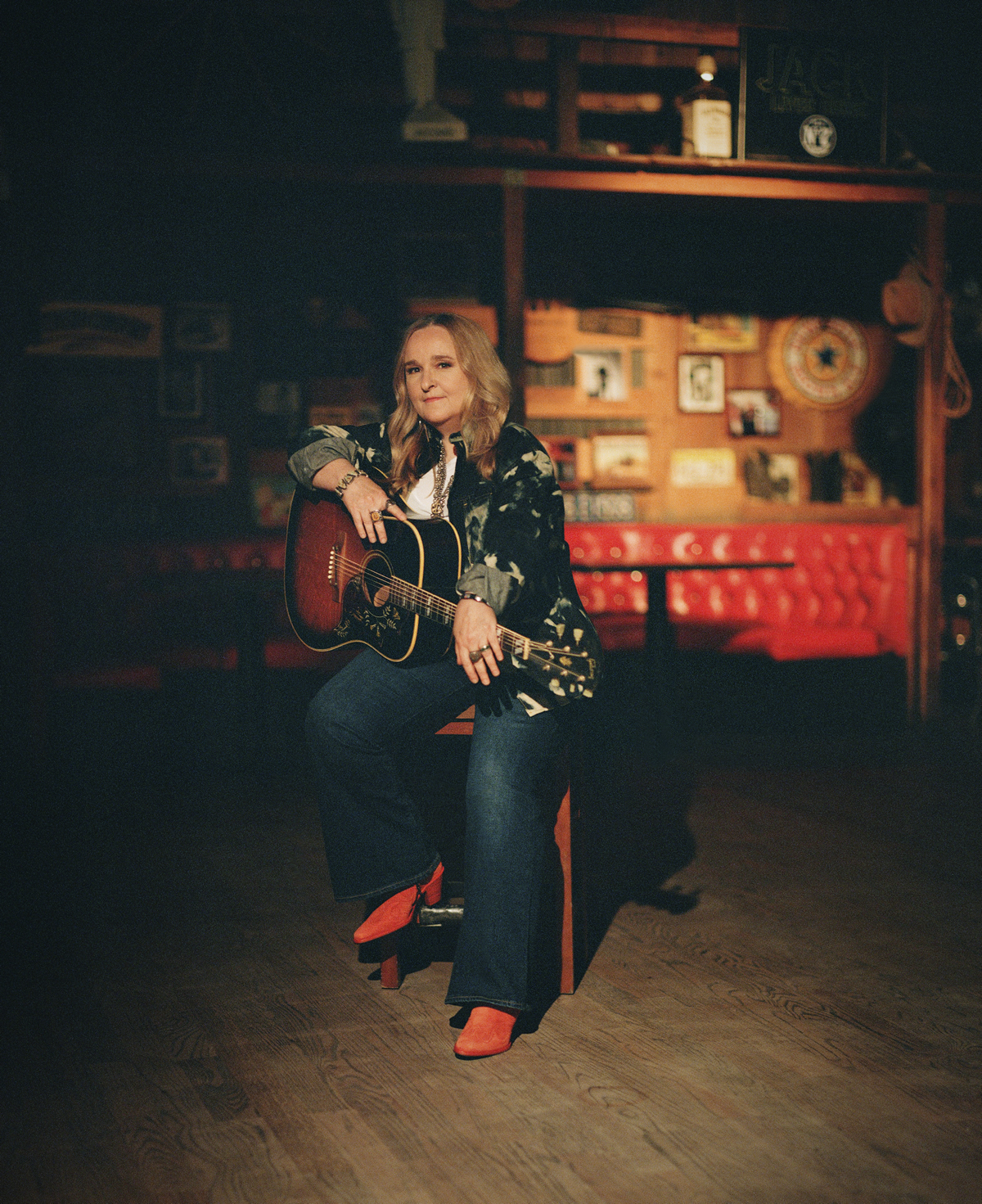 BLADE: You Tweeted a few nights ago about having a tight curfew of just 90 minutes at a casino but then it worked out and you got to do a full set. Why are the curfews so tight at casinos?
ETHERIDGE: Why do you think? They want people at the tables. Like for tonight, we we settled on 100 minutes. They're giving me 10 extra minutes. I don't like it, but in some areas, the only really good venue is a casino, so if you want to reach your folks there, you kind of have to meet them half way.
BLADE: Yeah, but it seems like in concert halls, the curfews can sometimes be really tight too. Even Madonna got her lights shut off a couple years ago. Of course, she's notoriously late, but why are they so strict with these things nowadays?
ETHERIDGE: There are all different situations — concert halls often have union crews that will absolutely shut you down if you go one second over. There are also sound curfews, noise curfews, mostly with outdoor venues, but sometimes indoor as well. They have an agreement with the neighborhood. So you have people in the neighborhood standing by with their phones ready to pounce the minute it goes over one minute, they're gonna call the police. As a performer, you just realize, "OK, it's not just about me." When I don't have a curfew, I usually land at about two hours and some change. That seems comfortable to everyone. Any longer and I think I'm wearing my audience out. When I'm at a place with a shorter show, I just do my best.
BLADE: I know you're a big Chiefs fan. Did you watch that game back in January all the way to the end?
ETHERIDGE: Well, at the end of it, I was on the floor. My wife was like, "Honey, honey, there's still 13 seconds," and I was moaning and sort of getting my feet on the floor and, you know, laying down and throwing a fit. And she's like, "No, there's still 13 seconds." I dragged myself back to the television. And I couldn't believe it. I was like, "Wait a minute. Did we just win?" You know, just really crazy, really crazy stuff. … When you're a fan like that, it's a ride you can't fully explain.
BLADE: Are you in a cordial or good place with your exes? Does it get easier when the kids are starting to grow up?
ETHERIDGE: Oh, yeah. Oh, yeah. And you realize that it's best for the kids if you can really get along and that any sort of conflict that can't get resolved, that gets emotional, does no good for anyone. And absolutely, I have, I've gotten better at that as the years have gone by.
BLADE: Do you have the slightest inkling yet what the next studio album might be like?
ETHERIDGE: Well, I've got some interesting projects that I'm not ready to talk about just yet. But they have to do with my life story. There's a lot of digging up of my past and really telling the story. So I imagine the next series of music you'll get from me is going to be very focused on my journey.