With hate crimes on the rise, what's to do?
Stay vigilant, stay active and stay charitable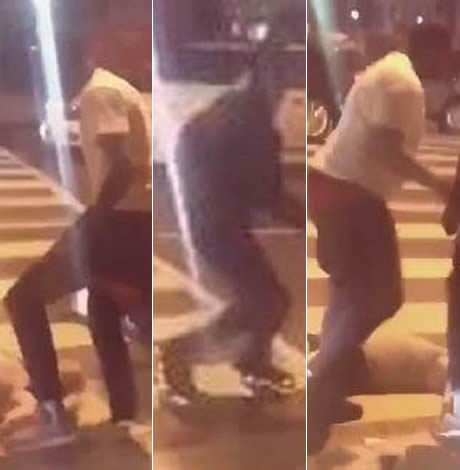 You've probably heard all about it by now, or even seen the horrific cell phone video capturing most of it. Just after midnight on Sunday, April 15, two gay men were viciously assaulted on the corner of Vermont Avenue and U Street. Sort of a strange place for such a thing to happen, given that it's practically in sight of the entrances to three of the city's busier gay bars, one of which, for better or worse, was recently named the best in the nation.
These instances are always jarring, especially when they happen in your own city, in stretches of pavement you pound with regularity. It's even more jarring given the statistics surrounding it — LGBTQ hate crimes are on the rise here at home and around the world. It's depressing. And I'm not so naive to think that Obama's magic gay marriage wand would have done away with this sort of thing. But I was hopeful that it might help.
People are struggling to find a cause for this uptick in hate. D.C.'s own top cop Police Chief Peter Newsham admitted that, "it's hard to say exactly what the increase is due to." This much is certain, It seems to be an angry age we find ourselves in. And it's certainly not just the queer community feeling the brunt of this. Hate crimes generally seem to be on the rise across the board. Even instances of anti-Semitism are up. Here in Washington, D.C., there were 66 instances of bias-related crimes in 2015 and 107 in 2016. Last year saw at least 163 instances. So where is it all coming from? Certainly, there is some from-the-top-down blame to go around.
When Obama announced in 2012 that he had 'evolved' on gay marriage, it provided a tone of acceptance that other Americans were able to draw from (just look to Maryland for an example of this). So, when it comes to tone and trendsetting, can the same be said for the current administration, meaning can this sort of thing cut the other way? Is President Donald Trump to blame for the uptick in bias-related hate crimes? Well, maybe. At the very least he might be an unindicted co-conspirator. And this is not all that farfetched. It's been proven that the man and his rallies incite violence. Any cursory reading of his Twitter feed shows that he has no boundaries whatsoever. The man sitting in our highest office has no qualms about petty insults and name-calling. And this sort of hateful and reckless rhetoric tends to trickle down.
So what's to be done? Know that soon, something has to give. And it will certainly break our way. But until then, take a cue from others. Yes, it is incredibly disheartening that someone posted the video of the assault on Twitter, as if to brag of it and further humiliate the victims. But at the end someone does come to their aid, and someone called for help. It's in these worst of times that people can show the best in themselves. Take solace in the fact that the community raised over $20,000 for the two victims. And know that a local gay dentist volunteered his time and skill to repair their cracked smiles, charging nothing for his services. Know there's a lot of love out there to counter this trickle down of hate.
In the long run, eventually something has to give. And if these waves of hate tend to come and go, the next crest may be ours. So until then, stay vigilant, stay active, and stay charitable.
Brock Thompson is a D.C.-based freelance writer who contributes regularly to the Blade.
We need more inclusive data to drive progress for LGBTQI+ communities
Bill would require federal surveys to include questions on sexual orientation, gender identity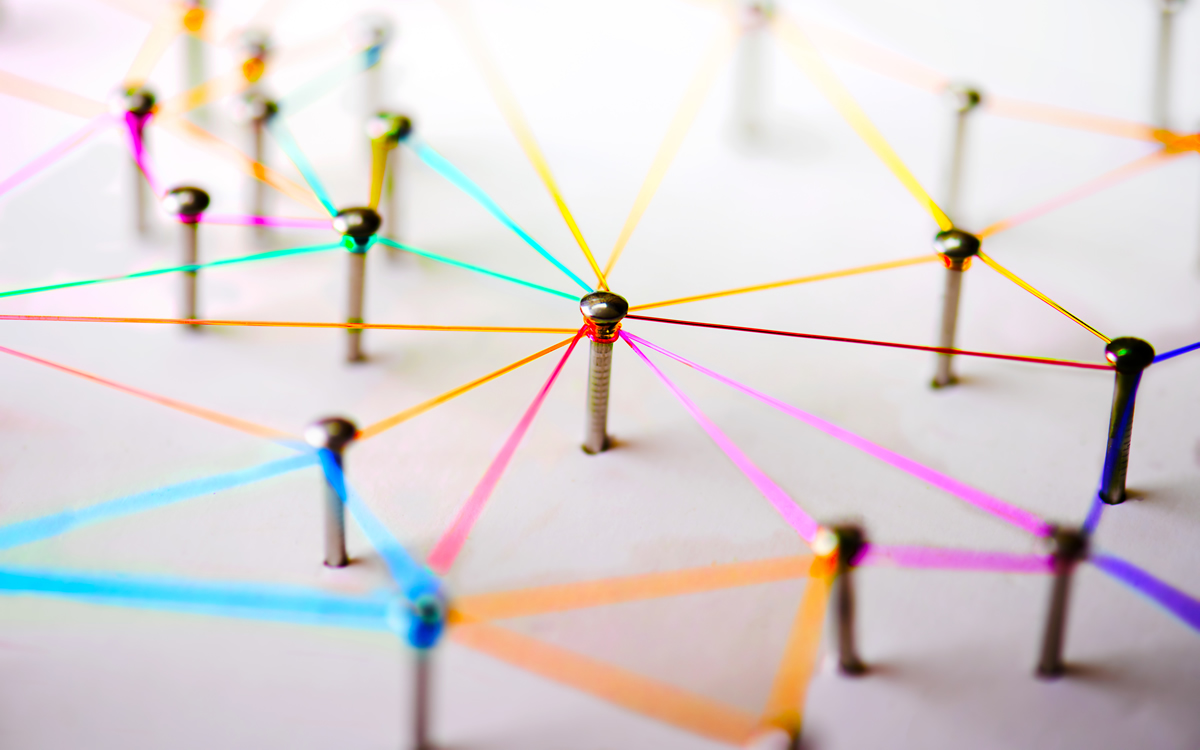 As we celebrate the immeasurable contributions of LGBTQI+ people during Pride month and commemorate the 53rd anniversary of the Stonewall Riots, we must also renew our commitment to advancing a more equitable America for our LGBTQI+ communities.
Seven years ago, the Supreme Court made marriage equality the law of the land, but despite this progress, over half of U.S. states can still deny LGBTQI+ people in the United States basic freedoms. LGBTQI+ individuals can still be denied a rental home or a wedding cake, simply because of who they love or how they identify.
Even worse, conservative lawmakers in state legislatures across the country are passing extreme bills targeting LGBTQI+ communities. These Republican-sponsored measures directly attack LGBTQI+ youth—their identity, dignity, and even access to basic health care.
The historic inequities faced by the LGBTQI+ communities and the uptick of radical, anti-LGBTQI+ attacks demand a coordinated federal response. But for far too long, policymakers have lacked the data necessary to craft and implement public policy that serves LGBTQI+ people in the United States.
While the federal government currently collects some data on LGBTQI+ people, it falls dramatically short.
The American Community Survey only accounts for cohabitating same-sex couples—meaning that it does not capture more than 5 in 6 LGBTQI+ adults. 
That is why the U.S. House of Representatives passed the LGBTQI+ Data Inclusion Act last week in a historic bipartisan vote of 220-201.  
The bill would require federal surveys to include questions pertaining to sexual orientation, gender identity, and variations on sex characteristics on a voluntary, confidential basis. By doing this, the LGBTQI+ Data Inclusion Act would ensure that lawmakers and federal agencies have the comprehensive data they need to advance polices that better serve LGBTQI+ people.
Solid data on sexual orientation and gender identity in federal surveys will help lawmakers craft policies to remedy the disparities faced by LGBTQI+ individuals—particularly LGBTQI+ people of color, who are disproportionately impacted by these disparities. More comprehensive and inclusive federal data could help remedy systemic inequities in unemployment, health care, housing instability and more.
Earlier this month, President Biden issued a groundbreaking executive order to advance equality for LGBTQI+ people across the United States — including by expanding the collection of data pertaining to LGBTQI+ people in the United States. This legislation would expand the ability of our federal agencies to follow the President's directive so that we can craft policies tailored to the specific needs of our LGBTQI+ communities.
As parents, we also championed this legislation because it will help parents across the country better understand LGTBQI+ youth and their experiences. LGBTQI+ youth deserve the best available data-driven information and resources to validate their experiences, protect them from harm, and help them thrive. Together, we'll be able to provide these resources for LGBTQI+ youth who are higher risk of depression and attempted suicide.
The LGBTQI+ Data Inclusion Act is a long overdue step in the right direction, and it could not have been possible without the tireless work of LGBTQI+ organizations and activists. More than 150 LGBTQI+ groups and allies have helped shape this bill to ensure that Congress enacts the most comprehensive and effective legislation possible.
Policymakers have a duty to lift LGBTQI+ voices and ensure our LGBTQI+ constituents are all seen, heard, and counted. The House made history this Pride month and passed the LGBTQI+ Data Inclusion Act, we urge our colleagues in the Senate to do the same.
Rep. Raúl Grijalva (D) is a member of the U.S. House from Arizona; Rep. Carolyn B. Maloney (D) is a member of the U.S. House from New York.
Turkey Pride crackdowns only strengthen LGBTQ resistance
Hundreds arrested in Istanbul on Sunday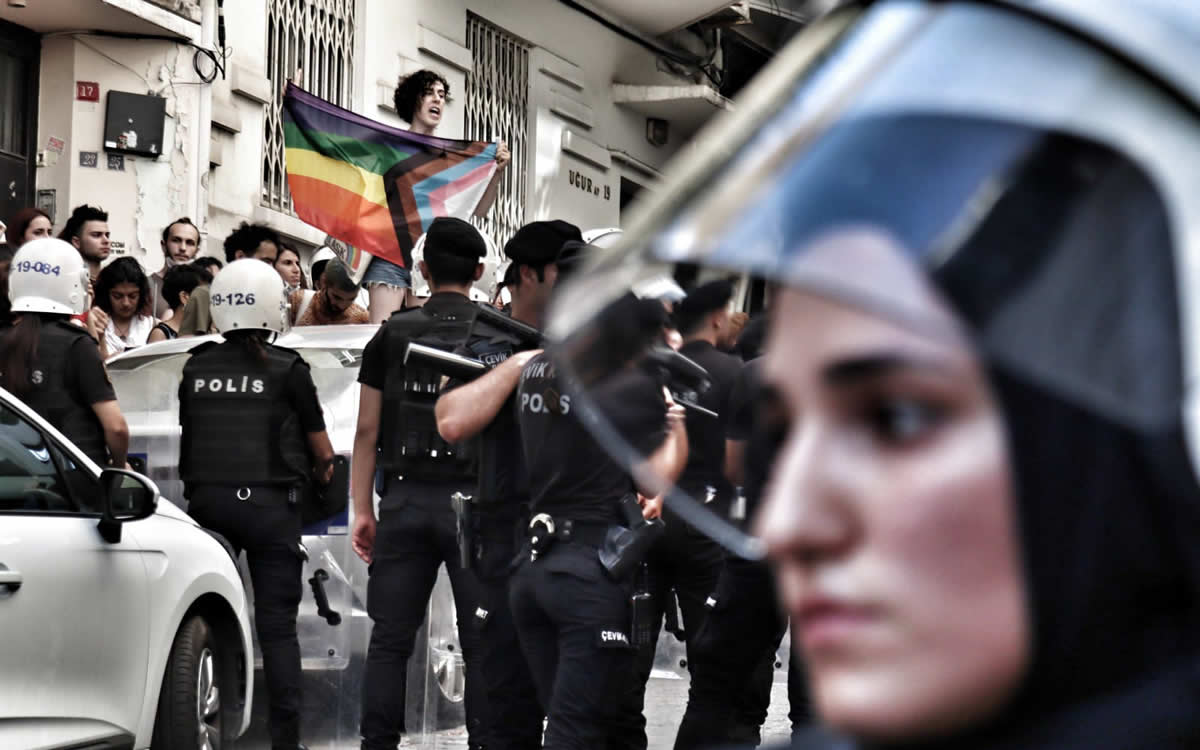 The waving colors of the thousand shades inside of a rainbow,
The sparkling joy from the pride and honor of self-declaration,
The echoing sounds of the steps for solidarity in the cobblestone streets of İstanbul, 
To unite for equality, for justice, for solely our right to be.
This was our goal, our expectation and our hope for Pride Turkey 2022. It has, however, been overshadowed by the government's vicious attempts to repress the colors of the LGBTQI+ community.
First, it started with the ban of Pride speeches and panels that many district governors and other local authorities across Turkey announced. Local police officers raided the many event venues as if "illegal" activities were being conducted.
As in the last couple of years, it was already expected the government would ban the Pride marches in many cities. It was, however, the first time the government officially tried to prevent even face-to-face community gatherings of LGBTQI+ organizations. It was a type of intervention reflecting the level of fear and intolerance of the government regarding the growing connection, solidarity and public visibility of LGBTQI+ community.
Nevertheless, oppression often brings out the most creative means. As such, Pride committees have carried all the activities on digital platforms. Many activists and civil society representatives have shown support by participating in live broadcasts from event venues, and the voice of LGBTQI+ solidarity still reached a wide audience.
Subsequently, the most drastic pressure by the government has manifested itself during the Pride marches. The police violently intervened and used unproportionate force against marchers in many cities, which resulted in a radical number of unwarranted detentions.
While 530 LGBTQI+ activists were taken into custody over the last 37 days across Turkey, 373 of them were arrested during the Istanbul Pride march on June 26. This constitutes a first, since the Istanbul Pride arrests constituted the largest number of people taken into custody during a street march since the Gezi protests.
Will these enormous efforts to pressure win the day? The answer is "definitely no." On the contrary, it sparked a backlash by triggering strong solidarity among Turkey's queer community. The outstanding resistance of LGBTQI+ marchers gained public recognition on social media, while persistent legal support of LGBTQI+ initiatives canceled all the detentions. In the end, the exhaustive pressures of the government could not manage to fade the multicolor of LGBTQI+ identity. In fact, it helped our rainbow flag to shine even more glamorous and visible.
We, as members of the LGBTQI+ community, have once again proved through this entire experience that solidarity, togetherness and collective resistance are the most powerful facilitators in our fight to exist equally.
In honor of the unbreakable resistance of Turkey Pride 2022 supporters,
Thanks to you, the cobblestones of Istanbul and every street in Turkey echoed with the steps of LGBTQI+ solidarity.
Dilek İçten is a journalist, researcher and civil society expert with a demonstrated history of working in interdisciplinary and investigative research projects examining the socio-cultural dynamics of media, gender and migration. The focus of her work varies from freedom of expression, media censorship and journalistic independence to gender based-discrimination and hate speech against disadvantaged groups and minorities.
Supreme Court, GOP are sliming our democracy
Protests are fine but we must all vote for Democrats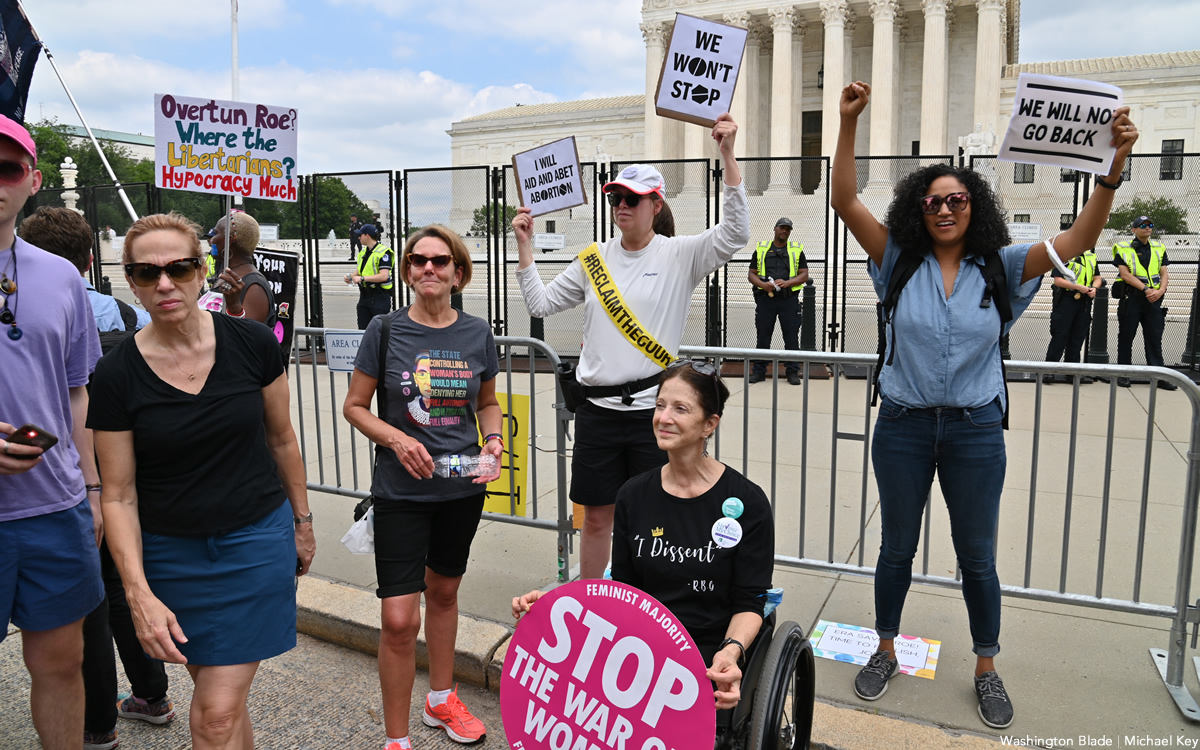 In two decisions — one throwing out New York's gun laws and the other overturning Roe v. Wade — the Supreme Court and the Republican Party who put them there, have slimed the American public and in essence our democracy.
With the decision on Roe v. Wade, for the first time, the court has taken away a constitutional right. One recognized by previous courts and upheld for nearly fifty years. Justices Thomas and Alito finally had the votes, with Trump's three stooges, to do what they have wanted to do for decades. We now understand how far this court is willing to go to take rights away from the American people, and we should all be afraid.
They proved they have the votes to attack women and we must believe the LGBTQ+ community could easily be their next target. They almost certainly are not finished with their attacks on women as they can come down on contraception and other pharmaceuticals. Then they can end affirmative action even though it was what got Thomas to where he is. Clearly, we should have listened to Anita Hill. Thomas's written decision could even put into question the Loving decision, which allowed interracial marriage and made it legal for him to marry his wife. We must believe the court will look at all these issues.
There is a sickness in the land and we will either succumb to it, or fight it. My answer is we have to fight it with all we have. We must collectively stand up and say "no more!" Allowing Republicans to continue to take the nation in this direction is unacceptable. The only way we can do something about it and stand up for our democracy is by VOTING. Every poll shows Americans are against what the Supreme Court is doing. Yet we are stuck with a court, which as Nancy Pelosi says "gave a slap in the face to women." Justices clearly care more for an unborn fetus than a living child. A living child who could be mowed down by the guns they are allowing on the streets.
As Democrats, and all decent people, mull over how to react, we must come together as never before. We can march until we are blue in the face but if we don't vote, we lose. We need to elect Democrats to statehouses and state legislatures, and keep majorities in both Houses of the Congress. The House has already passed legislation curbing guns and codifying Roe v. Wade. We now need more senators to go along. It actually could take only two more who would agree to end the filibuster to move these issues forward.
I have written before to the LGBTQ+ community that parades and parties celebrating Pride are wonderful, but if every person who participates in them doesn't vote, they mean very little because next year we will have lost some of our rights. We must not let ourselves and future generations down and be victimized by the likes of Thomas, Alito and the three disgusting Trump judges. We must vote against the Republican Party because the right wing now controls it.
Sen. Mitch McConnell has already said if Republicans take over Congress he will consider passing a law outlawing abortion nationally. We cannot allow that to happen. It is only Congress and state governments that can act to counter what the court with Republican support is doing. We must do more than show the nation with the January 6th hearings about Trump's attempted coup. Even if through that we can put the likes of Ginny Thomas in jail for her role in it.
The results of the midterm elections will show the world where America stands. These elections will play out over a range of issues. We will see if people vote more based on inflation and the cost of gas, or vote for their right to privacy and freedom. Those of us who promote the right to privacy and democracy must stand together if we are to win. We cannot fight each other, creating internal battles, rather must fight the enemy, the Republican Party, as it is constituted today.
It won't be easy but we can win this fight. We can keep the House of Representatives and win at least two additional Senate seats making it easier to move the Senate forward on a host of issues. When it comes to what the court has done to women, their decision on guns, and what Thomas is signaling they will do in the future, it really is clear we are facing life and death issues.
Peter Rosenstein is a longtime LGBTQ rights and Democratic Party activist. He writes regularly for the Blade.