June 26, 2019 at 2:16 pm EDT | by Colleen Dermody
Carlile delights at Merriweather concert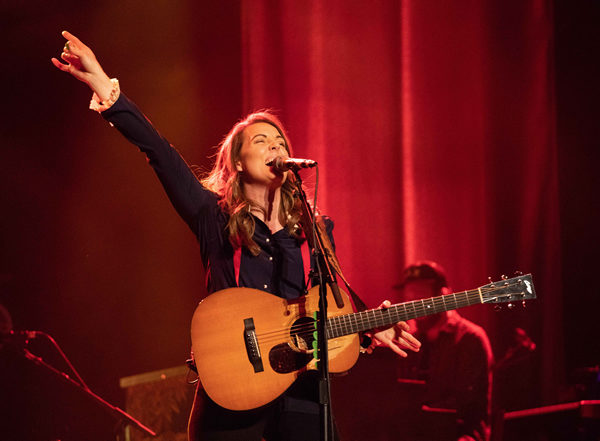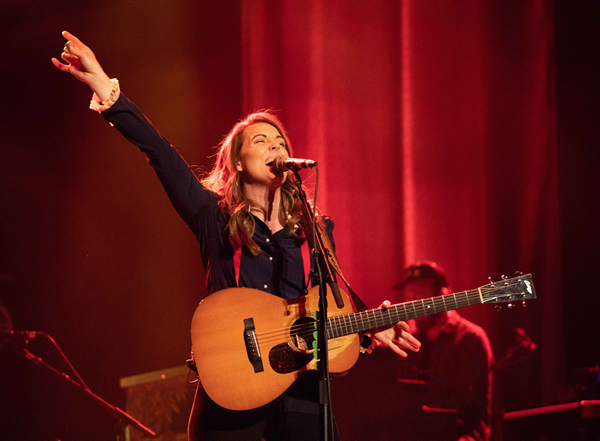 Brandi Carlile has an abundance of three things we all probably want. Innocence, joy and courage. 
In an ebullient, June 14 appearance at Merriweather Post Pavilion, Carlile and her band, including twin brothers Tim and Phil Hanseroth, wowed an over-the-top crowd with her pitch-perfect voice and tight band orchestration as she effortlessly sang a varied set of both her poetic protest and just plain beautiful songs.
And she managed to deliver more than a ticketholders money's worth while humbly thanking everyone for attending "this special, magical night" that ended with her emotional rendition of Leonard Cohen's "Hallelujah" sung with a majesty that could make Rufus Wainwright cry.
How does a 38-year-old lesbian, mother of two from Ravensdale, Wash., manage to capture the hearts of everyday folks in Columbia, Md., and dozens of Hollywood celebrities and musicians worldwide at the same time? Most likely through her honest, brilliant, blue-collar view of a day's work and her exuberant, courageous and gracious performing style.
At her Merriweather show, Carlile's authenticity and joy were palpable from the moment she stepped on stage to her cheering, guitar-raised exit two-and-half hours later. The audience could not get enough. They sang along to her storied song catalog, swooned, hollered and hooted, danced and swayed, used their phones as lighters and willed the concert not to end.
All the while Carlile gazed tenderly back at her adoring crowd, thanking them from the bottom of her heart after introducing her virtuoso band including her drummer, Matt Chamberlain (who's toured with Tori Amos),  whom she called a "badass motherfucker" and suggested they not be scared in an example of her down-home authenticity. His burley-biker-bear look definitely cried out for a tongue-in-cheek bit of reassurance.
The audience, a delightful mix of gay and straight, country, folk and hipster, cheered until they were hoarse when she spoke about her marriage to Brit Catherine Carlile, their two children and coming to terms with motherhood when she is not the traditional "birth mother." Her heartfelt words came across as earnest and unrehearsed lending all the more credence to her message of gay pride, doing the right thing and loving one another.
While her thankfulness for gay marriage, finding her best friend and the love of her life, and her two beautiful children was touching and sweet, it was the powerful delivery of her songs, especially "The Joke" and "The Story," that really hit the night's theme out of the park — our stories are valued and important and the joke's on those who try to tell us otherwise.
Her concert was an epic love fest for an under-the-mainstream-radar, three-time Grammy winning singer-songwriter- producer who came out when she was 15, taught herself guitar and piano by 17 and started a hometown band in her early 20s. Her career from playing small town fish shacks and honky-tonks to Americana music star and gay icon could be compared to a baseball player diligently grinding to get better every day and destined to crescendo into the Hall of Fame.
Carlile definitely has the musical "it" factor and, if her current tour is any indication, should have a long career ahead of her with a loyal fanbase.