August 15, 2019 at 12:11 pm EDT | by Kevin Majoros
Straight players find love in LGBT sports community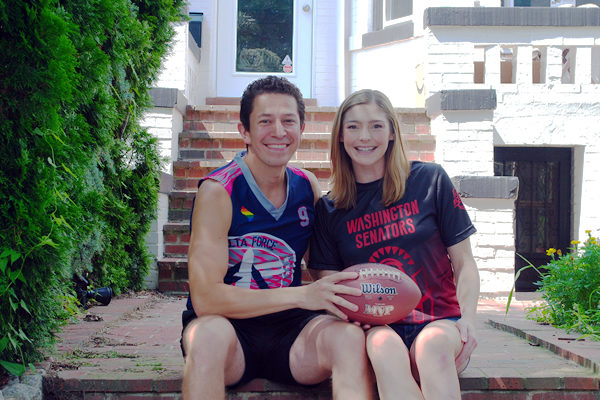 Inclusion is a longstanding tradition in the LGBT sports community. In a progressive city like Washington, D.C., one of the results of that tradition is that straight players are participating in LGBT sports teams and leagues.
The reason that the tradition works is because LGBT sports teams and leagues value each player for who they are and what they bring to the community.
Sharing sports experiences and being a part of the same community has led to multiple same-sex sports couples and multiple same-sex sports marriages across the LGBT sports teams and leagues in D.C.
It was only a matter of time before the same thing happened to the straight players.
Amanda Livingstone grew up all over the United States and graduated high school in Texas. She refers to herself as a lanky kid who outgrew the sport of gymnastics. She loved the team dynamic of cheerleading and stuck with that through high school.
While attending Loyola University Chicago, she picked up intramural volleyball and soccer on her way to a bachelor's in anthropology and another in international studies. She earned her master's degree from the University of Denver in international human rights.
Livingstone moved to D.C. in 2013 for a summer fellowship with Save the Children. It didn't turn into the full-time position she was hoping for and she ended up working at Primal Fitness.
"I was on my own in a new city, wiping down gym equipment with my shiny master's degree," says Livingstone. "Clients kept coming in and sharing their experiences about the DC Gay Flag Football League."
With no football experience, she went to a team brunch and a new player workshop. She was drafted into the DC Gay Flag Football League (DCGFFL) in the fall of 2013 and has played every season since joining.
"I was nervous at first, but everyone seemed so comfortable with each other and they were so supportive of this straight woman that just wandered in," Livingstone says. "I am my best self when I am running around outside and the ensemble personality that is the DCGFFL is a great fit for me. I was aware that I was a guest in someone else's home."
Livingstone would go on to become the first straight person and the first woman to serve on the DCGFFL board. She also received the Legends Award, which recognizes a player's athletic skills and dedication to the league.
"I like to think that I have become quite a good rusher these days," says Livingstone. "I value the DCGFFL because there are no gender rules. This league is about equality. There are no mandated playing times for either gender and that helps to showcase women's talents in an equal way."
She admits that flag football isn't for everyone and points to her broken nose, stitches and broken fingers as reference points. Undeterred, she joined the DCGFFL's women's travel team, the DC Senators, in 2015. This October will be her fifth Gay Bowl appearance on the team.
In the summer of 2016, one of Livingstone's fellow DCGFFL board members invited his friend who was visiting from Boston to a social at Nellie's. His name was Jorge and he had a girlfriend. An introduction was made.
Jorge Membreño was born in D.C. and raised in Manassas. His family came to the United States from El Salvador when his mother was three months pregnant with him. Spanish was their first language at home.
Growing up he played soccer through high school and competed in soccer travel leagues. He continued with intramural soccer while attending Christopher Newport University.
While earning his undergraduate degree in psychology, he picked up music as a minor. He was singing in their chamber choir and auditioned for the select ensemble, which led to performances in Austria and Italy. He furthered his skills by becoming classically trained in opera and joining the opera chorus.
Membreño moved back to the area after college in 2008 and was working with a lobbying group in communications along with singing with the National Philharmonic.
He was feeling a pull toward working in direct services and left to pursue a master's in clinical social work at Boston University. While there, he began teaching Spanish for clinicians.
"A lot of the work in Boston was pointing to LGBT kids who were having issues with depression, substance abuse and gender identity," says Membreño. "Watching them thrive in a beautifully affirming space where they felt loved and embraced sparked something in me and would lead to my work in the LGBT community."
Membreño moved back to D.C. in 2016 because his dad wasn't doing well. His girlfriend came with him and he joined District Sports to play soccer. His best friend was playing in the DCGFFL and encouraged him to join. He was drafted in the fall of 2016 and played as a rusher.
"I loved it and some of my teammates became my best friends," Membreño says. "You get what you bring into the sport – I loved the people, the spirit of it and becoming part of it."
During that first season, Membreño's relationship with his girlfriend had crumbled. He and Livingstone had gotten to know each other through the league's social settings. The team announcement party for the spring 2017 season provided an unexpected surprise for both of them. They were selected for the same team and gave each other a high five.
"Uh-oh," thought Livingstone.
"Oh shit," thought Membreño.
"I can roll into most situations without being nervous and I felt nervous because I had to compete to a level to match her," says Membreño. "She is a fierce athlete and I felt like I shouldn't be rushing next to her."
Membreño is now the Director of Youth Housing and Clinical Services at SMYAL. He was recently sworn in as the commissioner of the Mayor's Interagency Council on Homelessness.
Livingstone is an advocacy officer at The White Ribbon Alliance where she leads a five-country team that advocates for women's sexual health and rights in Africa.
Love blossomed during that DCGFFL season and the pair are now living together.
"I have a preference for strong brilliant women," Membreño says. "She is strong, independent and amazing. I was completely enamored."
"I thought he was smoking hot," says Livingstone laughing.
Membreño and Livingstone haven't been on the same team since that first season together. They point to their 200 brothers and sisters in the DCGFFL as being protective of both of them.
"Other people probably thought about us together before we did. We'll kiss on the sidelines and hear a chorus of 'awwws'," Livingstone says. "We also hear 'don't you break his heart' or 'don't you break her heart.' It's been wonderful to see everyone's reaction to this."
"I came into this environment where she was already established and I would go to her tournaments to watch her play as the trophy husband," says Membreño. "This dynamic is the unity of the two of us. We show up to events separately or together."
Membreño has also joined one of the DCGFFL's travel teams and plays mostly defense with Delta Force competing in LGBT tournaments. It has added to the dynamic that already existed between them through the league.
"It is such a fun thing that we get to do this together and it is great to be able to support each other," says Livingstone. "We have our own goals and separate experiences, but we still get to be with our friends and travel together. Let's call it the love trajectory."
Having a straight ally like Membreño is something that the LGBT sports community has embraced, and he sums up what it is like to be a straight man in an LGBT-based setting.
"Being comfortable in any setting is being comfortable with yourself. I have abandoned binary and gender rules and have no qualms at all about meshing with the LGBT community – it is part of my culture and my work at SMYAL," Membreño says. "Amanda and I have joked that I have kissed more men on the mouth than she has. It is easy to feel comfortable in a place that is warm and loving."