August 15, 2019 at 1:21 pm EDT | by Kevin Majoros
Gay college football player Scott Cooper comes full circle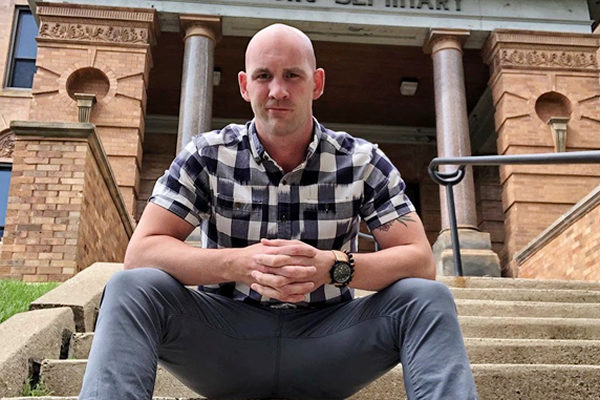 As a linebacker on the Augsburg University football team, Scott Cooper found a place where he could be himself – a gay man who loves sports.
It was a journey that had previously included being condemned to hell by his pastor and church elders because of his sexual identity.
Cooper was born and raised in St. Charles, Mich., and was the youngest of six children. He was a farm kid who gravitated toward sports including baseball, ice hockey and soccer.
His family was, and remains, members of the Wisconsin Evangelical Lutheran Synod – a theologically conservative sect of the Lutheran church.
WELS doesn't believe that you are allowed to pray with people from different churches, women are not allowed to have leadership over men, and marriage is only allowed between a man and a woman. They believe that gay people who don't repent will burn in the fires of hell.
After attending a Lutheran grade school, he was sent to a Lutheran private prep school where he earned All State honors while playing football, basketball and baseball.
The high school he was attending was a prep school for the ministry college he would be attending next – Martin Luther College – where he played NCAA Division III football.
Cooper knew he was gay and began questioning faith, God and the Bible. He was also driving 90 minutes to Minneapolis to explore his sexuality. He experienced a tipping point one afternoon in his adolescent psychology class at Martin Luther.
"The professor had a Ph.D. in gender and sexuality studies, and he told us to cross out in our book where it said that it is not a choice to be gay, and replace it with that it is a choice," says Cooper. "I argued with him and there was a scene. My time at that school was the same culture that I grew up in – a bubble."
Cooper left the college behind and moved to Minneapolis. He worked as a nanny, trained horses and worked at a fitness center.
"I was trying to find myself and I also started dating a guy," Cooper says. "My friends weren't having it and my family wasn't having it. Everything in my life up to that point had been church related and it was time for me to start over."
In the summer of 2011, Cooper discovered Augsburg University and it seemed like a good fit.
"It turned out to be an amazing fit because I could talk about being gay there," says Cooper. "For the first time, I felt like I could be myself."
In his second semester as an Auggie, he joined its NCAA Division III football team and played as a linebacker. He dragged out his NCAA eligibility by taking half the semester course loads.
"I never hid that I was gay and the team kind of knew. I finally broke down crying in the spring of 2013 and announced it to all of them," Cooper says. "The following fall was 'big out Scott' and my teammates had my back."
Cooper received national attention as an openly gay college football player in the spring of 2014 when he was asked by his coach to speak on National Coming Out Day and by introducing his partner at the time at Augsburg University Senior Day.
"I had no intention or notion to make a social statement, though I did speak at a couple campuses and professional organizations," says Cooper.
After graduating with a bachelor's in communications, Cooper remained in Minneapolis and began working as a high school special education teacher.
Self-described as super competitive, Cooper has run marathons and played in softball tournaments with the North American Gay Amateur Athletic Alliance (NAGAAA). He also began coaching and competing in CrossFit.
His relationship with religion and his family remains fragile.
"We went through a rough couple of years and there have been a lot of baby steps. Religion is a huge part of their lives and it is uncomfortable for me," Cooper says. "I don't go home for the holidays because of the religion aspect – it's a super fine line."
These days, Cooper has come full circle back to the place where he first found acceptance. He is working in alumni relations at Augsburg University. He says a recent training at the university opened his eyes on diversity and inclusion.
"I thought I was a woke gay man, but I learned so much in that training," says Cooper. "I can be a better advocate and ally and I am prouder than ever to be back at Augsburg."
As for his love of sports, it is still in full swing. He is playing ice hockey, basketball, golf, softball, cycling, snow skiing, water skiing and showing horses. Nothing is off the table.
Over the years, he has reflected on the national attention to his journey as a gay athlete and the thought changes that come from being an adult.
"I love sports and I am still sassy and bitchy as ever. I knew it was important to share my story as a gay athlete, but I don't think my story was amazing at all," Cooper says. "I am more interested now in the other marginalized parts of our community. There are still big fish to fry."