September 2, 2019 at 11:24 pm EDT | by Michael K. Lavers
Well-known Nicaragua LGBTI activist arrested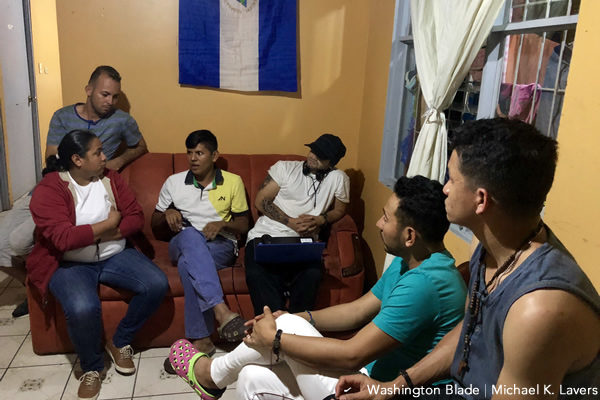 Police in Nicaragua on Sunday arrested a well-known activist who helps LGBTI Nicaraguans in exile.
A source with whom the Washington Blade spoke said police at around 9 a.m. local time (11 a.m. EST) arrested Ulises Rivas in Comalapa, a town in Nicaragua's Chontales department that is roughly 75 miles east of the country's capital of Managua.
The source said Rivas has been accused of robbing a woman. A cell phone video the Blade received shows Rivas' sister-in-law, niece and friends surrounding him and pleading with at least two uniformed police officers before they arrested him.
"He is not a delinquent," said a woman who was not visible in the video. "He is not a criminal."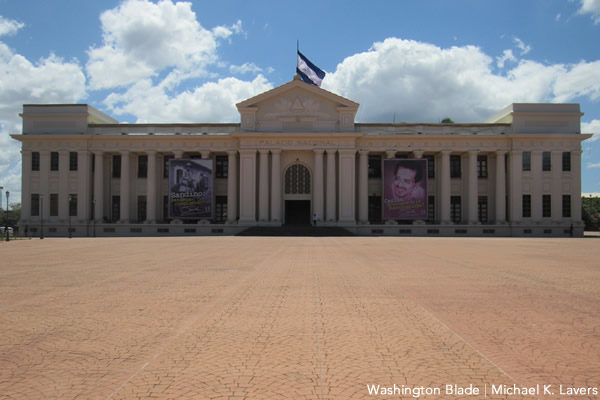 Rivas, who is also an environmental activist, fled to Costa Rica after protests against the government of Nicaraguan President Daniel Ortega and his wife, Vice President Rosario Murillo, began in April 2018.
The protests began after Ortega announced cuts to Nicaragua's social security benefits that he later rescinded. His government's response to a fire at the Indio Maíz Biological Reserve on Nicaragua's Caribbean coast also sparked widespread criticism.
Hundreds of people have been killed since the protests began.
Human rights activists and others in Nicaragua with whom the Blade has spoken say the government continues to arrest protesters on "trumped up criminal charges" such as those that have been brought against Rivas. The State Department, the U.N. High Commissioner for Human Rights and the Organization of American States, along with Amnesty International and other human rights advocacy groups, have accused the Nicaraguan government of torturing anti-government protesters.
"Although the law prohibits such practices, cases of torture were well documented, and public officials intentionally carried out acts that resulted in severe physical or mental suffering for the purposes of securing information, inflicting punishment, and psychologically deterring other citizens from reporting on the government's actions or participating in civic actions against the government," reads the State Department's latest human rights report on Nicaragua it released earlier this year.
Rivas helped create Asociación Hijos del Arco Iris LGBTI, a group in the Costa Rican capital of San José that helps LGBTI Nicaraguans who are in exile in the country. Rivas returned to Nicaragua last month after his father died, even though the country's government and its supporters continue to target LGBTI people and others who have participated in the protests.
The International Institute on Race, Equality and Human Rights, a D.C.-based organization that works with human rights activists in Latin America, on Monday condemned Rivas' arrest.
"We denounce the arrest of LGBTI activist and environmentalist Ulises Rivas, who was detained after he returned from exile in Costa Rica," tweeted the organization. "This and other arbitrary arrests demonstrate that there is no state provision to ensure the safe return of Nicaraguan exiles."
#Nicaragua – Denunciamos el arresto del activista LGBTI y ambientalista Ulises Rivas, detenido tras regresar del exilio en Costa Rica. Esta y otras capturas arbitrarias demuestran que no hay disposición estatal para asegurar el retorno seguro de los exiliados nicaragüenses. https://t.co/wbfIy1CPZi

— Race and Equality (@raceandequality) September 2, 2019
Rivas remains in custody and is expected to appear in court for the first time on Tuesday.