October 15, 2019 at 5:41 pm EDT | by Philip Van Slooten
Queer identity paramount to Frenchie Davis' identity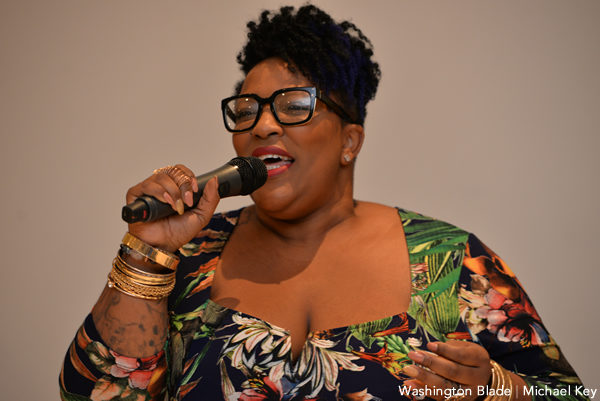 Frenchie Davis is not only a bisexual singer, actress and activist, she's also an avid fan of the 1980s television series, "The Golden Girls."
"You know, Bea Arthur didn't get her first television job until she was almost 50 years old," Davis says during a Blade interview. "You have to blaze your own trail. So, don't try to follow my footsteps because I don't even know where the hell they lead yet because I'm still walking them."
Davis' professional journey began when she left California to study theater at Howard University by day and sing in D.C.'s drag clubs at night. She performs Friday night at the Blade's 50th Anniversary Gala.
"I sang at the Edge, at Tracks, at all the old clubs," Davis, 40, says. "Because we tip our performers. Those tips bought groceries and paid for books."
She credits those early experiences with helping her grow not only as a performer but as a person, and says "they were my aunts, uncles and surrogate parents."
While still a student, Davis traveled to Germany as a "Little Shop of Horrors" cast member before returning to audition for "American Idol." The community came through again and helped pay her way to New York.
"Every dollar raised for me to go was from someone who believed in me, so I was like, 'Damn, now I have to see this shit through.'"
Davis delivered performances notable for both her talent and controversy. She points out she grew from that experience, which led to several Broadway and other stage performances.
"I knew Frenchie from 'Rent,'" says bisexual writer, producer and actor J.C. Gonzalez. "As I was the first understudy to the original 'Angel.' She joined the cast after I had left, but everyone knows everyone on Broadway."
Davis also marveled at all of the notable actors she came to know and work with over the years, including Billy Porter, who this year became the first openly gay black man to win an Emmy award for outstanding leading actor for his work in "Pose." Davis and Porter worked together on "Dreamgirls" in 2004.
"Just being able to share the stage with talented people who are members of this community and opening doors for other people," Davis says. "That's really powerful and I feel really proud to be a part of that."
In 2017 she received the Jose Esteban Munoz award from the Center for LGBTQ Studies (CLAGS) at the Graduate Center, CUNY for her portrayal as the butch bartender "Henri" in "The View UpStairs."
The UpStairs Lounge was a New Orleans' gay bar that was the target of an arson attack in 1973. It was the deadliest gay club massacre in the U.S. prior to the 2016 Pulse shooting.
"The reason we don't know much about it is because it was the early '70s," Davis says. "And the few who survived the fire were so afraid of being outed that nobody ever talked about it."
Davis and other cast members pored over police photos while preparing for the production. She recalls being moved by the burned body of a young man who failed to escape out a window.
"There was a straight club across the street," she says. "And nobody there tried to help. Someone even said, 'At least it burned their dresses off.' That broke me."
The experience and the award reaffirmed Davis' connection to the community. But that connection hasn't been an easy one.
"We have to acknowledge that there are racists in our community. I've heard white gay people use the (n-word)," Davis says, feeling an inconsistency between how people of color are treated for homophobia compared to how LGBT people are treated for racism.
"And don't get me started on bi-phobia," she says. "We all know of a (lesbian) who got pregnant for having sex with a guy. We all know one. So, it's not as cut and dry as our community often places pressure on people to make it."
Davis says life is complex and she's even open to a polyamorous situation because of her demanding work schedule, which was a source of frustration in her previous relationship.
"It was hard because I traveled a lot. … If I'm singing on a cruise ship, I'm in the middle of the ocean, I might not be able to call you."
For now, Davis is looking to upcoming holiday concerts in San Diego and Palm Springs as well as dropping a couple of indie mixtapes of covers called "Blunts and Alkaline Water" and "Coffee and Cocktails." The first merges her love of acoustic cabaret and her love of hip hop. The second is a collection of her favorite jazz standards and Broadway hits.
"People love me for staying in this business for so long while maintaining my authentic self," she says. "Others may make a lot of money but may not know who they are looking at in the mirror. I feel immense gratitude for being able to be real-life happy and enjoying the journey."