May 5, 2020 at 2:15 pm EDT | by Joey DiGuglielmo
QUEERY: Crys Matthews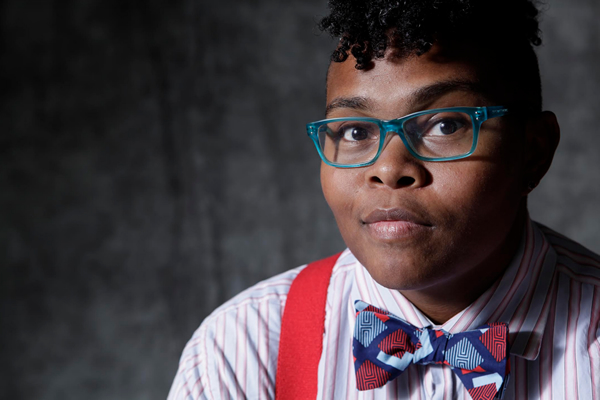 Crys Matthews got the idea for her new song "Six Feet Apart" from a fan who'd seen her and her musical partner Heather Mae perform in Vermont and wrote to tell Matthews how the COVID-19 crisis is keeping she and her partner apart.
"One of them works on the front lines and so in order to keep their kids safe, they are in separate spaces for the foreseeable future," Matthews says.
She was also inspired by a Facebook post from a friend about Jews trapped in their homes, unable to make a sound during the Holocaust.
"They couldn't sing or make any noise at all for fear of certain death, but we can," Matthews says. "Even during this very scary ordeal. … (Those thoughts) are what planted the seeds for this song."
She and Mae are in isolation together so "it seemed like a great time to try to write together."
Matthews describes her sound as a blend of Americana, folk, jazz, blues, bluegrass and funk. She plays guitar, piano, clarinet and "a little" harmonica and banjo. She started singing and writing songs seriously in 2007 when a friend in a band needed a fill-in keyboard player.
"I played the gig and had the time of my life," the 40-year-old Richlands, N.C., native says. "So I went home and wrote my first song. A little while later, I entered that song into the campus talent show and won first place. The rest is history."
She met Mae in 2012 through a mutual area songwriter. They were paired together for a one-off and clicked.
Matthews has written about 100 songs and recorded half of them, she says. She's a full-time musician and says the lockdown has put a severe crimp on her livelihood.
"Because the thing that is keeping us safe is not gathering, I've lost tens of thousands of dollars due to canceled gigs with no end to the hemorrhaging in sight," she says. "I'm trying to hang in there and I've definitely had to be creative. Our dining room table has become a full-time performance space."
A video for "Six Feet Apart" is planned and there's a call out for dancers, singers, actors, artists, crafters and more to get involved. Find out more at crysmatthews.com. For exclusive content, look for Matthews on Patreon as CrysMatthews.
Matthews moved to the area in 2010 for love and lived in Herndon, Va., for a decade before moving to Washington. She's divorced and lives in Deanwood. She enjoys PokemonGO in her free time.
How long have you been out and who was the hardest person to tell?
I've been out since 1998 (my senior year of high school). My mom, who is a preacher, was the hardest.
Who's your LGBTQ hero?
Bayard Rustin
What LGBTQ stereotype most annoys you?
Currently, it's that we're all queer-identified. I am a proud, butch-identified lesbian.
What's your proudest professional achievement?
Winning the NewSong Music and Performance Competition at Lincoln Center in 2017, which also afforded me the opportunity to perform twice at the Sundance Film Festival in 2018.
What terrifies you?
The current trajectory of our country while under the 45th president of the United States' leadership.
What's something trashy or vapid you love?
"Real Housewives of Atlanta"
What's your greatest domestic skill?
I'm amazingly handy. I can lay tile, I can build things, etc. I'm also a REALLY good cook.
What's your favorite LGBTQ movie or show?
"The Incredibly True Adventures of Two Girls in Love"
What's your social media pet peeve?
When folks use you're and your incorrectly.
What would the end of the LGBTQ movement look like to you?
Because I'm black and am reminded daily that, even after 400 years, we are still in a movement for equality and justice, the thought of the LGBTQ movement ending any time soon seems utterly impossible to me. There will always be work to be done. There will always be conversations that need to be had. Thankfully, in the words of Ella Baker, "We who believe in freedom cannot rest until it comes."
What's the most overrated social custom?
I'm southern, so I can't think of any that are overrated. I still stay, "bless you" to strangers when they sneeze; I still hold the door for the person coming out of the door behind me; I love telling people, "happy birthday," etc. That conditioning runs deep.
What was your religion, if any, as a child and what is it today?
I grew up in an AME-Christian household. Mom is a preacher, my uncle is a preacher, my grandpa was a deacon, his father was a preacher and on and on. Everything I know about being a good person is because of growing up in my family and learning from them and their interpretation of what it means to be a follower of Christ and what it means to embody that kind of love daily. So, while I have some pieces of several other theologies that inform the way I walk through the world, the core of me is still and will always be AME.
What's D.C.'s best hidden gem?
I really love the FDR memorial. It's so serene and, as a social-justice songwriter, I find a great deal of wisdom in his words. He was also my grandmother's favorite president, so I always kind of feel like she's walking beside me when I'm there.
What's been the most memorable pop culture moment of your lifetime?
I would have to say as a black woman, seeing Barack Obama elected president was a moment that I'll never forget. It was so much more than a political moment. It is one of the few "big things" that have happened during my lifetime where I can tell you exactly where I was and who I was with when it happened.
What celebrity death hit you hardest?
Whitney Houston
If you could redo one moment from your past, what would it be?
I probably would have skipped dating a couple of my last girlfriends before I met my (now ex-) wife.
What are your obsessions?
Ava DuVernay
Finish this sentence — It's about damn time:
… we elected a woman as POTUS.
What do you wish you'd known at 18?
How to write songs.
Why Washington?
After my divorce, this is just where the universe saw fit for me to land and I'm so grateful. This is a great city. I've been very fortunate to find a neighborhood that feels more like the suburbs and has a lovely sense of community.