Local gay couple proceeds with wedding plans despite lockdown
Family and friends gather virtually to celebrate same-sex nuptials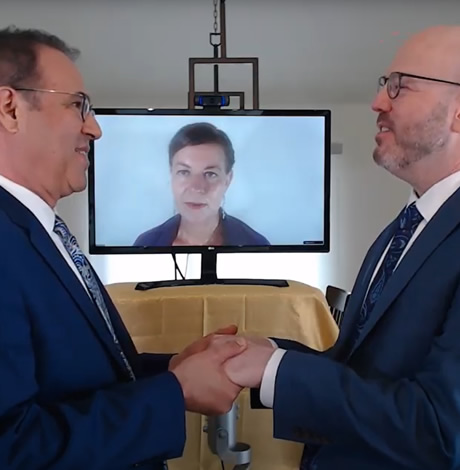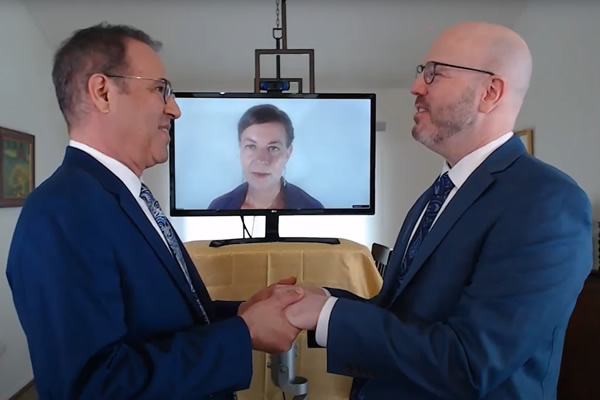 When Harry met Brian in 2015, the U.S. Supreme Court had just legalized same-sex marriage in all 50 states. Five years later around their kitchen table they agreed they were going to be damned if a pandemic stopped them from exercising that right.
"I played a lot of weddings," says D. Brian Lee, a 58-year-old musician and definitely the feistier of the two, having been out since he was a teen. "I felt so down on the institution because it was never going to be me, but now we've won."
"It was most important to us for people to honor and witness our wedding," says Harry Fox, a 62-year-old health care administrator who had been married previously to a woman for 20 years. He had to overcome his own internalized homophobia to find strength and happiness.
On Saturday, April 25 Lee and Fox held their wedding virtually and became one of many couples around the world who didn't let COVID-19-induced stay-at-home orders lockdown their love.
Internationally, the Singapore parliament is even considering a bill to further legalize virtual marriages during the crisis, according to The Straits Times.
In the U.S., virtual weddings via YouTube, Zoom and other conferencing platforms are becoming so prevalent that The Wedding Spot blog gives a detailed how-to for planning one.
NPR also reports New York Gov. Andrew Cuomo (D) signed an executive order on April 18 that allows clerks to perform wedding ceremonies via video conferencing platforms and for couples to get their marriage licenses remotely. And a quick Twitter search of the #ZoomWedding hashtag will find other creative couples taking advantage of similar marriage expansions in their areas.
Aaron Tax of SAGE, an LGBTQ senior advocacy organization, is not surprised that many choose the legal protections of marriage during a health crisis.
"Marriage may provide psychological benefits and more tangible benefits like economic security and certain legal rights to couples," he says. "There really is no shorthand for saying 'my wife' or 'my husband' when an emergency arises and you want to explain the nature of your relationship."
Fox agrees. When he was separated from his wife and had begun dating Lee, she became stricken with cancer. He admitted when he went to the hospital with their son, now 23, to visit her there was a certain legitimacy and "straight privilege" that made things easier for them during a difficult time.
"I think there's a tremendous difference in the eyes of the world between a married couple and those who are living together," Fox says. "And it plays out in the hospital room. There are significant rights in this culture that marriage confers and (Brian and I) want to be there for each other without anyone questioning that we have a right to be there."
Lee also remembers seeing "unmarried partners being locked out of hospital rooms" of dying loved ones during the height of the HIV/AIDS crisis in the 1980s. He recalled this as a dark time filled with "some very inhumane treatment," and this moved him to respect the institution of marriage.
That's why he insisted that Fox divorce his wife before moving in with him.
"That was a trying and difficult time," Fox says. "It was important for me to help my wife, but Brian was clear that I needed to be divorced before we moved in together."
Fox's wife eventually died, though she did get a chance to meet Lee before she died. The two of them had a quiet conversation while Fox made dinner in the other room. Later they moved together into the rented house they enjoy now in Potomac, Md., and their traditions of kitchen table conversations began. 
"We meet every morning and every evening at this table to talk," Fox says. "When you think about being with someone for the rest of your life, if it's not fun to talk to the other person, you shouldn't be with them."
Lee was more impassioned in his agreement.
"I don't want to have to pry the book open with a partner," he says. "But with Harry, it's very easy."
However, it wasn't so easy in the beginning as Fox was still struggling with his sexuality. Unlike Lee, he came out in his 50s and there were a few conditioned beliefs he had to lay to rest.
"In the beginning of our relationship, there was my own internalized homophobia," Fox says. Sure, he had been married before, but that was in a traditional Jewish ceremony. "Did I see myself married to another man? Do I see myself kissing another man in public?"
As a musician, Lee calls Fox's anxieties a form of "stage fright" which he still sees in his partner time and again.
"There have been times when I feel that if Harry is feeling a little anxious about something, I'll say, 'Ah, he'll get through it.' It just takes time and talking."
And talking is something they've done plenty of over the years. As the two of them continued to date and their bond grew, Fox came out to more family and friends.
"But I felt I needed to come out at work," he says. "Since work was such a large part of my life, in order to feel like an integrated human being and to get rid of the internal compartments I had maintained throughout my adult life."
This was a difficult decision for him since at the time Fox was the chief information officer for a large health care insurance provider and responsible for over 2,500 employees. And from a legal standpoint, the U.S. Supreme Court is still weighing whether or not it is unconstitutional for employers to fire workers based on sexual orientation or gender identity.
Still, he knew then that he wanted Lee to be a part of his life. All of it.
"After I came out at work, I took Brian as my date to a dinner event with work colleagues," Fox says, still sounding a little surprised that everything worked out so well. "I was also invited to join the board of Whitman-Walker Health."
Fox says coming out fully swept away a lot of his remaining internalized homophobia and became a "very powerful life-changing experience."
Fox and Lee felt their shared experiences together strengthened their resolve to get married, not just as an act of social justice but because they loved one another and were growing together. Then COVID-19 hit.
It was time for another discussion around the kitchen table.
"We talked about cancelling the physical wedding, but it took such a long road to get here," Fox says. "In the real world the restrictions will ease up slowly, and there probably wouldn't be another time to get people to fly in until later next year."
Both he and Lee had already lost older family members and feared more wouldn't last long enough to see them married. Lee added that when you hit your middle years, you just don't know how much time older family members have left. Finally, they decided, "there will never be a perfect time … let's just do it."
"And I know people in our social circles love our parties," Lee says. "And this was going to be the ultimate party."
Fox and Lee have IT backgrounds and were familiar with the technology needed to pull off a virtual wedding. They decided to live-stream the ceremony on YouTube and hold the virtual receiving line via Zoom while sending out wedding cupcakes to family and friends.
"We did a butt-load of tests," Lee says. "We had a dry run to make sure everyone could connect and with sound. I set up YouTube lives before at my other job. I still kept praying the internet keeps working."
They had gotten their marriage license prior to the pandemic and its social distancing restrictions and business closures. They looked into Maryland marriage laws and found a confusing passage they reasoned meant the officiant needed to be physically "in the county in which" the marriage license is issued.
So their officiant, Hanna Nielsen-Jones, arranged for another officiant to marry them an hour before their virtual wedding, in their driveway — and six feet away.
The ceremony was posted on YouTube which used multiple layers of technology, to include the Nielsen-Jones officiating via video to the couple who then projected themselves via video for their guests to view. The virtual receiving line followed where family and friends expressed their warm wishes via Zoom and toasts were shared.
"I liked it all. With all of the things we were afraid could go wrong, nothing went wrong," Fox says. "My son spoke and it was really lovely."
"Most of the people dressed up like they were going to a real wedding," Lee says. "And it looked fabulous. We drank a lot of champaign on this end also."
Despite all of the fear and the obstacles, the newlyweds said it was worth it to be creative and have their wedding rather than cancel it. Right now their "honeymoon" consists of their nightly walk through their diverse neighborhood as their permitted lockdown activity. They agree it feels a little different with the rings on their fingers though they don't advertise their new status with their neighbors.
But Lee holds out hope for a two-week trip to Spain.
"We hope to get our butts back to Barcelona," he says, though he knows it probably wouldn't be this summer.
10 LGBTQ events this week
Set sail on the Potomac and celebrate the beginning of summer in Rehoboth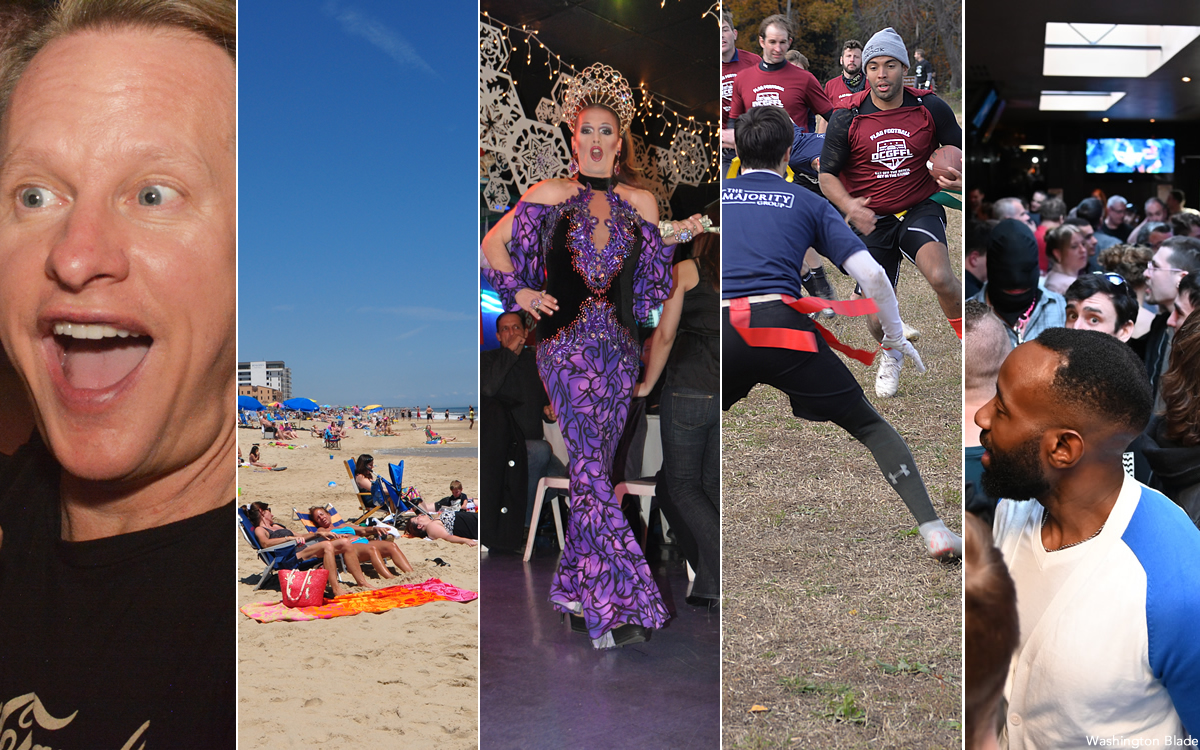 Below are our picks for some oDf the most fun and creative things to do this week in D.C. that are of special interest to the LGBTQ community.
Number Nine 11th Anniversary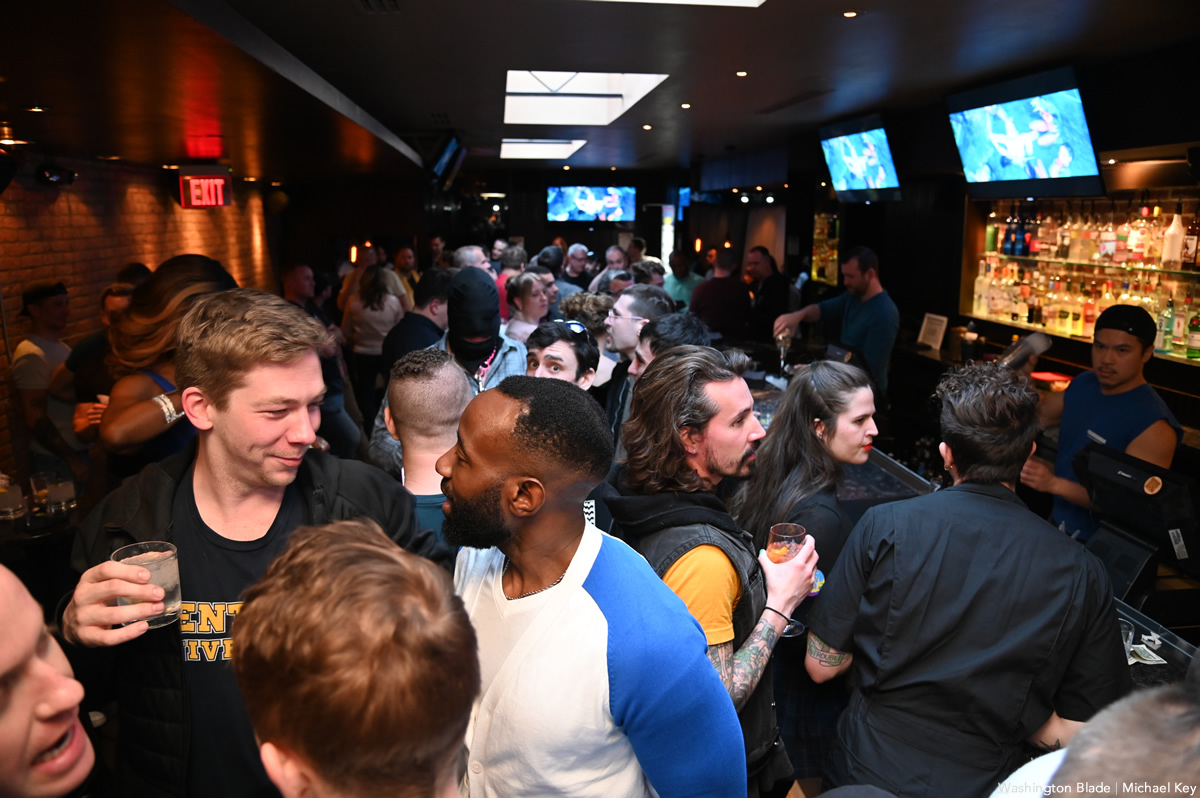 Wednesday, May 19
5 p.m.
Number Nine
1435 P Street, N.W.
Facebook
The gay bar Number Nine celebrates 11 years of business on Wednesday with an old school 2-4-1 happy hour.
DC Boys of Leather Happy Hour (fundraiser for DC Abortion Fund)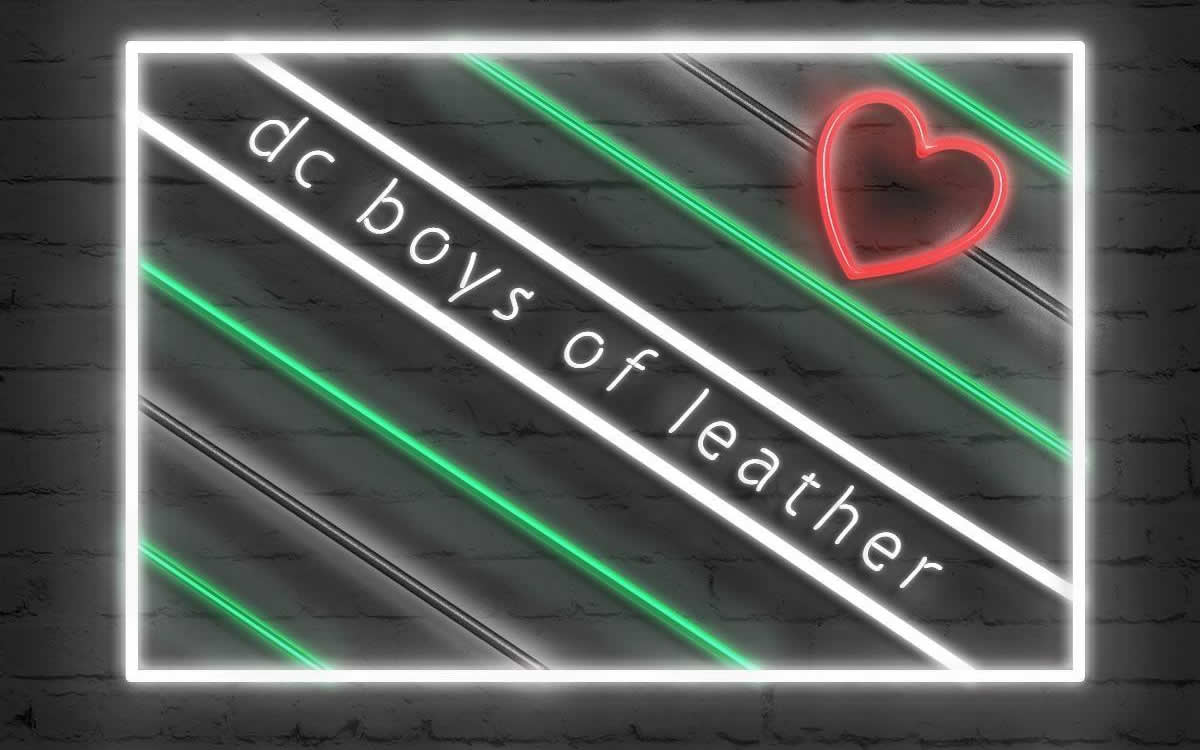 Thursday, May 19
6-9 p.m.
Trade
1410 14th Street, N.W.
Facebook
Join the DC boys of Leather for its monthly happy hour. This month's gathering is raising money for the DC Abortion Fund: a local DC organization that provides financial support for residents of and visitors to DC in their reproductive health care.
Taste of Point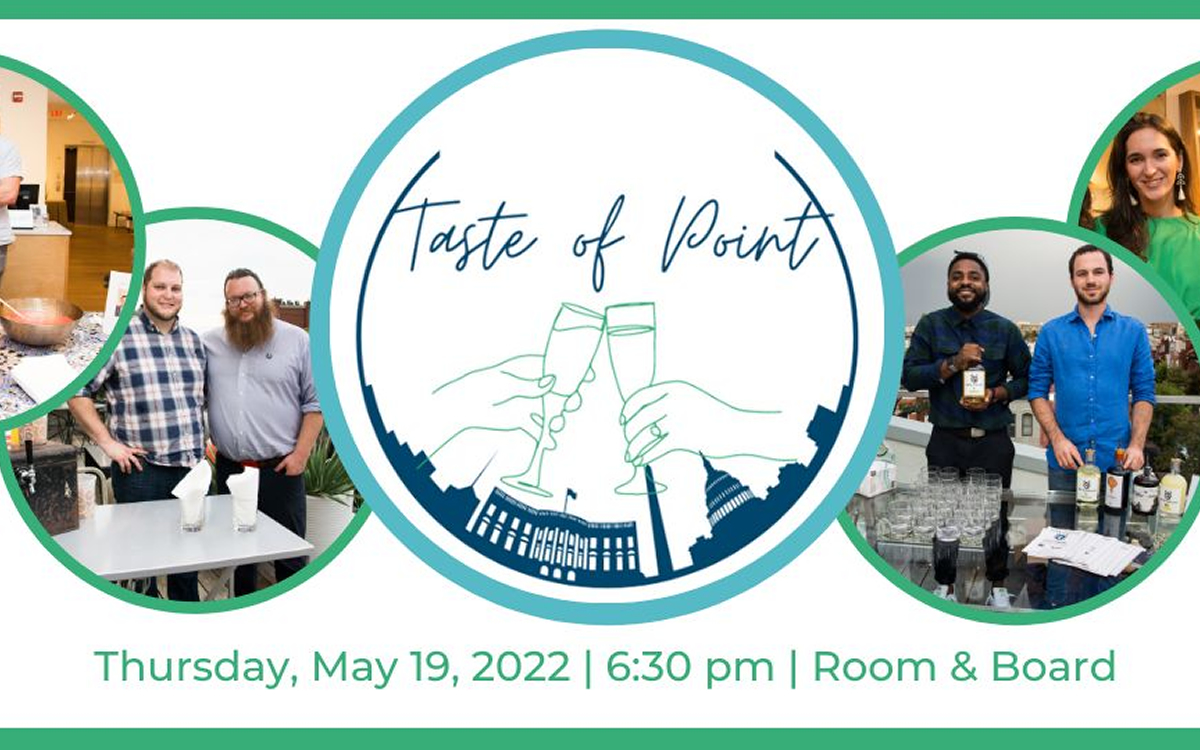 Thursday, May 19
6:30-8:30 p.m.
Room & Board
1840 14th Street, N.W.
$50-$100 advance / $120 door
Facebook
The Point Foundation, an organization that provides LGBTQ youth scholarships and mentorships, is holding its "Spring Garden Party" on May 19th at Room & Board. Several local restaurants are participating.
Blade Summer Kickoff Party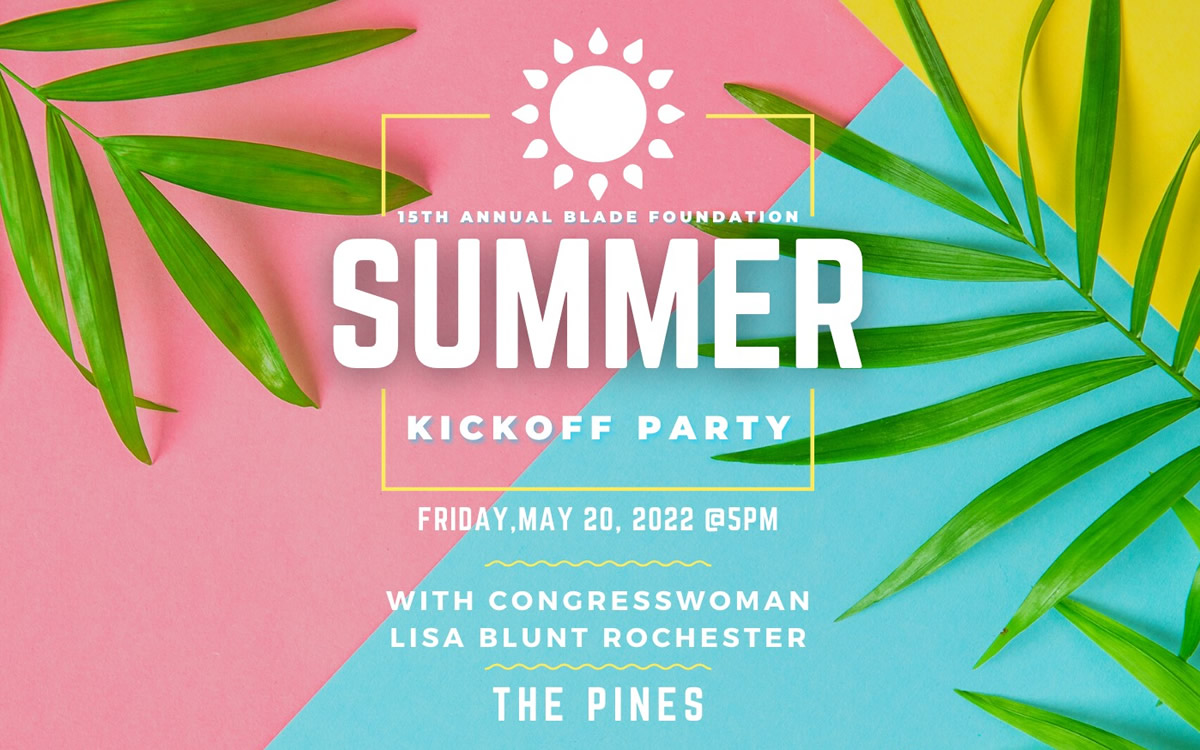 Friday, May 20
5-7 p.m.
The Pines
56 Baltimore Avenue
Rehoboth Beach, Del.
$20
Facebook
Join the Washington Blade for our 15th annual Summer Kickoff Party in Rehoboth Beach, Del. The special guest this year is Rep. Lisa Blunt Rochester.
Miss Freddie's 2022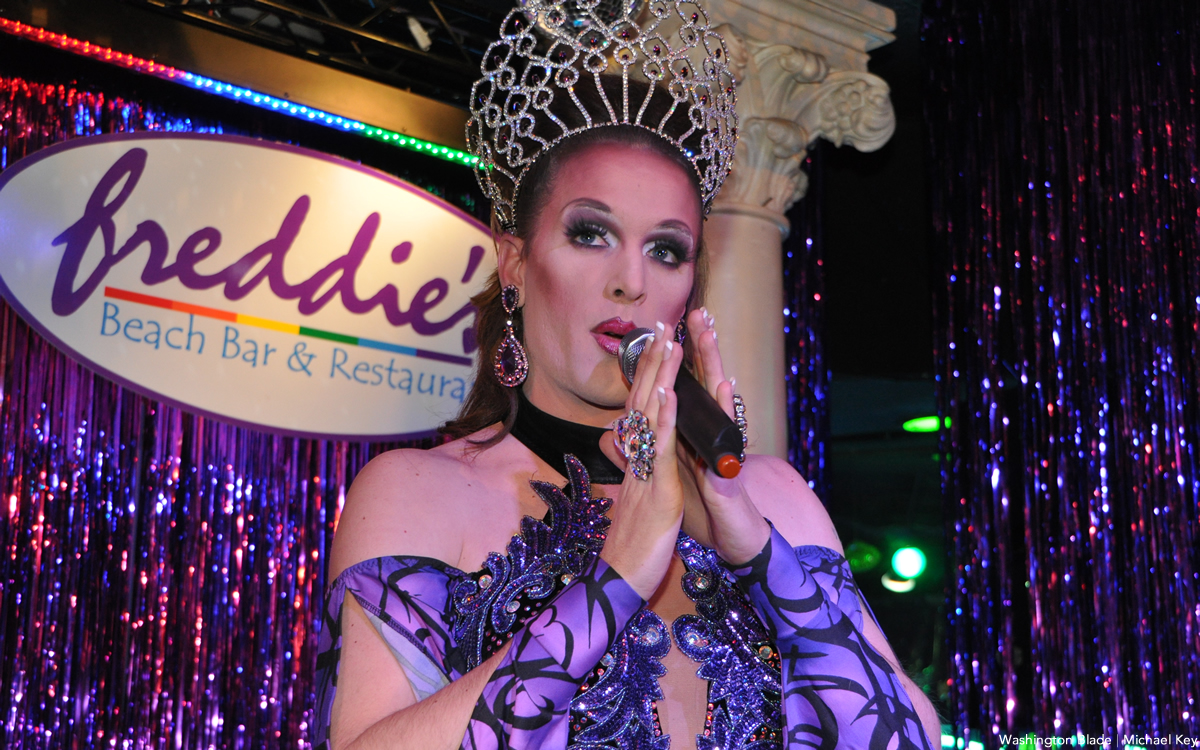 Friday, May 20
5-7 p.m.
Freddie's Beach Bar & Restaurant
555 23rd Street S
Arlington, Va.
$10 cover
Facebook
The annual Miss Freddie's drag pageant returns in person at Freddie's Beach Bar & Restaurant in Arlington, Va. on Friday.
Rough House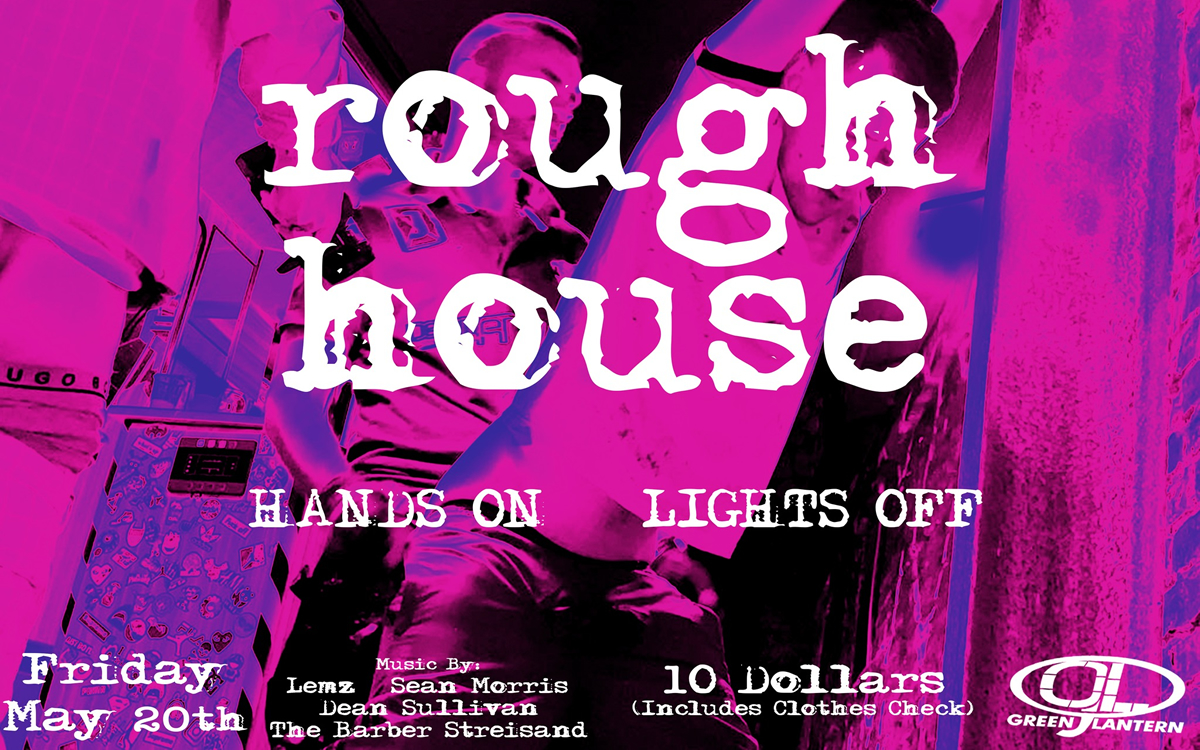 Friday, May 20
10 p.m.
Green Lantern
1335 Green Court
$10
Facebook
Join DJs Lemz, Sean Morris, Dean Sullivan and the Barber Streisand and check your clothes at the door for a night of "hands on, lights off" dancing.
Booty Cruise Tea Dance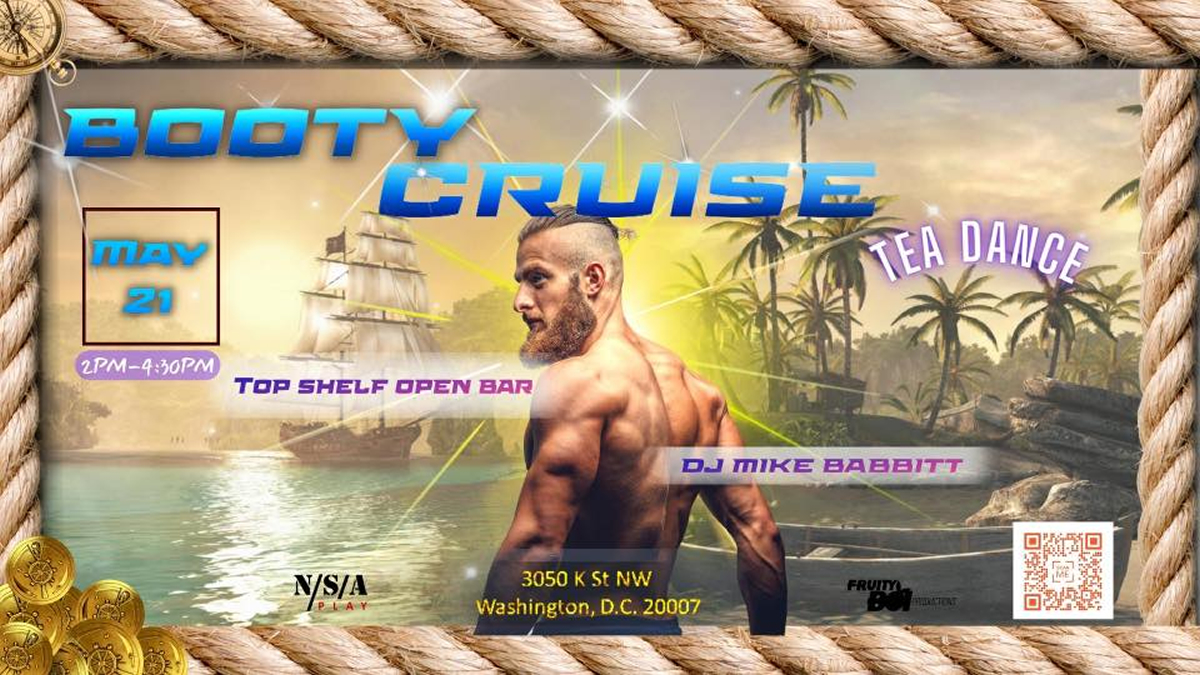 Saturday, May 21
2-4:30 p.m.
Potomac River
Meet at 3050 K Street, N.W.
$76
Facebook | Eventbrite
Set sail with Fruity Boi Productions & N/S/A Play on the Booty Cruise Tea Dance with an open bar on Saturday. The boat leaves promptly at 2 p.m.
Worthy Mentoring Pride Brunch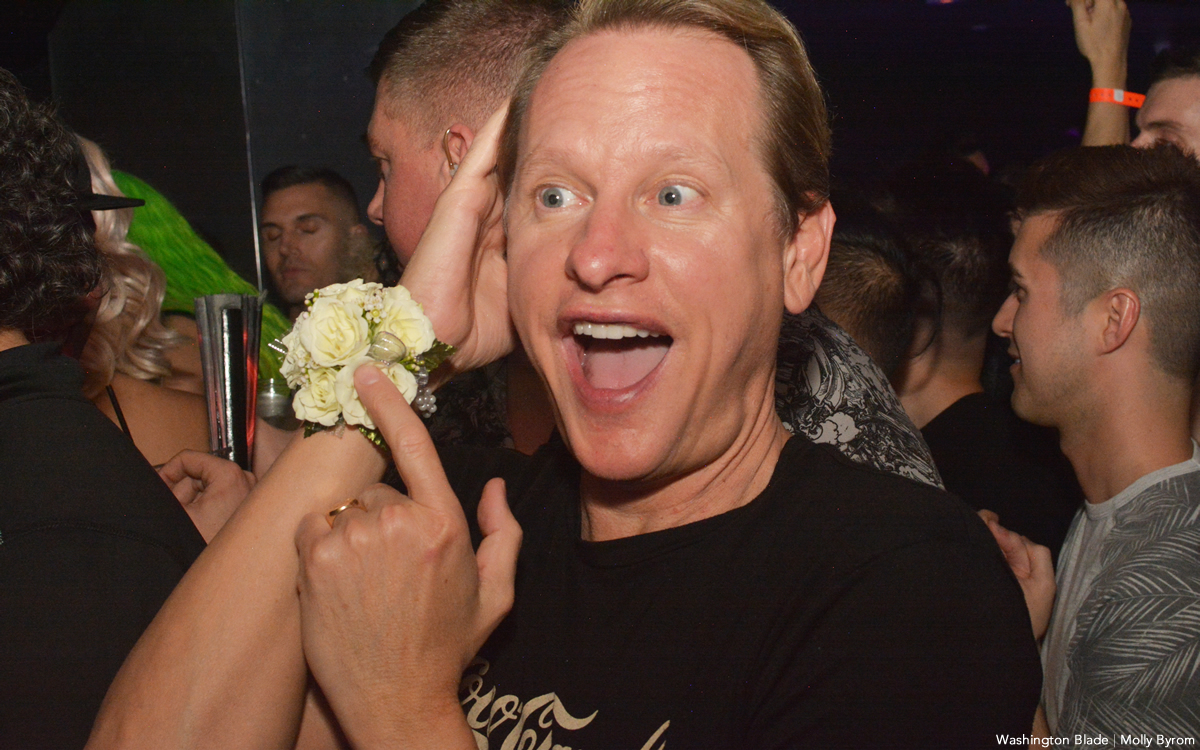 Sunday, May 22
12-3 p.m.
Four Seasons Hotel
2800 Pennsylvania Avenue, N.W.
$150+
Facebook | Website
Original "Queer Eye" guru Carson Kressley hosts the Worthy Mentoring brunch. With a gourmet brunch, bottomless drinks, multiple DJs, drag queens and a good cause, Sunday's event is one of the hottest tickets in town.
DC Gay Flag Football League Finals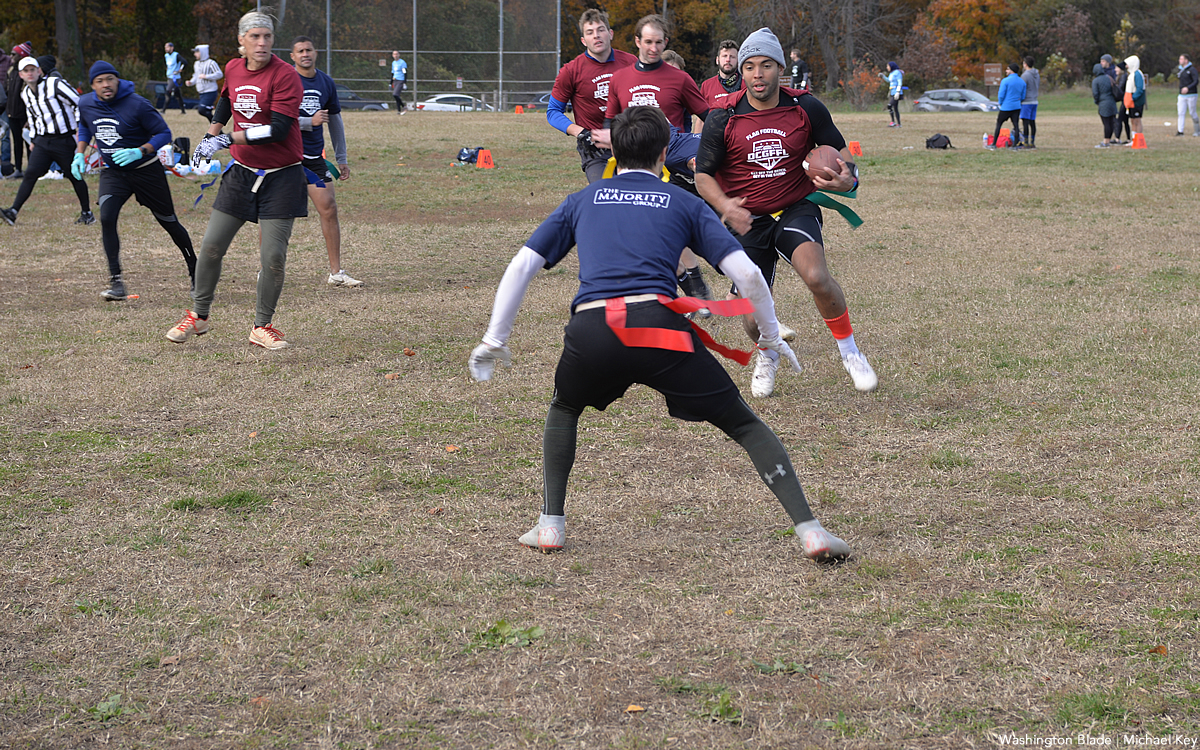 Sunday, May 22
games 10 a.m.-1 p.m. at Carter Barron Fields
afterparty and awards 3 p.m. at the Dirty Goose
913 U Street, N.W.
Website
The D.C. Gay Flag Football League holds their final games of the season at Carter Barron Fields and then celebrates with an end-of-season party and awards ceremony at the Dirty Goose on Sunday.
Onyx Code Red: Crimson Cosplay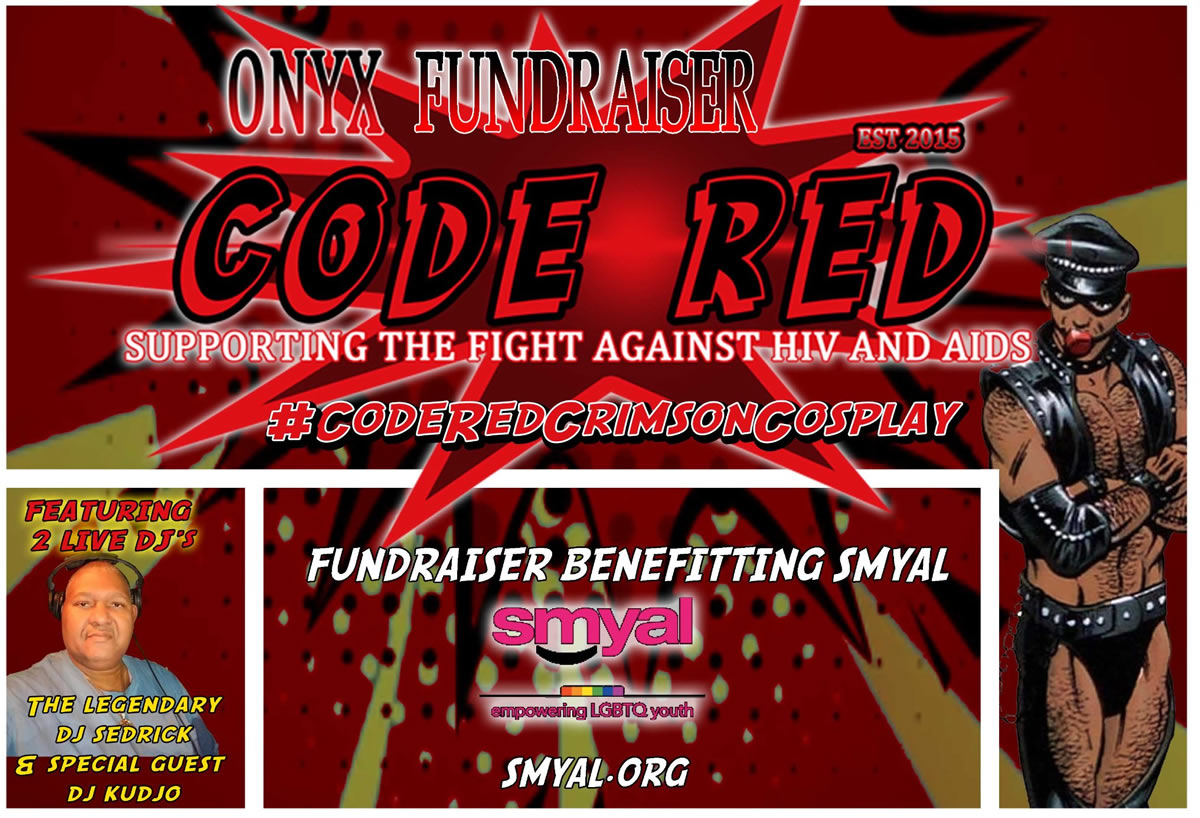 Sunday, May 22
9 p.m.-2 a.m.
5380 Eisenhower Avenue, Suite C
Alexandria, Va.
$25-$100
Eventbrite
Break out your leather, fetish, and kinky looks for a night of fun and a great cause. Red is the color, cosplay is the theme on Sunday night.
If you would like to let us know about an upcoming event, email [email protected] with details.
British soccer player comes out
Jake Daniels is Blackpool FC forward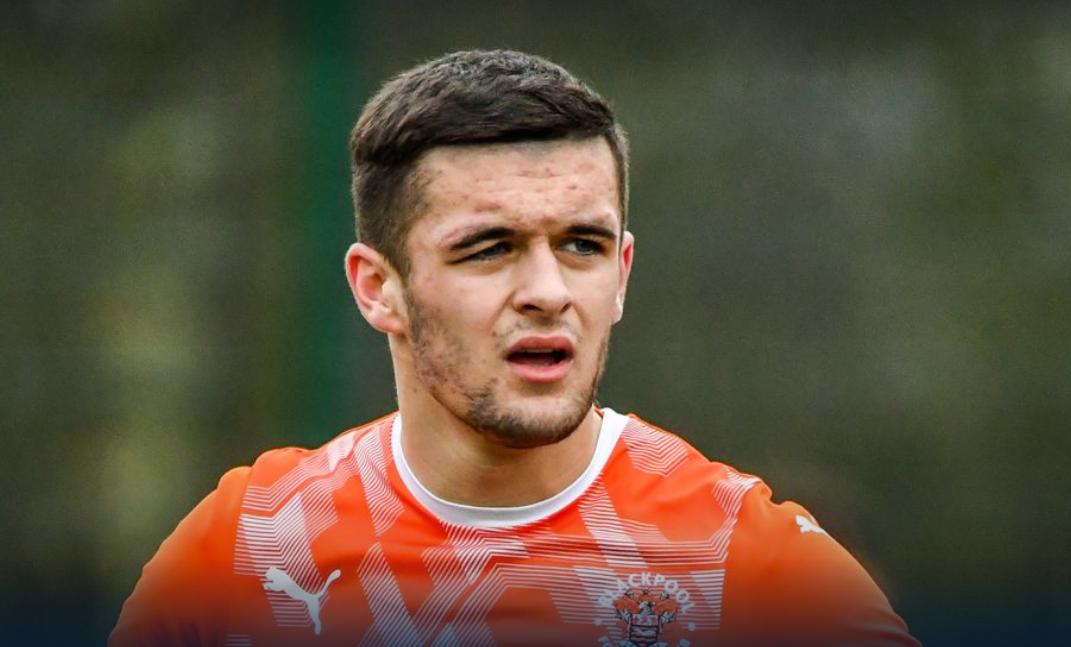 A 17-year-old professional soccer player has made history only the second person in the past 30 years to acknowledge their sexual orientation publicly in the sport in the U.K.
Blackpool FC forward Jake Daniels joins with Justinus Soni "Justin" Fashanu as the only two footballers to declare themselves openly out. Fashanu had come out in an exclusive with The Sun tabloid newspaper on Oct. 22, 1990, and later retired in 1997. He later passed away in London in May 1998.
Daniels made his announcement via a statement released by the team on its webpage:
"This season has been a fantastic one for me on the pitch. I've made my first-team debut, scored 30 goals for the youth team, signed my first professional contract and shared success with my teammates, going on a great run in the FA Youth Cup and lifting the Lancashire FA Pro-Youth Cup.
But off the pitch I've been hiding the real me and who I really am. I've known my whole life that I'm gay, and I now feel that I'm ready to come out and be myself.
It's a step into the unknown being one of the first footballers in this country to reveal my sexuality, but I've been inspired by Josh Cavallo, Matt Morton and athletes from other sports, like Tom Daley, to have the courage and determination to drive change.
In reaching this point, I've had some of the best support and advice from my family, my club, my agent and Stonewall, who have all been incredibly pro-active in putting my interests and welfare first. I have also confided in my team-mates in the youth team here at Blackpool, and they too have embraced the news and supported my decision to open up and tell people.
I've hated lying my whole life and feeling the need to change to fit in. I want to be a role model myself by doing this.
There are people out there in the same space as me that may not feel comfortable revealing their sexuality. I just want to tell them that you don't have to change who you are, or how you should be, just to fit in.
You being you, and being happy, is what matters most.
Jake"
The team itself also noted:
"Blackpool Football Club has worked closely with Stonewall and the relevant footballing organizations to support Jake and is incredibly proud that he has reached a stage where he is empowered to express himself both on-and-off the pitch.
It is vital that we all promote an environment where people feel comfortable to be themselves, and that football leads the way in removing any form of discrimination and prejudice."
The largest LGBTQ advocacy organization in the UK, Stonewall tweeted:
We are proud that Jake has felt able to share his truth with the world. To come out publicly as the first openly gay player in men's professional football in the UK in the last 30 years takes courage. We're honoured to be supporting him! 🏳️‍🌈⚽ https://t.co/4q1j9PSNxD

— Stonewall (@stonewalluk) May 16, 2022
Blackpool Football Club is a professional association football club based in seaside resort of Blackpool on the Irish Sea coast of England.
PHOTOS: Miss Gay DC America
Tatiyanna Voche' crowned pageant winner at As You Are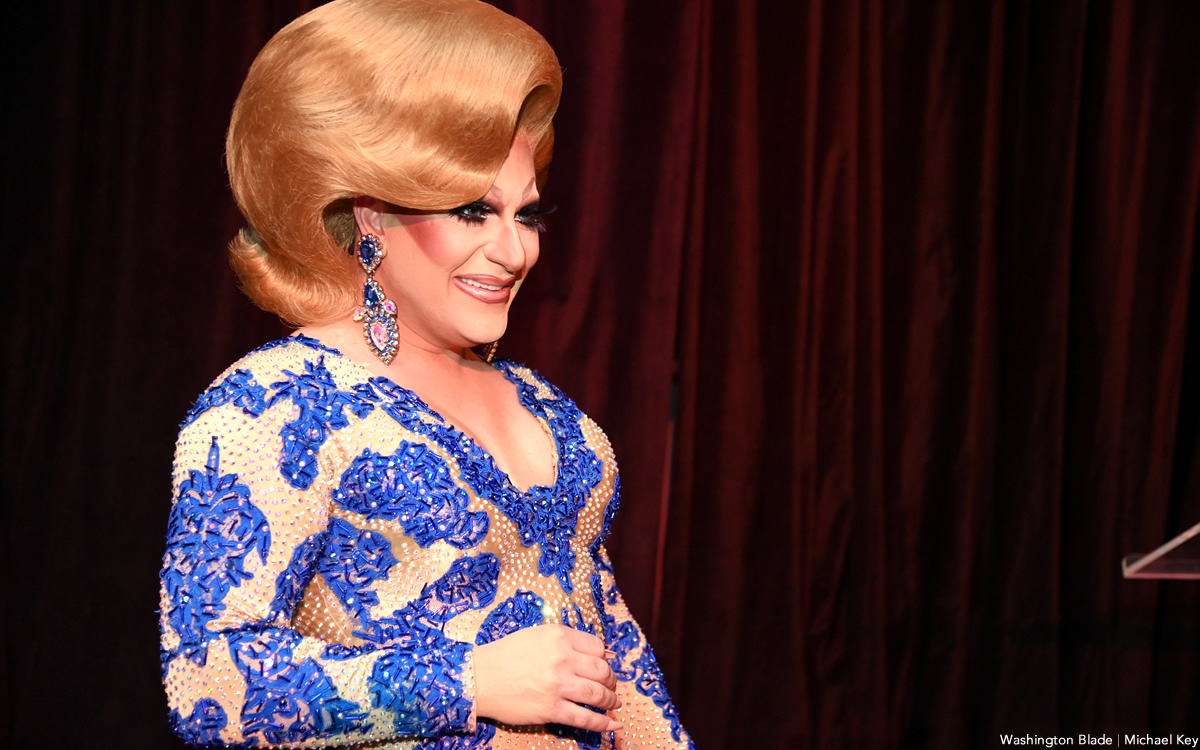 The Miss Gay DC America pageant returned this year at As You Are on Saturday. Tatiyanna Voche' was crowned Miss Gay DC America 2022 and is qualified to compete in the Miss Gay America 2023 competition in January.
(Washington Blade photo by Michael Key)