Local gay couple proceeds with wedding plans despite lockdown
Family and friends gather virtually to celebrate same-sex nuptials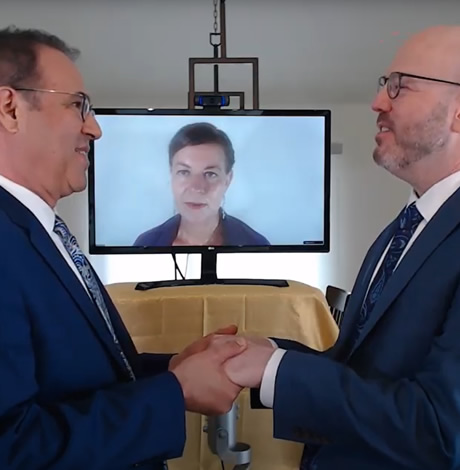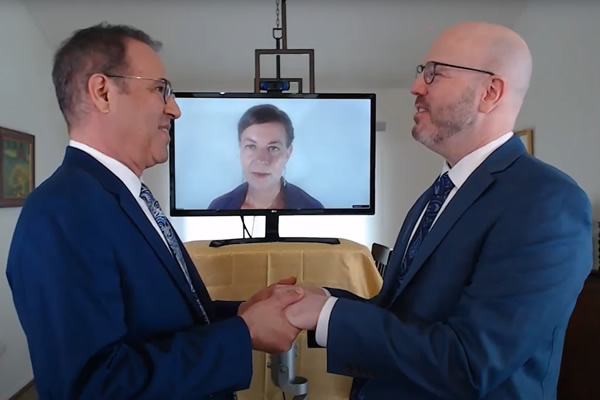 When Harry met Brian in 2015, the U.S. Supreme Court had just legalized same-sex marriage in all 50 states. Five years later around their kitchen table they agreed they were going to be damned if a pandemic stopped them from exercising that right.
"I played a lot of weddings," says D. Brian Lee, a 58-year-old musician and definitely the feistier of the two, having been out since he was a teen. "I felt so down on the institution because it was never going to be me, but now we've won."
"It was most important to us for people to honor and witness our wedding," says Harry Fox, a 62-year-old health care administrator who had been married previously to a woman for 20 years. He had to overcome his own internalized homophobia to find strength and happiness.
On Saturday, April 25 Lee and Fox held their wedding virtually and became one of many couples around the world who didn't let COVID-19-induced stay-at-home orders lockdown their love.
Internationally, the Singapore parliament is even considering a bill to further legalize virtual marriages during the crisis, according to The Straits Times.
In the U.S., virtual weddings via YouTube, Zoom and other conferencing platforms are becoming so prevalent that The Wedding Spot blog gives a detailed how-to for planning one.
NPR also reports New York Gov. Andrew Cuomo (D) signed an executive order on April 18 that allows clerks to perform wedding ceremonies via video conferencing platforms and for couples to get their marriage licenses remotely. And a quick Twitter search of the #ZoomWedding hashtag will find other creative couples taking advantage of similar marriage expansions in their areas.
Aaron Tax of SAGE, an LGBTQ senior advocacy organization, is not surprised that many choose the legal protections of marriage during a health crisis.
"Marriage may provide psychological benefits and more tangible benefits like economic security and certain legal rights to couples," he says. "There really is no shorthand for saying 'my wife' or 'my husband' when an emergency arises and you want to explain the nature of your relationship."
Fox agrees. When he was separated from his wife and had begun dating Lee, she became stricken with cancer. He admitted when he went to the hospital with their son, now 23, to visit her there was a certain legitimacy and "straight privilege" that made things easier for them during a difficult time.
"I think there's a tremendous difference in the eyes of the world between a married couple and those who are living together," Fox says. "And it plays out in the hospital room. There are significant rights in this culture that marriage confers and (Brian and I) want to be there for each other without anyone questioning that we have a right to be there."
Lee also remembers seeing "unmarried partners being locked out of hospital rooms" of dying loved ones during the height of the HIV/AIDS crisis in the 1980s. He recalled this as a dark time filled with "some very inhumane treatment," and this moved him to respect the institution of marriage.
That's why he insisted that Fox divorce his wife before moving in with him.
"That was a trying and difficult time," Fox says. "It was important for me to help my wife, but Brian was clear that I needed to be divorced before we moved in together."
Fox's wife eventually died, though she did get a chance to meet Lee before she died. The two of them had a quiet conversation while Fox made dinner in the other room. Later they moved together into the rented house they enjoy now in Potomac, Md., and their traditions of kitchen table conversations began. 
"We meet every morning and every evening at this table to talk," Fox says. "When you think about being with someone for the rest of your life, if it's not fun to talk to the other person, you shouldn't be with them."
Lee was more impassioned in his agreement.
"I don't want to have to pry the book open with a partner," he says. "But with Harry, it's very easy."
However, it wasn't so easy in the beginning as Fox was still struggling with his sexuality. Unlike Lee, he came out in his 50s and there were a few conditioned beliefs he had to lay to rest.
"In the beginning of our relationship, there was my own internalized homophobia," Fox says. Sure, he had been married before, but that was in a traditional Jewish ceremony. "Did I see myself married to another man? Do I see myself kissing another man in public?"
As a musician, Lee calls Fox's anxieties a form of "stage fright" which he still sees in his partner time and again.
"There have been times when I feel that if Harry is feeling a little anxious about something, I'll say, 'Ah, he'll get through it.' It just takes time and talking."
And talking is something they've done plenty of over the years. As the two of them continued to date and their bond grew, Fox came out to more family and friends.
"But I felt I needed to come out at work," he says. "Since work was such a large part of my life, in order to feel like an integrated human being and to get rid of the internal compartments I had maintained throughout my adult life."
This was a difficult decision for him since at the time Fox was the chief information officer for a large health care insurance provider and responsible for over 2,500 employees. And from a legal standpoint, the U.S. Supreme Court is still weighing whether or not it is unconstitutional for employers to fire workers based on sexual orientation or gender identity.
Still, he knew then that he wanted Lee to be a part of his life. All of it.
"After I came out at work, I took Brian as my date to a dinner event with work colleagues," Fox says, still sounding a little surprised that everything worked out so well. "I was also invited to join the board of Whitman-Walker Health."
Fox says coming out fully swept away a lot of his remaining internalized homophobia and became a "very powerful life-changing experience."
Fox and Lee felt their shared experiences together strengthened their resolve to get married, not just as an act of social justice but because they loved one another and were growing together. Then COVID-19 hit.
It was time for another discussion around the kitchen table.
"We talked about cancelling the physical wedding, but it took such a long road to get here," Fox says. "In the real world the restrictions will ease up slowly, and there probably wouldn't be another time to get people to fly in until later next year."
Both he and Lee had already lost older family members and feared more wouldn't last long enough to see them married. Lee added that when you hit your middle years, you just don't know how much time older family members have left. Finally, they decided, "there will never be a perfect time … let's just do it."
"And I know people in our social circles love our parties," Lee says. "And this was going to be the ultimate party."
Fox and Lee have IT backgrounds and were familiar with the technology needed to pull off a virtual wedding. They decided to live-stream the ceremony on YouTube and hold the virtual receiving line via Zoom while sending out wedding cupcakes to family and friends.
"We did a butt-load of tests," Lee says. "We had a dry run to make sure everyone could connect and with sound. I set up YouTube lives before at my other job. I still kept praying the internet keeps working."
They had gotten their marriage license prior to the pandemic and its social distancing restrictions and business closures. They looked into Maryland marriage laws and found a confusing passage they reasoned meant the officiant needed to be physically "in the county in which" the marriage license is issued.
So their officiant, Hanna Nielsen-Jones, arranged for another officiant to marry them an hour before their virtual wedding, in their driveway — and six feet away.
The ceremony was posted on YouTube which used multiple layers of technology, to include the Nielsen-Jones officiating via video to the couple who then projected themselves via video for their guests to view. The virtual receiving line followed where family and friends expressed their warm wishes via Zoom and toasts were shared.
"I liked it all. With all of the things we were afraid could go wrong, nothing went wrong," Fox says. "My son spoke and it was really lovely."
"Most of the people dressed up like they were going to a real wedding," Lee says. "And it looked fabulous. We drank a lot of champaign on this end also."
Despite all of the fear and the obstacles, the newlyweds said it was worth it to be creative and have their wedding rather than cancel it. Right now their "honeymoon" consists of their nightly walk through their diverse neighborhood as their permitted lockdown activity. They agree it feels a little different with the rings on their fingers though they don't advertise their new status with their neighbors.
But Lee holds out hope for a two-week trip to Spain.
"We hope to get our butts back to Barcelona," he says, though he knows it probably wouldn't be this summer.
Studio House, Visual AIDS partner for educational program
Day With(out) Art 2021 to be held at Lamont Plaza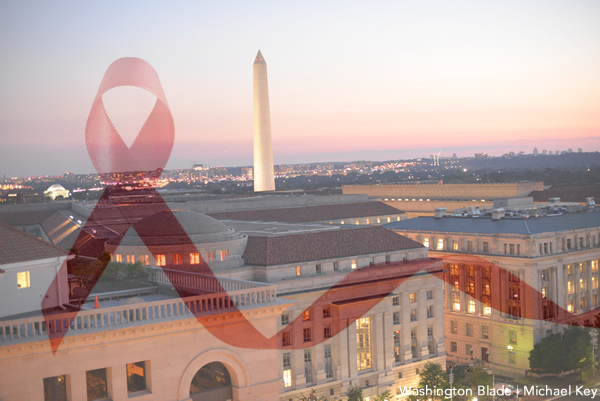 Studio House and Visual AIDS will join forces for "Day With(out) Art 2021" on Tuesday, Nov. 30 at 6 p.m. at Lamont Plaza.
This event is a community outdoor screening of "Enduring Care," a video program that highlights strategies of community care within the ongoing HIV epidemic followed by a discussion about the video.
There will be an open house in the neighborhood at the David Bethuel Jamieson (1963-1992) Studio House and Archives featuring newly commissioned work by Katherine Cheairs, Cristóbal Guerra, Danny Kilbride, Abdul-Aliy A. Muhammad and Uriah Bussey, Beto Pérez, Steed Taylor, and J Triangular and the Women's Video Support Project.
For more information, visit Eventbrite. 
'Tick, tick… BOOM!' explodes with the love of Broadway
A perfect film for fans of musical theater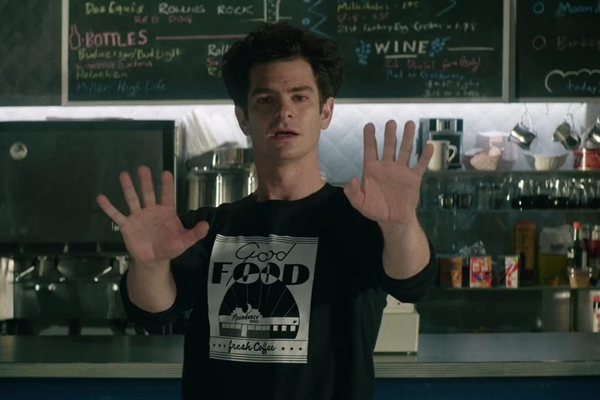 If you are a person who love musical theater – or if you know someone who does – then you know there is something about this particular art form that inspires a strong and driving passion in those who enjoy it, often to the point of obsession. For this reason, perhaps it's no surprise that those who work in musical theater – the creators, performers, and all the other people who make it happen – are often the biggest musical theater lovers of all.
Because of this, "tick, tick… BOOM!" (the new film directed by Lin-Manuel "Hamilton" Miranda and written by Steven "Dear Evan Hansen" Levenson) might be the most perfect movie ever made for such fans. Adapted from an autobiographical "rock monologue" by Jonathan Larson, it follows the future "Rent" composer (Andrew Garfield) for a week in the early 1990s, when he was still an unknown young Broadway hopeful waiting tables in a New York diner. He's on the cusp of turning 30, a milestone that weighs on his mind as he prepares for a showcase of a musical that he hasn't quite finished – even though he's been writing it for eight years. With limited time left to compose the show's most crucial number, his race against the clock is complicated by major changes in his personal life; his lifelong best friend Michael (Robin de Jesús) has quit acting in favor of a five-figure career in advertising, and his girlfriend Susan (Alexandra Shipp) is moving away from the city to accept a teaching job and wants him to come with her. With reminders everywhere of the ongoing AIDS epidemic still raging in the community around him, and with his own youth ticking away, he is inevitably forced to wonder if it's time to trade in his own Broadway dreams for a more secure future – before it's too late.
As every musical theater fan knows, the young composer's obsession with time (hence the title) is laced with bittersweet irony in the context of what eventually happened in his real life: the day before "Rent" opened on Broadway and became a smash hit that reshaped and expanded the boundaries of what musical theater could be, Larson died of an aortic aneurysm at the age of 35. He never lived to see the full fruition of all those years of hard work, and that tragic turn of events is precisely what makes "tick, tick… BOOM!" relevant and provides its considerable emotional power. In that light, it's essentially a musical "memento mori," a reminder that the clock eventually runs out for all of us.
That doesn't mean, however, that it's not also a celebration of life in the theater, and Miranda is probably better suited than anyone to make us see that side of the coin. Now unquestionably in the highest echelon of status as a Broadway icon, he came of age in the era of "Rent," and he takes pains to make his depiction of Manhattan in the '90s as authentic as possible.
Capturing the era with touches like Keith Haring-inspired murals and the use of "Love Shack" as a party anthem, his movie keeps Larson's story within the context of his time while drawing clear connections to our own. His reverence for Larson – whom he cites as a seminal inspiration for his own future work – manifests itself palpably throughout. Yet despite that (or perhaps because of it), so does an infectiously cheery tone. Yes, things get heavy; there are hardships and heartbreaks at every turn, because that's what a life in the theater means. But at the same time, there's just so much fun to be had. The camaraderie, the energy, and the joy of simply living in that world comes leaping off the screen (often thanks to the enthusiastic choreography of Ryan Heffington) with the kind of giddy, effortless ease that might almost make us jealous if it didn't lift our spirits so much. No matter that the lead character spends most of the movie second-guessing his path; we never doubt for a moment that, for him, the rewards of following his passion outweigh the sacrifices a thousand times over.
That's something Miranda also understands. His movie drives home the point that the joy of doing theater is its own reward, and he's willing to prove it by turning up in a bit part just for the sake of being a part of the show. And he's not the only one. The screen is littered with living legends; in one memorable sequence alone, a who's-who of Broadway's brightest stars – Chita Rivera, Bernadette Peters, Brian Stokes Mitchell, Andre DeShield, Bebe Neuwirth, Joel Grey, and at least a dozen more – serve as a high-profile backup chorus of extras for a song at the diner, but there are blink-and-you'll-miss-them cameos in almost every scene. It almost feels like a gimmick, or an effort to turn the movie into a "spot the star" trivia game for hardcore fans – until you realize that these are the best and brightest people in their field, who have willingly chosen to show up and participate even though they did not have to. They are there purely for love, and you can see it in their faces.
Miranda scores big across the board as a director – this is his feature film directorial debut, which confirms the standing assumption the man can do anything. But "tick, tick… BOOM!" is a star turn for its leading player, and full credit must also go – and emphatically so – to Garfield, who surpasses expectations as Larson. The one-time "Spiderman" actor trained extensively to be able to master the demands of singing the role, and it shows; he comes off as a true musical theater trouper, worthy beyond doubt of sharing the screen with so many giants. Even better, he integrates that challenge into the whole of a flamboyantly joyful performance that makes Larson endearingly, compellingly three-dimensional. It's a career-topping piece of work.
The rest of the principal cast – a refreshingly inclusive ensemble that reminds us that Larson was instrumental in making Broadway a much more diverse place – are equally fine. De Jesús gets a long-deserved chance to shine as Michael, and Shipp brings a quiet calm to the easily-could-have-been-overshadowed Susan that makes her the perfect balance to Garfield's high-octane energy.
Joshua Henry and Vanessa Hudgens contribute much more than their stellar vocal talents to their pair of roles as Larson friends and collaborators, and there are delicious supporting turns by Judith Light and Bradley Whitford – who gives an affectionately amusing and dead-on accurate screen impersonation of Broadway legend-of-legends Stephen Sondheim, one of Larson's (and Miranda's) biggest influences and inspirations, who accordingly looms large in the story despite his relatively short amount of screen time.
It should be obvious by now that "tick, tick… BOOM!" is a delight for people who love musical theater. But what if you're not one of those people? The good news is that there is so much to enjoy here, so much real enjoyment, so much talent, so much hard work on display that nobody will have any reason to be bored.
Even people who DON'T love musical theater.
James Ivory on movies, beauty — and a love of penises
If you enjoy film and wit you'll love 'Solid Ivory'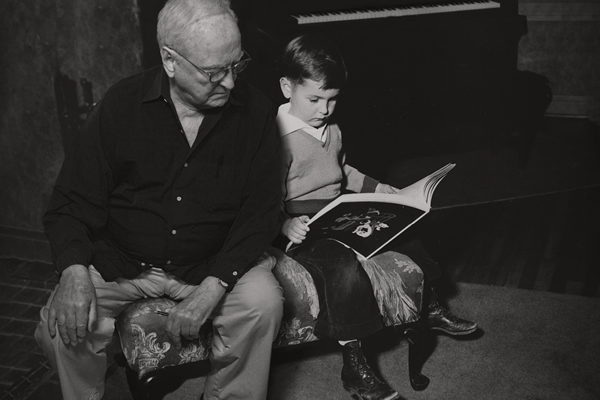 'Solid Ivory: Memoirs'
By James Ivory
C.2021, Farrar, Straus & Giroux
$30/399 pages
Few things have been more pleasurable to me during the pandemic than Merchant/Ivory films. COVID becomes a dim memory as I ogle the costumes, beautiful vistas from Italy to India, music and spot-on dialogue of "A Room with a View," "Maurice," "Remains of the Day" and other Merchant/Ivory movies.
For decades, fans from gay men to grandmas have enjoyed these films, directed by James Ivory and produced by Ismail Merchant in partnership with the writer Ruth Prawer Jhabvala.
In "Solid Ivory," Ivory, 93, gives us his memories of movie making, growing up gay, his decades-long romantic and professional partnership with Merchant and (you're reading this correctly) the penises he has known.
If you believe that elders don't enjoy sex, Ivory's memoir will blow your ageism to smithereens.
From watching the movies he's directed and knowing his age, you might think (as I did) that Ivory would be shy about talking of his sexuality. Wow, was I wrong!
Ivory appreciates penises as a sommelier savors fine wine.
Ivory knew that he liked boys early on. Ivory recalls playing at age seven with a boy named Eddy. He and Eddy were "putting our penises into each other's mouths," Ivory writes, "…I made it clear that Eddy's dick must not touch my lips or tongue, nor the inside of my mouth. I had learned all about germs at school by then."
Though Ivory and Merchant were devoted partners, they each had other lovers. Bruce Chatwin, the travel writer who died from AIDS, was Ivory's friend, and sometimes, lover.
Chatwin's penis was "Uncut, rosy, schoolboy-looking," Ivory writes.
Ivory's memoir isn't prurient. His sexuality doesn't overpower the narrative. It runs through "Solid Ivory" like a flavorful spice.
The book is more an impressionistic mosaic than a chronological memoir. Ivory, often, tells the stories of his life through letters he's written and received (from lovers, friends and professional contacts) as well as from diary entries.
Many of the chapters in the memoir were previously published in other publications such as The New Yorker.
"Solid Ivory" was originally published in a limited edition by Shrinking Violet Press. The Press is a small press run by Peter Cameron, a novelist, and editor of "Solid Ivory." Ivory grew up in Klamath Falls, Ore. He was originally named Richard Jerome Hazen. His parents changed his name when they adopted him.
Some of the most engaging moments of the memoir are when Ivory writes about what life was like for a child during the Depression.
Ivory's father lost his savings when the stock market crashed, and his mother frequently gave food to "tramps" who came to the door.
His "eating tastes were definitely formed during the Depression," Ivory writes.
Since that time, Ivory has lived everywhere from England to Italy. "But although I consider myself an advanced expert in the more sophisticated forms of cuisine," Ivory writes, "My gastronomical roots remain dug deep in the impoverished soil of the American Depression."Ivory became smitten with movies when he saw his first picture when he was five.
He and Merchant, a Muslim from India who died in 2005, fell in love when they met on the steps of the Indian consulate in New York in 1961. I wish Ivory had written more about the 30+ movies that he made (mostly with Merchant and Jhabvala, who died in 2013).
Yet, he provides tantalizing recollections of filmmaking, actors and celebs.
The chapters on "Difficult Women like Raquel Welch and Vanessa Redgrave" are fun to read.
Welch, a bombshell brat, doesn't want to play a love scene in "The Wild Party." During the filming of "The Bostonians," Boston is captivated by the drama of Redgrave's off-screen politics.
Ivory isn't that impressed when in 2018, at age 89, he becomes the oldest Academy Award winner when he receives the Best Adapted Screenplay Oscar for "Call Me By Your Name." "Its fame eclipses even Michelangelo's David and the Statue of Liberty," Ivory says, with irony, of the Oscar statue.
If you enjoy the movies, beauty and wit, you'll love "Solid Ivory."